Waking up early on a school day was a struggle. Come Sunday and I would be awake at the crack of dawn. Sunday meant that I could go to the market with my grandfather. Once done, he handed the shopping bag and me to my grandmother. It was time for him to start his day. And that meant cups of kalo (black coffee) and adda.
Adda for Bengalis is not just an excuse to kill time. It is an intellectual exchange of ideas and thoughts about every imaginable topic under the sun. For college youngsters it is the rawk (a meeting spot by the street or in front of someone's house), for office-goers it is the street corner tea shop and for retired seniors, it is a friend's living room or one of the coffee shops in Kolkata.
Whatever be the choice of place, adda and coffee go hand-in-hand. It is this quintessential couple that keeps generations alive. And to aid this cause, the city has its ample share of cafés.
1. Indian Coffee House
College Street and CR Avenue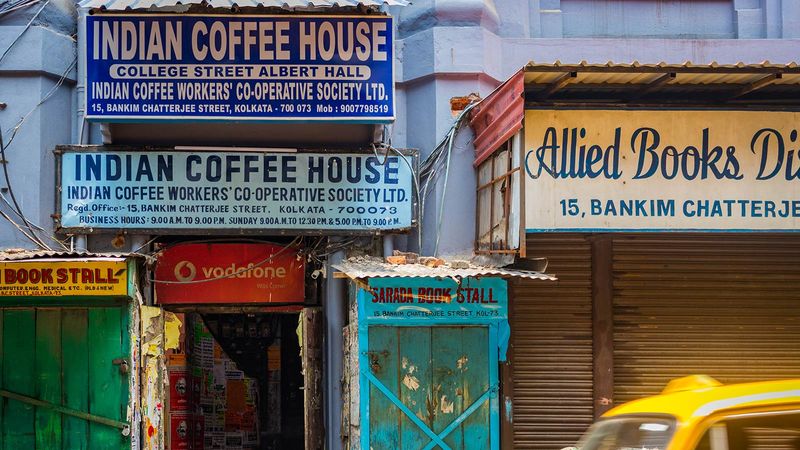 Adda in Kolkata is synonymous with the Indian Coffee House on College Street. Such is the legacy of this coffee house that revered singer Manna Dey immortalised it in his Bengali song, "coffee house er sheyi adda ta…" (those gatherings at the coffee house…). Every generation that has passed through the doors of the Coffee House and shared cups of kalo (black coffee) and aagun (literally meaning fire, a colloquial way of asking for matchboxes/lighters) has built its own romantic relation.
If the walls could talk, they would tell you stories of Indian Coffee House's beginnings as a small coffee joint inside the Albert Hall in 1942 that received independent status in 1947; patrons such as Rabindranath Tagore, Satyajit Ray, Aparna Sen, Amartya Sen and Craig Jamieson; and its most memorable period, the Hungry Generation literary movement in the early '60s Kolkata.
The architecture is divided into two floors. You can choose to sit on the first floor, in the thick of things or you can choose to go a floor above and get some privacy with a balcony view and a plate of mixed gravy chowmein (the quantity is good for two to share). Bearers (not waiters) are attired in uniforms right out of the British period and some of them have worked here all their lives, adding to the charm and the history of the place.
The CR Avenue branch deserves a special mention. Standing in the middle of one of the busiest commercial complexes in Kolkata, finding a seat can be a challenge. This is the only branch that continues to maintain the original cups with the Indian Coffee House name and logo embossed on it. It is not uncommon to find government officials hosting meetings here at any time of the day.
2. Favourite Cabin
Surya Sen St, College Square
Favourite Cabin is College Square's best-kept secret. This small, unassuming eatery with marble-top tables, wooden chairs and a tiny cash counter was started by brothers Nutan Chandra Barua and Gaur Chandra Barua in 1918 after they came to Kolkata from Chittagong (now in Bangladesh).
Favourite Cabin soon became the centre of the freedom movement with Netaji Subhash Chandra Bose, Masterda Surya Sen and Kavi Nazrul Islam being regulars. The cabin maintains its old structure—an outer seating area, an inner chamber, and a kitchen at the back. It was in this inner chamber that freedom fighters met time and again.
Although they offer a limited menu, regulars swear by the paan cake and milk bread toast along with its colourful history.
3. Flurys
Park St, Park Street area
Started as a tearoom for the British gentry in 1927 by Mr and Mrs Flury, Flurys stands as a symbol of the grandeur of the Raj. Dishes and dessert recipes at Flurys continue to be a closely guarded secret. The décor maintains the originality of the 30s with a staff that is well-versed with every item on the menu.
Large windows give you the perfect view of Park Street. The best time to visit is during Christmas. That is when they pull out the big guns—their single-origin exclusive chocolates in a classy wooden box—perfect for the holiday gift. Come here for a full-English breakfast. Do not miss their brownie and rum ball.
4. Paris Cafe
Ballygunge Park, Ballygunge
A recent addition to the coffee scene in the city as compared to the others on the list, Paris Café has made its mark in recent years. The café takes you to the Parisian cafes it's inspired by with white and gold decorations, and a range of patisserie delights. The taste is delightful, the coffee is strong, and the place is an experience. Their range of macarons is the best in Kolkata.
5. Kookie Jar
Auckland Road, Shakespeare Sarani Rd
What started as a home bakery for family and friends is now a 34-year-old venture helmed by Lovely Kapur and Puja Kapur. The first store opened in Rawdon Street in 1985 where they became an instant hit. Kookie Jar enjoys a high-profile clientele along with regular youngsters who swear by the tarts, pastries, DIY cookie set and hot chocolate.
What sets apart any Kookie Jar outlet is the fact that the Kapur sisters continue to provide personalised attention to every element, be it the food or the furniture. And for those special occasions, order customised cakes. They will make sure that the design and the flavours are unforgettable.
6. Mrs Magpie
Hindustan Park, Gariahat
A Mary Poppins-like world comes alive the moment you step inside Mrs Magpie. Blossom coloured décor, white wrought iron furniture, scattered quirky curios, cupcakes and steaming coffee. Sohini Basu Behrens started the brand as a customised cake shop, but it quickly evolved into a café thanks to the fun décor and colourful interiors.
Their marzipan animals and mini cupcakes are a special hit with the youngsters who walk in with their parents. It's like walking right into your very own tea-party.
7. Byloom Canteen
Hindustan Park, Gariahat
A heritage structure, refreshing seasonal drinks, hot cups of tea, and some mouth-watering Bengali delicacies—Byloom Canteen offers the perfect excuse to take a break from your shopping spree. The front of the house is a huge store that concentrates on handloom and handicraft products.
If you are here in the summers, don't miss their Kaal Manjari, a seasonal drink made of green mango pulp. Pair it with mochar chop (banana flower croquette) for that perfect evening.
8. Café Story by Chai Break
Sreepally, Bhowanipore
The only thing that can compete with food for attention in a Bengali household is books. That is why it goes without saying that the city has its share of reading cafés. Most popular amongst them is Café Story. A joint collaboration of Penguin books and Chai Break, Café Story is the ideal place to turn the dog-eared pages of your favourite prose paired with a cuppa.
Try their dirty fries with Manchurian and the Italian papad for that quick munch. The Louisiana Chicken Wings will add the right amount of spice to your page-turner.
9. Terminal 11
Sector 1, Bidhannagar
Terminal 11 is the hippest dining out option in Kolkata for those who want to hang out and for those who want to work. Beat your friends at board games, immerse in the world of fiction or enjoy live band performances. All this with an unbeatable café frappe and the very popular American Mac & Cheese.
And if you are a freelancer or a start-up looking for an affordable workspace, Terminal 11 offers unlimited monthly wi-fi packages that will make sure that you can work in peace.
10. Sienna Café
Hindustan Park, Gariahat
Sienna is a store with a cause, started with the aim to preserve lost art forms of Kolkata and encourage new artists. The café provides a range of products sourced from local artisans. As you move inside, you enter a space that is ideal for working and chilling.
It is also the ideal place for health watchers. The Quinoa and Chicken Bowl makes for a filling lunch option without the guilt. Couple it with a tall glass of cucumber and celery juice, and you are set to go.
Looking for a little indulgence? Go for the Dark Chocolate and Orange Cake; it will become your new favourite dessert. The café is also frequented by book clubs and live bands.
11. Artsy Café
Minto Park, Bhowanipore
Two-year-old Artsy Café has become the art hub of Kolkata. Along with Thai Chicken Salad and Vietnamese-styled Iced Coffee, they also offer their walls for an exhibition. They encourage artists of all genres to display their work and organise an open-house for them to interact with potential patrons.
The location is a little tricky but keep an eye out for bright yellow signs and you will reach your destination. The new breakfast menu offers selections like Avocado Toast and South Indian Masala Toast. Get a Blue Tokai Mocha Coffee on the side and you are ready to kick-start the day.
---
Photo: Shutterstock