It's been a while since Thanksgiving made its way to India. Even though it's a Western tradition, it's celebrated with equal zest in India. The celebrations here, like in the West, include get-togethers and sit-down dinners with friends and family over delightful spreads. If you're looking for the best places to enjoy a Thanksgiving meal in Mumbai, here's a list of restaurants that have curated a special menu for the occasion. From roast turkey to pumpkin pie, here's all that they are offering.
1. Slink & Bardot, Worli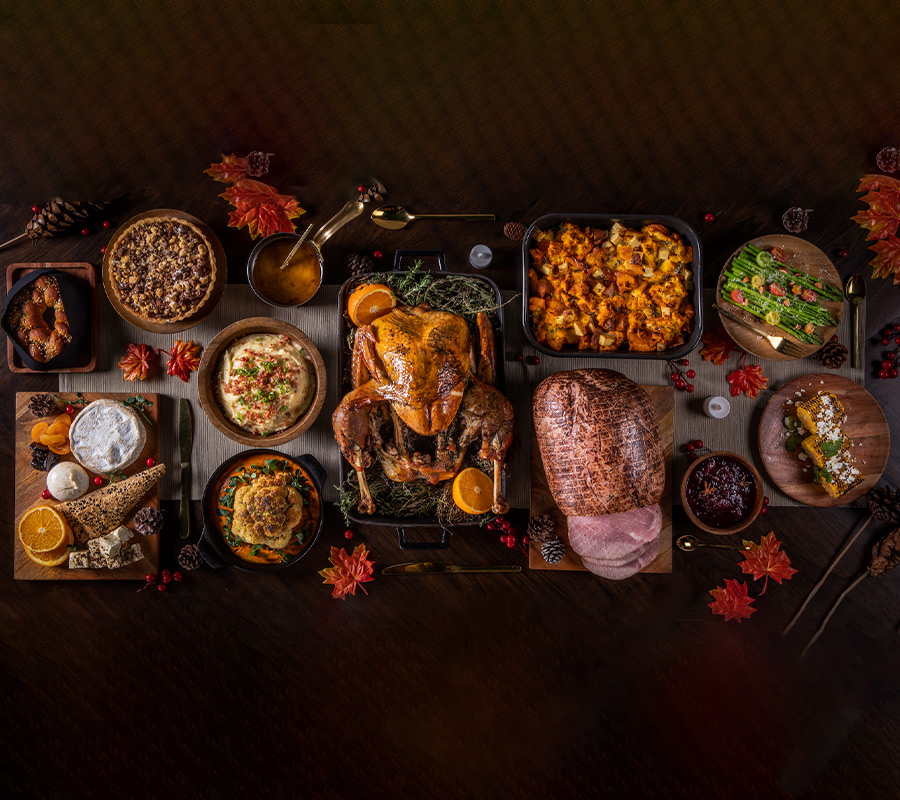 To start with, their grazing table is loaded with lots of cheese and accompaniments such as Asiago, raclette with baby potatoes and mushrooms, tête de moine, black pepper spiced Kumaoni cheese and more. The main spread features honey-glazed ham leg, cacio e pepe orzo with mushroom, walnuts and goat cheese, butternut squash and carrot soup, cajun roasted chicken thighs and a fresh beet and cherry tomato salad with hibiscus vinaigrette, almonds and parmesan.
Then there's roasted turkey that comes with either a spiced cranberry sauce or gravy, creamy scallion mashed potatoes, cornbread stuffing with apricots, apples and rosemary, charred Brussels sprouts with garlic labneh, corn elote and roasted asparagus to name a few. Oh, and don't forget to pair your food with a melon and mint sangria. To finish your meal on a sweet note, they have butternut squash pie topped with marshmallow fluff and salted caramel, chocolate chip ice cream sandwich, apple crumble pie served with French vanilla ice cream, dark chocolate cake, caramel popcorn sprinkled with some sea salt and their signature dessert, the goat's cheesecake.
Address: Thadani House, 329/A, Opposite Indian Coast Guard Worli Village
Date and timing: November 24, 2022; 6 pm onwards (only dinner)
2. Loci & Toot, Khar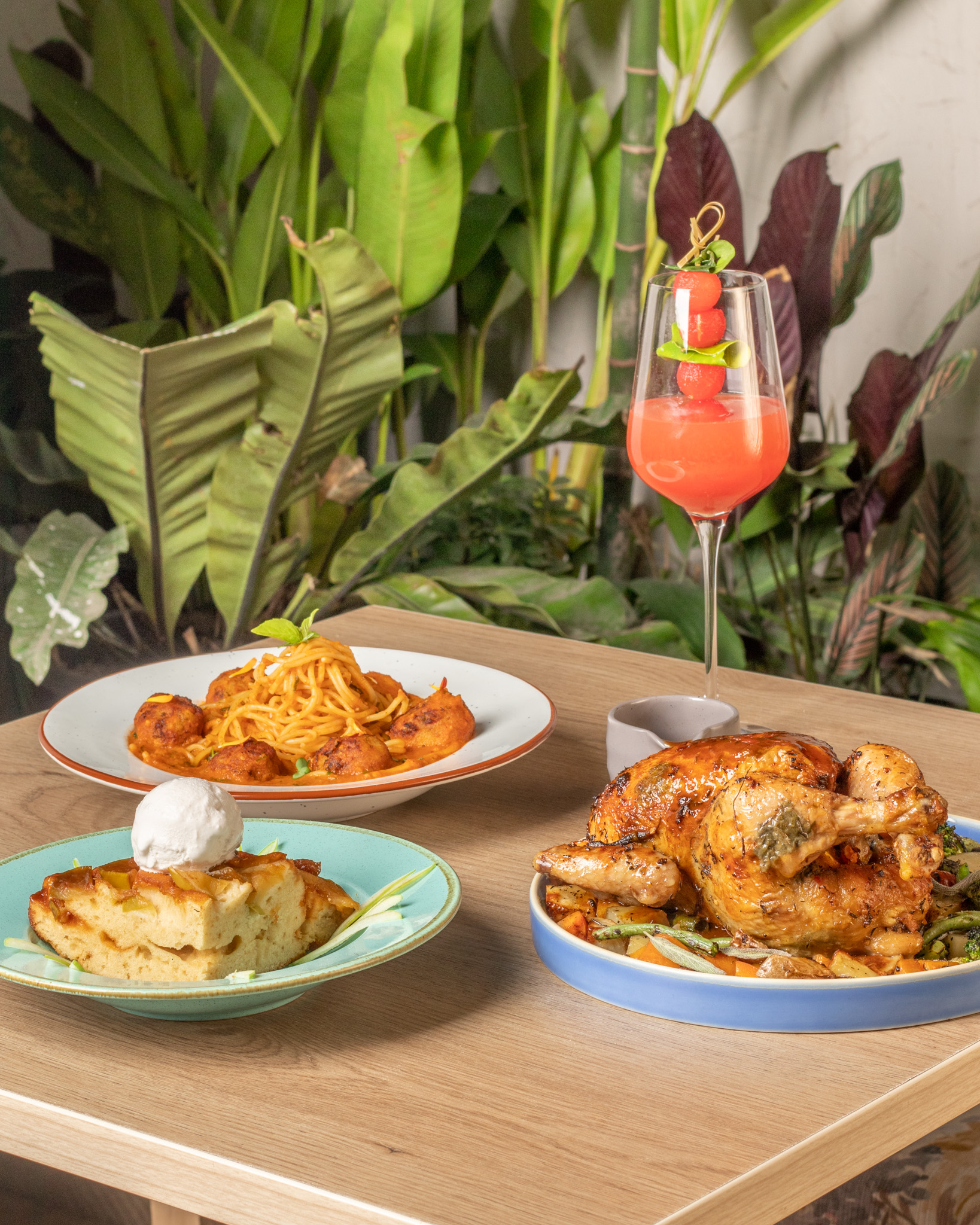 From the chef carving the roast chicken at your table to indulging in the classic shepherd's pie, the offering and the vibe here will make your Thanksgiving meal a special one. The specially curated menu includes the shrimp cocktail and cheese potato roulade as appetisers. The main course offers options that include spaghetti and meatballs, with vegetarian and non-vegetarian options, roast chicken with a side of vegetables and a vegetarian shepherd's pie. For sweet endings, you have the authentic apple pie, baked to perfection.
Address: Shop No 2, Sangrila Vaibhav Chs Ltd, Plot 616, 14th Rd, Khar West
Date and timings: 23 - 27 November, 2022; 11 am to 12 am
3. Bastian, Worli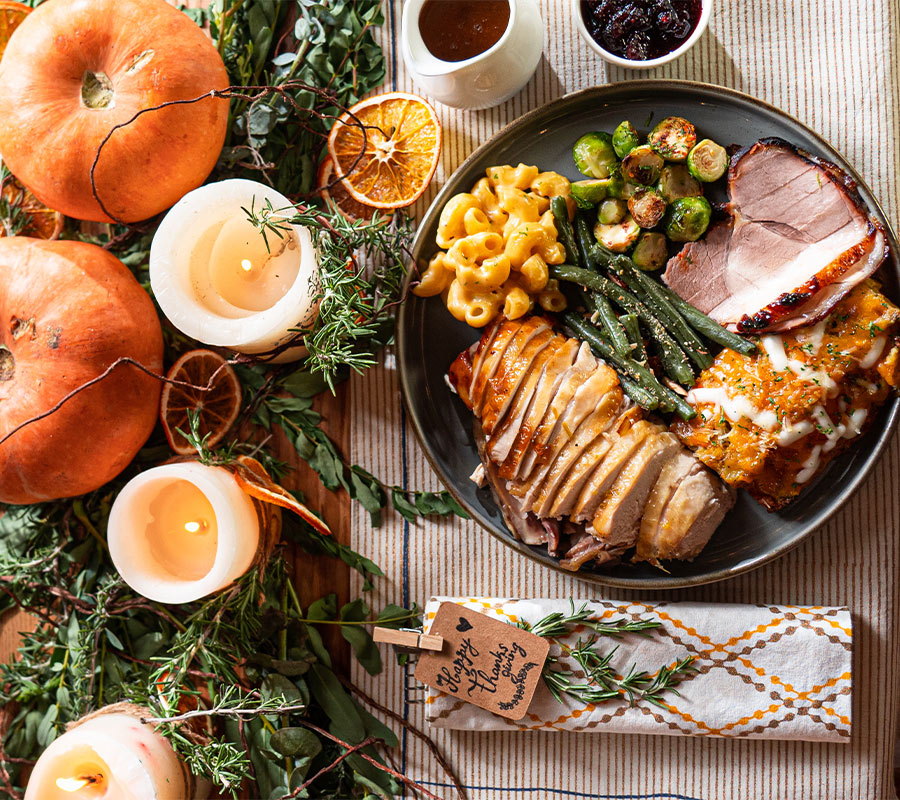 Bastian has a special Thanksgiving platter, not only for non-vegetarians but for vegetarians as well. For vegetarians, there's lasagna in the main course, accompanied by side dishes such as vegetarian stuffing, string beans, mashed potato, Brussels sprouts, cranberry sauce, corn bread, mac and cheese, and grilled vegetarian sausage. Non-vegetarians can enjoy all of that along with a traditional turkey. For dessert, go for their platter that includes an apple pie, pumpkin pie, berry pie, and Bastian cake and one piece each of chocolate chip cookie and brownie.
Address: Wadia International Centre, Pandurang Budhkar Marg, Kamgar Nagar Number 1, Worli
Date and timings: November 24, 2022; lunch and brunch from Tuesday to Sunday - 12 pm to 4 pm, dinner from 7 pm to 1:30 am; Monday closed
4. Perch, Khar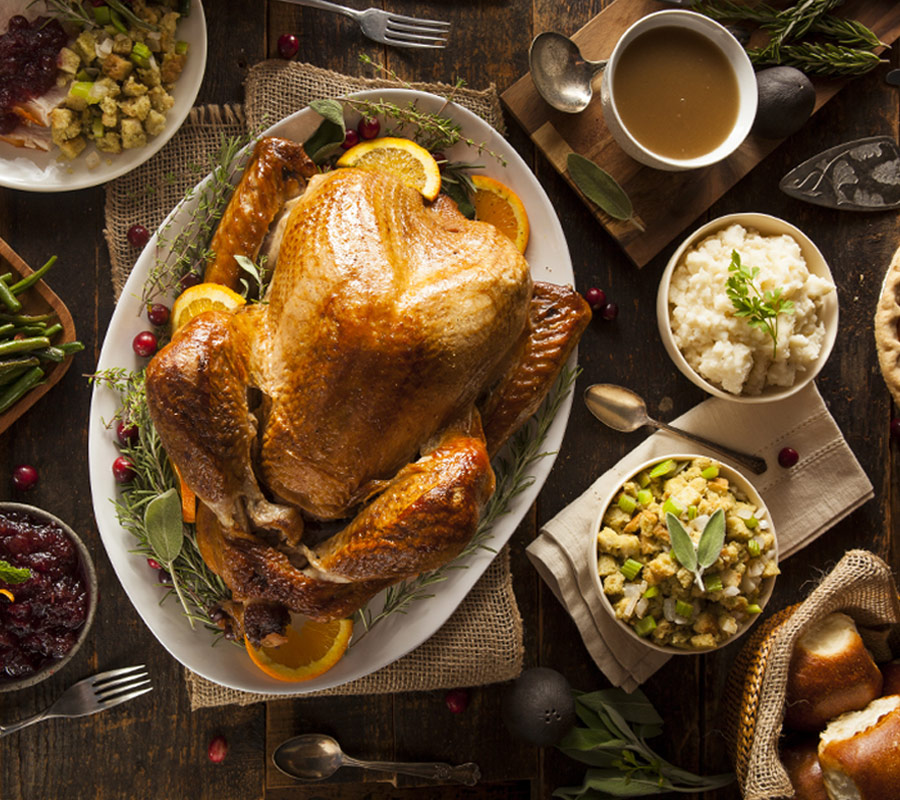 For appetisers, while vegetarians have the sweet potato, onion and cheddar pie, non-vegetarians can enjoy some drunken mussels made with peppers, capers, olives and homemade aniseed liqueur feta sauce. In the main course, there's roasted cauliflower and hazelnut carbonara, confit turkey and stroganoff, butter poached lobster, and pistachio crusted tenderloin. For sweet endings, enjoy carrot cake with raisins and frosting.
Address: 12 Union Park, Hotel Oscar, Off Carter Rd, opp. HAKIM AALIM, Khar West
Date and timings: 18 - 26 November; 12 pm to 11 pm.
5. Pondichéry Café, Sofitel, BKC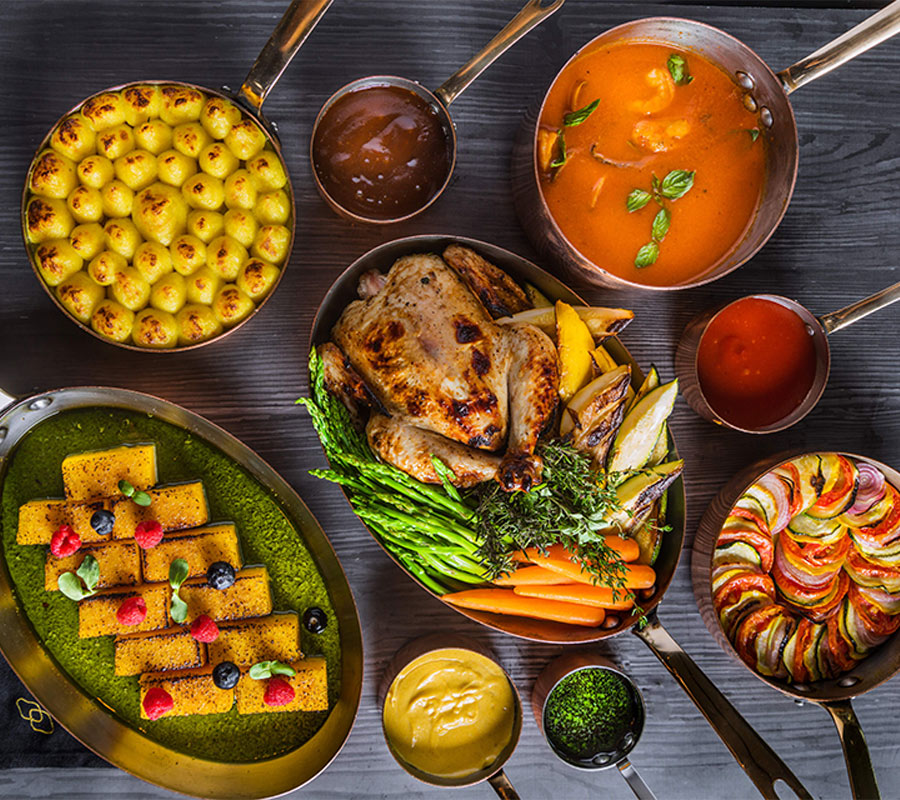 Enjoy special Thanksgiving-themed dishes for dinner, such as roasted turkey with Northwest bread stuffing, chevre potato mash, balsamic-glazed fruit, cranberry sauce and giblet gravy, porchetta ham with grilled artichoke, broccoli mousseline and maple sauce, and freshly baked pies and tarts, including walnut and maple tart, berry overload pie, apple and raisin pie, and pumpkin pie.
Address: C 57, G Block BKC, Bandra Kurla Complex, Bandra East
Date and timing: November 24, 2022; 7 pm to 11 pm
6. Poco Loco Tapas and Bar, Khar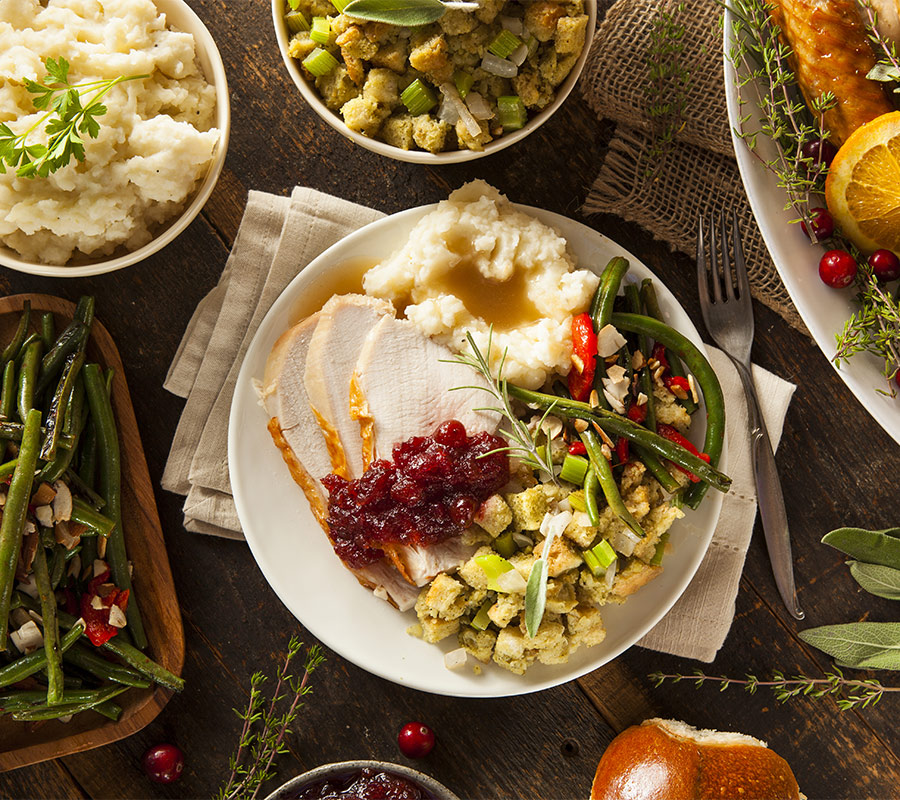 The appetiser and main course menu at both outlets have items like roasted pumpkin soup with garlic crostini, roast cranberry and turkey salad (pulled turkey, avocado, cherry tomato and cranberry dressing), mince turkey meatball with tomato parmesan puree, pulled turkey tacos (iceberg, carrot and cabbage slaw top on fresh blueberry mayo), sous vide turkey (green peas puree, fondant potato coin, thyme and cranberry emulsion), and Mexican corn ribs with cilantro mayo and siciliana cottage cheese.
Address: Ground Floor, Hotel Shubhangan, 21st Road, Off Sangeet Samrat Naushad Ali Rd, Khar West
Date and timing: 24 to 27 November, 2022
7. SAZ American Brasserie, BKC & SAZ Café, Lower Parel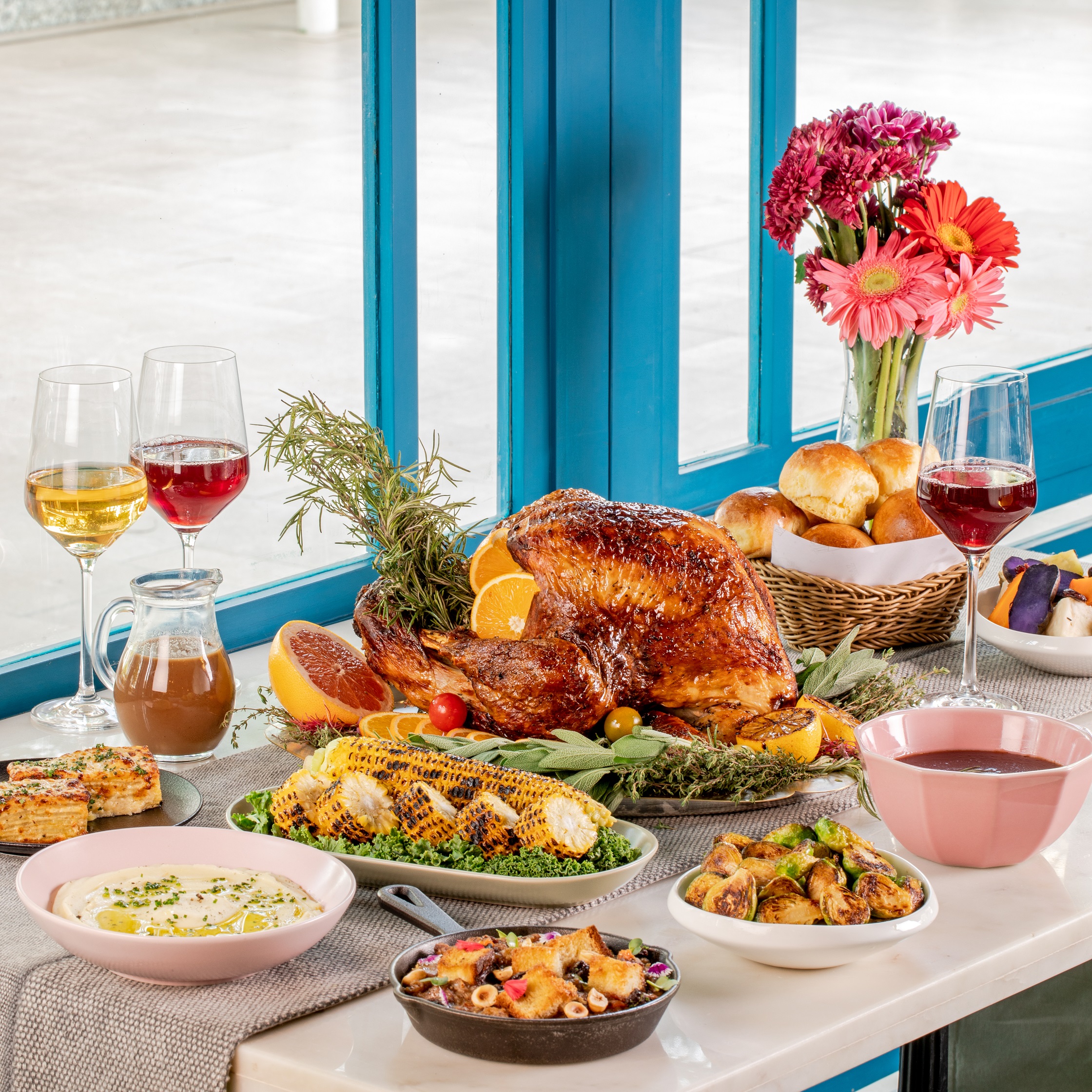 The special Thanksgiving spread includes smoked duck carpaccio salad with green apple, fennel rémoulade, walnuts, honey ponzu and arugula, berries and hazelnut salad with mulled wine dressing, belper knolle cheese. They also have chorizo fagottini with onion soubise tossed with compressed green apple, and bacon shards and winter greens risotto filled with charred brussels sprouts, blue cheese fondue, and spiced red wine reduction. The mains feature roasted us butterball turkey served with sweet potato dauphinoise, Christmas stuffing, spiced brussels, cranberry sauce, and gravy; vegetarians can opt for roasted root vegetables with aleppo chilli butter with pumpkin cream, pumpkin seed pesto and a demi glaze. End your meal on a sweet note with their signature pecan pie filled with toasted pecans, chocolate ganache, salted caramel, and pumpkin vanilla anglaise.
Address: Saz American Brasserie, BKC, Unit G-20, Ground Floor, Jio World Drive Mall, Bandra Kurla Complex, Bandra East
Saz Café, Ground Floor, NRK House, next to Kamala Mills Gate No.1, Senapati Bapat Marg, Lower Parel
Date and timing: 24 November to 2 December; 12 noon to 11:30 pm
 
Photo: Shutterstock; Featured brands