Few food experiences are as heavenly as taking the first bite of a crispy, piping hot samosa dipped in mint chutney. The burst of flavours as the flaky dough mingles with the mushy potatoes and peas cooked in aromatic spices like cumin, coriander and caraway is sheer bliss. Whether they are filled with potatoes or cauliflower, meat or just onions, had with tea or coffee or with chutney or tomato ketchup—the ubiquitous samosa is arguably one of the most popular snacks not only across India but world over.  
Versatile and ubiquitous
From street vendors, supermarkets, grocery stores to small cafes, restaurants and fine dining outlets—this triangular pastry finds its place literally everywhere.  In fact, Indian origin astronaut Sunita Williams carried samosas during her stay at the International Space Station! "It is a very versatile dish which can be fried or baked and filled with meat, dal, veggies, dried fruits and even nuts. These diverse combinations are what makes it fun to eat and extremely popular. As Professor Pushpesh Pant, a well-respected authority on Indian food says 'a samosa is the ultimate syncretic dish that is versatile and adapts to the influences and styles of local culture and cuisine. It also shows us how influences culinary and otherwise have reached us and shaped our present'.  Be it the singarain Eastern India, patti samosa of Western India, sweet gujias, labanglatikas, chandrakalaa or gujias—it is a snack for every mood, season, reason, occasion or celebration," says Dhirpal Singh, master chef, Indian cuisine, Hotel Royal Orchid Bangalore. 
The samosa story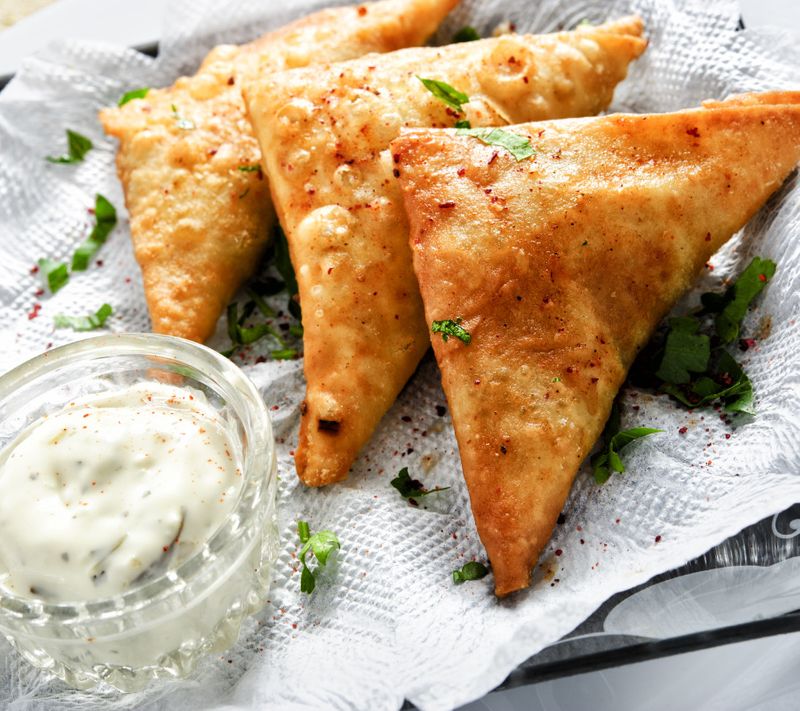 Amir Khusro, the 13th century Indo-Persian musician, scholar and poet once famously asked "Samosa kyun na khaya? Joota kyun na pehna? - Talaa an tha" (Translation: Why was the samosa not eaten and the shoe not worn? The samosa was not fried (talaa) and the shoe did not have a sole (also called talaa)).  While this riddle demonstrates how frying lends samosas its characteristic taste and flavour, the reference to the dish reveals its existence in India since time immemorial.  
But it is of significance to note that samosas did not originate in India but in Central Asia before the 10th century where it was referred to as "samsa".  While there are multiple theories, it is clear that the samosa existed in countries like Iran, Persia, and other Arabic nations much before it migrated to India. Arab recipe books dating to the 10th - 13th-century have documented several recipes under the names sanbusak, sanbusaq, and sanbusaj—all derived from the Persian word for samosas, sanbosag.
The snack's arrival in India was around the 13th -14th century through Central and South Asian trade routes when the Sultanate dynasty ruled North India.  Ibn Battuta, the Moroccan traveller who came to India in the 14th century mentions samosas filled with various types of minced meats, dried nuts, and fruits in his writings as does the 16th century Mughal document Ain-i-Akbari.  When the Portuguese introduced potatoes much later to India, it gave birth to the quintessential potato filling which later travelled westwards thanks to the colonial influence.
Fillings and varieties galore 
From veggies and meat to chocolate, cheese and even chowmein—the variety of samosas found in India is truly mind boggling."It is snack where one can experiment extensively resulting in intuitive combinations where classic recipes are recreated with contemporary textures and flavours. So, you have flavours such as kadai paneer, masala corn and even shahi khoya that are extremely popular," says Nidhi Singh, co-founder, Samosa Singh. While potatoes and peas flavoured with ginger, garlic, cumin and coriander are a classic combination in Punjab and UP, singaras or singras are popular in the Eastern states of Assam, Odisha, West Bengal, Bihar and Jharkhand. "They are slightly smaller in size and the filling has cooked diced potato, peanuts, and sometimes raisins. Bengali singaras are more heavily fried and crunchier than the other singaras. Singara filled with cauliflower mixture, mutton, and fish are other regional favourites. There are also sweeter versions, such as coconut singara, as well as others filled with khoya and dipped in sugar syrup" says Rayomund Pardiwalla, executive chef, The Den Bengaluru.  
Individual cities have their own native versions depending on the local cuisine.  For example, in Varanasi, dry fruits are a generous addition while in Amritsar there is ample use of dry spices like coriander and cumin.  In Hyderabad, there is a smaller version of samosa with a thicker, crispier pastry crust which is filled with mince-meat and is called lukhmi.  The variation with onion filling is equally delectable. "Mushroom samosas are popular in Goa. I have done a filling of prawn and mushroom as well as feta, potato and red onion, both of which are extremely tasty," says Rohan D'souza, lead chef and co-founder, Cafe Montange, Leh.
Patti samosas made from wheat flour pastry and typically filled with cabbage flavoured with ginger-green chilli paste, lemon, and sugar is popular in Gujarat; while samosas crushed and doused in a gravy of chickpeas, making it samosa chaat is popular in Rajasthan, and other states in the North. In the South, the samosas are folded slightly differently, more like Portuguese chamuças, and the fillings include carrot, cabbage, curry leaves.  
Samosas across cities
Given India's culinary diversity, every city has its own signature places that retail some of the best samosas.  In Delhi, Bittoo Samosa Wala—which has some unique variations like malai paneer, Manchurian, and macaroni samosas—is a hot favourite apart from Kumar-Wale Samosas that sells close to 30 varieties including flavours like tandoori aloo and white sauce pasta! Gulati's in Andheri East and Guru Kripa in Sion are Mumbai's favourites while it is Tewari brothers for the people in the City of Joy (Kolkata).  
While Chennaiites swear by the samosas in Tirunelveli Halwa Stall, Bangaloreans never seem to get enough of these goodies found in Albert Bakery and the legendary Bhagatram sweet.  Folks in Goa flock to Café Real and Cafe Bhonsle. According to Dhirpal Singh, some other secret samosa places include Manek Chowk in Ahmedabad, Bohri samosas at Bhindi bazar in Mumbai, Warqi (sweet ones filled with coconut, dry nuts, sugar, cardamom etc) in Surat and Japanese/Japani samosa at Manohar Halwai, Delhi. The latter is notably not a fusion variety but is super crunchy with the pastry having 60 layers, 30 on each side.  It has peas and potato filling and served with Pindi chole and bottle gourd pickle!
---
Photo: Shutterstock