"Please don't ask me boring questions: don't ask me about where I started; the marble business I ran with my father; or the epic failure of my first Italian standalone restaurant Mezza Luna. Apart from that ask me anything you want!"
Ritu Dalmia is dressed in a casual black-and-white checkered kurta with peach-coloured clog shoes that have a print of yellow cats, gives us a hearty laugh that crinkles her eyes.
We are sitting at her newest launch, Diva Spiced in Greater Kailash, Delhi, chatting about her new restaurants over a lunch of kadhi samosa and baos. Dalmia recently co-opened Spice, her second restaurant in Italy. Diva Spiced in Delhi is a re-plated version of DIVA, which Dalmia opened in 2000 after returning to India from London, where she ran Vama.
Today, the 47-year-old owns seven restaurants in India and two, namely Cittamani and Spica—with acclaimed Michelin-star chef Viviana Varese in Milan.
Her Italian heart
Dalmia is sure she was an Italian in her previous birth. "It is a strange story. By essence, I am an Indian. However, my first love when food was concerned, has been Italian since childhood. Whenever my parents were travelling, I would ask them to bring me a packet of pasta. My first famous cooking (as a kid) was macaroni with baked beans and Amul cheese," says Dalmia, who was awarded the Ordine della Stella d'Italia, the highest civilian honour of Italy in 2017. That same year, when she was opening her first restaurant in Milan, she knew it couldn't be Italian.
But back when she decided to try her hand at being a chef, it was clear she would cook Italian. "I was afraid of Indian cooking, though I knew my basics," says Dalmia, who tried her hand at cooking at 14, taking the challenge to cook up Annakoot for Govardhan puja for her Marwari household. "Indian food is very complex, you can go really wrong with it, while Italian food is easy, with just a handful of ingredients. I always carry the low self-esteem of not being a trained chef, for me, Italian was my first choice, I won't fuck up with the method and 99% of times, I won't go wrong," says the author of three cookbooks—Italian Khaana, Travelling DIVA and DIVA Green: A Vegetarian Cookbook.
Venturing into for Indian food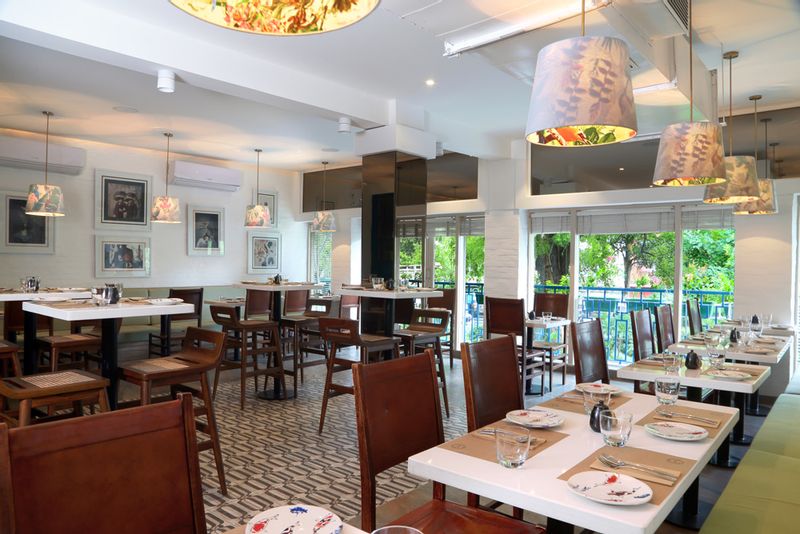 The complexity of Indian food scared her, so she took it up as a challenge and started experimenting with the cuisine. At Latitude 28, an international café above Good Earth in Khan Market, she added two Indian dishes. "Why couldn't Indian food be part of an international menu? No Indian restaurant was serving ghar ka khana like Calcutta club kachori with aloo pethe ki sabzi or a Sindhi kadhi with aloo tuk. Our thali, which is not restricted to a single cuisine, is our biggest seller," she says.
At Cittamani in Italy, she offers regional Indian food that suits the Italian palate, "without bastardising the cuisine. In our new menu, I have added Bissibele Bhat, because the Italians are familiar with risotto. There's also a light Chicken Cafreal," she explains.
Do you encourage your Italian patrons to eat with their hands, we ask? "Remember, that is the country that frowns upon people who eat pizza with a fork and knife. They need no telling," she chortles.
"Indian food for me today is like a lover—new and exciting. There is a thrill and sense of mystery to it. On the other hand, Italian food is my companion, my spouse. Indian food is my mistress."
Diva delves into the nuances of Modern Indian cuisine
Ritu Dalmia has a way with words. "I call myself Mohammed bin Tuglaq. The Sultan of Delhi from 1325 to 1351 known for first introducing modern currency to replace the barter system. It didn't work well as he was ahead of his time. Similarly, I did modern Indian in London way back in 1995. It worked in London, at a time before Zaika (the first restaurant she opened in London). There was Chutney Mary and Veera Swamy but way too early for India," she says referring to modern Indian food. Strong food cultures such as India and China are slower in accepting other cuisines.
While every chef must play with creativity, Dalmia calls herself a purist at heart. "Real food should satiate the memory in our DNA. In that sense, I am a safe chef, a coward. I let others invent and make mistakes. I like to innovate. It pays off," she grins.
Becoming Ritu Dalmia
When Dalmia started off, she was a stickler for the recipe and technique. If a recipe asked for turbot fish, I had to call for turbot even if it was not available. "I am more flexible now, and use local produce. Earlier if someone asked for overcooked pasta, I would shout and scream. Today, I realise I am no one to dictate terms on anyone's food taste."
This makes you a smarter chef? We ask, to which she promptly responds with a one-liner: "No, it makes me a more likeable chef!" 
In the early days, one complaint and Dalmia would not sleep the whole night. "I was hard on myself. I sleep better now."
I have a fairly decent life apart from being a chef. My restaurants are my priority, but I have to pamper myself to be able to do this all my life," says Ritu Dalmia, taking a bite of her kadhi samosa. She pauses for a second, savours the flavours, and smiles. "This is my favourite."
---
Five Questions With Ritu Dalmia
Comfort food: 
Tori ki sabzi with jeera and hing ka tadka; not overcooked, roti.
Star sign:
Virgo. Control-freak, perfectionist, all the horrible things.
Hobbies: 
Voracious reader, Serial junkie, Scrabble player. I know every seven-letter word, thanks to which I can cheat!
If not a chef: 
I would have been a music artist spotter.
Will travel for:
Concerts. I went to America for just one night last year to attend Indigo Girls. Recently, I went to watch Adele with my friends.
---
---
Photo: Ritu Dalmia