What are the most ubiquitous and versatile of south Indian dishes? Dosa and idlis, of course. Both have garnered such a strong fan following, in India and abroad, that it has become a dining table staple. Traditionally a breakfast dish, idli and its accompaniments of sambhar and coconut chutney have evolved into an all-day, any-time meal because it is light yet filling.
Made a batch of idlis at home and have some leftovers remaining? It's not an uncommon sight and while reheating the idlis is one way to enjoy them again but you can also be more adventurous! Try out these ingenious recipes which give your leftover idlis a makeover and add exciting variety to your snacks menu.
From shashlik to salad, here are five ways in which you can add an extra zing to your leftover idlis.
1. Toss it
How about coating the leftover idlis with your favourite spice mix? Idlis are quite versatile and capable of absorbing any flavours of your choice. So bring out the traditional milagai podi or any other spice mix from your pantry. Heat some oil, ghee or butter in a pan, add diced leftover idlis and your spice mix. Stir well till the idlis heat through and are coated well.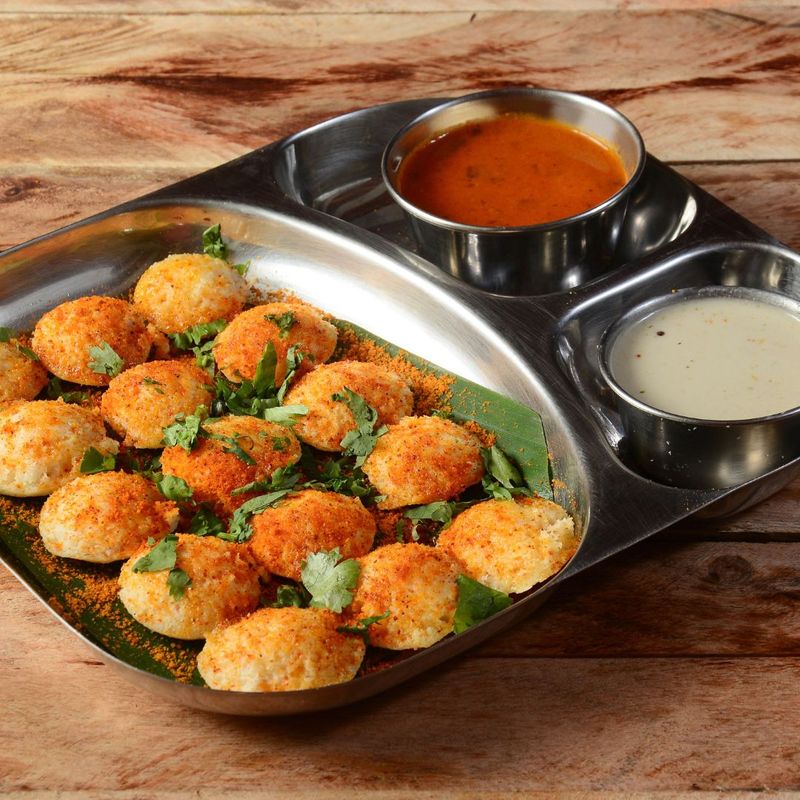 2. How about a sandwich?
Slice the leftover idlis horizontally from the middle (or take two idlis) and add a veggie or meat filling in the centre. Make sure the filling is dry so that the idlis don't get soggy. You can easily make it for a quick lunch or dinner. For vegetarians, an idli sandwich can also prove a great way to use leftover sabzi or curry resting in the fridge - looking at you aloo ki sabzi. 
3. Forget paneer and meat, make idli shashlik
Here's another exciting idea to transform leftover idlis: idli shashlik. Begin with coating the chopped idlis in a paste of red chillies, oil, ginger puree, honey, tomato ketchup, black pepper, and salt. Once done, add chopped bell peppers and onion cubes and place them all on skewers. Sear the veggies and idlis on a griddle pan and serve on a banana leaf. 
4. Idli Nachos 
 Yes, you read that right! Trust Chef Pankaj Bhadouria to turn leftover food into delicious eats. Her idea to use leftover idli is to transform those into nachos. She cuts the idli into slices and bakes them first. Then serves the baked idlis on a large plate and adds layers of bean mixture and salsa. Chef finishes off with some sumptuous cheese sauce. Read the step-by-step idli nachos recipe here.  
5. Idli Pizza
Take your idli eating experience to the next level by giving leftover idlis a creative, Italian twist. You can top them with mushrooms and cheese to make a mini idli pizza. For those who aren't fans of mushroom or cheese, you can swap them with toppings of your choice. 
6. Make a healthy salad
For days when you want to eat light without compromising on taste, try a quick salad made using leftover idli. Just chop leftover idlis into wedges and deep fry them in oil. Once done, take a bowl, mix your favourite spices and herbs with olive oil. Throw in a generous portion of vegetables like tomatoes, lettuce and bell peppers. Toss it all together and serve.
---
Photo: Shutterstock and Canva