I was first introduced to Onam in 2018 when my colleagues decided to ring in the festivities with a grand feast. One called it a Kerala sadhya, while the other, Onam sadhya. As usual, I googled it, and the search result threw up pictures of a beautiful thali-like meal served on a massive green banana leaf. Soon after, I found myself standing outside Hotel Deluxe, a local Kerala cuisine restaurant in Mumbai, that serves Onam sadhya in the city. As we seated ourselves at the restaurant, a wide banana leaf was placed in front of us, and servers quickly began adding small portions of the sadhya delicacies that filled up the banana leaf in no time. Intrigued, I asked one of the servers what each of these were, and he named them all in almost a single breath – honestly, I couldn't understand a word. 
As the server left us to relish the grand feast, one of my colleagues, sensed my confusion and took me through the meal at a pace I could catch up with. Olan, thoran, avial, kootu curry, kaalan, rasam, sambar, inji puli, payasam, cucumber pachadi – phew! The fare, which had over 25 delicacies, seemed endless. I tasted each item as she took me through the Onam sadhya, and by the end of the meal, I had found my favourite Indian thali that guarantees a food coma unlike any other.  
Sadly, I missed Onam sadhya in 2020 due to the COVID-19 outbreak. But not this year! If you are whipping up an appetite just like me for the upcoming Onam sadhya, here's a list of restaurants and home chefs in Mumbai to dial for a soul-satisfying Onam sadhya.  
Vanakkam Café by The Taxi Incubator
This sadhya by Vannakam Café's chef Rahul Desai line-up of 16 dishes features all the quintessential Onam sadhya must-haves. From Malabar parotta, rice, sambar, rasam, kurma, avial, curd chilly, parippu payasam, among other items.
Price: INR 400 plus taxes
Booking: Order via Swiggy, Zomato and DotPe
When: Until 22 August 2021
Location: Kamala Mills, Lower Parel 
Hotel Deluxe
This quaint little eatery situation in Fort, Mumbai, has been serving a delectable Onam sadhya for more than two decades now. This year, their festive special spread includes a whopping 26 dishes including sambar, cucumber pachadi, tomato rasam, olan, thoran, pappadam, pickle, chutneys, and payasam, among other delicacies.
Price: INR 420 for dine-in and INR 470 for parcel plus taxes
Booking: Call 022 22042351 or order via Zomato or Swiggy
When: 21-22-23 August 2021
Location: Fort, Mumbai
Thangabali
Open for dine-in and delivery, Thangabali in Mahim is hosting an all-you-can-eat Onam sadhya over the festive weekend. Some of the highlights of the meal include the ulli theeyal, which is drumsticks and shallots slow-roasted in coconut gravy, and the sharkarai payasam, which is a rice pudding made using jaggery. Apart from the vegetarian fare, they are also offering add-on options of mutton, chicken, and prawn dishes.
Price: INR 799 plus taxes
Booking: Call 9321845558 or order via Zomato or Swiggy
When: 21-22-23 August 2021
Location: Mahim, Mumbai 
Oottupura by chef Marina Balakrishnan
Dig into a traditional, home-cooked Onam sadhya from Oottupura, a home-cooking venture started by chef Marina Balakrishnan. Ottupura's USP has been the heirloom family recipes that are used to create delicacies, Onam sadhya and otherwise, and that chef Marina takes into consideration Ayurveda principles while menu planning and cooking. For the last day of Kerala's harvest festival, her fare features over 25 items including avial, pepper rasam, fried okra in yoghurt, jaggery coated banana chips, and much more.
If you're planning to make a few dishes on your own, here's a recipe for avial by chef Marina.
Price: INR 2800 plus delivery charges
Booking: Visit Thatthalasserygirl.in
When: 21 August 2021
Location: Delivery across Mumbai 
The St Regis Mumbai
Not in the mood to step out? Check out this grand Onam sadhya by the St Regis Mumbai. Delivered right at your doorstep by Marriott Bonvoy On Wheels, this features an array of festive special Malayali delicacies such as kadala curry, sadhya mango pickle, pumpkin erisherry, pineapple pachadi, beetroot and carrot thoran, and sarkkara varatiyatu.
Price: INR 2250 plus taxes for delivery
Booking: Call 8657522956 or 022 61628000
When: 20 to 22 August 2021 (full day)
Location: Lower Parel, Mumbai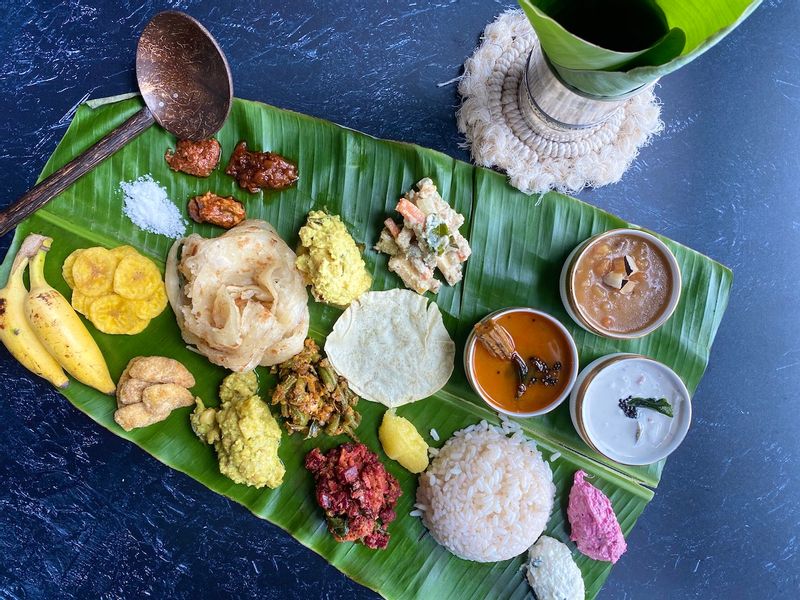 Nair on Fire
Apart from the usual all-vegetarian Onam sadhya, Nair on Fire is offering the 'unsadhya', which is the delivery kitchen's take on the traditional Onasadhya. It boasts of a combination of vegetarian and non-vegetarian dishes made using Hindu, Islamic and Suriani recipes. Foodies can choose between chicken, seafood, and buff for their Onam feast.
Price: INR 1150
Booking: Call 9324059522 (pre-order only) 
When: Pre-book for 20-21-22 August 2021
Location: Delivery across Mumbai 
Saffron, JW Marriott Mumbai, Juhu
For those looking for an immersive and authentic Onam sadhya dining experience, you can pre-book a seat at Saffron, JW Marriott Mumbai, Juhu. Chef Abhishek Basu and his team are whipping up a variety of traditional Malayali recipes to make this Thiru Onam a memorable one for you and your loved ones.
Price: INR 3000 plus taxes for dine-in
Booking: Call 9004616506 
When: 21 August 2021
Location: Juhu, Mumbai  
South of Vindhyas, The Orchid
Nine varieties of pachadi, lip-smacking chutneys, flaky Malabari parathas and many other festive specials await you at South of Vindhyas sit-down buffet. For desserts, you can polish of bowlfuls of pal payasam and parippu payasam.
Price: INR 2100 plus taxes for dine-in
Booking: Call 022 61697000 or 7506010316
When: 19 to 22 August
Location: Vile Parle East, Mumbai  
---
Photo: JW Marriott Juhu