When I looked up Nava on Instagram, it would be unfair to say that it didn't impress me with its thoughtful presentation that exemplifies food art, quite literally. But does the food taste as good as it looks? It's time for the revelation.
Honestly, the concept of an ingredient-forward restaurant is not alien to Indian diners anymore. Diners in the country are now open to menus that explore one ingredient as the hero of the dish backed by classic European cooking techniques.
Chef Akash Deshpande was once part of Social and has led Toast and Tonic too. After his fair share of disappointments with the Indian fine dining scene, he decided that he wanted to run a restaurant that serves the right kind of ingredient-driven dishes inspired by French techniques. And that's how Nava happened.
The inspiration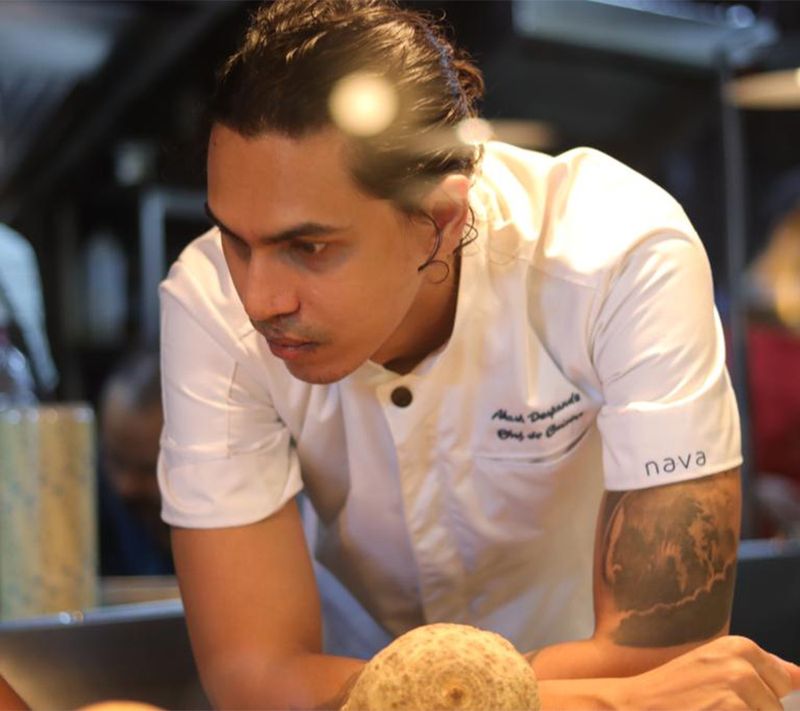 With a quest to showcase India through its ingredients, chef Akash recounts, "The fine dining scene back in 2014 was very dull with few restaurants such as Indigo. What we are doing now, someone should have done it 10 years ago." At Nava, the ideology is European food, but with local seasonal ingredients such as kokum and karvand to name a few. Chef Akash continues, "The way of making the sauces here is very French, but with kokum. Ingredient-driven restaurant doesn't necessarily mean that the chef goes hunting for ingredients in remote villages and forests. You don't have to search for ingredients. Onion is also an ingredient. How you showcase it, matters. Basically, it's about showcasing one ingredient that's shining. Nothing is overpowering."
The chef believes in changing the menu every three to four months. "My love for ingredients comes with the season. Like I played a lot with karvand and jamun. In this season, it's cashew fruit, kokum, and mango ginger. We also do tasting menus which are all about the experience and techniques. My à la carte menu also has seasonal produce where we use yam in tortellini," says Chef Akash.
The interiors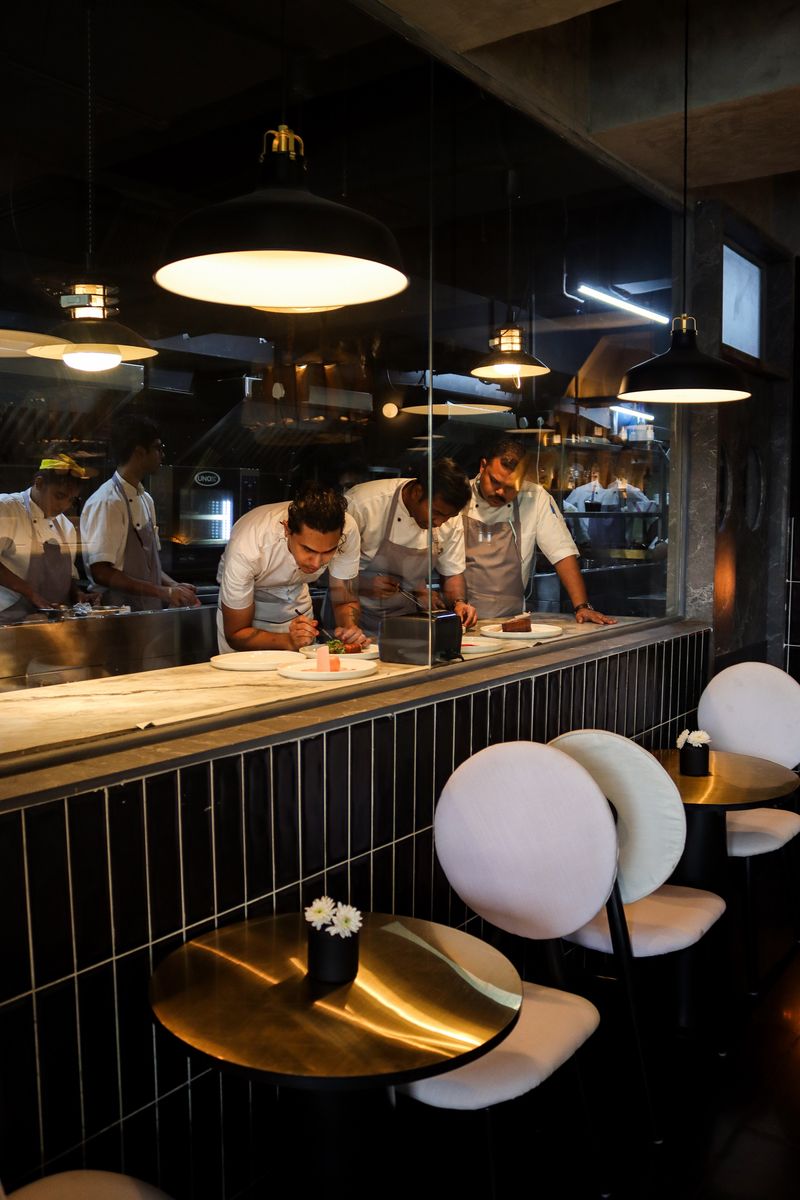 As we walked into the restaurant, we discovered a space that was so much at ease with its clean monochrome palette and contemporary vibe. The casually placed European art elements, such as hints of Banksy artwork on the walls, black limestone flooring and mirrors, look classy without being overstated. Exuding a new, fresh and modern vibe with an almost open kitchen giving patrons a glimpse of all the magic that unfolds, the interiors make sure the spotlight on the food (the hero of the space) remains intact.
The food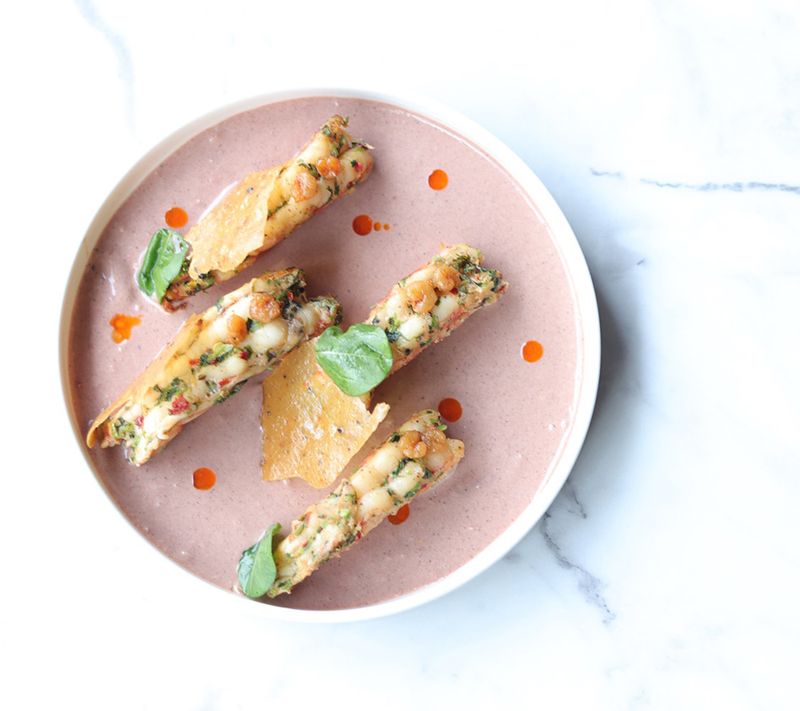 The cocktails weren't impressive — let's leave it at that and dive straight into the food, the star of the restaurant. The heart of the menu is made up of kokum prawns and chicken liver pate, not as you've seen it before.
We started with the pickled tiger prawns smeared in a broth flavoured enthusiastically with kokum and coconut sauce, topped with their homemade prawn crackers. Centre yourself for the next dish — the divine chicken liver pate that looked nothing like those we'd been served elsewhere. Made of sea salt with a raspberry glaze on top, it bears an uncanny resemblance to a dark chocolate mousse in terms of colour and texture. One bite and you are convinced that liver pate is safe in these chefs' hands. It's smooth, earthy, and tastes terrific with garlic toasts. The chef suggests, "Have it only if you like liver." Not for you? Then go for the deep-fried yam gnocchi swimming in an intense and delicious sauce made of wild gouda, corn puree and soubise (a French onion sauce), adding the perfect velvety texture to the dish. Their slow-cooked pork belly made of compressed green apples, apple puree and a green apple sorbet is decent but needs a little more focus to be called exceptional.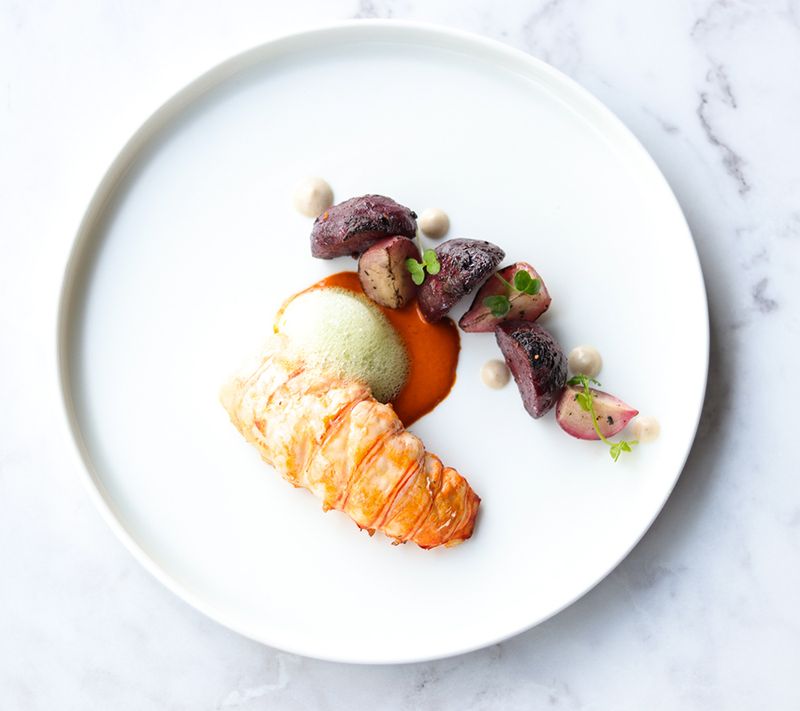 For mains, there's pan-seared duck, and anything that has gondhoraj lemon has our heart. The zesty gastrique, red wine and blackberry au jus with potato fondant and roasted onion soubise ensures that your taste buds are well taken care of.  The lobster tail served with chorizo spiced beurre blanc sauce, braised beetroot, leek puree and leek foam is everything the dish should be. If you're a non-meat eater, try the five-hour cooked pulled jackfruit pie in a red wine reduction — a fabulous creation.
The dessert
The best is yet to come — packed with delightful surprises that are bold and exciting and personifies art on a plate in the truest sense. Now, imagine Michelangelo's David or Vincent Van Gogh on your plate. Can you? We couldn't either. That's until a white chocolate mousse David was served on our table, waiting to be unveiled, with an edible red cloth made of gelatin, passion fruit syrup, wafer paper and glucose syrup. With the guilt of blasphemy, we dug in. Let's say, the chef's three-month trial to get the perfect 3D mould paid off well with great subtlety. Chef Akash recounts, "We started with tadgola, but when you freeze tadgola, and you take it out, the dessert becomes soft but the tadgola inside freezes and it's just got water. Now we make it with apples, chikoo and cinnamon that gives us the desired texture."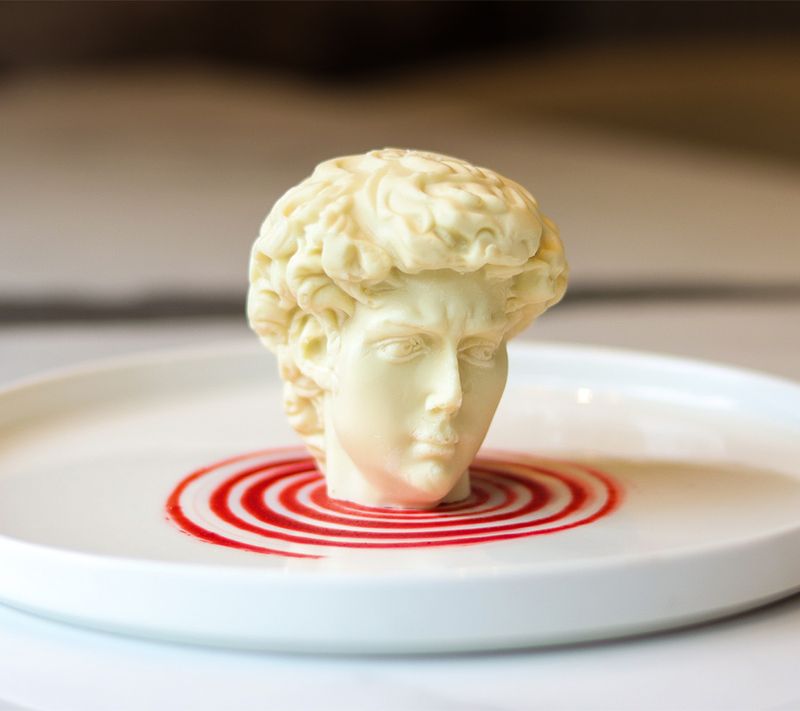 Next up was Vincent Van Gogh's artwork on our plate — something we did not see happening in our lifetime. The vanilla bean mousse — made of passionfruit curd, gondhoraj lemon sponge, ginger shortbread and served on a bed of canvas painted with jasmine custard and passionfruit jelly — was an enjoyable sugar rush.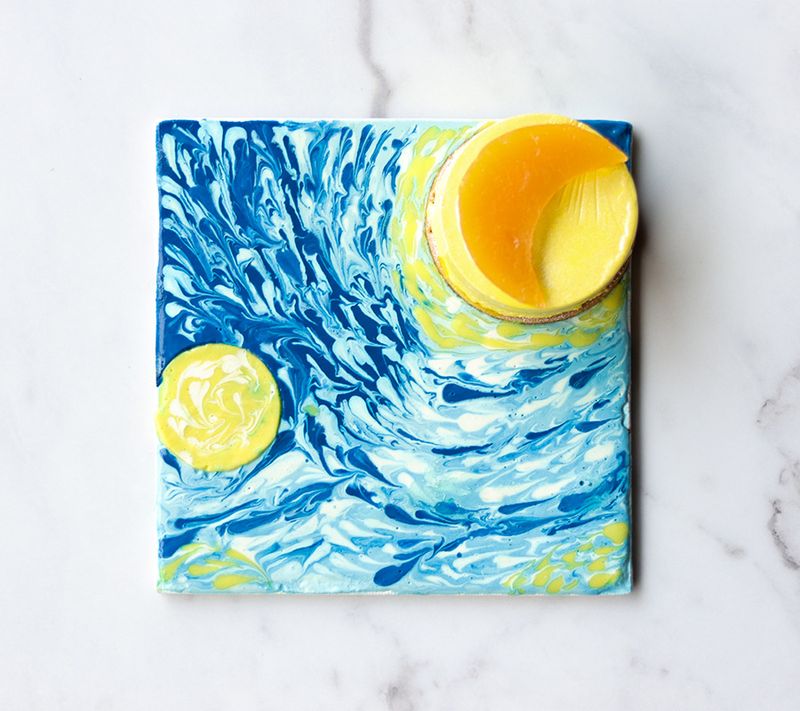 Elaborating on Van Gogh's starry nights dessert, chef Akash says, "This dessert is an ode to artist Vincent Van Gogh and how he saw the world. The world-renowned paint brush strokes catch every spectator's eye and that's what differentiates him from others. I paint myself, so the idea behind the dessert was why not paint a dessert and create something on those lines which gives the customer a feel of eating a painting. The reason it being a starry night is that it resonates with everybody as they all must have seen it somewhere because of the popularity of that painting." The chef adds, "Every table eats a Van Gogh, and in a night, we sell around 20-25. We only make five David in a day."
We also tried the chef's special seasonal muskmelon, their only plated dessert. It comes with a dehydrated muskmelon and a muskmelon sorbet placed on a slice of fresh muskmelon. Are we a fan? Yes! Hands down, one of the best summer desserts we devoured this season. Or should we say, the only dessert you need this summer?
Final verdict
By the end of our hearty meal, given the delightful experience, we were keen to know if the chef is aiming for Asia's 50 Best. He says, "Next, we want to open in Delhi and London. London is for the Michelin, that's where I am interested in where people come, eat and review your food." It's rare to come across the kind of determined, challenging and ingredient-driven cooking that's being presented at Nava. It has some of the best dishes we have tried in Mumbai and is the kind of restaurant that we want to flourish. 
Where: 2nd floor, Suburbia Building Between Linking Road, Swami Vivekananda Rd, Bandra West, Mumbai
Meal for two: Rs 5,000 including alcohol 
---
Photo: Nava