A crisp buckwheat tartlet filled with black garlic-infused chèvre and topped with glistening pink slices of slow-roasted Chioggia beets. Plump charcoal-grilled prawns on a bed of avocado-cape gooseberry salsa and kanji spiced shallots, all served on a sprouted finger millet tortilla. With every bite, I relish and enjoy the complex interplay of flavours and textures that stand out, and make eating out a refreshing change.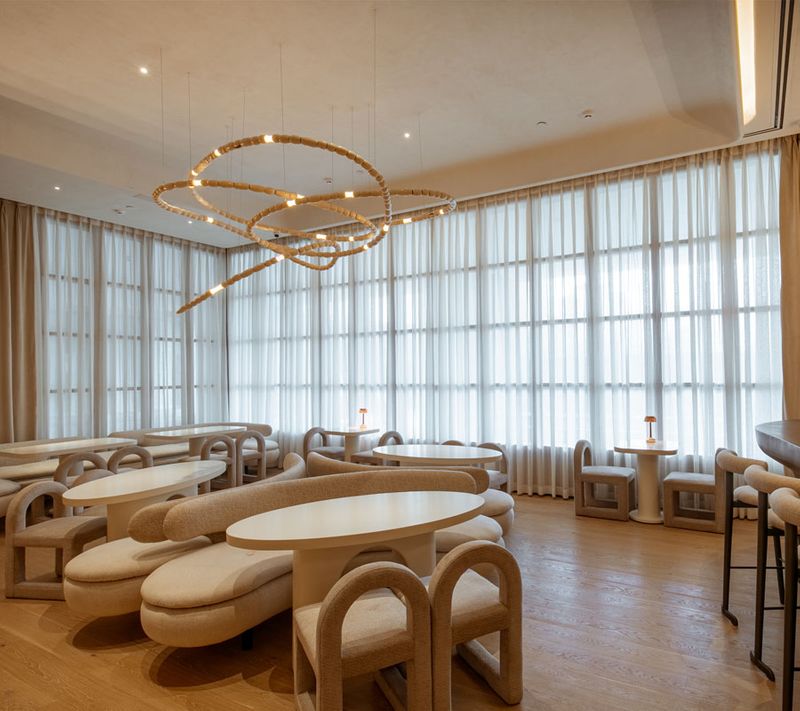 Founder and chef Vanika Choudhary, whose Sequel bistros are popular amongst Mumbai's clean-eating brigade, has embarked on a new chapter with a plush dining space called Noon located at BKC. "The whole idea of Noon was to create a concept that was completely different from Sequel. The format of dining is very different, what we call chic-dining—somewhere between casual and fine-dining", she says.
Experiments in the kitchen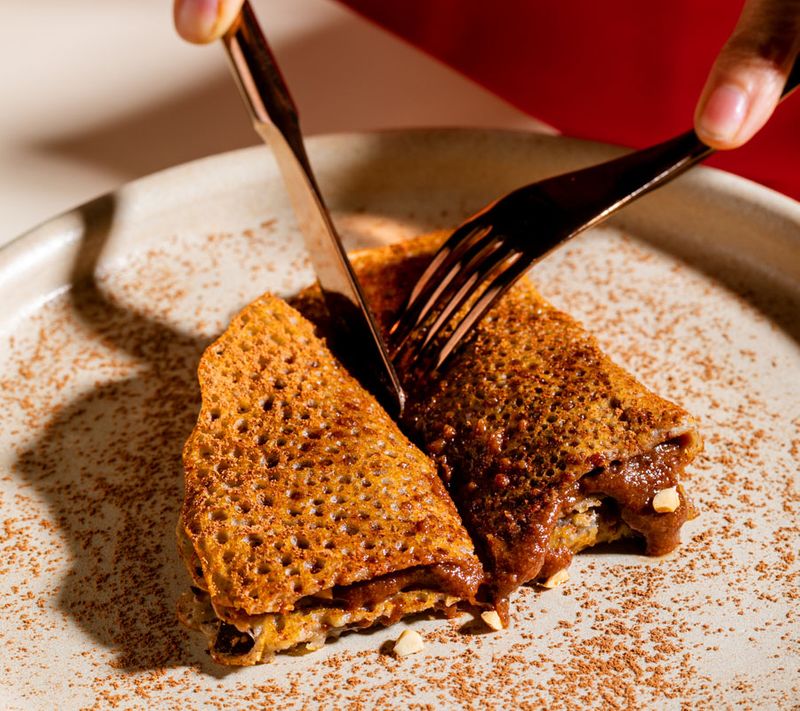 We hear that half of Sequel BKC has been given over to this concept. Noon sports a muted colour palette— all wood and beige. Everything from the light fixtures and the abstract chandelier made with Channapatna beads to the ceramic crockery and serveware is handcrafted, bespoke, and promotes local artisans. The restaurant's name comes from the Kashmiri word for salt, a nod to Choudhary's Kashmiri-Punjabi roots. "Salt is the flavour that elevates food and it's a key ingredient in fermenting. At Noon, our menu celebrates seasonal indigenous produce, while also focusing heavily on fermented ingredients", she says.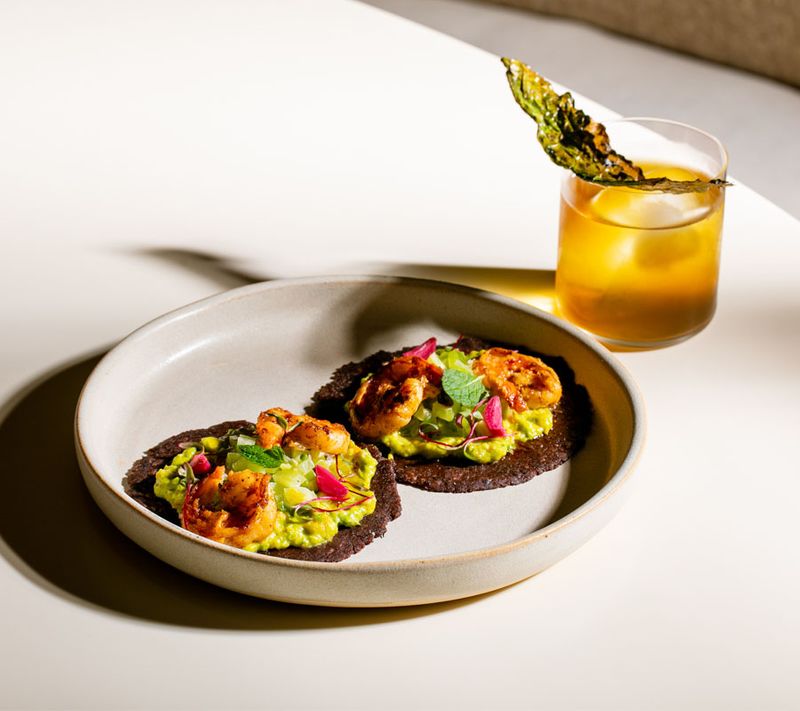 The kitchen has more than 20 ferments going on, from black carrot kanji to shio koji, miso, and shoyu, all of which are used in inventive ways to add unexpected flavours to the dishes. Like shallots that are fermented in kanji for 10 days and then added to the aforesaid tortilla for a burst of tart crunch. Or shio koji, which is essentially rice koji, water, and salt fermented at room temperature, but takes on a new form at Noon with the addition of saffron and apricots; this is served instead of butter with house-fermented sourdough, which itself is made with native grains like Ladakhi buckwheat or Maharashtrian jowar. To keep tastes authentic, the kitchen at Noon uses mortar and pestle to grind marinades and ensures that all grains are soaked, sprouted, and fermented. 
From Kashmir, with love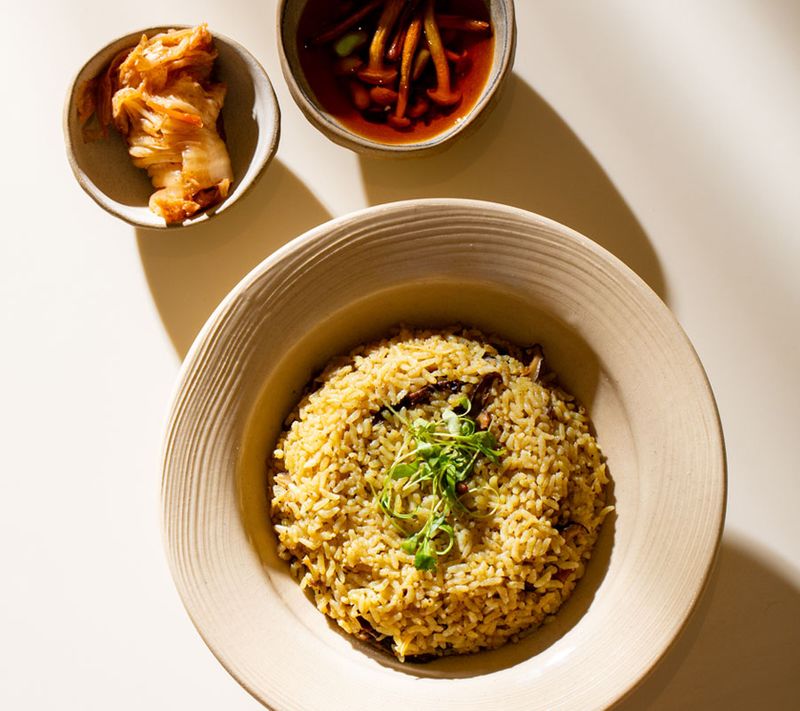 Despite the name, Noon, which means salt in Kashmir, does not offer Kashmiri food. "But the menu is definitely inspired by my childhood, the foods that I grew up eating, and the cooking techniques I saw my grand mum and mum use", says Choudhary, who spent her early childhood in Kashmir and then moved to Jammu. 
Take for example the clay pot rice, which is an iteration of her favourite gucchi (morel mushroom) pulao. The Noon version features kolam rice cooked with shiitake mushrooms and is served with cabbage kimchi that's fermented with Kashmiri red chillies, as well as an XO sauce that contains miso made in-house with proso millet, peanut, and habanero chillies.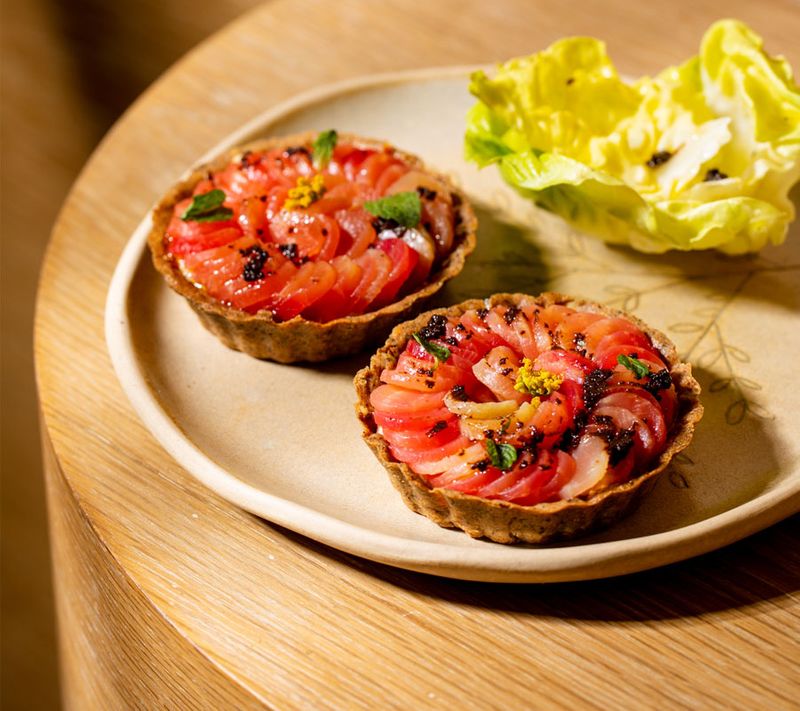 Produce is sourced from all over India, whether it's saffron from Kishtwar or black buckwheat from Ladakh or avocados from Kodai or ragi from Tamil Nadu. Even the exotic ingredients like Chioggia beets, purple corn, aji limon peppers, tomatillos, etc. are grown in their own greenhouse at Offerings Farm near Pune. In a clear departure from Sequel, the Noon menu features zero salads, although they will toss one up for you if you ask.
Cocktail hour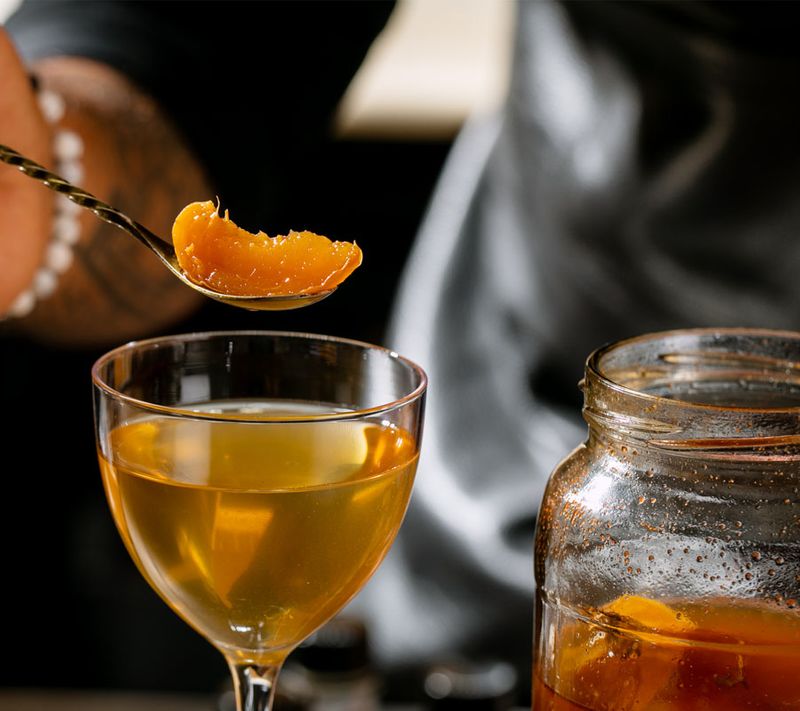 What's also new at Noon is the elegant, all-wood bar, which offers an extensive craft cocktails menu as well as organic and biodynamic wines. Helmed by head mixologist Nikhil Sood (formerly of Thirsty City 127), this is one of the few bars in the city that doesn't use any refined sugar or aerated beverages (with the exception of soda). "We also work very closely with the kitchen—both ingredients and leftovers from the kitchen are used in the bar; for example, the cocktail Battle of Oranges uses leftover orange peels for infusions", says Sood. Or consider the housemade tepache—pineapple peels fermented in water—but elevated with the addition of spices like coriander, cinnamon, cumin, and aji limon pepper; the tepache is used to glaze the carrots that come with the Himalayan trout and also makes its way into the tequila-based cocktail Pineapple Tepache.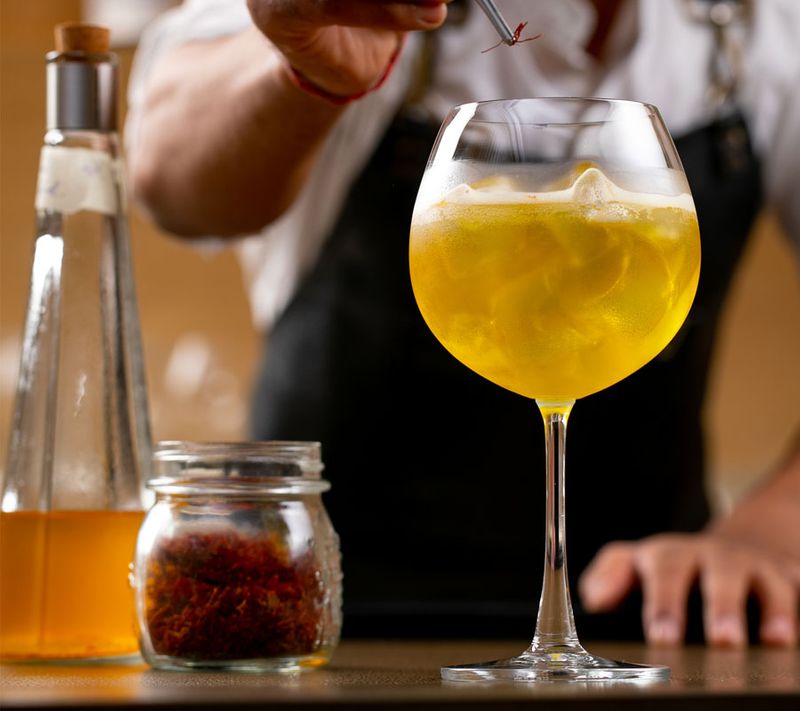 My favourite cocktail was the Saffron Kehwa, a lush aromatic drink made with gin, tonic, and kehwa tea reduction, all individually infused with saffron. Or try the milk-clarified vodka-based Kale-Arity, an unusual cocktail that contains kale juice, sweet basil juice, gondhoraj lime, and kaffir lime tincture. Noon also offers aperitivo hours from 4-8 p.m. when you can try three cocktails for Rs. 2,000 or five for Rs. 3,000. 
Sweet endings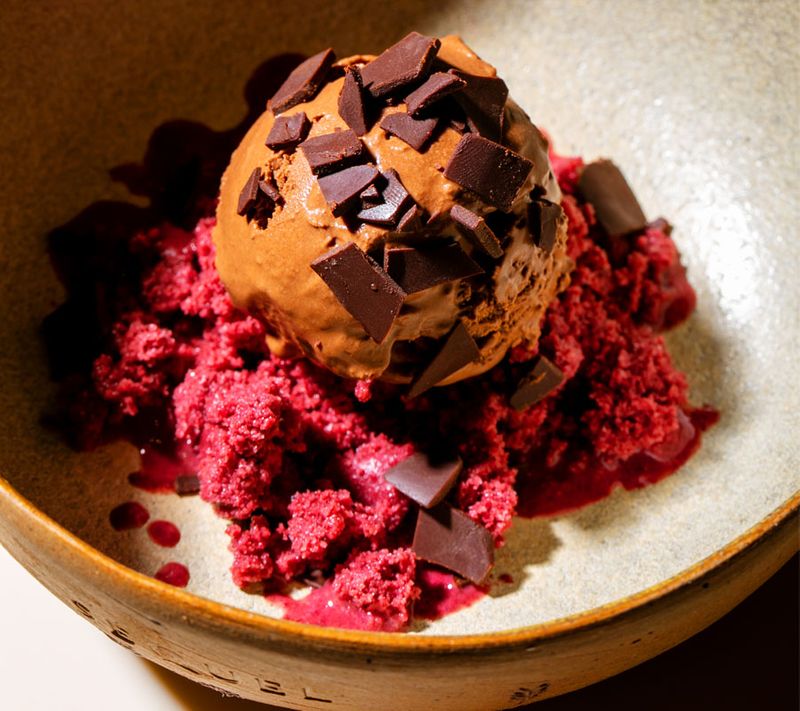 I end my meal by sampling two desserts—the freshly churned raw cacao and sea salt ice cream, paired with a delightfully tart granita made with seasonal berries. "Mahabaleshwar strawberries are all the rage but while hiking through the forest there, I discovered these thimble berries, locally called rasbhari, which we use in the granita", says Choudhary. I'd also return for the rather moreish A2 ghee roasted black buckwheat crepe stuffed with raw cacao and tahini made with unhulled sesame seeds.
I ask Choudhary about her clean-eating philosophy and how does she square that off with flavour. "Clean is far from boring! My personal philosophy is that clean eating must be delicious. If it's not delicious, I won't eat it; I won't even give it to my two-year-old son. For me, the underlying principle of eating clean is all about being conscious and mindful while ensuring your plate is diverse with locally sourced ingredients and using age-old techniques. Food must nourish your body, clean is just a by-product", she says. A philosophy that's quite evident at Noon.

Food recommendations: Saffron kehwa, sprouted finger millet tortilla, king trumpet mushrooms, rainbow trout, and A2 ghee roast black buckwheat crepe.
Address: Noon, Gr. Floor, Unit B-102, ONE BKC, Bandra Kurla Complex, Mumbai. Tel: 075066 77720 
Timing: 12 noon to 1.30 a.m.
Price for two: Rs. 3,000 (without cocktails) and Rs. 5,000 to 6,000 (with cocktails)
 
---
Photo: Noon