There is very little doubt in my mind that this truly is the era of hyper convenience that we find ourselves in at the moment. And more so in the last two years, where almost everything is ours for the taking. Delivered straight to our homes, efficiently and sans any stress. Lockdowns be damned!
Fancy a fully prepared, gourmet meal? Simple. Just tap on an app and voila, you can have a three-course meal delivered right at your table. This, thanks to scores of food aggregators, cloud kitchens and delivery services. Each trying to knock the other out of the competition. Making sure that you never once miss eating out at your favourite restaurant. 
Taking this one step further are a host of DIY food kits from a plethora of food delivery businesses, restaurants and cafes around Mumbai. Replete with pre-portioned, prepared ingredients and assemblage instructions. All to help realise your dreams of whipping up everything from a fancy Mediterranean mezze platter to a less-challenging, but equally scrumptious thin crust Neapolitan-style thin crust pizza. 
To that end, here is my curated list of the top 10 DIY food kits. Invaluable pantry aids that take away the stress of shopping, cleaning and chopping the ingredients and condiments for your favourite meal or snack.Leaving you to create culinary magic in the comfort of your very own kitchen!
1. Make-Your-Own Khowsuey Box from Home Chef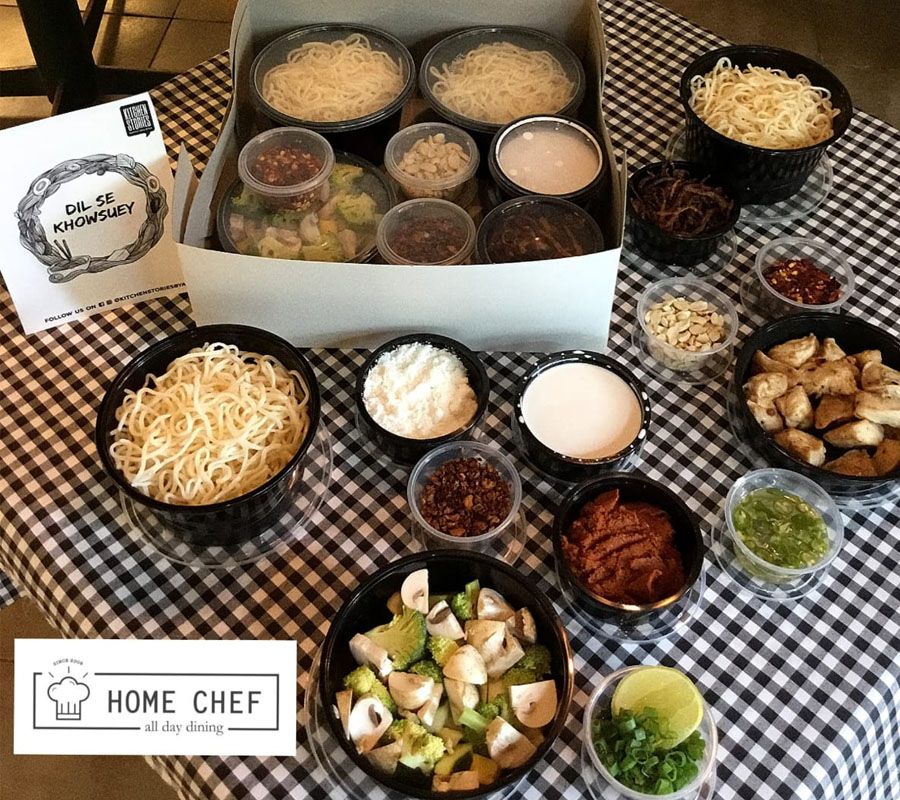 Besides offering a range of M.Y.O. (make-your-own) food kits like a pizza, taco, chaat and burger box, the number one selling kit at Home Chef has got to be their easy to prepare khowsuey one. Serving two, the box contains cooked noodles, raw veggies (or chicken), curry paste, coconut milk and half a dozen condiments like crushed peanuts, fried onions and garlic, chopped spring onions, lime wedges and vinegar. All this, with printed instructions on the inside of the box's lid to help you rustle up a restaurant-quality iteration of the popular Burmese dish in minutes.
Price: Rs.600 (vegetarian), Rs.700 (chicken) 
Where to order: Call on 9004689378
Instagram: @homechefmumbai
2. Little Chef Box from White Light Food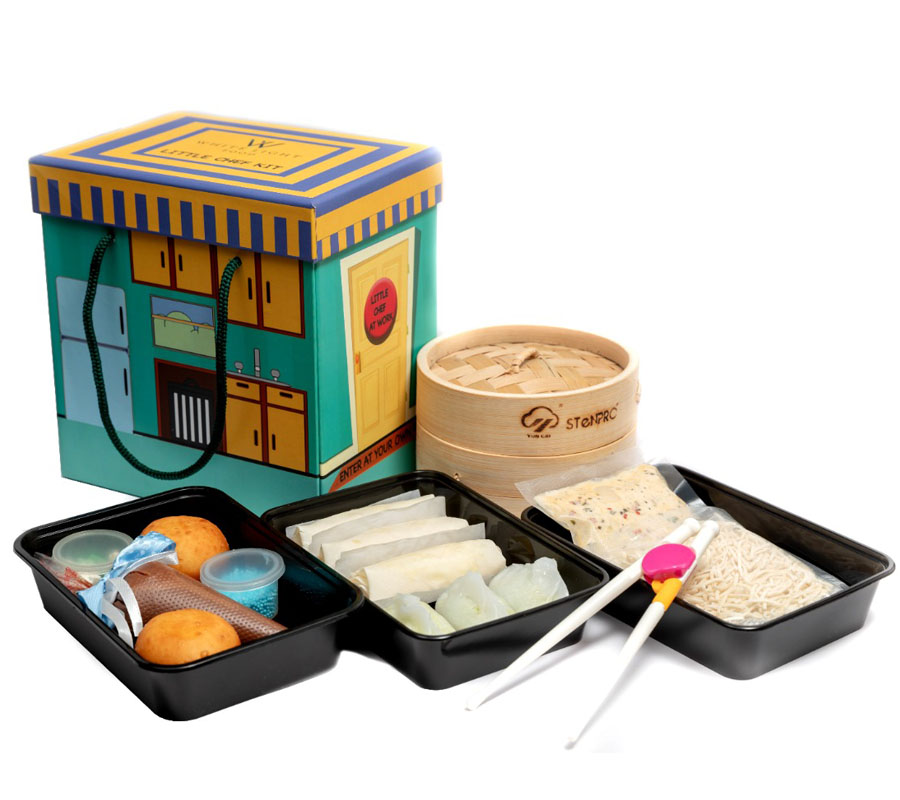 Aiming to get the young 'uns started off early in the culinary arts is this very cute and colourful DIYlittle chef box from White Light Food with easy-to-follow instructions. Containing an assortment of items like truffle edamame dim sums, mozzarella cheese rolls, dry noodles and cheese sauce, mini donuts with a chocolate sauce cone and sprinkles, a mini bamboo steamer and learner chopsticks, this box is a great gifting option for a child's birthday, a fun play date activity option or a fun way of unleashing creativity to prepare a delicious meal.
Price: Rs.1,200
Where to order: Call on 9867594241
Instagram: @whitelightfood
3. Make-It-Yourself Sushi Kit from Urban Platter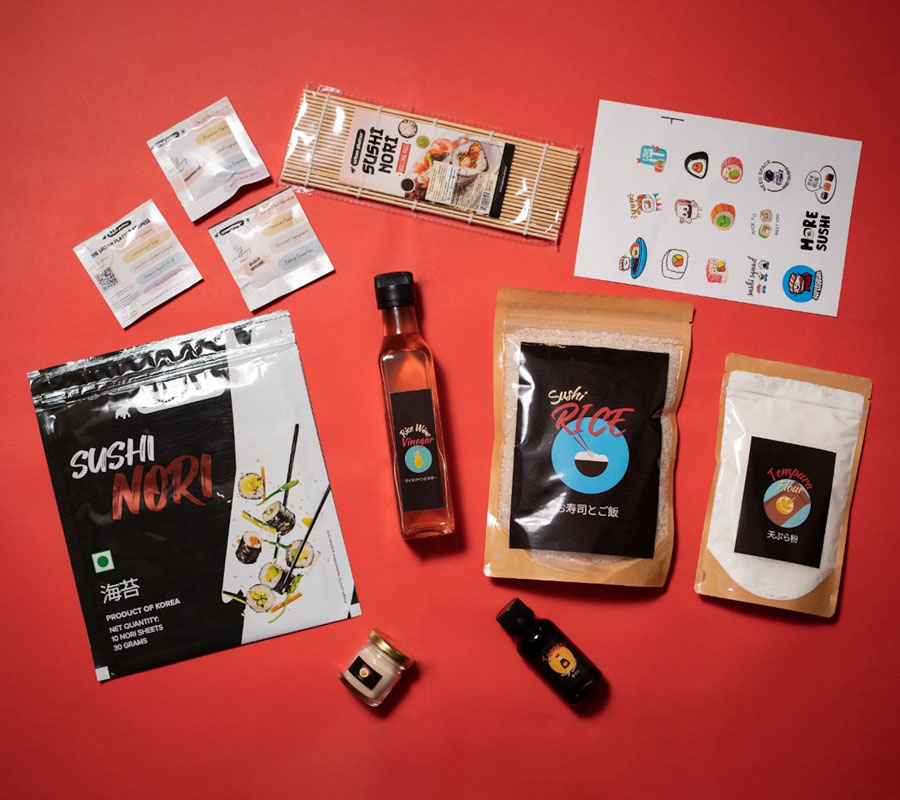 Created in association with Book A Workshop, this M.I.Y. (make-it-yourself) sushi kit from Urban Platter is perfect for date night, a fun evening of creativity with the kids or simply for a solo, Netflix and chill evening in! Containing everything from sushi rice, rice wine vinegar, tamari soy sauce, nori sheets, tempura flour, furikake and togarashi seasonings, to a sushi rolling mat, this kit has it all. An exclusive hour-long video masterclass that you can download via a QR code, walks you through how to make the super trendy and fun Japanese staple at your own pace and place.
Price: Rs.1,495
Where to order: Call on 7208083639
Instagram: @urbanplatter.in 
4. Mezze DIY Party Platter from Yemmek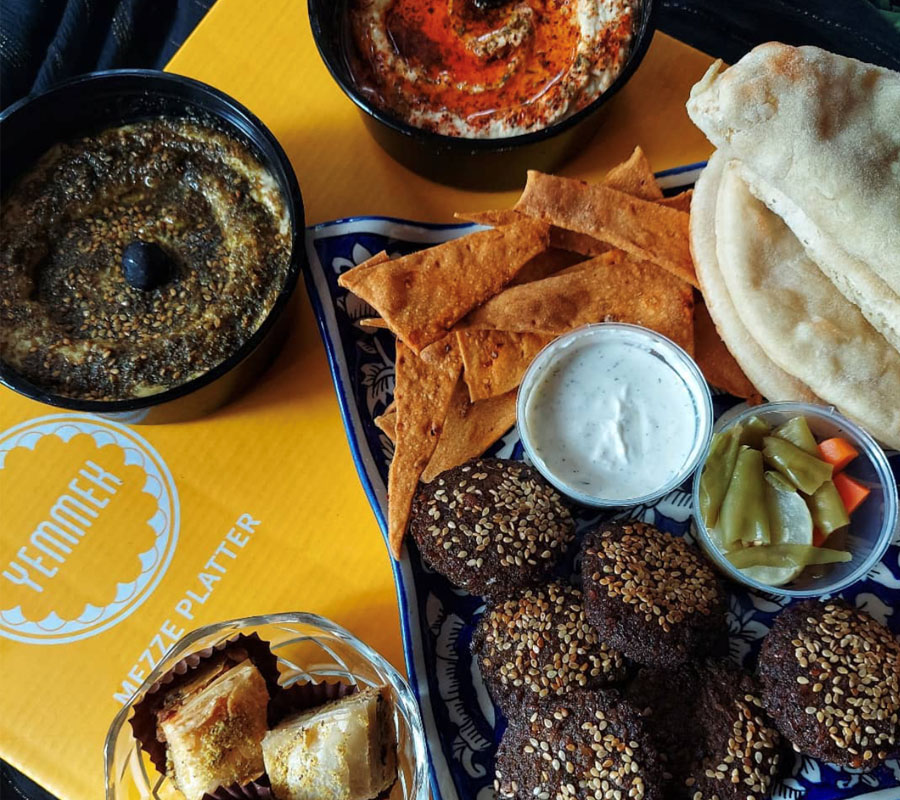 This Mediterranean food and baklava delivery service has the very interesting all-vegetarian mezze DIY party platter on offer where the permutations and combinations of the provided components are endless! From falafel wraps and pita pockets to a mezze grazing board with the platter, one can come up with just about anything Mediterranean. On offer in the platter—that can feed up to five people—is a choice of two hummus options with exotic iterations like caramelised onion and peri-peri and types of breads like za'atar pita and sesame lavash. One also gets to pick a salad like a fattoush, four fluffy falafels and four cheese and spinach stuffed baked fatayer triangles. The kit also comes with Arabic pickles, black and green olives and an assortment of dips and condiments.
Price: Rs.2,260
Where to order: Call on 9321518522
Instagram: @yemmekindia
5. DIY Taco Box from Kookie Cake Crumble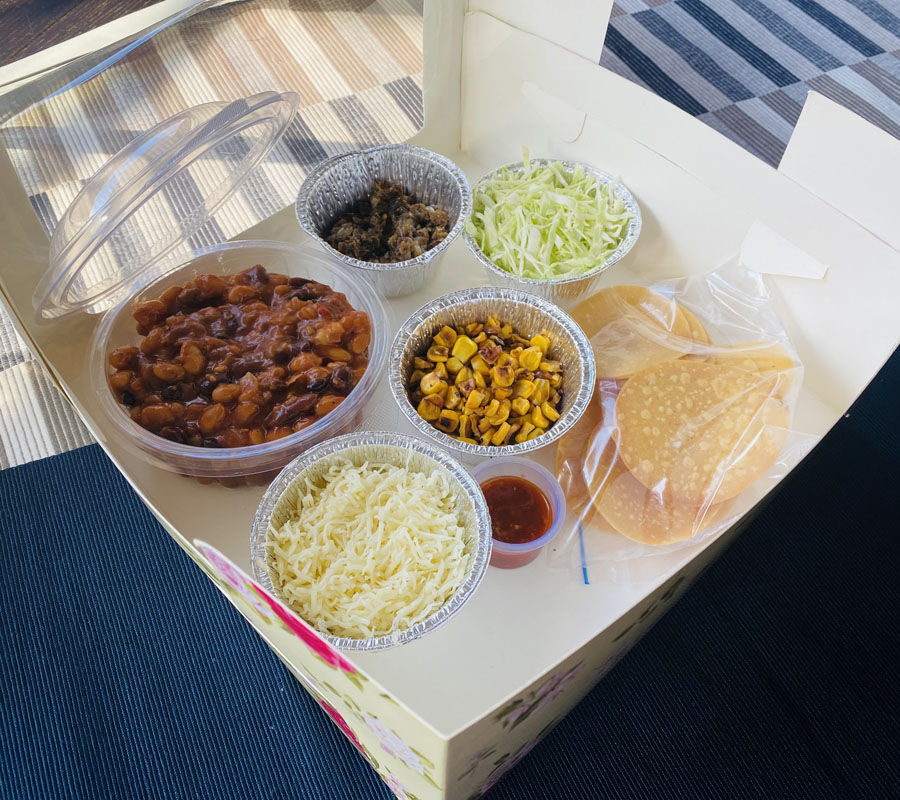 More than sufficient for two 'hungry-for-TexMex-appetites, this all-vegetarian taco box from Kookie Cake Crumble contains all the components for an impromptu taco making session. It comes laden with a bag of crispy taco shells, a generous portion of refried beans, chargrilled corn and bell peppers, spicy garlic sauce, freshly cut cabbage and some grated cheese. All these, with easy to follow instructions and serving suggestions. Also on offer from the brand is their equally popular DIY falafel box for an instant taste of the Mediterranean.
Price: Rs.1,400
Where to order: Call on 9819844013 / 9967337818
Instagram: @kookiecakecrumble
6. DIY Pizza Kit from Home Slice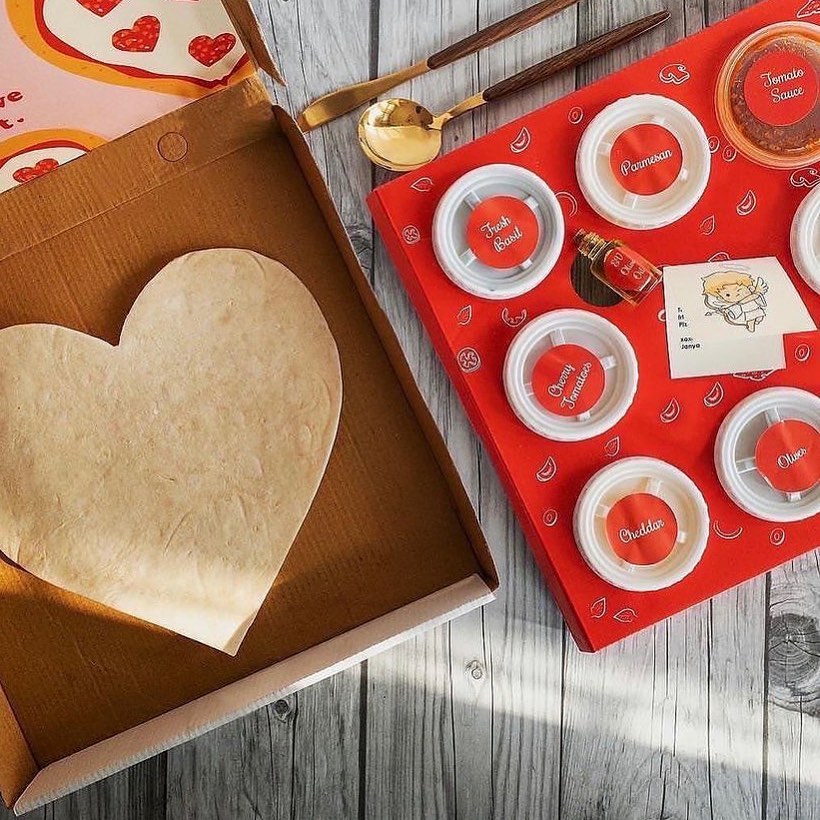 While it has on its menu everything from DIY pasta and salad kits, what we liked best about the all-vegetarian Home Slice, is their range of interesting pizza kits. The tomato-based pizza sauce-bereft 5 cheese truffle pizza kit from their exclusive white pizza range wins our vote for the most innovative. To recreate this pizza at home the box comes packed with simple instructions (the pizza even be made on a tava or flat pan!) a range of ingredients like a 10-inch pizza bread base (one can choose from thin or regular crust made from either normal flour or whole-wheat), tiny bottles of olive oil and a quintet of cheese types. These take the form of creamy ricotta, mozzarella, sharp cheddar, parmesan and mild blue cheese, all doused in robustly flavoured truffle oil once baked. 
Price: Rs.500 
Where to order: Call on 9920089981
Instagram: @homesliceindia
7. DIY Fajita Box from The Mexican Box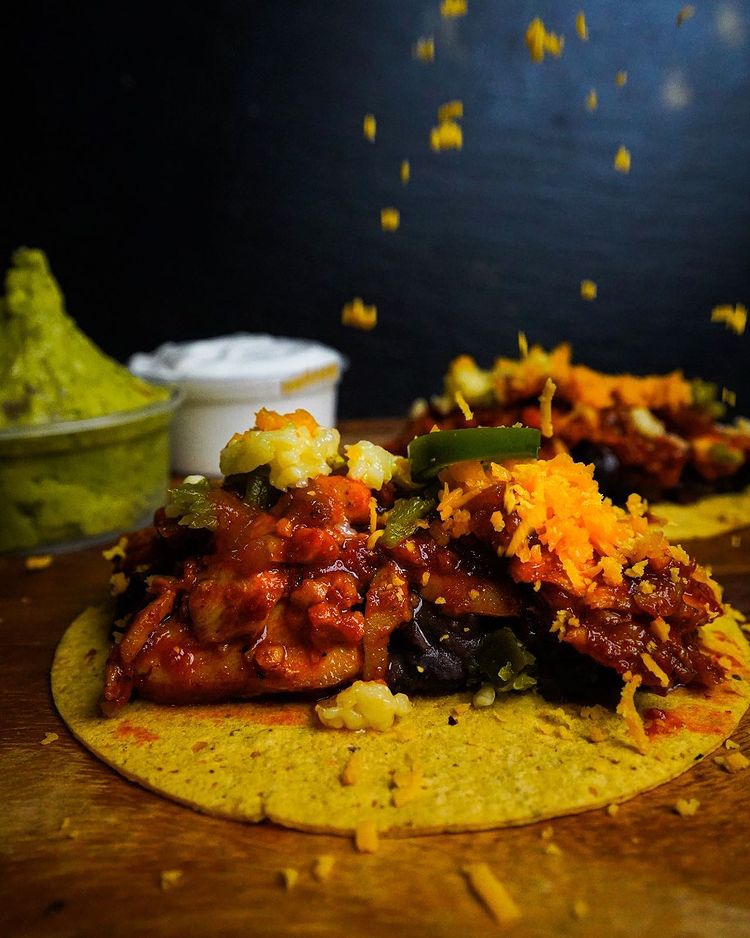 Billing it as the "ultimate assemble yourself fajita kit", this generously portioned box from the ironically named The Mexican Box delivery-only food service hits the spot. It is the flavour-packed sum of its three gluten-free yellow corn masa tortillas, shredded cheese, sour cream and Mexican rice parts. These are ably supported by side acts like tangy tomato salsa, spicy salsa verde and pickled jalapenos for a piquant hit. One can pick either a grilled cottage cheese steak or grilled chicken as the protein component of the fajita.
Price: Rs.650
Where to order: Call on 9321890033
Instagram: @the.mexicanbox  
8. DIY Pizza Kits from Sorrentina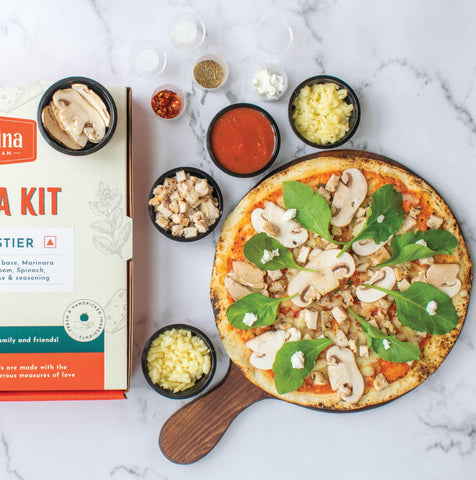 Already offering a range of pasta sauces and ready-to eat-dips, Sorrentina—an all-day, Italian restaurant—has recently tapped into the burgeoning DIY food kits market by launching an astonishingly large number of super-affordable pizza kits. From the ubiquitous margherita to the more premium truffle club pizza, the kits are customised with a 10-inch pizza base, Italian sauce, artisanal cheese, fresh toppings and seasonings. These are available in both veg and non-veg iterations, including a divine pepperoni-topped one.
Price: Rs.399
Where to order: Call on 8454040096
Instagram: @sorrentina_honestlyitalian
9. DIY Burger Box from Le Café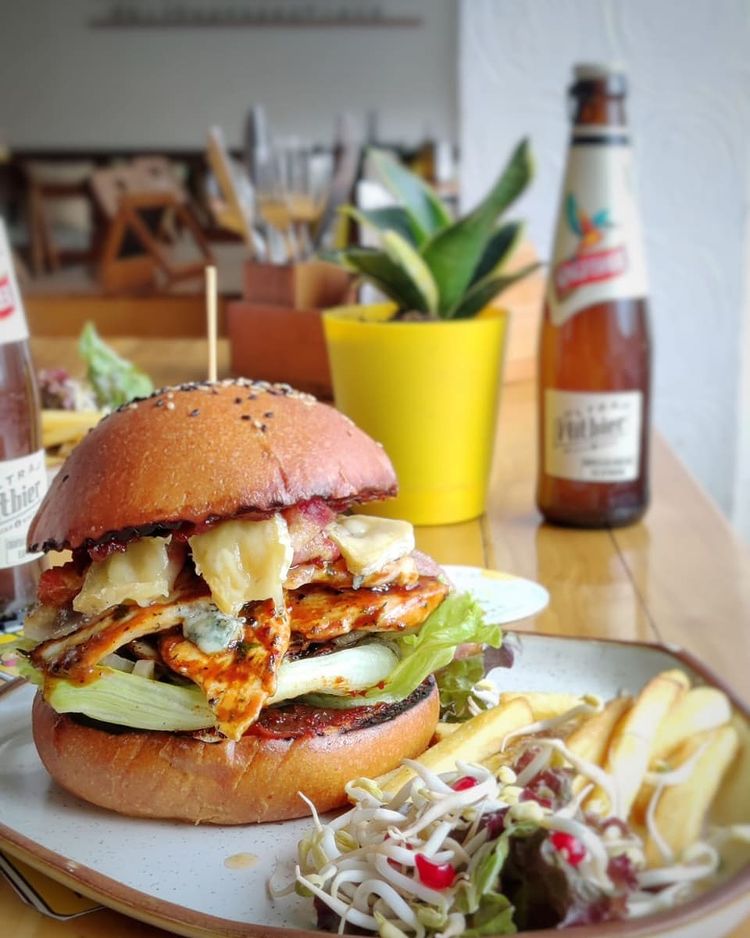 'Box of Happiness' that's what the all-day Le Café calls its DIY meal kits, which are an extension of the dine-in menu. Though they have pizza and pasta kits as well, it is their super easy-to-assemble burger box that piqued our interest. The pan-seared chicken burger box contains marinated chicken fillets, French fries, a soft sesame bun, lettuce and assorted condiments and toppings to make sure you have a (burger) flippin' good time at home!
Price: Rs.320
Where to order: Call on 022-6709977
Instagram: @lecaferesto
10. DIY Party Nacho Box from Supper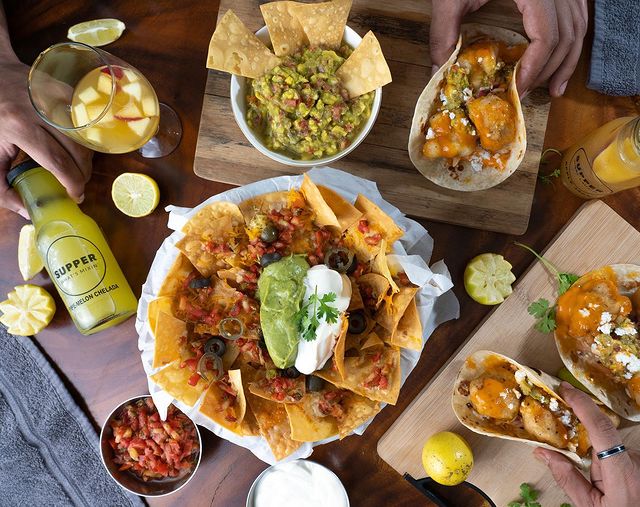 Packed to serve a party of three, this nacho box from Supper is a great way to kick start a weekend of indulgence. Inside bright yellow cardboard boxes, one gets an instruction sheet and pre-portioned, loaded nacho components in the form of tortilla chips, sour cream, fiery salsa and cheeses like mozzarella and yellow cheddar, among a few others. Though nachos may be considered fuss-free, finger food, the box also contains two premium ingredients that take the form of guacamole made from top-grade HASS avocados and artisanal Tomme cheese from Switzerland.
Price: Rs.515
Where to order: Call on 9930977077
Instagram: @eat.supper
Photo: Shutterstock and Featured Brands