Jackfruit, with its yellow-green, spiky and bulkyappearance, doesn't seem like an effective meat alternative (no matter what the sales figures say). But don't let that unappetising exterior fool you. Cut into the fleshy interior and you'll know why it's known as the jack of all fruits, both when ripe and unripe. The thick flesh, pulled pork-like texture and a neutral palate are some of the qualities that make jackfruit one of the most versatile cooking ingredients. When unripe, it can be barbequed, made to curries, minced and even sautéed.On the other hand, ripe jackfruit is popular in desserts such as ice cream, pudding and pancakes. An added advantage? It's a superfood with good amount of vitamin C, vitamin B6, iron, calcium and dietary fibre. 
Here, chefs from across India share jackfruit recipes, savoury and sweet, that will make you fall in love with this ridiculously delicious vegan-favourite fruit. 
1. Raw jackfruit biryani recipe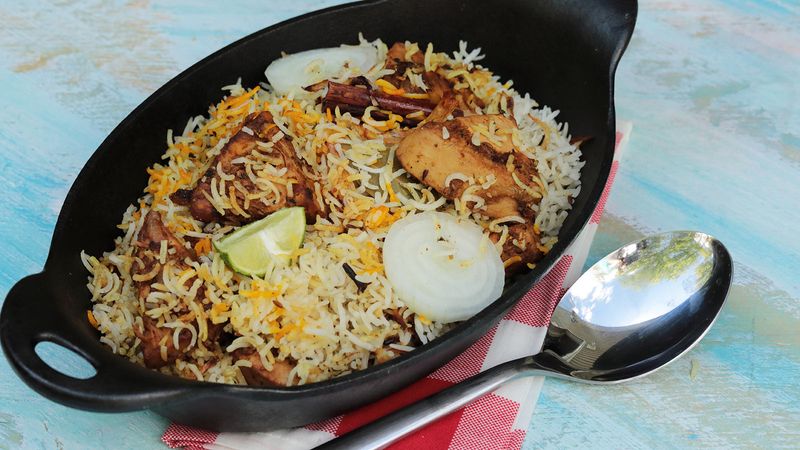 Unlike the usual biryani, this is a one-pot rice dish that doesn't require spending long hours in the kitchen. All you need to do is put all the ingredients one after the other and pressure cook it to perfection. Goenka serves this biryani with a bowl of chilled raita. 
Ingredients:
1 cup unripe jackfruit, chopped
3 cups basmati rice, soaked
4 medium onions, thinly sliced
2 tbsp ginger-garlic paste
3 cups water
6 tbsp oil
½ cup yoghurt
3 bay leaves
5 whole black peppercorns
1 tsp garam masala
2 tbsp biryani masala
1 tsp red chilli powder
Salt to taste
1 tbsp coriander, chopped
1 tbsp mint leaves, chopped
Method:
Heat four tbsp oil in a large pressure cooker, and add bay leaf and peppercorn.
Add onion and sauté for a minute.
Add the ginger-garlic paste and sauté on medium heat until onion turns golden brown.
Put red chilli powder and salt and mix well.
Add the jackfruit and sauté for a minute.
Cover and let it cook over medium heat for three minutes.
Add the biryani masala, garam masala and yogurt to the pressure cooker and mix everything.
Cover and cook again for another three minutes.
Finally, add the rice and sauté once to mix everything together.
Let this cook over low heat for three minutes.
Now pour water into the pressure cooker and let close the lid. Cook the raw jackfruit biryani on high heat for three-four whistles.
Turn off the heat and let the pressure cooker cool.
Once the pressure cooker is at normal temperature and all the steam is out, open the lid carefully.
Fluff the rice and let it cool for another couple of minutes.
Transfer to a serving dish. Garnish with chopped coriander and mint leaves.
Recipe by Rachel Goenka, CEO and Co-founder, The Chocolate Spoon Company
2. Sweet jackfruit, coconut and young turmeric pickle recipe
Ripe jackfruit combined with fresh coconut and turmeric slices creates a sweet, crunchy and mildly spicy pickle. This mouthwatering condiment tastes delicious with parathas, but you can also serve it on the side with dal-chawal, or add it in sandwich, burger or salad dressing to enhance its flavour. 
Ingredients:
200 gm ripe jack fruit
100 gm fresh coconut (two inch long), thinly sliced 
100 gm fresh turmeric, sliced
200 gm lemon
2 tsp caraway seeds
2 tsp cinnamon
2 tsp cloves 
2 tsp ground pepper 
2 tsp dried red chilli flakes
200 ml mustard oil
2tsp mustard seeds
50 gm rock candy (sugar) 
4 tsp tamarind paste
Himalayan rock salt to taste
Method:
Mildly crush all spices with the help of a mortar and pestle.
Heat mustard oil in a pan and add spice mix to it.
Add turmeric, coconut and jackfruit slices to the pan.
Now, add the candy sugar, tamarind paste and salt to taste. Mix well.
Cook everything for 15 to 20 minutes on low flame.
With a grater, add some lemon zest into this.
Cool and store the pickle in a refrigerator.
Recipe by Shubhendu Kadam, Executive Chef, Dharana at Shillim 
3. Thai Tub Tim Krob recipe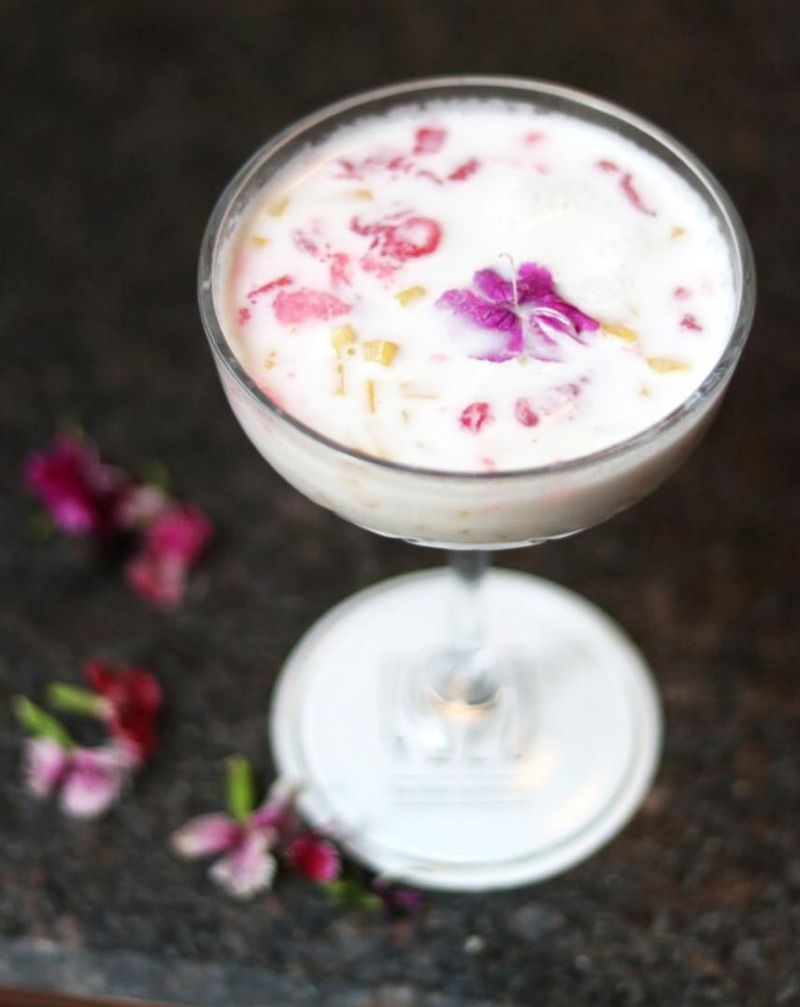 Beat the scorching summer heat with this sweet and refreshing Thai sweet treat made with water chestnuts and ripe jackfruit. It is served in a martini glass, making it perfect for those virtual FriYAY night parties with family and friends. 
Ingredients:
1 cup coconut milk
2 tbsp sugar
2 tbsp water chestnut, diced
1 tbsp jackfruit, chopped
1 tbsp tapioca starch
1 pandan leaf, small
1 tbsp rose syrup
Method:
In a bowl, add rose syrup and water chestnut and allow it to sit for an hour.
Keep the chopped jackfruit in the freezer.
Meanwhile, boil coconut milk and add pandan leaf to it. Sweeten it with sugar and simmer until it coats the back of a spoon. Allow it to cool thoroughly.
Now drain the extra liquid out of the water chestnut and place it in a mixing bowl.
Dust it with tapioca starch, blanch it and set it aside to cool down.
In a martini glass, add crushed ice followed by water chestnut and jackfruit. Pour the chilled sweetened coconut milk into the glass and serve.
Recipe by Chef Karma Tempa of Yazu Pan Asian Supper Club
4. Kathal ki galawat recipe
Soft and tender, these are minced raw jackfruit kebabs bursting with flavours of Awadh. The kathal ki galawat is cooked in three parts, which may seem like a long and tedious procedure but at the end, it is totally worth all effort. Chef Bhaskar serves it on an ulta tawa ka paratha, another Awadhi delicacy. 
Ingredients:
For kathal ki galawati base
1 kg unripe jackfruit, chopped
20 gm ginger
50 gm garlic
500 gm onion
100 gm fresh coriander
1 small pc charcoal
For paste
50 gm cashew paste
50 gm onion, thinly sliced and fried
25 gm salt
15 gm chilli powder (degi mirch)
100 gm desi ghee
For galawati masala
5 gm black peppercorn
10 gm green cardamom
10 gm black cardamom
3 gm clove
5 gm mace
5 gm rose petal
10 gm shahi jeera
10 gm fennel seeds
15 gm patthar ka phool
5 gm cinnamon
3 gm paan ki jad
5 pcs bay leaves
3 gm kababchini
For liquid mix:
½ gm saffron, soaked and ground with a pestle
5 ml rose water
5 ml kewra water
Method: 
Heat a heavy-bottomed pan over medium to high flame. Add a tsp of ghee, whole spices, garlic, ginger, onion and coriander.
Cook for two-three minutes, then add jackfruit and sauté for approx. six to eight minutes.
Mince the sautéed jackfruit to a smooth consistency.
Mix ghee, cashew paste, onion, red chilli powder and salt to make a paste, mix well and set aside for half an hour.
Roast all ingredients of the galawati masala powder and grind it to a fine powder.
Add 10 gm of this powder to the jackfruit mince.
Now, mix the saffron, rose water and kewra water with the mince.
Light a piece of charcoal and place it in the centre of the bowl which has the jackfruit mince.
Pour little ghee over the charcoal and cover the vessel so the smoke is infused into the ingredients in the bowl.
Make small round and flat tikkis of the mix and place it aside.
On a flat tawa or a heavy-bottomed nonstick pan, grill both the sides of the tikkis until brown.
Serve the galawati kebabs with green chutney, sliced onion, and lemon wedges.
Recipe by Chef Jayanandan Bhaskar, at Onkourse by Karma Lakelands, Gurgaon
5. Home-style aloo kathal ki sabzi recipe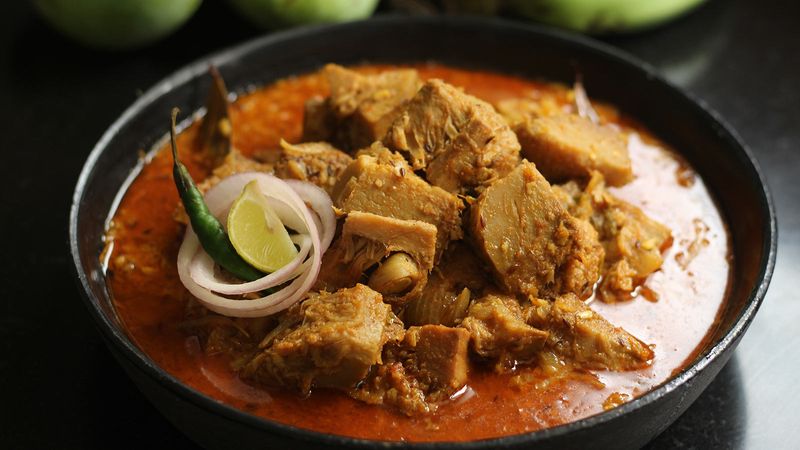 Add more flavour – and variety – to your dinner spread with this home-style potato and jackfruit sabzi by chef Arora. Prepared in a tomato and onion-based gravy with whole spices, this spicy vegetarian recipe is best served with a piping hot bowl of steamed rice with generous amount of desi ghee.
Ingredients:
500 gm raw jackfruit
150 gm potato, diced
2 big onion, coarsely ground
3 medium tomato, pureed
2 tsp ginger-garlic paste
2 tbsp curd
1 pc bay leaf
1 small pc cinnamon stick
1 tsp cumin seeds
1 pinch asafoetida
½ tsp turmeric powder
2 tsp coriander powder
½ tsp Kashmiri red chilli powder
1 tsp garam masala
Salt to taste
4-5 tbsp oil
Method:
Clean the jackfruit and cut into two-inch pieces. Apply a pinch of salt and turmeric, and keep it aside for 15 minutes.
Peel the potatoes and cut into inch-long cubes.
In a kadai, add oil and fry the jackfruit over medium to high heatuntil golden brown.
Take the pieces off the kadai and drain the excess oil on a kitchen towel.
In the same kadai, which has oil that's remaining from frying the jackfruit, add cumin seeds, asafoetida, bay leaf and cinnamon stick. Sauté until the cumin crackles.
Add the onion and sautéuntil translucent. Add the ginger-garlic paste and cook for another two to three minutes.
Add turmeric powder, coriander powder, and both the chili powders and mix well.
After a minute, add tomato puree and a pinch of salt.
Cook this over medium to low heat until oil separates from this onion-tomato masala.
Add potato and sauté for a few minutes.
Now add jackfruit and let it all cook for a couple of minutes as you continue stirring.
Transfer the mixture into a pressure cooker along with garam masala and a cup of water.
Add salt to taste and mix well.
Close the lid and cook until it whistles. Reduce the flame and cook for another two-three minutes and then switch it off.
Once all the pressure has escaped, open the lid of the pressure cooker and transfer the jackfruit curry into a serving bowl.
Your home-style jackfruit and potato curry is ready to eat.
Recipe by Deepankar Arora, Chef & Partner, BEEP Agra
Now that's all the jackfruit recipes we had. Don't forget to bookmark your favourite, make it at home and tell us how it turned out.
---
Photo: Shutterstock and featured chefs