Come summer and jackfruit tends to hog the limelight in Indian homes. As a matter of fact, the spikey-skinned mother lode of a fruit has gained traction internationally as a vegan wonder food. 
Growing up, a jackfruit at home was an event—my siblings and I spent our afternoons gaping at our mother in amazement as she cut and cleaned the big fruit. The fleshy fruit aside, it was the jackfruit seeds, with its mild, earthy flavour, that played the starring role. My sister separated the seeds from the fleshy pods on a large plate. Pressure cooked, peeled, and sprinkled with black salt is how my folks enjoyed these pebble-sized seeds and, as my mother recalls, she did too during her childhood back in Unnao in Uttar Pradesh.
Don't be fooled by their size, jackfruit seeds have a variety of essential vitamins, minerals and antioxidants that help fight skin diseases, improve digestion, and aid eye health. Not just Uttar Pradesh, jackfruit seed is a popular ingredient in many other parts of India.
Here, we bring to you seven jackfruit seed recipes from bloggers and YouTubers from different parts of the country. They are family recipes that shaped their love affair with this oft-ignored seed.
1. Palakottai Podi (Jackfruit Seed Podi) by Shanthi Ramachandran
Chennai-based retired banker Shanthi Ramachandran's fondest summer memories include eating coal-roasted jackfruit seeds as an evening snack with her siblings. "It was fun to crush and remove the seeds' skin and gobble them up," she recollects.
But that's not the only way she has relished jackfruit seeds. She has inherited several Tamilian Brahman recipes of payasam, sambar and kottu made with these seeds. In the summer, Ramachandran prepares a jackfruit seed podi (chutney powder) called palakottai podi, which she learnt from her mother-in-law, but with a twist.
Palakottai Podi recipe
Ingredients
25-30 jackfruit seeds

2 tbsp coconut oil

2 tbsp mustard seeds

1 big piece asafoetida

1/2 cup whole urad dal

8-10 dry red chillies

1/2 fresh coconut, grated (optional)

1 lemon-sized tamarind ball

Rock salt to taste
Drying jackfruit seeds
Dry the jackfruit seeds and peel off the outer white covering. These are the three ways to dry the seeds:
Keep it in the sun for a few hours

Keep it in the microwave for a minute

Dry roast in a wok until the skin separates from the seeds
Method
Crush the seeds or cut them with a knife into small pieces.

In a pan, pour a little oil and roast the seeds on medium to low flame until they change colour and start shrinking. It usually takes a minimum of 10 minutes to roast 25-30 seeds.

You can check it by tasting a piece, it should be soft to eat without any raw smell. Once done, transfer it into a bowl and set it aside.

In the same pan, pour coconut oil, add mustard seeds and let them pop.

Add the asafoetida, whole urad dal, dry red chillies (you can adjust the spice according to your taste).

When the dal turns golden, transfer it into another bowl.

Now, put grated coconut in the pan and roast well.

Once the coconut is roasted, add tamarind and turn off the stove.

Grind the roasted seeds, rock salt, chillies and hing in a mixture-grinder.

Then add the coconut and tamarind mix to it and grind again to make a coarse powder.

Check the salt and adjust as per your taste.

Your palakottai podi is ready. It can be stored for a few weeks.
Pro tip: For instant use, pressure cook the seeds with skin and follow the same method. Please note, do this only if you will be consuming it on the same day. Coconut is optional but should be roasted well for longer shelf life.
2. Kothal or Achaar by Kasturi Sharan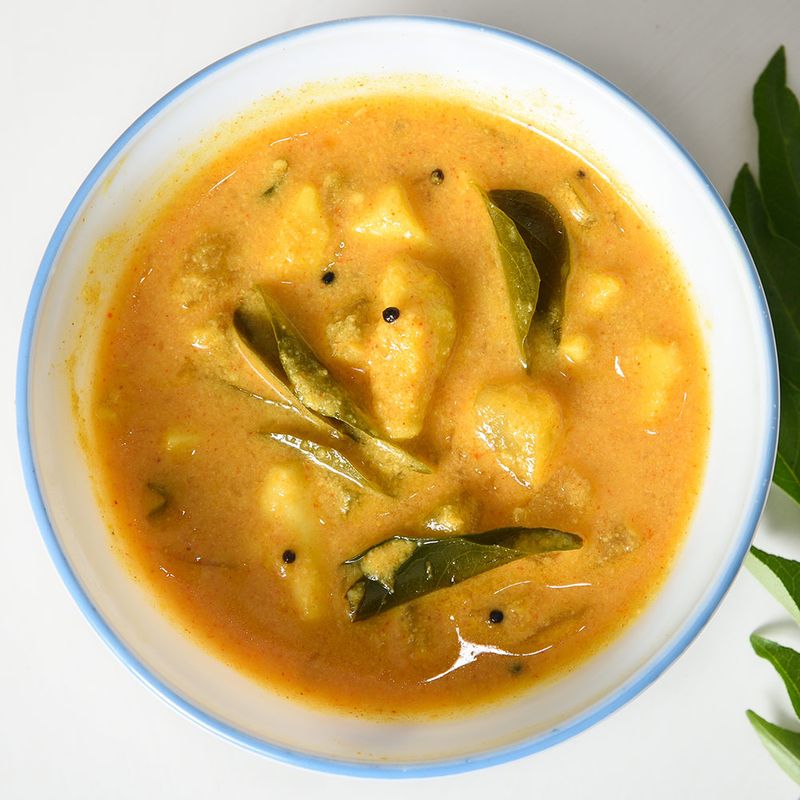 Kasturi Sharan doesn't stick to recipes. When in the kitchen, she can't help but experiment with ingredients and methods, old and new. However, when it comes to pickle, she swears by her mother's classic Assamese jackfruit pickle called kothal or achaar.
Her husband and she enjoy their everyday meals with this pickle. When asked her favourite thing about this condiment, Sharan says its the seeds, because they soak in the flavours of the other ingredients and give a much-needed bite to the pickle.
Kothal or Achaar recipe
Ingredients
1 raw jackfruit

350 gm mustard oil

1 tbsp fennel seeds

1 tbsp mustard seeds

1 tbsp coriander seeds

1 tbsp fenugreek seeds

10-12 black pepper

3 bay leaf

1/2 cup curry leaves

10 garlic cloves

1/2 cup dry chana dal

1 tsp jeera powder

5-6 dry chilli

5-6 green chilli

Salt to taste

A pinch of asafoetida

3 tbsp vinegar
Method
In a pan, dry roast whole spices. Let it cool and grind to a coarse powder.

Apply oil on your palms and knife, then peel the jackfruit and cut into medium size pieces.

Separate the jackfruit seeds, peel the white covering on them and cut them into halves.

Fill a pan with water and add a tsp of salt and let it come to a boil.

Add the jackfruit pieces and the seeds and cook till they are 3/4th done.

Now drain the water from the jackfruit.

Spread a cloth in direct sunlight and spread the boiled jackfruit to remove the excess water for about 5-6 hours.

Heat mustard oil till it starts smoking, remove from the gas and then let it come to cool down a bit, but not completely.

Now add all the spices, garlic, curry leaves, dry chana and asafoetida and stir fry for a couple of minutes.

Add the jackfruit pieces and mix well.

Add salt and mix it well.

When it cools down completely, fill it in a glass jar, add vinegar and keep it covered for a day.

Then keep it in the sunlight for a week and start using it after a week.

The pickle should be submerged in oil completely else it get mould easily so add more oil if needed.
3. Palakottai Vadai by Radhika Subramanian (Tickling Palates)
Although not a family recipe, these palakottai vadai have been a family-favourite since Subramanian was a child. It is a Ramzan-special snack recipe that her grandmother learnt from a Muslim neighbour.
The Chennai-based blogger describes it as a 'community favourite and says, "These vadai were shared by the Muslim friends in our colony separately for the vegetarians during the month-long festival."
Palakottai Vadai recipe
Ingredients
1 cup chana dal

20 jack fruit seeds

1 onion

2 green chillies

3 whole dry red chillies

1 tsp fennel or aniseed

½ inch ginger

1 sprig curry leaf

Salt to taste

Oil to deep fry
Method
Wash and soak chana dal in water for an hour.

Cut the jackfruit seeds into two pieces. Peel the outer white skin.

Pressure cook the seeds in enough water with two pinches of salt till soft. Three whistles are generally enough.

Drain water completely and transfer to a mixer jar or food processor.

To this, add ginger and grind it to a smooth paste without adding any water and transfer to a mixing bowl.

Drain and grind the chana dal to a smooth paste without adding any water, then transfer to the mixing bowl.

Finely chop the onion, green chillies, curry leaves and add them to the ground paste.

Add fennel seeds, salt and mix well. Make small lemon-sized balls and keep them ready.

Heat oil in a deep frying pan and when it is hot, take the balls, flatten them slightly by keeping between your palms and gently drop them into the hot oil, one by one.

Cook 3-4 vadais at a time and do not clutter the pan by trying to fry too many vadais at the same time.

Cook until golden brown and drain the excess oil off the vadai using a kitchen towel.

Palakottai Vadai is ready. Serve hot with tea or coffee.
 4. Halasina Bijada Saaru by Yashashwini Kotian
Mangalore-based blogger and YouTuber, Yashashwini Kotian had a difficult time understanding why people ate the jackfruit flesh but threw away the seeds. So, she decided to show her followers how Karnataka likes to relish these nutritious seeds.
Her favourite is this halasina bijada saaru aka jackfruit seed rasam recipe, which mainly uses pantry ingredients and is ready in under 30 minutes or less.
Halasina Bijada Saaru recipe
Ingredients
10-15 jackfruit seeds, boiled and deskinned

3 tsp oil

1 onion, chopped

1 sprig curry leaf

3 green chilli, chopped

1 tomato, chopped

2 tsp rasam powder

Salt to taste
Method
Pressure cook the deskinned jackfruit seeds for four whistles.

Let these cool a little and then transfer them into a mixer jar and grind to a fine paste. Keep the stock remaining in the cooker aside, it will be used later. 

In a frying pan, heat oil, add mustard seeds and let them crackle.

Add chopped onion, curry leaves and green chilli and saute until the onions turn translucent.

Once the onions are ready, add chopped tomato. Let it cook until soft and mushy.

Add the jackfruit seed paste, stock and a cup of water and stir well.

When it comes to a boil, put the rasam powder and salt.

Cover and cook for about five minutes and garnish with coriander leaves.
Pro tip: If there are too many seeds, you can remove its outer white covering and freeze them in an airtight container. It can be used year-round for making sambar, rasam or whatever you like.
 5. Kothalor Guti Pitika by Ankita Kalita
Is this is a laddu or is it a bharta? Or both? Straight from Assam, YouTuber Ankita Kalita's kothalor guti pitika is the perfect five-ingredient recipe you need on a bright summer day.
She also uses jackfruit seeds to make a simple yet delicious dal and a seasonal variation of the northeastern state's popular delicacy khar, a peculiar alkaline dish eaten at the start of a meal with rice.
Kothalor Guti Pitika recipe
Ingredients
20-25 jackfruit seeds, peeled

1 onion, chopped

3 green chilli, chopped

2 tsp mustard oil

Salt to taste
Method
In a pressure cooker, add water, jackfruit seeds, and salt. Cook it on high flame until two whistles.

Transfer into a bowl and let them cool.

Now, grind or mash the seeds to a coarse paste and transfer it onto a plate.

Add raw onion, green chilli, mustard oil and salt and mix it all together.

Make lemon-sized balls of this mash and serve.
6. Kathal Seed Fry recipe by Padma Veeranki (Masalakorb)
Ingredients
20 Jackfruit Seeds/Kathal Seeds/Panasa Ginjalu

2 tsp oil

1/4 tsp Mustard Seeds

1/4 tsp Cumin Seeds

1/2 tsp Fennel Seeds

1 tsp Chana Dal

2 tsp Urad Dal

1 Dry Red Chilli, broken

1 Onion, thinly sliced

1/2 teaspoon Turmeric Powder

2 teaspoons Sambar Powder

Few Curry Leaves

Salt to taste

Coriander for garnish
Method
Cut each Jackfruit seed/Palakottai into 2 halves horizontally. Peel the thin white film-like skin off the seeds and keep it aside.

Cook the seeds in a pressure cooker with a little salt and add water till the seeds are immersed.

Pressure cook for 3 to 4 whistles. Strain the contents into a colander to let the water drain completely.

Heat a pan with oil. Add mustard seeds, cumin seeds, fennel seeds, dry red chilli, chana dal and urad dal.

Once the mustard seeds crackle and lentils start turning golden brown, add curry leaves.

Now, add in chopped onions and sauté until they turn translucent.

Add turmeric powder and sambar powder. Stir well.

Add a little water and salt to the mixture.

Now, add cooked jackfruit seeds/palakottai and mix well. Simmer and stir fry.

Let the curry cook well for 8-10 mins till it becomes like a roast. Keep tossing in between.

Garnish with coriander and serve jackfruit seeds curry as a snack or side dish to Rice.
7. Palakottai Poriyal by Shyamala Sathiyaseelan (My Healthy Kiddo)
Sathiyaseelan's mother-in-law's recipe, this palakottai poriyal is prepared on the days her family eats ripe jackfruit as a brunch-time snack.
"My mother-in-law says that stomach pain caused due to eating too much jackfruit can be cured by its own seeds. Hence, the tradition," she explains.
Palakottai Poriyal recipe
Ingredients
To pressure cook
40 jackfruit seeds/palakottai

1/4 tsp turmeric powder

1 tsp rock salt

Water
To temper
2 tsp coconut oil

1/4 tsp mustard seeds/kadugu

1/4 tsp urad dal/ulunthu, heaped

15-20 onion, small bulbs

1 sprig curry leaf
For flavour
1 tsp sambar powder or plain chilli powder, as per preference

Salt to taste
To cook masala
1/4 cup water

To garnish:

1/4 cup grated coconut

Coriander leaves
Method
Wash jackfruit seeds well in water. In a pressure cooker, add washed jackfruit seeds, 1 tsp rock salt.

Add ¼ tsp turmeric powder and water just till immersing level.

Pressure cook for 2 whistles in high flame or until soft. A knife should run smoothly through a well-cooked jackfruit seed.

Drain water and let the seeds cool down for 5-10 mins. Take each seed and cut it into 2 halves.

Peel the outer thick & transparent skin. The second layer of brown skin might peel out with the outer skin in some seeds and that's ok. Chop 15 to 20 small onions and few coriander leaves.

Wash curry leaves and keep them ready.

Add 2 tsp of coconut oil and once hot, add ¼ tsp mustard seeds/kadugu. Once spluttered, add ¼ tsp heaped split urad dal/ulutham parupu. Once slightly browned, add curry leaves, chopped small onions and ¼ tsp+ salt or as required.

Once onions are slightly browned, add cooked, peeled & cut jackfruit seeds and give a quick stir.

Add 1 tsp or more (as per spice level) sambar powder or plain chilli powder and give a quick stir. Then add ¼ cup of water.

Let the masala cook in an open pan on a low flame for 5 mins or until the water has evaporated. Once it is completely dry, add ¼ cup loosely packed grated coconut.

Give a quick stir and switch off. Garnish with few chopped coriander leaves and stir once.
---
Photo: Shutterstock