With the rise of health-conscious shoppers, the demand for food and beverages that match up to their healthy lifestyle is increasing. Yet, most beverage brands in the Indian market that are labelled 'healthy' and 'all-natural' feature products loaded with sugar, artificial flavours and preservatives, leaving customers with very few options. To fulfil this demand for tasty, preservative and artificial sweetener-free drinks, in the beverage category, and take his love for tea to the next level, Delhi-based banker-turned-entrepreneur Siddharth Jain launched BrewHouse Tea Brewing Co. under his brand Positive Food Ventures Pvt Ltd. Started in 2017. This is a ready-to-drink, real-brewed iced tea brand certified organic by USDA and India Organic, and their brews are available across all metro and tier-I cities.  
Market for organic
Apart from being 'real' brewed these bottled iced teas are also organic. This means ingredients used in BrewHouse teas are grown without any chemical pesticides, fertilisers, genetically modified organisms, sewage sludge and irradiation. "We only put wholesome goodness in our teas. In fact, every bottle of Brewhouse ice tea has some sedimentation at the bottom - that is because we use whole-leaf tea," adds Jain.
Of the boom in demand for organic foods, Jains says, "The category has become so much bigger, and there are some very interesting products. And even Indian consumers have a much more global outlook now. They care more about the quality of the ingredients they are consuming for health reasons and otherwise. We have noticed a rise in customers being more environmentally conscious as well!" He takes great pride in the fact that BrewHouse is among the only few organic beverages in India. They are planning to launch drinks that will cater to this fast-growing demand. 
Tea is evergreen
The tea market is booming year after year in India. According to a study conducted by Expert Market Research, a New-York based firm, Indians consumed nearly 1.10 million tons of tea in 2020. Jain adds that tea contributes to eight per cent of the beverage market, and the iced tea category is growing 14 per cent year on year. "We saw an opportunity to bridge the gap and the concept of real brews in a bottle form was rarely experimented with until we came along." 
Some of the key differentiators for BrewHouse is their ingredient sourcing and production process. "For us, the process of how the beverage is made is as important as the ingredients," says the founder, "At BrewHouse, everything is done by hand – from selecting the tea leaves to gently hand-rolling them, and carefully brewed in small batches until the flavour is just right. Hand-rolled whole tea leaves produce a well-rounded, full-bodied tea with subtle flavours."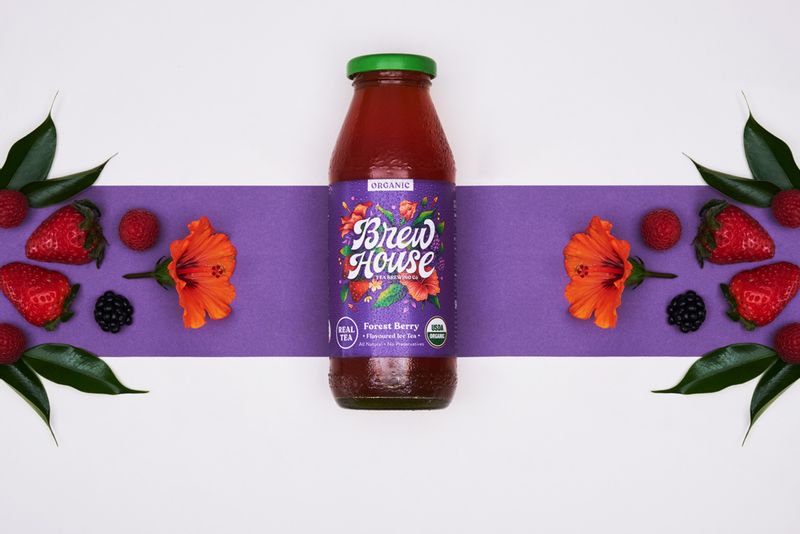 The brand's iced tea is currently available in five flavours – lemon, peach, mojito lime, forest berry and blueberry; lemon and peach being their bestsellers. Each of these is made using tea leaves sourced from small, independent farms in the Nilgiris and Assam that follow organic methods of cultivation. "This means all our ingredients are grown without any chemical pesticides, fertilisers, genetically modified organisms, sewage sludge and irradiation." 
He tried over 100 types of teas from different tea gardens across the country and concluded that the Nilgiri tea was perfect for his brand. "This one is lighter, doesn't get dense in bottled air, and can be flavoured more easily," he tells us. 
As we reach the end of our conversation, we ask Jain for his views on the organic packaged food and drinks market in India and its future. He points out that the category has become bigger, and it has given rise to many interesting products. And all this has only been possible because Indian consumers have a more global and conscious outlook now. Unlike earlier, more and more people today care about the ingredients that are going in their food and drinks, the health benefits involved, and the impact of these products on the environment, he says.
---
Photo: BrewHouse Tea Brewing Co.