The world of Indian chocolate is fascinating. Not only is the segment growing at a rather respectable rate, but the sheer variation available in the market is incredible. Be it a small artisanal brand catering to only local addresses or an established and funded company that's shipping its products to any city in India—you can relish a simple dark chocolate or something that's delightfully flavoured with fruits, nuts, and even chillies and spices.
And by Indian chocolate we do not mean the generic brands that fall into the compound category (products made from milk solids, oils instead of cocoa butter, added flavouring etc).
We are talking brands like Mason & Co, Paul and Mike, La Folie, Soklet, Naviluna, Pascati, Kocoatrait, and the list is only growing. While these are all bean-to-bar brands, there are also brands like Fabelle and Smoor that might source their cocoa from another country, but the end result is absolutely delicious chocolate right here in India. 
As the master chocolatier of Fabelle, a luxury chocolate brand by ITC, puts it: "Belgian chocolate is Belgian because of the final product. Its raw material comes from somewhere else but that does not take away from how amazing those chocolates are." Fabelle was founded with the mission of producing world class chocolate with India in its roots. Fabelle sources its raw material from some of the best cocoa farms across the world, and their truffles and gianduja continue to be the most popular varieties of chocolate since the brand was established in 2016.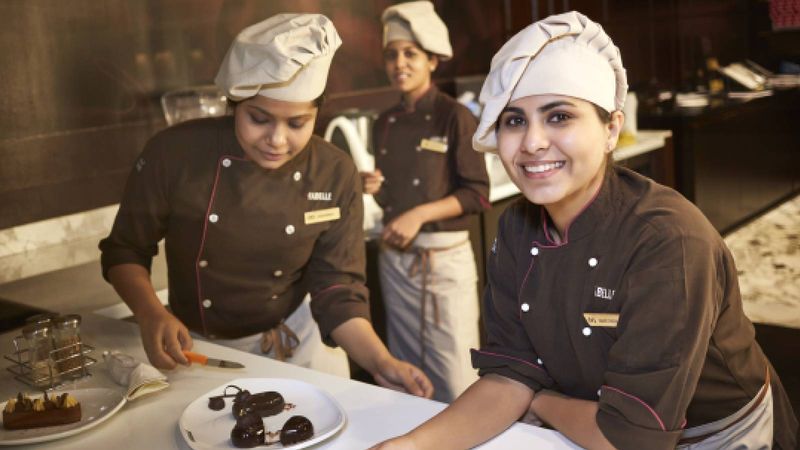 When it comes to bean-to-bar or even farm-to-bar chocolate brands, there is a different kind of pride involved. After all, to be able to say, "single origin: India" on chocolate bars is an achievement.
Karthikeyan Palanisamy, co-founder of Soklet, a farm-to-bar brand based out of Tamil Nadu, says: "I don't think any bean-to-bar brand has scratched the surface of the market. Even some of the bigger speciality chocolate brands in India have a long way to go before they are considered as a replacement for more popular international luxury chocolate brands, and quality has nothing to do with."
There are hurdles. You need deep pockets to penetrate the retail shelves and not all brands have that. And then there's the issue of logistics, being able to ship temperature-controlled products to various cities, a task that's complex and again, expensive.
Soklet is one of those rare brands in India that began as a cocoa farm first and then ventured into production of chocolate. "It was always our intention to work with our beans. We don't source from any other place, be it India or abroad." At the moment, Soklet sells through brick-and-mortar stores (80 per cent of their sales), and being a South Indian brand, they are available in Coimbatore, Bangalore, Chennai, and Hyderabad.
Akash Sajith, CEO and founder, Living Food Company—an online platform for everything local, organic, artisanal, bean to bar, and responsibly sourced—says that he strongly believes that indigenous chocolate brands made from Indian cocoa has massive potential on a global platform. "We do a lot of collaborations with brands such as La Folie and Paul and Mike to make custom chocolate for our consumers, and they make such brilliant chocolates."
Sajith also says that there has been a rise in consumer curiosity and awareness. "And we do have great brands in India, brands that can compete with international brands. I see quite a few of them taking over generic brands in the next decade to come. If the retail industry focused on homegrown products and began promoting them, there's massive potential. The market is huge and it's untouched and there's a lot of money to be made," he adds. 
Smoor, a couverture chocolate brand in India, sources its cocoa from Callebaut in Belgium. "We also do source from Indian farms for some of our special boxes," says Vimal Sharma, director and CEO of Smoor Chocolates.
The brand, in which Rebel Foods now owns a stake, has been expanding to other cities as well, moving to Mumbai after Bengaluru. And they have their eyes on a fairly large share of the chocolate market in India. Sharma says that if the industry stays on the right track, there will come a time when even they'd be able to procure at least 50-60 per cent of their cocoa beans from local growers.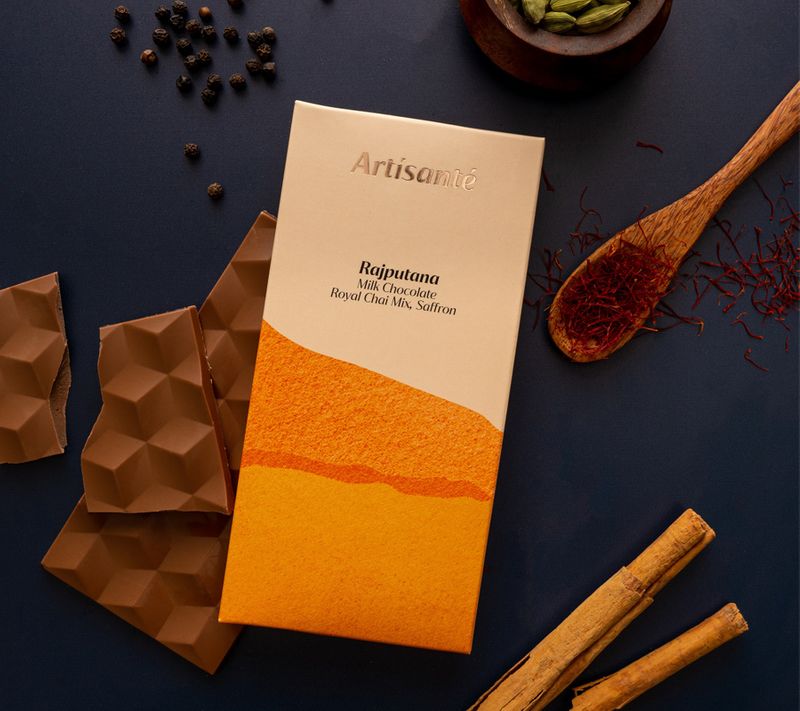 Amit Madnani, co-founder of Artisanté—yet another luxury chocolate brand from India, says: "The Indian specialty chocolate segment is still nascent, but a combination of changes in customer taste preferences, a resounding shift towards a more explorative customer and the 'vocal for local' movement has created a market combination where specialty and artisanal chocolate brands have the scope to grow significantly over the next few years and even compete globally with the more established brands." Artisante sources its beans from India, South America, and Africa and their chocolate is manufactured in Mumbai.
Nitin L Chordia, founder of Kocoatrait—the Chennai-based bean-to-bar chocolate company—who can also be called the Wiki of chocolate, raises a valid point, "While we talk about chocolate all the time, the convo should also be about cacao or the raw material that is used to make chocolate. And where your bean comes from is important."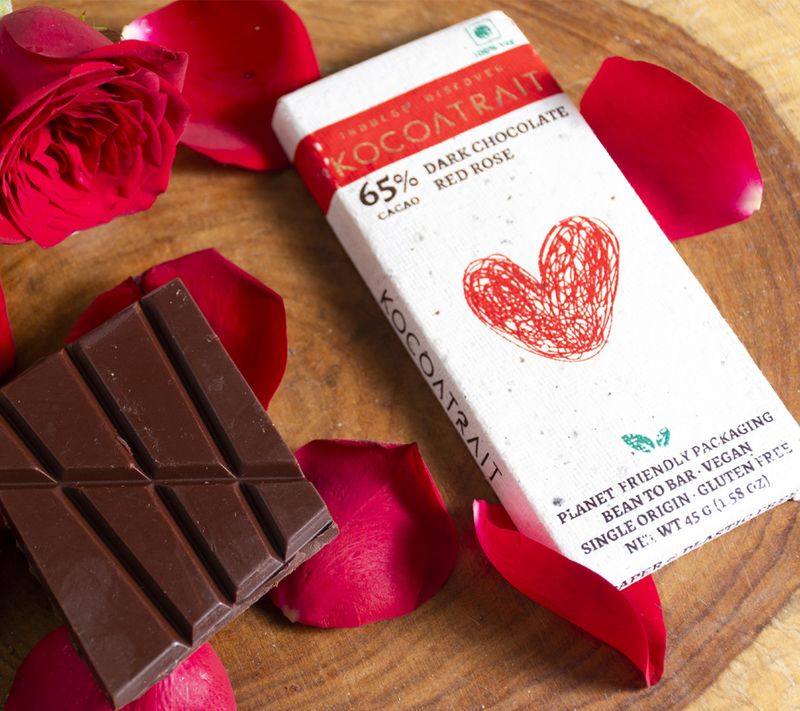 India produces some good quality beans and some of the best bean-to-bar chocolate brands from India are creating some of the finest chocolates in the country," Chordia adds, stating the example of brands such as La Folie and Paul and Mike. 
Kocoatrait is not only bean-to-bar but the brand also follows a strict sustainability process. Be it from the way they source beans from farms to their packaging. So much so, Kocoatrait also sells via a handful of online stores that sell only sustainable products, via organic stores in Chennai, and from their own online stores. "We wanted to stay away from the retail rat race because we want to stay sustainable. However, we are also going to be available at a new store at BKC in Mumbai by Reliance that is going to have a sustainable foods section," Chordia said. 
And in this surge of new brands that are giving most international brands and generic chocolate brands serious competition are also those who quietly create world-class chocolate from their studios. The Mumbai-based brand Ether is one such. Spearheaded by chef Prateek Bakhtiani, who's worked in Belgium, the US, and France—Ether Chocolate is Bakhtiani's atelier, founded in 2018, where chefs come together to experiment with chocolate from various origins and terroirs. Those experiments lead to five collections biannually that are limited edition, delectable, and unforgettable. One such variety is the Sultan from their 2022 collection. Described as a love letter to a culinary tradition, Sultan is an ode to lack tea. The two sub-varieties are the Dominican milk dark that has spiced black tea and walnut and the Sultan Dark, which is Peruvian dark chocolate, which has spiced black tea and rose lokum. 
---
Photo: Shutterstock; featured brands