When it comes to baking and pastry-making skills, one never quite puts India on a list of 'best in the world'. But Avin Thaliath, co-founder and director of Lavonne Academy of Baking Science And Pastry Arts, will have us know that he's quite hopeful things are going to be different in the next few years. 
At the ongoing WorldSkills 2022, two of India's upcoming talents — Nandita Saxena and Pratham Sharma — have already won the silver in Patisserie & Confectionary, and a Medallion of Excellence in Bakery segments, respectively, in the Hospitality Skills competition, held in Lucerne, Switzerland. While Pratham was trained by Thaliath, Nandita was mentored by Vinesh Johny, co-founder and executive pastry chef at Lavonne.
The other categories under hospitality are Cooking, Hotel Reception and Restaurant Services skills. Anushree V was another winner in the hospitality section, representing India in the 'Hotel Reception Skills' category in Montreux, Switzerland, and won a bronze. 
Training talent for a special competition
Lavonne, which is the Centre of Excellence, nominated by the Ministry of Skill Development and Entrepreneurship, Government of India, has been mentoring baking and pastry-making finalists from India at WorldSkills since 2017. But this year was rather unique, notes Thaliath. 
The 2022 edition of WorldSkills is a special edition as it replaces the WorldSkills Shanghai 2022 which was originally set to be held in May but was cancelled due to the pandemic. Therefore, thanks to the partners and various members, 15 countries and regions across Europe, North America and East Asia came together to host the 62 skill competitions that began on September 7 and will culminate in Salzburg, Austria, on November 26. 
Johny says that from the time the event was almost called off to the young baker winning the Silver — the journey was indeed riddled with anxiousness. "Not only was I training Nandita, but I was also the chief expert on the management committee for the event itself. So, we had to make sure everything went smoothly. And this job begins even before the event."  
Nandita, who's back home in Bengaluru after her brilliant finish, makes a valid point as she chats with Zee Zest. "France is the country that's known for its pastries, isn't it? And we beat France. And that in itself is a pretty big deal because you'd never expect India to be on top when it comes to pastry-making. But even before that, to be chosen to represent India on a global scale, I have to say that it has been incredible. You have to start at the bottom and climb your way up. And with each level that I cleared, I felt confident. I have never been abroad, but when I went to Lucerne and saw what the other best in the world were doing, I felt like we were good enough as well. All my training and lessons were so worth it, even though we worked with such limited time. It's been an unbelievable journey and almost feels like a dream," she says. 
On Nandita's win, Johny says, "She came through in the most unexpected way. She was the silver medalist in the national championship but the participant who won the gold could not go, so Nandita was pushed forward to the global finals." Recounting her training and how it prepared her for the competition, he says, "We had a team of about five chefs who trained her while in India, to prepare her for the global platform. The final competition was really good and she faced some hard challenges on day one. Not to mention that she was competing against 16 countries. But the way she came back on the second day, we did not predict it. She pulled off some amazing stuff and got maximum points for her bonbons and the fondant figurines." 
Talking about their latest achievements, Thaliath says, "The pressure was palpable. Under normal circumstances, we would get about a year and a half to train the finalists for WorldSkills. This year, we got only about five months. So, we literally taught them everything you need to know in record time. Fortunately for us, both Nandita and Pratham come from culinary schools and have had some competitive experiences. But even then, to be in a completely foreign country, to compete against the best in the world, it can be nerve-racking."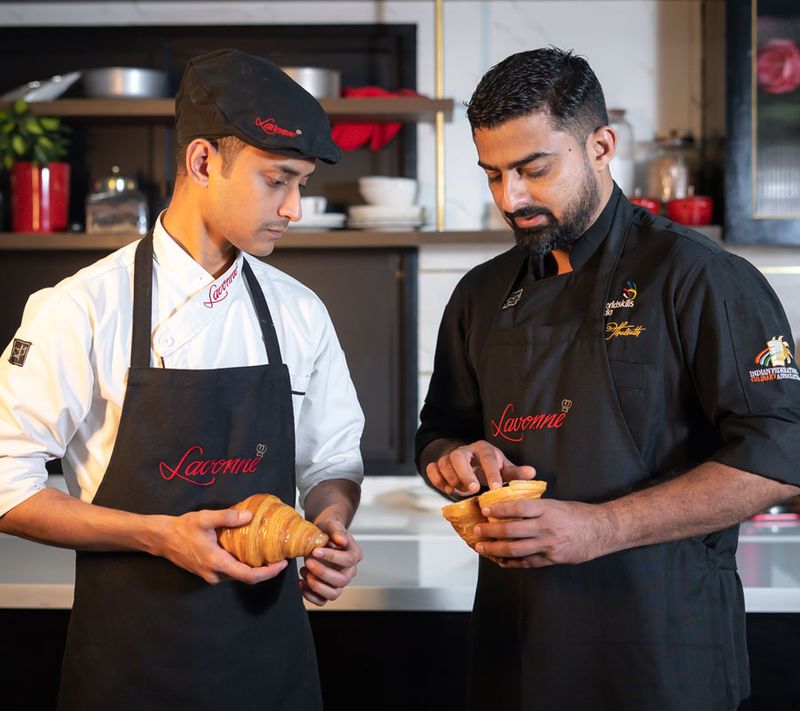 What is the WorldSkills competition?
Here's how the process works. WorldSkills competitions are considered to be the gold standard of skills across categories — from aircraft maintenance and visual arts to cooking, beauty therapy skills to cybersecurity. Competitions are held in different member countries with district, state, regional, and then finally national-level competitions, from which the finalists compete with the rest of the world on one platform. 
The first WorldSkills competition took place in Spain in 1950 and is typically held every two years.
From making the original baguette to 'decor baguettes', and bruschetta in the baking segment, and bonbons, cakes and fondant figurines in the pastry-making segment — Pratham and Nandita had to make multiple items each, for which they had 15 hours, typically spread over two days. 
"It is not easy. We train them here and teach them everything they need to know. But once we go there, we are hands-off. We get maybe a day or so to take the participants through the process. By then, they also receive their list of things to make. At the most, we can guide them. But as soon as they enter the competition arena, the mentors have to back off," Thaliath explains.  
Supporting India's baking and pastry talent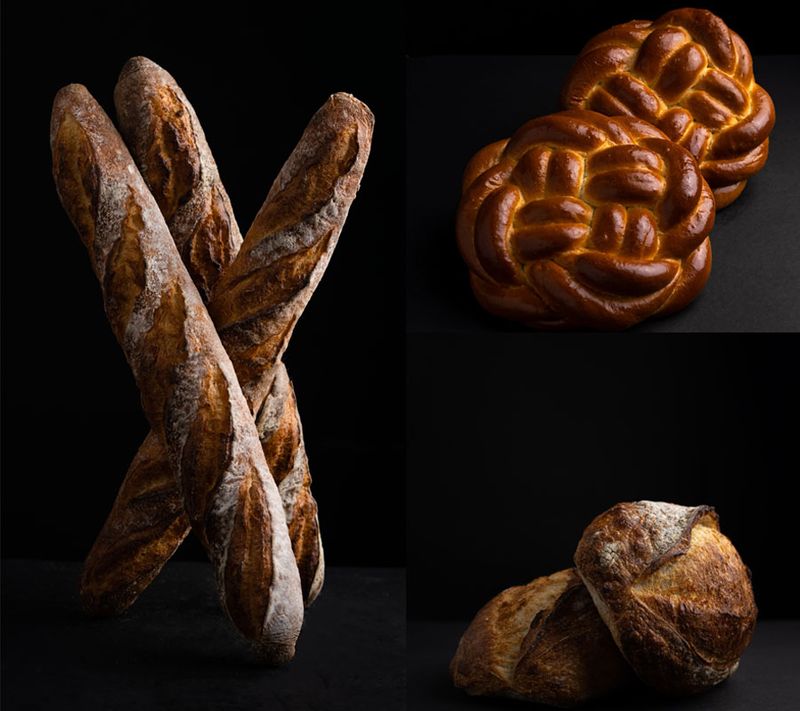 "For the longest time, any student that wanted to pursue baking and pastry making ended up having to go to a foreign institute because India never really focused on these two categories in the culinary arts specifically. India has been participating in WorldSkills since 2008, but we never really won anything in these two categories. It's only since 2017, when Lavonne took over as mentors, that India has been recognised at WorldSkills. I won't hesitate to say that Lavonne is perhaps the first academy that actually made an effort to create a world-class platform for baking sciences and pastry arts," the chef adds. 
For Pratham and Nandita, the excitement ended the moment they boarded their flights to Switzerland. From thereon, it was more anxiety and nervousness. "They know they're being pitted against the best in the world, it's understandable. I am proud of their achievements," Thaliath says. 
---
Photo: WorldSkills 2022; Lavonne Academy