One of social media's favourite chefs, Saransh Goila has come together with creator-driven live entertainment commerce platform, Roposo, to launch a cookware range—Delishaas. The direct-to-consumer cookware range is durable, easy-to-clean cookware designed for young urban Indians
The name 'Delishaas' comes from Goila's quirky social media persona and is a signature term coined and popularised by him. The brand launches with a range of pans, Dutch ovens, and kadhais, which use Tri-Ply and Greblon Technology. Delishaas cookware is free of Alkylphenol ethoxylates (APEO) and Perfluorooctanoic acid (PFOA) and other harmful chemicals, making food safer and healthier. About his partnership with Roposo, Goila says, "As India's leading creator-led live entertainment commerce platform, Roposoalso provides the brand and me an opportunity to be part of an interactive, premium, live commerce experience, and has facilitated Delishaas's discovery on Roposo and Glance, apart from the website and other marketplaces. It gives us access to millions of users in the country, especially GenZ and millennials, so we have a huge audience to reach." Roposo will manage the entire end-to-end commerce infrastructure from discovery to delivery as well as support in aspects like inventory, manufacturing, sales and marketing to launch the line.
Zee Zest spoke to Goila about his newest venture and association with Roposo.
Edited excerpts:
1. Why did you decide to venture into cookware? 
I have been pondering over the idea of launching a cookware brand for almost four years now. I first thought of it when I was looking to buy a fresh set of cookware set for my own home. I was searching for designer brands that could stand out, but I noticed they all almost looked the same and that's when I realised that there was a gap for trendy cookware that looked aesthetically pleasing. Also, over the last few years, the pandemic has seen people exploring cooking at home more often. There was a preference from consumers for cookware that elevated their cooking and dining experience at home while enabling healthy cooking. I thought why not have a cookware range that had all the elements of my personality, something that was colourful, lively, as well as durable and safe. Delishaas intends to meet this rising demand with stylish yet healthy, durable, easy-to-clean cookware that appeals to modern consumers.   
2. What is the price point of Delishaas products? 
The price point for the cookware range is between INR 2000-3000, depending on the range that you buy. You can choose either in the range and the price also varies with the size you choose. They are all easy to clean, durable, and scratch resistant. We've also ensured that from a safety standpoint, there is not a lot of spillages from these pans.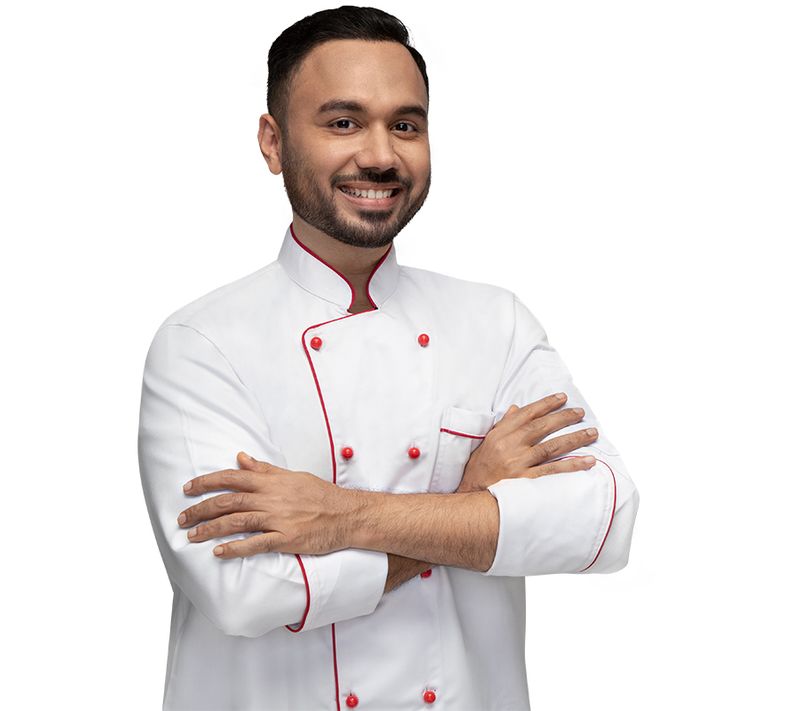 3. You are known for your passion for regional Indian food and at the same time also for fun and quirky food. What motivates you towards both? 
Indian cuisine is one of the most diverse cuisines in the world and I am always trying to make Indian food global. At the same time, I am not a serious kind of cook. I am somebody who enjoys cooking, someone who has fun while he is in the kitchen. I am not one of those serious chefs who will scream and shout at people in the kitchen. 
I want to push the barrier for Indian cuisine with recipes that are delicate, classic or traditional while adding a fun element that is appealing to younger generations like Gen-Z or millennial consumers. They are all here to be entertained, especially digitally. So, if you cook a fun recipe, they all want to interact with you and even try to cook that in their own kitchen. I believe cooking is an activity that should be fun, and this belief reflects in my content, my cookware range, and my restaurant as well. With a product line of trendy, quirky, and high-quality cookware essentials, Delishaas too celebrates the love of cooking. 
4. What is the USP of your cookware? 
First of all, Delishaas products have been designed really well and come with unique, fun packaging that I have been involved in. It looks different from anything that you will see available in the market and is designed to make cooking easier for anyone who uses it. We have a great pop of colour in our products like yellow and blue. Some of the products have an exterior which makes it look like a classic copper kadhai. The goal is to make it a fun-filled and high-quality experience. Quality is paramount with this cook wear range. It is stylish, you can even use the Dutch oven on your dinner table to serve biryani, a slow-cooked curry or a pulao. It is also meant for health and environment-conscious consumers. Delishaas cookware is free of Alkylphenol ethoxylates (APEO) & Perfluorooctanoic acid (PFOA) and other harmful chemicals, making food safer and healthier. 
5. How did the association with Roposo come about? And what are your expectations? 
I am a firm believer in collaborating with people to bring ideas to life. I really believe that I could not have launched this cookware range on my own. You, 100 per cent need a solid partner and a team to back you and co-create any brand that you launch today. And that's where Roposo and I connected through Glance Collective. I always wanted to create a modern and healthy cookware brand that makes cooking fun and simple for all. Roposo has previously worked with great talent and artists like Ekta Kapoor, BeYouNick, and Rana Daggubati to co-create brands that they believed in. 
The journey of creating Delishaas with Roposo till now has been an incredible one already, it's a solid partnership and we are hoping to make Delishaas into one of the most loved cookware brands.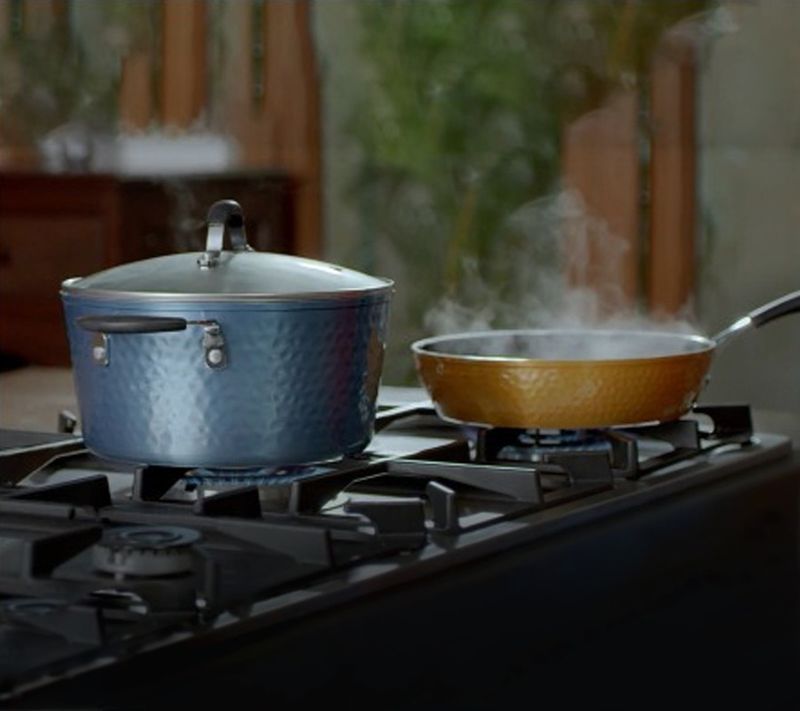 6. Dutch Ovens aren't a common cooking utensil in Indian kitchens. Why should one invest in a Dutch Oven? 
Dutch ovens, because of their name are often misunderstood to be something that can only be used in a bakery or in the oven. However, a Dutch oven is a solid, heavy bottom pan where you can cook biryanis, curries, meat dishes, and pulaos. You can slow-cook a lot of dishes and they turn out beautifully. It gives you that heavy bottom base that allows you to cook something for long hours. A Dutch oven is especially useful for Indian cooking – for slow-cooked curries, it is a perfect thing to use. The Delishaas Dutch oven in particular looks very pretty with its colours and design. It also is used for plating and presenting during festive occasions and when you are hosting people at home. It really can become the star of your kitchen.  
7. What are your future plans with Delishaas? 
We are launching the brand just in time for Diwali so people can make the most of the festive season and order their favourite Delishaas pots and pans for the festive occasion, for themselves or to gift to their loved ones. At the same time, we plan to create a lot of food-related content around the Delishaas products which includes recipes, doing food entertainment shows, many times live, where we teach consumers our fun favourite recipes, interact and engage with them. Live commerce is a huge angle through which we will go to market. The vision is to make Delishaas more than just a cookware brand, it should be a memorable experience. We want people to think of it as a place where they can share their love for creation around food, food stories and culture. I am excited and optimistic about the future on this front.
---
Photo: Roposo