The mighty samosa needs no introduction. From being the highlight at birthday parties to being by our side when those cravings kick in, samosas have exactly what it takes to be called comfort food. Infamous for the number of calories, this little fact hasn't stopped us from reaching out for a second helping of samosas. Who says no to a piping hot samosa, especially when it comes with coriander chutney and green chillies? Not us. 
While these triangular-shaped deep-fried snacks can be found in almost every nook and corner, homemade samosas are healthier and hygienic. If you are new to the kitchen, these samosa-making tips will help you with the samosa recipe.
Picking the Flour
The typical samosa recipe makes use of all-purpose flour or maida but if you would like to make your samosa recipe with healthier alternatives, you could use whole wheat flour, multigrain flour or rice flour. It's important to note that it's the maida from the samosa recipe that ultimately leaves you with those crispy samosas. With rice or wheat flour in your samosa recipe, the final samosa will have a denser crust but will be equally tasty.
Making the Dough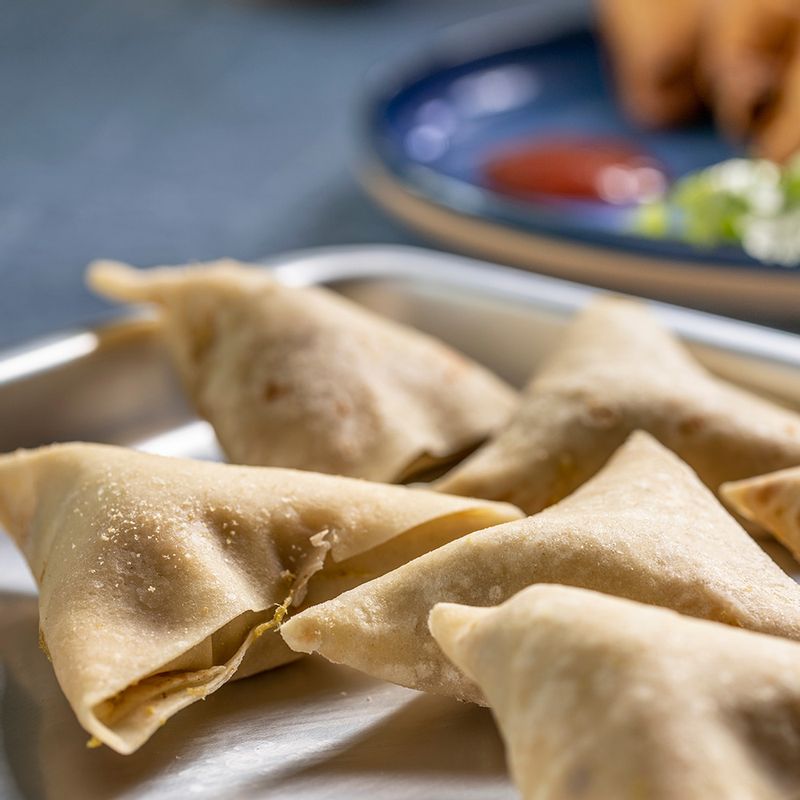 To make sure your samosa recipe turns into crispy samosas, a lot depends on the dough-making step. Once you've decided which flour you want to use, make sure you sieve it well to get rid of any clumps. You could mix the baking powder in at this stage to help both the dry ingredients mix well together.
For crispy samosas, chef Shailesh V Nigawale, lecturer at ITM IHM Nerul, suggests adding some ghee in the flour mix. "Heat some ghee till it melts. Make a well in the dry flour and pour the melted ghee into it," he says. Rub the ghee into the flour, add chilled water as required and knead into a firm dough.
It's best to prepare the samosa dough well in advance. Allow the dough to rest for at least 30 to 40 minutes before beginning with the rest of the samosa recipe. This not only helps in the formation of gluten but also makes it easier for you when it comes to rolling the dough for the samosa recipe.
"It's important to get the proportion of fat (oil, butter or ghee) to dough right, that is 200 gms to 1 kg and ensure it is evenly distributed," says Rushina Munshaw Ghildiyal, culinary expert, writer and consultant. This will help prevent tiny air bubbles from forming on the samosa, she adds. 
Short on Time
If you don't have too much time and can't make the samosa recipe from scratch, you can skip making the dough and go for a readymade option instead. Karan Tripathi, a food blogger better known as @karanfoodfanatic on Instagram, suggests opting for pre-packaged wonton sheets instead of making the dough from scratch.
The wonton sheets work best in case you're a first-timer in the kitchen or short on time. Tripathi says, "These absorb much less oil and they always turn out to be perfectly crisp. Besides, these ready-to-use sheets help save time and effort."
Making the Samosa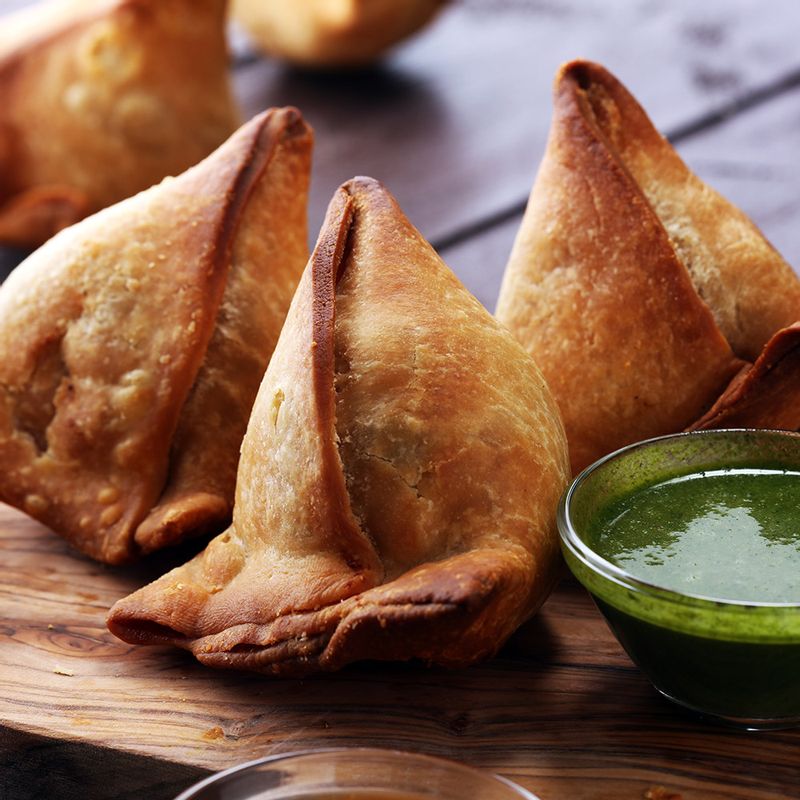 Before you begin frying the samosas, make sure the oil is properly hot. To check if it is, Ghildiyal suggests dropping a small piece of dough into the pan and allowing it to fry. Once it starts to float it means that the oil is hot enough. You can turn the flame to low and begin frying the samosas. She adds, "It's always better to deep-fry your samosas on a low flame to keep them from burning."
Baking or air-frying the samosas are healthier alternatives to deep-frying. Be warned, they may not turn out the same as deep-fried samosas and may not have the same golden-brown crust, but they'll still taste the same. If you are baking the samosas, avoid rolling the dough too thick as this will prolong the baking process and leave you with either too hard or half-cooked samosas. However, make sure you don't roll the dough too thin either as the samosa won't be able to hold the filling and may break apart. Before baking or air-frying, remember to brush the samosa with a little oil.
Storing Samosas
Chef Nigawale suggests storing cooked samosas in steel containers lined with butter paper. However, he recommends allowing them to cool down to let the moisture escape before storing them. He warns, "While storing, don't stack the samosas on each other or else you'll be left with soggy samosas!"
If you are hosting a party and plan to serve samosas for snacks, you can make the samosa recipe in advance and deep-fry the samosas just before serving. Make the samosa recipe until the step of filling the samosa cone with the stuffing. Then, refrigerate these uncooked samosas. You could put them in a zip lock bag and freeze them for later use. Make sure to thaw the frozen samosas for 15 to 20 minutes before deep-frying. 
Making Healthy Samosas
Tripathi suggests sneaking in the goodness of spinach in your samosa recipe. Knead your samosa dough with some spinach puree in addition to white flour, water and oil. Not only does this promise you your daily quota of iron and other additional nutrients, but also helps add some colour, making your samosas even more irresistible. Chef Nigawale recommends using low-absorbent oils for your samosa recipe. Use rice bran or olive oil for deep-frying the samosas, he says. 
Creative Samosa Recipes on Zee Zest
Banner Photo: Shutterstock
---
Photo: Shutterstock