Live dosa and pizza stations, DIY fruit salad bars, chaat counters, an extensive dessert table, and even more expansive buffet featuring kebabs, and the usual makhanwala, lababdar, saag, dal, manchurian, Hakka, and whatnot. Wedding dinner menus have been the same for a while. The most common trend has simply been to make it more extensive and offer poor versions of tacos, saucy pastas, Thai curries, among other items.
But now, brides and their families are going the extra mile. Often, even ditching the quintessential buffet for a more intimate sit-down dinner. As big fat Indian weddings transform into smaller, intimate affairs, the wedding reception menu is seeing a transformation too.
If you too are looking to add a twist to your wedding reception menu, we've got some ideas you can try out. As trends change, you can either choose to serve the timeless reception menu in a trendier style. Alternatively, serve up dishes that are made with seasonal ingredients, are region-specific, or are simply trendy.
Regardless of what you choose, we've got several ideas for your wedding reception menu that'll ensure your guests have a good time.
Ideas for your wedding reception menu
Appetisers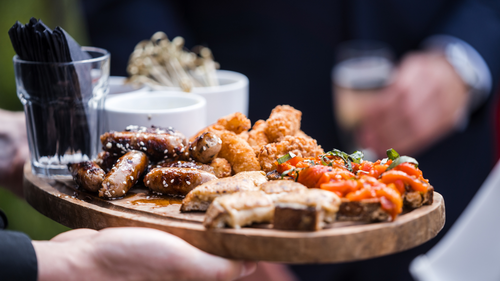 A wedding reception menu is incomplete without appetisers, of course. So, start off your guests with small plates and bites that will ensure they've got something to munch on with drinks.
Your reception food menu's appetisers can range from bite-sized fried snacks like tempura, satay chicken or tofu, grilled fish. For something fresh, think of items like a fresh salad served in canapes or on top of crackers.
If you're keen on chaat items or more Indian items on your wedding starter menu, serve pani puri shots, aloo tikki chaat or papri chaat. You can also think of fusion samosas and kachoris, mixed pakoras, or stuffed cheela.
For a more intimate appetiser set-up, you could perhaps try a grazing board. It's a great way to get your guests to interact and mingle. And, you can set-up the table with a variety of local cheeses, cold cuts, and a variety of crackers and spiced nuts.
Wedding dinner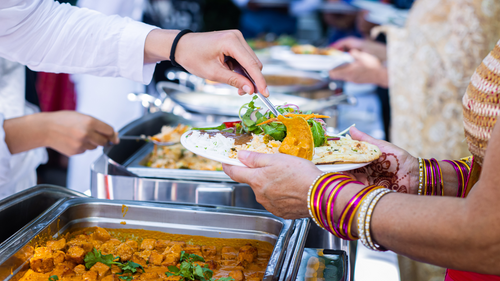 The star of the wedding reception menu is the main course. As wedding food menu trends indicate, increasingly regional cuisines are featuring on wedding buffet. As Indian cuisine offers a wide variety of dishes, and the menu can be altered to suit the preferences of the diners. A few well-liked vegetarian dishes are aloo gobi, dal makhani, paneer butter masala, and chana masala. You can provide chicken curry, mutton rogan josh, and fish curry as non-vegetarian choices. You can also add biryani, which is a dish that many people like. You can have a live counter for pasta or pizza to accommodate various dietary needs.
Desserts
A sweet dessert is the ideal way to round off the wedding reception menu. Indian sweets are renowned for their flavour and richness. Rasgulla, gulab jamun, jalebi, kulfi, and rabri are  some of the most well-liked dessert choices. Also, you can provide an ice cream station where visitors can create their treats with a variety of flavours and toppings.
Beverages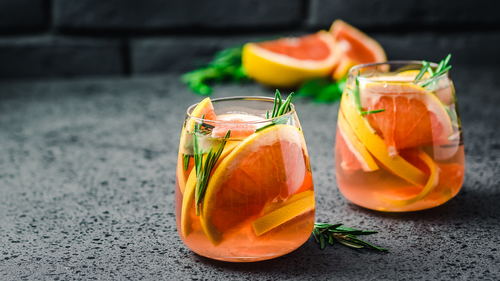 A wedding reception menu must include beverages. Both alcoholic and non-alcoholic choices are acceptable. You can choose from fresh fruit juices, lassi, and mocktails for non-alcoholic beverages. You can have a bar that serves wine, beer, and cocktails for alcoholic selections.
Fusion food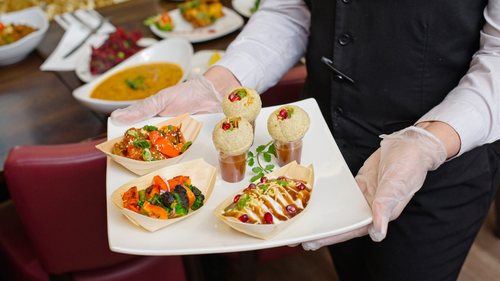 Another growing food wedding trend is the rise in the popularity of fusion food. Fusion foods that incorporate both international and Indian flavours are acceptable. You might, for instance, add things like tandoori chicken tacos, paneer tikka pizza, and chicken tikka quesadilla. Fusion cuisine can be a wonderful way to surprise and delight visitors.
Including healthy options in the reception buffet can be a terrific way to accommodate guests with various dietary needs, especially as there is an increased emphasis on health and wellbeing. Include dishes like quinoa salad, grilled salmon, and roasted veggies. A live counter for smoothies or crisp salads is another option.
Late-night munchies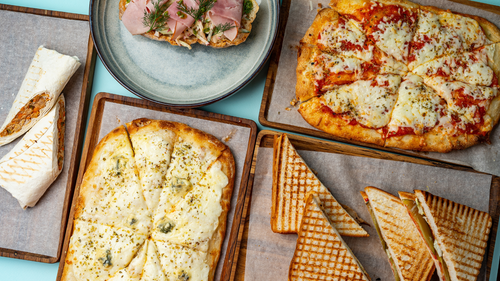 Late-night munchies are a growing wedding food trend at Indian weddings. The typical urge for some appetisers among guests is brought on by dancing all night long. You can provide dishes like pav bhaji, vada pav, and chole bhature.
India is a large country with a wide variety of culinary traditions. It can be a terrific approach to highlight the diversity of the nation to include regional specialties on the reception menu. You can include foods like Hyderabadi biryani, Rajasthani dal baati churma, and Bengali fish curry. Adding regional specialties can also be a fantastic method to accommodate visitors from various regions of the nation.
The wedding reception menu  is a crucial component of any Indian wedding. With a variety of Indian cuisines on offer, the menu can be altered to suit the preferences of the visitors.
---
Photo: Shutterstock