India's homegrown artisanal chocolate brands have been in the spotlight for quite some time now. And even though there's been a significant growth in demand for artisanal bean-to-bar chocolates, it needs more awareness to introduce cacao as a potential intercrop and create a close-knit community for both farmers and makers.
So, with an urge to carve a new future for cacao farmers in India and put Indian craft chocolate on the world map, Patricia Cosma - a Bengaluru-based bean-to-bar chocolate connoisseur and Ketaki Churi - a Mumbai-based chocolatier put together the Indian Cacao and Craft Chocolate Festival in Mumbai, that took chocoholics through insightful workshops to understand the versatility of Indian cacao bean. From sessions on evolution of chocolate in India to regenerative farming and cacao cultivation, chocolate pairing with cheese to 15 sustainable brands on display, it had everything it needed to make a difference in the chocolate industry. Apart from chocolate, a few other artisanal brands like artisanal beer (Bombay Duck Brewing), craft bakes and specialty coffee (Subko), artisanal cheese (Kase), and handmade brioche doughnuts (Toast Doughnuts Shop) were also a part of the festival.
What makes a good chocolate?
How to tell if your homegrown chocolate is good quality? It starts with reading the ingredients, the origin of the cacao beans and tasting it will all make you understand if you are having a good quality chocolate. Cosma suggests, "Dark chocolate should have two to three ingredients at the most: cacao beans, sugar and maybe cacao butter. Milk chocolate will have just milk powder added to the mentioned ingredients. White chocolate should have only cacao butter, milk powder and sugar. You should always check for the origin of the beans, like the State or the farm name. The mention of Tree-to-Bar or Bean-to-Bar should be on the bar. A craft chocolate bar will always have a good complexity of flavours."
The journey from farm to bar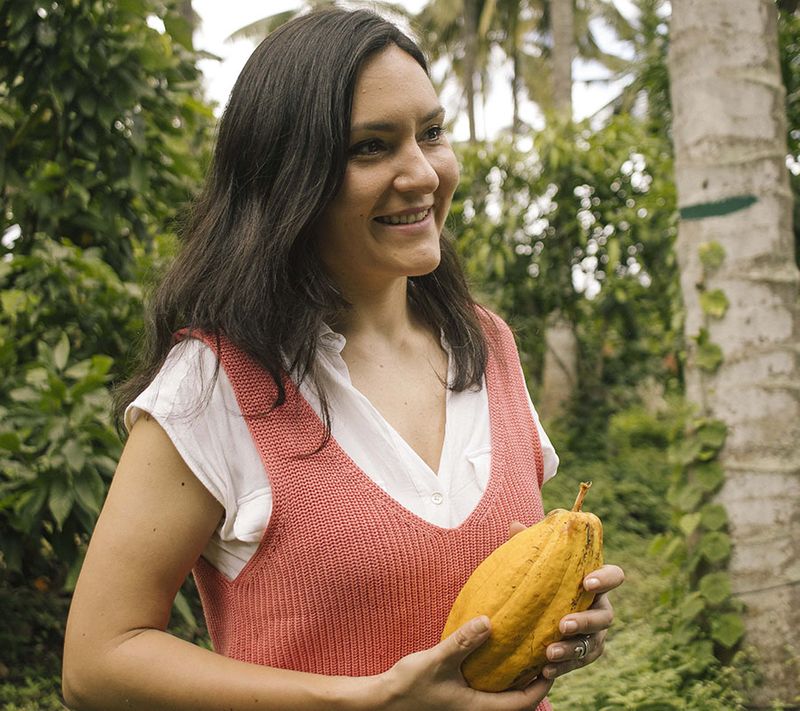 Talking about their experience of bringing together cacao farmers for the festival, Cosma, who is on a mission to make people fall in love with craft chocolate (as her insta bio reads), says, "Both Ketaki and I visited and worked with cacao farms so we built good connections with them. By having them at the festival we want to bring them closer to their buyers (chocolate makers, consumers) and make the raw ingredients seen. So many people never saw a cacao pod or tasted cacao beans. At the festival we want them to have this experience and understand how much work the farmers have to put in." 
What makes Indian cacao special and flavoursome, is its nature of growing intercropped with a lot of fruiting trees and in more than five states of India we get to experience a variety of flavours. "From beans that are fruity to beans that are earthy, smoky," Cosma adds. Unfortunately, despite diverse flavours and attractive packaging, Indian chocolate is never considered as good as foreign chocolate. Stressing on how they are trying to change that perception, she elaborates, "People are used to thinking that foreign products are superior to the local ones. Also, the big mass production chocolate companies have huge budgets to market themselves anywhere they want compared to small craft chocolate brands. We believe Indian cacao is amazing in terms of quality and taste and we want to see more people understanding the value of buying a craft chocolate bar which was made with local ingredients over an imported mass product."
However, despite the growing demand for chocolate, India imports most of its Cocoa. When asked why, Cosma explains, "Cacao has gained interest just over the last few years. It was just recently with the craft chocolate industry expanding that farmers started getting a fair price for their beans. That's why a lot of the cacao trees were cut and replaced with more profitable crops like areca nuts. Because of this the current demand is higher than the supply."
Artisanal cheese and craft chocolate pairing
Needless to say, cheese and chocolate are universally two of the most favourite fermented creations and are incredibly delicious and satiating. But can the two come together and still taste sublime? Namrata Sundaresan, of Kase Cheese, says, "Chocolate and cheese is an interesting pairing because there's acidity in cacao. Also, when you talk about a lot of specialty chocolates that we use, they have fruits, spices, floral notes. What cheese does is essentially it's the diary which is then broken down into the proteins and fats and they coat the palate and make it extremely easy for you to perceive the hidden flavours of the chocolate. For instance, the one we tried with cardamom and cheese, you will see everything is very pronounced."
Cosma is currently working with cacao farms in Karnataka and aims to educate and train farmers to improve believes that India has huge potential in terms of growing and producing good quality cacao. "Same thing applies to the making of amazing craft chocolate. I think we are just witnessing the beginning of the growth and there is so much more to come," she concludes. 
---
Photo: Indian Cacao and Craft Chocolate Festival