Rajasthan, the land of palaces recites the history and glory of ranas and rawals. Along with travel and culture, what makes people fall in love with the state is the exquisite taste of Rajasthani food. No wonder, along with the mesmerising forts, palaces, and landscapes, Rajasthani dishes are often seen on the traveller's bucket list.
Dal baati churma is a must-try to make your trip to Rajasthan wholesome. And whether you have a sweet tooth or not, you can't miss devouring the delicious ghevar. And guess what? The list of the sumptuous staple food of Rajasthan only starts from here.
You may want to add gatte ki sabji, laal maans, pyaz kachori, and papad ki sabji to your bucket list too when you visit Rajasthan next. Did this get your food senses ready to taste the Rajasthani cuisine?
10 famous iconic food of Rajasthan that you must try: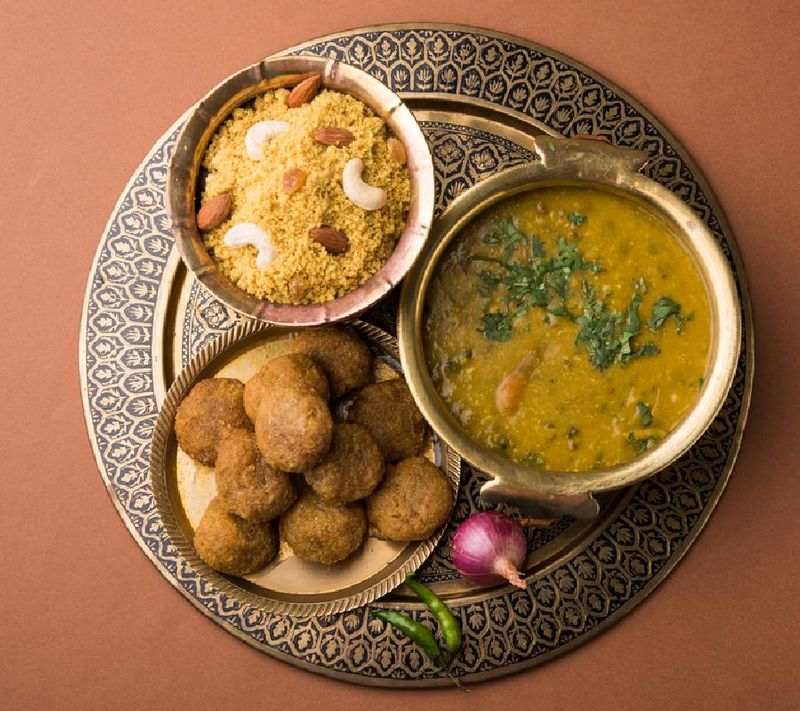 A dish that was known for its long shelf life during the royal era has become a staple food of Rajasthan. You will often find this signature dish in the desert area of Rajasthan.
Baati is a hard bread that requires hardly any water to cook. Served with dal (lentil curry) made of five different lentils, you can enjoy dal -baati with authentic churma made of coarsely ground wheat blended in jaggery or sugar and ghee.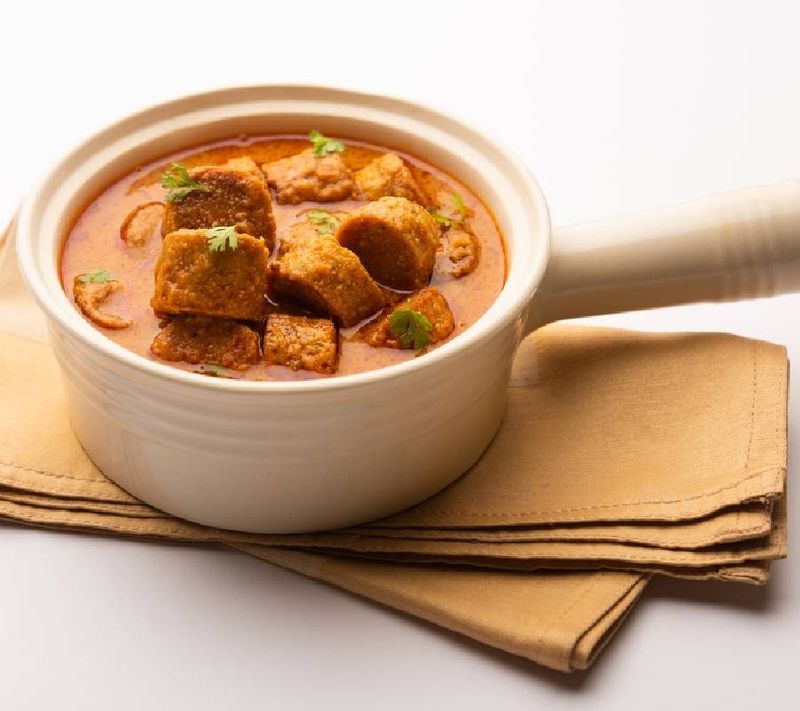 Gatte ki sabji is another traditional food of Rajasthan was the result of the state's dry conditions and is made of gram flour dumplings. You don't need any fresh vegetables to make this dish, and that's what makes it more special.
Gram flour dumplings coated in a tangy gravy of tomatoes, spices, and buttermilk served with roti or rice make for a fulfilling Rajasthani khana.
3. Papad ki sabji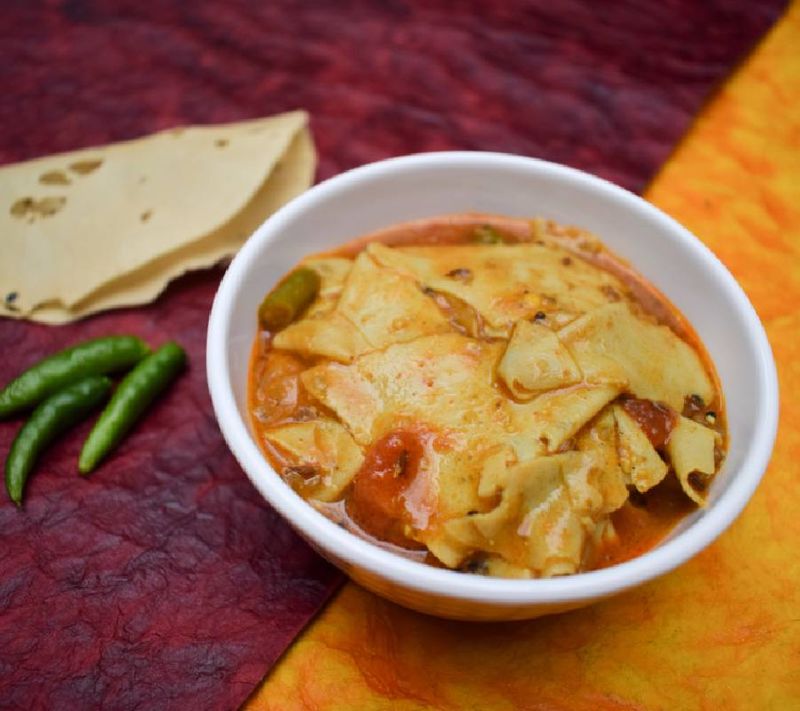 Now, who says you can apply out-of-box thinking only to solve problems? Rajasthanis tried this long ago when they came up with crunchy papad ki sabzi.
Made with crushed papad mixed in yoghurt gravy cooked with gram flour, turmeric, chilli powder, and chopped coriander leaves, papad ki sabji is a must-try on your trip to Rajasthan.
4. Ker Sangri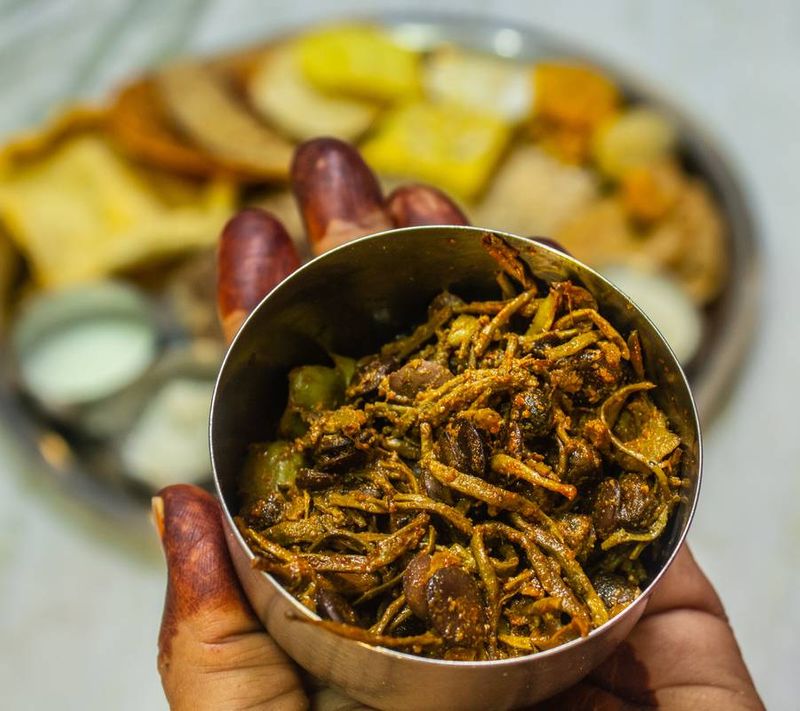 The speciality of Rajasthani khana is the ingredients used that you will find in desert areas of the state. Ker is one such type of wild berry, while Sangri is a long bean abundantly grown in the desert areas of Jaisalmer and Barmer.
Thus, your next trip to these cities calls for devouring ker sangri cooked in water or buttermilk coated in spices and served with bajra rotis.
5. Raab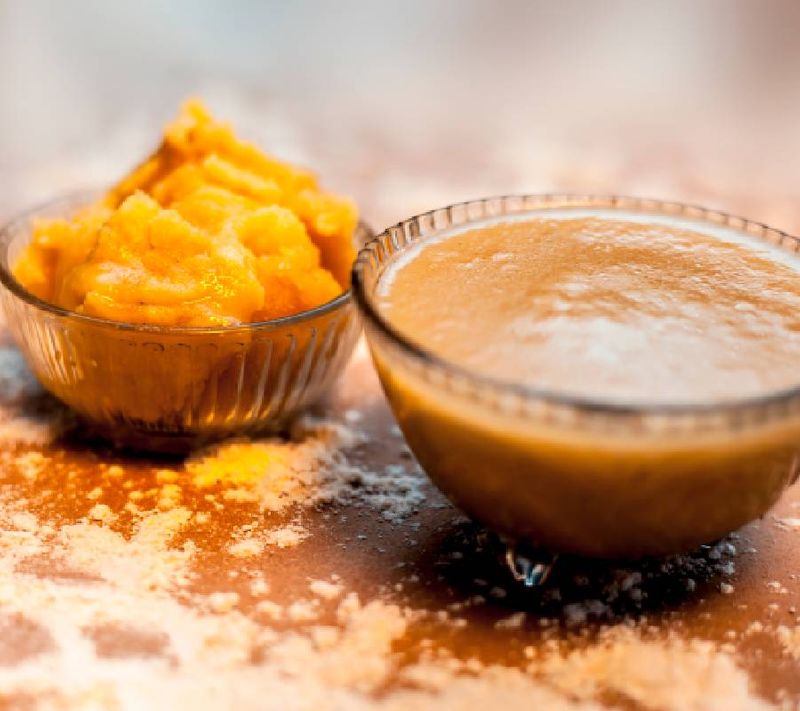 Want to try something other than roti, rice, and gravy? Raab will come to the rescue in Rajasthan. In commoner's language, Raab is a kind of soup or a thick broth traditionally made by fermenting bajra (millet) flour and buttermilk and then cooking the mixture in an earthen pot for several hours.
If you want more variety in your food menu, you can try makke ki raab or corn raab, which is made by adding corn kernels to the mixture.
6. Bajre ki roti with lahsun chutney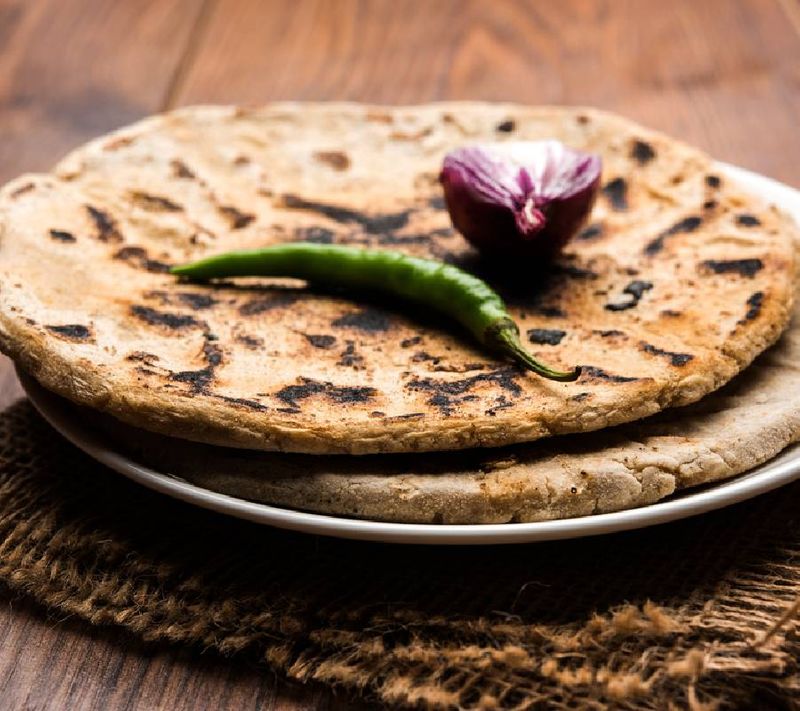 Bajre ki roti is an integral part of Rajasthani khana. Thickly rolled bajra rotis cooked on cow dung to add a smokey flavour are devoured all over the state with almost any kind of sabji.
But for a change, you can try bajra roti with another staple food of Rajasthan - lahsun ki chutney, garlic dip made from garlic, red chilli powder, jaggery, lime juice, and homemade butter.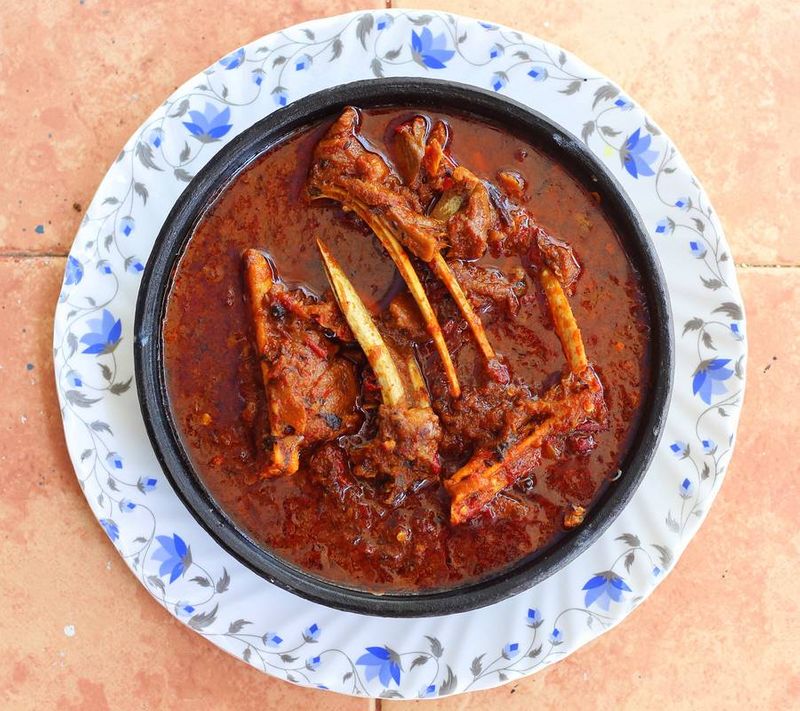 For the state famous for vegetarian food, laal maans has made its unique place as a non-veg dish on the list of most-loved Rajasthani food items names.
Laal maans, which literally means 'red meat,' was a traditional non-veg dish made with deer or wild boar. Today, the ingredient of this dish is spicy mutton coated in a fiery curry of chopped onions, garlic paste, red chillies, and curd.
8. Onion Kachori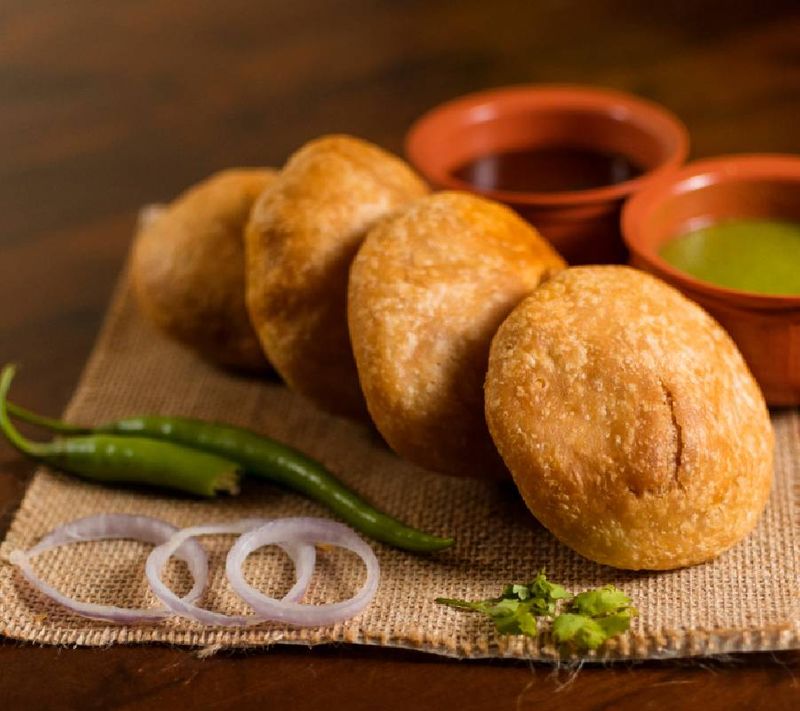 Whether you have or haven't been to the royal state of Rajasthan, one Rajasthani dish most of us have tasted and become fans of - pyaaz ki kachori or onion kachori.
Originated in Jodhpur, this dish is widely eaten across the state as a go-to breakfast and snack item. Flakey deep-fried bread stuffed with spicy onion mixture is an excellent start to your exquisite experience in Rajasthan.
9. Panchkuta 
Another quintessential curry of Rajasthan is made of five key ingredients - sangri, ker, gunda (a kind of wild berry), kumat (seeds from the pods of deciduous tree), and dry red chillies - all that is abundantly found in the Thar desert region.
Due to the easy availability of ingredients and the dish's long shelf life, Panchkuta was a lifesaver for travellers during the long cart and camel rides. Today, panchkuta has become popular as a Rajasthan special food that one must try.
10.  Ghevar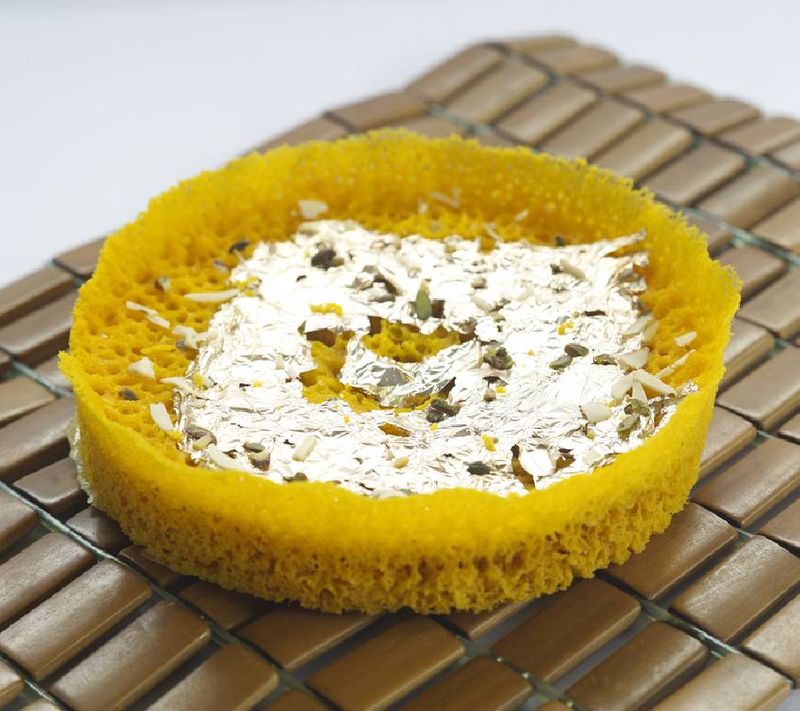 Dessert is always served after you have finished your meal. Thus, we saved this mouth-watering desert of Rajasthan for the last. Ghevar, a special dessert sweet that originated in Jaipur, is made with flour, soaked in ghee and milk, and topped with chopped dry fruits that enhance the taste and flavours of this Rajasthani dessert.
From plain ghevar to mawa and malai ghevar, you will want to try many of the varieties of this yummy sweet.
On your next trip to Rajasthan, don't forget to treat yourself to this wide range of staple food of Rajasthan.
---
Photo: Shutterstock