You don't need a culinary degree to make your favourite dishes at home. Whether you're planning a spectacular dinner for Valentine's Day or any other special occasion, or simply want to enhance your cooking game—here are a few restaurant-style recipes you should try. With a little planning, you can easily make these recipes at home and impress your loved ones.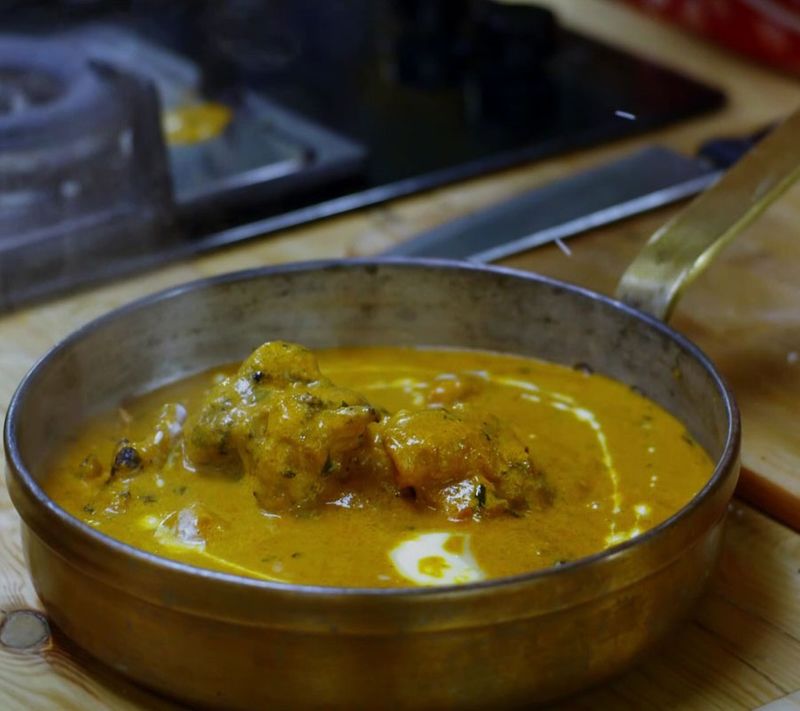 One of the most popular items on the menu is butter chicken. Kids and adults enjoy this dish alike. For a get-together or party, this is one of the easiest dishes to prepare. If you're a vegetarian, replace the chicken with paneer, or even better mushrooms. Here's how to make one of your favourite restaurant dishes at home.
Ingredients 
For makhani masala
2 roughly sliced onions

4 - 5 roughly sliced tomatoes

3 - 4 green chillies

2 - 3 dried red chillies

1 small piece mace

1 cinnamon stick

2 bay leaves

8 - 10 garlic cloves

2 - 3 cloves

2 - 3 green cardamom

2 big pieces of ginger

8 - 10 cashew nuts

250 ml water
For makhani gravy
3 - 4 tbsp oil

2 tsp ginger garlic paste

2 slabs butter

1 cup cream

1 tsp kasuri methi

1 tsp sugar

salt to taste

fresh coriander for garnish
For the tadka
1 small cup chopped green chillies

1 small cup chopped garlic
Preparation
In a pan, add some tomatoes, onions, green chillies, dried red chillies, a small piece of mace, cinnamon sticks, bay leaf, garlic, cloves, green cardamom, ginger piece, cashews nuts, and saute.

Add water and allow the mixture to boil. Cook the onion-tomato masala till it becomes soft and mushy.

Allow the masala to cool. Remove the whole spices; pour the rest of the mixture in a blender and blend till it becomes a fine paste. 

Strain the paste to give it a smooth texture.

Heat oil in a pan and cook the ginger garlic paste and chilli paste in it. Add the makhani gravy to the pan and cook again.

Add chicken tikka / tandoori chicken pieces to the makhani gravy.

Add butter along with a dash of cream and kasuri methi. Finally add salt, sugar and garnish with fresh coriander.

Serve the butter chicken with buttered naan
This aloo paratha recipe is a traditional spiced Indian potato paratha cooked with onions, green chilies, and coriander. These parathas are traditionally made with ghee and served with a dab of butter. These parathas are crispy and delicious thanks to the addition of ghee.
Ingredients 
For aloo mixture
3 - 4 boiled and mashed potatoes

1 cup wheat flour

1/3 cup chopped coriander

2 - 3 onions chopped

1 tsp amchur powder

2 - 3 green chillies chopped

2 tsp anardana

1 tbsp black salt (kala namak)

1 tbsp bhuna jeera

ghee as required
For dough
1 cup aata (wheat flour)

1 tsp salt

water as required
Preparation 
Mix wholewheat flour with some water and salt to make a dough.

Drizzle some oil on the dough to keep it soft and moist.

In a bowl, mix mashed potatoes, coriander, chopped onions, green chillies, bhuna jeera, aamchur powder, anardana, and black salt.

Take a small piece of dough and start flattening it—keep the edges thin and the centre thick.

Place the aloo stuffing in the centre of the flattened dough. Stuff it enough so you can feel the stuffing in every bite. Make a round dough ball again.

Flatten the dough ball with a rolling pin.

For the tandoor style of cooking, grease one side of the flattened dough with water and place that side on the tava. Cook it till one side turns light brown.

Another style of paratha: place it on a nonstick pan.

Throw in a dollop of ghee and let the ghee melt. 

Flip the paratha. Let both the sides cook properly till golden brown.

Serve hot aloo paratha with dahi.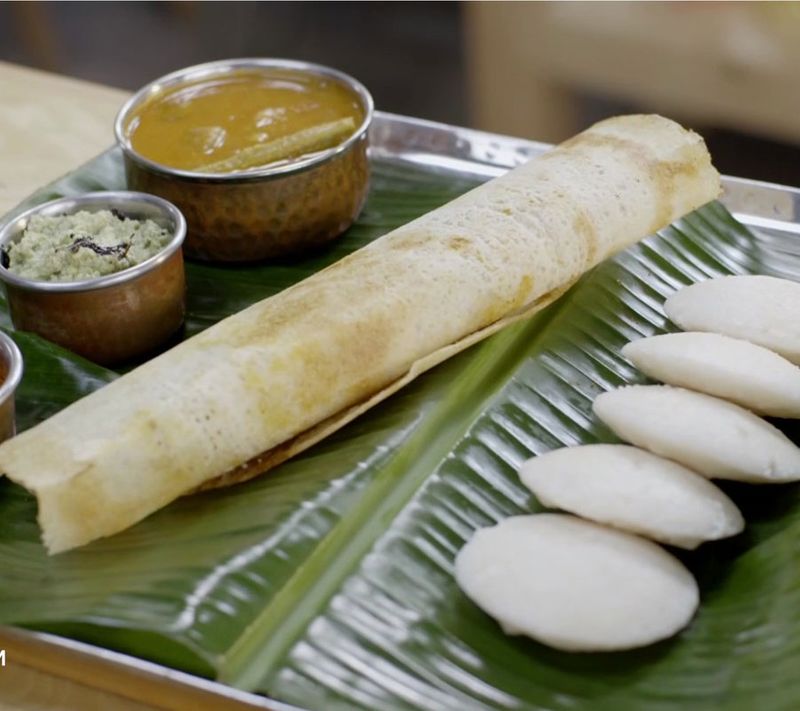 Soaking, grinding, and fermenting are the three stages of making idli and dosa batter. The rice and lentils are soaked before being ground into a smooth paste for the dosa batter. Once fermented, this batter is used to make idlis, dosas, and uttapams. Here's how to make restaurant-style idli, dosa, and chutney at home.
Ingredients 
For idli batter
3 cups rice (soaked overnight)

2 cups urad dal (soaked overnight)
For dosa batter
4 cups rice (soaked overnight)

1 cup urad dal (soaked overnight)

1 tsp methi seeds (soaked overnight)
For aloo stuffing
2 tbsp coconut oil

1 handful mustard seeds

3 - 4 dried red chilies

2 - 3 green chilies

8 - 10 curry leaves

1 small bowl chopped ginger

2 - 3 medium onions
Preparation 
Soak rice, urad dal in a bowl of water overnight and grind into a smooth batter the next day. Allow the batter to ferment.

Once the batter has fermented, add salt to the mixture.

In a pan heat coconut oil. Add mustard seeds, dried red chillies, slit green chillies, curry leaves, chana dal, haldi, salt, and some pepper powder.

Add ginger and sliced onions, and toss it well.

Add the mashed aloo and some water to the mixture and cook well.

Take a flat pan, add some ghee and spread the dosa batter on the pan.

Grease the batter with some ghee and few granules of sugar for the browning effect.

Add the aloo mixture to the center of the dosa.

Serve the dosa with Sambar and coconut chutney.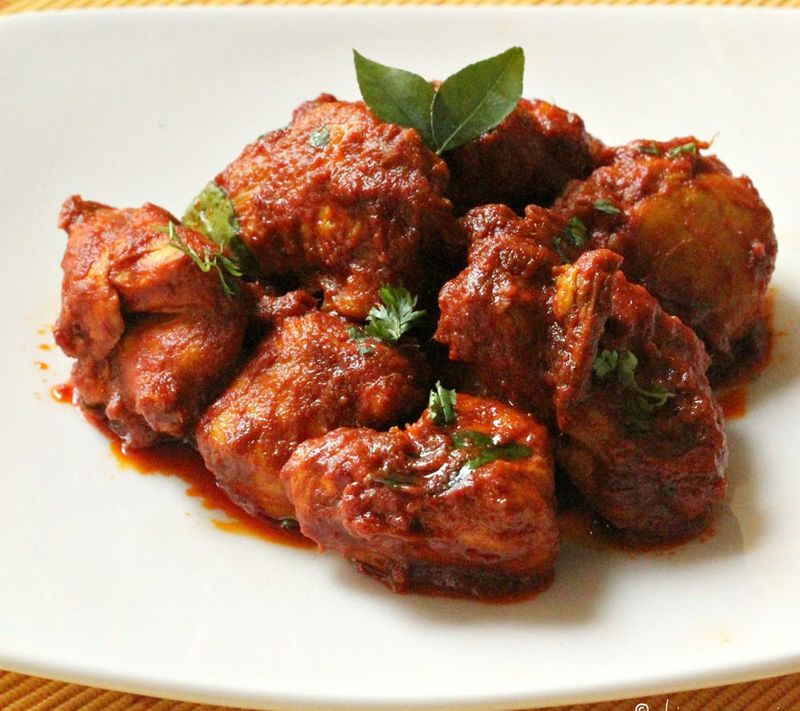 This chicken ghee roast recipe will have you drooling. Dry roasted spices are ground into an aromatic masala and applied to chicken pieces, which are then cooked in ghee for a rich and sophisticated flavour. Most people in India enjoy chicken ghee roast because it is rich and has vibrant flavours from the homemade ground masala that is used to cook the chicken.
Ingredients 
For spice paste
1 small cup coriander seeds

1 small cup jeera

8 - 10 peppercorns

4 - 5 cloves

5 - 6 dried red chilled

1 small cup methi seeds

5 - 6 garlic pods

3 tbsp tamarind juice
For chicken marination
1 tsp turmeric powder

2 tsp red chilli powder

salt to taste

1 tbsp ginger garlic paste

2 tbsp lemon juice
For ghee roast
500 gm chicken

4 - 5 tbsp ghee

1 sprig curry leaves

2 - 3 cinnamon sticks

1 small cup chopped garlic

2 chopped onions

1 big piece jaggery

fresh coriander as required
Preparation 
Marinate the chicken with salt, red chilli powder, turmeric powder, lemon juice and ginger-garlic paste.

In a pan roast coriander seeds, jeera, peppercorns, cloves, dried red chillies, and meethi seeds to make a dry spice mix.

Let the spice mix cool and then grind it with some garlic and tamarind juice, to make it into a fine paste.

Heat a pan and add some ghee, curry leaves, cinnamon sticks, garlic, onion, salt, and saute until the onions turn brown. Add the spice paste to the pan and saute until cooked.

Add the marinated chicken pieces to the pan and let it cook.

Add a piece of jaggery to the chicken ghee roast and finally garnish with fresh coriander.

Chicken ghee roast is ready to serve.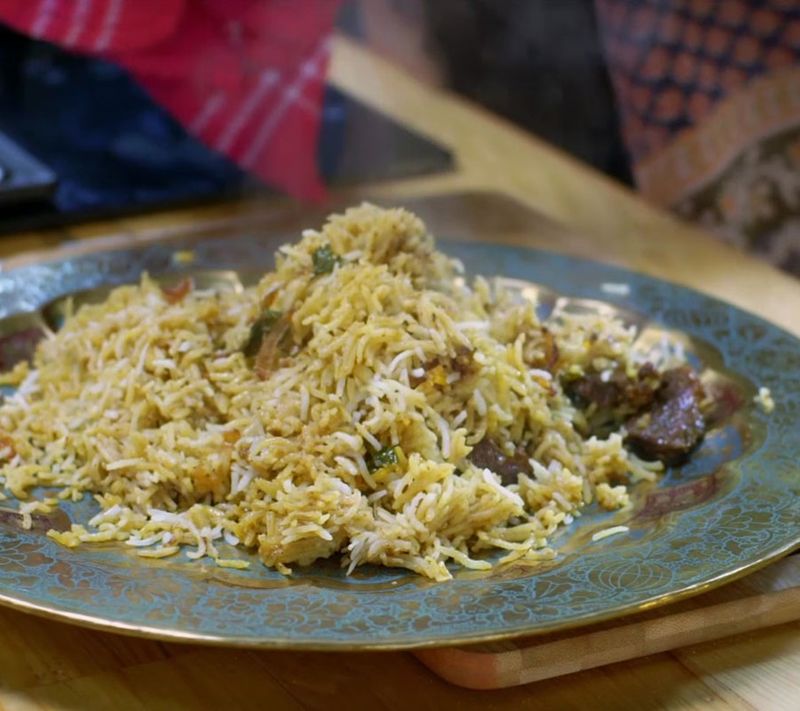 Right from the masalas to saffron milk, the Awadhi mutton biryani recipe is full of aromas and flavours. You'll love the combination of spices, mutton chunks, and rice topped with caramelized onions. Awadhi biryani is a must-try recipe for all biryani connoisseurs. Take a look at Chef Ajay Chopra's recipe, which is sure to make you drool.
Ingredients: 
500 gm mutton

4 - 5 tbsp ghee

3 - 4 green cardamom

2 cinnamon sticks

1 tsp cumin seeds

4 -5 cloves

2 bay leaves

1 - 2 pieces javitri

1 cup fried onions

1 tsp yellow chilli powder

1/2 tsp turmeric powder

1 cup ginger-garlic paste mixed with water

1 cup mutton stock

2 tsp nutmeg and cardamom powder

Salt as per taste
For rice
water as required

5 - 6 cloves

1 cinnamon stick

4 -5 green cardamom

1 bay leaf

Mint leaves as required

Fresh coriander as required

1 - 2 tsp ghee

Salt to taste

300 gm basmati rice

1 tsp jeera

Few drops of kewra water
For jhol
3 - 4 tbsp ghee

1 cup cream

Few strands of saffron

1 - 2 tsp biryani masala
Preparation
Heat oil in a kadhai and add some cardamoms, cinnamon, jeera, cloves, javitri, bay leaves and sauté. Add fried onions, mutton and sauté.

Add yellow chilli powder, salt, turmeric, ginger-garlic paste, and sauté again.

Add mutton stock and cook the mutton until it turns tender.

Strain the mutton gravy into another pan. Add nutmeg and cardamom powder and simmer.

In a pan, boil water, add cloves, cinnamon, green cardamom, bay leaf, coriander, mint, salt, and ghee.

Remove the spices from the water and add soaked rice.

Add some kewra water and cook the rice until 80% done. Strain the rice and set it aside.

In a pan, heat some ghee, cream, saffron, biryani masala, stir it all together and turn off the gas.

In a heavy-bottomed pan, layer the mutton, then rice, and then the gravy. Repeat layers.

Top the rice with mint coriander, fried onions, and ghee.

Cover the lid and seal the edges with dough. Cook on low flame for another 10-15 minutes.

Use a flat spoon for a delicate mix before serving. Garnish it with mint leaves and serve hot with raita.
---
Photo: Shutterstock