She's busier than the proverbial bee, working on her new Diwali menu. Home baker Juhi Pahwa is the toast of Bollywood with her lip-smacking treats in the 85-calorie cupcake and 45-calorie muffin series, her delicious grazing options in power-packed nut and seed trail mixes, brownie brittle with cracker-crisp consistency, keto-cocoa energy balls, healthy nankhatai, and her vintage theatre of flavours in eggless cakes. Call it The Better Binge.
"I am working on three new flavours: vanilla tea reduction, marble cake with chocolate accents, red velvet with Belgian dark chocolate…," she says smiling, whipping divine bakes in minutes. Four years old in the business, Juhi has B-town celebs eating out of her hands—literally! Her famous jowar dark chocolate cake has die-hard fans in the best bods— Jacqueline Fernandes and Yasmin Karachiwala. 
Katrina Kaif swears by her buckwheat pancakes with peanut butter strokes and a nutty organic drizzle. Esha Deol and Sophie Choudry simply love her pinatas. Ananya Pandey and her mum, Bhavna, ration her muffins throughout the week. The list goes on and on with Manish Malhotra, Alia Bhatt, Rajkummar Rao, and Patralekha being her patrons "I tweak my recipes in keeping with personal tastes, like Rajkummar and Patralekha wanted their cake with fresh fruits. I play with seasonal infusions in strawberries and mangoes to bring in the natural sugar rush," says Juhi. She is a stickler for rules, and the rule is that you don't put her jowar chocolate cake in the refrigerator. Yasmin did, and Juhi immediately rushed to her with another J-special in time for her son's birthday cake cutting moment.
Baking rules that must not be broken?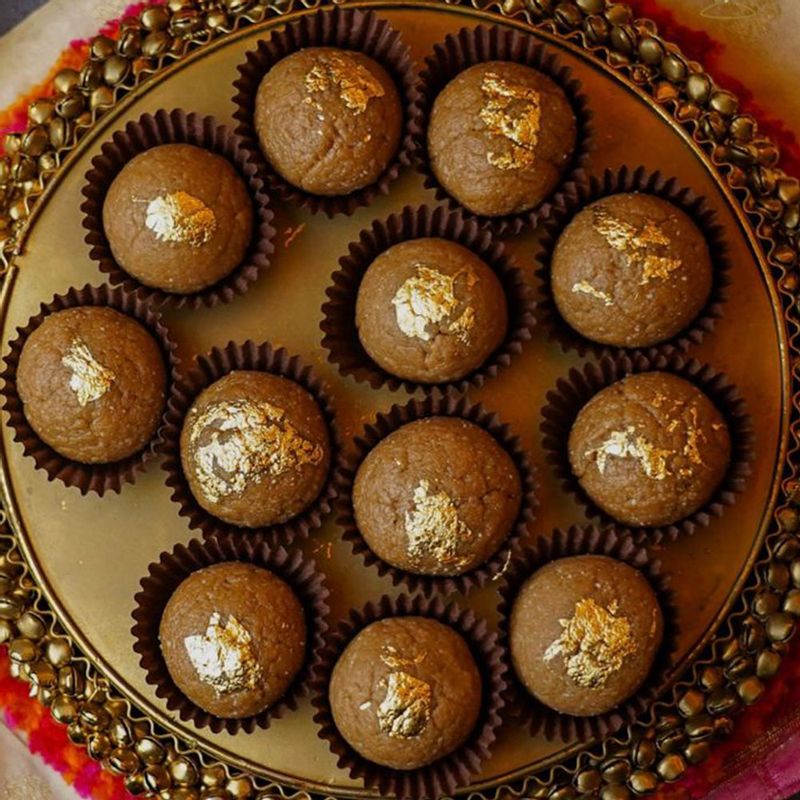 "Honestly, baking is all about precision," says Juhi, who conducts online workshops for those keen to decode the magic that goes into the making of healthy, artisanal cakes and dessert hybrids. If my recipe says 113 grams of flour, you cannot toss in 120 grams. Follow everything to the T—from the exact baking time to the cooling period. 
The biggest blooper? "Home bakers often keep checking on the cake every 10 minutes. Each time you open the oven, you lower the temperature and this is why cakes often sink. While baking millet cakes, it is crucial to follow the ratio and proportion in the ingredient list. Understand that each millet flour is different and behaves uniquely in terms of a hydration profile. For instance, jowar has a nutty flavour, and this cake carries a molten chocolate centre. You refrigerate it to ruin and render it rock solid," she says. Ouch. 
But all of us tend to toss the cake we receive on order into the polar region. "Chocolate carries stabilising agents that make them set at room temperature in a couple of hours. We function as a force of habit because we have always been conditioned as kids to also put Dairy Milk in the fridge, and prevent cakes from getting spoiled by shoving them in too. Desist!"
The second golden rule? "Be mindful of the replacements you use," she says. "To substitute eggs, there are tons of options like soaked flaxseeds or chia seeds, baking soda, condensed milk…What you use will be determined by what you intend to bake," she grins. "Since cookies must be crunchy, use flaxseeds. A dot of vinegar makes the flour rise. For moistness, add in yoghurt…baking is a science. You can't just 'wing it' like you can in cooking food where you make your own modifications and toss in available ingredients."
That's what makes her a prized pro—the keen understanding of the complexion of ingredients, their power in permutation and combination, and her contemporary awareness of substitutes as she upgrades her bouquet of techniques. 
Juhi's creations are works of art, picturesque and pouting perfectly on the plate. The third golden nugget? "No compromise! I use the best ingredients, like monk fruit sweetener, avocado oil, coconut sugar, olive oil, and Canadian maple syrup" And she works with devilish fervour to remain numero uno. At 6:30 am on Sundays when perhaps the whole world is sleeping, she is up preparing lip-smacking breakfast platters. 
"On her birthday, Jackie called me to also place an order for 12 jowar dark chocolate cakes to be delivered in a couple of hours. I came up with four flavours: coffee, berries, cookie, and Nutella…baking is a passion for me. I am a compulsive creator," laughs Juhi, wowing the natives with her yummy swirls on picture-perfect creations. She baked cupcakes for the music release of Kriti Sanon's recent hit flick Mimi with Spotify codes on the little sweethearts that could be scanned instantly. Anita Dongre's birthday cake was a gigantic vegan, gluten-free delight.
Juhi Pahwa, the trailblazer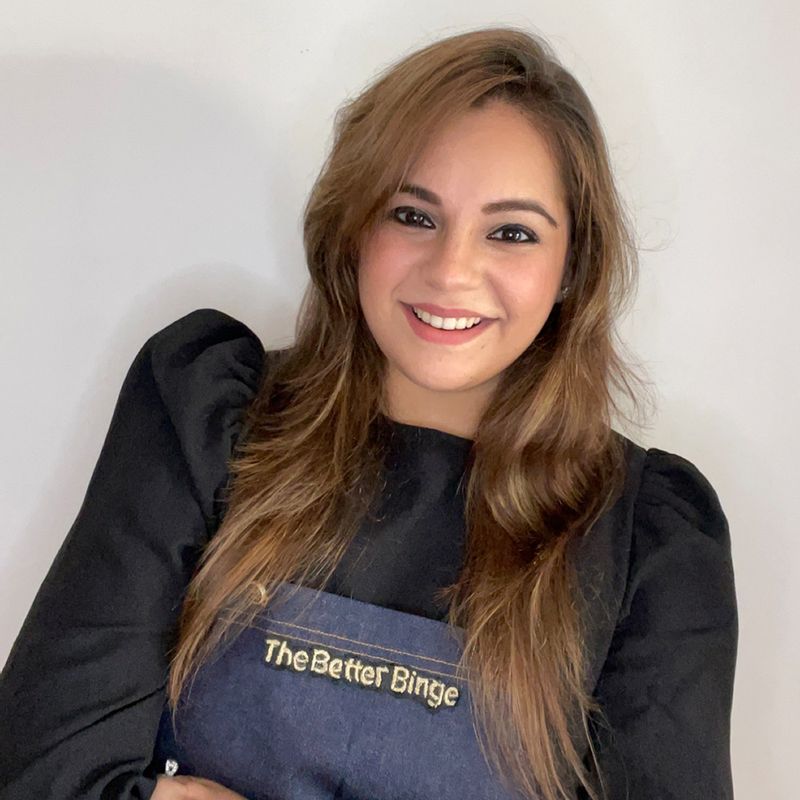 So, what's "it" this year, as 2020 was the year of pinatas with celebs batting away on the cakes on Insta. "I was baking 25 pinatas a day last year!" she shares. Quite a trailblazing feat as after that every home baker was coming up with pinatas. Before that she came up with cake boats (and everyone followed suit), and blow-torched brownie crusts (ditto). "At present, I'm working on cinnamon carrot cakes and creations with a slight variation in a zucchini accent. No nut butter included," says Juhi. "I prefer working with dehydrated date sugar or with fresh fruit combinations," she adds.
Are there any moments when she toys with the idea of enrolling at a pastry school, just for the certification on paper? "Honestly, there is no pastry school in the world that teaches you healthy baking, and my conscience simply does not allow me to bake with maida, butter, and white sugar!" she laughs. While we are at it, another confession? "Social media is annoying! I simply lack the patience to film reels, I am a baker, not a dancer!" No worries. You have us sugar friends raving over every TBB indulgence.
Recipes by Juhi Pahwa to make at home 
1. Gudd Kaju Katli Bombs recipe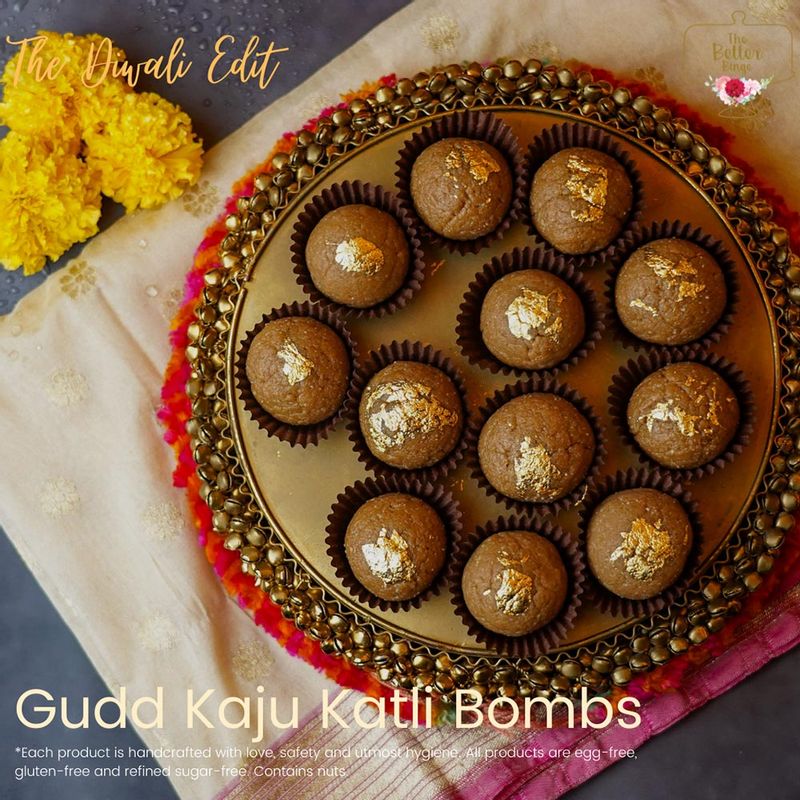 Ingredients
2 cup kaju powder
1 piece desi gur chopped
1/2 cup water
1/2 tsp elaichi powder
1 tsp ghee
Method
In a kadai, heat the water and gur together on medium heat, until the mixture reaches one string consistency (just like chashni).
At this stage add the kaju powder and stir vigorously until a dough is formed and the mixture starts leaving the pan. Add the elaichi for flavour and end with a teaspoon of ghee to give it a gloss.

Transfer the mixture to another bowl and knead while still hot to form a smooth shiny dough.

Form laddoos/bombs, decorate with gold vark, and enjoy.
2. Healthy chocolate fudge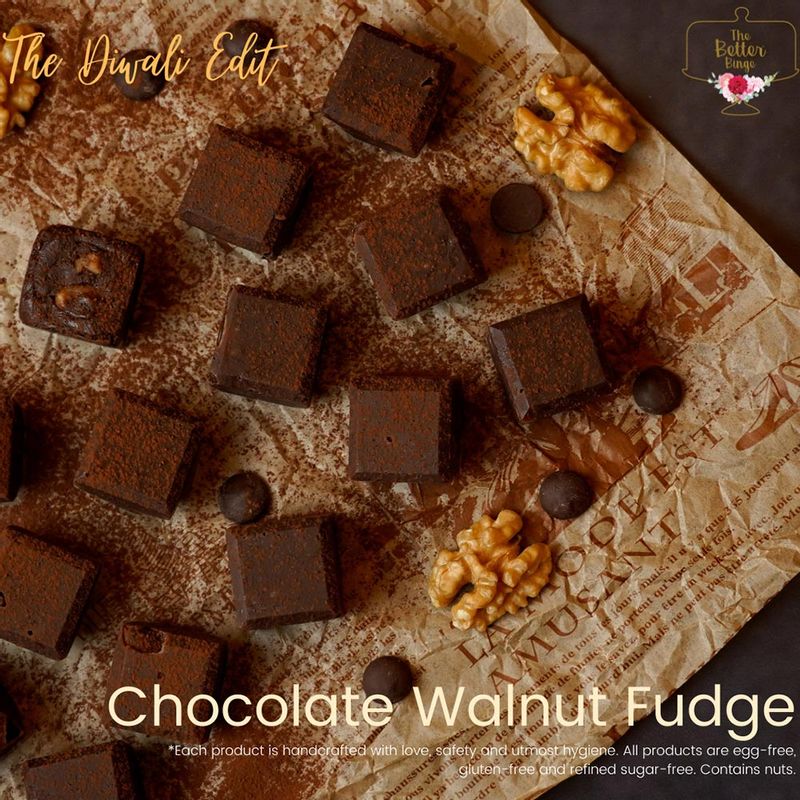 Ingredients
2 cups couverture chocolate
1 cup walnuts
1 tsp salt
Method
Roast the walnuts in a 180* C oven for 10 minutes.

While still shot grind the walnuts to make walnut butter.

Melt the chocolate in a microwave and mix well with the walnut butter. Add in the salt (it increases the shelf life).

Set in a square greased tin and refrigerate overnight. Cut into cubes and serve!
---
Photo: The Better Binge