Eggplant, aubergine, berinjela, badhinjan, and most commonly the 'king of all vegetables'—brinjal is indeed a vegetable with many names.  Native to India, brinjal finds references in Ayurveda since time immemorial and is known by numerous names within India too.  Just like its appearance—which ranges from purple, green, and even white and shape which can be long, round, or oval—brinjal in India is known as baingan, bengun, vankaya, vange, badnekai, kathirikai, and ringna amongst other monikers. With over 12 varieties commonly found in India itself, brinjal is grown extensively in India and China and is extremely popular in Middle East, Mediterranean and Italian cuisine too. A vegetable that is actually a berry fruit, this one generally evokes sharp reactions despite its rather innocuous taste.  It is something that you either hate or like—but just cannot ignore!
Brinjal varieties, cooking techniques, and dishes aplenty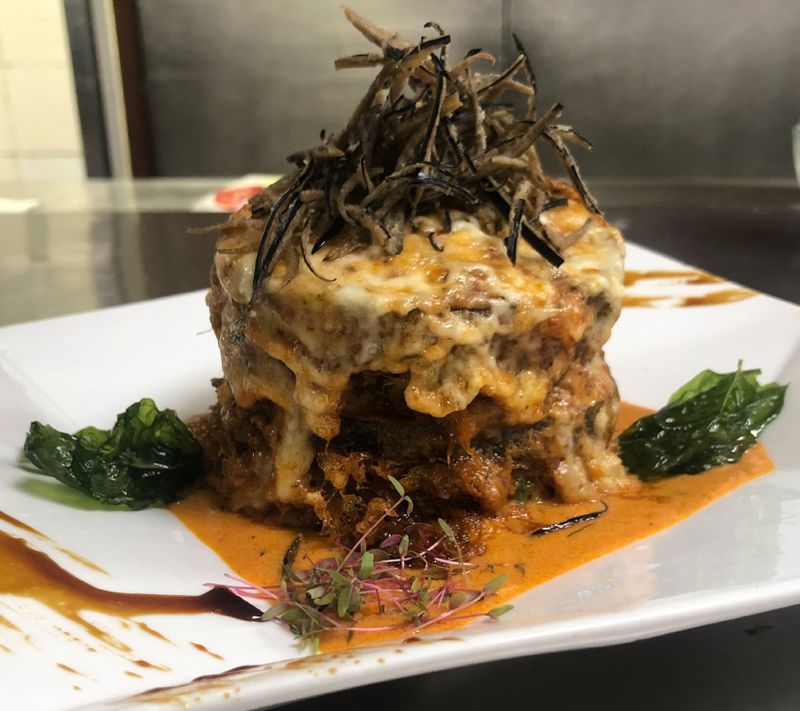 Extremely easy to add to your diet, brinjal is a vegetable that is rich in minerals and vitamins. "The properties of brinjal make it a unique vegetable. It is low in calories and high in potassium, fibre, and antioxidants. Brinjal can be a part of a healthy diet because of its rich nutrients. It also is believed to reduce the risk of heart disease and aids in blood sugar control and weight loss. It can be easily cooked and can be used in various diet-controlled recipes" says Jatinder Pal Singh, executive chef, The Leela Bhartiya City.  
Belonging to the Solanaceae or nightshade family, brinjal—whose scientific name is Solanum melongena—is an extremely versatile and multifaceted vegetable. Mashed, marinated, deep fried, stir-fried, or roasted—brinjals are used in pickles, curries, chutneys, sambhar, and even salad and appetizers. In India, almost every state has its own regional specialities like Bangare Baigan, Kathrikai sambar, Punjabi Bharwan Baigan, Baigan da Bharta, Vangi Bhat, Gutti vankaya, Baigan chokha, Badanekayi Ennegayi, Baigan pakora, Kashmiri Dahi Baigan, and Baigan tilkut masala. "We use it in gravy dishes, shallow fry them, batter fry them, and use it as an accompaniment vegetable in our fish curry preparations. Bengun is the most malleable vegetable and works as an antioxidant," says Subhankar Dhar, owner and chef of Esplanade who adds that brinjal is used extensively in Bengali cuisine. According to him the best way to cook full-bodied brinjal is by charring it on a coal fire and mashing it with spices and mustard oil.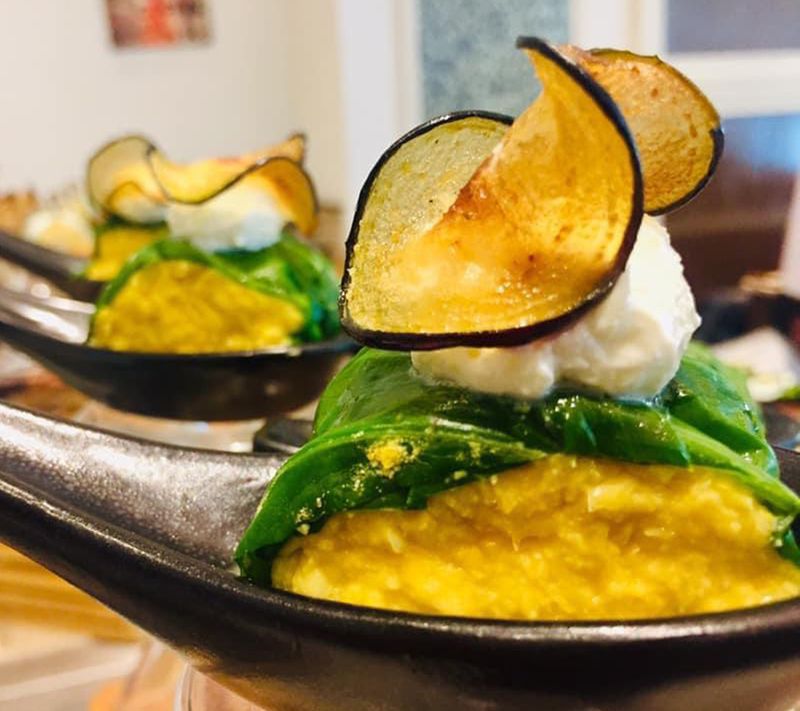 "Delicious when cooked in different ways, I use brinjal to make various kinds of dips. Clay-oven-roasted brinjal tastes well with other vegetables, nuts, and herbs," says Gaurav Ramakrishnan, head chef of Hyatt Centric, Bangalore. While the big purple brinjals are used for dips after roasting, the small green ones are best for home-style subzi and the small purple ones are suitable for gravy type dishes with stuffing, adds Ramakrishnan.  
In Indian cuisine, it is used largely in main courses like a mixed vegetable preparation, bharta, and salan; while in Western cuisine it is used as an appetizer like in antipasti and salads, and in mains like eggplant parmigiana, ratatouille, and tagine. "I use brinjal in different versions of baba ganoush with walnut, beetroot, bell peppers, and olive. Dehydrated brinjal with yellow bell pepper baba ganoush is my favourite dish," says Pawan Kumar, executive chef, Angsana Oasis Spa and Resort.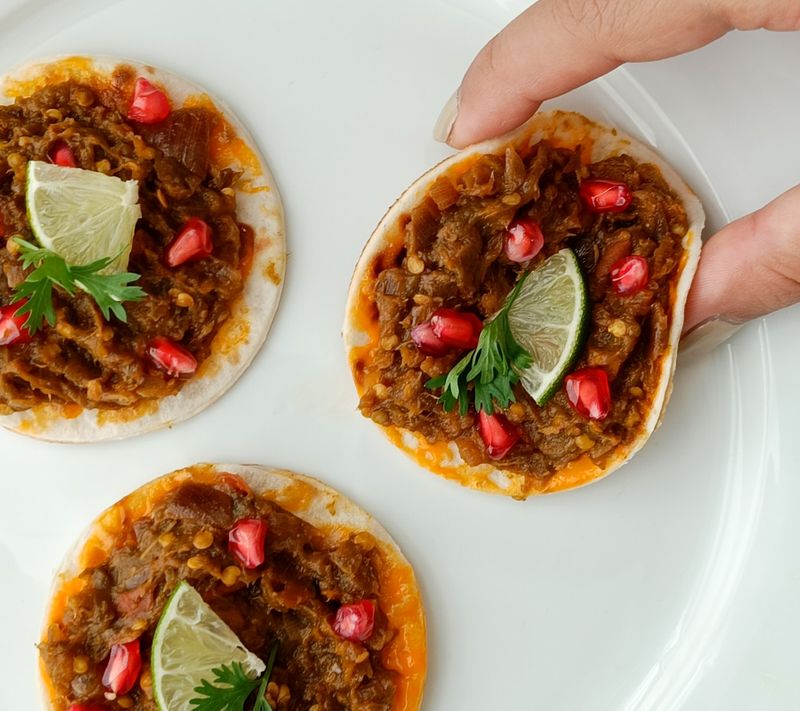 Chef Tarun Panjwani, recipe developer, chef consultant, and seasoned Zee TV presenter says that there are a plethora of eggplant varieties around the world, but only a few of them are highly popular such as the American eggplant which is well suited for grilling and roasting due to its big size and meaty texture.  The Italian eggplant which is teardrop-shaped is best for creamy Italian dishes as it has a sweeter flavour than the rest.  The Indian round brinjal is good for stew, curries, and sambhar.  The white-coloured, long, skinny eggplant is widely used in Middle Eastern recipes such as baba ghanoush and moutabel. Thai eggplants are small and are perfect for Thai curries and Asian stir-fries.  Panjwani adds that his favourite is the quintessential baingan bharta with a twist. His creation, Baingan bharta tostadas (tostadas are mainly tortillas that are either toasted or fried) are akin to open-faced sandwiches garnished with spicy mayo, pomegranate, lime, and fresh coriander.
Baked kurkure baingan recipe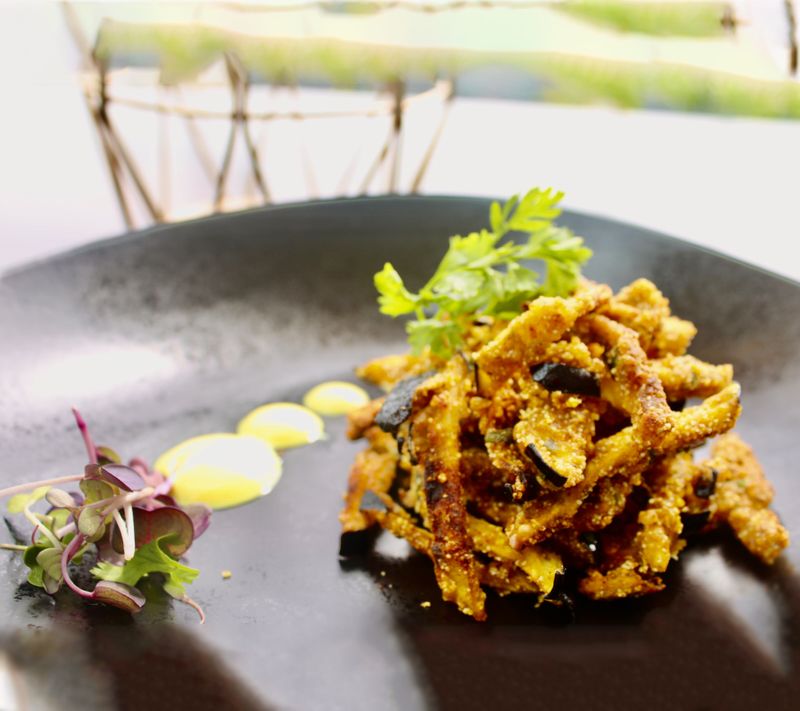 Ingredients
2 long brinjals

50 gm cornflour

2 gm turmeric powder

5 gm red chilli powder

2 gm cumin powder

1 tsp coriander powder

1 tsp ginger-green chilli paste

15 ml lemon juice

50 gm rawa

Butter for Brushing 

20 gm refined flour

Salt to taste
Method
Take a baking tray and apply butter on it. Cut the brinjals diagonally and put them in a bowl.  

Add salt, turmeric powder, red chilli powder, cumin powder, coriander powder, ginger-green chilli paste, and lemon juice;mix well. Set aside for 4-5 minutes.

Place the cornflour and rawa in a plate. Mix well and set aside. To a separate bowl, add refined flour along with 3 tbsp water.  Whisk well and dip the seasoned brinjal. Once well coated in the slurry, coat them with the rawa mixture. 

Gently slide them into the baking tray and bake till golden brown and crisp.

Serve hot with any chutney.
Recipe courtesy: Jatinder Pal Singh, executive chef, The Leela Bhartiya City, Bengaluru
---
Photo: Shutterstock