We may have let international desserts such as macarons, cheesecakes and cookies be an intrinsic part of our festivals, in the past few years, but nothing beats the taste of nostalgia, does it? Since time immemorial, traditional mithai has been the hallmark of celebration in India, be it feasting or gifting. Sweetmeats like motichoor laddu, kaju katli, doda barfi and ghevar (to name a few) that we grew up bingeing on through the festive season. But again, with changing times, we all want to indulge or gift something unique, something that stands out and acts as a conversation starter. Fortunately, a few culinary experts and pastry chefs from across the country understood our need for an innovative product with just the right amount of desi-ness. While some are focused on attractive packaging, others are giving traditional recipes a modern spin! 
This festive season, we bring to you a list of artisanal mithai makers for a dose of gourmet sweetmeats. 
1. Bombay Sweet Shop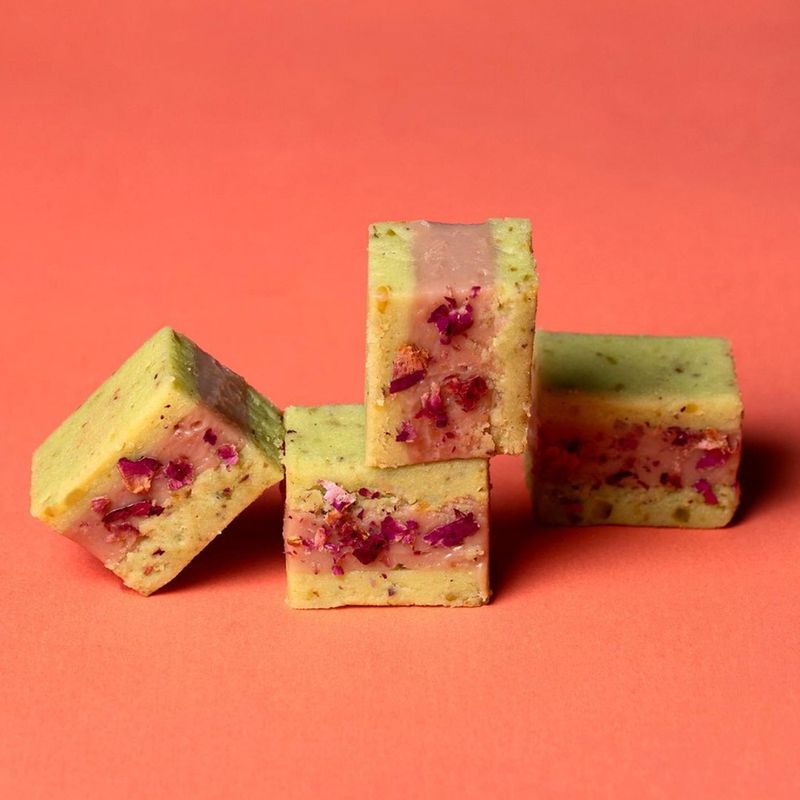 Byculla-based Bombay Sweet Shop (BSS) is known for its re-inventiveness. A venture by the folks behind restaurants like O Pedro and The Bombay Canteen, this is an all-vegetarian sweet shop helmed by pastry chef Girish Nayak. Their menu features a mix of classic and new-age artisanal mithai from different parts of India. Nayak travelled across the country for two years to learn the art of mithai making from traditional halwais. After he returned, Nayak used this knowledge to create an interesting assortment of fusion desserts such as tiramisu ghevar tart, drunken motichoor laddu, and kaju katli bon bon filled with salted caramel.  
Where: Mumbai
How to order: Call 7777011097 or order online via bombaysweetshop.com, Swiggy or Zomato 
2. Ornamental Mithai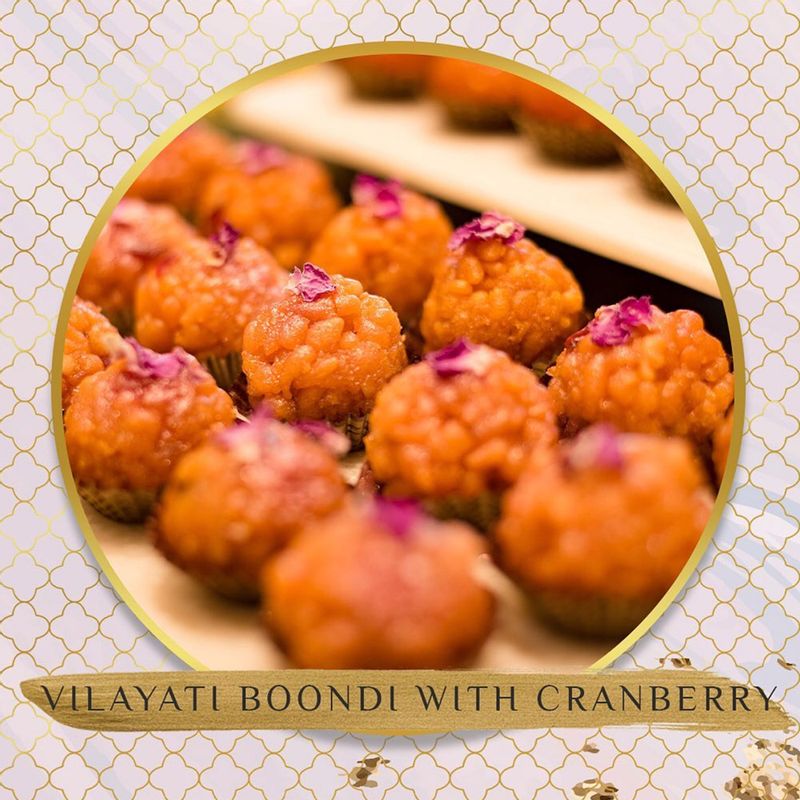 Ornamental Mithai (OM) in Mulund was born out of pastry chef Neelam Saini's love for vivid flavours and Indian interpretation of western desserts. Wasabi-filled motichoor laddu, saffron-infused boondi laddu with cranberries, salted caramel centered atta laddu and royal superman (a fudge made with the herb shilajit and activated charcoal) are just a few of their popular mithai. OM also specialises in chocolate bars with desi fillings like kalakand and panjiri. And, just in case, you're not in the mood for these, they even let you create your own mithai. This mithai brand delivers worldwide, all you need to do is register on their website in advance.  
Where: Mumbai
How to order: Call 09810124813, order via Zomato or ornamentalmithai.com  
3. Gur Chini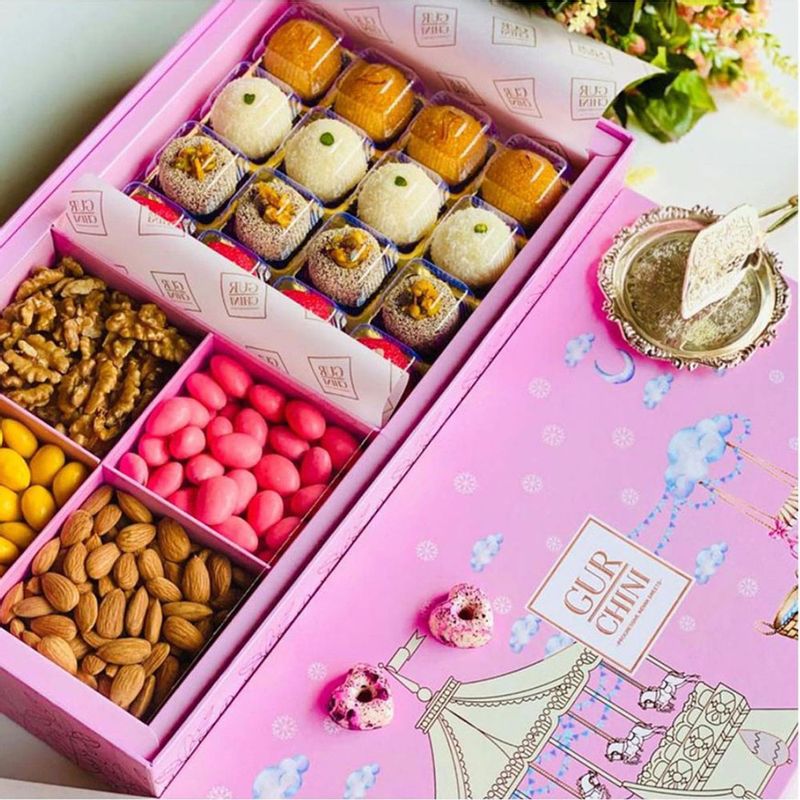 You may have heard of this Delhi-based luxury mithai maker during industrialist Mukesh Ambani's son Akash's wedding. Gur Chini had supplied 800 boxes (priced at INR 21,000 each) of their decadent pista and gold vark laddu to accompany the wedding invites. The brand's Instagram page describes its offerings as 'progressive Indian sweets'. Why progressive, you may ask? Because they create healthier versions of mithai using natural sweeteners such as dates, stevia, and varieties of honey and jaggery, without any compromise in taste. Gur Chini has two stores in the capital city but they are present across the country. A few of their popular offerings include Bavarian chocolate barfi and Banarasi nankhatai.  
Where: Delhi
How to order: Call 011-71565226 or order via Zomato 
4. Khoya 
Founded by Sid Mathur of Impresario Hospitality (of Social and Smokehouse Deli) in 2016, Khoya prides itself on making additive-free traditional Indian mithai with a modern twist and presenting those in elegant bespoke packaging. Think pink motichoor laddu, chocolate chip peda, paan peda and pink coconut laddu. Presently, they serve 15 varieties of sweets, which boast of these experimental ones as well as classics like kesar modak, date and nut barfi, milk cake and besan laddu, for purists. Khoya has two stores in Delhi and its clientele includes brands such as Burberry, Louis Vuitton, and Cartier.  
Where: Delhi
How to order: Call 9910096940  
5. Nihira & Co.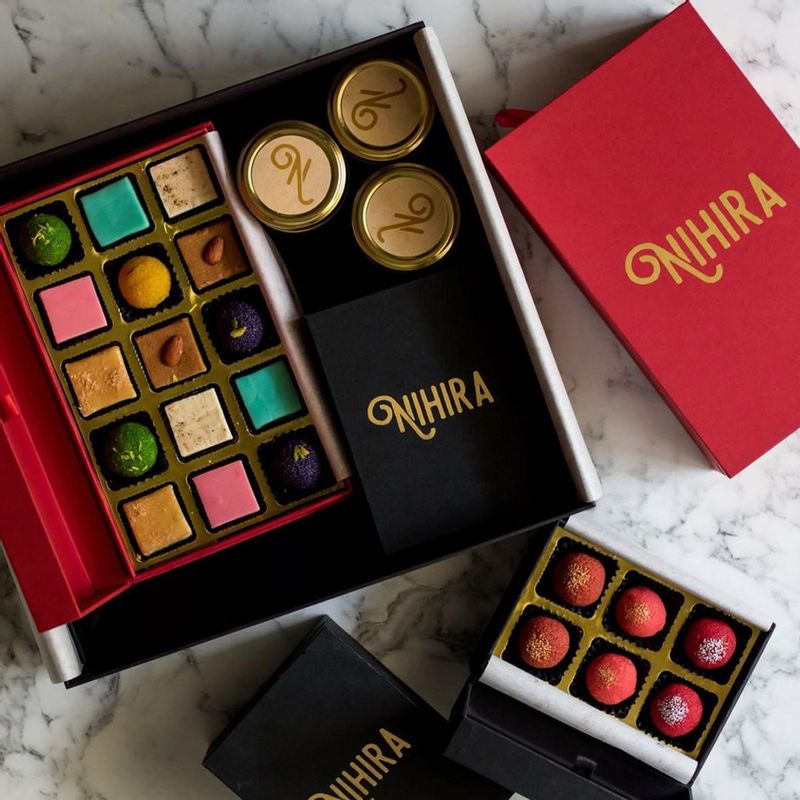 Sure, you can drink your favourite spirit if you'd like, but a handcrafted, boozed-up mithai sounds agreeable too, doesn't it? Fortunately, a Gurgaon-based mother-daughter duo, Subha and Arshya Aggarwal, founder of Nihiri & Co., enjoys combining traditional mithai with spirits to craft delectable treats. Started in 2018, this contemporary sweetmaker has a selection of laddus spiked with different types of alcohol – vodka, whiskey, and wine. Apart from these, they also offer mulled wine halwa, cheesecake barfi and some snacks like peri-peri namak paare and jalapeno matthi crackers.
Where: Delhi
How to order: Call 9719122667 
6. Kesar Sweets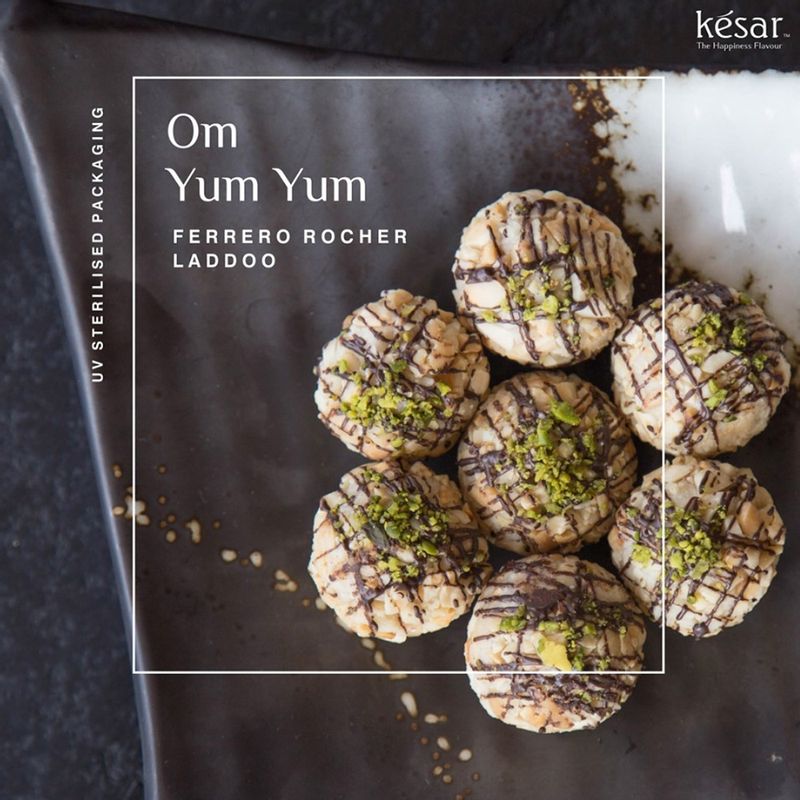 A Jaipur-based self-proclaimed mithai boutique, Kesar Sweets is known for combining traditional mithai with international flavours and techniques. Ever heard of Ferrero Rocher laddus? Or tried an Oreo and date cake, or a blueberry laddu? Apart from an array of bespoke sweetmeats, they also create and curate boxes of savoury treats including mini samosa, kachori, mathri, and the like. These creative flavour combinations are the brainchild of co-founder Divya Arora and her team, and the brand delivers these treats all over the world. So, no matter where you are or what the occasion, you can grab a bite of their mithai in the comfort of your home. 
Where: Jaipur
How to order: Call 09828059033 
7. Anand Sweets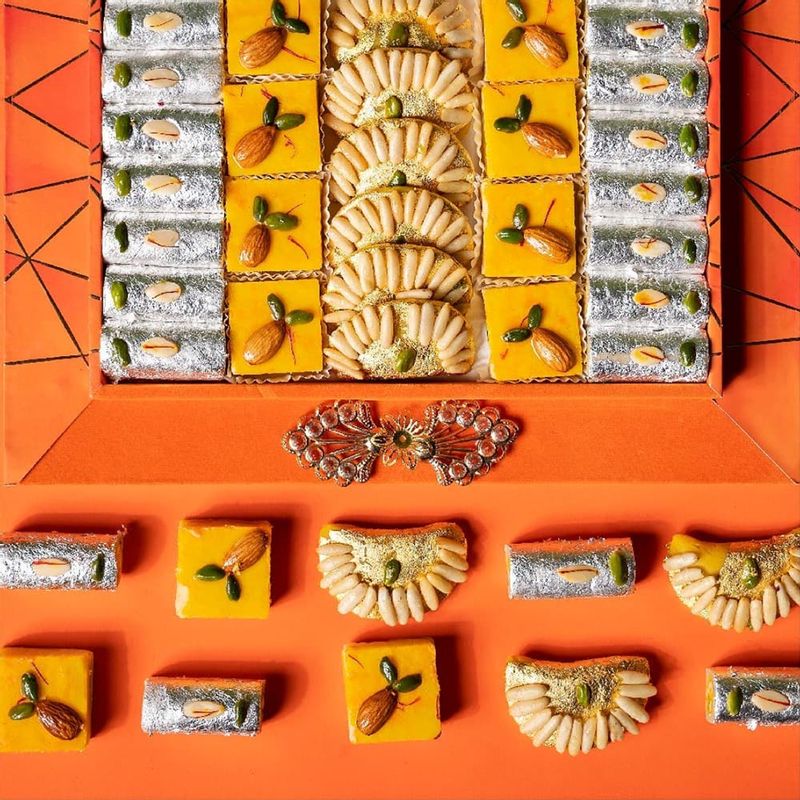 With more than 30 years of experience in the Indian mithai space, Anand Sweets is one of the most popular sweetmeat makers in Bengaluru. The brand provides its customers with an unparalleled gourmet experience through its assortment of mouth-watering and eye-catching desi and fusion creations like soan papdi, Mysore pak, motichoor laddu, cappuccino nougat, rose besan laddu, and pine nuts gujiya. Their signature badamika, which is their version of the Italian biscotti, is a must-try, we've been told. 
Where: Bengaluru
How to order: Call 08041214949
8. Arq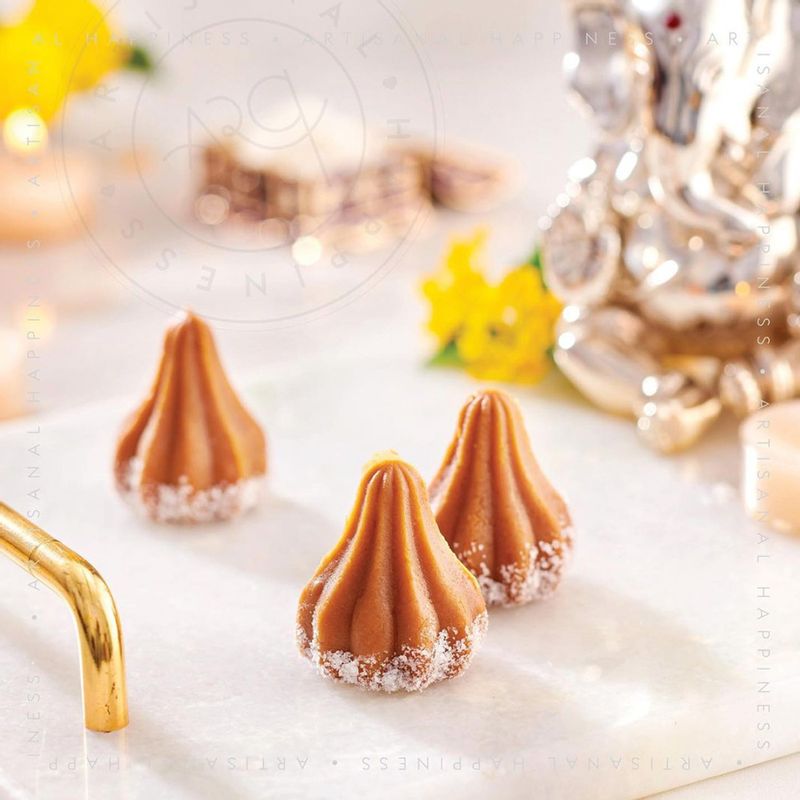 Co-founded by paster chef Neha Lakhani and French-trained chef Ashay Dhopatkar, this Delhi-based artisanal mithai brand was inspired by iconic famous bakeries such Laduree and La Maison du Chocolat. They are popular among dessert enthusiasts for their novel take on Indian and international sweet treats. At Arq, you will find dark Belgian chocolate truffles stuffed in besan laddus, Mathura peda with caramel filling at its centre, caramel peda made with tangerine, orange peel and gurbandi almonds; and many such innovative fusion mithai. The brand claims to use 70 per cent less sugar than commercial sweets and no preservatives or artificial colouring in their products. 
Where: Delhi
How to order: Arqmithai.in 
9. Berfila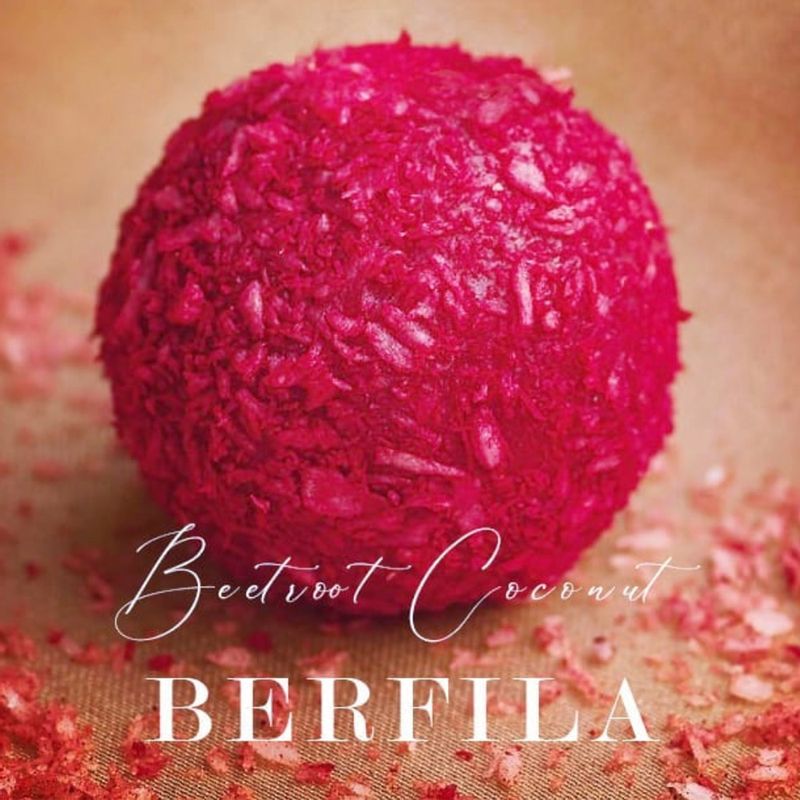 Delivering across Delhi, Gurgaon, and Noida, Berfila is an artisanal mithai brand that operates out of a home in Gurgaon. It offers a mix of classic mithai like pinni and kesar peda, and fusion ones like jamun and lemon fudge, bubble gum fudge, raspberry motichoor laddu (yum!) and coffee chocolate barfi. They take pride not only in their flavourful combinations but the minimalistic yet appealing presentation – scroll on to see an example.
Where: Delhi, Gurgaon, and Noida
How to order: Call 9999721481 or 8375997836
10. Saugaat by Bikanervala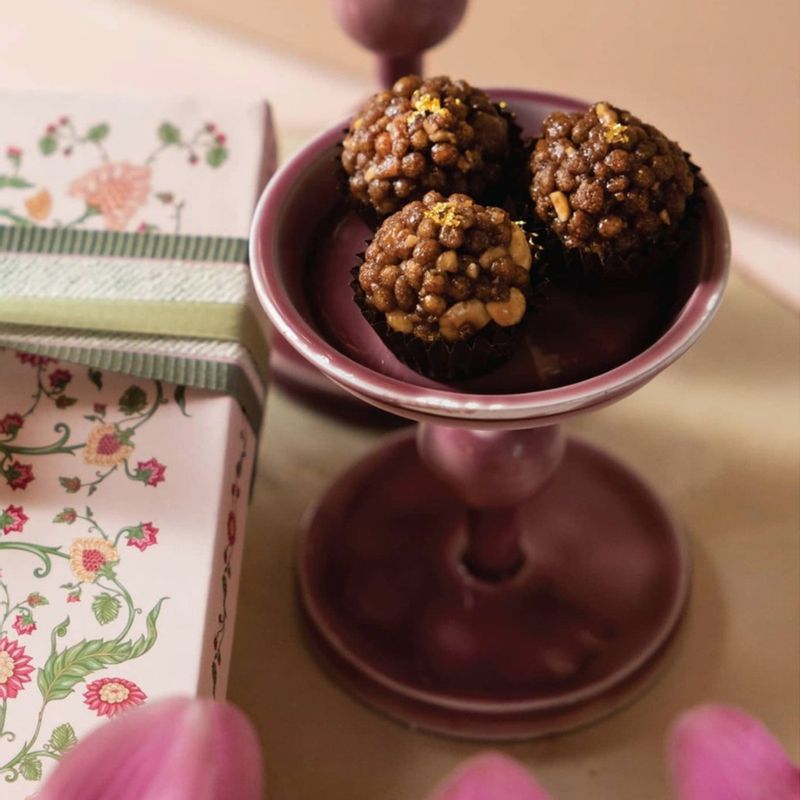 A bespoke mithai boutique by the famous restaurant chain Bikanervala, which was founded around 1950, Saugaat promises a unique and memorable experience with its range of mithai. Think lait croquer, a fusion of French wafer and doda churned with Turkish hazelnut; cashew bonbon, a cashew treat with a salted caramel centre; and lemongrass crème, which is khoya combined with refreshing lemongrass. 
Where: Delhi-NCR
How to order: Call 7888000001
 
---
Photo: Saugaat by Bikanervala and featured brands