Walking past the tall glass windows that separate the poolside from the lobby area, on level 3, is Aish—The Park Hyderabad's signature restaurant that reopened its doors to the city recently. As it had been for plenty of food and beverage outlets across the country, Aish closed down during Covid only to come back with a bigger and a better plan. 
And the plan is to create experiences, not just serve meals—says the hotel's executive chef, Thimmah Reddy. "We wanted to bring in the local flavours as well. The old Aish was more focused on what is known as Nizami food—adding dishes that are available in Telangana kitchens," he explains.
So while the setting is opulent—from the cutlery to the chairs to the art on the walls—the menu dabbles with both the extravagant and the simple, but served Aish-style. 
The look and feel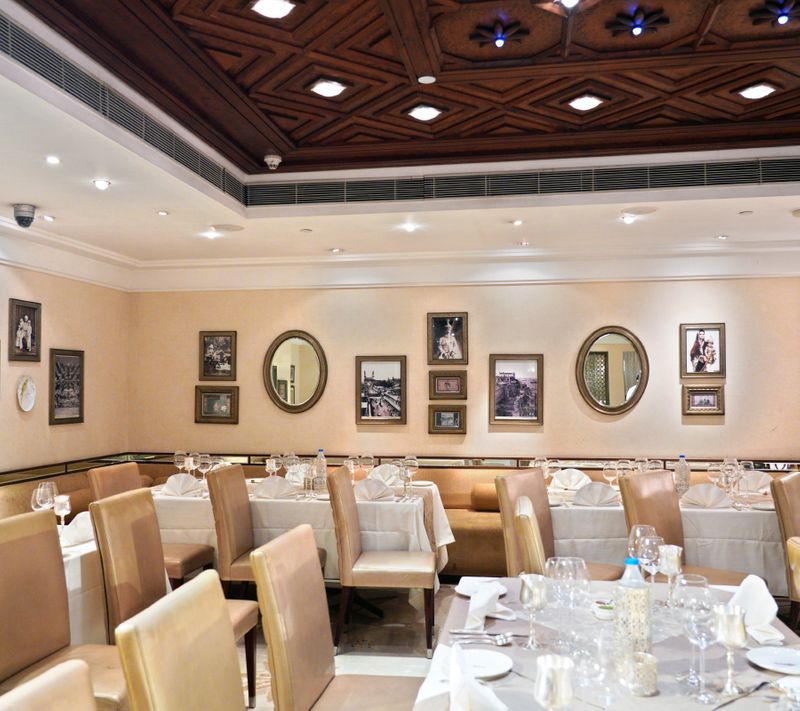 Mother of pearl inlays, ceilings dotted with crystal lights, vintage chairs and chandeliers, antiques and portraits along the wall welcome you as you get transported back in time. It's one of those places you want to dress up for and take your time. From the glasses to the silver-plated cutlery—the place will make you feel like royalty. But here's the interesting part, it's not a large restaurant (Aish can only seat around 50 people approximately) but it feels like it. The ambience is formal yet welcoming, what with all the smiling faces running from table to table making sure you have everything you need. In a fairly subtle way, the restaurant captures the general Hyderabadi vibe—elegant, rich, and understated. 
The menu 
Bring your appetite and time, says Reddy. The tasting menus here can take up to two hours. You could also order a la carte, of course. From the shorba to the meetha, each course intends to introduce you to familiar and unfamiliar flavours and textures from the past and present. The kodi miryalu rasam, the chicken and black pepper broth, or even the pacchi pulusu—a type of rasam featuring tamarind, red chillies, and coriander, made Telagana style—opens your taste buds and your appetite as you dream of the kebabs that will follow soon.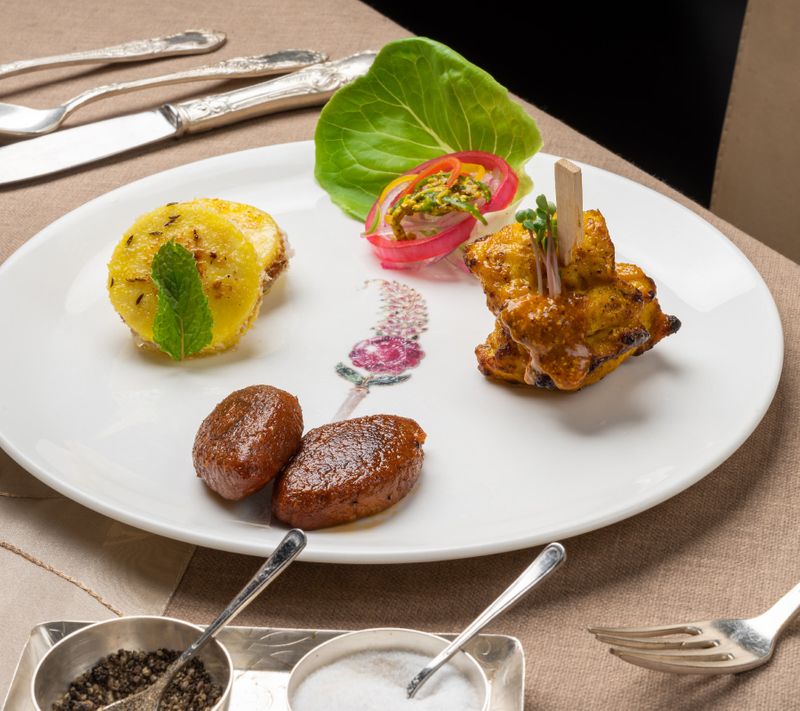 The patthar ka gosht, a pretty obvious choice, is recommended. This classic kebab, which comes with a carrot and peanut salad on the side, is something you need with your drink. It's grilled just right, not spiced over the top, and the meat retains its soft texture. If you don't eat meat, try the doodhiya kebab where cheese, ginger, and pomegranate come together to form chunks of patty-like deliciousness. 
From the mains, the aloo ke dulme where braised baby potatoes are filled with cheese and raisins, and served in a yoghurt-based sauce is a must-try. It tastes like comfort food even if you've never eaten or cooked it before. 
The one dish I would suggest you try is the sojni ka murgh where chicken is cooked with steamed drumstick pulp. This is a recipe that is exclusive to Aish, or so we were told. But that aside, the combination and the flavours are enough selling points. It's delicate but not bland and the way the meat and drumstick come together is commendable.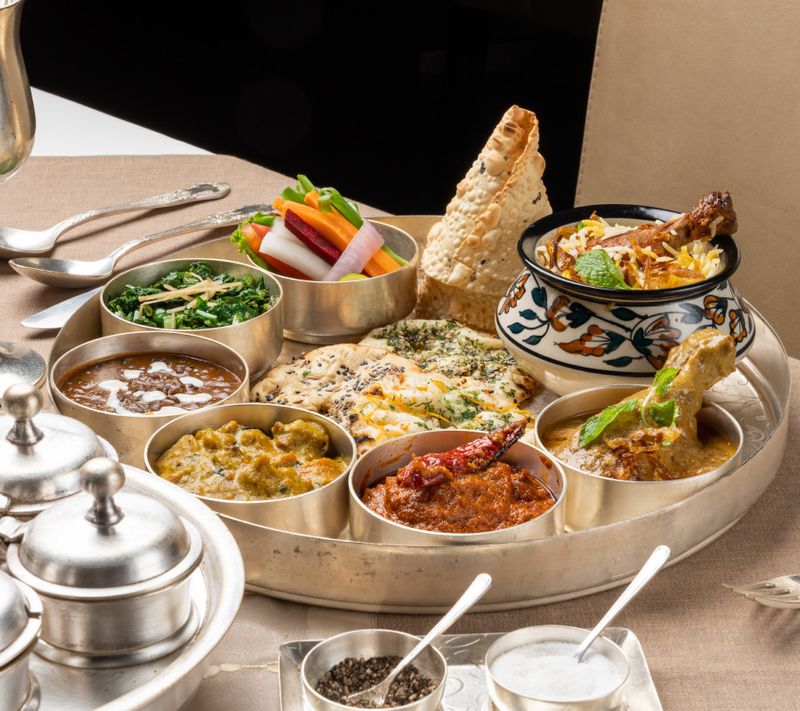 Want something local? Try the chamagadda pulusu where colocasia (taro) leaves are stewed and cooked in a tamarind-based gravy. I would recommend this with rice or even breads (you'll get both). The tanginess of the dish is spot on, plus it's something different if you aren't used to eating Telangana food at home. Same goes for the senagapappu chukka kura, where soaked Bengal gram is tossed with farm fresh sorrel leaves. It's so simple and yet so delicious that you might just want the recipe from your own home. 
You cannot really leave without trying the Nihari gosht, but here it's made from mutton and not beef. But the prime cut, stewed overnight in potli masala, lends a delicate flavour to this dish that is one of those "curries" you can even have for breakfast with some khameeri naan. 
The one thing however I would recommend you try while at Aish, or come back for it later, is the Sufiana pulao—one of their signatures and a dish you won't find anywhere else in Hyderabad. And the Shikampuri kebab to go with it.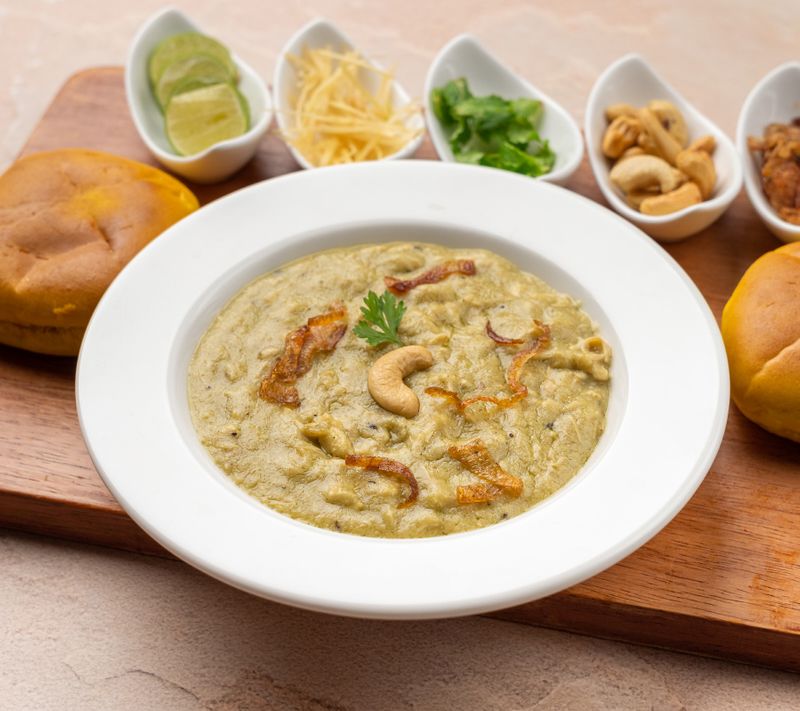 The pulao is as delicate as it can get and yet so flavoursome that you'll need to close your eyes for a moment. All the dish has is chicken, khoya, and cardamom. Reddy informs that this recipe is an original but sourced from an expert home chef in Hyderabad—Begum Mumtaz—who has been teaching cooking for many years and in his opinion is better than many chefs he's known. You might want to call ahead to order this one. 
How do you end a meal this decadent? With something equally decadent, you'd think. Try either the Qubani cream cheese mille-feuille where stewed apricots are layered with cream cheese and baked phyllo pastry, or the kesar pista kulfi aur falooda sev that is nothing but saffron-pistachio ice cream served with saffron sauce and vermicelli—rich and delicious. 
My favourite would be the tamarind and pink salt sorbet though, which works as a brilliant plate cleanser.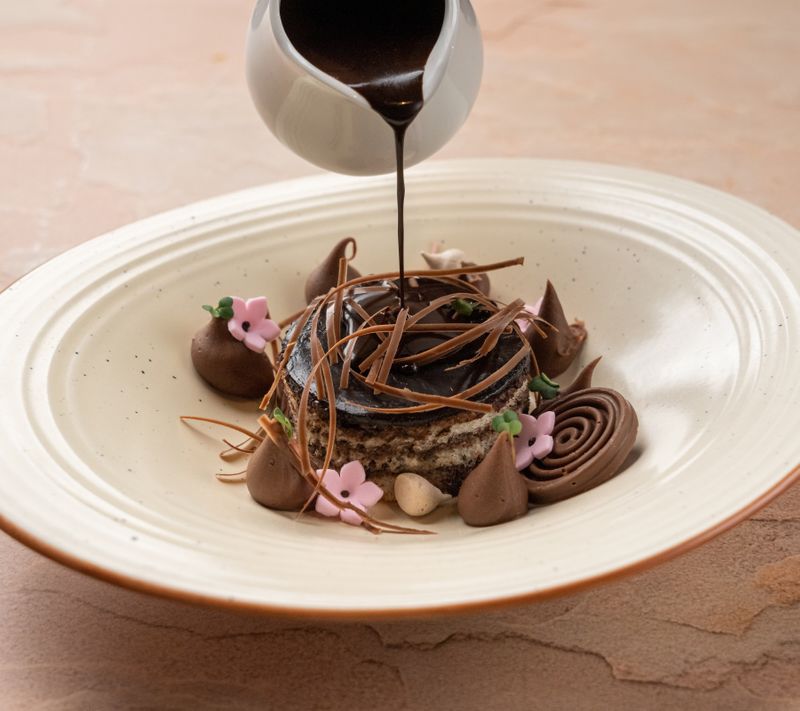 The meal would typically end with coffee or tea but I would skip that and go home with a flurry of the other flavours dancing around in my mouth. 
PS: There are three tasting menus of which one focuses entirely on Telangana food, something worth looking at if you have never tried it.
Where: Aish, The Park, Raj Bhavan Road, Hyderabad 
Reservations:  0402345 6789
Meal for two: Rs 1,500-Rs 2,500 (per person for the tasting menus) 
 
---
Photo: The Park Hyderabad