Of all the metros, Chennai possibly has the most underrated food culture. Despite being the oldest city corporation in India (it celebrated its 383rd birthday on August 22) with diverse culinary influences that translates into some of the finest food experiences, it is seldom talked about. It's a pity though for the southern capital is a gourmand's delight with some of India's oldest, most iconic restaurants, tiffin rooms, cafés and messes.
Zee Zest brings to you a list of the most iconic eateries in Chennai that have stood the test of time and continue to draw guests even today. 
1. Buhari, Mount Road
This heritage restaurant, located on the posh Mount Road in Anna Salai was established in 1951 by Madras's ex sheriff, A M Buhari. It was not only the first restaurant to open in Independent India but is also credited with creation of the legendary dishes like the Chicken 65, chicken 78, 82 and 90. While Chicken 65 is found all over India now, the others remain exclusive to the restaurant. Buhari also got to Chennai its first Juke Box which turned the restaurant into a phenomenon back in the 60s. Today, 70 years later, Buhari remains one of the icons of Chennai with a dedicated clientele, and is well known for its iconic dishes like mutton samsa, a kind of samosa, Jamali and Campbell chicken, their own creations, Ceylon Egg Parotta, influenced by Sri Lanka, and desserts such as melba, fruit salad with ice cream and 'dum' tea.
2. Ratna Café, Triplicane 
If you know Chennai you will know Ratna Café, if you do not know Chennai, Ratna Café is where you will learn to love it. Known world over for its legendary sambar, whose recipe remains elusive, this humble eatery is one of Chennai's favourite. Established in 1948, Ratna Cafe is your quintessential tiffin room that promises authentic Tamil snacks and tiffin through the day. The location, the original shop is situated close to the famous Marina beach, means its a daily pit-stop for morning walkers, evening strollers, locals, and tourists alike. The most interesting thing about Ratna Café however is that it was set up, and is run by a family that originally belonged to Mathura in Uttar Pradesh, and yet had the whole city lining up for its authentic sambar. Even today, almost 75 years later, nothing has changed, and you see people eating idlis only to get bowls full of sambar. According to estimates the café makes up to 2,000 litres of sambar in a day — reason enough to get your share.
3. Avartana, ITC Grand Chola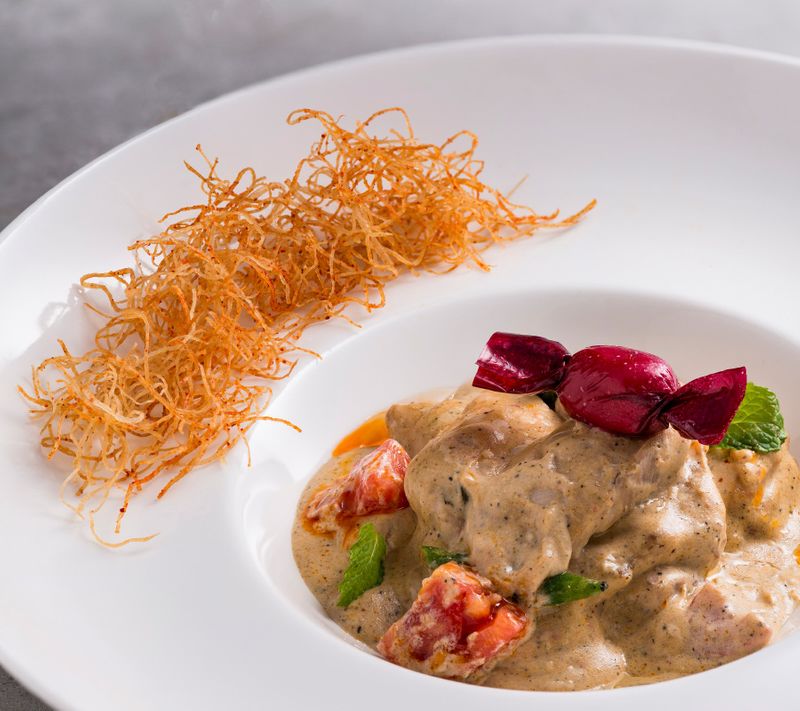 If there is one place that changed the image of Chennai's food forever it is Avartana. A chic contemporary restaurant backed by solid research, modern cooking techniques, and respect for local flavours and ingredients Avartana continues to enchant locals, tourists and expats alike. The pre-plated set menu varies from seven to thirteen courses all of which are influenced by local flavours. The rasam, is as clear as water and comes infused with fresh cilantro, the butter chicken is served with a beetroot and butter toffee, the pork belly is served with a tiny idli, gunpowder and a candle made of ghee and the paan comes as a chilled mousse. To ensure the essence of the food is not lost in translation, the service team presents each dish with a detailed description and suggestions on how to eat it. A meal at Avartana is an experience of a lifetime and a must-do when in Chennai.
4. Kappa Chakka Kandhari, Nungambakam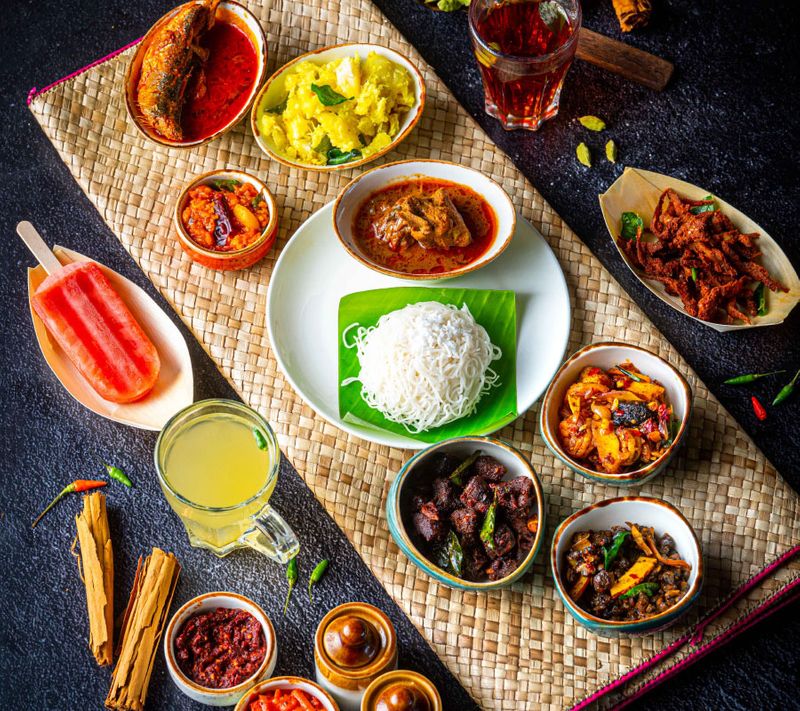 As far as culinary icons in Chennai are concerned this regional restaurant, one that pays homage to the home kitchens of Kerala, is right on top. Kappa Chakka Kandhari borrows its name from three of Kerala's favourite ingredients: tapioca, jackfruit and bird's eye chilli. The restaurant offers set menus with traditional combinations and heirloom ingredients. The idea behind the place, says chef Regi Matthew, is to bring the real food of Kerala and familiarise people with the traditional recipes made across communities and regions in the state. And so, on one hand you have classic one pot meals like appam and pidis with stews and curries, on the other you have house specials like soft shell crabs and local mushrooms, and homestyle set meals that offer a peek into the home kitchens of Kerala. If you want authentic Malayali food in Chennai, there is no better place to go.
5. Wild Garden Café, Amethyst 
Chennai is not just about traditional tiffin and spicy meals. It has a thriving European food scene of which Amethyst is the torchbearer. A relaxed café amid thick vegetation, shady trees, a fishpond and open spaces, Amethyst's Wild Garden Café is set inside a sprawling colonial mansion. The place is as much about its ambience as about is food. Think all-day breakfasts, small and large European plates, Asian classics, drinks and desserts. The café is busy all day long and it is easy to see why. Sitting in a colonial verandah, a lush courtyard, or a sprawling lawn, sipping on tea and listening to songs of birds, reading a book or catching up with friends transports you to the Madras of yore, one that is hard to find now.
6. Golden Dragon, Taj Coromandel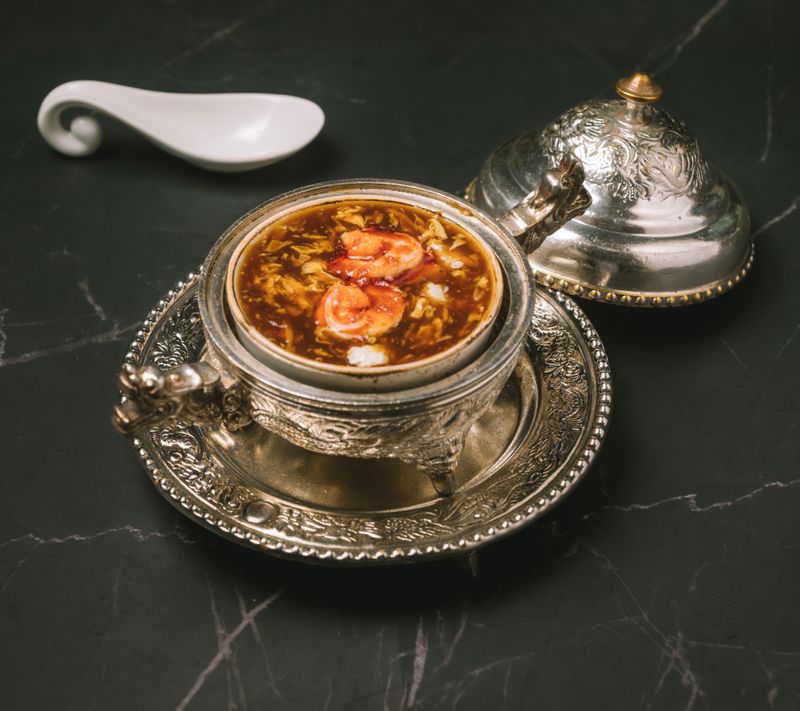 Golden Dragon has been Chennai's go-to place for Chinese for decades. The restaurant offers an extraordinary culinary adventure with its homely mainland décor and authentic regional cuisine of China. From Mainland to Hunan, Fukien, Beijing, Szechuan and Cantonese. The restaurant that continues to host the who's who of the southern capital has been a benchmark of Asian flavours since early 90s and is loved for its with signature dishes like Song of Dragon, Peking Duck, Nest of Dragon and new additions like Drums of Chicken and Spicy Salmon in Clay Pot — all developed in-house. If you seek novel flavours and Asian cuisine the place is for you.
7. Rayar's Mess, Mylapore
If we tell you that a 16-seater hole in the wall in the heart of Chennai's Mylapore remains one of its most iconic eateries, will you be surprised? Well, that's Rayar's mess for you. Established in 1935, the tiny place still runs from the same spot, follows same recipes, and is as popular with the locals as it was back in the day. The little hall, which is more like one large dining table, comes alive every morning at seven to long queues and remains buzzing until late evening with brief pause in between. Owning to its age-old traditional ethos, the food is still cooked by just two people and idle come straight out of the steamer; orders here are taken on a small piece of paper and payment is made entirely on trust. The patrons of Rayar's include the common man on the street as well as film stars, politicians and celebrities most of whom often stand and eat in a corner without a fuss — and that tells you a lot about Rayar's Mess.
8. Murugan Idli Shop, T Nagar 
Yes, we know. This is one place everyone has heard of. What with pillowy idlis, wholesome sambar, crispy vadas, golden dosas and the most potent filter coffee ever, Murugan is an icon like no other. The shop that started as a coffee and idli counter in Madurai, is one of Chennai's favourite places to not just eat idli but also lunch and dinner meals, dosas, a variety of rice and Madurai's signature drink Jigarthanda. When here, do not miss the four kinds of chutneys that are served with every snack and the sweet pongal a house speciality. With branches across the city, it is not very hard to find a MuruganIdli Shop at hand and a meal at Murugan, as it is locally called, is a rite of passage into Chennai, or should we say Madras.
---
Photo: Shutterstock; Featured brands