Instagram has a major influence on people's holiday destinations, fashion, and food choices—especially where they eat. There is no doubt that most of us are guilty of taking pictures of our food before we eat, and restaurants and cafes are fully aware of this practice. The blossoming category of 'Instagram-worthy' cafes has popped up everywhere and the ones in Delhi with their decor, dishes, and drinks are made for the 'gram.
To elevate your Instagram feed, this is a round-up of the best Instagram-worthy cafes in Delhi with their aesthetic designs and the most creative food. 
Visit these Instagram-worthy cafes in Delhi to liven up your days
You simply cannot afford to miss these aesthetic cafes when in Delhi:
1. Soul Pantry, Andaz Delhi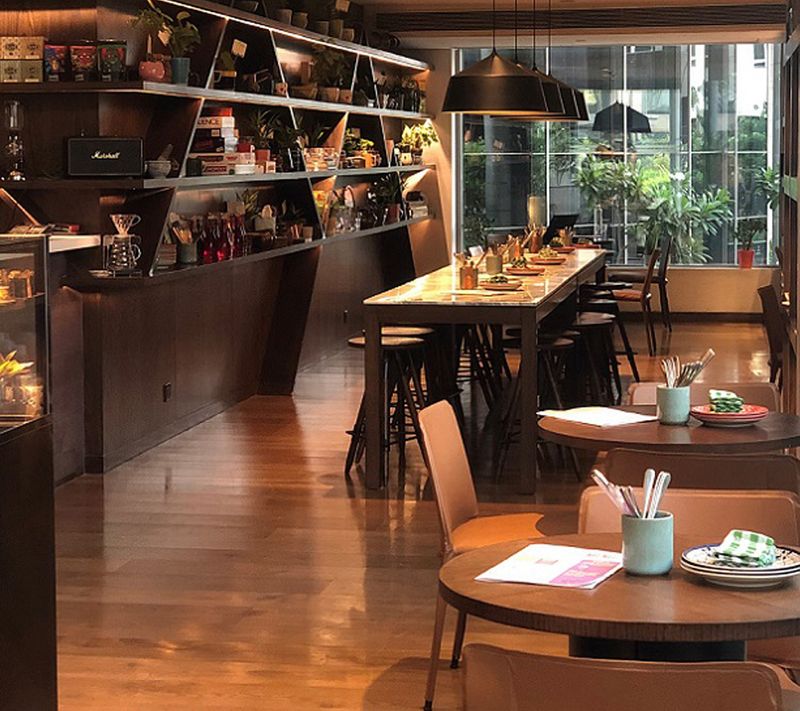 Reopening its doors again, Soul Pantry now has an all-women team led by Chef Shyantika Guha. A cafe-like vibe with an element of luxury, it's a one-stop destination for mindful eating—think delicious nutrition-dense flatbreads, wellness bowls, health smoothies, and wholesome desserts. With a completely revamped interior, Soul Pantry will soothe both your palate and desire for chic vibes. 
Location: Soul Pantry, Gate 5, Andaz Delhi, Asset No. 1, Northern Access Road, Aerocity, New Delhi
Opening hours: 11:00 AM to 11:00 PM
Cost: Rs 2,000 for two
2. Smoke House Deli, Vasant Kunj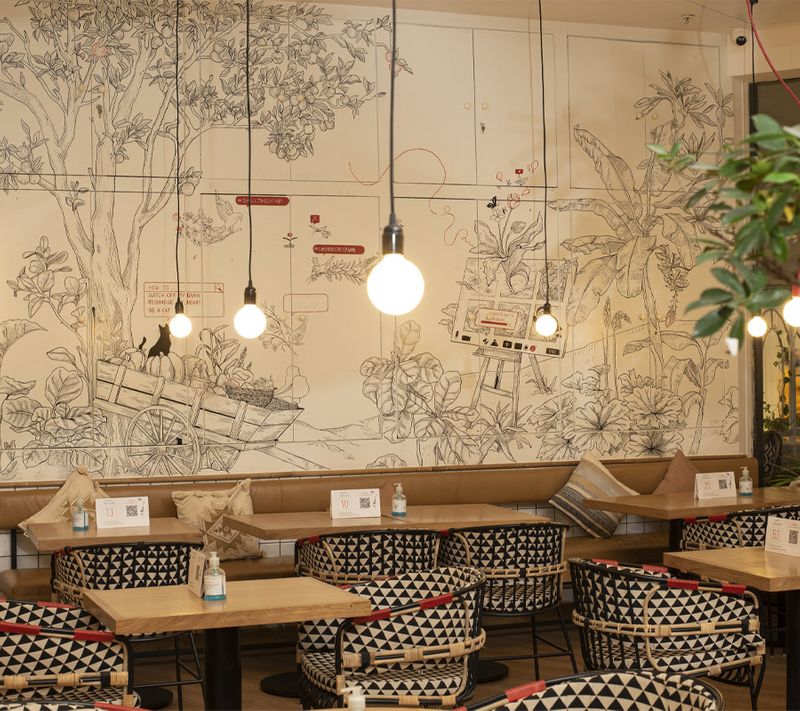 With a refreshing new twist, Smoke House Deli has reopened in the national capital with an elevated look and feel in the form of a life-size terrarium. This restaurant's design, including its al fresco dining area, is inspired by hand-drawn flora illustrations, green islands, and potted plants—making it an Instagram-worthy cafe. The exteriors are perfect for outdoor seating and the interiors are peppered with monochrome artworks. The menu is delightful and wholesome with handcrafted renditions—delicious Neo Neapolitan pizza, vindaloo spiced chicken, smoked tenderloin, and others. All in all, if you're looking for a relaxing time in charming environs with delicious comfort food for company, you're in luck.
Location: Vasant Kunj Mall Rd Shop 125, Ground Floor, DLF Promenade Mall, Vasant Kunj
Opening hours: 11:00 AM to 12:00 AM
Cost: Rs 1,500 for two
2. Chica, Chanakyapuri
The newly-launched restaurant Chica presents refreshing calm vibes with its lush green aesthetics and floral-themed decor in pastel shades. The place presents itself as an idyllic French garden. The menu offers a selection of Asian and Mediterranean cuisines and traditional cocktails with a modern twist, which will leave you going back for more and keep clicking for your Instagram feed.
Location: One Golden Mile, Chanakyapuri, New Delhi
Opening hours: 12.30 PM to 1 AM
Cost: Rs 2,000 for two
3. Aviary Cocktail Nest, DLF Avenue, Saket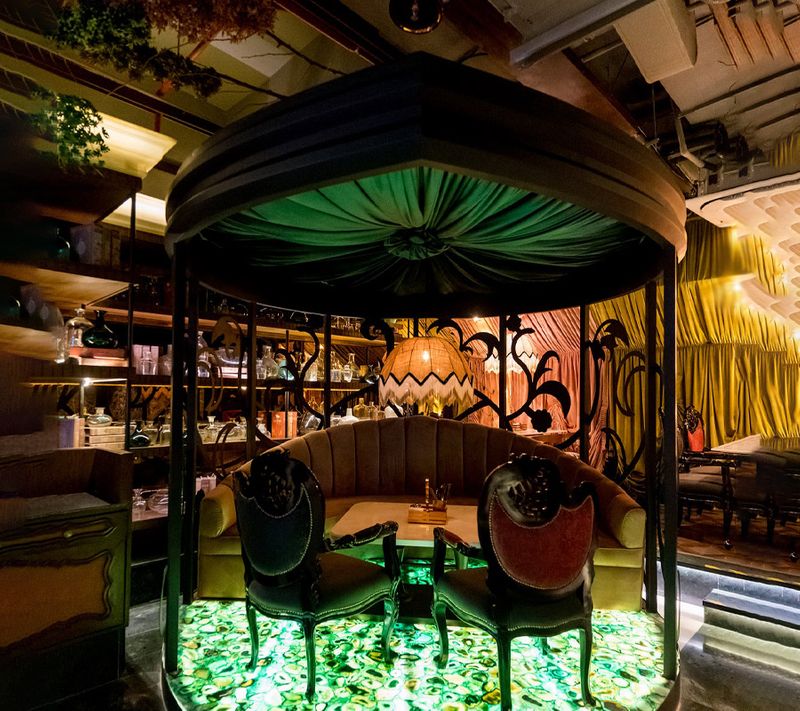 Saket's DLF Avenue is probably the new 'it' food place in town. The newly opened Aviary Cocktail Nest combines luxury, opulence, and global cuisine to complement the nature-inspired cocktails it offers. The resto-bar has a groovy tropical décor with its interior resembling an aviary, an enclosure for birds but in their natural habitat. The newest addition to Aviary is a terrace garden right next to the indoor space, sprucing up the vibe of the place. Moreover, the place surely cages one into a spell-bounding gastronomical nest.
Location: 2nd Floor, DLF Commons, DLF Avenue, Saket, New Delhi
Opening hours: 12 PM to 1 AM
Cost: Rs 1,800 for two
4. Kampai, Worldmark 1, Aerocity
There is no doubt that Japanese cuisine is becoming increasingly popular among the masses. With a unique and charismatic approach, Kampai in Delhi's Aerocity caters to this newfound adulation for the cuisine. The dimly-lit ambiance and decor elements ensure a wholesome Japanese experience. Known for presenting a contemporary twist on traditional Japanese cuisine, Kampai is a must-try if you love Japanese cuisine and aesthetic cafes, snippets of which you can capture on your Instagram.
Location: Worldmark 1, G-02, Aerocity, Delhi
Opening hours: 12 PM to 11.30 PM
Cost: Rs 2500 for two
5. SOCIAL, Hauz Khas Village
There are several Social outlets in Delhi, but the one in Hauz Khas is special. As one of Delhi's most famous and loved cafés, Hauz Khas Social is the perfect place to relax during the monsoon. The lush greenery, the iconic Deer Park, and the pleasant environment combined with their delicious food will immediately make you smile. Recently reopened, this aesthetic café remains a worthwhile stop! Rugged yet effortlessly stylish with unfinished bare walls, plush leather sofas, skeletal table clamp lights, and naked bulbs dangling—its decor makes a unique design statement.
Location: Hauz Khas Tank Plot 9A & 12, Hauz Khas Village, Deer Park, New Delhi
Opening hours: 11 AM to 12 AM
Cost: Rs 1,200 for two
6. KLAP, Khan Market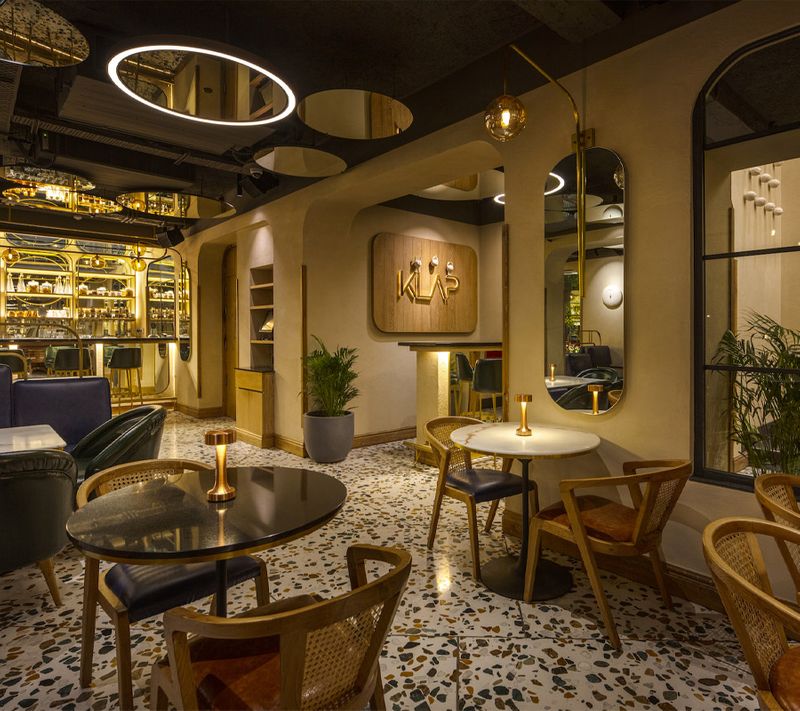 Another shining eatery with interesting offerings, KLAP in Khan Market is a world cuisine tapas bar with fresh and seasonal eating as a core philosophy.  The place presents an urban luxury vibe with tall glass windows ushering in sunlight, mirror installations on the walls and ceilings, cane chairs, and mood lighting adding to the expanse of the space. With a beautiful terrace, the place serves delectable food with a gorgeous view.
Location: 2 and 3, Khan Market, New Delhi
Opening hours: 12 PM to 12 AM
Cost: Rs 2,500 for two
7. Ivoryy Cocktail Garden, Malviya Nagar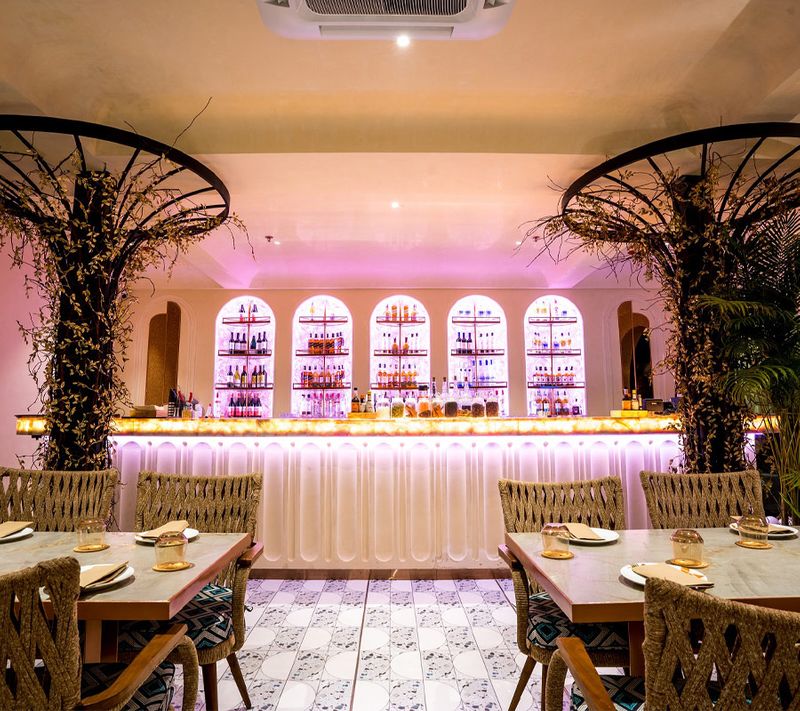 Another aesthetic cafe, Ivoryy is an ideal place to visit to experience the comforting evening breeze when you want to unwind with a glass of unique cocktail and some finger-licking delicacies. The place is decked up in shades of soothing white and grey amidst lush greenery. Presenting an intimate yet chic vibe through its design sensibilities, their rooftop space makes way for an unforgettable experience over ambrosial meals. While you're there, make sure to sip into one of their unique handcrafted cocktails.
Location: T- 540, Panchshila Park, Malviya Nagar Road, New Delhi
Opening hours: 12 PM to 1 AM
Cost: Rs 2500 for two
8. Bougie, Mehrauli
This Instagrammable addition to Delhi's culinary scene features boho decor, warm and cosy interiors, as well as an eye-catching open space. With a well-curated menu to suit your taste palate, Bougie offers you an evening with that beautiful Qutub Minar view. This bohemian paradise is definitely a must-try!
Location: Second Floor, Property No H 5/3, H 5/4 (Back Side Ward No 1, Ambawatta One, Kalka Das Marg, Mehrauli, Delhi
Opening hours: 12 PM to 1 AM
Cost: Rs 3,200 for two 
---
Photo: Featured restaurants