Can't decide between coffee or dessert? Enter affogato, an ice cream treat that combines both. An affogato is a cross between dessert and coffee, and is nothing short of a little bowl of heaven. The word affogato means "drowned" in Italian and you can drown just about any ice cream in coffee. "Simply put, an affogato is an ice cream that is soaked in plenty of strong espresso. The secret is the coffee. The best affogato is always made with a double shot of espresso extracted from freshly-ground coffee beans with a thin crema on top. The ice cream is scooped in a coupe and a fresh shot of double espresso is poured from a creamer on top, tableside, in front of the guest," explains chef Pratik Deshmukh of Cou Cou a French-style patisserie by the Oberoi Group. The espresso should flow down and pool at the bottom of the glass, allowing the ice-cream to melt gradually into it. The espresso can also be served on the side, so you can pour over yourself.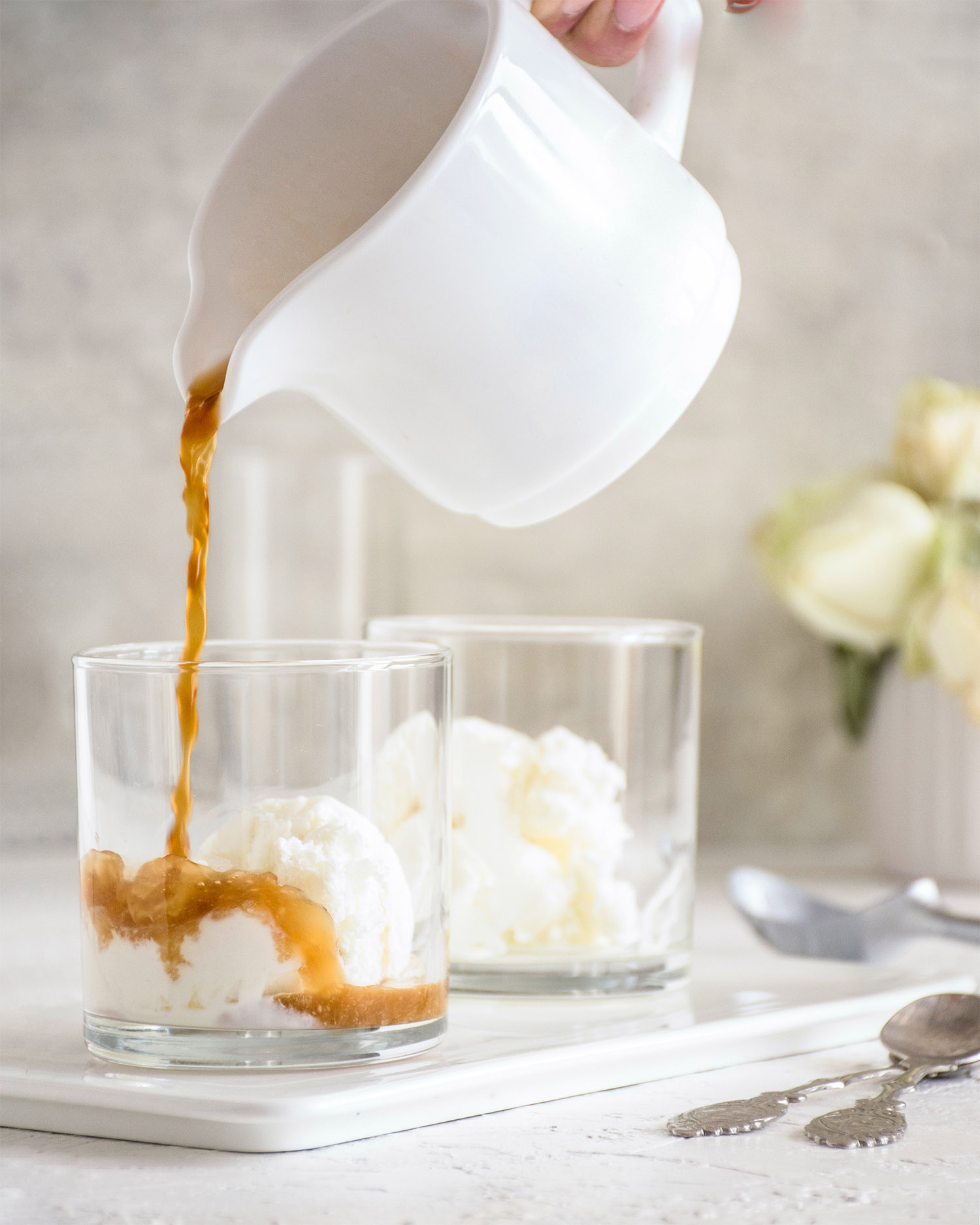 A cheeky splash of liqueur, roasted almonds, amaretti and biscotti biscuits may also be added for texture, along with berries, coconut, and honeycomb to amp up the flavour. "An affogato is best enjoyed with a spoon before sipping back the remaining espresso," says Deshmukh.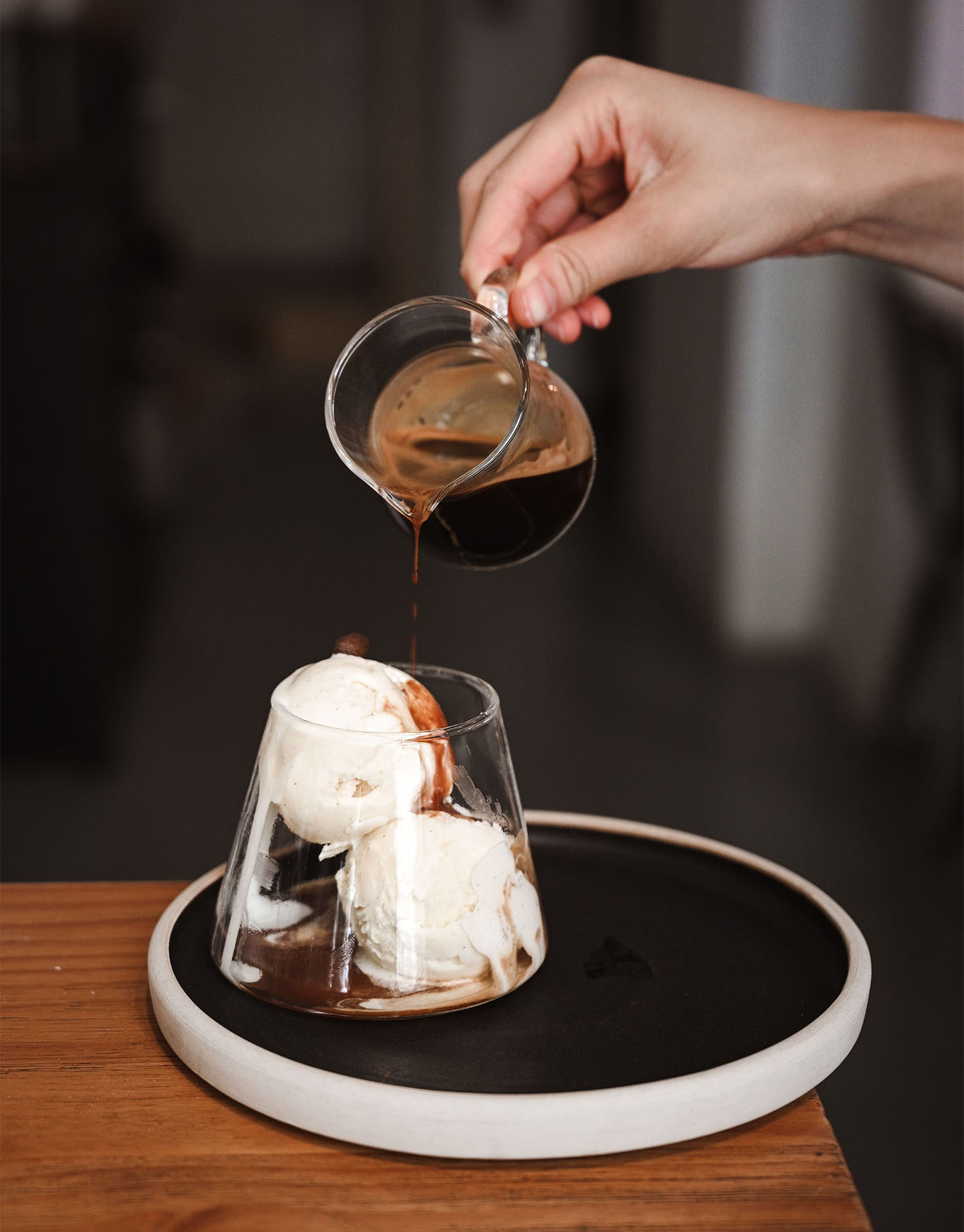 Nothing beats a properly-made affogato, which is to say some super cold ice cream with a shot or two of hot espresso. The magic of an affogato is that even a bad one can be very good, but a very good one can change your life. But you don't need to go to Italy to relish this coffee-based dessert drink. Here's where to try the best affogato in Mumbai.
1. Cou Cou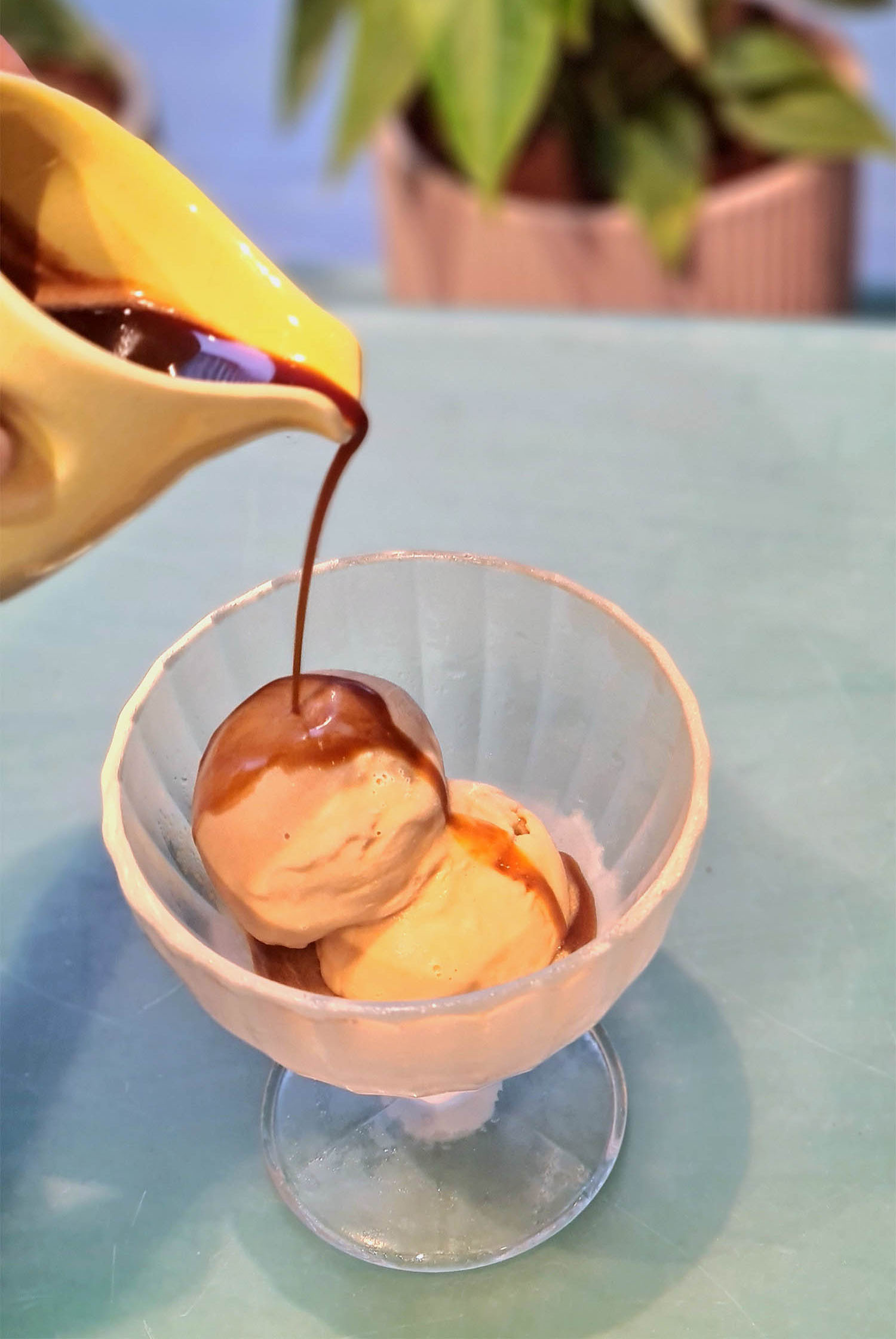 The affogato at this French-style patisserie at the Jio World Drive is packed with as much caffeine as comfort and flavour. It starts with two scoops of ice cream and a dutiful drenching of that powerful shot of double espresso made with Illy Arabica coffee beans. We love how toothsome the sweet vanilla ice cream complemented by a warm moat of smooth and nutty espresso feels on the palate. Cou Cou has introduced an alluring array of affogato flavours ranging from classic to chocolate, caramel, and coffee ice cream.
Where: Jio World Drive in the Bandra Kurla Complex, Mumbai. 
2. Kala Ghoda Café
This effortlessly-inviting café, well known for its organic coffee blends and comfort-laden carbs, also serves a great affogato. Part dessert, part drink—the affogato is made by pouring hot espresso over a scoop of vanilla to create a sweet treat with contrasting temperatures. It's simple and so satisfying. Eat quickly and enjoy every spoonful. While there, do try the chilli-cheese toasties and organic wholegrain waffles smothered in dark chocolate. 
Where: Rope Walk Lane, Kala Ghoda, Fort. 
Tel: +91/98338-03418
3. RC Roasters by Koinonia Coffee 
This cute cafe in atmospheric Chuim Village is quite a vibe. But even better is the affogato here served with salted caramel ice cream. Single-origin Indian estate coffee is roasted in-house and served as an exquisite espresso alongside a dollop of salted caramel ice cream topped with nuts. The coffee has a strong kick and the salted caramel ice cream by boutique ice cream makers Bono Boutique is simply delectable. The result is a salty-sweet caffeinated bomb! Other ice cream selections include Pondicherry vanilla and dark chocolate Italian truffle oil. Whatever you choose, it's going to be pretty decadent and creamy. While there do try their chocolate croissants and flat white coffees. 
Where: 6, Chuim Village Road, Khar, Chuim Village, Danda, Khar West, Mumbai. 
Tel: +91/98191-16221
4. Bastian
For a satisfying caffeine fix, head to Bastian. The affogato here contains a double-shot of ristretto (a restricted shot of espresso, wherein the barista pulls only the first portion of a full-length espresso shot for a smaller, more concentrated and richer flavour) poured over a generous scoop of Bastian's delicious salted caramel ice-cream. The bitter, sweet, and salty concoction will make you crave for more and will haunt you days after.
Where: New Kamal Building, Opposite National College, Linking Road, Bandra West. 
Tel: 022/2642-0145
5. The Bread Bar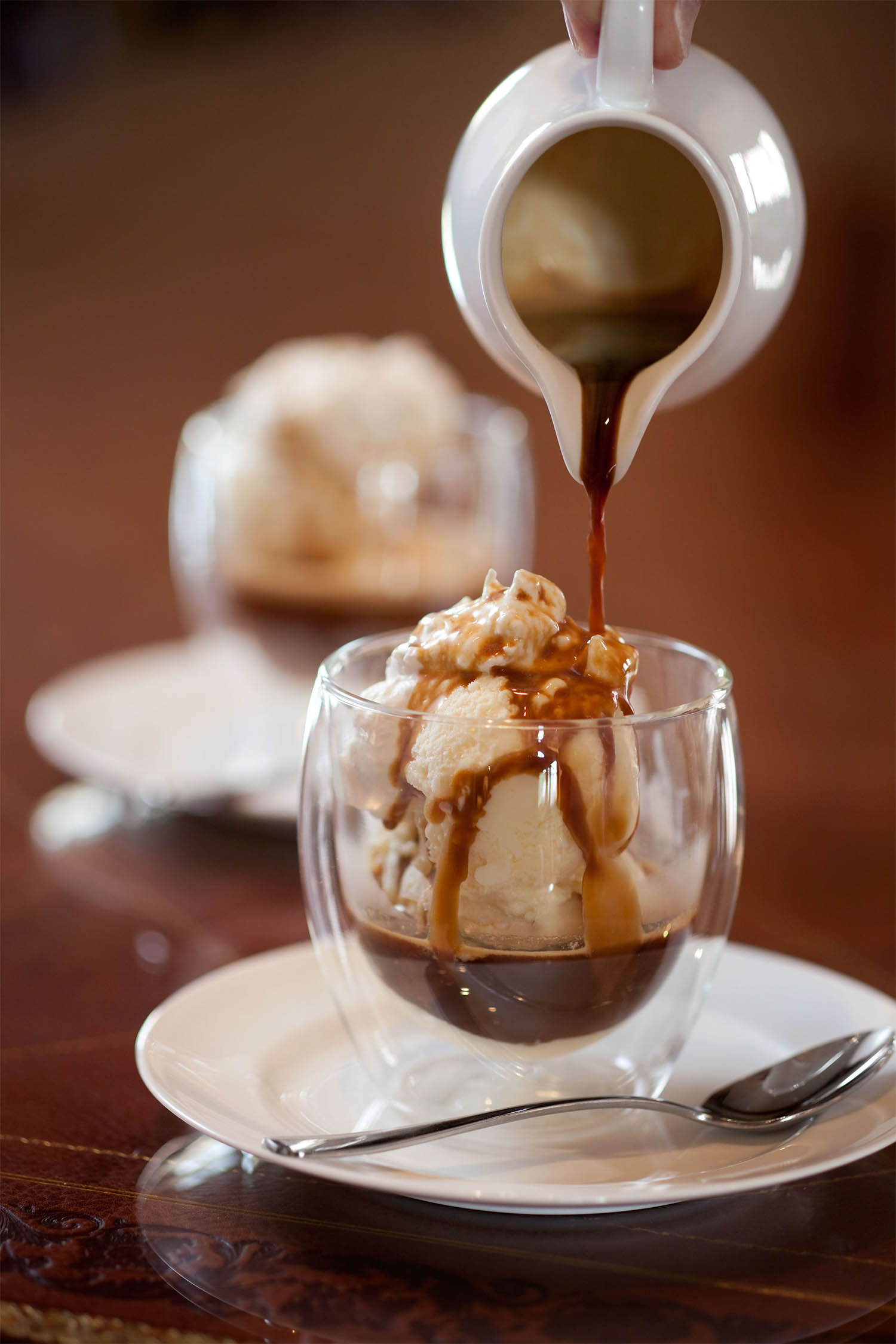 Apart from flaky croissants, fresh sandwiches, sinfully delicious apple pies, and soul-warming mugs of hot chocolate—The Bread Bar also does an excellent affogato. A double shot espresso of their signature coffee blend is poured over a vanilla bean gelato. The Bread Bar uses locally-sourced gourmet vanilla beans to make their own small-batch vanilla bean gelato. The icy treat coats the palate with its natural sweetness while tempering the acerbity of the coffee. The coffee is not too strong; its smooth body is pleasing enough for espresso novices. It's a small space but the big wide glass windows, plenty of greens, and fairy lights amplify the interiors.  
Where: Shah Industrial Estate, Unit No. 2, Deonar, Chembur, Mumbai. 
Tel: +91/89284-82554
6. Coffee Culture
One of the creamiest affogatos in Mumbai can be found at Coffee Culture. Apart from the classic version with espresso and vanilla, they also do chocolate affogato, which comes with vanilla ice cream, espresso and chocolate sauce. The full-bodied and complex coffee comes with alluring hints of nuts and a long, pleasant finish. An addition of chocolate sauce contributes texture and a richer flavour.
Where: Phoenix Marketcity, Kurla. 
Tel: +91/93721-79510
7. Blue Tokai Coffee Roasters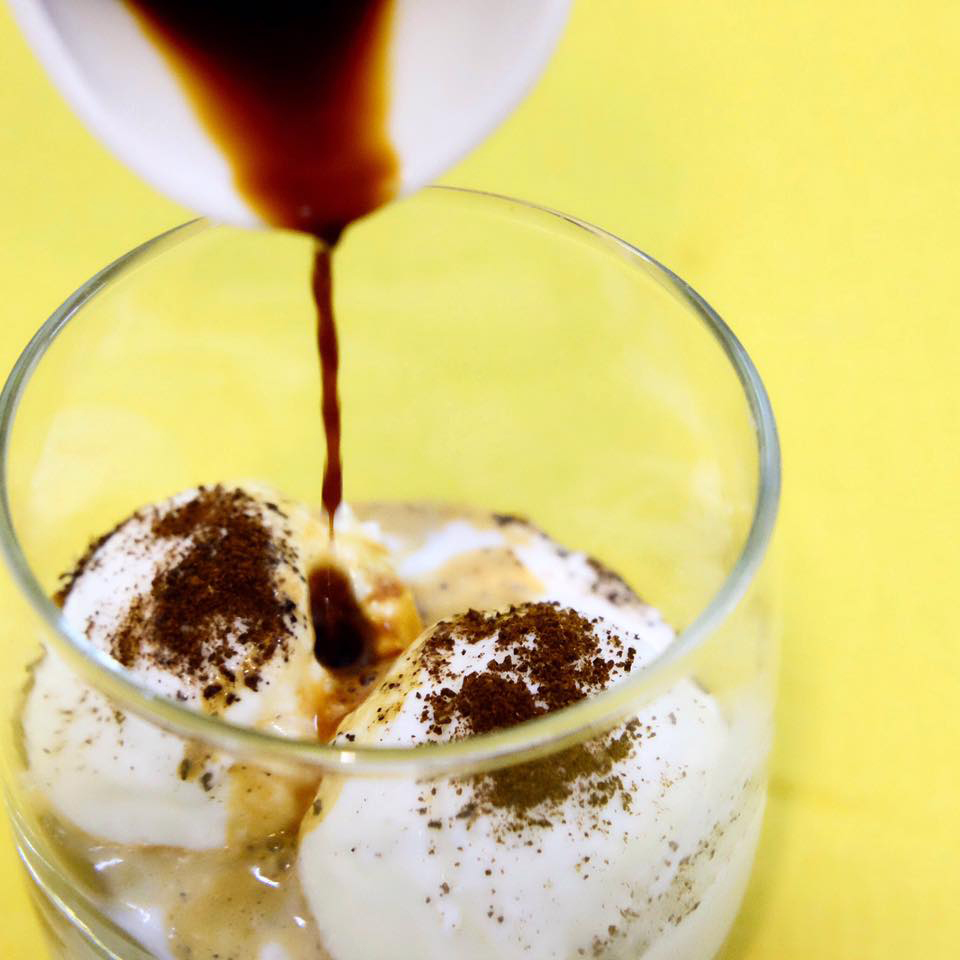 Known for their freshly-brewed Americano, pourover, cold brews, and espresso, Blue Tokai does a simple yet delicious affogato that is a perfect pick-me-up on a hot afternoon or after a heavy dinner. A generous scoop of French vanilla ice cream doused in espresso shot is one of the most popular summer drinks at Blue Tokai. A light sprinkling of ground coffee beans adds a lovely texture to the affogato. Go for the large if you crave an extra caffeine boost and a double scoop of vanilla. The coffee doesn't feel as bitter and that ice cream doesn't feel as sweet. What a perfect way to turn high-octane coffee into a dessert! 
Where: All outlets of Blue Tokai across Mumbai. 
Photo: Shutterstock; Unsplash; respective restaurants