Though it may have started off as a modest little curry house in Glasgow, Scotland, today, the iconic Shish Mahal is as legendary as its owner, Ali Ahmed Aslam. For, it is said to be the place where the famous chicken tikka masala was created by Aslam in the early 1970s. With the recent passing of Aslam in late 2022, Britain's de facto national dish—that is often abbreviated to just CTM—has been thrust back under the spotlight as a dish that changed the very definition of 'British food'.
Likewise, some of the culinary world's most iconic dishes, drinks and desserts owe their genesis to a bunch of equally legendary, eponymous hotels and restaurants around the world. Here's our pick of a few such famous specimens that have their origins deliciously steeped in history...
1. Waldorf Salad from The Waldorf Astoria, New York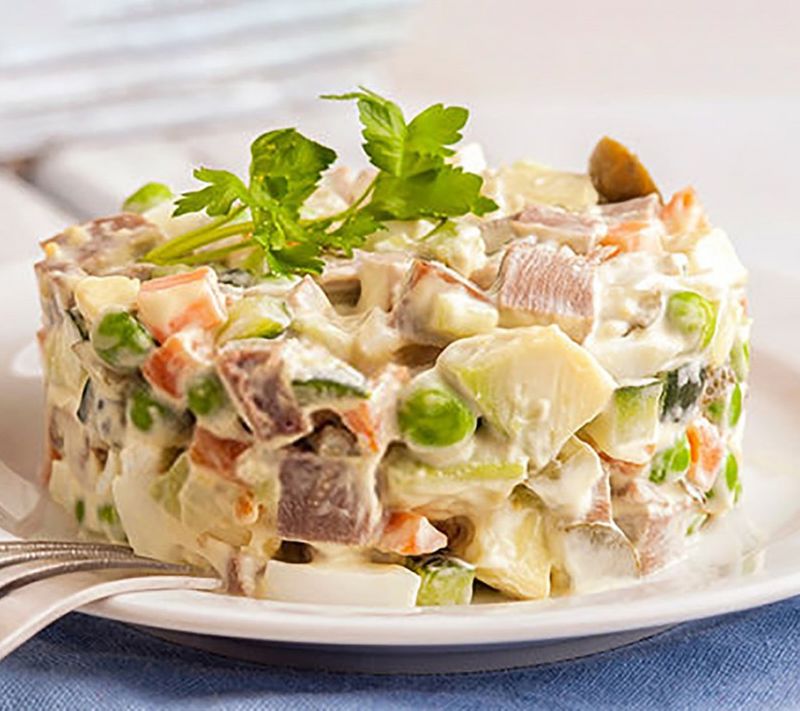 There's probably ne'er a single salad bar in the world that doesn't have the Waldorf Salad on its menu in some permutation or combination. This multi-textured sum of its apple, celery and iceberg lettuce parts, all doused in lashings of mayonnaise and anointed with a sprinkling of toasted walnuts, has a rather illustrious pedigree. 
It was in March 1896 that the then brand-new Waldorf Astoria hotel in Manhattan, New York, hosted its first-ever banquet event—a fundraising ball in aid of the St Mary's Children's Hospital. Wanting to create something unique and unable to get the head chef to do something along those lines, it was the hotel's maître d', Oscar Tschirky who threw together a bunch of very disparate ingredients to come up with a salad dish that can quite easily be dubbed 'edible history' today.
2. Singapore Sling from Long Bar at Raffles, Singapore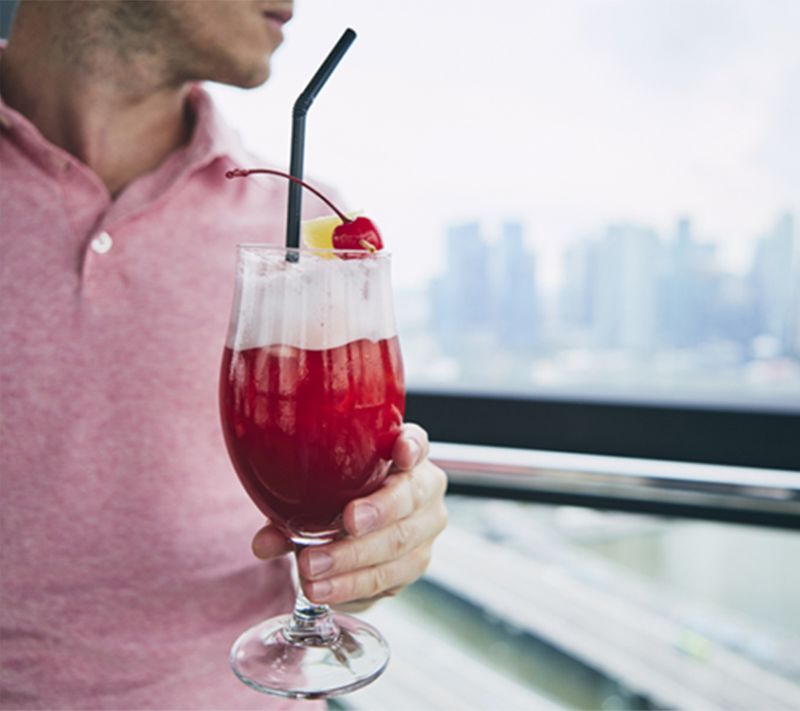 A veritable icon, Singapore's legendary Raffles Hotel is the progenitor of this cocktail drink that tastes much better than its luridly pink-hued countenance. Made with cherry syrup, grenadine, pineapple and lime juice with a maraschino cherry topping it, the sling was the Long Bar's Hainanese bartender Ngiam Tong Boon's Asian take on the traditional American sling that was made with spirit and flavoured waters.
Initially purported to be a lady's drink, the rather archaic gender stereotype has been shattered ages ago with a large number of men ordering this refreshing drink without the slightest bit of reservation. In fact, so iconic is the Singapore Sling, that one can even pick up a kit to make the cocktail at Singapore's airport, as well as knock back a few aboard the country's national carrier where it is served in all classes. But better still, pick up The Raffles Hotel Cookbook, published in 1994, that lists the drink's recipe as documented by Boon, among other Raffles' classic dishes and desserts.
3. Sacher Torte from Hotel Sacher Wien, Vienna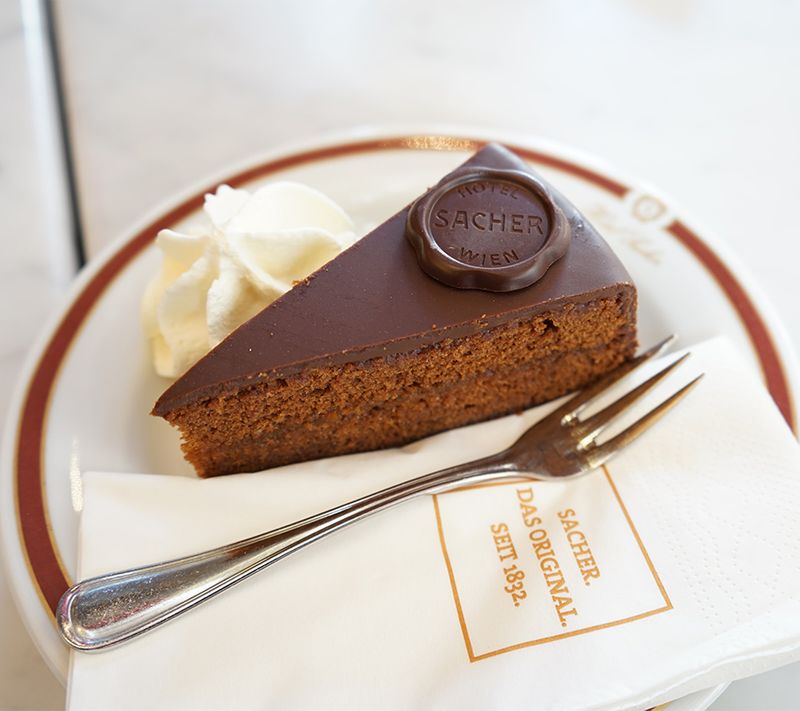 Every year on December 5, the entire city of Vienna is whipped up into a frenzy of epic proportions as one of the city's most beloved 'ambassadors', the Sacher Torte is fêted in full pomp and glory. We're talking of National Sacher-Torte Day which celebrates the Viennese chocolate torte that's layered with apricot jam twice and coated in dark chocolate icing on the top and sides with a dollop of unsweetened whipped cream set next to it. And at the epicentre of it all is the grand Hotel Sacher that lends the cake its name. It is here that the dessert was perfected from an earlier recipe by its creator Franz Sacher who invented it when he was 16 years of age in 1832.
Legend has it that Sacher, who used to apprentice at the home of Prince Wenzel, took over when the head pastry chef fell ill and came up with a rough cut of the torte. It was only years later, when Sacher's son Eduard set up the Hotel Sacher, that the recipe evolved into what it is today. But, as Eduard had earlier worked at the Demel patisserie in Vienna, when he passed away, Demel laid claim to the invention of the Sacher Torte, leading to much dispute between the two institutions. It was only in 1963 that it was finally decided that only Hotel Sacher could lay claim to the original Sacher Torte. And believe us, the torte is very much worth fighting over!
4. Dal Bukhara from Bukhara at the ITC Maurya, New Delhi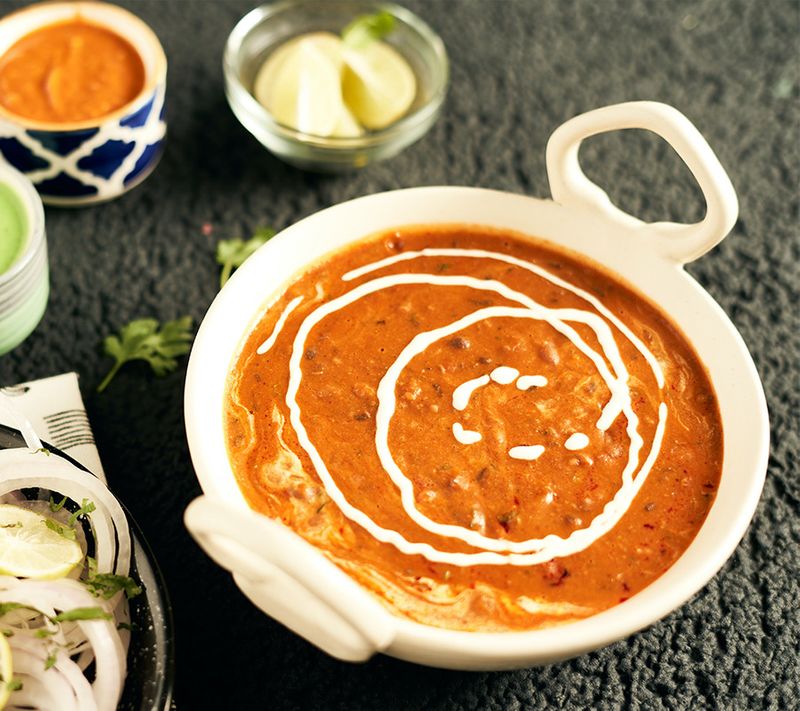 Twenty is said to be the number of spices that go into its preparation. Eighteen is said to be the number of hours it is put on a low simmer in a coal-heated tandoor oven so that it reaches its silky, unctuous perfection. Four is the number of salivating diners a single portion of it feeds. Going by these numbers, the Dal Bukhara notches up a mighty score. But one morsel of this melange of black lentils, tomatoes and ginger-garlic finished off with a dollop of cream and served with unsalted butter, and you're transported straight to the gastronomic equivalent of heaven.
A zealously guarded recipe for over four decades, that only the top brass of master chefs at its home base—the eponymous Bukhara restaurant at the ITC Maurya hotel in New Delhi—is privy to, the Dal Bukhara is the single most ordered dish on the menu. But thankfully, one doesn't need to be in New Delhi, or even India for that matter, to savour this treat. All you need to do is simply heat up a close-to-perfect nitrogen-packed, supermarket-purchased pouch of the trademarked Dal Bukhara and tuck into a spoon-full of edible history at your whim and fancy.  
5. Tarte Tatin from Hotel Tatin, Lamotte-Beuvron, France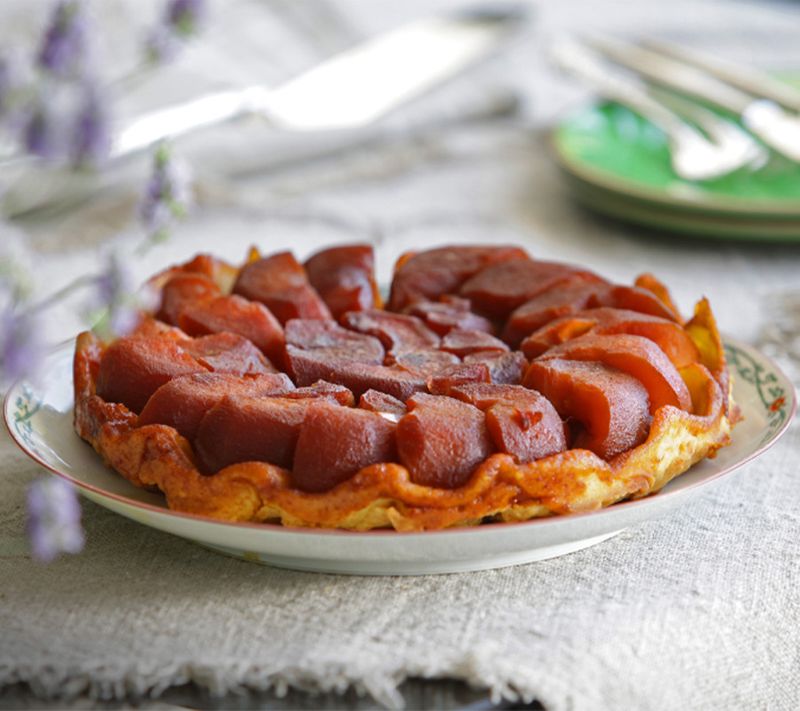 The sleepy town of Lamotte-Beuvron in Central France's Sologne region may be nothing more than a blip on the tourist radar, but it holds a delicious little secret close to its heart. Well, lovers of the French classic dessert—the Tarte Tatin—rejoice, for you have found your pastry equivalent of Valhalla right here in Lamotte-Beuvron at the Hotel Tatin. Once owned by the sisters Tatin—Stephanie and Caroline—the hotel saw the birth of this flaky pastry-based upside-down apple tart quite by accident at the turn of the 20th century.
As it so happened, in a hurry to cook up a dessert of apple pie for their guests, the sisters accidentally added the stewed, caramelised cinnamon apple bits directly into the baking pan, sans the pastry below. Realising their folly, a tad too late, they improvised by placing the errant pastry atop the apples and quickly throwing the dish back into the oven. And voila, 15 minutes later, a new dish was born. Interestingly, the Tarte Tatin was the dessert that sowed the seeds for other upside-down desserts, the chief being the fiendishly popular Pineapple Upside-Down Cake.
6. Tunday Kabab from Tunday Kababi, Lucknow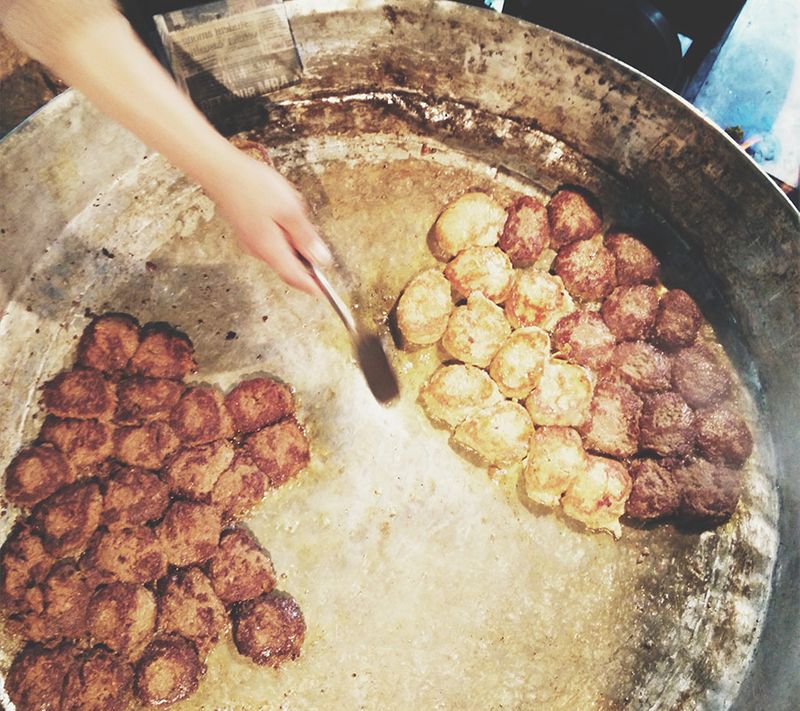 For most of us growing up in India, we must have automatically assumed the words 'Tunday Kebab' to be some sort of generic appellation for 'kabab', much like a shami or a sheekh kabab. But we couldn't have been more off the mark! A delicious iteration of Lucknow's melt-in-the-mouth Awadhi galouti kabab, the tunday kabab has just one legit home—Tunday Kababi. With a closely guarded recipe that sees tenderised, minced meat mixed with over 160 spices, plain yoghurt and garam masala among other ingredients like kewra (screw pine) water, this kabab trumps any other kabab you might have ever tried before.
Once a small, nondescript hole-in-the-wall joint, this restaurant in the city's bustling Chowk neighbourhood is today an institution. And not paying obeisance at its shiny new doors when in Lucknow is akin to sacrilege. Known for its succulent kababs, served with a healthy side order of attitude thanks to its famously brusque wait staff, the line of people waiting to get in every evening is testimony to its cult-like following. And though there are many similarly named kabab joints—both in and outside Lucknow—serving highly ersatz versions of the tunday kabab, the original Tunday Kababi wears its crown with its haughty, care-a-damn attitude pat in place!
---
Photo: Canva, PxHere, Unsplash, Pexels,