Home to the world-renowned Gold Souk, Dubai has become near-synonymous with gold and people across the emirate don't shy away from sprinkling edible gold on their food. One of its latest examples of such golden treats is a 22-karat gold vada pav, introduced by a restaurant called O'Pao in Karama.  
Now, if you are obsessed with edible gold as much as Dubai is, here are some of the most popular dishes that come bedecked in gold, including this fancy vada pav. 
1. O'Pao's 22-karat gold vada pav
Known for serving Indian sliders, Karama-based O'Pao has introduced the world's first 22-karat gold vada pav - their version of Mumbai, Maharashtra's favourite street snack. 
Here, the vada (patty) is filled with cheese and imported French truffle butter and is wrapped in a premium quality 22-karat gold leaf imported from France. The pav (bread that it comes in), on the other hand, is topped with homemade mint mayonnaise spread instead of the classic green chilli chutney, which you find in the OG vada pav. This street-style snack is served with a side of sweet potato fries and mint lemonade and plated in a wooden carved box that is lit with a nitrogen base. 
O'Pao's precious vada pav is only available for dine-in and is priced at AED 99.
2. Scoopi Cafe's black diamond ice cream (edible gold ice cream)
Another recent example of this is the black diamond ice cream at the Scoopi Café located at Jumeirah Road, Dubai, which is going viral on social media platforms across India, following a post by travel vlogger Shenaz Treasurywala.
On July 20, 2021, Treasurywala took to her Instagram to share a short video of her visit to this dessert parlour and her experience of enjoying a scoop of the expensive ice cream, which costs a whopping AED 3000 (INR 60,786). Touted as the world's most expensive ice cream, the black diamond aka edible gold ice cream is freshly made using Madagascar vanilla, Iranian saffron and Italian black truffle. It is finished off with flakes of 23-carat edible gold. The dessert is served in a Versace bowl with a silver spoon, which the customer is allowed to keep, according to Shenaz's response to a follower.
Overwhelmed by the description and price of the ice cream, and curious about its taste, Instagram users couldn't stop commenting and sharing Shenaz's post on the photo-sharing platform. As of July 23, 2021, her video has over two lakh views, and the numbers are only increasing.
For the uninitiated, the black diamond ice cream was first introduced by the Scoopi Café back in 2015, and the recipe hasn't changed. Although the flakes of gold don't add much in terms of taste, they do give the treat an impressive sheen and a distinct texture.
3. Hampstead Bakery and Café's royal brioche French toast
A fresh, thick slice of a buttery brioche is soaked in a mixture of tres leches, vanilla beans and saffron, and then decorated with a 24-carat gold leaf to create a royal brioche French toast at Hampstead Bakery and Café at the Sheikh Mohammed bin Rashid Boulevard. It is then served with a side of white chocolate ganache, fresh strawberries and blackberries. This breakfast dish with a twist is priced at AED 220.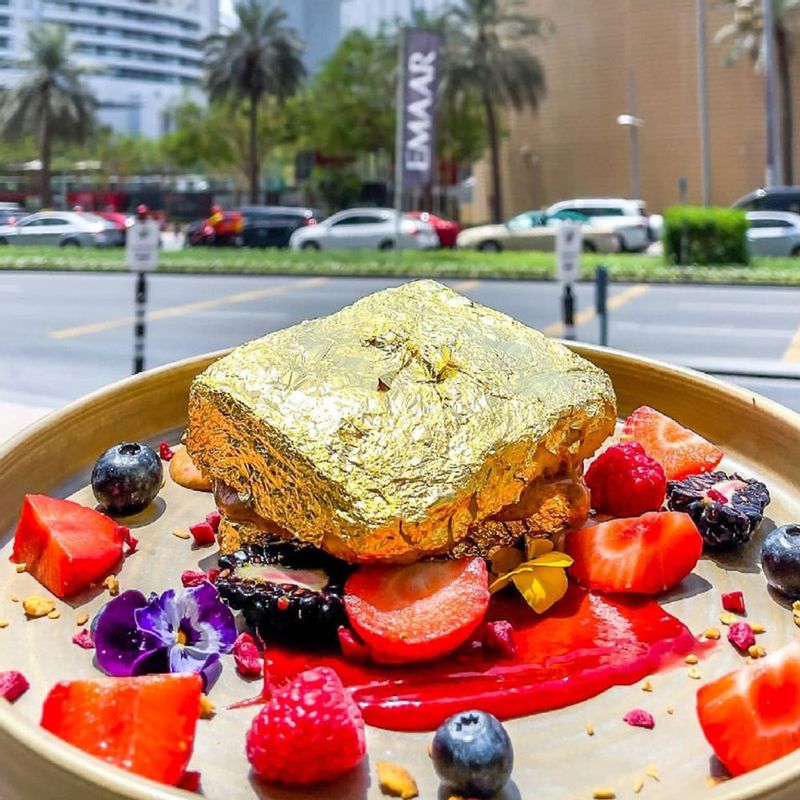 4. Bombay Borough's royal gold biryani
Loaded with fragrant spices and 23-carat edible gold, the AED-1000 royal gold biryani was added to the menu of Bombay Borough in January 2021to mark the restaurant's first anniversary.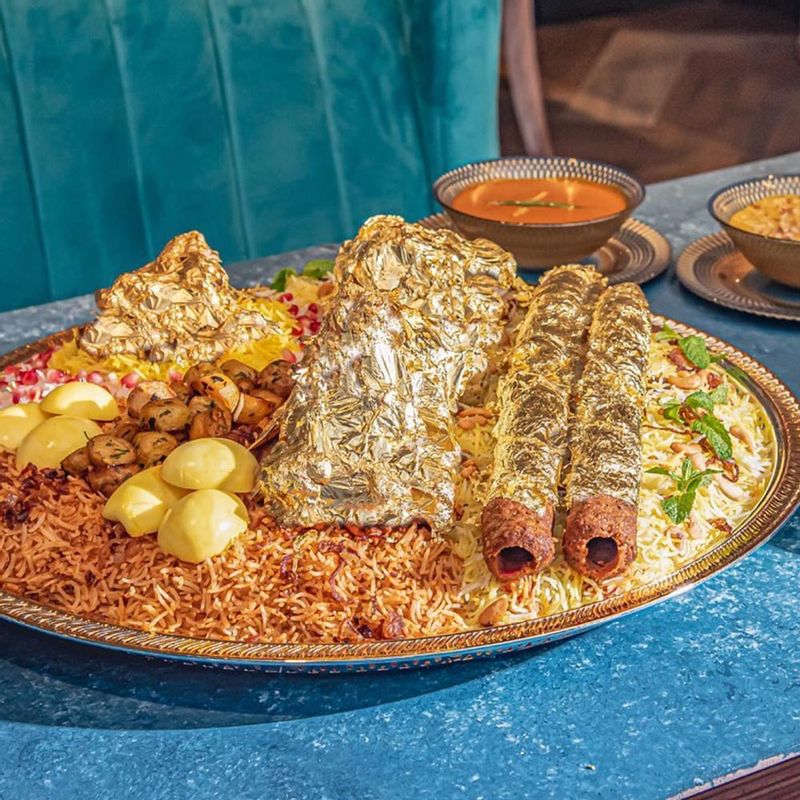 The rice dish is inspired by the flavours of north India and serves four to six people. It includes Kashmiri lamb seekh kebabs, old Delhi lamb chops, Rajput chicken kebabs, Mughlai koftas, and malai chicken. These succulent meat appetisers are served on a bed of saffron-infused biryani and garnished with edible gold. There's also a selection of side dishes, including a variety of curries and raitas.
5. Doors Freestyle Grill's gold striploin steak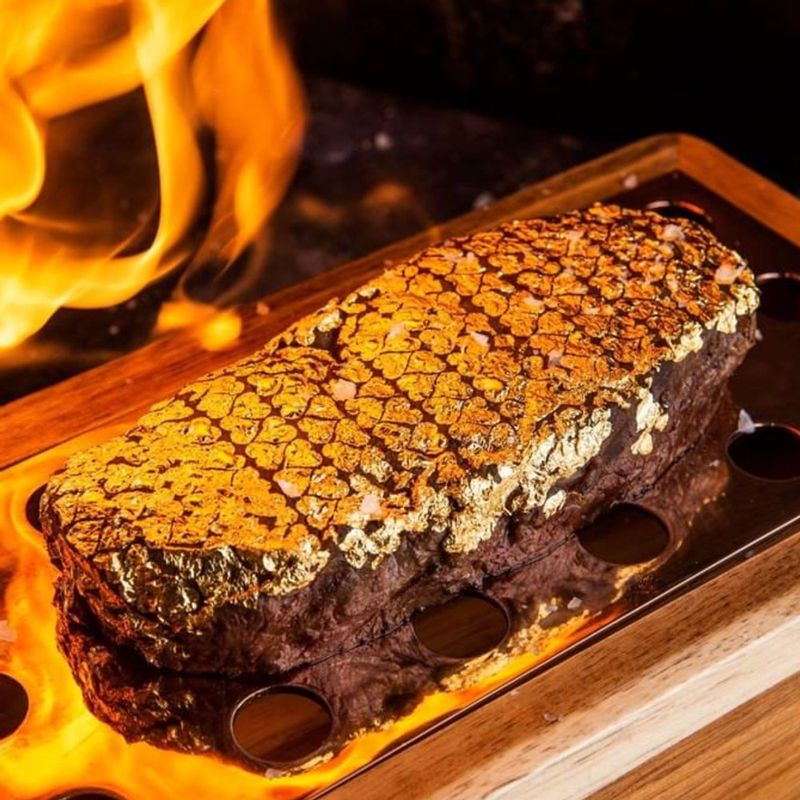 Priced at a whopping AED 786, the gold striploin steak offered by Doors Freestyle Grill, a steakhouse in Dubai, is a thick slice of high-quality, succulent meat that's coated in a fine sheet of edible gold. Made only on a pre-order, this lavish meat dish is perfect for when you want to go all out and splurge for a truly royal dining experience.
6. Marea Dubai's golden burrata
Marea Dubai combines two of Italy's favourites – burrata and gold – to create a decadent cheese treat. The restaurant located in the Dubai International Finance Centre takes handmade burrata sourced right from southern Italy and coats it with a 24-carat gold leaf. This cheesy wonder is served with a side of fresh cherry tomatoes, salsa verde and Taggiasca olive oil, and it costs AED 220.
7. Burj Al Arab's 24K Italian cappuccino
Dubai's seven-star hotel Burj Al Arab offers an indulgent edible gold cappuccino in its SahnEddar lounge. Introduced in 2018, the beverage features 24-carat Italian gold blended into an espresso made using 100 per cent Arabica beans and comes topped with gold flakes. It is served with a side of a chocolate marshmallow and costs AED 120.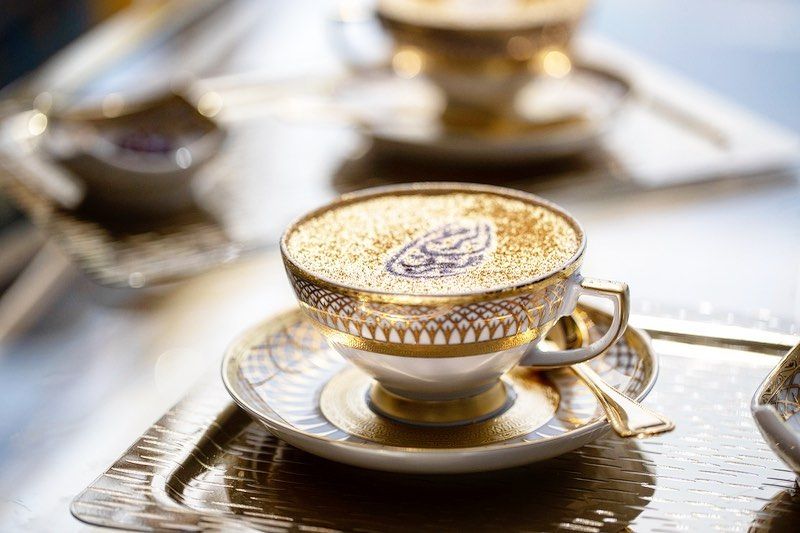 Burj Al Arab isn't the only hotel in Dubai to serve golden coffee, The Armani Hotel also offers gold-infused drinks.
Now that you've looked at all the edible gold dishes Dubai has to offer, share your thoughts with us in the comments below. Would you spend so much money on food? 
---
Photo: Courtesy featured restaurants