This Diwali, satiate your taste buds with luxury hampers by food brands and hotel chains—offering a combination of tasty and healthy delights. Gift these delightful treats to your friends, relatives, and neighbours—then be it a basket full of chocolates, bars, tea, coffee, or a bunch of artisanal products. Not to mention the unique cocktail hampers that make for a fun house party and add to the experience of having a memorable Diwali together with your cherished ones.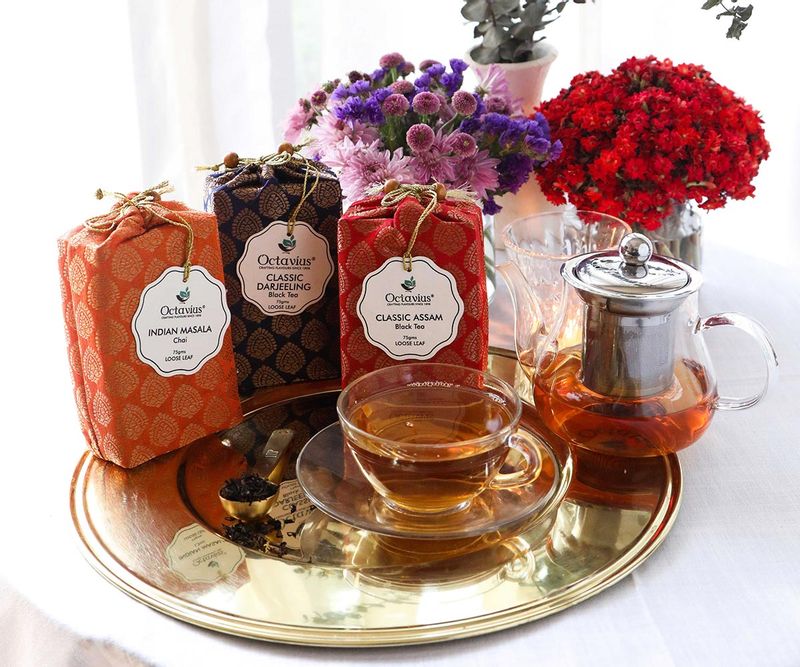 Gift that tea lover friend one of Octavius Tea's festive pouches. The options include: Assorted, which offers a collection of Indian herbal teas; Heritage, a collection of classic Assam black tea; a box of Tea Time Treasure, which comprises floral green tea and tisane; and Tea Essentials, that has a delectable range of jasmine and cinnamon teas, both of which are good for your metabolism and immunity. Price: INR 500 to INR 2,500.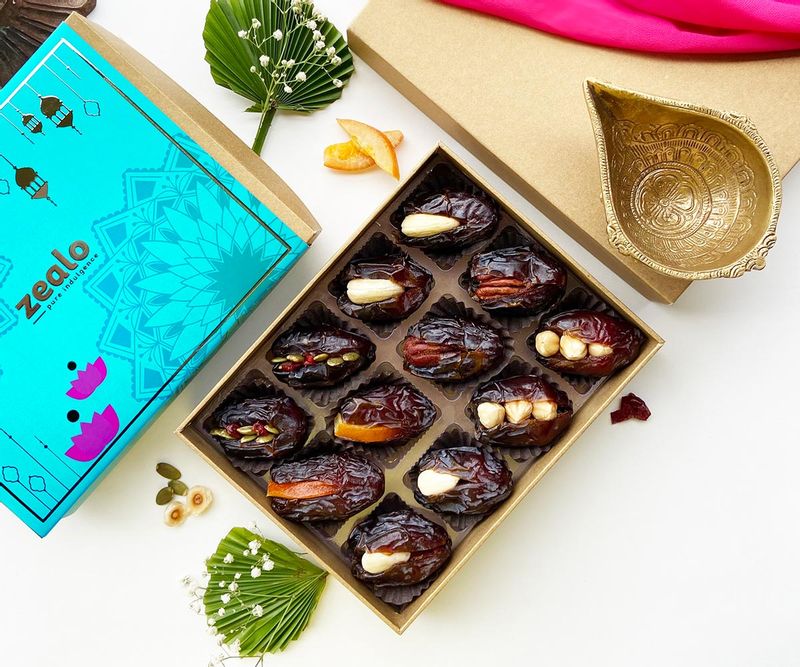 Zealo offers handcrafted artisanal products made from the finest ingredients. Its Diwali Selection Hamper has pre-crafted boxes featuring sugar-free rose and fig laddoos, and pistachio and date laddoos. Other items in the hamper include muesli jars, chikki, assorted nuts, stuffed dates, pecan pie, and savoury mixes. To order Dm Instagram @zealofoods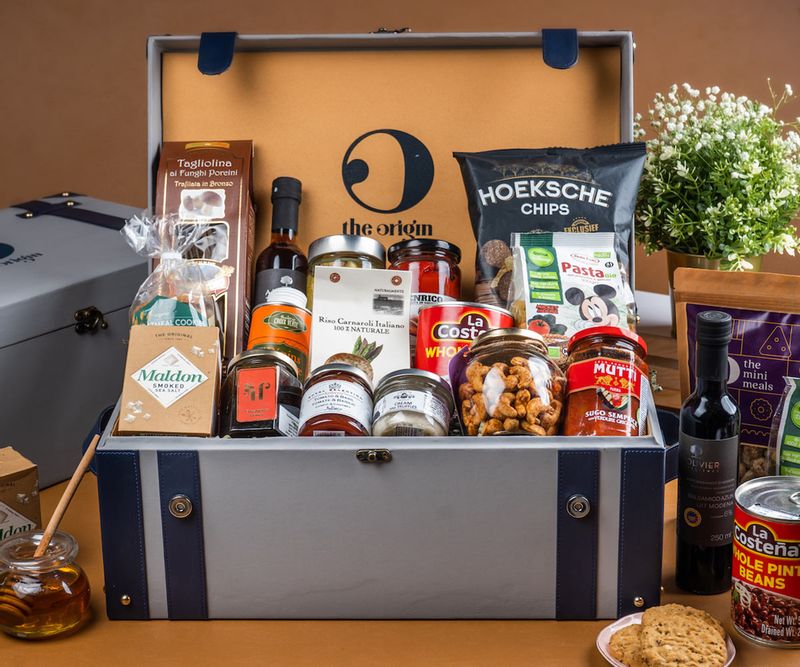 Artisanal food products label, The Origin, has recently opened its outlet in Khar, Mumbai. This festive season, it is offering an exquisite collection of gift hampers, curated with gourmet products and fresh produce from across the globe. You can choose from delights such as artisanal chocolates, cheese, honey, and exotic fruits or splurge a little on their truffle, beverages, and saffron hampers. Price: INR 1,800 to INR 12,500. Contact: 022 6850 8888 / 085917 20930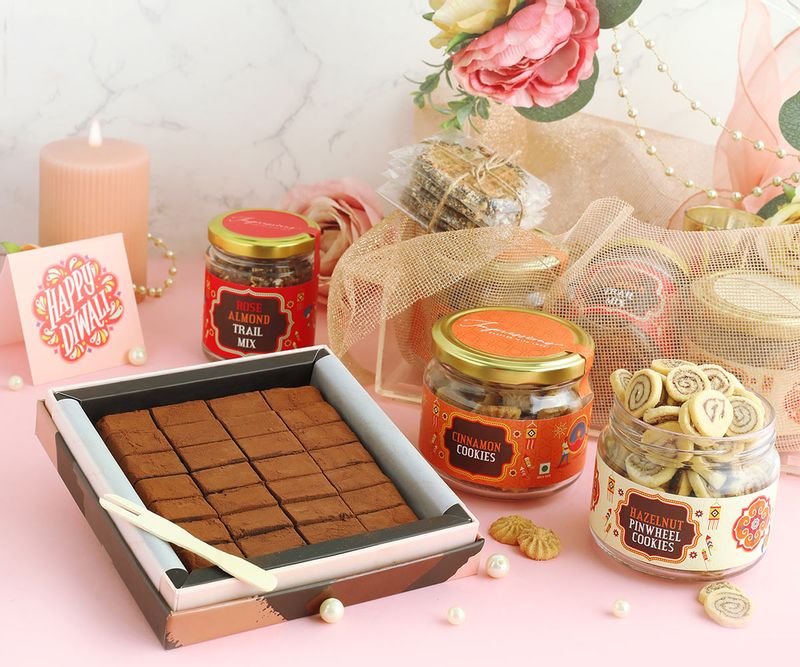 Impressions, a handcrafted artisanal confectionery brand, is offering curated gift hampers featuring fine white, milk and dark chocolates. Cranberry pistachio rose bars, hazelnut sea salt chocolates, assorted nama bites, and hazelnut pinwheel cookies are some of the bespoke treats you can expect from these hampers. Contact: +91-99300 20473/4/5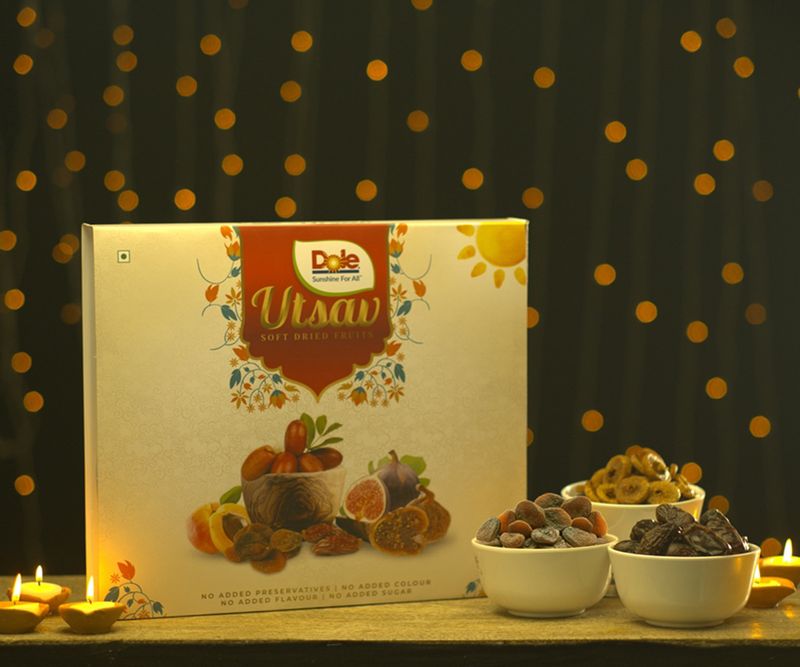 This Diwali, move away from old fashioned mithai and gift your friends and relatives the Dole Utsav Pack instead. The pack contains organic dried Mediterranean figs, dates, and apricots—with no added sugar, preservatives, colours or flavours. They are also rich in vitamins A, C, D, and K, and contain minerals that help boost immunity, and improve  bone and gut health. Price: INR 1,299.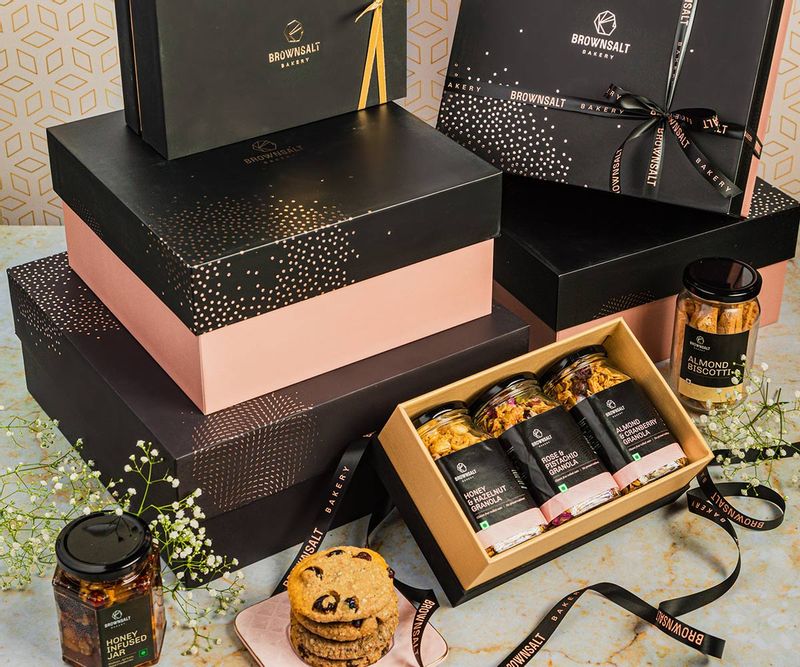 Another brand to offer a combination of healthy and tasty delights in one box is Brownsalt Bakery, which has an exclusive range of Diwali gift hampers. Its honey-infused jars with cranberries, apricots, and walnuts are the perfect way to start your morning. Next up are the nutrient-rich nut and seed mixes perfect for in-between snacking. Lastly, their selection of assorted cookies makes for an apt gifting option for the festive season. Each hamper also comes with a handwritten card by calligraphy artist Sanjana Chatlani. Price: INR 550 to INR 1,975.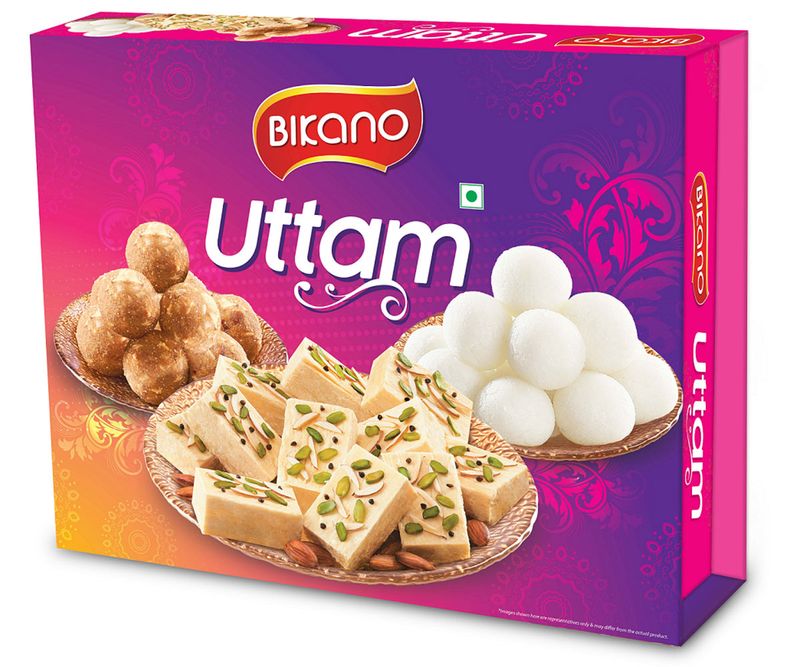 India's leading FMCG brand, Bikano, has launched a bunch of Diwali gift packs for you to present your friends and relatives. In its Uttam gift pack, you get a combination of rasogolla, panjeeri laddu, and soan papdi. Shahi Nazrana, Dry Fruit Delight, Utsav, Uphaar, Umang, and Anupam are some of the many Diwali gift packs that the brand is offering. Price: INR 160 to INR 750.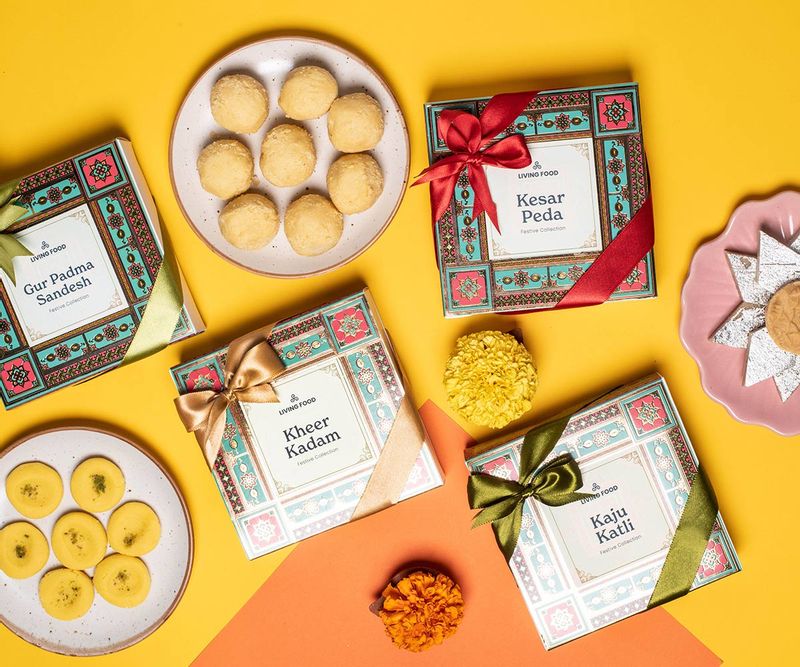 The Living Food Co. has introduced a range of homemade Diwali treats, ranging from regional namkeens to handmade sweets. Some of the assortments include, namak para, murukku, kaju katli, vegan and gluten-free rose barfi, gur padma sandesh, and badam halwa cakes. All the items are handcrafted by local chefs and artisans. Price: INR 75 onwards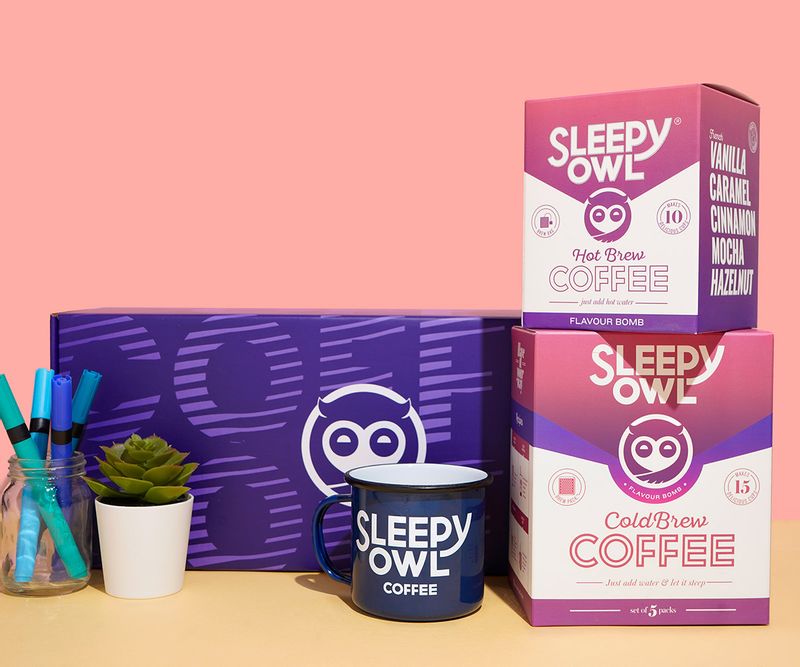 This festive season, gift the coffee lovers in your life a Sleepy Owl gift hamper. Its celebration box comes with a set of cold and hot brew packs and a signature enamel mug—all shipped in a suitcase style box. Other options include the Sleepy Owl's ultimate travel kit with a hot brew flavour of your choice and a stainless-steel travel mug. If your friend is a newbie, then gift them the cold brew starter kit that comes with a set of a set of Cold Brew Packs with a double-walled, BPA-free Tumbler.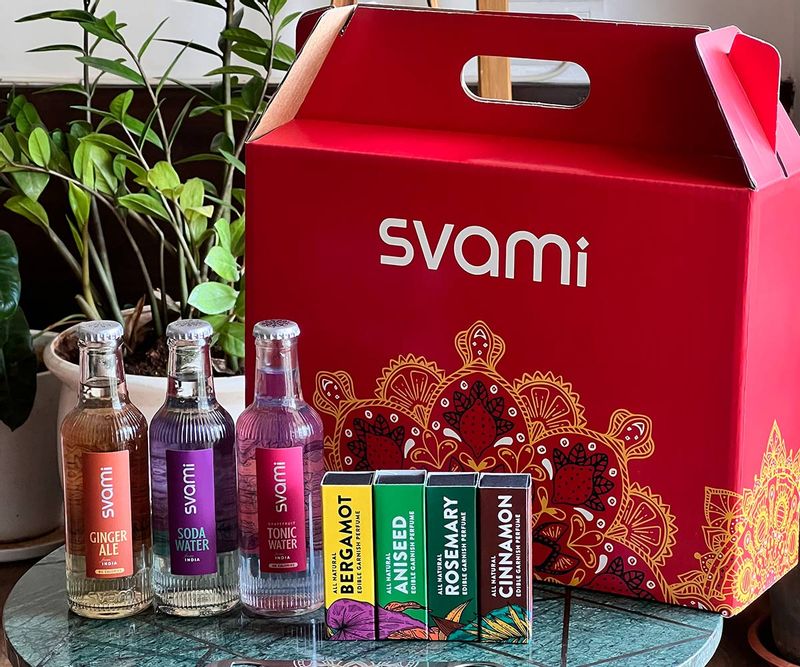 If good booze is your idea of a lit Diwali party, then Svami's BYOB Gin and Whiskey appreciation kits are what you need this year. The Gin Appreciation Kit comes with Svami Gin and Tonic Pairing Guide, gin tasting wheel, Svami's portfolio of five tonic waters, and three videos to guide your experience. The Whiskey Appreciation Kit comprises a whiskey tasting wheel and Svami's Ginger Ale, Soda, and Grapefruit tonic water. Each kit also comes with a bar blade opener and four newly-launched garnish perfumes in rosemary and cinnamon, along with a guide on how to use them. Price: INR 2,370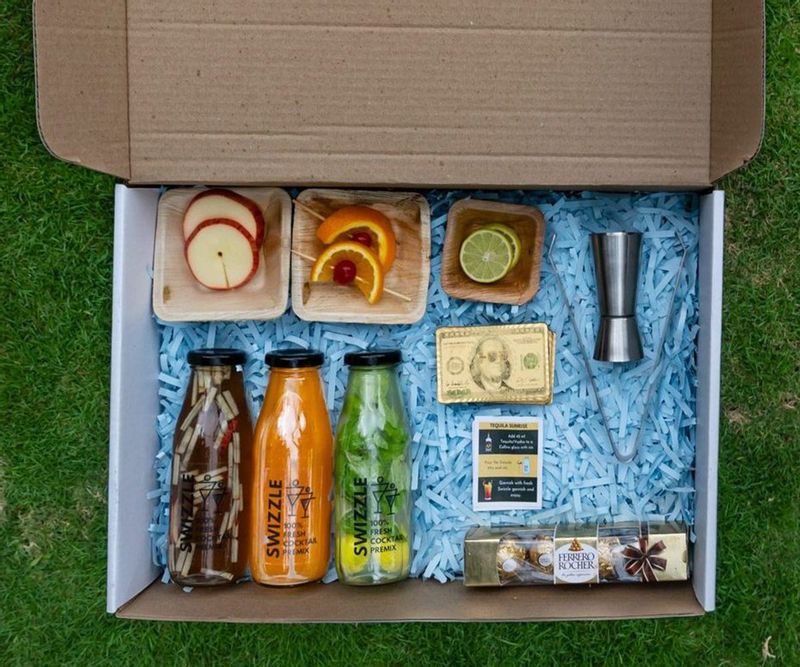 Swizzle's Diwali Gift Night Boxes are a perfect way to kickstart a house party. The brand also offers discount on bulk orders and catering services. Its Jumbo Night Cocktail Box comes with three cocktail/mocktail kits, two wine glasses, a pack of eight chocolates, a set of gold-coloured playing cards, ice tong and jigger, and a note. Its Diwali Night Cocktail Box, on the other hand, comprises three cocktail/mocktail kits, one wine glass, ice tong and jigger, a pack of four chocolates, a set of gold-coloured playing cards, and a handwritten note. Price: INR: 1,299 to INR 1,749.
This food brand is offering homegrown products and gourmet snack hampers for you to gift this Diwali. The hampers are available in three variants, namely: The House Party Pataka, Colour Me Diwali, and Shubh Beginnings. The first one is a combination of sweet and spicy along and comes with all house party essentials. In the second one you get a mix of chocolates, healthy snacks, Lotus Biscoff Spread, and beverages, along with rangoli colours. The third one comes with blueberry crisps, cranberry dark chocolate, granola, and sweet potato peri peri chips amongst other things. The brand also has on offer a Jain Special Hamper with Jain-friendly food items along and a complementary jar of honey by Truefarm. Price: INR 1,500 onwards.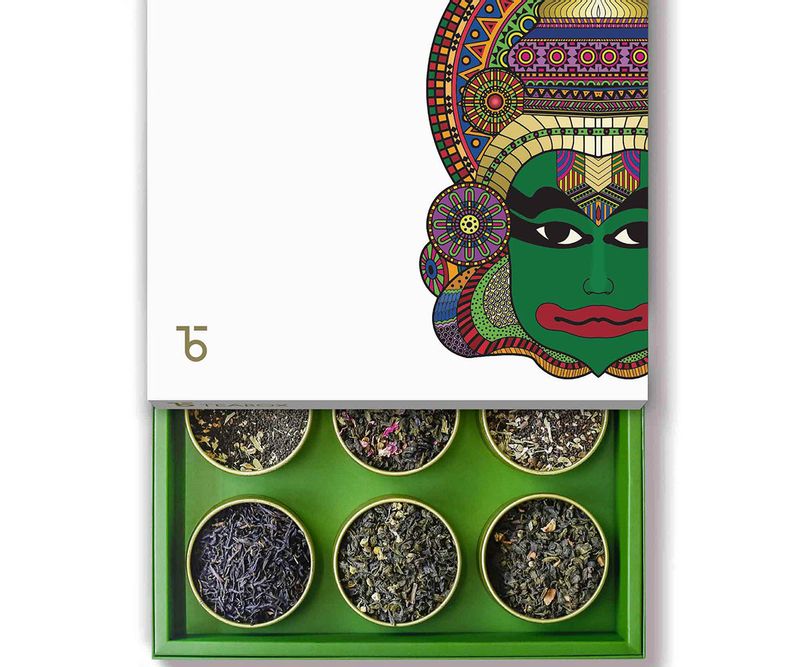 This tea brand has launched three different types of gift boxes inspired by rich Indian heritage. The gift boxes have been designed sustainably through the Zentangle Method. Its Kaja Box offers a collection of Assam Masala Chai, Bombay Cutting Masala Chai, Caramel Spice Chai, Punjabi Masala Chai, Wayanad Cardamom Chai, Kolkata Street Chai and Kashmiri Kesar Gulab Chai. The Maya Box offers exotic blends such as Assam Masala Chai, Wayanad Cardamom Chai, Kolkata Street Chai, Organic Chamomile Green, Organic Rose Green, Kashmiri Kahwa, Mountain Rose, Classic Earl Grey Black, and Lavender Earl Grey.  Lastly, the Gaja Box contains Organic Chamomile Green, Organic Mint Green, Organic Dandelion Green, Organic Jasmine Green, Organic Turmeric Tulsi Green and Organic Rose Green. Price: INR 1,499 to INR 2,399.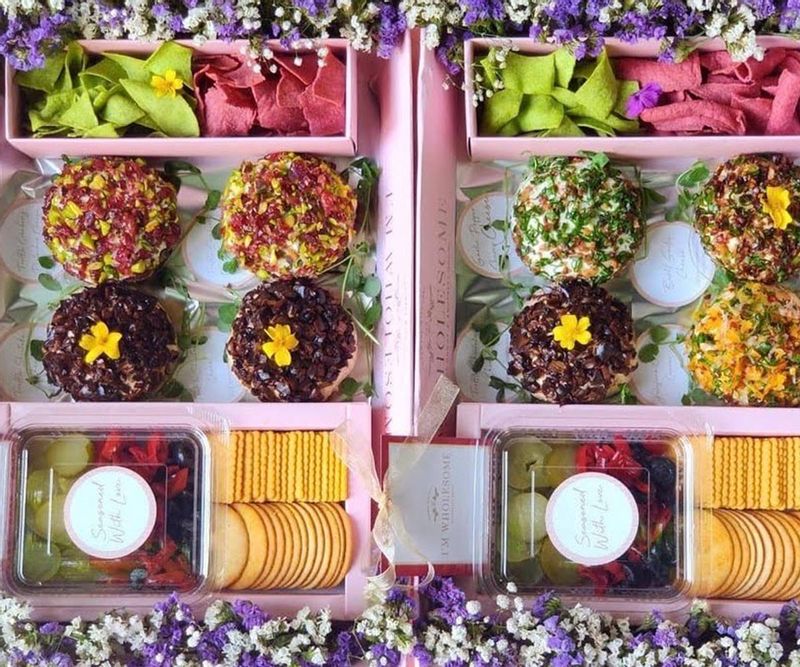 I'M Wholesome has created more than 20 luxury gourmet gift hampers for Diwali. Hampers featuring special Indian desserts, cheese and crackers, dry fruits, international desserts, sushi cakes, macrons, and mithai boxes are a few special treats that the brand is offering this festive season. Each hamper is wrapped with flowers and ribbons, and is accompanied by scented candles. You can either order pre-curated gift hampers or get them customised. Price: INR 1,350 to INR 5,200. To order call 09321838714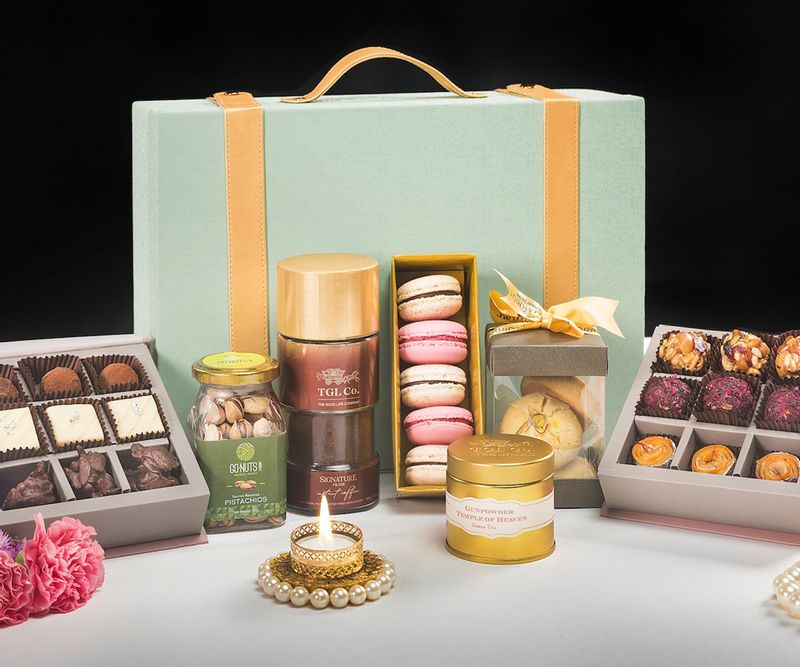 This Diwali, order gourmet hampers from JW Marriott Mumbai Sahar—and get an exclusive gift voucher that you can redeem for a luxurious stay and global dining experience. As a part of its Diwali gift hampers, the hotel is offering a festive box, some delicacies, global treats, artisanal sweet boxes, traditional delights, and more. Featuring a combination of savouries and handcrafted sweets, you can order these hampers from anywhere in the country. Some of the options you can pick from include: Sweet Tryst, Bundle of Joy, Tasteful Splendor, Crafted Euphoria, Epicurean Feast, Effervescence, Festive Extravagance, and Seasonal Treasures. Mithai boxes, jars of parmesan palmiers, chef-crafted bonbons, and Nourish Organic Buckwheat Cookies are some of the many goodies you can expect from the hampers. Price: INR 500 to INR 7,000.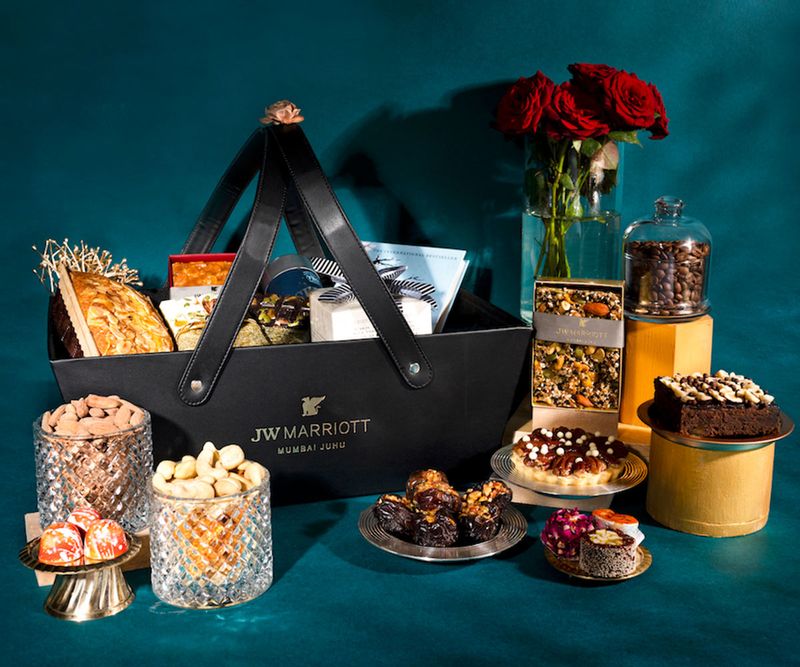 The hotel has introduced The Marigold Collection for festivals this year. It includes hampers in colours such as blue topaz, purple sapphire, and emerald green. Each hamper includes premium collections of tea and coffee, flavoured nuts, and homemade pralines. Created under its JW Festive Fervor series, these hampers have been named after gemstones—such as JW Moonstone, JW Topaz, JW Quartz, JW Chocolate Opal, and JW Imperial. Diya, toran, gur mewa, quinoa puffs, luxury tea by TCW, pecan tart, and scented luxury candles are some of the items that you can find in these hampers. Price: INR 1,000 to INR 10,000.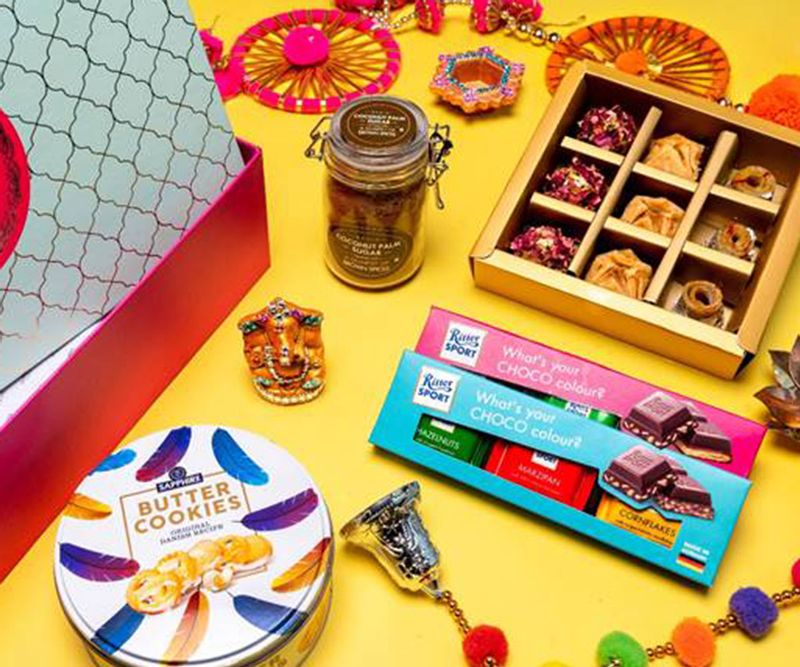 Le Meridian in Gurugram is offering a range of specially crafted gift hampers, comprising items such as, sapphire cookies in tin jar, spring coconut palm sugar, homemade chocolates, and mithai. It is also offering artisanal hampers with chef-curated handcrafted delicacies. Other products include Paul and Mike chocolates, matcha green tea, Davidoff Sprig Cinnamon, and more.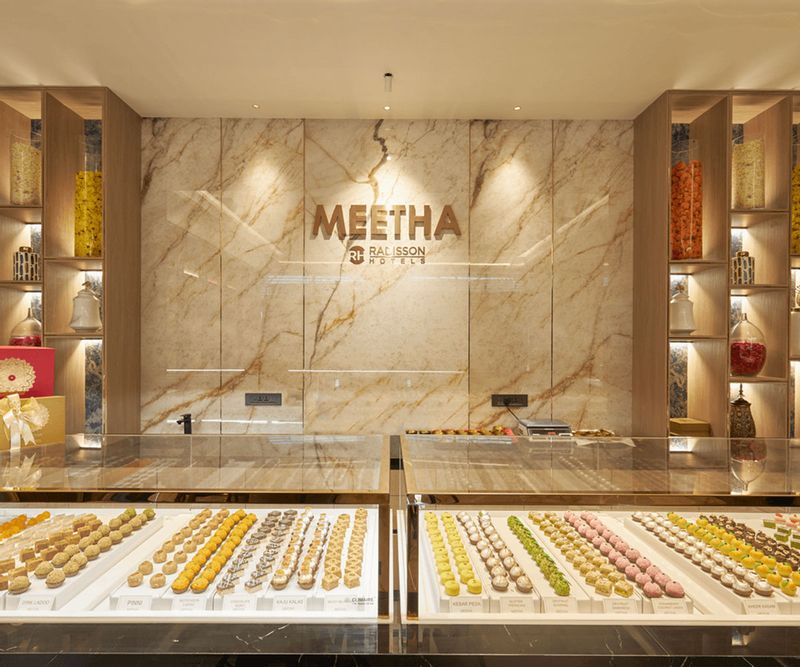 Radisson in Goregaon, Mumbai has launched a premium retail outlet called Meetha with a state-of-the-art design and premium look. Here, a team of all-women professionals are offering 60 different types of mithais including, sugar-free and vegan options. It also has 15 different styles of packaging for you to pick from. Its high quality mithais have been made using handpicked ingredients. You can also ask for home-delivery in Mumbai, and across Delhi/NCR.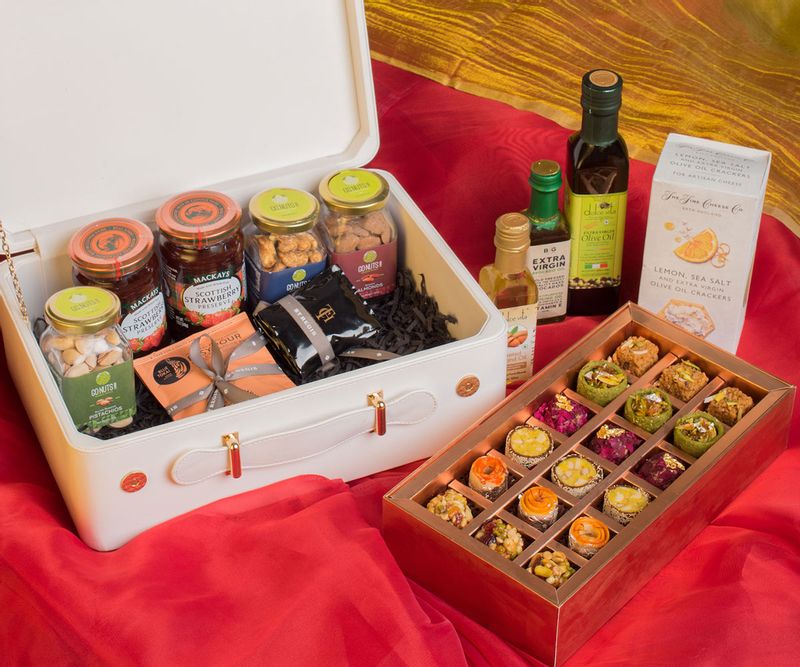 St. Regis in Mumbai is offering a range of bespoke gifting hampers that you can order at your doorstep, courtesy Marriott Bonvoy on Wheels. Its Signature Corporate Box for example comprises six pieces each of artisanal chocolates and gourmet mithai, along with an exquisite diya. Its Diwali Charlie Box, on the other hand, offers Almond Florentine, Pistachio Mawa Cake, Granola Bars, Bon Bon, Mini Jaffa Cakes, Thumbprint Cookies, Baklava, and four kinds of gourmet mithai. Price: Rs 1,000 to Rs 7,500.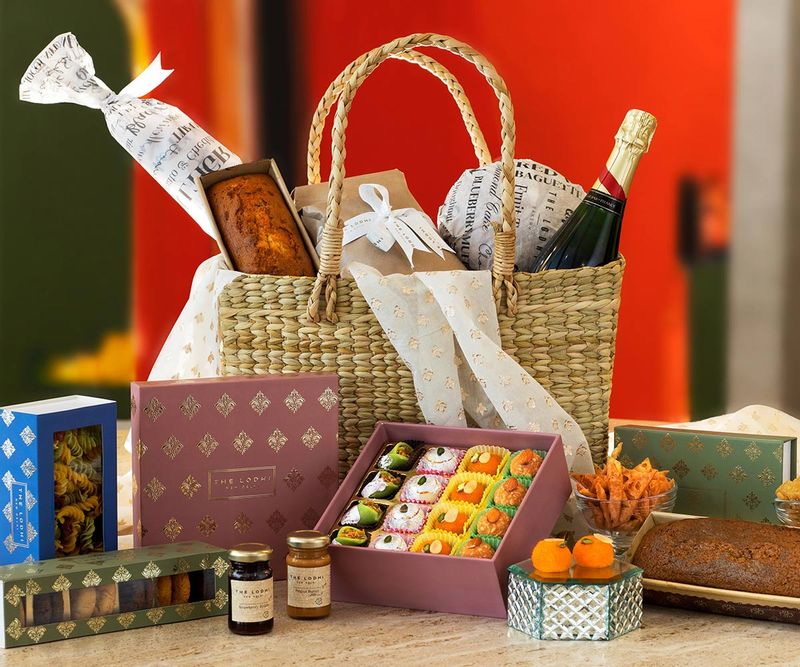 This Diwali, go eco-friendly with The Lodhi New Delhi's handcrafted hampers. The luxury hotel is offering gifts packed using Kauna Grass baskets, woven by the local women artisans of Manipur. Inside the hampers you can get homemade treats prepared by The Lodhi's master chefs from Agra. Some of the items include, banana walnut cake, sourdough bread, macaroons, chocolates, mithai boxes, and biscotti. You can even get customised hampers. Price: INR 4,100 onwards.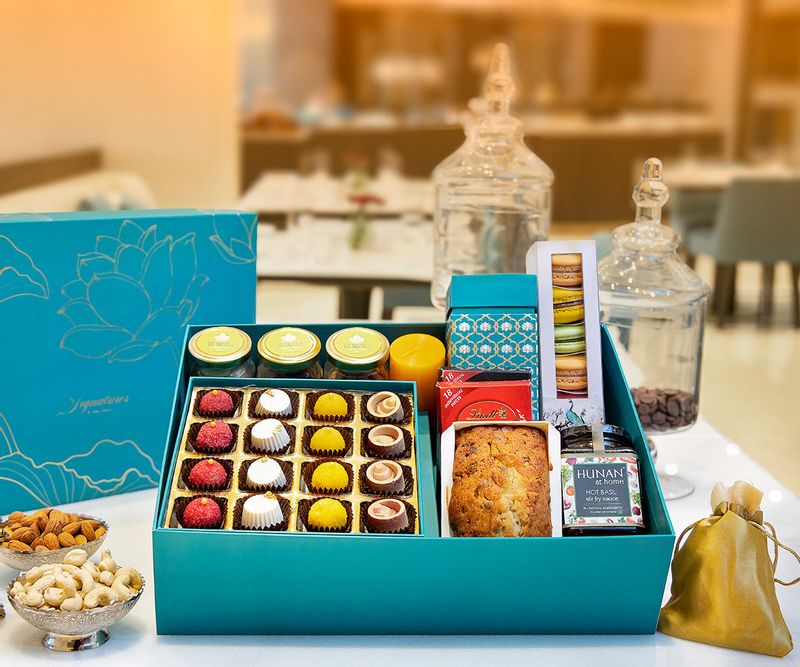 The Leela Bhartiya City, Bengaluru has come up with a range of hampers offering a combination of rich Indian flavours and delicacies—all  handcrafted by Chef JP Singh. Assorted Indian sweets, fine Indian chocolates, celebration delights, signature mithais, and more such items are what you can expect from these hampers. Anjeer Sultane, Turkish Pistachio Truffle, Almond Island, Rose Blossom mithai, dry fruit cake paired with macaroons, Silver Mogo, Hunan sauce, Special Tea, Lord Ganesha idol, and  candles are some of the products you can find inside the hamper. Price: INR 1,500 onwards.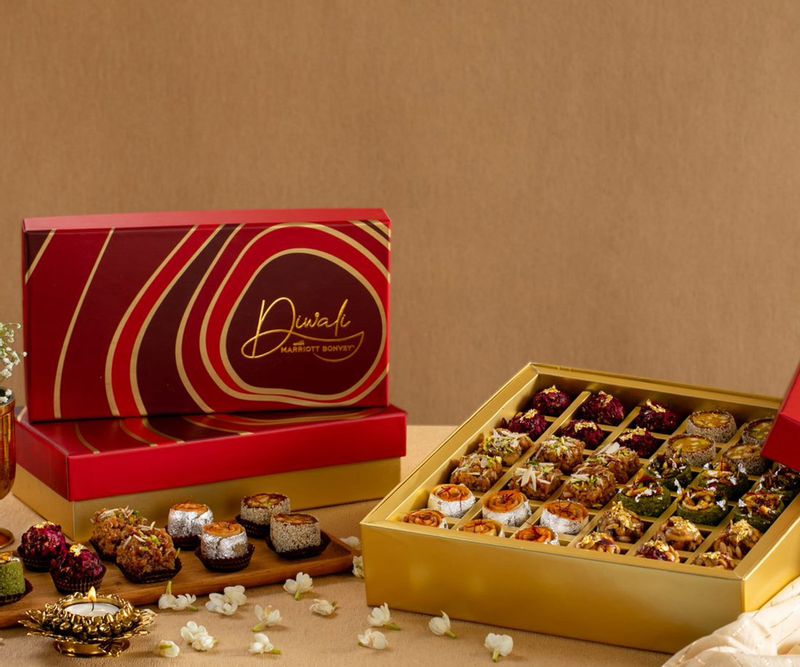 The Westin, Pune has curated gift hampers called Diwali Decadence. The specially designed hampers comprise hand-rolled chocolate truffles, gourmet Indian sweets, handmade cookies, macaroons, healthy energy bars, jams, premium nuts, olives, and more. The hampers have been divided into five categories: Indian Gourmet Mithai by Westin, Diwali with Marriott Bonvoy, Diwali Splendor Hamper, Diwali Dhamaka Hamper, and Shubh Diwali Hamper. You can also get your hamper personalised by adding chocolate truffles, gourmet Indian Mithai, nuts, handmade cookies, and premium dry fruits.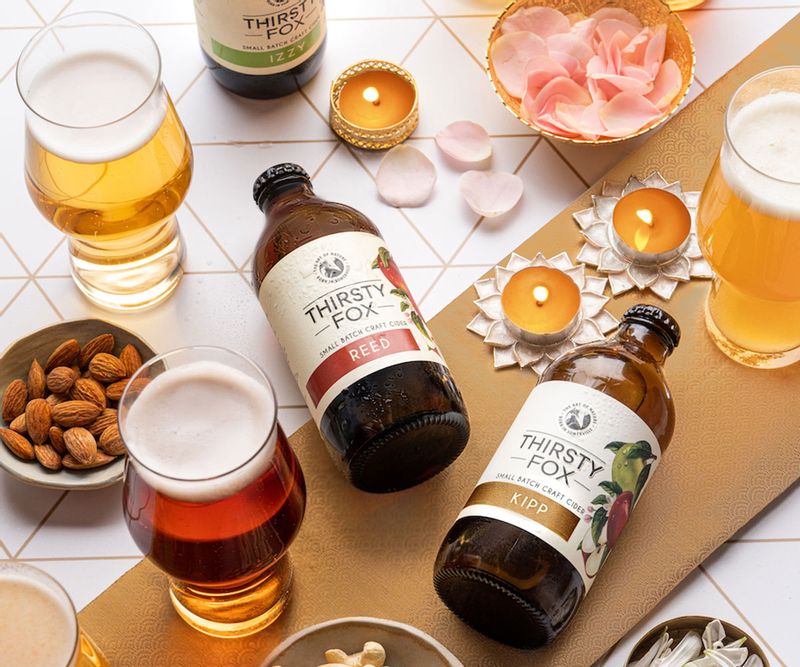 Thirsty Fox is known for its homegrown craft ciders made with hand-picked apples that are sourced from family-owned farms in America. This Diwali, the brand is offering gift hampers packed in eco-friendly boxes, comprising two bottles each of its award-winning gluten-free variants —Izzy and Reed—  and a set of four coasters made with eco-friendly cork material. You can buy these hampers at its retail stores across Mumbai and Pune. Price: INR 1,200.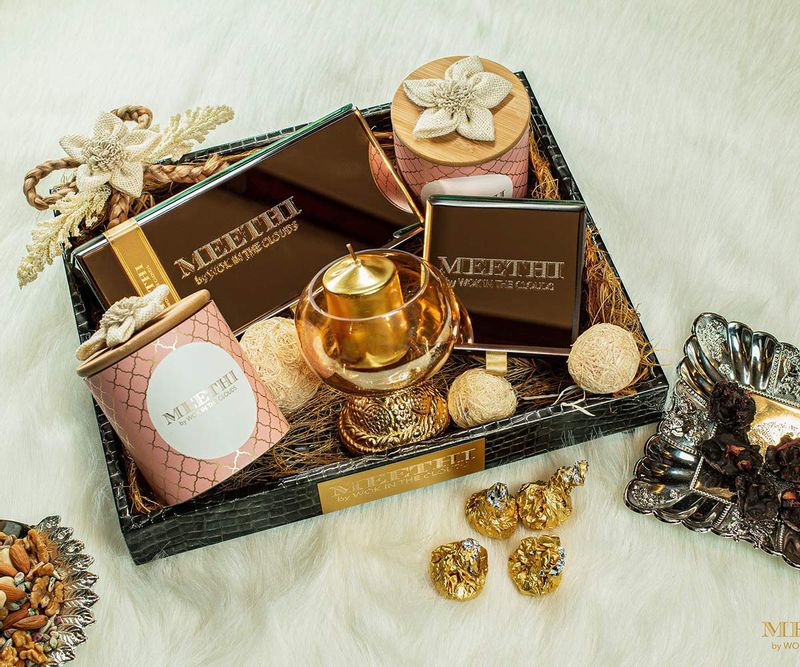 This artisanal mithai brand is offering hampers comprising laddoos, almond drop chocolates, designer candle holders with festive candles, and premium dry fruits. You can even customise your hamper by picking from options available on its website or by visiting the special festive pop-up store at Hyatt Regency, New Delhi. Signature milk cake, khajoor dry fruit barfi, anjeer kalakand, pista lauj, and kaju barfi are some of the items you can expect to find in the hamper. Price: INR 2,100 to INR 7,500.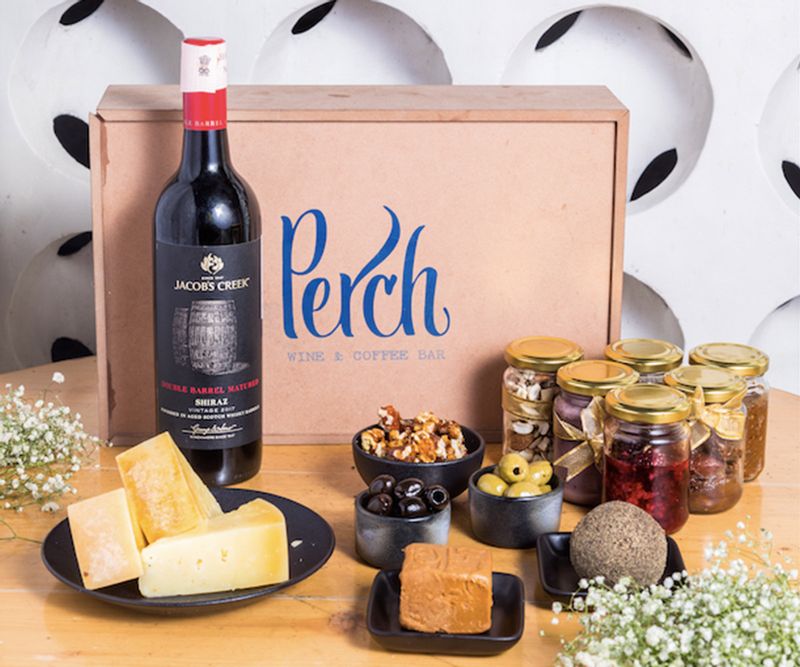 A bottle of Jacob's Creek Double Barrel Shiraz, Montasio, Zarai and Parmesan from Darima Farms and your choice of Brunost or Belper Knolle from Elftheria is what the Perch wine hamper is all about. Apart from this, you can also expect savoury frills, violet mustard, fig and thyme spread, candied chilli walnuts, smoked nuts, olive and herb sourdough crackers, and marinated olives from it. Not to mention citrus marmalade, pear and vanilla jam, port wine marinated Medool dates, and apple and cinnamon chips are also on offer for those with a sweet tooth. Price: INR 5,500.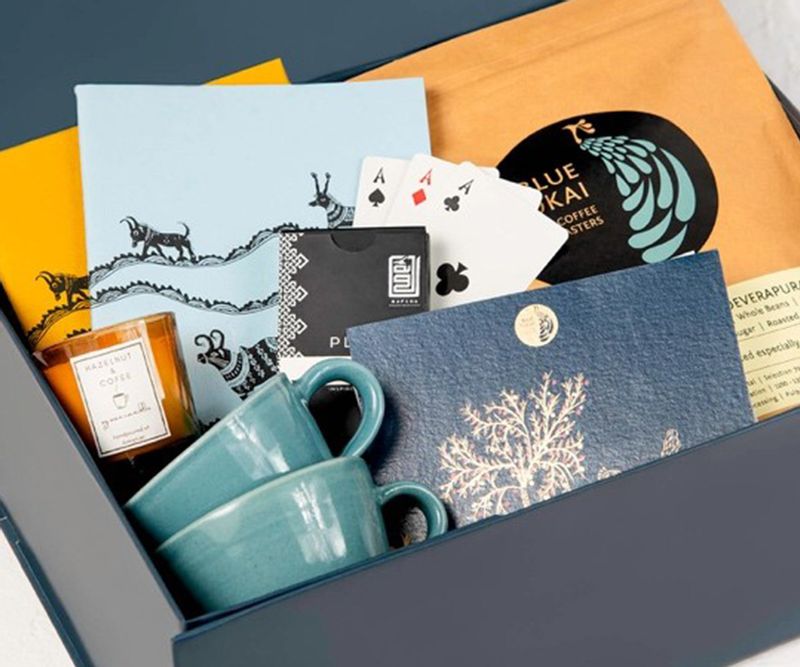 This artisanal coffee brand is offering a Diwali festive bundle with two ceramic cups, a 250-gram coffee pouch, Mapcha Studio's eco-friendly playing cards, two Craft Boat notebooks, screen-printed Mata Ni Pachedi art, and Armatuer's hand-poured Shot Glass Candle. Price: INR 2,799.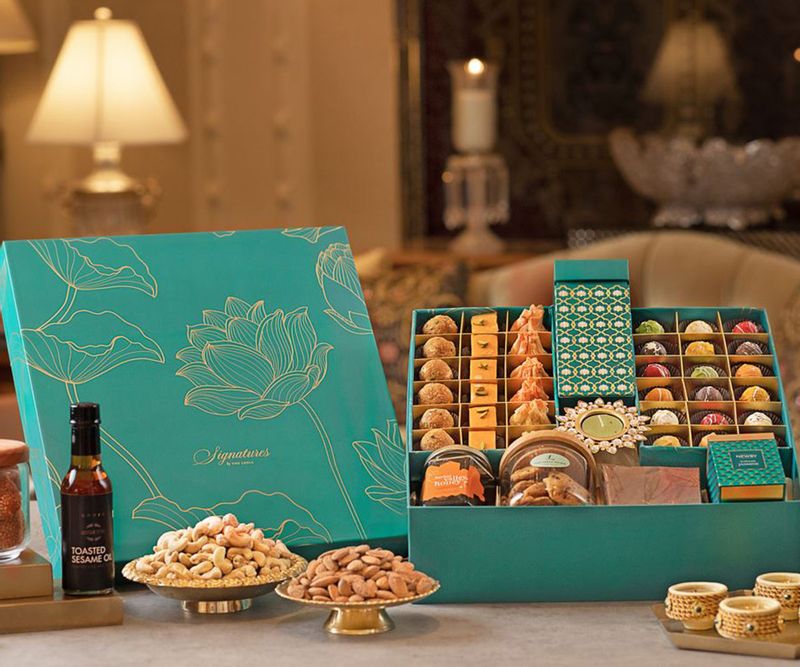 This Diwali, The Leela Palace Hotels and Resorts has designed luxurious gourmet hampers that you can customise, choosing from a selection of artisanal chocolate pralines, cookies, Indian sweets and savouries, scented candles, and more. The items come wrapped in intricately designed signature packaging.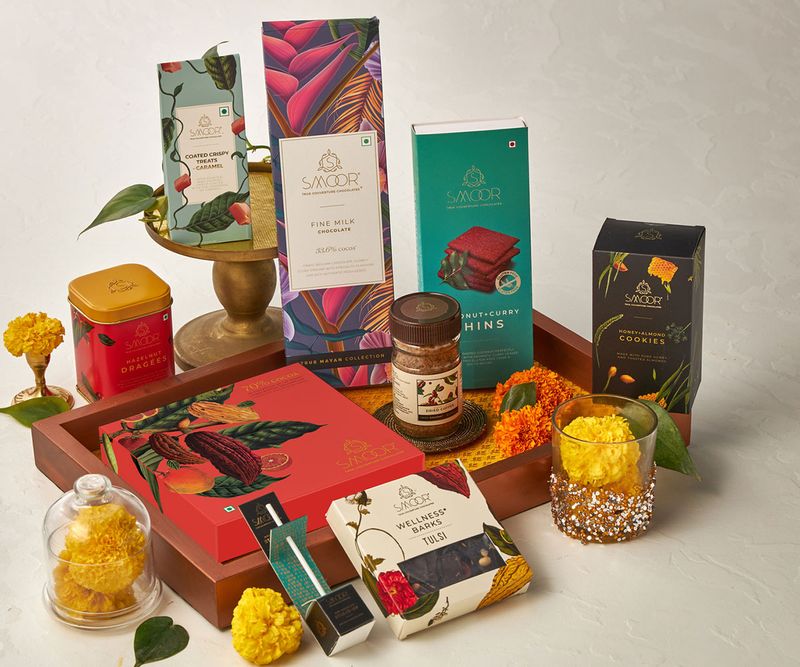 Artisan boxes, chic hampers, and a variety of exquisitely packaged and arranged goodies is how a Smoor Chocolates Diwali hamper looks like. Luxe Treats, Pralines, Celebration Pack, True Bars, Pebbles, Wellness Barks, and Brittles are some of the options you can pick from. Exotica, Festive Fiesta, Boxed Treats, Enchante, Artistry and Luxury Chocolates are the six different types of hampers that the brand is offering. Price: INR 2,900 to INR 5,300.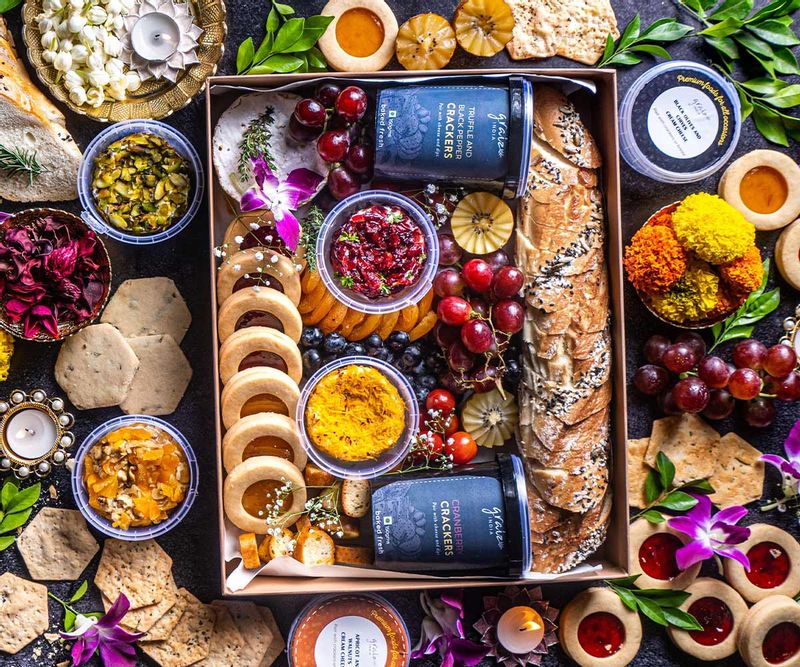 Fresh artisanal bread, exotic fruits, crackers, dried fruits, crudites, gourmet treats, and gourmet cheese variants—Graiz provides all this and more in the comfort of your home. This Diwali, the luxury brand has released its signature Graiz boxes and Graiz tables. Some of its bestsellers include: Graiz Fromage Feast Round, the Cheese and Cracker box, and the Large Extravagant Graiz Box. Price: INR 1,400-6,000.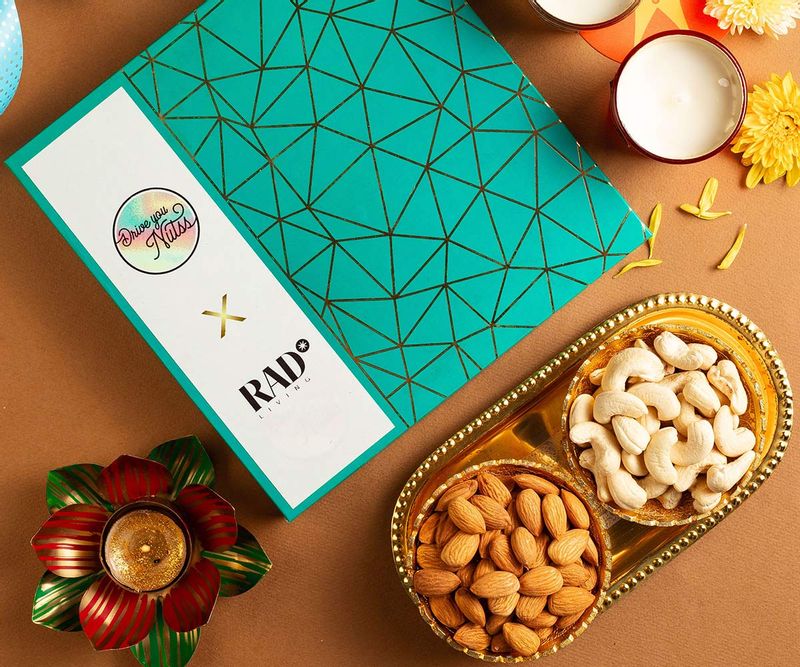 Drive You Nutss, a premium dry fruits brand has come up with exclusive gifting hampers for Diwali in collaboration with the luxury candle brand, RAD Living, With their Diwali Party Set they are offering candles representing four suits of cards and 250 grams of Drive You Nutss packs. Price: INR 950-1,750. Contact: +91/93216-05032.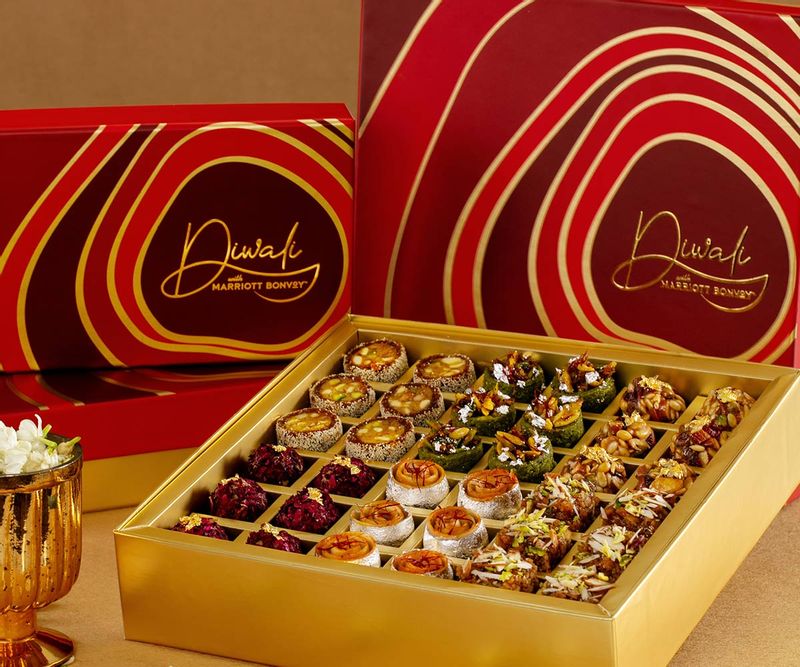 Marriott's Aloft Bengaluru Cessna Business Park is offering four varieties of Diwali gift hampers namely: Chic, Sassy, Vibrant, and Classic. Chocolate pralines, Iris reed diffusers and misters, Davidoff coffee, Ferrero Rocher, dried cranberries, basil pesto sauce, olive oil, olives, diyas, and scented Candles are some of the many products that you can get in these hampers. You can even get these hampers custom made. The bespoke hampers also come with items such as Le Pistache, figgy almond, silver cashews, wheaty barfi, gur mewa and Rosette De Leche. Price: INR 2,500 to INR  7,000.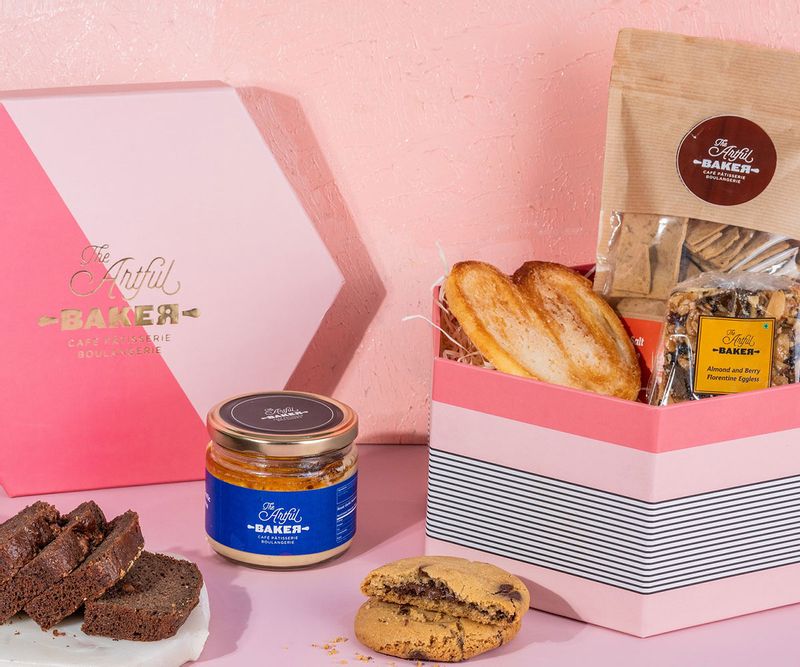 Famous for its artisanal bread and finely crafted desserts, The Artful Baker has curated gift hampers on offer, featuring handcrafted treats such as: almond and fig tea cake, sesame shortbread, and almond and berry Florentines. You can place order via Zomato from its outlet located in Khan Market, New Delhi.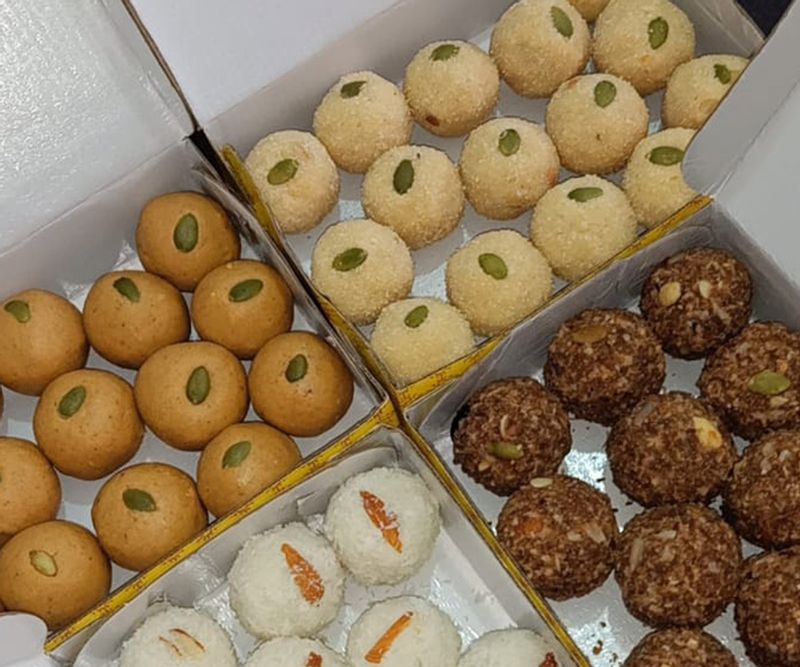 Sima Sunil Rokade's Simaz Foods in Pune, backed by Her and Now-Empowering Women Entrepreneurs, is the go-to place for traditional rava, besan, til and methi laddoos.  So, if your desi taste buds are calling for some Indian mithai instead of exotic chocolates, then a pack of laddoos from Simaz Foods is worth giving a shot this Diwali. To order WhatsApp: +91 95033 78222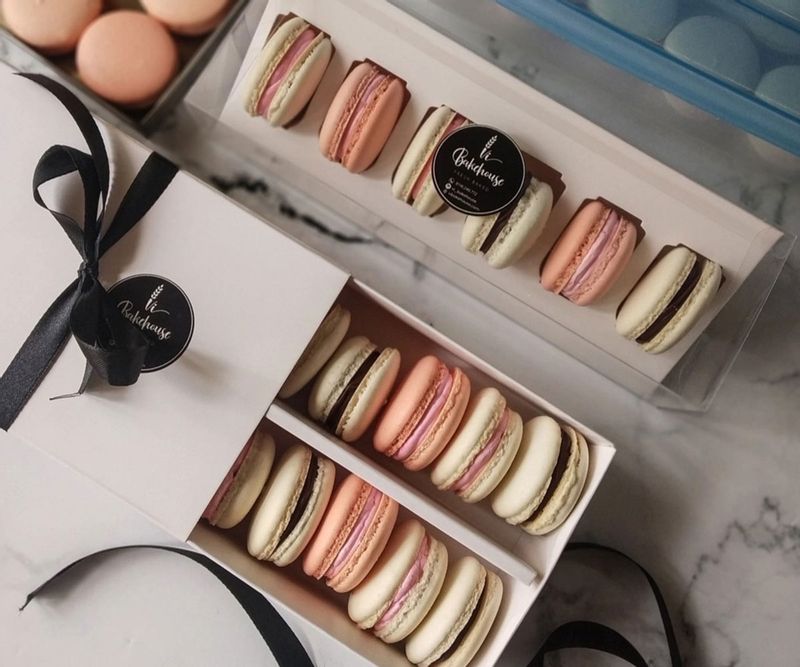 Another Her and Now backed enterprise, run by Vikali Zhimo, Vi Bake House in Dimapur, Nagaland, is a home-based bakery offering, handmade cakes, cupcakes, cookies, and more. This Diwali, treat your family with a pack of their preservative and additive-free tasty delights. You can even pick a theme and design of your choice as per the occasion. To order, call: +91/70054-39148.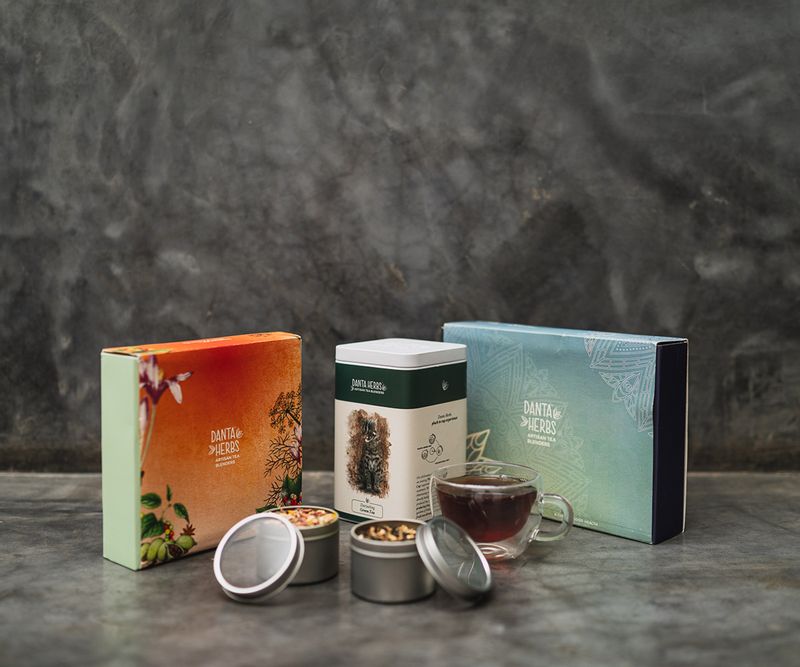 This artisanal tea brand has the best gifting options for your tea-lover friend. Herbal tea, green tea, wellness tea, iced tea, and white tea are some of the healthy blends that this brand offers. Bouquet Garni—Soulful Spices, Ikebana— Enchanting Florals, and 4 Treasure Wooden Tea Chest are the three editions to choose from for their fresh tea leaves, mix of flowers, and four pyramid shaped tea bags respectively. Price: INR 1,049 to INR 1,599.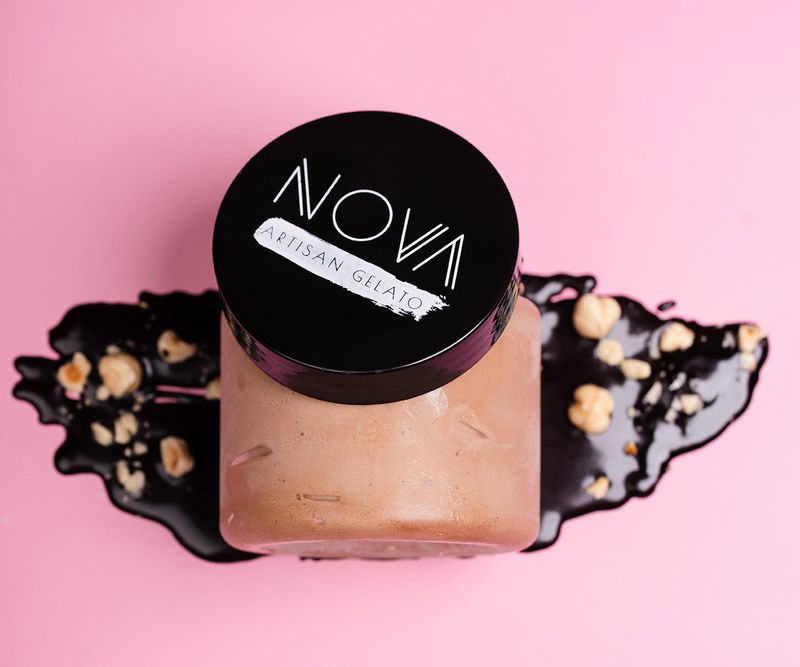 Set up in Mumbai's The Shalimar Hotel, Nova Artisan Gelato is offering exclusive Diwali combos this season, with Gianduia and pistachio gelatos. While the former is a mix of chocolate and pure hazelnut, first crafted in Turin, the latter is made from a blend of roasted pistachio. Price: INR 1,450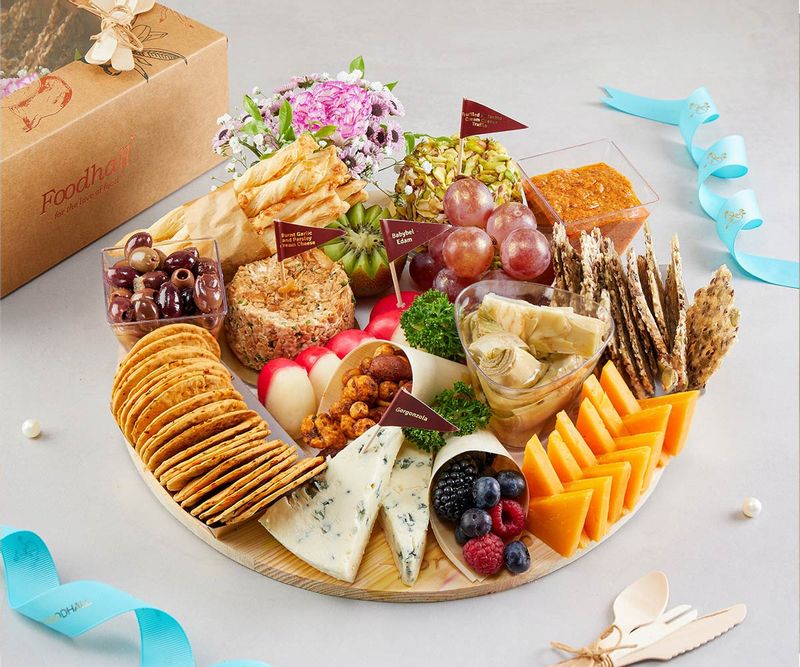 This year, this food superstore is curating hampers wrapped in "Blue Ribbon". Bustaan Mithai Cake, Indian Mithai Collection, The Truffle Extravaganza, The Cheese Connoisseur, and The Bangkok Basket are some of the many hampers that the brand is offering. With the Bustaan Mithai Cake you get Pista Sandhesh Cake, Besan Praline Kalakand Cake, Nolen Gur Sandesh Cake, and the Pista Motichoor Opera Cake. The Bangkok Basket, on the other hand, is an exotic fruit basket full of Thai guavas, rambutans, Thai orange, mangosteen, dried mangoes, Thai pineapple, dried kiwis, and longans. Price: INR 1,800 to INR 5,800.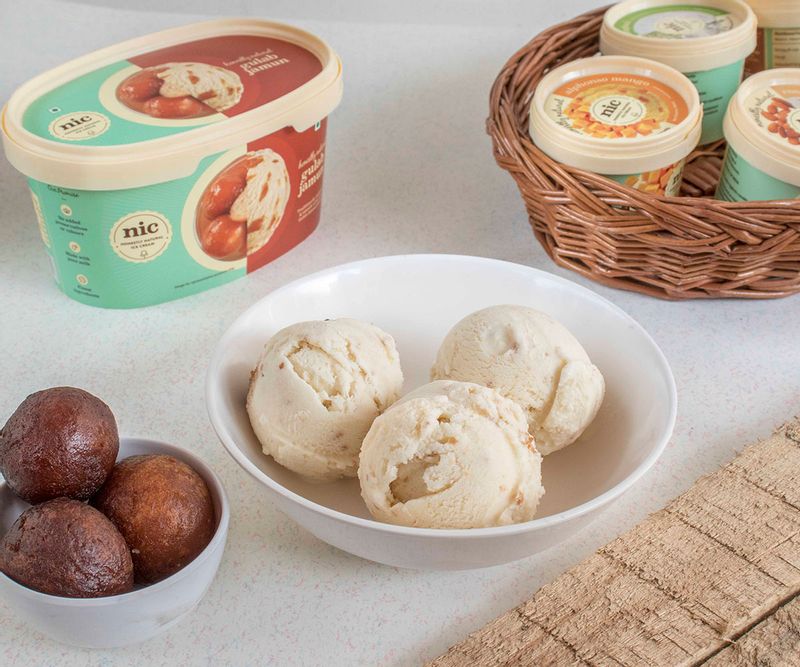 Natural Ice Creams' all-natural malai barfi and gulab jamun ice creams are a must try this festive season. These mithai infused ice creams are available in combo packs along with variants such as, dry fruit overloaded, roasted almond, sitaphal, French vanilla, and Choco chips. Price: INR 300 onwards.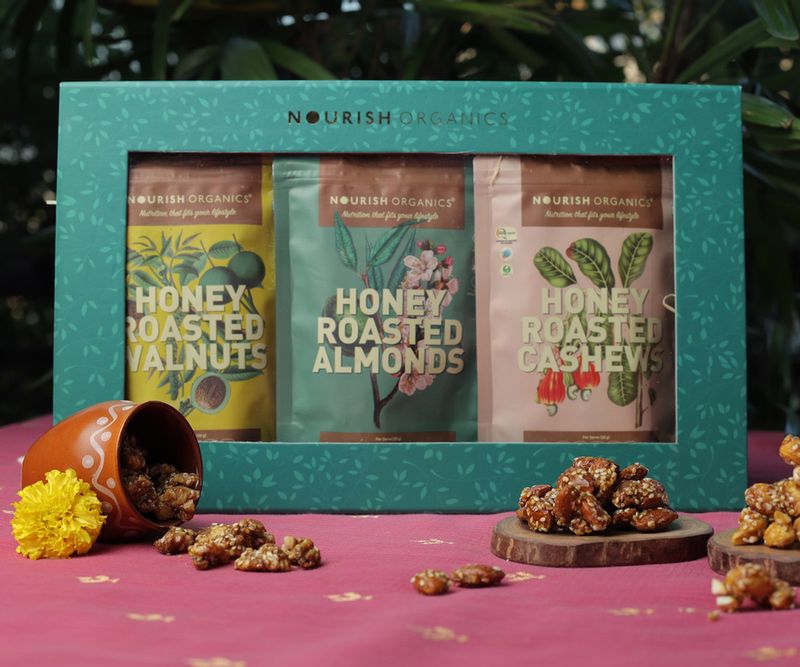 This homegrown clean food company has come up with special hampers such as, The Nutty Sequence Pack, The Morning Aces Pack, and The Diwali Trail Pack. You can even customise your own hamper by choosing from its range of muesli, cookies, seeds, and healthy bars. Price: INR 880 to 1,565.
This Diwali, give your traditional mithai a modern twist with Chef Freny Fernandes' curated petit fours and entremet at the Moner Bistro and Dessert Bar in Bandra, Mumbai. Its Marigold, for example, is inspired by gajar ka halwa. It is a light and spongy carrot cake layered with fresh orange marmalade and fluffy cream cheese mousse. The assorted box of petit fours inspired by a mithai box, contains a variety of flavors of profiteroles, macarons, tarts, and cake. Price: INR 1,600 to  INR 2,800. To order call:+917770014123.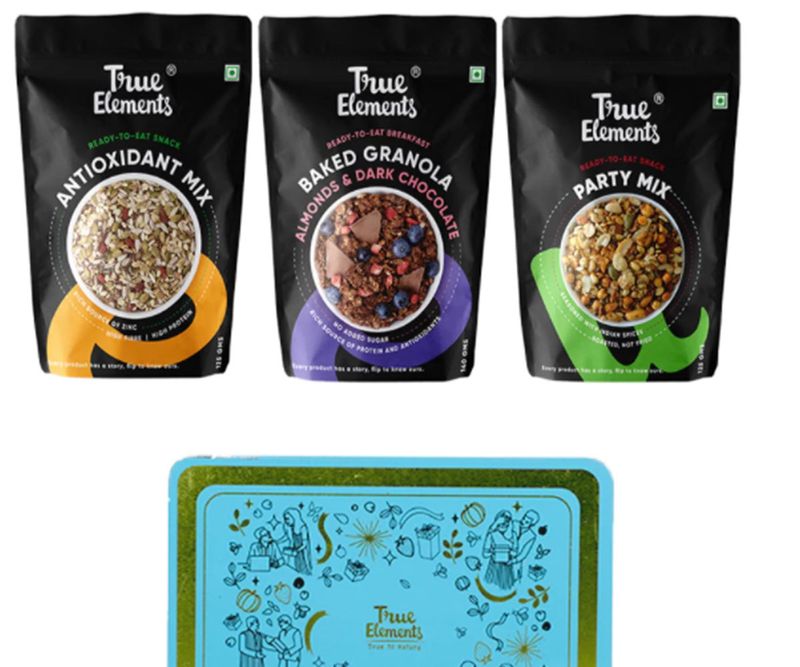 India's first whole food plant-based breakfast brand based out of Pune, True Elements has introduced festive hampers for Diwali. Some of these include, The Nutri Hamper, The Snack Galore Pack, The Sweet Tooth Hamper, The Breakfast Hamper, and The All-Seasons Pack. Its Nutri Hamper is a mix of sweet and savoury delights, ranging from tangy cranberries to spicy party mix.  Price: INR 360 to INR 2,500. To order, WhatsApp: +91/77579-79877.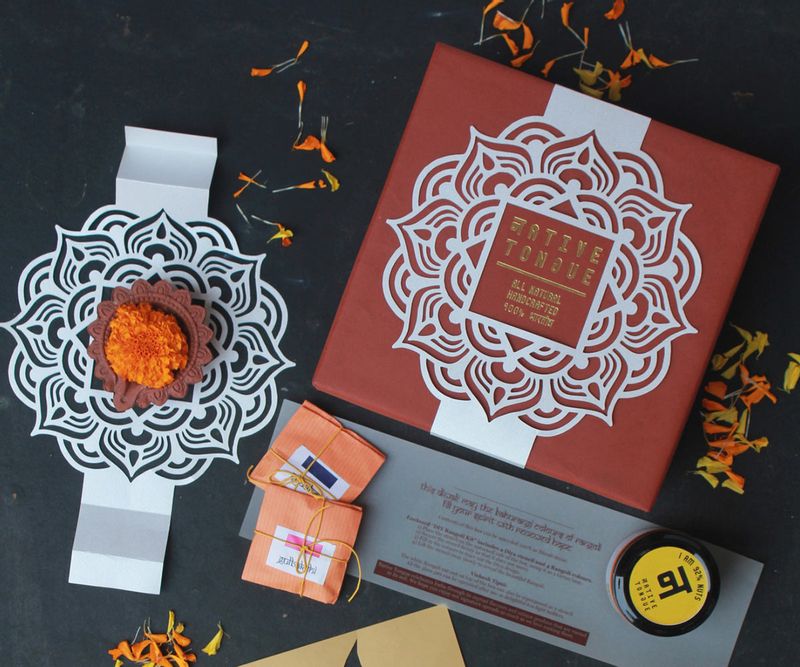 Known for its seasonal preserves, fruit cordials, and nut butters that are made from some rare indigenous produce, Native Tongue in Mumbai has come up with Diwali custom boxes inspired by Mother Earth. The brand has as many as 14 flavours for you to choose from. Some of these include salted caramel with dark rum, thandai nut butter with almonds, cashew coconut butter, cardamom and saffron. Along with this, in every hamper you will also get a rangoli stencil, four different colours, and a diya. Price: INR 500 to INR 2,450. To order call +91/77009-21550.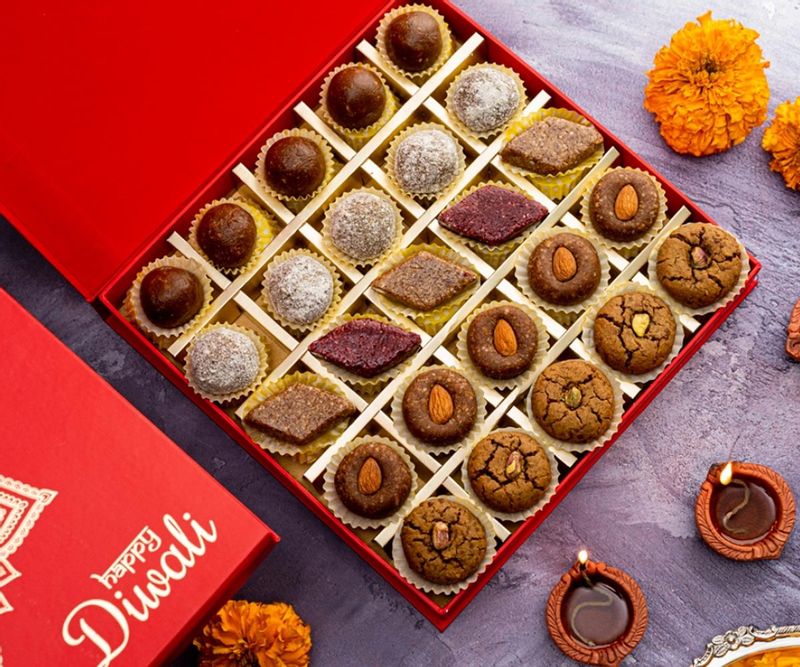 India's first plant-based cafe and culinary academy, Yogisattva in Mumbai has introduced a limited-edition vegan, gluten-free, and refined sugar-free Diwali menu, prepared by certified plant-based chef and Yogisattva founder, Raveena Taurani. It features a selection of mithais, kulfis, and rabri all made from organic produce. Some of the items include vegan laddoos, kaju katli, badaam peda, nankatai, atta ka halwa, and more. Price: INR 699 to INR 1,999. To order call +91/98674-55009.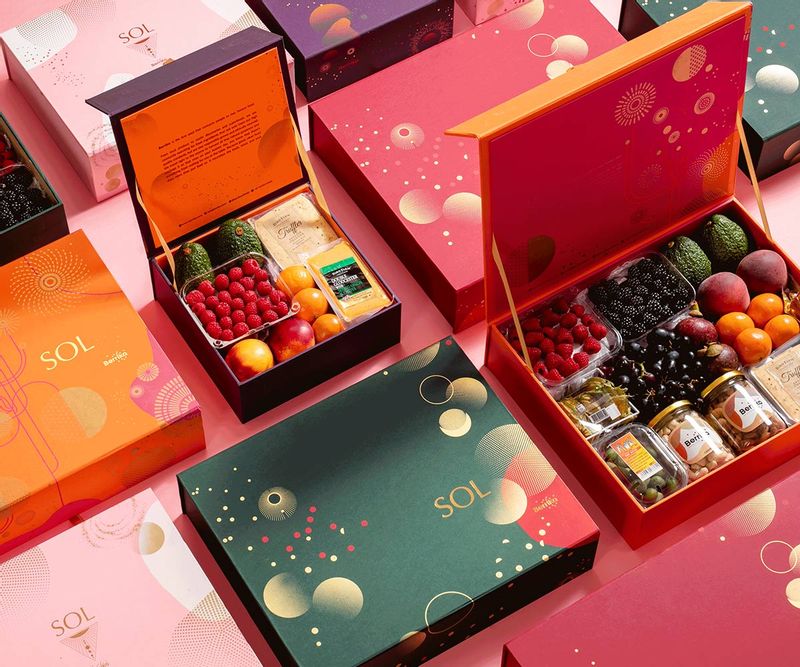 A nutritious and fulfilling grocery delivery service, Berrika, is giving out SOL gift boxes this Diwali. The service is available across Mumbai, Pune, Delhi, Gurugram, Chandigarh, and Bengaluru. Mauve Special, Marigold Special, Pink Dawn Classic, Green Harvest Classic, Red Bloom Special, and Pink Dawn Special by SOL are some of the festive boxes the brand is offering. While the Mauve Special comes with fruits, cheese, and nuts; the Marigold Special includes, Hass avocado, Malawi Alphonso, mangosteen, ricotta cheese, cashews, salted almonds, and Italian pasta. Price INR 2,500 onwards. To order call +91/74700-07000.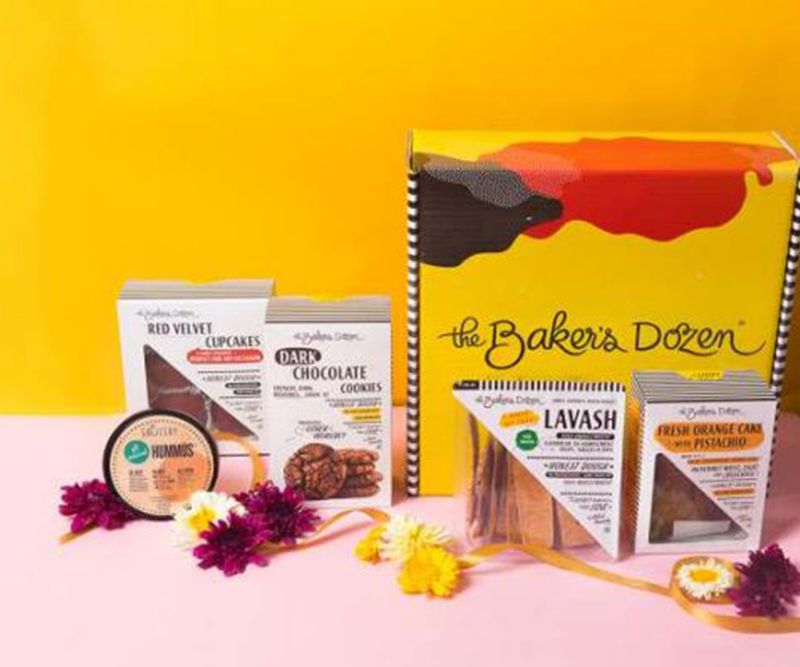 This artisan bakery brand has introduced four new gift hampers for Diwali, not just to satiate your sweet cravings, but to also help boost your immunity and reduce your stress levels. Goodness Bakes Hamper, Bready Set Go! Breakfast Hamper, Health Enthusiast Hamper, and Sweet and Spicy Hamper are the four options you can pick from. Red velvet cupcakes, fresh orange cakes, mocha cookie, ragi crackers, and chilli garlic grissini are some of the many products that you can expect from these hampers. Price: INR 699 to INR 1,099.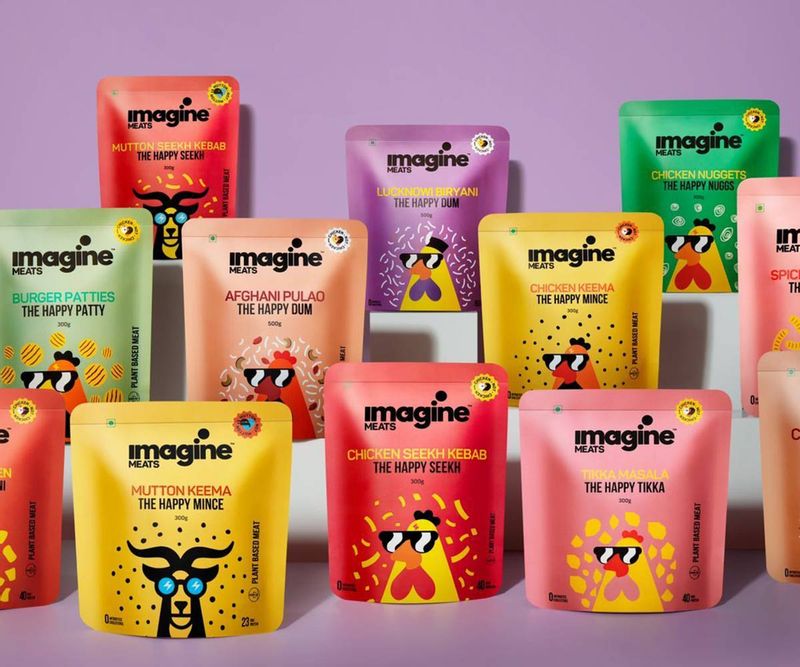 A plant-based food venture launched recently by Bollywood couple Genelia D'Souza and Riteish Deshmukh, Imagine Meats is offering nine curated ready-to-prepare plant-based meats this season. Here you get high protein, zero cholesterol, and homegrown alternatives of your favourite keemas, seekh kebabs, biryani dishes, nuggets, sausages, and more. Price: INR 395 onwards.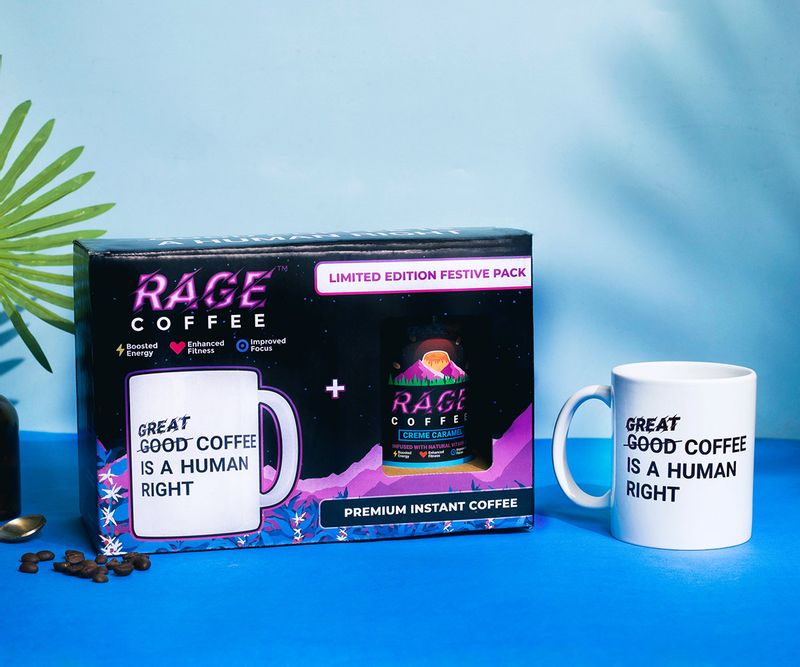 This natural plant-based coffee brand offers brews made of 100% Arabica beans, sourced from farms in India and Ethiopia. This Diwali, it is offering gift boxes perfect for your coffee lover friend. The box comes with a coffee mug and a jar of Rage coffee. Moreover, it is free of gluten and any added preservatives, sugar, and artificial colours. A mix of caffeine, herbs, and clean flavours allow you to enjoy the aromatic coffee without any bitterness or acid reflux. Price: INR 849.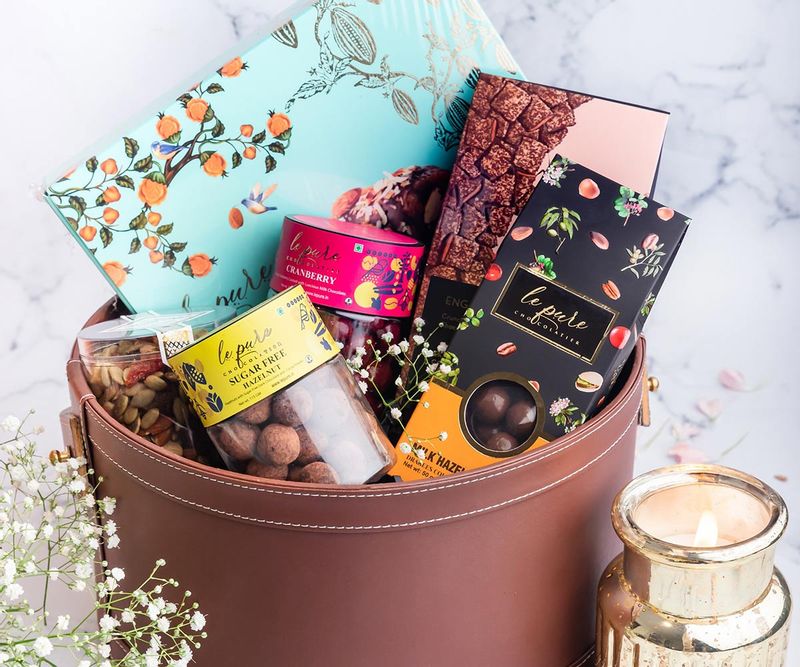 A gift hamper featuring handmade chocolates by Le Pure Chocolatier is sure to get your loved ones excited this festive season. Its Ultimate Hamper Orange comes Nutri mix, hazelnut truffle, English toffee and pistachio Florentine, butterscotch nuggets jar, and a scented candle amongst other things. There's another one called the Ultimate Hamper Brown in which you get almond roka, 70 per cent dark almond jar, coated cranberry jar, and a sugar-free hazelnut pouch from the Dragées collection. Price: INR 3,000 onwards. To order call +91/93243-47363.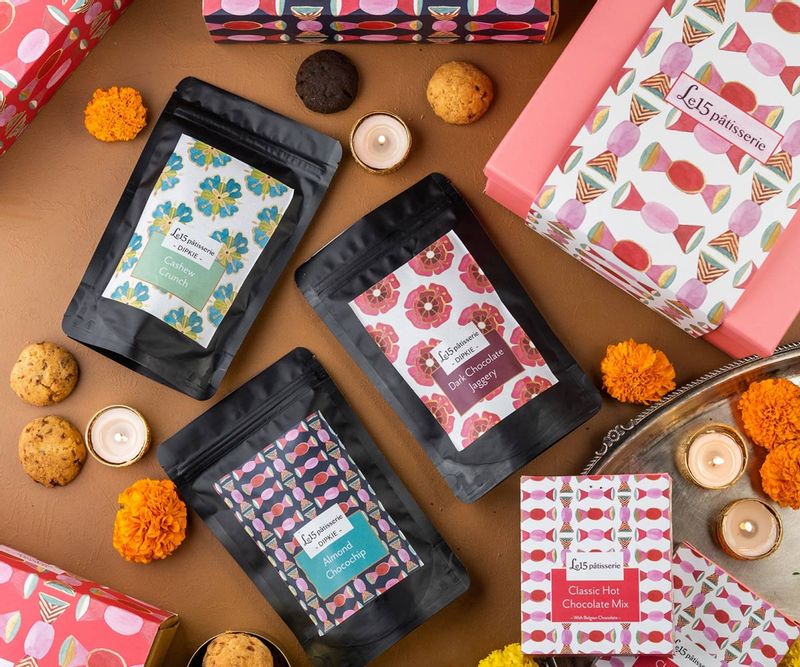 Pastry chef Pooja Dhingra's Le15 Patisserie has, in collaboration with Pavitra Rajaram Design, introduced limited edition festive desserts and gift boxes for Diwali. Kaju katli macaron, paan- flavoured macaron, pistachio macaron, crunchy salted caramel macaron, dark chocolate macaron, and milk chocolate macaron are some of the festive specials you will come across on its menu—all listed under interesting names such as Aju Baju Kaju, Paan Shaan, Chikki Shikki, Jhilmil Til, and Namak Dhamak. They also offer celebration, prosperity, and indulgence gift boxes with a bunch of sweet delights. Price: INR 250-1,775.To order call: +91/85916-21649 or +91/97692-86544.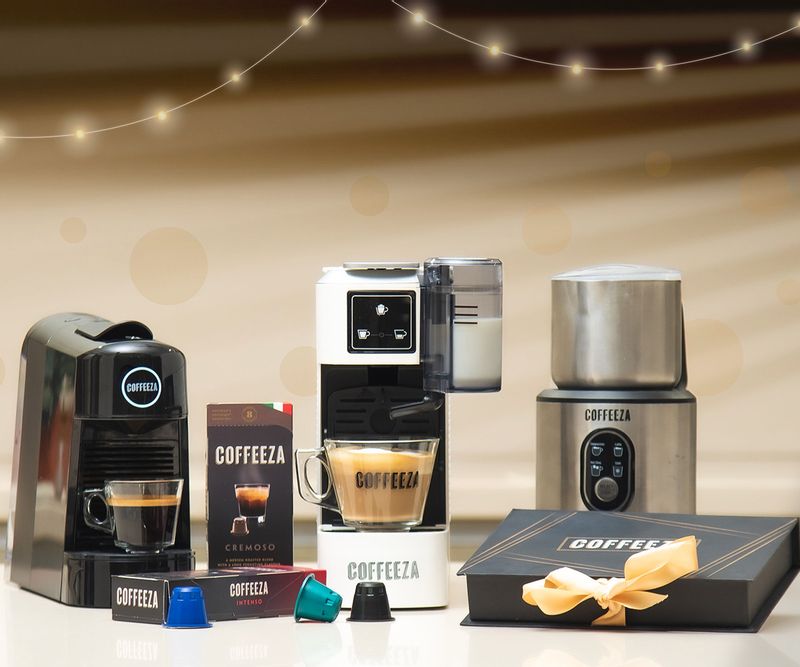 The coffee brand is giving away its range of coffee machines and capsules for Diwali. Finero Next Machine with the Frothimo Milk Frother, coffee capsules in six varieties, and the pour-over coffee bags, as a part of the big festive offers, the brand is offering all these products at up to 50 per cent discount. Moreover, on a purchase of a coffee machine, you can also get 60 assorted coffee capsules for free. Price: INR 4,999-19,999.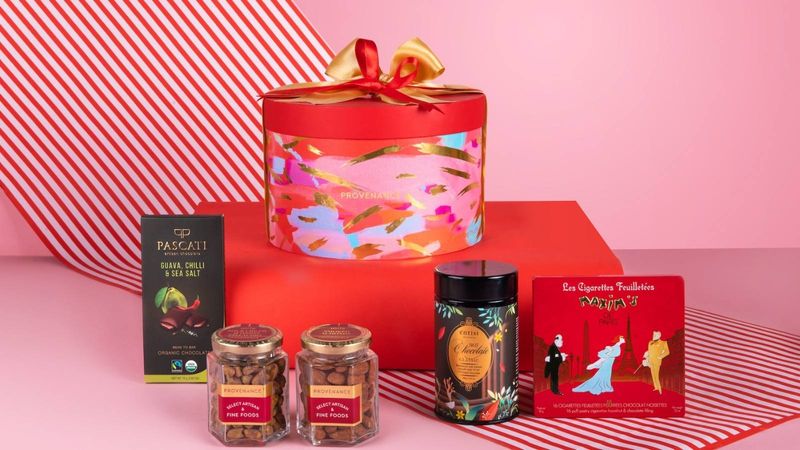 Provenance, the curated library of fine foods and gifts, has an indulgent collection of gift hampers to celebrate the festival of lights. From gift boxes inspired by expressionist art to premium leather trays to baskets and bags, there are a plethora of options. You can fill these hampers with the choicest of chocolates, teas, coffee and more. Provenance is at four unique locations – Palladium in Lower Parel, UB City in Bengaluru, a converted villa store in Bandra and a beach store in Alibag. Price: Rs 740 onwards.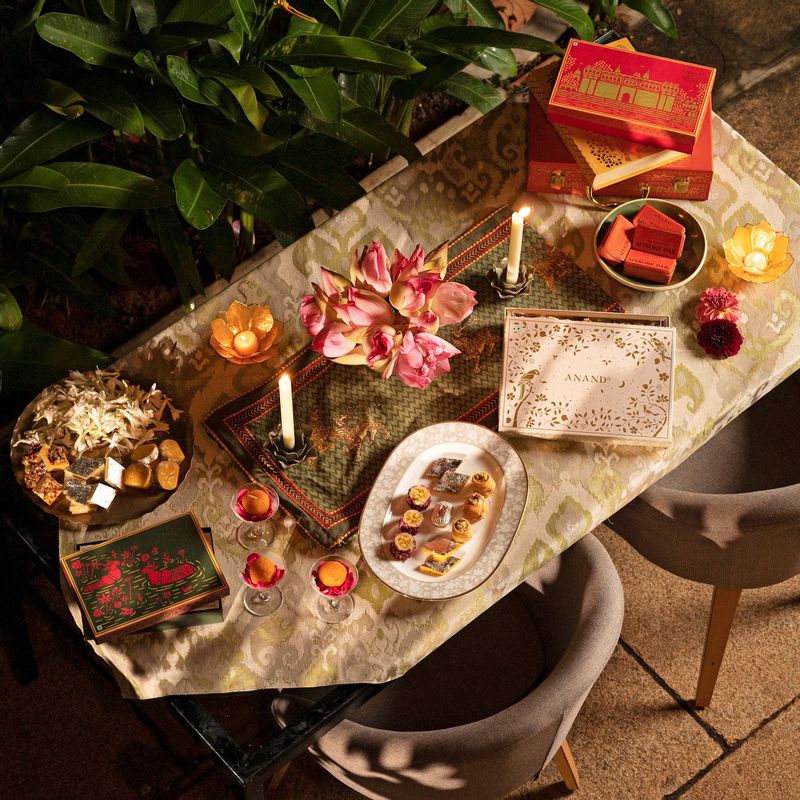 Anand Sweets has launched a collection of sweets for a perfect family gathering. The Enchanted Glory sweet collection contains Orange Rose Mélange, Choco Mango Bite, Dry Fruit Classic Roll, Cashew Meetaaz, Kaju Choco Roll, and Kaju Katli. Price: Rs 1045.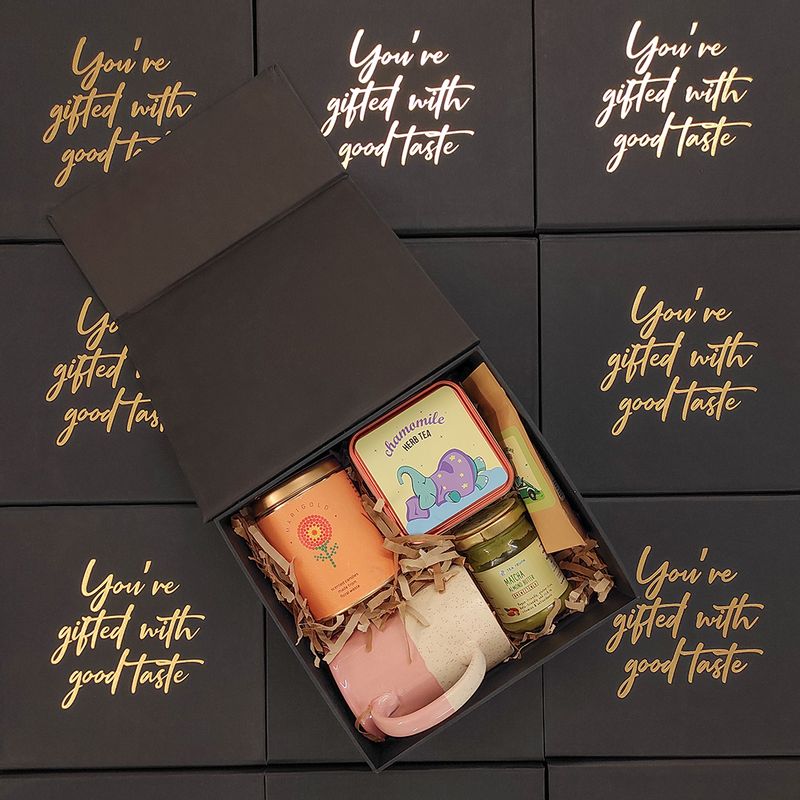 Artisanal tea brand Tea Trunk has a Build Your Own Gift (BYOG) for Diwali. There is a selection of their products in various categories and put them together in one place. Select the ones you'd like to gift (one from each category) and fill up your box! You could add a gift card with a message to make it all the more special. Price: Rs 1148 onwards. 
Trust Truffle & Co. to treat you and your loved ones to a ton of tasty treats this Diwali. You'll get to enjoy a variety of artisanal hand-rolled truffles including, mint and chocolate chip, peanut sesame, baklava, dark chocolate with truffle oil. They've also got boozy truffles infused with vodka, champagne and other spirits.
Price: INR 500 - INR 2500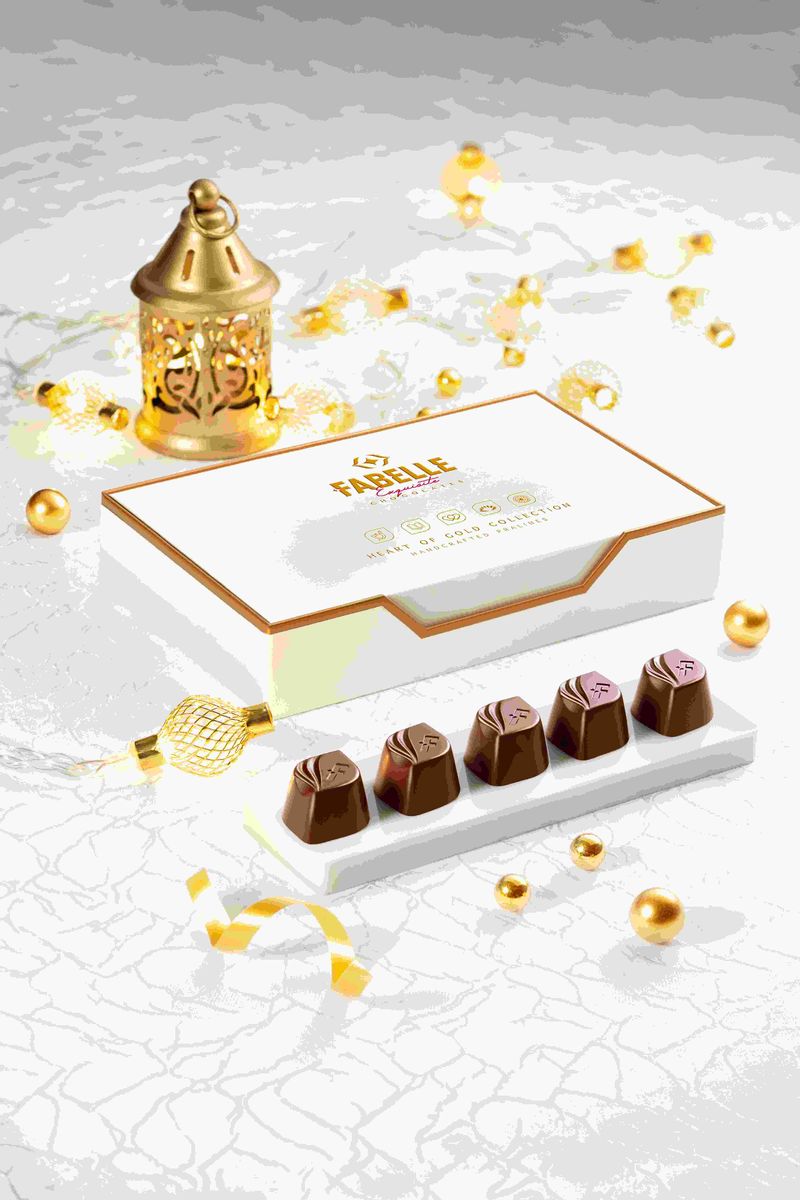 Just in time for the festive and holiday season, ITC Ltd.'s Fabelle Exquisite Chocolates has launched a unique Heart of Gold collection. It consists of a first of its kind luxury chocolates collection crafted using 24-karat edible gold, co-curated by Fabelle's master chocolatiers and Michelin star chef Marco Stabile. These treats are packed in a limited edition box. 
Price: INR 2100 for a box of 10 chocolates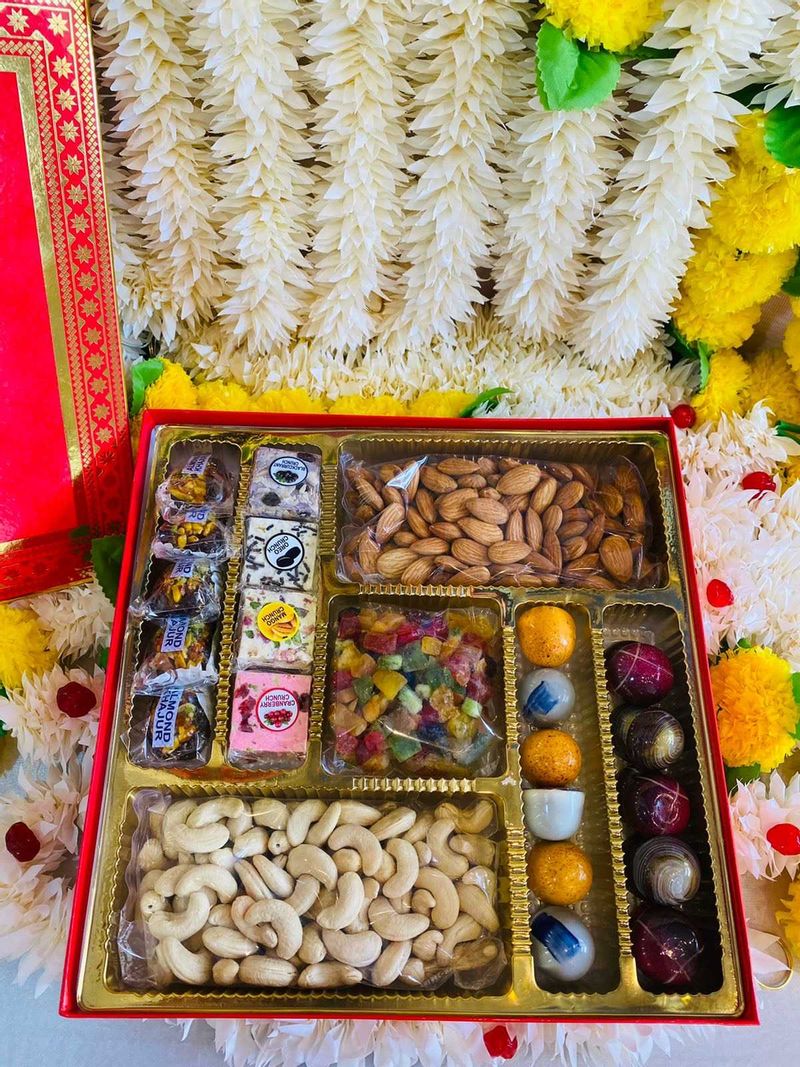 Dry fruits are synonymous with the festive season, and also with healthy snacking, this Diwali take a cue from this and pick a special gift hamper by Nueve Foods. These gift boxes contain assorted nuts and berries placed in sustainable packaging.
Price: INR 999 onwards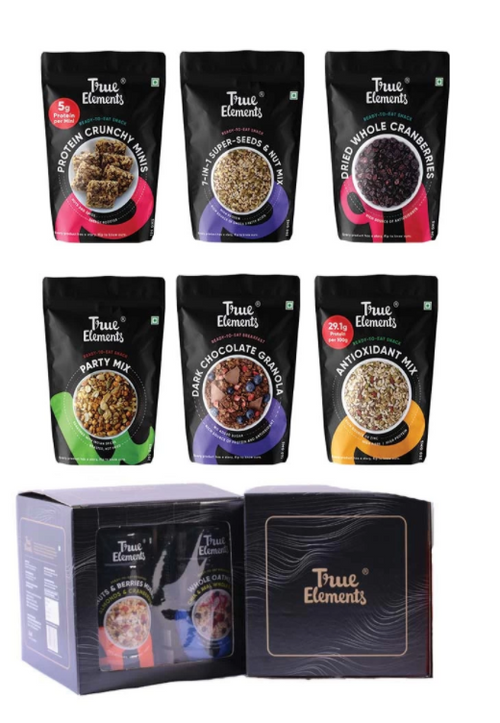 True Elements, India's first whole-food plant-based breakfast and snacks brand, has an extensive range of hampers for Diwali with varied prices, to satiate the needs of all friends and family members, alike. Price: INR 450 onwards.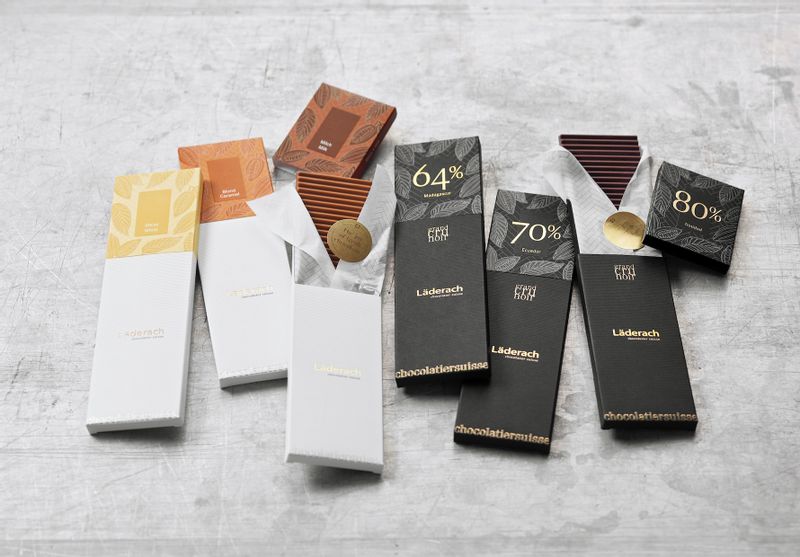 CocoCart is offering a variety of options to choose from Swiss-based Laderach's chocolate collection. The limited period offer has a collection of pralines, flavoured popcorn, chocolate tablets and more. Price: INR 890 onwards.
---
Photo: Living Food Co.