In Delhi, kebabs are a common street snack that have long been a staple of the city's culinary tradition. Mughal ruler Babur brought kebabs to the Indian subcontinent during the Mughal Empire. The Arabic word 'kebab', which means 'to roast', is where the name 'kebab' originates.
The Mughals were well renowned for their love of meat dishes, and they also imported the custom of cooking meat on skewers, which subsequently came to be known as kebabs. Kebabs played a significant role in the Mughals' extravagant feasts, which were another one of their many culinary specialities. Before being grilled over charcoal, the kebabs—which were often made with lamb or beef—were marinated in a blend of spices and yoghurt.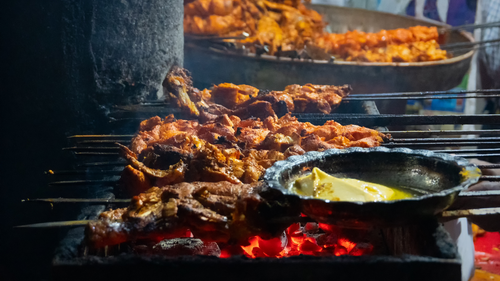 Kebabs eventually gained popularity among Delhi's regular citizens as well, and other street vendors started selling them. Delhi is currently renowned for its extensive selection of kebabs, which vary from classic Mughlai kebabs to more contemporary and experimental varieties.
Seekh kebabs, which are made with minced meat and spices and cooked on skewers, galouti kebabs, which are made with finely minced meat and renowned for their soft texture, and shami kebabs, which are typically pan-fried and made with minced meat and lentils, are some of the most well-known kebabs in Delhi.
Vegetarian kebabs have gained popularity in recent years, and many Delhi restaurants now offer a variety of them that are cooked with ingredients like paneer, mushrooms, and soya.
Delhi's history with kebabs is tied to its Mughal heritage and has developed over time to play a significant role in the city's street food culture. When it comes to kebabs, Delhi has something to offer everyone, whether you are a meat eater or a vegetarian. And irrespective of how far the location is, they're worth every minute spent travelling. 
Here are the best five places for kebabs in Delhi. 
1. Karim's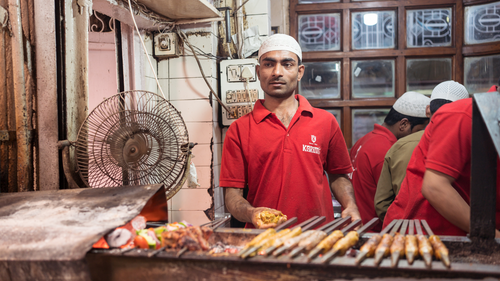 Every Indian celebrity, cricketer, or politician that you may know of has had at least one meal from Karim's. Karim's is undoubtedly known as the best kebabs in Delhi. Karim's was founded in 1913 and is situated in the Jama Masjid neighbourhood of Old Delhi. Haji Karimuddin, a cook in the Mughal emperors' kitchens, founded the establishment. Since then, the family has continued to operate the restaurant, which is presently managed by Haji Karimuddin's grandsons. In addition to its renowned mutton seekh kebab, Karim's is renowned for its nihari and biryani. The eatery is always crowded with residents and visitors alike and boasts a laid-back, no-frills attitude.
2. Al Kakori
Al Kakori, a restaurant in Delhi's Zakir Nagar neighbourhood, takes its name from an Uttar Pradesh village that's named Kakori, where the kebab first appeared. Mohammad Irfan, a native of Kakori who wished to introduce Delhi to the true flavour of kebab, founded the eatery. Al Kakori serves a variety of kebabs, including the boti kebab and the galouti kebab, in addition to the well-known kakori kebab. Despite having a modest and inconspicuous facade, the restaurant is constantly crowded with locals and food enthusiasts seeking an authentic kebab experience. Al Kakori and Karim's are equally popular through generations and are regarded together as the best kebabs in Delhi.
3. Rajinder Da Dhaba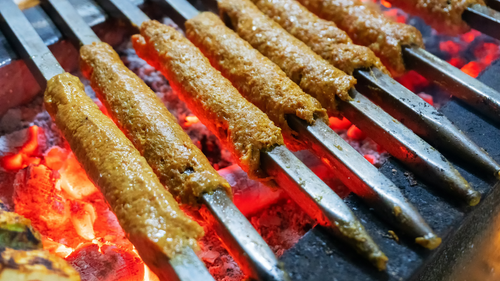 In Delhi's Safdarjung neighbourhood, Rajinder Da Dhaba is well-known for its chicken tikka and paneer tikka kebabs. The eatery, which has been functioning for more than 40 years, is renowned for using high-quality, fresh ingredients and traditional seasonings. Rajinder Da Dhaba offers a variety of other Punjabi dishes in addition to kebabs, such as dal makhani and chole bhature. The eatery is a favourite among both locals and visitors and boasts a relaxed, casual ambience. There is a huge fan following of this restaurant that regards it as the best kebabs in Delhi.
4. Qureshi Kabab Corner
Known for its chicken and mutton seekh kebabs, Qureshi Kabab Corner is a tiny street food establishment in Old Delhi's Jama Masjid neighbourhood. The Qureshi family, who are renowned for their skill in kebab-making, has owned and operated the restaurant for more than 40 years. More dishes from Mughlai cuisine is available at Qureshi Kabab Corner in addition to seekh kebabs, such as biryani and nihari. Despite having a modest, inconspicuous facade, the restaurant is constantly crowded with residents and visitors seeking an authentic kebab experience. For many families living around the area who have been visiting for decades, Qureshi is for them the best kebabs in Delhi.
5. Kebabs and Kurries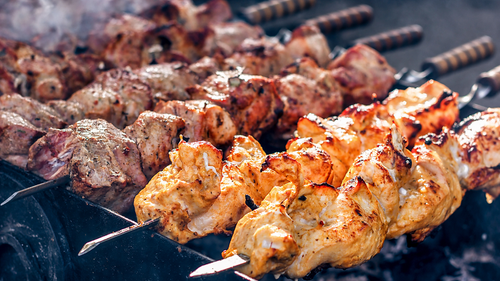 If you're looking for something high-end, then Kebabs and Kurries is where you need to go! A well-known eatery in the centre of New Delhi, Kebabs and Kurries serves a variety of classic kebabs and curries from all across India. This restaurant, which is housed in the fancy ITC Maurya Hotel, is well known for its distinctive flavours and sophisticated setting.
The galawati kebab is one of the most well-liked dishes on the menu. A combination of aromatic spices and finely chopped lamb are used to create this melt-in-your-mouth kebab. According to legend, this kebab was developed for a toothless Nawab who still desired the flavour of the meat. A griddle is used to cook the galawati kebab until it is golden brown. It is then served with a choice of chutneys and freshly baked bread.
Other kebabs available at Kebabs and Kurries include the traditional seekh kebab and the tangri kebab. All of these are produced with the finest, most recent ingredients and are cooked to perfection. Among the fancy hotels, Kebabs and Kurries is regarded to have some of the best kebabs in Delhi. Though this meal might be heavy on the pocket, your stomach will thank you for it!
Going to most of these places means going to a crowded street, if you prefer a more cosy setting, Delhi has many great rooftop restaurants, cafes for live music, and famous seafood joints!
---
Photo: Shutterstock