India's capital is known to be a foodie's paradise. It may not be blessed with a coastline, but it comes as no shock that even seafood lovers can trust this city for great options.
Here are our top 10 picks of seafood restaurants in Delhi to check out when you're there: 
1. Guppy by Ai
The city's very own Japanese wonderland, Guppy by Ai, is a chic restaurant to experience the best seafood in Delhi. The menu is well-priced with an exceptionally wide selection of dishes, much to the delight of any seafood-lover. Grilled Jumbo Prawns and Salmon Salad are must-haves. 
Address: 28, Main Market, Lodhi Colony, New Delhi - 110003
Contact: 011-24690005, +91-9650185005
Price: Rs 2000 for 2 people (approx.)
2. Tres
Tres is a popular seafood restaurant in Delhi known for its contemporary global cuisine, with a focus on a gourmet European spread. The menu exudes bold techniques and natural flavours. Some must-try dishes from the menu include Seared Scallops, Sizzling Himalayan Trout, Sous Vide Calamari, among others. Dessert lovers should not miss the signature Italian Tiramisu at Tres.
Address: No 23, Block 13, Lodi Colony, New Delhi, Delhi 110003
Contact:  011-24690222
Price: Rs 3500 for 2 people (approx.)
3. Oh! Calcutta
How can you talk about seafood in India without mentioning Bengali cuisine? Oh! Calcutta celebrates the gastronomic delight of Kolkata, by giving a tribute to 300-year-old traditional Bengali recipes. Oh! Calcutta has a plethora of seafood options, including the popular Indian fish, Hilsa, that will impress even the most fussy taste buds. 
Popular dishes that you cannot miss include Bhetki Gondhoraj, Bhapa Sondesh, Vetki Paturi, Prawn Cutlets, and Ilish Paturi. 
Address: Plot 4, Local Shopping Centre, Masjid Moth, Greater Kailash 3 (GK 3), New Delhi
Contact:  +919310149806
Price: Rs 1800 for 2 people (approx.) Without alcohol
4. Swagath
It's been a decade since this iconic place still occupies a soft spot in the heart of all Delhi-ites. Swagath specialises in coastal food, especially the foods from the states of Goa and Kerala. 
Over the years, the food offering has been a culinary delight for all its customers. Swagath's Prawn Gassi, Fish Fry, and Neer Dosas are cult hits. Prawns Koliwada with Malabar Paratha also makes for a great meal. 
Address: Shop 13 - 14, Defence Colony Main Market, Near Defence Colony, New Delhi
Contact: +91-1124330930, +91-1124337538, +91-7042633892
Price: Rs 2500 for 2 people (approx.) 
5. Mahabelly
Mahabelly is a clean, modern Kerala cuisine-inspired restaurant in the heart of South Delhi. Fill your belly with some delicious Kerala-style seafood at this popular restaurant, serving one of the best seafood in Delhi. The menu includes Malayali delicacies like Idiappam and Ada. Do try out the Mango Prawn Curry and the Fish Moilee. 
The Onam Sadhya meal is their speciality, which is served for three days during the Onam festival.  
Address: MA-A05, Ground Floor, Restaurant Block, DLF Avenue, Saket, New Delhi
Contact: +91-1141657761
Price: Rs 950 for 2 people (approx.) 
6. Sana-Di-Ge
Bangalore's finest coastal cuisine bistro Sana-Di-Ge, is now a favourite amongst Delhi-ites. So if you're a hardcore fan of coastal cuisine, you must pay a visit to this place. A few must-try items from the menu include the seafood platter comprising fish, prawns and crabs. One cannot miss out on the popular Anjal Fish too. 
Address: 22/48, Ground Floor, 1st & 2nd Floor, Commercial Complex, Malcha Marg, Chanakyapuri, New Delhi
Contact: +91-1140507777, +91-7042794546, +91-9560095974
Price: Rs 2500 for 2 people (approx.) Without alcohol
7. The Spice Route
Spice Route reflects the journey of spices from the Malabar Coast in Kerala through Sri Lanka, Malaysia and Indonesia to Thailand and Vietnam. 
Signature dishes here include Chemeen Thoren (Kerala-style prawns, stir-fried with coconut, curry leaves, and black tamarind; flavoured with mustard seeds).
Address: The Imperial, Janpath, New Delhi
Contact: +91-9990695214, +91-9650662061
Price: Rs 7000 for 2 people (approx.) Without alcohol
8. Amaranta
A fine-dine Indian coastal restaurant, Amaranta offers cuisines from nine coastal regions of the country. It serves a variety of fresh, tasty seafood dishes. A must-try from the menu is the Andhra Fish Curry.
Address: 443, Phase 5, Udyog Vihar, Gurgaon
Contact: +91-1242451234
Price: Rs 8500 for 2 people (approx.) Without alcohol
9. Varq
Varq is one of the first restaurants in India to hone the concept of pre-plated Indian food i.e. food that is already plated by the chef before you place your order. It is renowned for its delicious seafood offerings. A must-try from the menu is the Varqi Crab.
Address: The Taj Mahal Hotel, 1, Mansingh Road, New Delhi
Contact: +91-1123026162, +91-1166513151, +91-1166513152
Price: Rs 5500 for 2 people (approx.) Without alcohol
10. Coast Cafe
Situated at the entry point of the famous Hauz Khas Village, Delhi, this is a restaurant that should definitely be on your bucket list if you love Malabari cuisine. 
California Baha Fish Tacos, Aubergine Kokum Curry, Appams, and Spicy Prawn Moilee are some of the must-have dishes on the menu.
Address: H-2, 2nd & 3rd Floor, Hauz Khas Village, New Delhi
Contact: +91-1141601717
Price: Rs 1700 for 2 people (approx.) Without alcohol
BONUS: 
While seafood lovers do not mind eating seafood all year long, there is one question that always crosses a foodie's mind - "Can we eat seafood during monsoon?". Monsoon is the breeding season for fish and hence whatever is available is not fresh.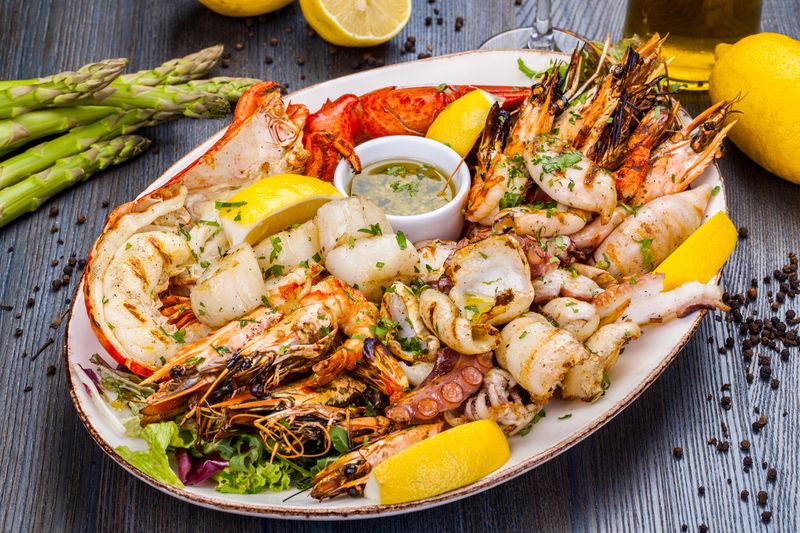 However, as per two Indian initiatives that promote sustainable seafood consumption, there is no reason to avoid all fish during monsoon. Click here to know "How to eat your fish this monsoon and even save the environment". Thank us later!
---
Photo: Shutterstock