It's Christmas time and if you haven't cranked up your oven even once, are you really celebrating this merry season? The wafting smells because of the alchemy of heat on flour, butter and sugar, which is further amplified with warm and fragrant spices, is the definition of picture-perfect winter.
But if the precision of baking worries you, don't you worry, we have recipes for everyone. 
Check out five Christmas baking recipes:
1. Traditional Christmas cake recipe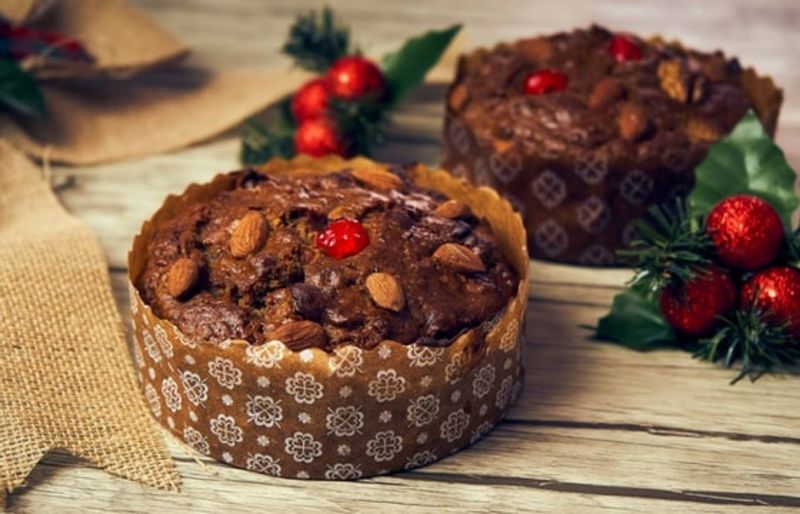 This is Chef Jason Desouza's tried-and-tested Christmas cake recipe and perfect for when you have forgotten to soak the nuts and berries in tipples. "This cake is as easy to make as can be, I just throw everything into a pan, let the heat from the stove send buttery rum and citrus juices permeating into the currants, sultanas, and raisins, add flour and eggs, some strawberries (optional) for a twisted Christmassy depth, bung the lot into a cake tin and let this stand in a low oven to produce a cake that is as dense, aromatic and fruity as you could hope for," he says. The input required from you, he assures, is minimal and no more soaking fruits in rum the year around required.
Ingredients: 
For the Dry Fruit Mix:
1. 775 gm Mix of dry fruits and nuts (dates, apricots, pecan nuts, hazelnuts, cashew nuts, almonds, ginger peel, orange peel, raisins, sultanas, etc.)
2. 125 gm Salted butter
3. 250 gm Muscovado sugar
4. 1 Malta orange (juice and rind)
5. 250 gm Fresh strawberries
6. 200 ml Dark Rum
7. 60 ml Sugar molasses (optional)
8. 3 Eggs
For the Cake Mix:
9. 250 gm Refined flour
10. 1 tsp Baking powder
11. 1 tsp Cinnamon powder
12. ½ tsp Clove powder
13. ½ tsp Nutmeg powder
Method:
For the Dry Fruit Mix 
In a heated cast iron pan melt the salted butter when half-melted, add the Christmas dry fruits into it.

Add the Muscovado sugar to the mix.

Add the juice and rind of the orange along with fresh strawberries cut into halves into the pan mix well.

Add the dark rum into the mix as well.

Ensure to loosen out the dry fruits they tend to stick to each other forming lumps and letting them come to a very gentle boil.

Add the molasses to the mix to give it a rich, dark colour to your Christmas cake.

Simmer for another 30 mins.

Cool down the mix to room temperature.

Add the slightly whisked Eggs and mix well.
For the Cake Mix
Into a mixing bowl add the sifted refined flour and add the baking powder to it.

Add the cinnamon powder, clove powder, and nutmeg powder, mix well.

Add this cake mix to the dry fruit mix in two batches for an even mixing.

Line the inside of a 9-inch springform cake tin with parchment paper (base and sides)

Pour the cake mix till 3/4thof the brim, and before putting it in the oven line the outer surface of the cake tin and secure it with twine, this helps in even baking.

Preheat the oven to 130 degrees Celsius and bake the cake mix for two hours.

Check with a skewer it should come out clean, also Cracks on the top of the cake are indications that your cake has baked perfectly.

Once done remove from the oven and remove the outer lining, de-mould the springform cake tin, and allow to cool.

To elevate this cake, add more (2 tbsp) dark rum into the cracks while it's warm out of the oven.

Allow it to cool down and it's ready to be served
Recipe courtesy Jason DeSouza, consultant chef
2. Gingerbread cakes recipe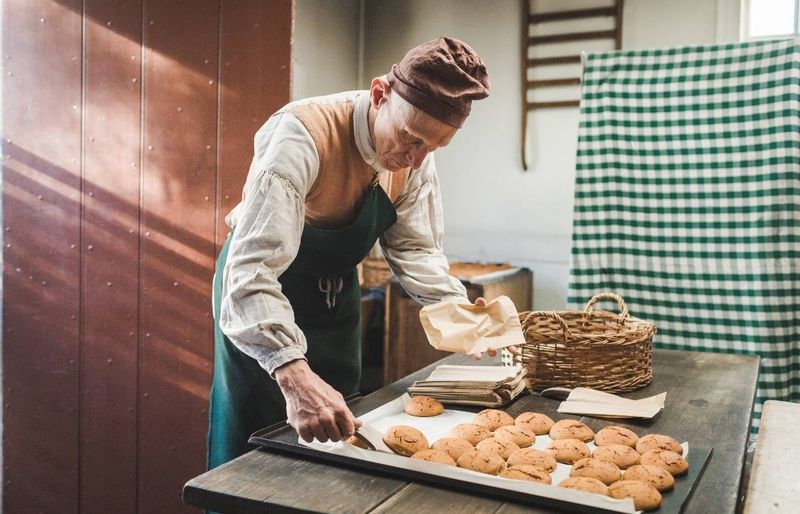 All the way from Colonial Williamsburg, Virginia, USA comes this modern kitchen-friendly rendition of a classic gingerbread cake recipe.
Ingredients
1.  1 ½ lbs all-purpose unbleached flour
2. ½ lb sugar
3. ½ lb butter softened to room temperature
4. 2 tbsp ground ginger
5. 1 tbsp ground nutmeg
6. 1 cup molasses
7. ¼ cup cream
Note: 1 pound equals 453 gm
Method
Preheat oven to 375° F

In a large mixing bowl, mix the flour, sugar and spices thoroughly with your hands.

Warm the molasses and cream together in a small saucepan, stirring to blend. This is not to be hot but warm so that they blend together, not cook.

Work the butter into the flour mixture with your hands until it has a sort of grated bread look.

Add the molasses and cream mixture and work it up into a stiff dough with your hands. If it seems dry, add a little more cream to it. The dough should be stiff but not dry.

Roll out the dough on a floured surface about ¼ inch thick and cut cookies into whatever shapes please you. 

Bake these in a 375° oven for about 8 to 10 minutes. They should still be soft to the touch before they come from the oven, not hard.
Recipe courtesy Virginia Tourism Corporation
3. X'Mas cookie recipe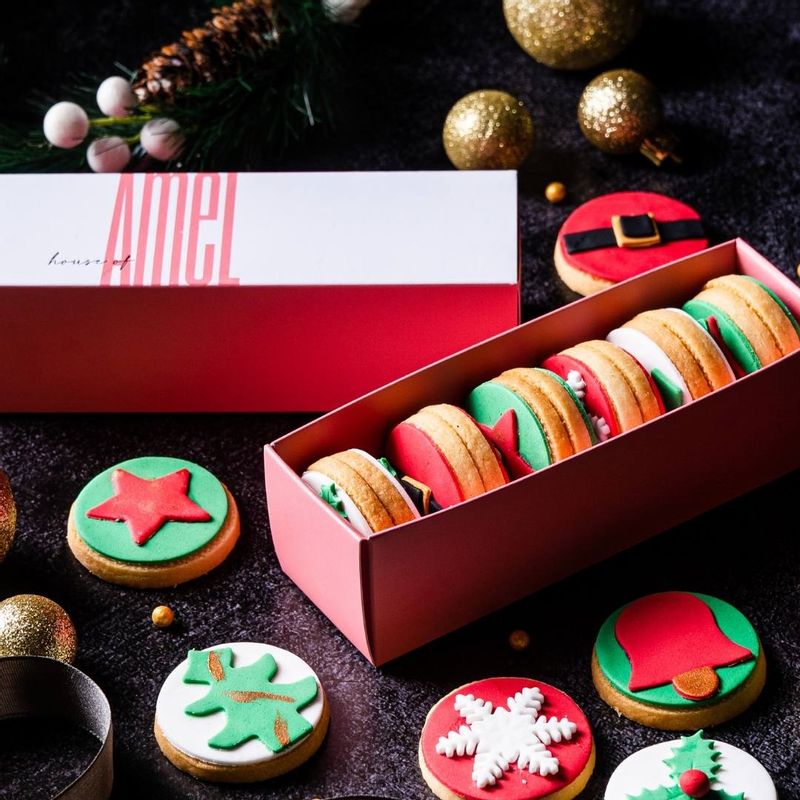 Ingredients
1. 250 gm Flour
2. 165 gm Butter, cold and cubed
3. 83 gm Icing sugar
4. 10 gm Milk
Method:
Measure the flour and butter in a bowl and sablage (rub between your fingertips) till you get a sand-like texture.

Add the icing sugar and mix till combined.

Add the milk and knead till the dough comes together.

Clingwrap the dough and refrigerate for a minimum of one hour.

Pre-heat the oven to 170 degrees C.

Roll out with a rolling pin to the desired thickness, cut into the desired shapes and freeze for 15 minutes.

Transfer the frozen cut cookies to the baking tray lined with parchment paper.

Bake at 160 degrees C for 10-12 minutes till golden brown.

Remove from tray once cooled completely.

Dust flour on a marble surface and roll out fondant (white/coloured as required)

Cut with round cutters as required.

Stick these base fondants on the cookies with the help of a little ganache. 

Store the ready cookies in an airtight container for up to five days.
Recipe courtesy Sanah Ahuja of House of Amel, Mumbai
4. Gingerbread cookies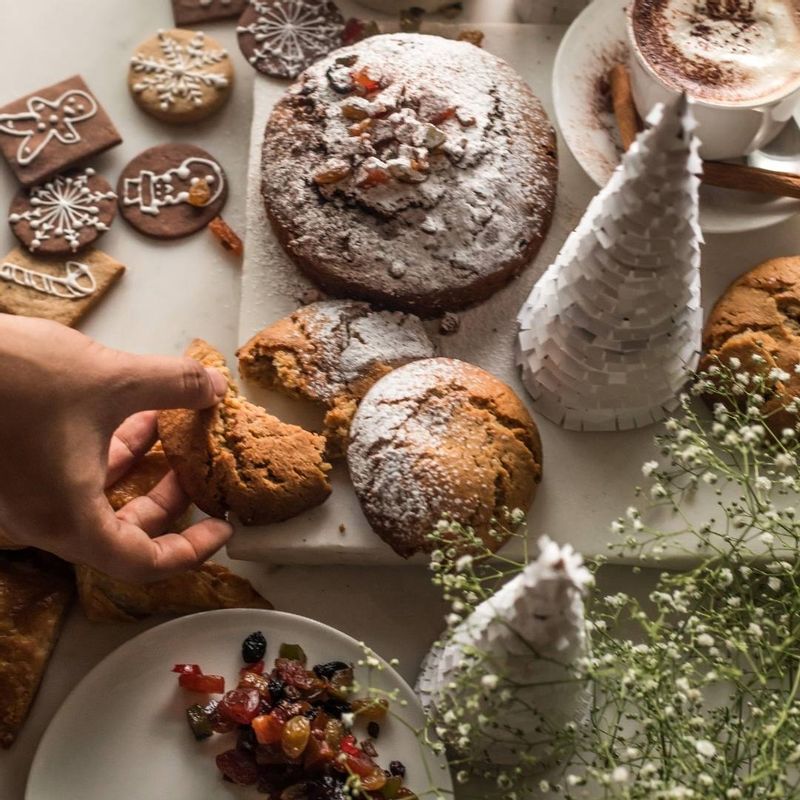 Ingredients
1. 125 gm Butter
2. 50 gm White sugar
3. 50gmBrown sugar
4. 120gmHoney
5. 1 Egg
6. 375 gm Flour
7. 12 gm Ginger powder
8. 7 gm Baking soda
Method
Cream butter and all the sugars together.

Add the egg and mix.

Sift the flour, baking soda, and ginger powder and knead into a dough with the butter, sugar, and egg mixture. 

Roll out to about 1/2 inch thick and use cookie cutters to cut out shapes as per desire.

Bake for 10 mins in a preheated oven at 160 degrees till golden brown.
Recipe courtesy Chef Vanshika Bhatia of Petite Pie Shop
5. The Christmas Bauble recipe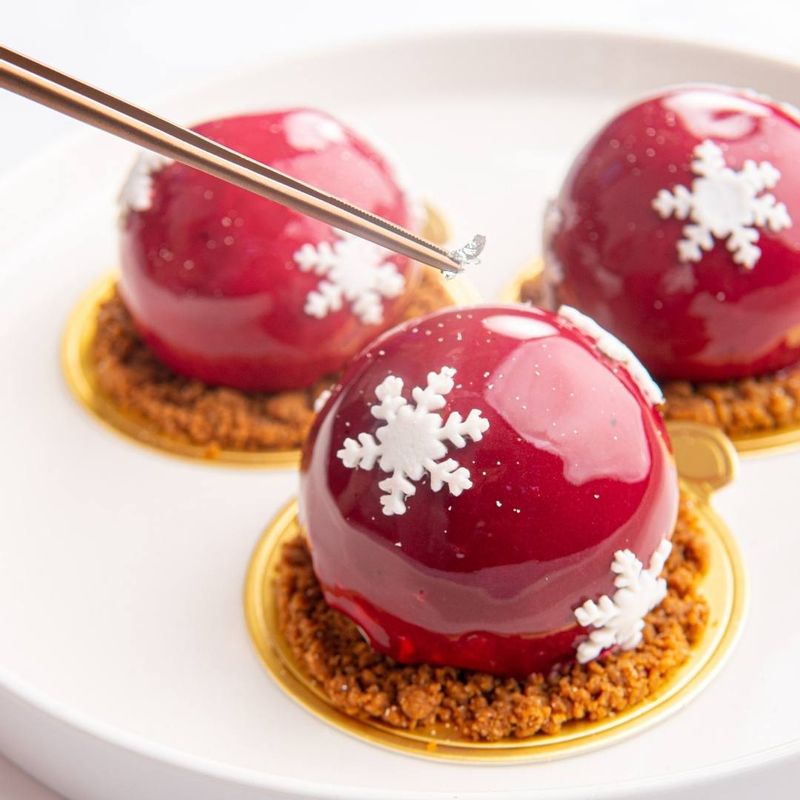 Mumbai-based Monèr Bistro & Dessert Bar is all about pushing the boundaries of desserts and this bauble recipe using vanilla bean mousse, caramel cinnamon apples and cinnamon streusel is no different. It is a technical recipe for those who're looking to get out of their comfort zone.
Ingredients 
For the vanilla mousse
1. 775 gm Whipping cream
2. 1 pod Vanilla
3. 172 Couverture white chocolate
For caramel apple
4. 600 gm apples
5. 60 gm Butter
6. 60 gm Brown sugar
7. 6 gm Cinnamon
8. ½ tsp Vanilla extract
For cinnamon streusel
9. 100 gm Sugar
10. 100 gm Butter
11. 150 gm Flour
12. 1 tsp Cinnamon
For the red glaze 
13. 300 gm Sugar
14. 176 gm Water 
15. 300 gm Glucose 
16. 200 gm Condensed milk 
17. 300 gm Couverture white chocolate
18. 22 gm vegetarian gelatin or agar agar
Method
For vanilla mousse
Heat 1/4thcream, pour over chocolate and mix until homogenous.

Add the rest of the cream and refrigerate.

Whip mixture to soft peaks
For caramel apple 
Cut apples into medium dice. 

Sauté all ingredients together until apples are cooked and tender. 

Set in a two-inch sphere mould and freeze.
For cinnamon streusel
Cream butter and sugar just until combined.

Add flour and cinnamon powder and mix.

Rub with fingers to make pea-sized crumble pieces, freeze.

Press about 15 gms in a 3-inch tart ring to make a circle.

Bake at 180 degrees C for 8-10 mins
For the red glaze 
Bring sugar, water and glucose to a boil.

Add condensed milk and remove from heat.

Add gelatin and mix.

Pour over chocolate and blend
For snowflakes 
Roll white fondant 1/4th inch thick and use a cutter to make snowflake cutouts.
Assembly
Join the apple compote sphere to make round inserts. Keep frozen.

Pipe vanilla mousse in sphere moulds about 3/4thway and press in the apple compote inserts. Smooth out with an offset spatula.

Freeze for at least eight hours and de-mould when ready. Place spheres on a wire rack ready for glazing.

Heat the glaze to 40 degrees C and pour over frozen spheres.

Place the snowflakes cut-outs gently on the frozen spheres once the glaze has settled

Transfer the spheres directly over the cinnamon streusel base.
Recipe courtesy Freny Fernandes, Founder & Pastry Chef, Moner Bistro & Dessert Bar
---
Photo: Unsplash/Sandra Wei