Indulge your foodie sibling this Rakshabandhan with delectable goodies. A tea aficionado, a fitness enthusiast, or those sharing a common love for mouth-watering treats, these lip-smacking gift hampers are the safest bets to show your love and appreciation. 
Here are 20 Rakshabandhan gift hampers for the foodie sibling:
1. True Delights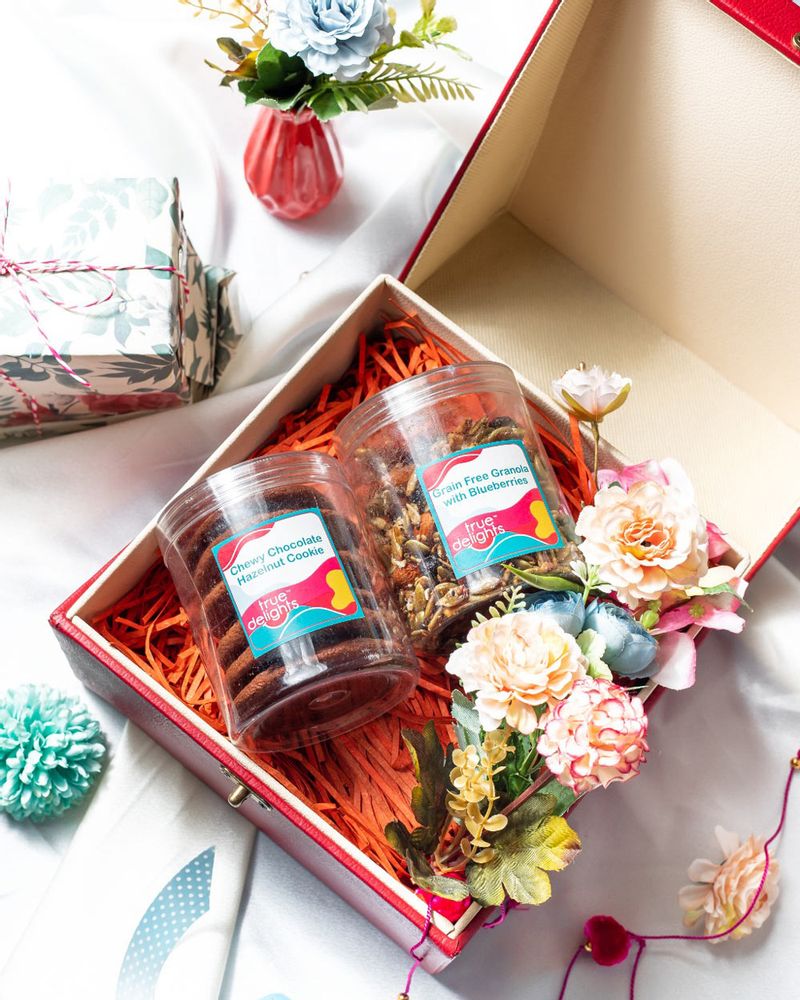 If your sibling has a sweet tooth, but is also health conscious, then True Delights' festive hampers make for a perfect Rakshabandhan gift for them. The hamper contains assorted cookies such as the chewy chocolate hazelnut, and granola bars in flavours of grain free blueberry, almond cranberry, and dark chocolate orange. They also have an option where you can add breads such as multigrain boule, and pesto parmesan boule, or even their in-house marinade, to the gift hamper. 
2. Octavius Tea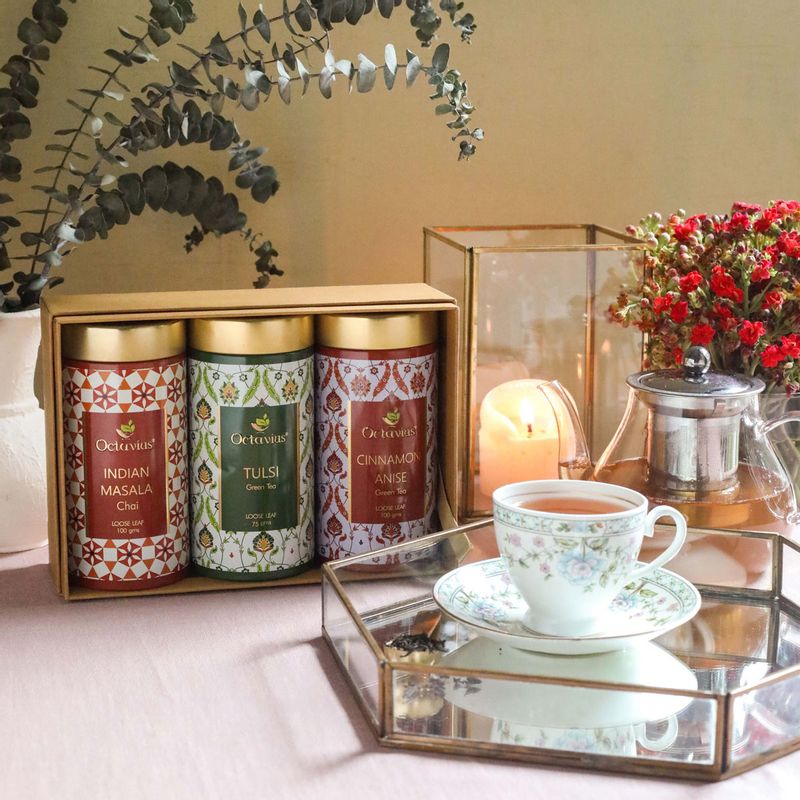 Looking for a Rakhi present for your tea-loving sibling? Octavius Tea's gift collection has a range of premium wellness teas such as hibiscus clove lemongrass tea, jasmine green tea, moringa tulsi mint and ginger tulsi. You can also add a plantable rakhi made from tulsi seed paper to this gift pack. 
3. Le Pure Chocolatier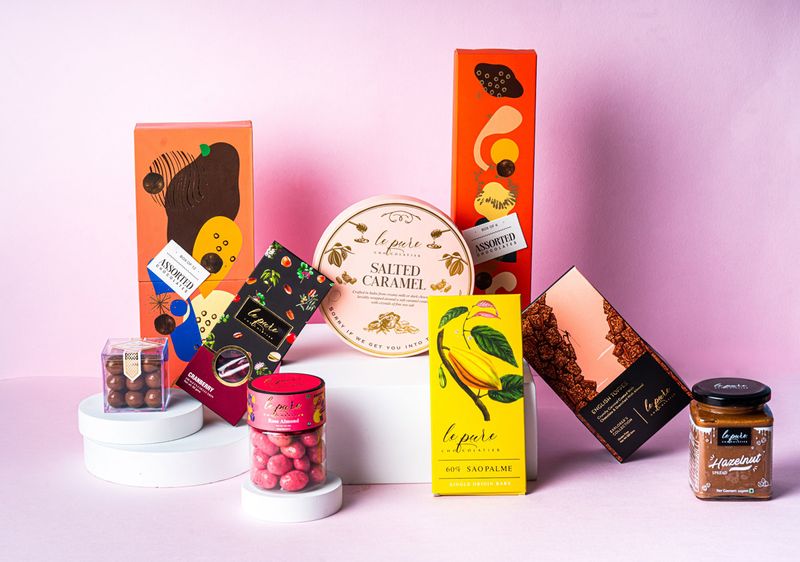 Le Pure Chocolatier's indulgent chocolate collection is the perfect gift for your chocoholic sibling on Rakshabandhan. The gift box includes bon-bons, single origin bars, dragees, pralines and toffee. You can also get a 66 per cent single origin Madagascardark chocolate bar, pistachio Florentine and almond Roca toffee, butterscotch nuggets from the dragees collection, and salted caramel truffle from the truffle collection. All its chocolates are made of cocoa sourced from Costa Rica, Columbia, Tanzania, Venezuela, and Ghana. 
4. Brownsalt Backery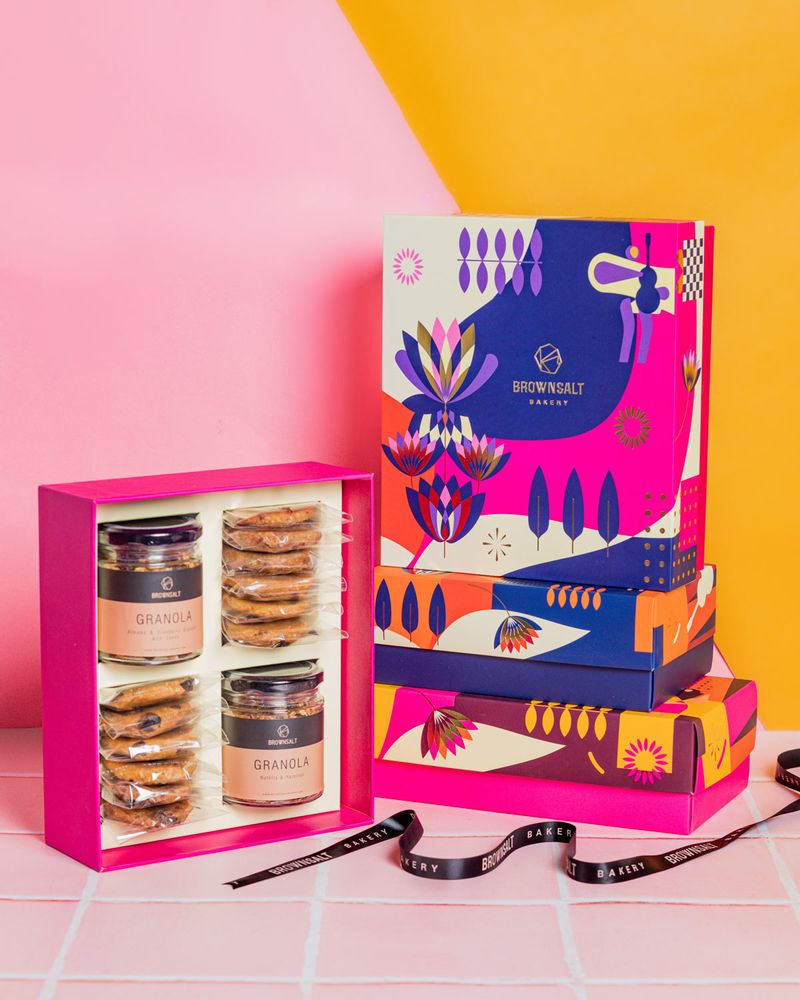 This Rakshabandhan, gift your sibling exclusive hampers and Tiramisu cake from Brownsalt Bakery. The brand, in its special edition hamper, is offering delicacies such as, almond biscotti, assorted cookies, nut and seed mix, and its bestselling granolas like honey hazlenut and rose pistachio. Along with these delights, you can also get an eco-friendly rakhi from Gram Art.  
5. Teabox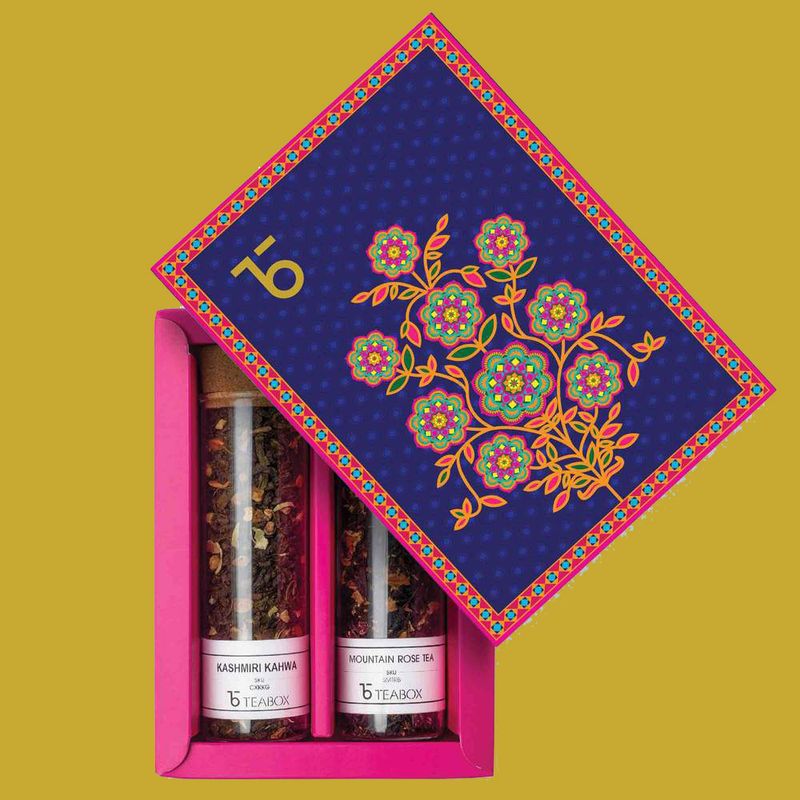 Teabox has personally curated a hamper using some of the most exotic and finest tea collection for Rakshabandhan—Kumud, Vivant and Vernal. Kumud comprises Kashmiri Kahwa and Mountain Rose, Vivant is a combination of Earl Grey, Assam Masala Chai and Kashmiri Kahwa, while Vernal gives you nine different types of teas, some of which include, English Breakfast Black, Classic Earl Grey Citrus Black, Moroccan Green Mint, and more.
6. Jhama Sweets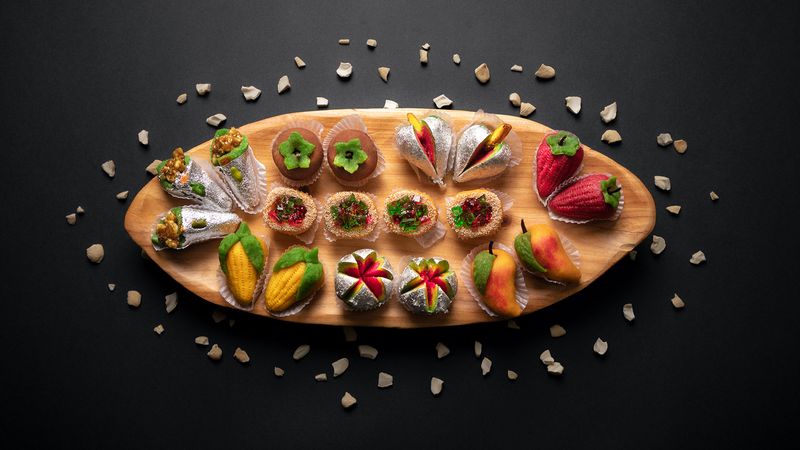 Surprise your sibling on Rakshabandhan by ordering for them a box of traditional Jhama Sweets. Operating in Mumbai since the 1950s, the brand has now launched an online store to reach more people. Gulab jamun, kesar kaju katli, sev barfi, milk cake, are some of its specialities that you must try on Rakshabandhan. 
7. Truffle & Co.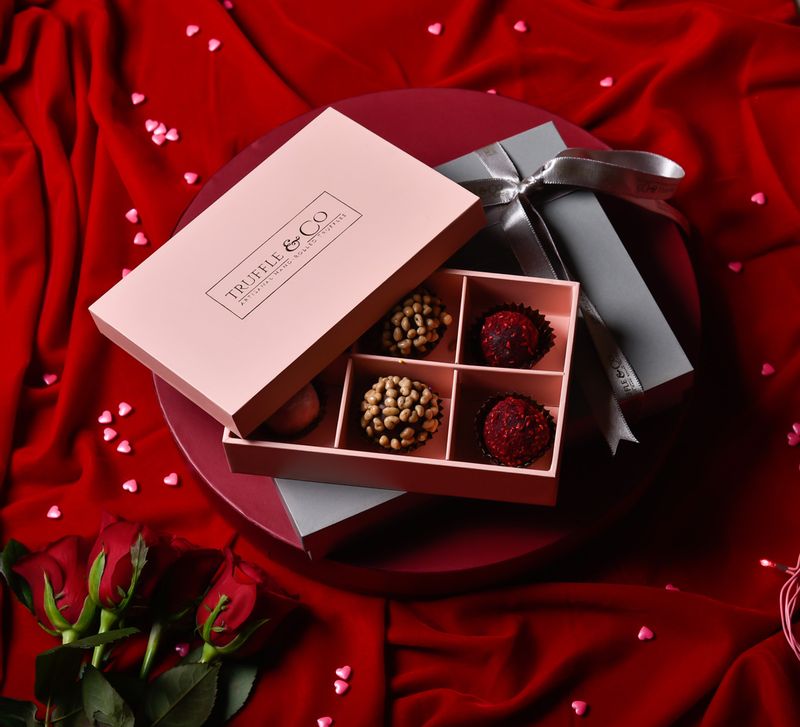 A bespoke luxury brand specialising in handcrafted chocolate truffles, Truffle & Co., is offering a bunch of lip-smacking flavours such as, mint chocolate chip, tiramisu and Mogador. As a part of its Rakhi edition, it has also introduced limoncello, rose champagne and Baileys-flavoured chocolate truffle. 
8. Star Anise Patisserie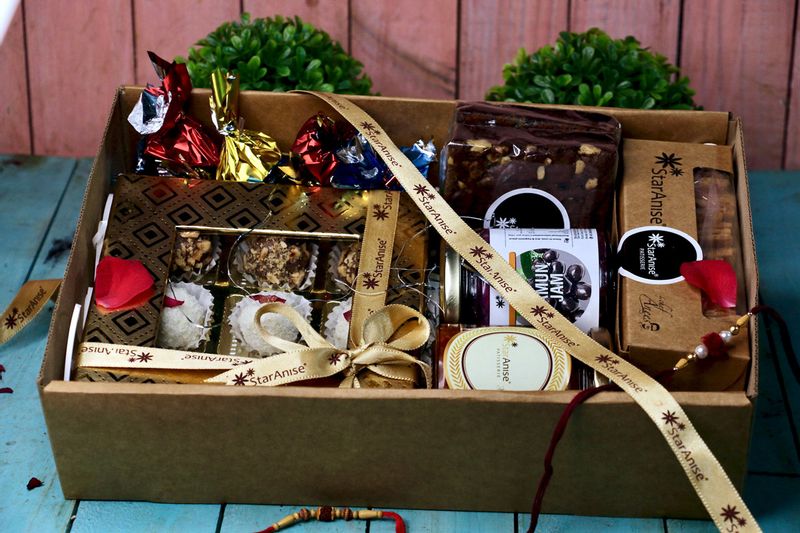 This Mumbai-based patisserie has introduced a Rakshabandhan special box with a range of desserts such as Tres Leches Jar, Special Chocolate Mouuses Jar, Tiramisu Jar, walnut cake, and more; along with snacks including, chips, dips, and spring rolls. 
9. JW Marriott Mumbai Sahar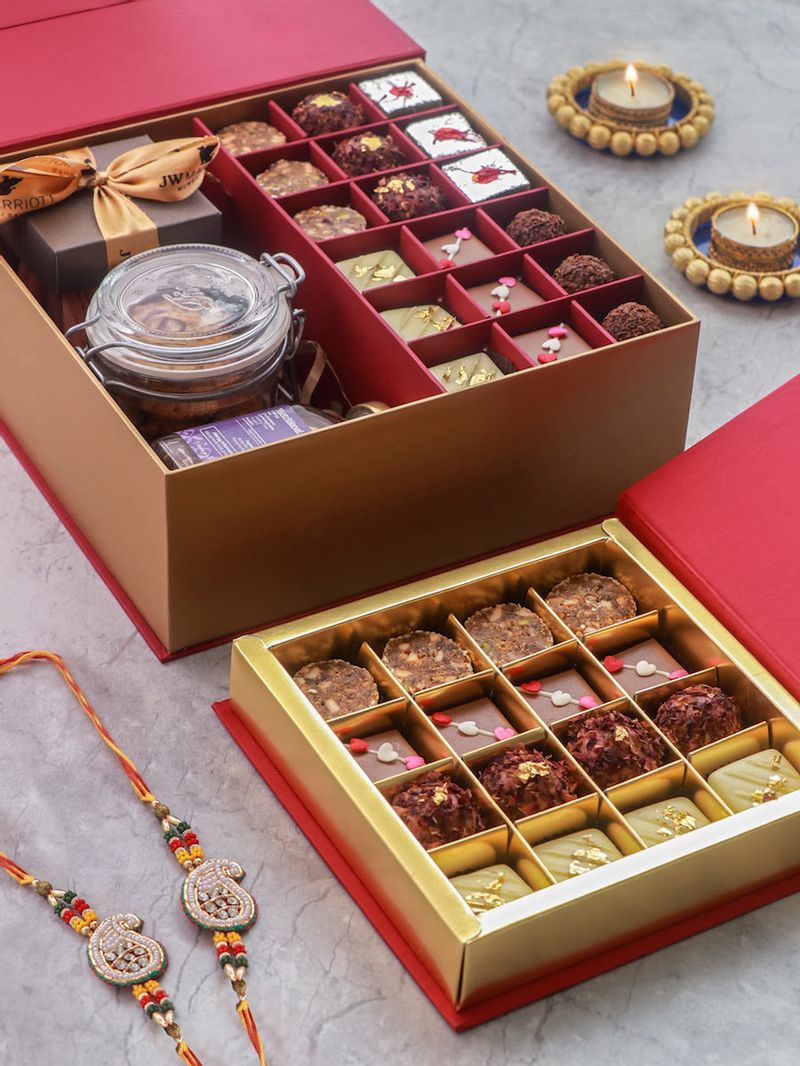 JW Marriott Mumbai Sahar has introduced specially curated luxury Rakshabandhan hampers and brunch boxes. While the hamper comprises treats such as, masala chai macarons, assorted nut jar, red velvet cookies, exotic miniature mithai, and more; the brunch box includes Thai style grilled chicken, braised lamb shank with barley, nachos with smoked pepper tomato salsa and sour cream, among others.
10. Marriott International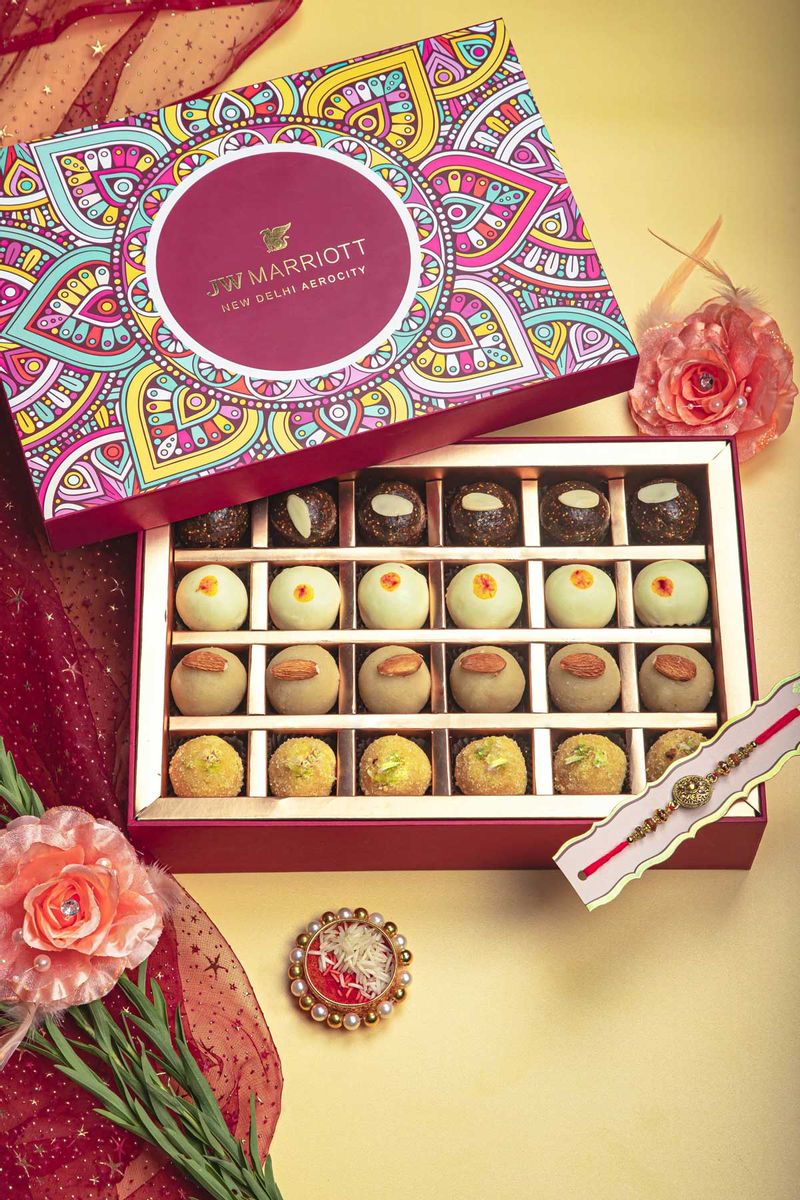 Marriott International has also curated hampers full of handcrafted delights that you can gift your sibling this year. Luxury tea blends, house made jams, single origin cheese and crackers, a bottle of champagne, red and white wine, macarons, bon bon, granola bars, are some of the many delicacies that you can get in this hamper. it comes in over 75 varieties, and is available in more than 25 Marriott International Hotels across India.
11. Living Food Co.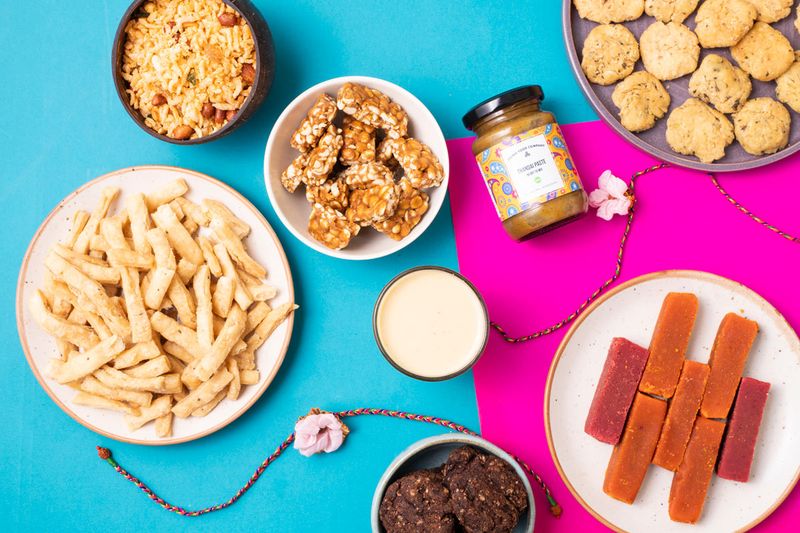 Living Food Co. Rakshabandhan hamper has been curated with assorted sugar-free, and vegetarian snacks such as peanut chikki, namak para, Mysore pak, brownie cookies, a thandai paste and a poha mixture. If you are a vegan then its Mysore pak, peanut chikki and namak para, are something you would love. A box full of four to six servings, this is apt for your health-conscious sibling.  
12. Mad Over Donuts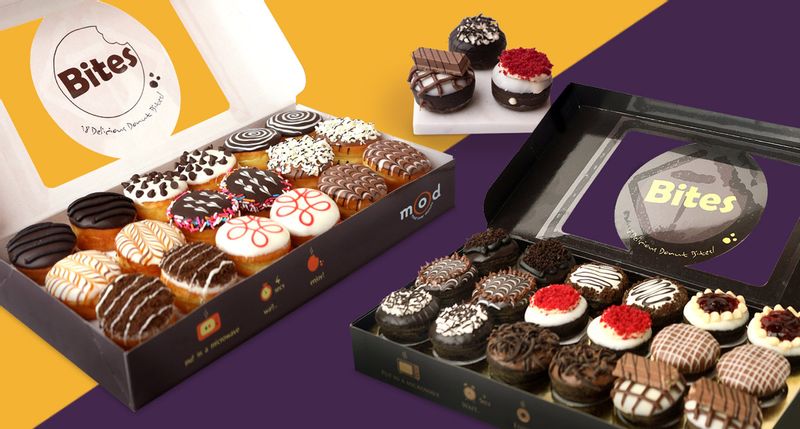 Mad Over Donuts' Delightful Bites Box comprising 18 bite-sized donuts in different flavours is the perfect snack-able gift for Rakshabandhan. The box is further divided into Signature and Regular Bites. The Signature Bites Box offers flavours such as, double trouble, blueberry, big dipper, KitKat, and white stripes. The Regular Bites Box on the other hand offers options such as, dark chocolate chip, strawberry jelly, Oreo, and caramel.
13. Nourish Organics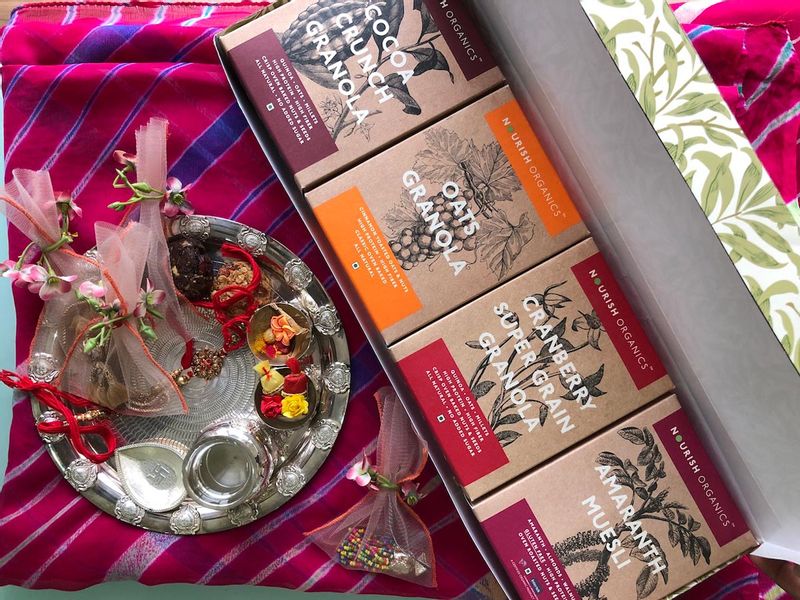 This sustainable, homegrown, organic food brand is giving out a Rakshabandhan gift hamper that you can consider for your health-conscious sibling. The hamper includes amaranth muesli, and some granolas in flavours of cranberry super grain, oats, and cocoa crunch. The granolas are made of ingredients such as, quinoa, flax seeds, cashews, almonds, millet, cinnamon, and more.  
14. Meethi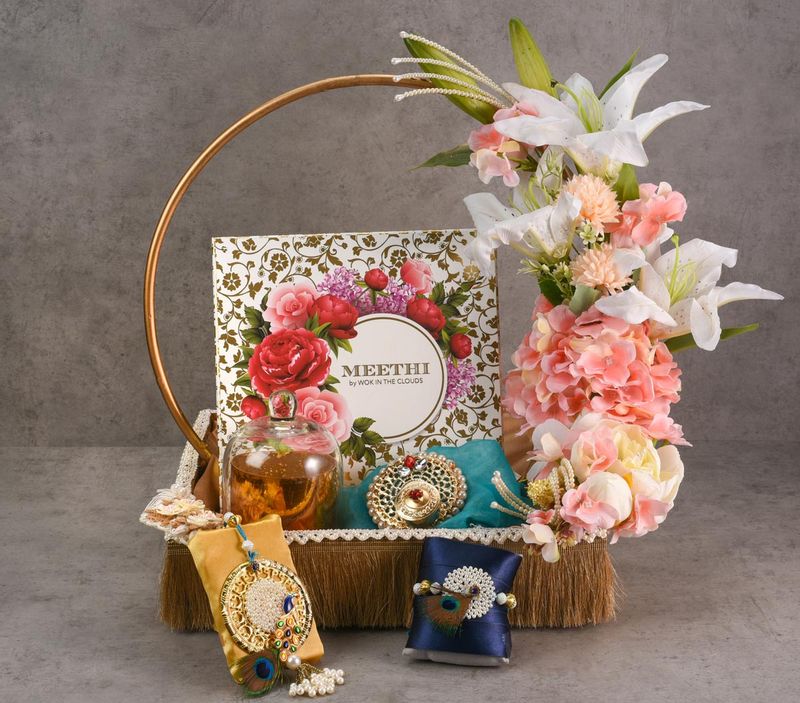 This artisanal mithai brand is delivering personalised hampers across Delhi/NCR, or Rakshabandhan. Handmade chocolates, pearl,kundan and lumba rakhi and an ornamental tikka box are packed in a festive printed box. Some of the sweet delights from the box include, milk cake, kaju barfi, khajoor dry fruit barfi, pista lauj and anjeer kalakand. You can also order a customised hamper and get it delivered to your doorstep on the day of Rakshabandhan itself.
15. Cocoa Cellar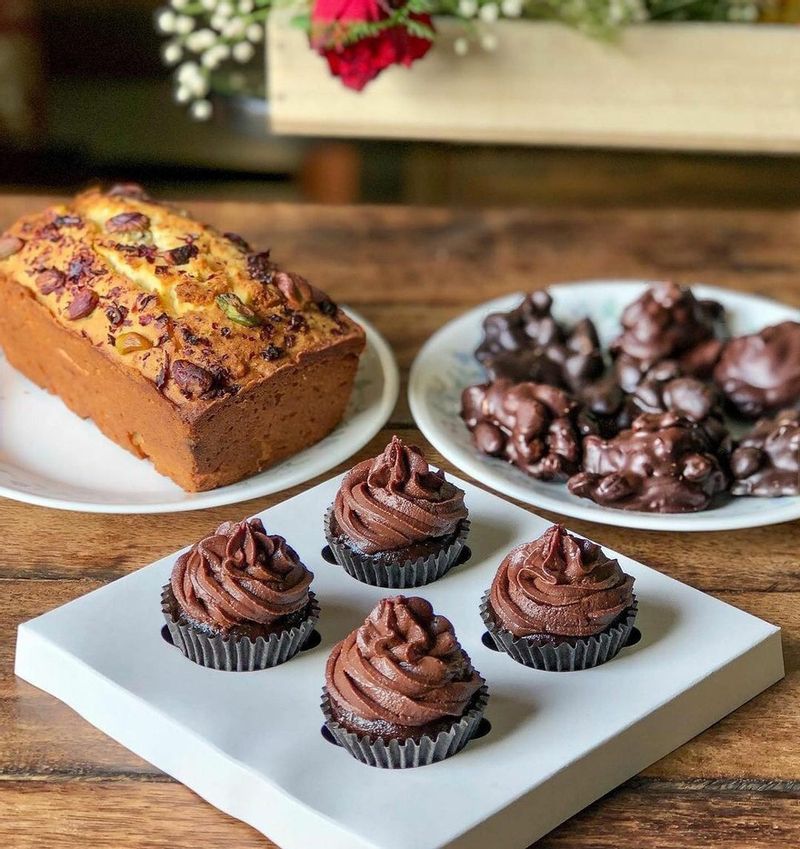 Ditch the conventional chocolate boxes, and instead gift your sibling alcoholic and non-alcoholic desserts from this Mumbai based patisserie. Amarula and dark chocolate cupcake, whiskey and cashew cookies, coffee walnut loaf and sacher torte cake, are some of the dessert options that you can choose from.
16. Organic India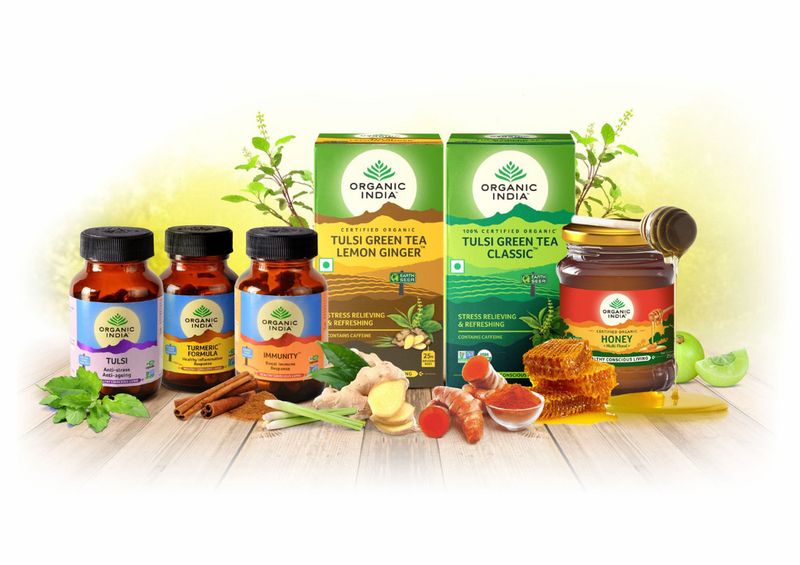 Gift a dose of immunity and health to your sibling with this collection from Organic India. Their range includes immunity boosting products such astulsi teas, honey, immunity, and turmeric formula supplement.
17. Coffeeza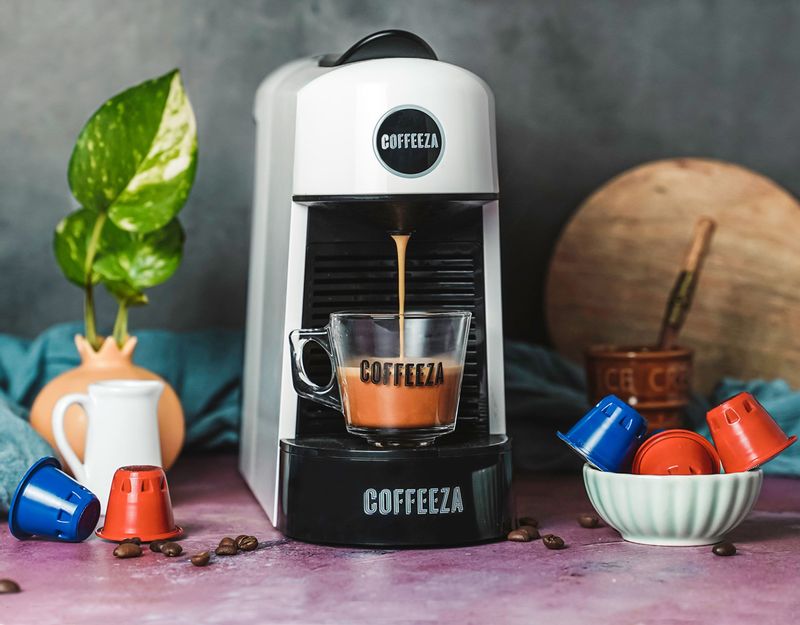 If your sibling loves his/her morning cuppa Joe, this Rakshabandhan gift them the Finero Next or the Lattisso One-Touch Capsule Coffee Machine from Coffeeza, which are perfect gifts for coffee fanatics. You get 60 assorted premium Italian coffee capsules free on every coffee machine purchase.
18. NOTO Ice Cream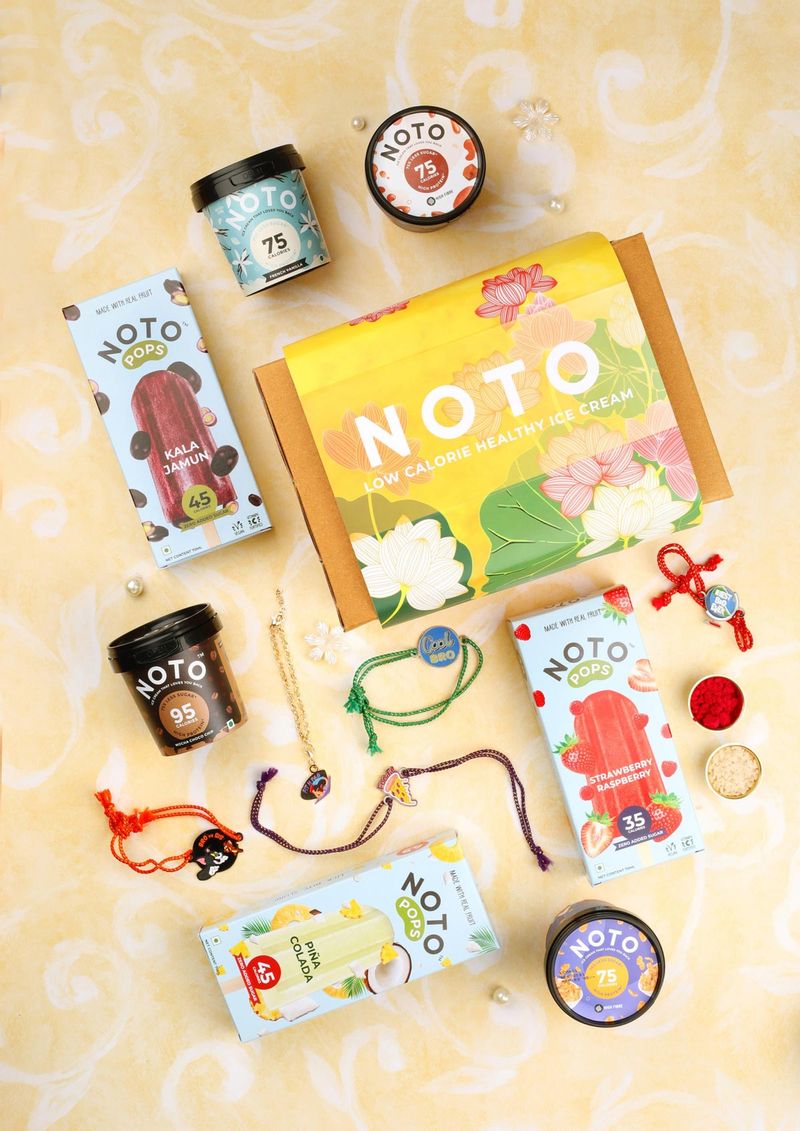 NOTO Ice Cream's customised Rakshabandhan gift hamper can be the perfect gift for your ice cream sibling to enjoy guilt-free. Its All In One hamper comes with four 125-ml low-calorie ice creams, and real fruit popsicles. If you are planning a party then there is also a party pack of eight such ice creams. Spicey pink guava, cereal milk, salted caramel. Kala jamun, imli, pina colada, and mango coconut are some of the ice creams and fruit popsicles that the hamper offers along with a rakhi from Bay Leaf Accessories.
19. Drive You Nutss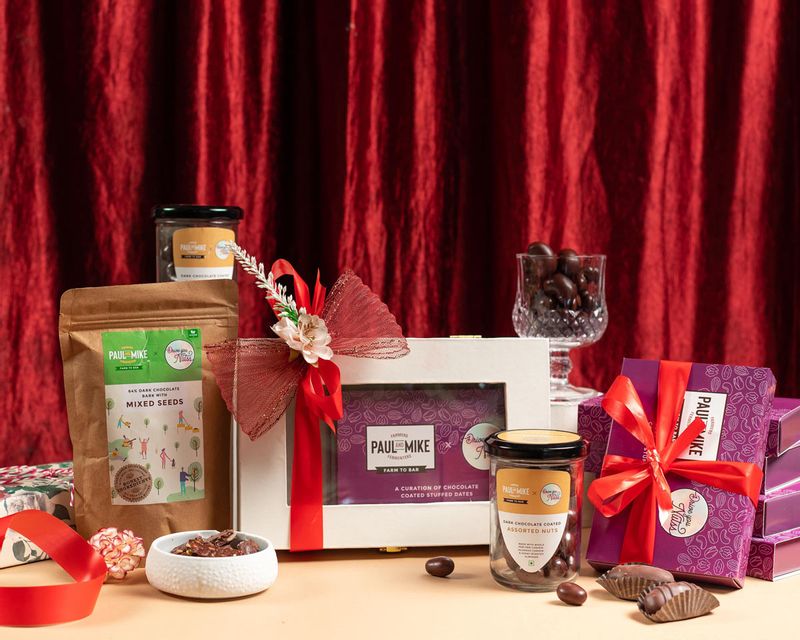 In collaboration with chocolate brand, Paul and Mike, this premium dry fruit company has introduced the limited edition capsule collection for Rakshabandhan. In its hamper you can get chocolate coated stuffed dates, chocolate bark with mixed seeds, and chocolate coated assorted nuts.  
20. Go Nuts
Go Nuts' rakhi special hampers is another healthy option you can gift your sibling to help satiate his snack cravings. Sea salt and caramel almonds, Thai sweet chilli cashews, Habanero pepper almonds, oregano herb cashews, gourmet nibbles, dried cranberries, and jalapeno cashews, are some of the tasty snacks you get in its gift boxes.   
---
Photo: Truffle & Co.