Siblings make the world a better place, or not! We let you decide that. But with Rakshabandhan around the corner, here's your chance to proclaim slibling love to your bro. Ditch the conventional rakhi this year and check out these unique, eco-friendly, artisanal rakhis for your brother. Do you know you can plant some of these, or reuse as an accessory, or even as a showpiece? The detailed artwork, traditional weaving techniques, and use of zero-waste material, are some of the features that make these rakhis a must-have to celebrate Rakshabandhan this year, and of course, a chance to contribute a little something towards the community of artisans and the planet. 
1. MyPoojaBox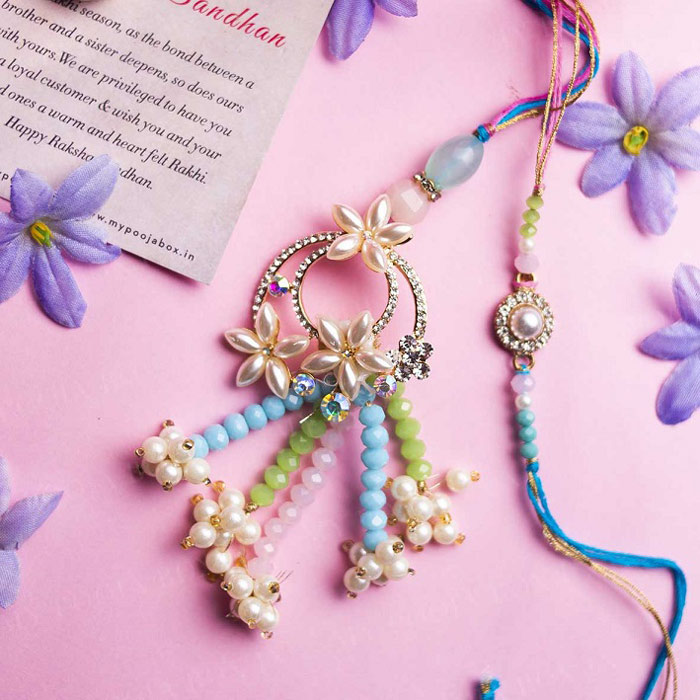 MyPoojaBox has come up with a bunch of options including, an eco-friendly plantable rakhi box, 18-karat hallmarked gold rakhi boxes, and more than a thousand different designs for Rakshabandhan, this year. Its eco-friendly rakhis are made using tulsi seeds, edible colours, and handmade paper. The reusable, recycled, eco-friendly rakhi box contains, a plantable rakhi, a coconut husk planter, a coco peat disk, a mini plantable pencil, roli and rice packed in cork capsules and a handwritten note for your brother.  
2. The Rakhi Edit by Payal Singhal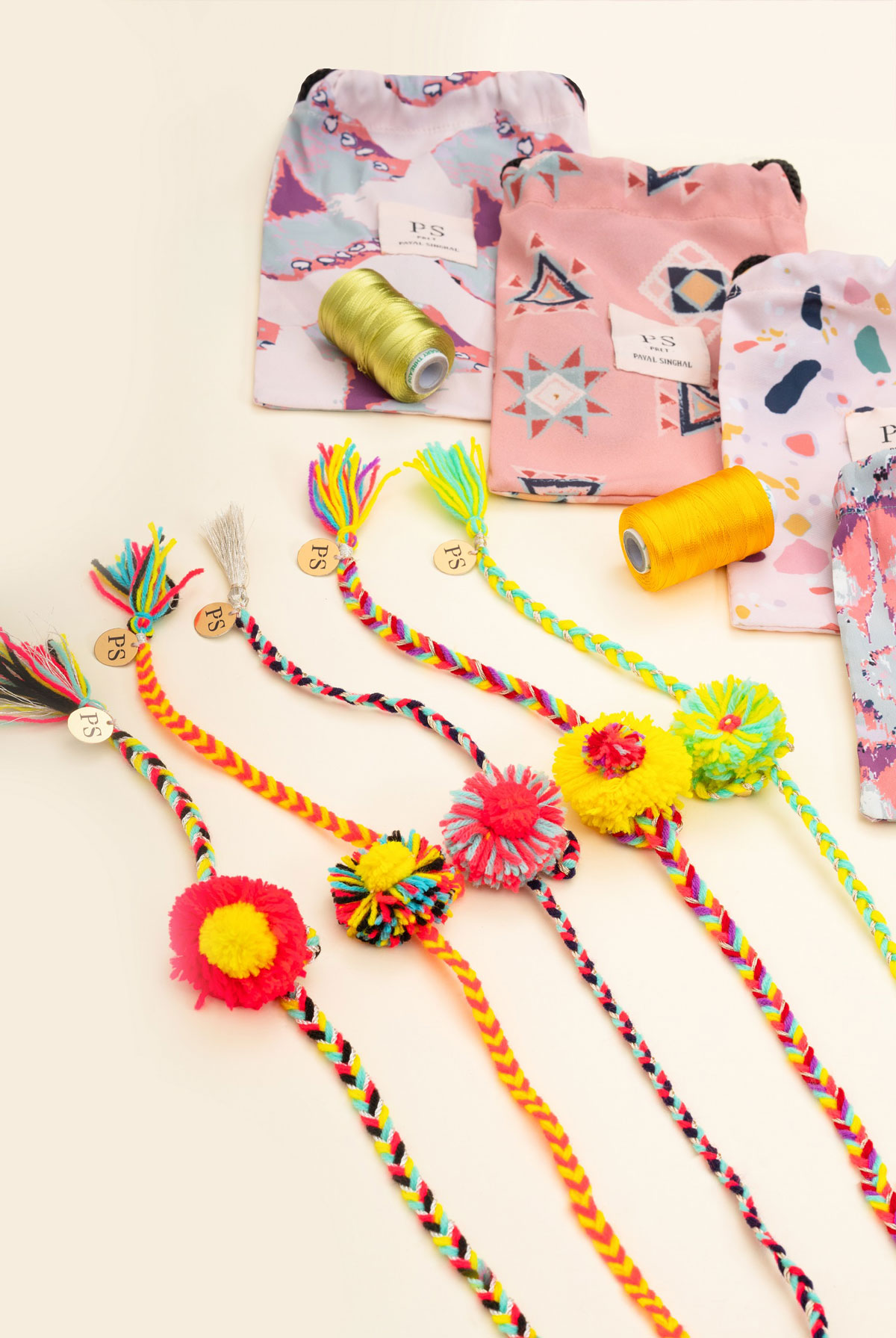 Designer Payal Singhal has launched the Rakhi Edit collection comprising a range of luxury gift sets for all age groups and gender. Some of the takeaways include scrunchies, scarves, masks, rakhi and pouches. The PSRakhi collection introduced for the first time contains rakhis made of colourful woolen threads. These rakhis come in sets of two, three and five; and are packed in signature #PSPrints matching pouches.  
3. Dots & Doodles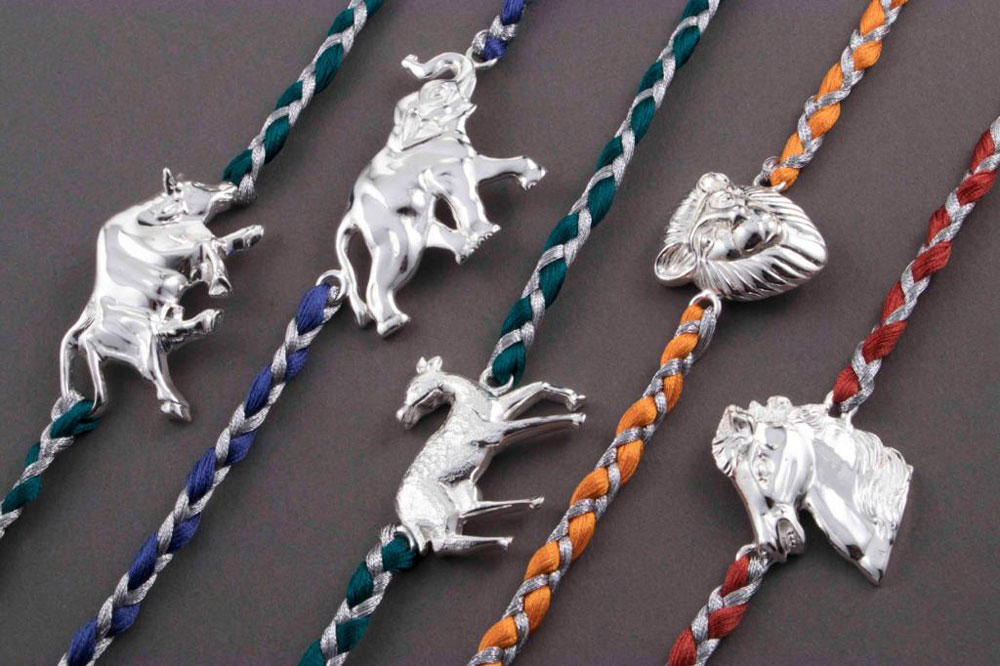 Dots & Doodles has introduced handmade rakhis made of crochet knots interlocked in loop of yarn and thread. The love knots in different shapes of a sunflower, turtle, and toy car, symbolise the eternal bond between a brother and a sister. It has also launched another collection of silver rakhis from Frazer and Haws. Some of the designs include a lion, an elephant, and a half sun and moon. 
4. Soraya Jaipur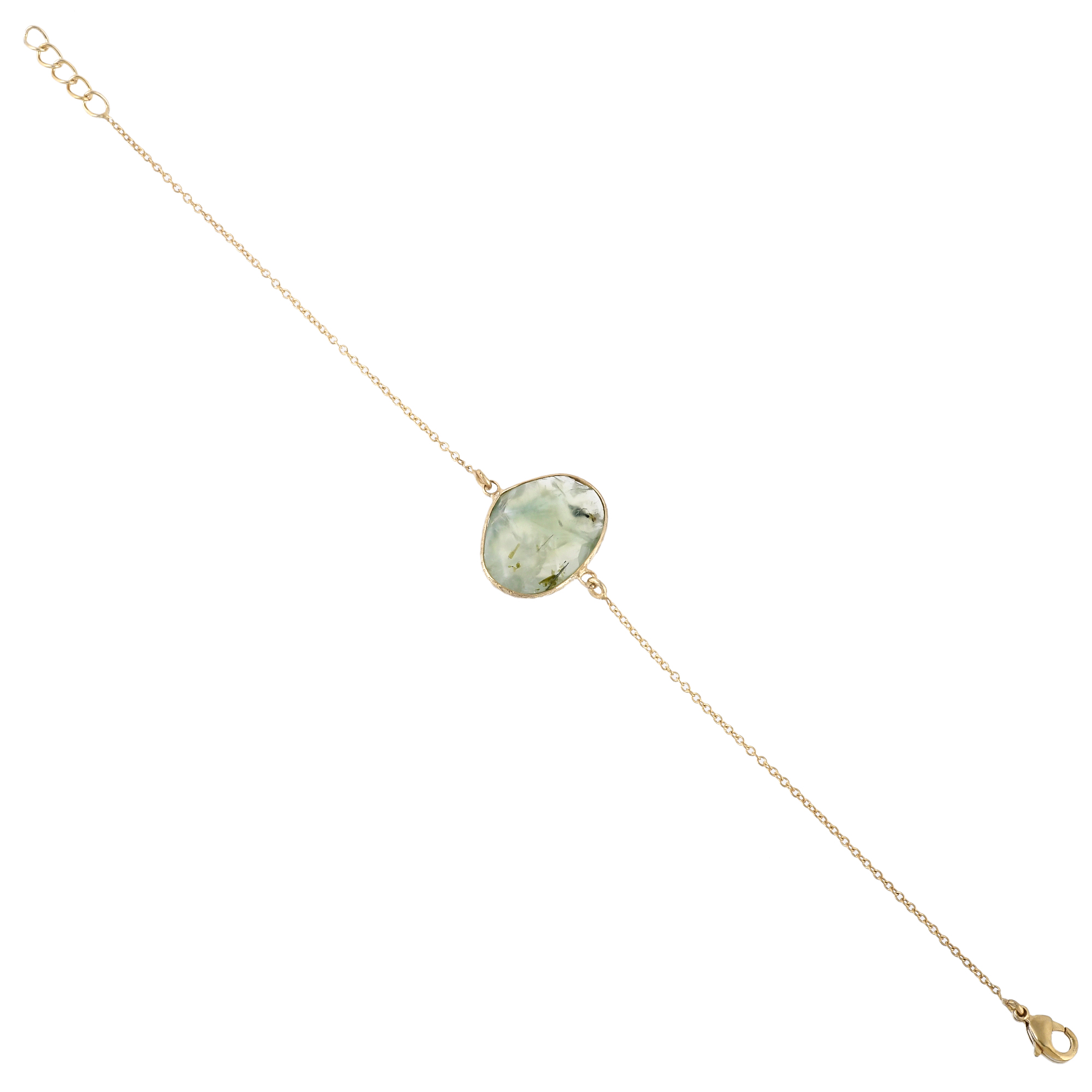 Move away from the traditional threads this year, and instead, gift your brother a precious stone rakhi bracelet by Soraya that can be worn as an accessory even after the festival. Each piece of jewellery is made in silver or brass and gold plated in 14-karat microns. The collection includes Rose Quartz Bracelet, Citrine Bracelet, and Prehnite Bracelet. Rose Quartz known as the healing crystal is the stone of unconditional love. Citrine brings in positivity and is used to assist financial abundance and opportunities. Prehnite alleviates nightmares, phobias and fears.   
5. Kitsch by Nik 
An art jewellery brand created by Ahmedabad-based Nirjari Shah, Kitsch by Nik uses skin-friendly, sustainable materials for jewellery. This year, on the occasion of Rakshabandhan, it has introduced up-cycled rakhis and lumbas (tied to the sister-in-law). These are made from some of the hidden treasures of Kutch handpicked before the pandemic. Its kutchi lumbas come with ghungroos and rakhis with knotted hand embroideries. Other varieties include, pipe beads rakhis, textile beads rakhis, organza flower neon rakhi, ajrakh textile beads, rope rakhis, and more. 
6. Loyalty and gifting ideas 
Its Rakhi & Lumba Collection 2021 offers a range of beaded rakhis and classic lumba torans. These are made by hand stitching copper beads on silk threads, and are colourful, and lighter than a flower. It uses traditional weaving techniques such as, ajrakh, patola, and pichwai technique.
7. Samoolam
This is another brand whose handmade, eco-friendly rakhis can make for a perfect gift four your brother this Rakshabandhan. Their crochet designs and choice of colours from turquoise blue to pastel green is for the cool brother who can even recycle them in the form of a brooch or a tassel, for which they send you pins along with the rakhis. The detailed crochet work on the rakhis is done by the artisans of Gaya, Bihar.  
8. Torani
The handcrafted rakhis come in signature Torani sikkas, zardozi embroidery, and Sindhi mirrored thread work, with attached ghungroos (ankle bells) and layers of tassels. The soothing summer shades of pinks, greens, and blues, only add to the overall artwork on the rakhis. It has also introduced an all-new range of lumba rakhis with hand tucked latkans or tassels that are delivered to customers in crafted and sanitised boxes, along with a personal note from the Torani team. 
9. Oye Happy
This eco-friendly gifting brand is offering handcrafted rakhis that are not just safe for the environment but can be reused in the form of a fridge magnet. And, it's not just any magnet but a small box in which you can gift your brother a collection of his embarrassing photographs. You can also get your sibling's name engraved on the colourful magnet, or paste his picture on it. In another collection, they offer rakhis with a funny caption for your brother, such as, a phone addict brother, a lazy brother, the joker of the family, and more. 
Photo: Dots & Doodles