Even though we all have our favourite hangouts in the city that we keep going back to, it's always exciting to mix things up and discover an all-new space; especially one that's tried and tested and worth the money! Indian, Italian, Thai, Japanese – there's something new for everyone. A swanky bar for a sundowner, the newest fine-dine options in Delhi's top hotels to celebrate a special occasion or a laid-back café to chit-chat with friends or tuck in a croissant or two with your little ones – this list covers it all. 
1. Dhilli, The Oberoi, New Delhi
Dhilli is the newest offering by The Oberoi, New Delhi. Inspired by the rich culinary history and heritage of Delhi, the restaurant also marks a homecoming for Michelin–starred Chef Vineet Bhatia MBE who has won many accolades for his restaurants across seven countries and philanthropic events worldwide. He was the first chef to receive a Michelin star for Indian cuisine in the guide's 120-year history.
Chef Vineet's association with the Oberoi Hotels started twelve years ago with Ziya at The Oberoi Mumbai. At Dhilli, he offers an ode to the city where it all began for him. He thus celebrates cuisines from the city's various foodie hubs — from Jama Masjid to Nizamuddin, Rajouri Garden to CR Park. The food is inventive and presented beautifully. Predictable favourites like rajma chaawal, samosa chhole, tandoori gobhi, malai kofta and nalli korma have been given Chef Vineet's artistic twist.
Although he wanted to keep the traditional flavours intact, the finesse of cooking techniques takes the fare up several notches. The chaat comes with a savoury icecream that tastes of dahi and saunth, samosas are encased in a thin wanton-like wrapper making them crispier, the rice in the rajma-chaawal is presented in a tikki form. While the plating is exquisite, all the plates and platters too have been handpicked and are gorgeous.
Delhi is known for a variety of breads, and the breads at the restaurant are made to perfection. The almond bakharkhani and til mirchi lachha parantha are rich, flaky and crisp. And the pista sheermal deserves a special mention — the aromatic bread is thin, slightly sweet and served fresh out of the oven. And before you wind up your meal, save some space for desserts. We don't want to spoil the surprise but chai biskoot, sultan of Dhilli and shahi tukda are fabulous, flavourful and not overly sweet.
While there is an a la carte menu with sharing portions, we'd recommend you to try the individually-plated seven-course chef's tasting menu. On weekdays, Dhilli is open for dinner and on weekends (Friday through Sunday), it is open for both lunch and dinner. There is a private dining area for special occasions that can accommodate up to six people.
2. Erawaan, The Claridges, New Delhi
The Claridges, New Delhi is a charming boutique hotel in the heart of Lutyens' Delhi with a fabulous choice of iconic restaurants like the Dhaba for Indian, Jade for Chinese, Sevilla — a romantic restaurant with dreamy cabanas, and Pickwick — the multi-cuisine restaurant with delicious Continental fare. The latest addition to this impressive line-up is the plush Thai restaurant, Erawaan.
The décor is inspired by a luxurious Thai living room and the walls are decorated with vibrant Thai art based on the Ramayana while the ceiling is covered in magnificent mandalas.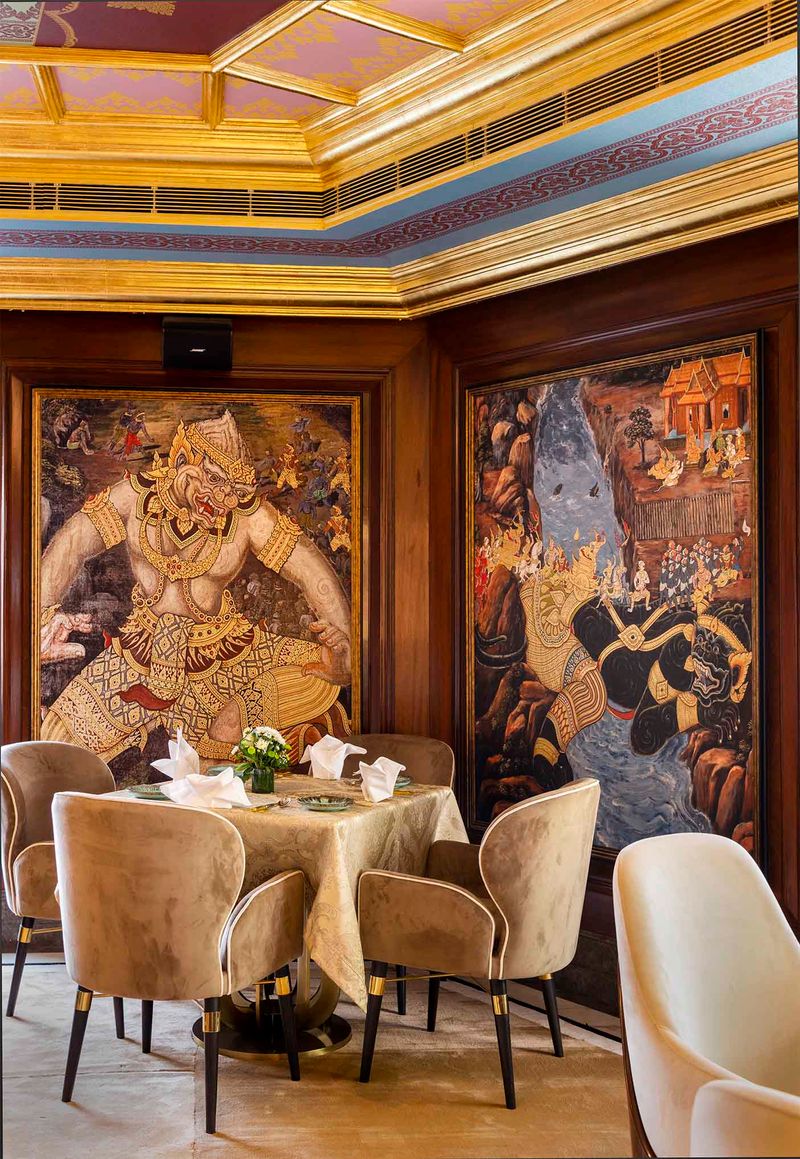 The menu at Erawaan, expertly curated by Thai Master Chef Tarathip Nooriengsai, offers a mix of traditional and contemporary dishes. Made with the finest quality ingredients for classic Thai cuisine, you can expect all your favourite Thai dishes executed to perfection.
We'd recommend you to start with Scampi Prawn Tom Yam or Silken Tofu Tom Kha, move on to Asian Green Sam Sa-Hai and Prawn Kra Praw, Red Snapper Manow, Phad Thai, Jasmine Rice Khao Phad and finish off with the quintessential Thai desserts, mango and sticky rice and Tub Tim Krob.
3. INJA, The Manor, New Delhi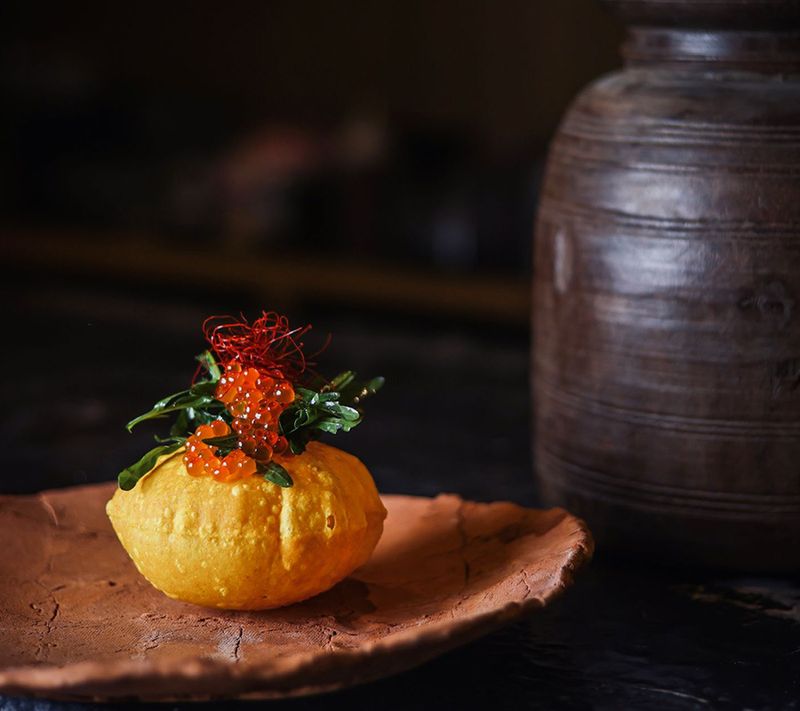 INJA has opened at The Manor Hotel, New Delhi, tucked away in Friends Colony West. Backed by Atelier House Hospitality, an international group with more than 30 restaurants under its umbrella and a major presence in Dubai, INJA serves an array of Indian-Japanese dishes. This is not only the first time that we got a taste of this cuisine, but in all likelihood, it is the first-ever restaurant, at least in India, to serve Indo-Jap fare.  
Kudos to Chef Adwait Anantwar for being experimental and highly creative in presenting something new and exciting to Delhi. What is interesting about this fare is that there are Indian spices and inspiration behind the food that is cooked with Japanese techniques, yet there's a wonderful balance between the Indian and the Japanese touch.
The seafood is particularly impressive. The tuna and pomelo chaat with shiso leaf tempura, Alaskan king crab Raj kachori, and lobster rasam chawanmushi (a Japanese savoury custard) are absolutely brilliant. Then there is gobhi 65 maki, udon khasi noodles and a Japanese steamed bun stuffed with kali gajar halwa that demand an acquired taste.
The cocktail menu has been crafted by mixologist Kumar Mangalam and offers some unique, fascinating and well-balanced drinks like the Lychee Gondhoraj Martini and Ume Highball. The ambience at INJA is lovely and ideal for a romantic date night while the private dining room is available for a larger group and is designed exquisitely.
4. Sunset Story, The Westin Gurgaon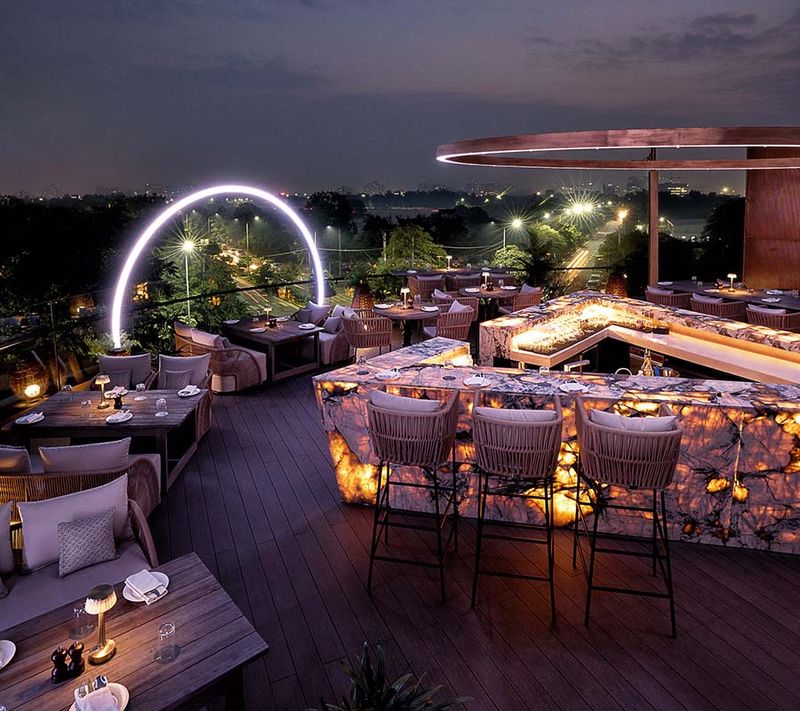 If you like rooftop bars, here's one that you're going to love. The Sunset Story at The Westin Gurgaon has been inspired by the hues of the sunset. The rooftop lounge and bar also offers a cocktail menu that has been inspired by the gorgeous shades of the sunset. Besides an impressive list of classic tipple, wines and aperitifs, there are signature cocktails like the Sunset Martini and Rooftop Affair.
The chic ambience is complemented with a high-energy vibe. The DJ belts out semi-techno and lounge music and the spectacular triangular bar is the focal point at this terrace. The venue serves well for an elegant luncheon, an evening sundowner or a glamorous affair over cocktails and dinner.
Talking about the food, executive chef Anurudh Khanna has passionately crafted a menu that includes Indian classics like nihari gosht as well as global delights such as California maki rolls and chilli lobster tail. Scampi brioche, mutton pepper fry, five spice prawns, spicy mapo tofu and jalapeno garlic naan are some of the bestsellers at the Sunset Story.
5. Café Dali, Meherchand Market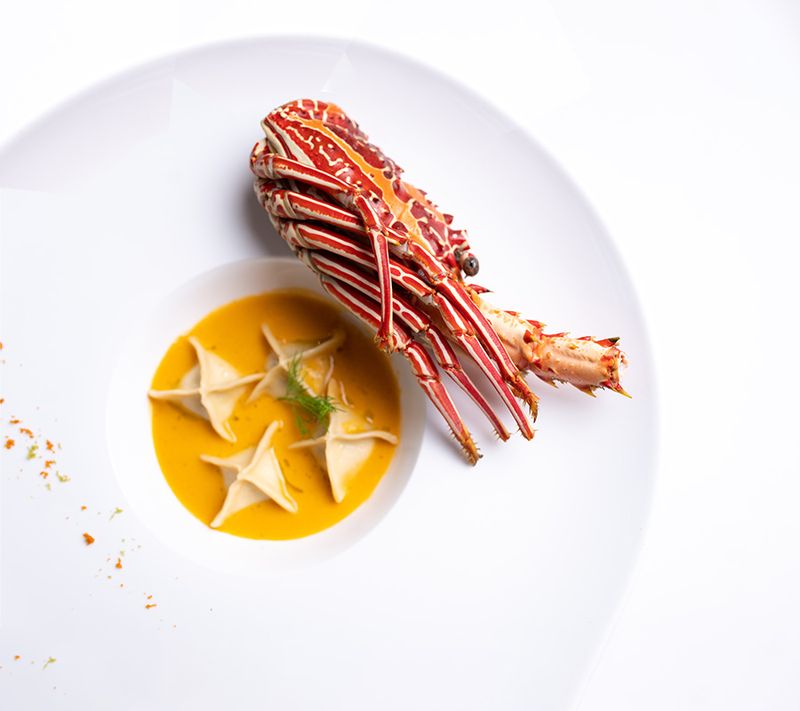 Café Dali, that had already made a name for itself in the last two years as a small 18-seater in Greater Kailash, has now opened at Meherchand Market, with a capacity for 30 diners.
Inspired by Florence, where you find art at every bend in an alley, the lilting aroma of citrus blossoms and the sheer beauty of everything Italian, Café Dali exudes elegant sensuality. The artwork on the walls pays homage to the legendary Salvadore Dali. While the candle-lit ambience is on point, it is the food that is the highlight at this chic café.
With Michelin-star chefs as consultants and curators of the menu, the dishes at Café Dali are gourmet yet home-style and wholesome. Fresh black truffles, white asparagus and even tomatoes are flown in from Italy, lobsters are fresh from the Andamans and handmade pasta, like ravioli and tortellini, is made in-house every day.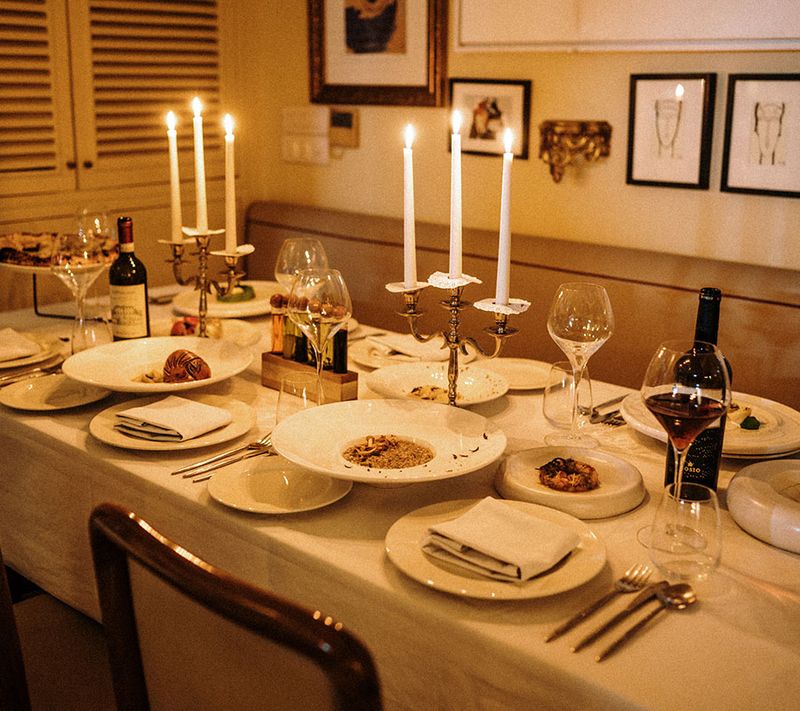 Dig into the classic Cacio e Pepe, Rigatoni in Vodka sauce or enjoy the Lobster Linguini with fresh lobster from the restaurant's saltwater tank. Artisanal pizzas are baked fresh in a wood-fired oven — be it the Parma Ham or the Classic Margherita. All the sauces on the menu carry a twist, the red and pink sauce is inspired by the classic Italian cocktail, the Negroni. Indulge yourself in all the delicious fare but please do not skip the tiramisu, it is fantastic!
Besides a lavish a la carte menu, there are three, five or seven-course menu options that are available only on Sundays. Friday and Saturday evenings are even nicer with live music where performers play the violin or the saxophone.
6. Kofuku Gurugram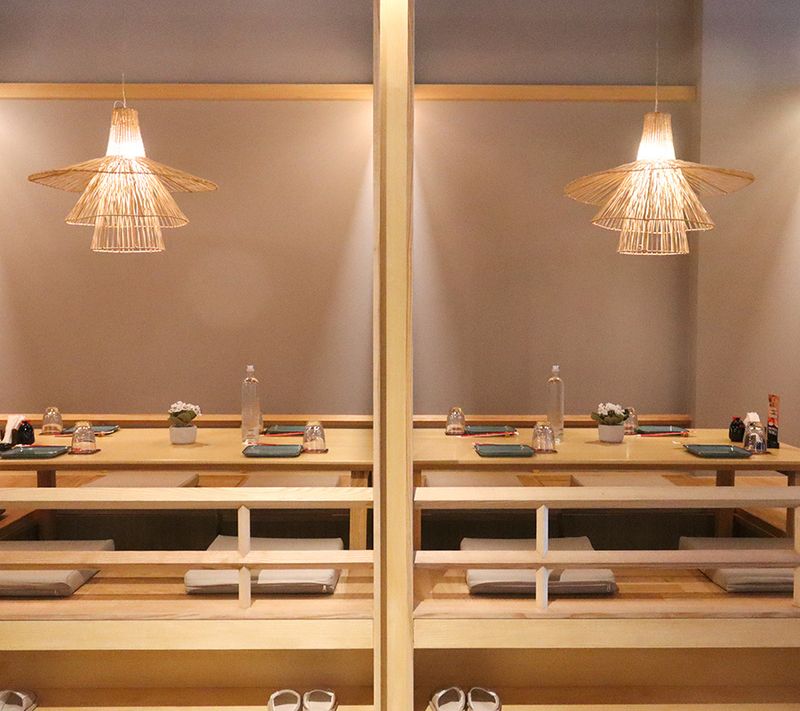 If you love sushi and ramen, you're probably already familiar with Kofuku. With seven outlets across India, three in Mumbai and one each in Delhi, Leh and Goa, and the latest one at M3M Gurgaon, Kofuku maintains top-notch consistency both, in its food as well as the décor. You can expect the same minimalist look, wooden tables, traditional artwork, bamboo-themed decor, separate Japanese-style low seating with tatami mats across all the outlets. It's also heartening to be greeted in a traditional Japanese style every time you enter Kofuku.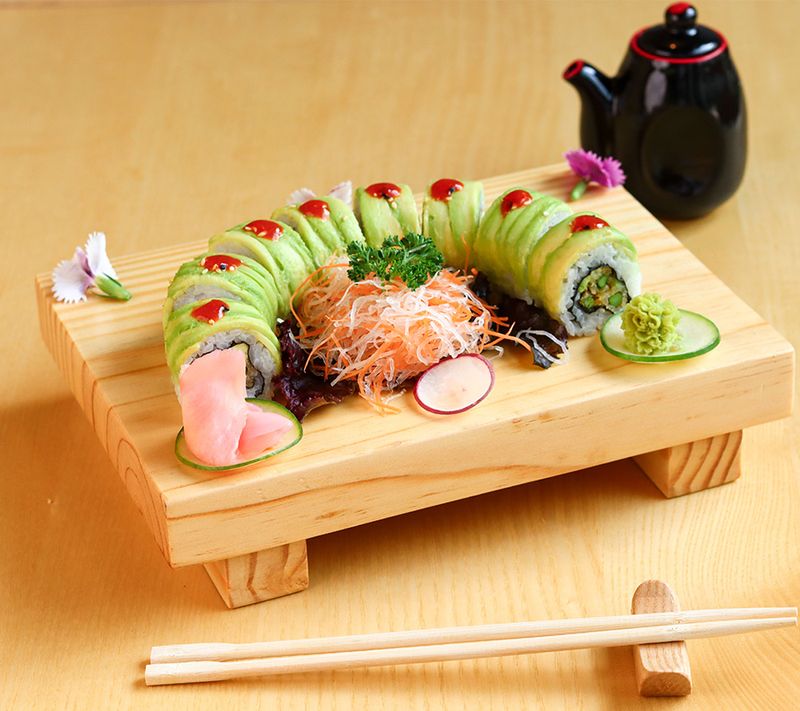 Once you've settled in, just sit back and enjoy the top-quality ingredients that are used to create superb Japanese fare. The extensive choice of sushi, sashimi and nigiri is followed by hearty and wholesome ramen bowls. Then there are Japanese curries, deep-fried karaage and noodles. If you can handle the heat, request their special wasabi — but be careful to taste just the tiniest quantity at first as it is guaranteed to hit the spot! Psst, there's also good news for Mumbai as a new branch of Kofuku is set to open at Andheri in October 2023.  
7. Hard Rock Café, New Delhi, Connaught Place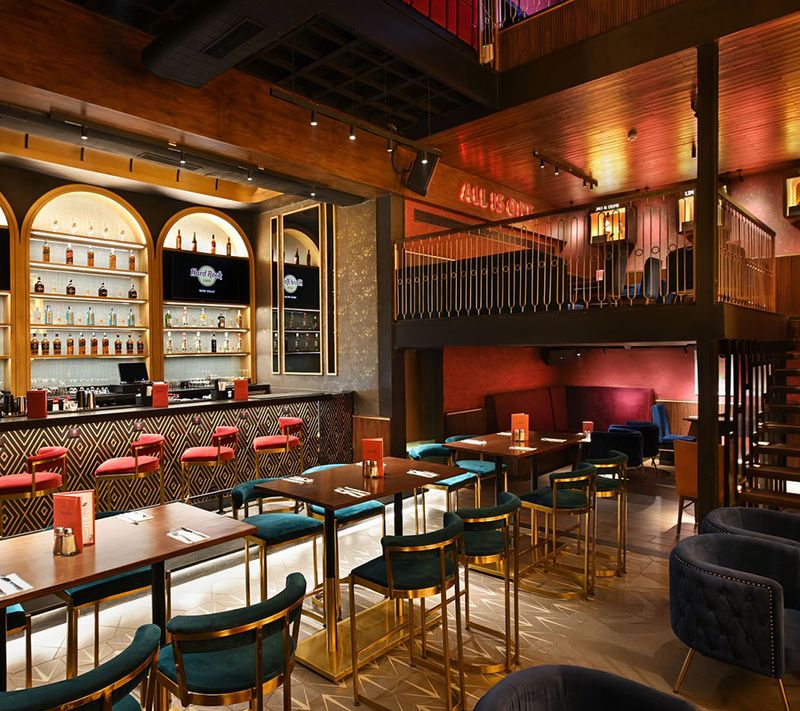 Look who's back! Relive the golden era of classic rock music with signature cocktails and lip-smacking burgers at the Hard Rock Café, New Delhi. The newly opened 6,254-square-foot HRC outlet is divided into three levels — the Rock Shop, the Constant Grind Coffee Shop, and the marquee restaurant and bar area with a spectacular stage area for live concerts and performances.
The menu includes all sorts of comfort food from legendary burgers, loaded nachos and fries, baby back ribs, spicy shrimp and hot fudge brownies. Don't miss out on the original legendary burger from the signature steak burgers series. Besides all the classic American fare, the Delhi HRC also features a few local specialties like thela chaat, rara chicken and biryani. Wash all this down with a variety of beverages like draft beers, wines, and handcrafted cocktails including Hard Rock's signature Hurricane Cocktail to Alternative Rock alcohol-free selections.
Musical nights at HRC are extra special where you can enjoy the live performances by your favourite bands and artists at the center stage equipped with high-quality acoustics and light effects. The new live music calendar features gigs by Antariksh, Sherry Mathew, Remix Nights by DJ Eric, Sunny Tunes, Frontrow Bandits, and Parikrama.
8. Smoke House Deli, Gurugram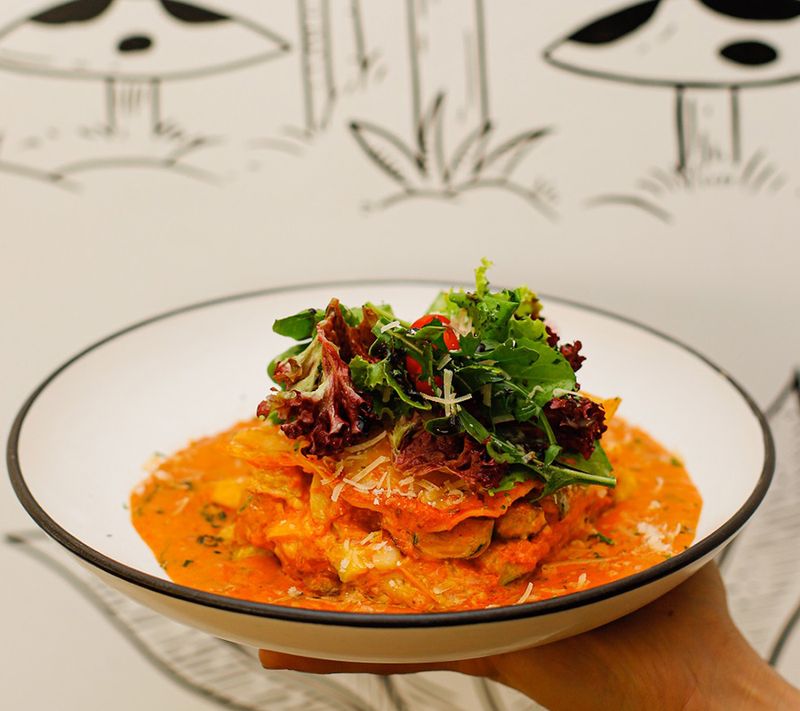 From opening the first outlet in the country at Vasant Kunj to the eleventh at Gurugram, Smoke House Deli has been one of the most-loved European cafes in the capital over the years. The Deli is synonymous with beautifully-crafted European comfort food served in a quirky and artistic space.
From eggs for breakfast, and signature thin-crust pizzas to freshly rolled and handmade pastas, sandwiches, hot dogs and hoagies, the carefully-crafted menu features many favourites. Ol' School Pancakes, French Toasts, Smoke House Dips & Chips, Grilled Prawn Sambal Skewers, Crispy Panko Chicken Tenders, Signature Spicy Spaghetti Meatballs and Bacon Wrapped Chicken are just a few of the hot sellers.
The indulgent all-inclusive menu also has ample choice of vegan, gluten-free, and keto-friendly dishes. The cafe transitions seamlessly between a quaint and bright Deli by day and an intimate and cosy space by night.
9. The Art Café, Bikaner House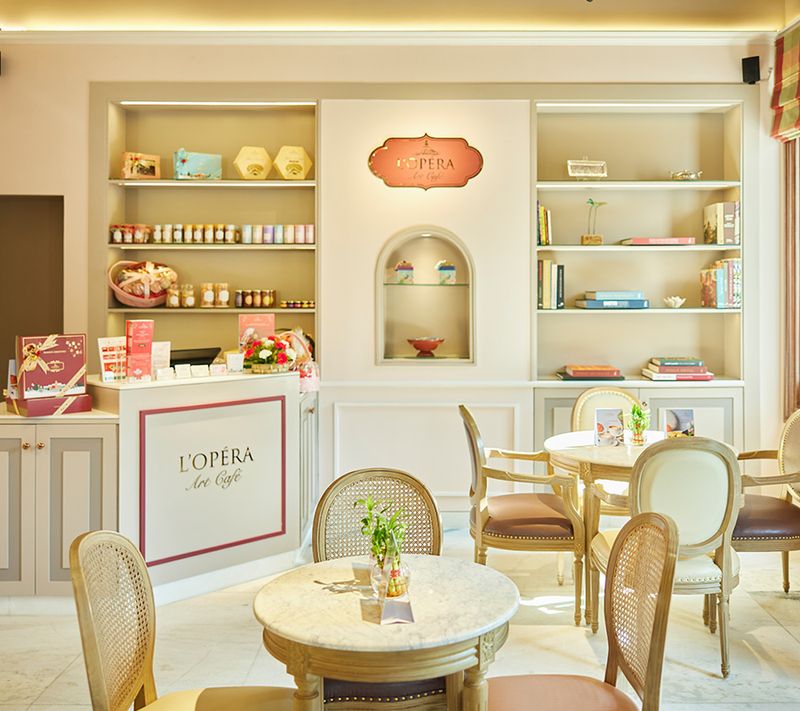 Staying true to its name, The Art Café is designed with French aesthetics and is a charming new addition to the elegant Bikaner House. The latest from the L'Opéra portfolio, the Art Café literally shares the wall with the brand's upmarket Salon de Thé. This chain is the brainchild of Frenchman Laurent Samandari, who envisioned the demand for authentic, high-quality French bakery and pastry products while on an internship in India. Later, Laurent's parents, Kazem and Christine Samandari also joined him to help make his vision a reality.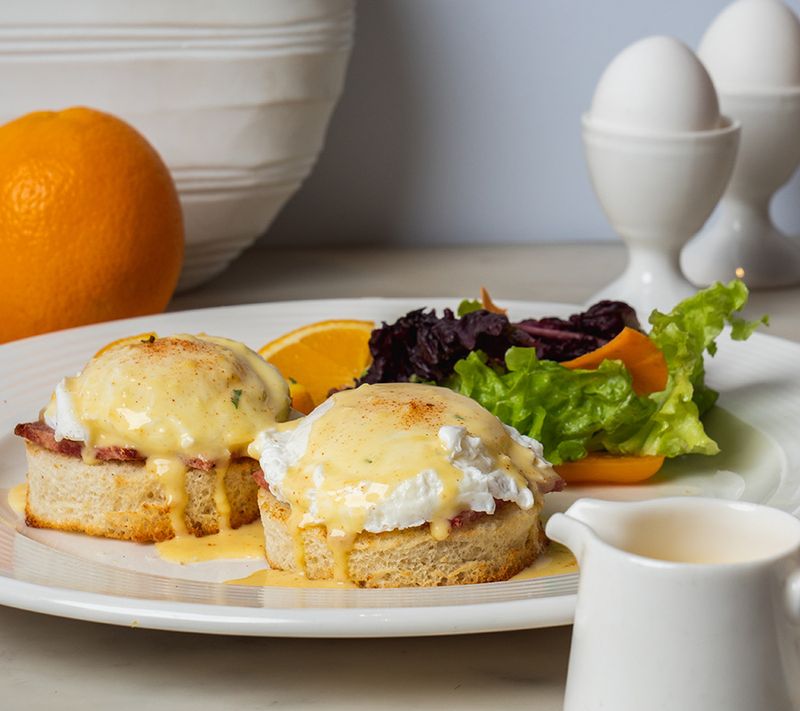 As the name suggests, the walls of The Art Café are adorned with soothing pieces of art that complement the lush green outdoors. The menu is also more elaborate and includes French classics like the onion soup, croque monsieur and croque madame, quiches, crêpes, croissants and pastries. New additions to the menu include risotto, pasta, pizza and hot and cold sandwiches.
10. Uncafe, Select City Walk, Saket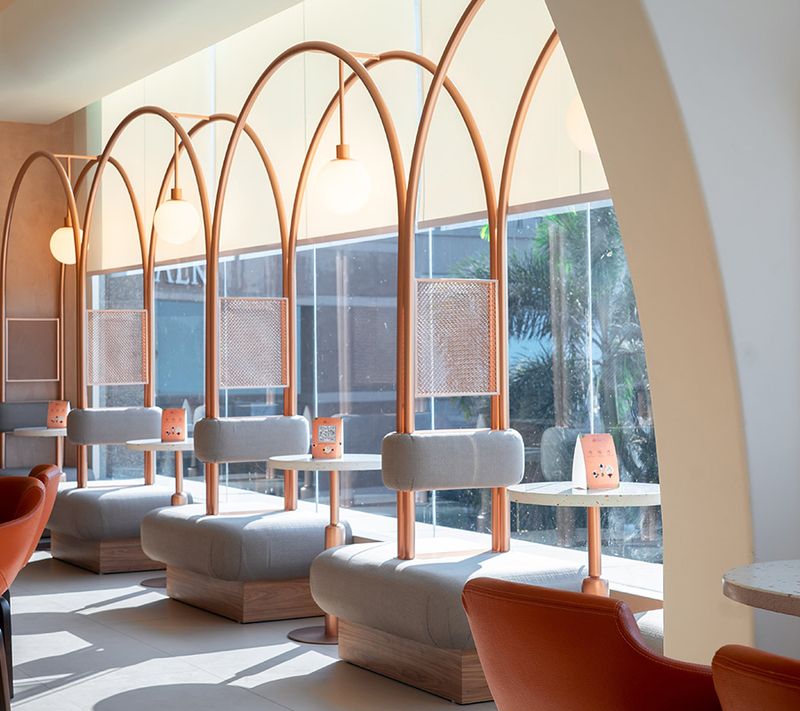 An advocate of mindful eating choices, Uncafe brings the freshest farm-to-table meals curated with carefully picked, high-quality ingredients from locally-owned farms in Delhi NCR. The restaurant breaks the notion of healthy food being boring with its elaborate salad bar that brings forth the refreshing concept of 'build your own bowl'.
Premium toppings like avocado, kalamata olives, sun-dried tomatoes, caramelised walnuts, flattened chickpeas add texture and crunch to the bowl. It can be further enhanced with delicious dressings made in-house like kimchi, maple chilli vinaigrette and garlic aioli, to add some zing. Beyond refreshing and tasty salads, you can also indulge in hearty khao suey bowls, delicious toasts topped with flavourful and nutritious spreads, veggies and crunchy nuts, Tex-Mex bowls and wholesome wraps.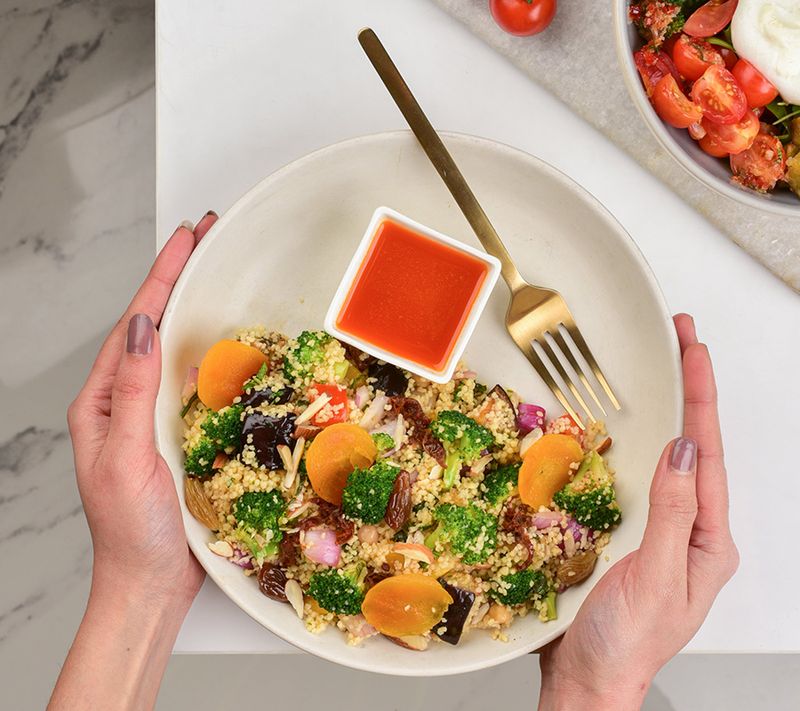 The menu is extensively vegetarian with new additions of vegan options and cage-free eggs. The dishes are curated using real and hydroponically-grown produce. The gourmet ingredients are also packed with health benefits, such as the hard-to-source black garlic that is loaded with antioxidants, reduces inflammation and bad cholesterol and improves brain function, is used in a delicious salad bowl.
The 34-seater located in one of Delhi's most popular malls is the second outlet by the brand and features tasteful decor of muted yet soothing tones to create an earthy yet contemporary cafe space that is warm and bright.
11. Playboy Club, The Grand New Delhi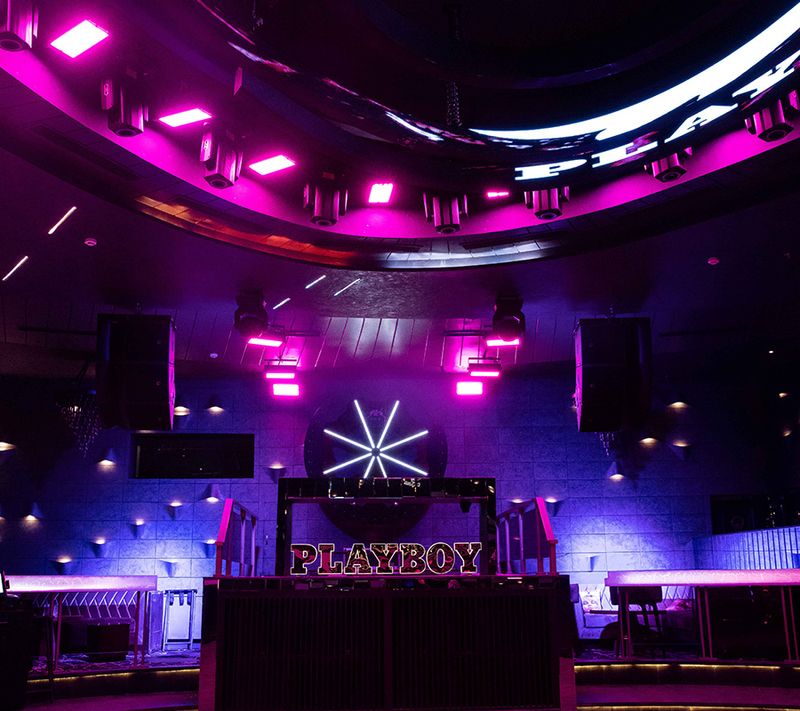 Located at The Grand, the Playboy Club celebrates all things playful and sophisticated. A true embodiment of the iconic Playboy brand, the Club offers curated experiences, refined dining, and a vibrant nightlife.
The vibe is set right at the entrance — guests arrive in style through an elaborate "Golden Key" entrance reminiscent of the world-renowned clubs of yesteryear, followed by a "lobby of illusion".  Split across three levels, there's a VIP mezzanine level, a quintessential center dance floor with an elaborate high voltage DJ booth, as well as an opulent floor-to-ceiling backlit alabaster bar bejewelled with state-of-the-art lighting and proudly projecting the iconic Playboy Rabbit Head logo. On offer are locally inspired eclectic cocktails, delectable dishes, high-energy music as well as the latest in dance, music and entertainment.
12. Molecule, Noida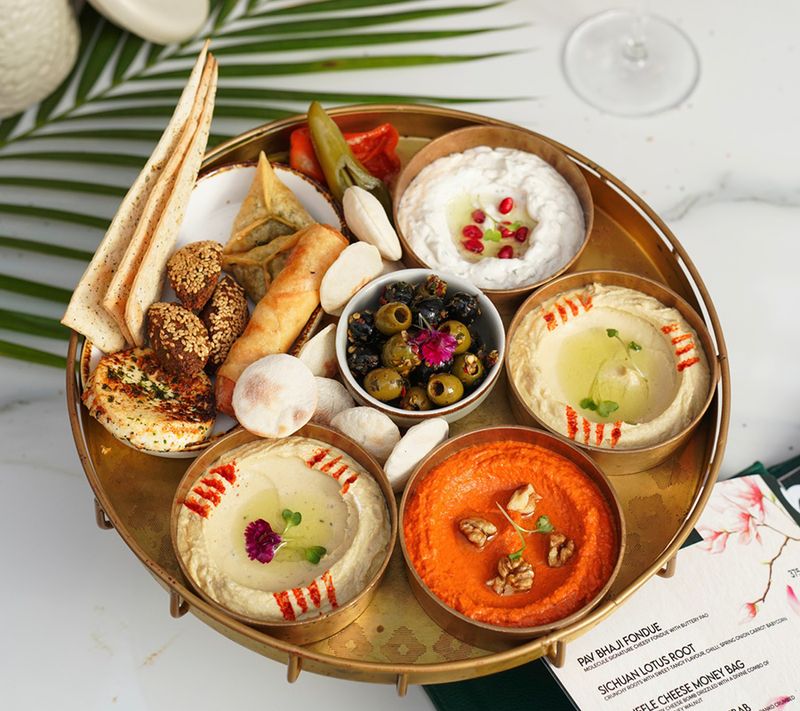 After influencing the entertainment and dining scene for over five years now, Molecule, the coolest bar from Gurgaon and Delhi has made its footprint in Noida. Cabanas on wooden decks and illuminations that glow up the space create an upbeat vibe combined with delectable food and modern drinks.
The interiors are spacious with a well-stocked bar and comfortable seating. The bar is equipped with the best spirits from across the world and it is also worth mentioning that the drinks at Molecule are made without any preservatives or synthetic syrups and are all homemade. The menu includes avocado crostini, mutton adana kebab, Cantonese lamb chop, diced Asian pork belly, spicy mushroom cream cheese, spicy miso salmon roll, Neapolitan pizza, and more.
---
Photo: Shutterstock; Featured brands