There's very little doubt that Vietnamese cuisine is right up there rubbing shoulders with other far-eastern culinary greats such as Thai, Malaysian, Japanese, and the current favourite, Korean. Known for its subtle flavours enhanced by the liberal use of fresh herbs like mint, dill and coriander, Vietnamese food is also rather distinct from its mostly coconut milk-based counterparts from its immediate neighbours of Laos, Cambodia and aforementioned Thailand a bit father away.
From slurping bowls full of noodles at iconic hole-in-the-wall eateries to testing my chopstick skills at make-shift dumpling carts and stalls (surrounded by the tiniest of plastic stools to sit on!), I recently gourmandised my way through a plethora of delicious Hanoian offerings at super affordable prices. Enhanced by familiar, yet paradoxically unusual flavours that took me on a trip within my trip, like some sort of culinary version of Inception. And there is no better place to see this culinary magic play out than on the streets of chaotic Hanoi. In particular, the Hoan Kiem neighbourhood in the old quarter of Hanoi that's home to all things wonderful and quaint.
So, in no particular order, here's my list of 12 must-have street food classics and more, that no trip to Hanoi is complete without you sampling at least a few of. And as a bonus, I show you the best places in the city to get your fix...
12 must-try dishes in Vietnam
1. Pho Bo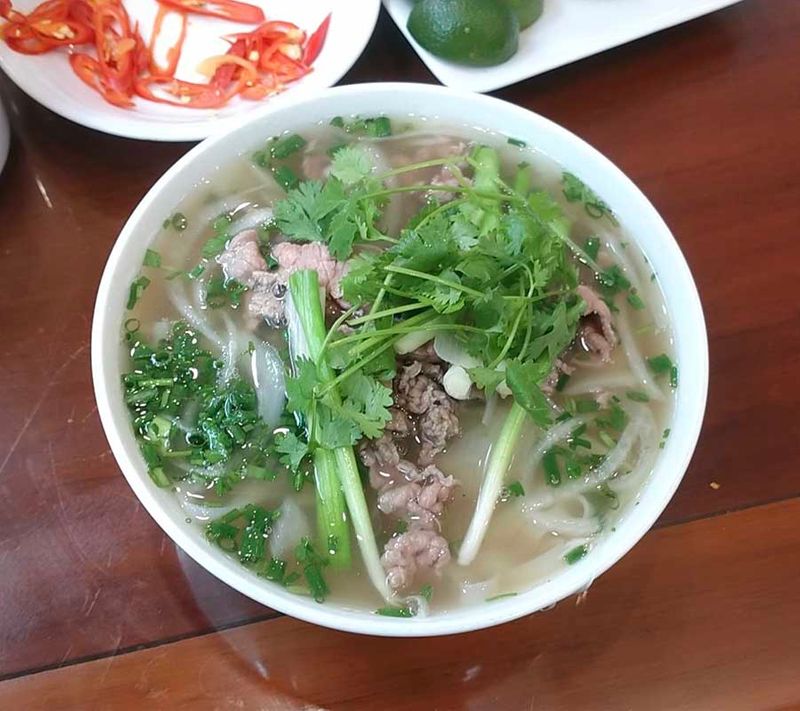 In the wide pantheon of revered Vietnamese classics, the mildly flavoured pho bo reigns supreme. This de facto national dish of Vietnam is loosely related to the French pot-au-feau stew. It consists of a simple bone broth, rice noodles called bánh phở, herbs like mint and coriander, and barely balanced slices of fatty beef (bo) that actually cook in the scalding hot broth. And though there are also versions with chicken, there's just something about a comforting bowl of the collagen-enhanced beef bone broth of a pho bo that makes it trump all other iterations.
Price: 60,000 Dong (Rs202 approx.)
Where to try: Pho 10, 10 Ly Quoc Su street
2. Bánh Cuốn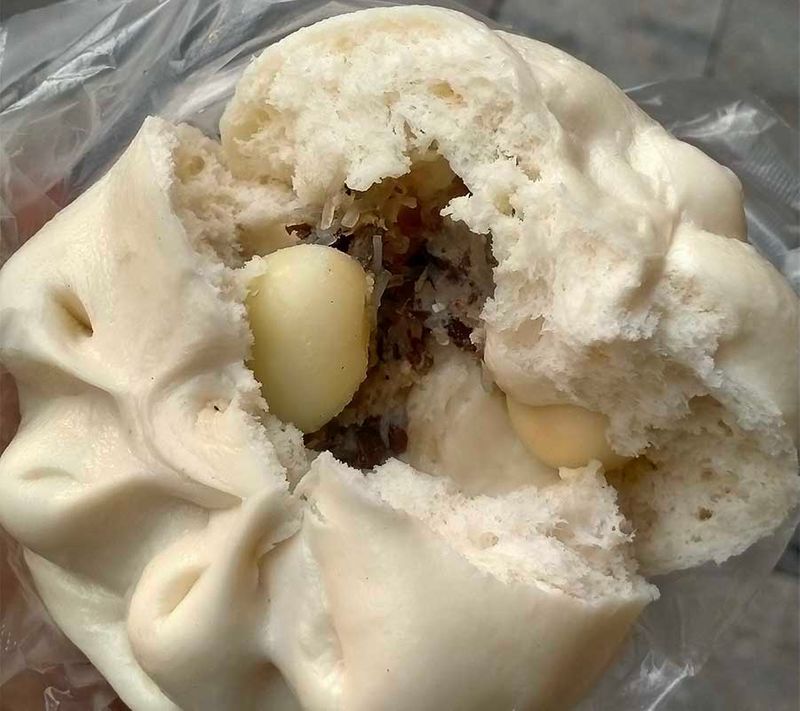 Closely resembling a Cantonese cheung fun, this dim sum-like anytime snack is made from a thin, wide sheet of fermented rice batter filled with a mixture of cooked seasoned ground pork (I also tried one with chicken that was equally scrumptious), minced wood ear mushroom, and topped off with crispy fried shallots. This is always served with a dipping sauce of the ubiquitous nước mam.
Price: 40,000 Dong (Rs135 approx.)
Where to try: 14 Hàng Ga street 
3. Ca Phe Trung
One of the great legacies left behind by the French, after their almost 100 year colonisation of Vietnam, is a very prominent coffee culture. But trust the Vietnamese to put a spin on this too! What I like to call Dalgona coffee's egg-enriched predecessor, ca phe trung or egg coffee was the canny invention of a Hanoian barista named Nguyen Van Giang in 1946 at his coffee shop called Café Giang. There is no better way to start a morning in Hanoi than by relishing the thick, creamy and surprisingly non-eggy tasting hot coffee, seated in the legendary café perched along Hanoi's 'Coffee Street' aka Trieu Viet Vuong in the historic Hai Ba Trung district.
Price: 35,000 Dong (Rs118 approx.)
Where to try: Café Giang, Trieu Viet Vuong street
4. Bánh Mi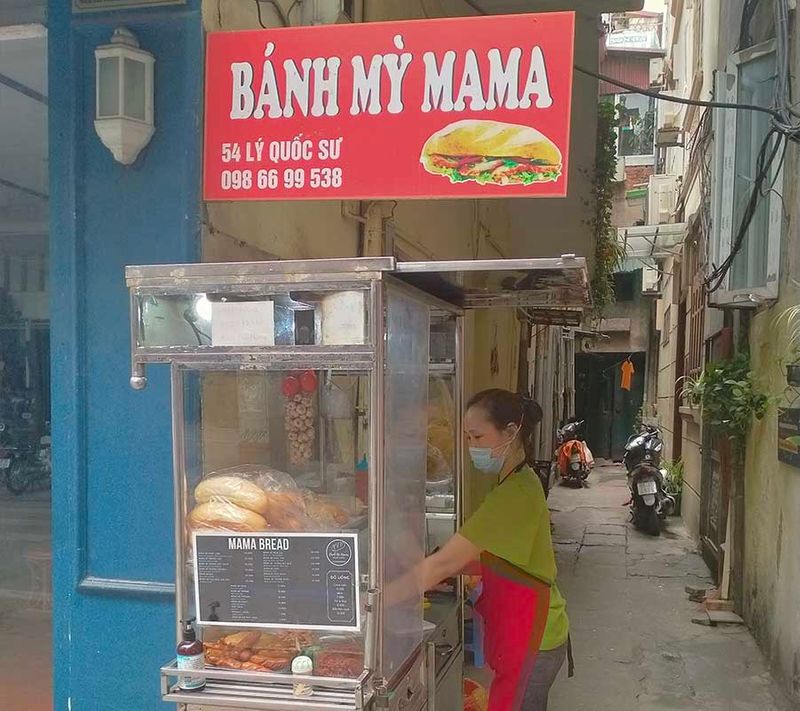 Another indelible part of the French colonial legacy is the absolutely divine and ridiculously cheap bánh mi sandwich. Found on almost every street corner, this toasted sandwich has as its base a mini French baguette made with rice flour for a porous and airy crumb. This is slit lengthwise and then stuffed with an assortment of French influenced fillings and condiments like roast pork, pork pâté, and mayonnaise that is further enhanced with the robust flavours of typically Asian ones like sweet chilli sauce and fresh coriander leaves. 
Price: 20,000 Dong (Rs68 approx.)
Where to try: Bánh Mi Mama cart, outside St. Joseph's Cathedral, 54 Ly Quoc Su street
5. Bun Bo Nam Bo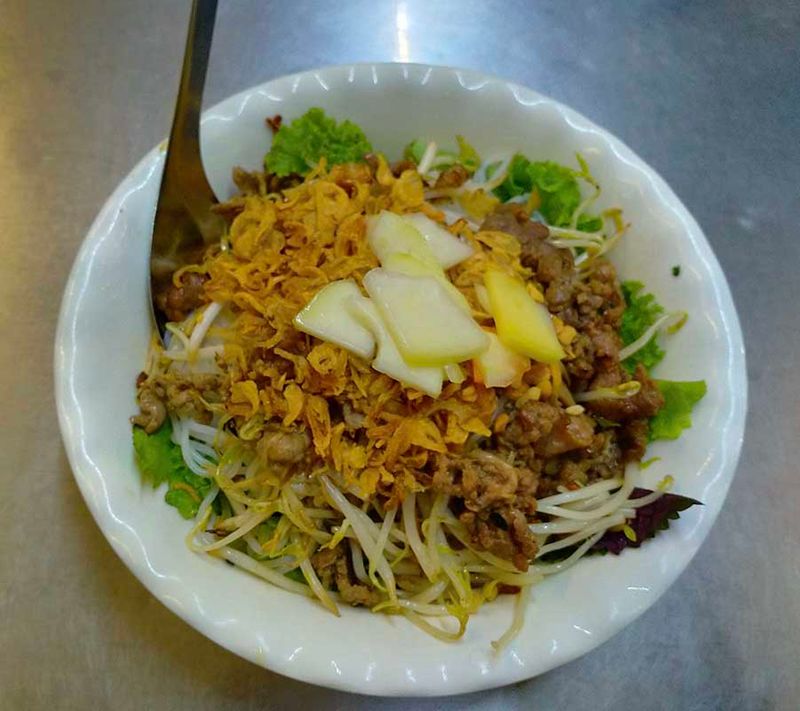 What perhaps chaat is to Delhi and bhel puri is to Mumbai, bun bo nam bo is to Hanoi. This number one street food dish in the city is a warm noodle salad that literally means 'noodles with beef from the south'. Here, thin rice noodles (bun) are topped with marinated, stir-fried beef, sliced raw papaya, bean sprouts and garnished with mint, coriander, fried garlic and crushed peanuts. All this is perfectly balanced with a sweetish lemongrass and lime infused sauce. 
Price: 65,000 Dong (Rs219 approx.)
Where to try: 67 Hàng Dieu street
6. Bun Cha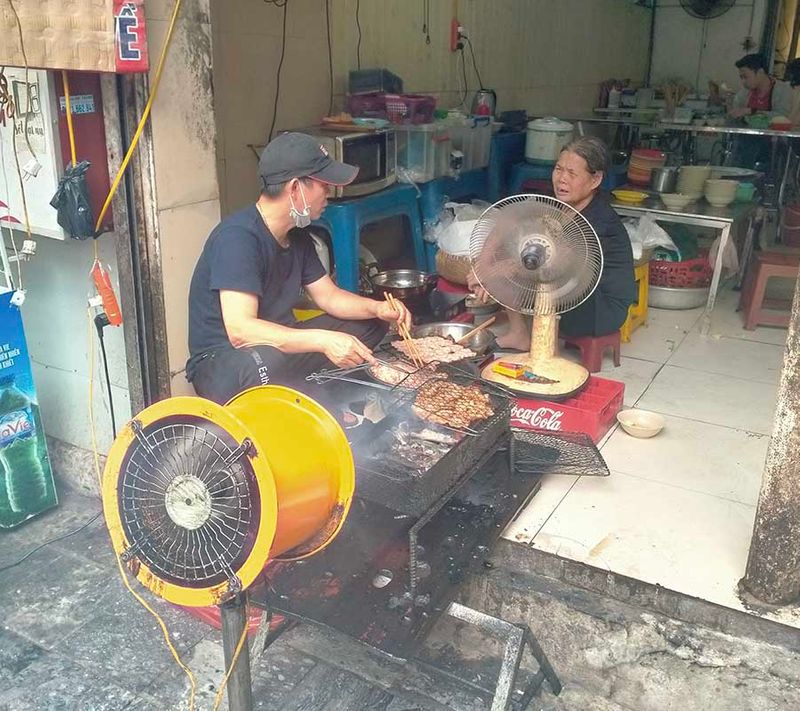 Another flag bearer of typical Hanoi street food, the all-pork bun cha consists of rice vermicelli noodles that are dipped into small bowls consisting of grilled pork patties and pieces of pork belly, raw papaya slices and a type of broth that is both a marinade for meat and dipping sauce. Fixings and condiments such as sliced chilli, chopped garlic, lettuce leaves and fresh herbs are served with it. Many also serve it with crab meat-stuffed spring rolls called nem ran cua be that I found a wee oily for my liking.
Price: 30,000 Dong (Rs 101 approx.)
Where to try: Thach Hoan, 43 Hàng Buom street
7. Sticky rice (with assorted toppings)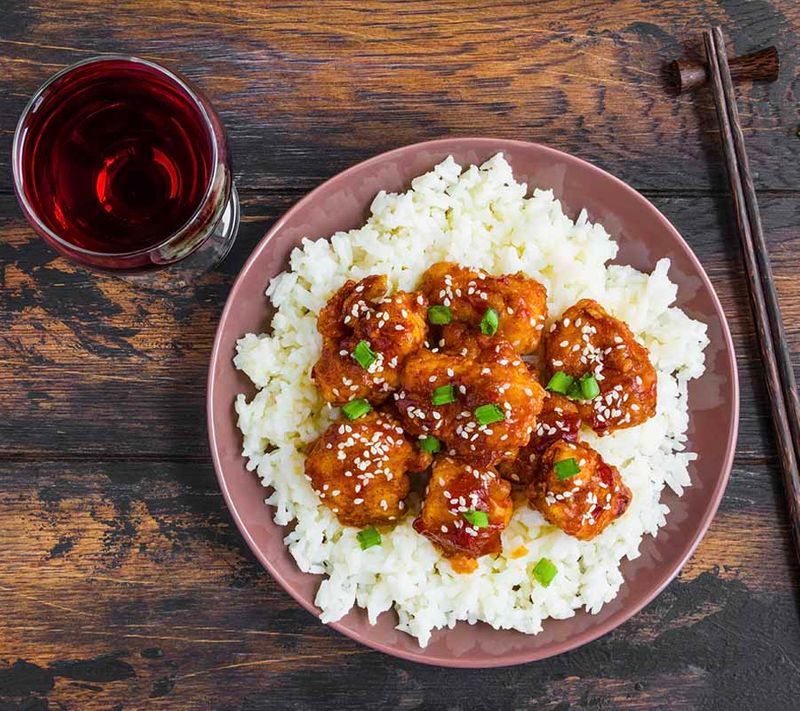 A popular breakfast item in Hanoi sees sticky, glutinous rice topped with a number of yummy savoury items like char siu roast pork, fried boiled eggs (sounds strange, but are delicious!), Chinese lapcheung sausage, Vietnamese cinnamon flavoured sausage and pork pâté among scores of others. One can pick and choose any number of permutations and combinations of the toppings that are each priced separately and very reasonably. A side of refreshing pickled cucumber is served for free.
Price: 57,000 Dong (Rs192 approx.) for rice with three toppings
Where to try: Xôi Yến, 35B Nguyen Huu Huan street
8. Bun Bo Hue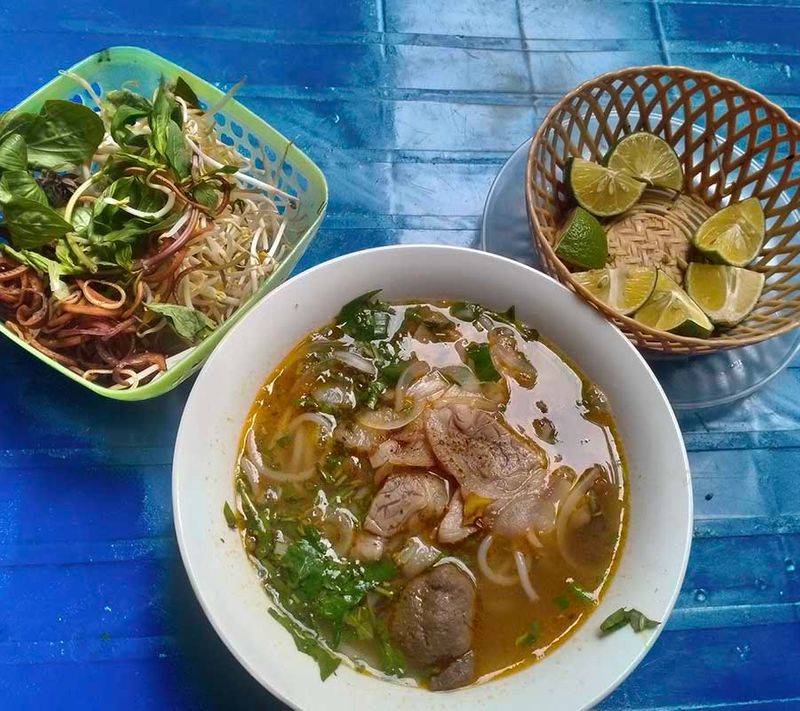 As suggestive of its name, this hearty bowl of beef noodle soup originates from the city of Hue in central Vietnam. Totally "my kind" (read: sour notes) of a dish, this one has a prominent lemongrass flavour that's even further jazzed up with a squirt or two of lime juice and garlic vinegar. A double beef bonanza, here both fatty beef slices and beef meatballs are served in a rich broth with thick, cylindrical, spaghetti-like rice noodles perfect for slurping up!
Price: 50,000 Dong (Rs168 approx.)
Where to try: Bun Bo Gio Heo, 60 Bat Su street
9. Bánh Bao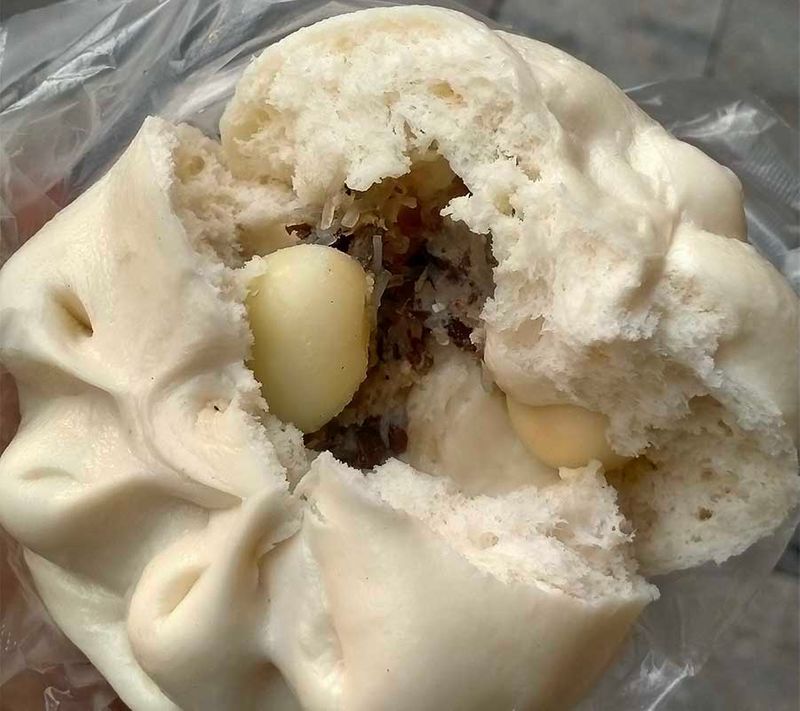 This is the larger and less intensely flavoured Vietnamese version of the fluffy steamed Cantonese bao that is stuffed with a host of savoury fillings. The most common filling like the one I had on my very first evening in Hanoi is ground pork, onions, mushroom, Chinese sausage and a couple of hard-boiled quail eggs.
Price: 20,000 Dong (Rs68 approx.)
Where to try: At the scores of vendors that dot Hàng Bac street
10. Chè Bà Ba 
All my 32 sweet teeth were in seventh heaven as I tucked into a bowl of this exquisite mélange of a dessert. With a cutesy, sonorous name like chè bà ba this one sees a range of jasmine flower flavoured sugar syrup-dipped fruits like longan, lychee, mango, and durian along with yam, taro balls, and sweet potato, served with lashings of coconut milk and crushed ice on the side. My favourite combination will always be the black grass jelly and pandan custard flavoured cubes with purple taro and coconut milk.
Price: 25,000 Dong (Rs84 approx.)
Where to try: 93 Hàng Bac street
11. Bun Riêu Cua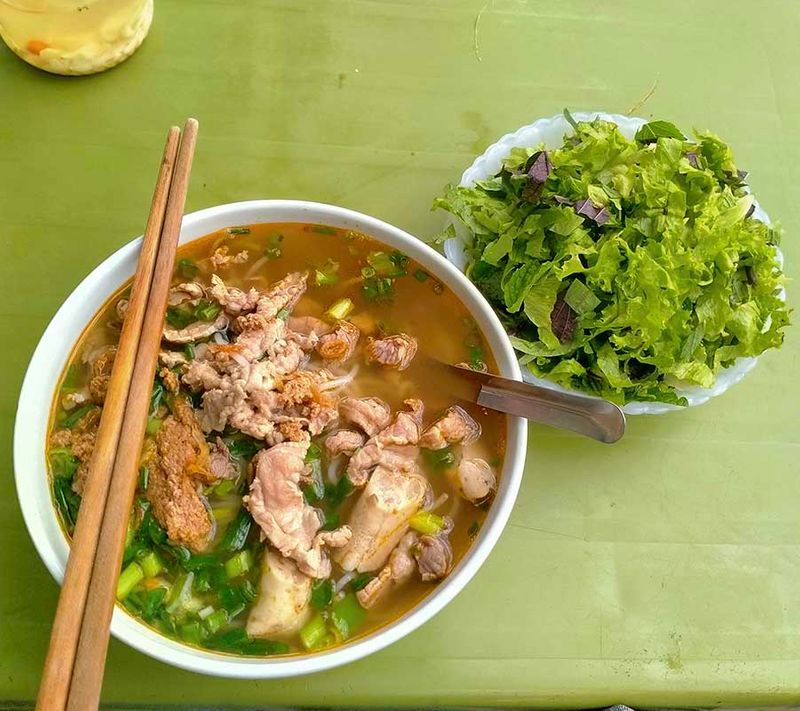 Yet another 'bun' dish, this popular noodle soup is a proper Vietnamese surf-n-turf rendition served with a surprising tomato-tamarind based broth. Topped with minced freshwater crab meat, the rice noodles also contain a complex array of ingredients like sliced beef, fried tofu, huyết (congealed pig's blood), chopped lettuce and a splash of rice vinegar. Just in case it isn't already sour enough for you!
Price: 40,000 Dong (Rs135 approx.)
Where to try: 75 P. Hàng Bông street
12. Cha Ca La Vong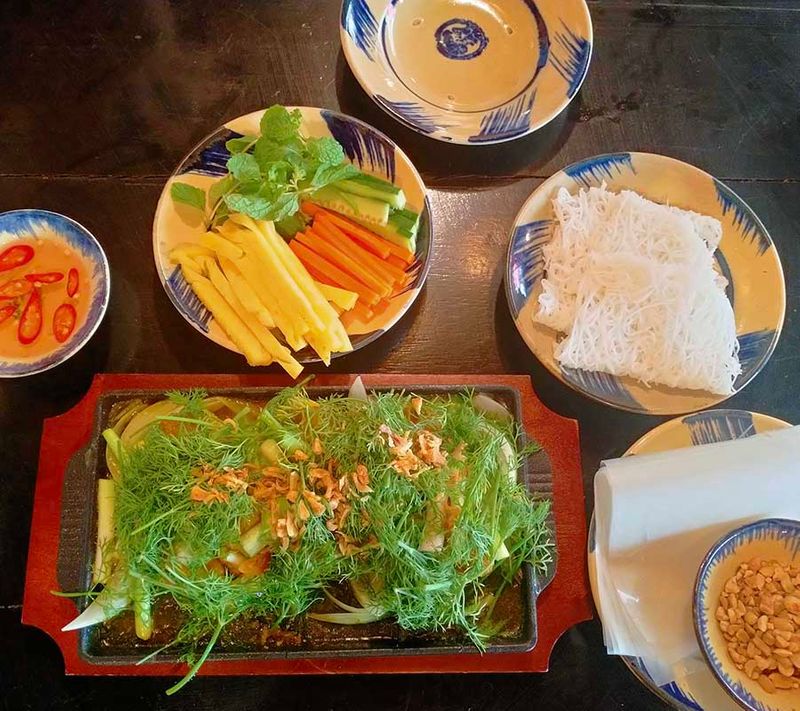 The sole aberration on this list is this grilled catfish dish of purely Hanoian origin that is not a street food dish and thus, a tad pricey. Only found in proper restaurants, here turmeric-marinated pieces of fish are lightly grilled over charcoal. The dish is served in a hot, sizzler-like pan that's coated with marinade sauce and herbs, particularly dill along with spring onion and sometimes, basil. It is eaten with vermicelli rice noodles, batons of fresh pineapple, carrot, cucumber and peanuts wrapped in translucent, edible rice paper.
Price: 189,000 Dong (Rs637 approx.)
Where to try: Cai Mam Bistro, 07 Lương Văn Can, Hàng Gai street
---
Photo: Shutterstock /Raul Dias