Indian cuisine has undergone a renaissance on the world stage and is no longer restricted to butter chicken and tikka masala. Instead, chefs are spotlighting regional Indian dishes and lesser-known flavours while upping the ante on precise techniques and plating. Whether you're traipsing the streets of Paris or living it up in Dubai, these restaurants will give you a taste of home—albeit in a contemporary avatar. That's why you can't ignore this list of top 10 Indian restaurants abroad.
1. Bibi, London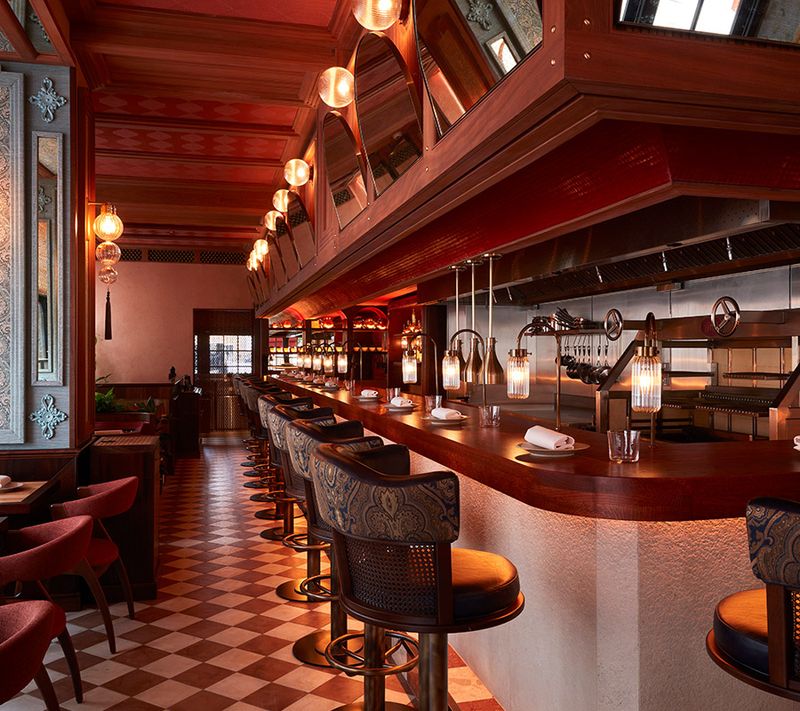 From the team behind London's Michelin-starred Gymkhana, Bibi is a progressive Indian restaurant housed in an elegant Georgian building in Mayfair. Decked out in dusty pinks, gleaming wooden panels, polished mirrors, and paisley upholstery—the restaurant looks like a gorgeous jewel box. Patron-chef Chet Sharma's constantly evolving menu celebrates Indian flavours that would have been enjoyed by his grandmothers (bibis), who played a key role in his culinary identity. Choose from the à la carte menu, or better yet, try the Chef's Selection (dinner only) with dishes such as scallop nimbu pani, lobster seekh kebab, green chilli macchi, and blackberry and sweetcorn shrikhand (vegetarian menus are also available). 
2. Dhamaka, New York City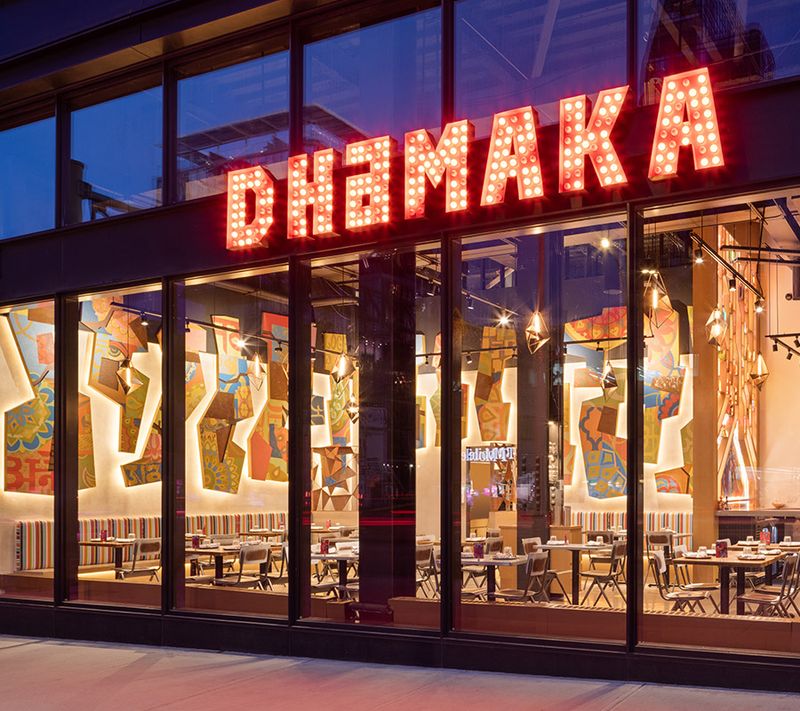 Located inside the recently renovated Essex Market (New York City's most historic public market) on the Lower East Side, Dhamaka's interior lives up to its name with an explosion of colours and flavours. The menu is "unapologetically Indian", with chef-owner Chintan Pandya serving up regional specialities from all over the country. These include forgotten offal dishes like gurda kapoora (spicy goat kidneys and testicles), grills like Kashmiri gosht champ and lasooni lobster, and a pre-order-only Rajasthani shikar (hunting) meal of whole rabbit. The northeast is also represented through dishes like Nagaland pork and misa mach poora (grilled shrimp in banana leaf originating from Mizoram). 
3. Trèsind Studio, Dubai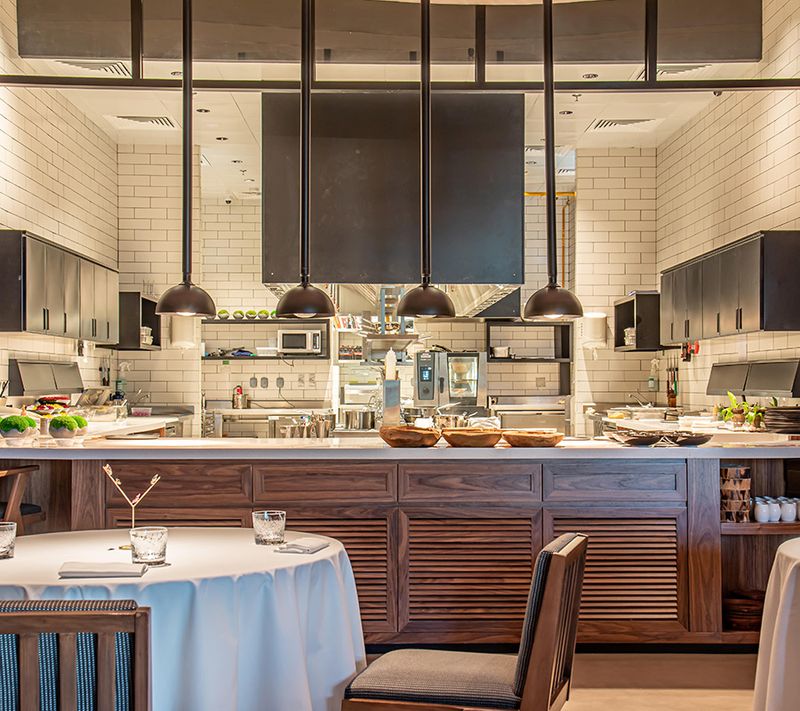 Its location inside Nakheel Mall in Palm Jumeirah may seem incongruous, but there's a reason Trèsind Studio is the only two-Michelin-starred Indian restaurant in the UAE. Its modern and minimal aesthetic makes sure the entire focus is on the food. There are only six white-clothed tables that face the transparent kitchen. Here, Chef Himanshu Saini and his team put innovative spins on traditional Indian dishes, with the 17-course degustation dinner taking you on a journey around the country—from the Thar desert to the Deccan plateau and from the Himalayas to the coastal plains.
4. Gaggan Anand, Bangkok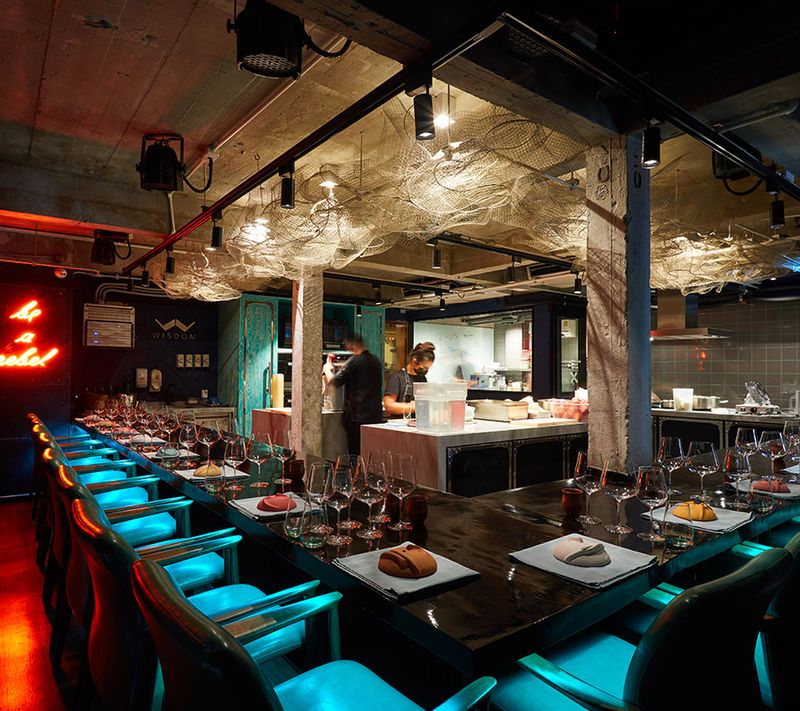 A fixture on the world's best restaurants lists (no. 17 in 2023), Gaggan Anand is where you go to have all your notions of Indian food turned upside down. Located in Sukhumvit, its foliage-clad exterior belies the restaurant's sleek, modern interiors and walls adorned with neon lights. The space is divided into Arena G, a conventional restaurant setting with tables around an open kitchen and G-Spot, the 14-seater Chef's Table, with teal chairs arranged against an L-shaped polished wood table that wraps a kitchen island. Get ready for an intimate dining experience that's immersive and interactive, peppered with Chef Gaggan Anand's irreverent and enthusiastic storytelling and a curated playlist that complements the tasting menu.
5. Tonka, Melbourne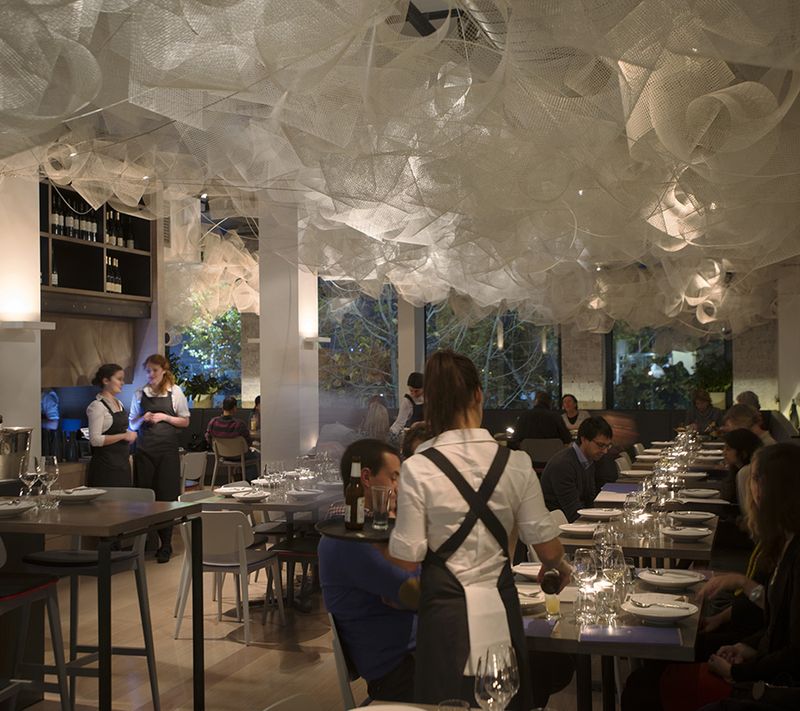 Walk down down one of Melbourne's iconic street art-splashed laneways, and you will find Tonka—Executive Chef Adam D'Sylva's modern Indian restaurant. In stark contrast to its gritty exteriors, Tonka offers an elegant space. The casual Thali Bar upfront is a non-reservation area, serving up cocktails, bar snacks, and the Tonka Thali. The bright, open dining room with sweeping views of Flinders Street is reservation-only. The menu offers an inspired interpretation of vibrant Indian flavours with European influences and Australian produce—think oysters with amchur mignonette, kingfish crudo with fenugreek and prawn chilli oil, and pumpkin saag curry with nettle and sunchoke. 
6. Dishoom, UK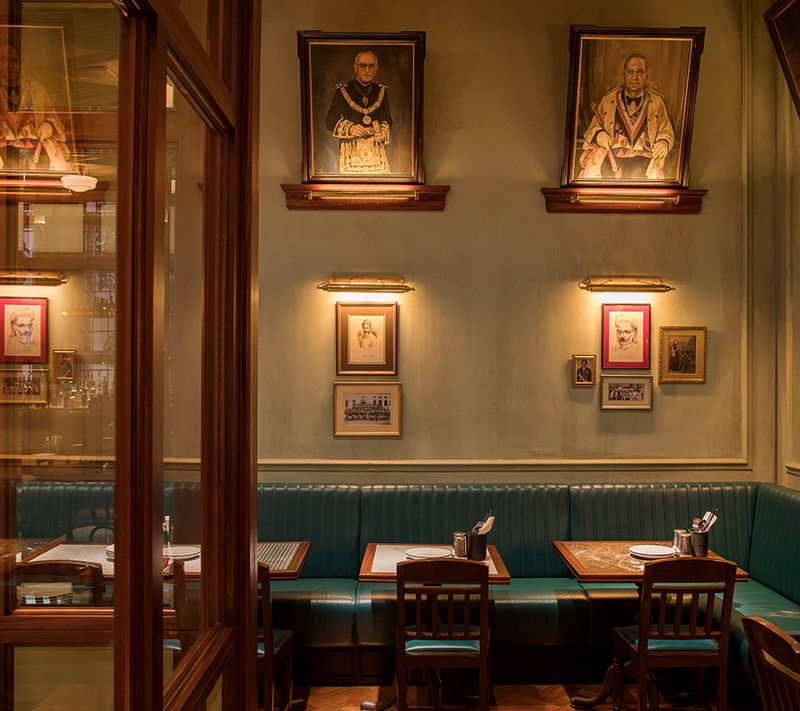 With six locations across London, plus outlets in Manchester, Birmingham, and Edinburgh—Dishoom's upscaled Bombay Irani café vibe is seriously popular. Every outlet has a distinct aesthetic, but wherever you visit, you will find hearty Bombay breakfasts, piquant house chaat, dishy grills, and more. Don't miss their famous naan rolls and akuri for breakfast. From their all-day menu, try the khichia & chundo, lamb samosas, gunpowder potatoes, and of course, the chicken berry Britannia—an homage to the berry pulao at Mumbai's Britannia restaurant. There are extensive options for vegans and people with gluten or dairy intolerances, as well as a kids' menu. End your meal with the Dishoom chocolate pudding served with Kashmiri chilli ice cream. 
7. Saffron, California
What was the former Michelin-starred Rasa in California's Bay Area transformed into Saffron in mid-2022. The newly designed casual Indian bistro in Burlingame has a remodelled, mid-century modern aesthetic with a nine-and-half-foot crystal chandelier making an eye-catching centrepiece. The menu travels up and down the southern Indian coast, dishing out crisp dosas, stellar curries, and fresh seafood. Try their signature dosa and uthappam in interesting flavours like wild mushroom and basil pesto. For mains, the Allepey vegetable curry or Kerala chicken curry hits the spot, while eternal Indian favourites like butter chicken and saffron daal makhana are also available. thesaffronrestaurant.com
8. Jugaad, Paris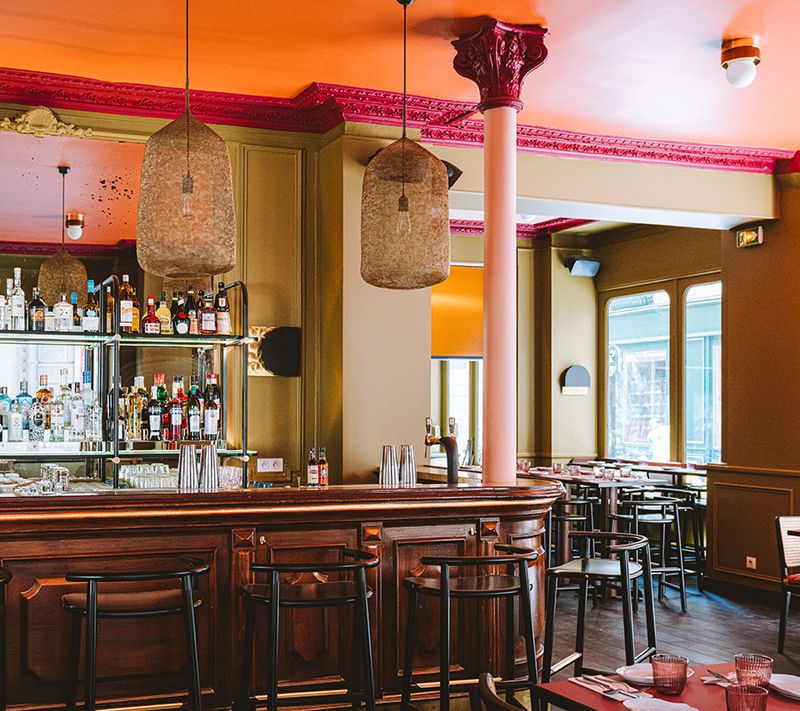 In the glamorous 2nd arrondissement, Jugaad's l'esprit de l'Inde (spirit of India) hides behind an indigo blue façade. Installed inside an old Parisian bistro, the restaurant retains some original elements such as the bar, vintage mirrors, and ceiling mouldings that contrast with pops of pink, orange, blue, and green. Helming the kitchen is Chef Manoj Sharma who debuted at The Oberoi, New Delhi and then worked at the Michelin-starred Amaya and Rasoi in London. He brings modern flair to Indian cuisine with perfect renditions of macher paturi and pork chop vindaloo, not to mention a hefty selection of vegetarian dishes. 
9. Amrina, The Woodlands (Texas)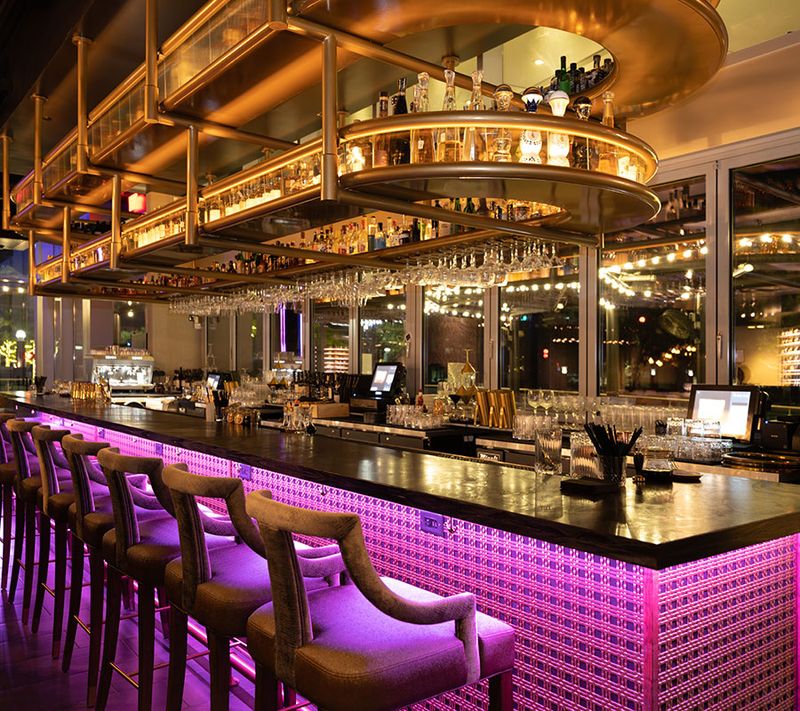 When Amrina opened its doors in mid-2022, it quickly became the hottest new Indian restaurant in the Houston area. Nestled in The Woodlands, the ritzy restaurant is a fusion of stylish and neo-urban elements, with an Indian essence woven throughout. Expect theatrical flourishes like cocktails served out of designer handbags, an Indian twist to the traditional caviar service that's complemented by naan blinis, and the chef's table located right inside the bustling open kitchen, where executive chef Jaspratap "Jassi" Bindra personally serves diners. Don't miss the malai broccoli with Amul cheese fondue, pork belly with apple murabba, and chicken meatballs with makhana salsa. 
10. Chourangi, London
Centrally located just off Oxford Street and near Marble Arch, Chourangi's rattan furniture channels the spirit of its namesake Kolkata neighbourhood. Helmed by chef-turned-restauranteur Anjan Chatterjee, its menu boasts of "unexplored flavours of India", which is not too off the mark since restaurants serving Bengali food in London are few and far between. Chourangi's contemporary take on Kolkata food—both Bengali and Indo-Chinese—features everything from banana flower croquettes and Tangra chicken to kasundi paneer tikka and prawn malai curry. An express lunch menu and a signature tasting menu (with an option of wine pairing) are also available.
---
Photo: Featured restaurants