It's not easy to be the number one Indian regional restaurant in New York in a mere 10 months of its opening, but it's not impossible either. Chef Chintan Pandya and restaurateur Roni Mazumdar have proved it with sheer integrity and their unapologetic approach to regional Indian food. Located in NYC's Essex Market, their eatery Dhamaka that specialises in provincial Indian cuisine was ranked as the best restaurant by The New York Times in 2021. With their focus on long lost recipes and dishes from the forgotten part of India, the duo is driven to change the way Indian food is perceived overseas.
The duo in collaboration with Masters of Marriott Bonvoy, are doing Dhamaka's first pop-up in India at JW Marriott Juhu, Mumbai, to take gourmands on an exceptionally unconventional culinary experience. In an exclusive chat with Zee Zest, they take us through the nuances of regional cooking and their earnest passion for home-style cooking.
While it's self-explanatory, we still tried to elicit an answer from the culinary duo, why Dhamaka though? Is there more to the name than an 'explosion of flavours'? Pandya says, "It's a vibrant name, it's got a lot of emotions to it. It's a blast. It's not a conventional restaurant name. It is much more than a restaurant," and "I think there's a hunger deep down that maybe New Yorkers connect to. It signifies that very hunger in every New Yorker to just try a little bit more and feel okay about it," adds Mazumdar.
Pandya, who has been awarded the Chef of the Year by the James Beard Foundation, believes it's the urge for cooking the right food with right integrity and right flavour profile that makes it. And what breaks it is the constant urge to make it too western, "We are trying too hard to make it too foreign to please other people. Our vision and focus is always to keep it as close to the regional food, the flavour profile. We don't do fine dining; we encourage people to eat with their hands."
Flavours of the forgotten land
And when it comes to ingredients, Pandya is  clear about what he wants. He recounts, "When we spoke about the fish eggs, everyone kept asking 'Do you want caviar?' I was clear that I wanted what we eat in India. We actually use fish eggs instead of caviar, that means we are liberating ourselves and giving a peek into our homes." At Dhamaka, you will find dishes that you won't find at any other Indian restaurants abroad. Taking us through his menu, Chintan elaborates, "We have Champaran meat from Bihar, chena poda from Odisha, doh khleh (minced pork salad) from Meghalaya, junglee maas from Rajasthan, yellow dal from the rural parts of Gujarat, and the bharela marcha that is cooked in small villages of Gujarat as a celebratory meal for special occasions. It's not like a daily meal, that's what we call the forgotten side of India."
Interestingly, when Pandya was in India, and travelled to the rural parts of India, he collected recipes without knowing when he would  use them, "It was just written for the sake of it," he adds. What kept him from putting all those dishes on the menu for the longest time, we ask. He says, "I was always made to believe that these recipes were not meant to be for restaurant purposes and supposed to be consumed in a small get together at home."
The pride of home-style cooking
Inspired by the cooking techniques of regional India, the chef has abandoned modern techniques, and is committed to using a lot of clay pot cooking, dum cooking, and actual pressure cooking in pressure cooking, as it would at any Indian household. He explains, "Our pulao is cooked from scratch in a pressure cooker and comes on your table in a pressure cooker. These techniques have been prevalent in our culture for the longest time, and we have been ashamed of using them and very much looking at western cooking techniques and accepting that in our culture. We don't do that; we are the other way round and focus on regional cooking." To this, Mazumdar adds, "We are no longer hiding behind the curtain. We are not showing the world a different place than it really is. We are just saying, this is us. Take it or leave it."
So, it doesn't come as a surprise that it has been on a steady rise since its inception and has earned massive plaudits from patrons. Talking about the spice and heat levels of the locals, Pandya clarifies, "We actually don't try to balance the spice and heat levels for the local American who dine at our restaurant. It's a perception we have built that their palates are not ready for it or designed a certain way. Whereas, in reality, they actually want it. Maybe we are not ready to give it to them."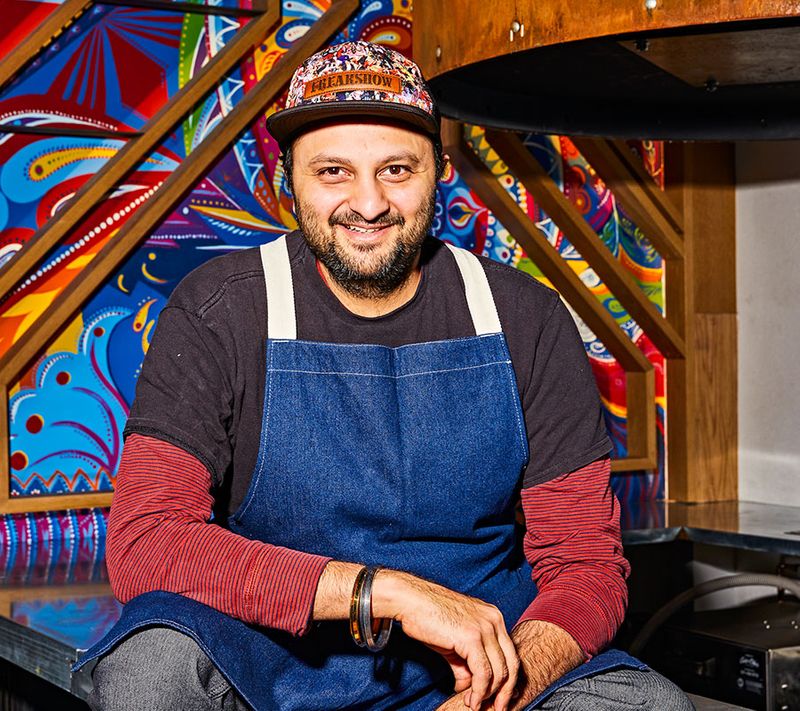 Unapologetically Indian
Mazumdar, who is passionate about food he's grown-up eating, goes by the philosophy of keeping it real, "It's not about pleasing other people. If we are taking inspiration from a village in Champaran, we can't worry about the white person dining at the restaurant. We worry about the villager who eats that dish and recreate that memory. Food is truly all about an emotion, and we need to share that memory with integrity."
What makes Dhamaka stand out is how every dish is a riot of flavours without compromising on the authenticity of the dish. "We don't plate a dish that looks pleasing to the eye or looks cool. Even when it comes to garnishing, let's tone it down so the bigger audience can appreciate it. All of that is the very apology we talk about, and therefore the emergence of Unapologetic foods," he adds     .  
Pandya stresses upon the fact that the entire beauty of our cuisine lies in the way it's cooked in households. "Then we have this commercial version of the food, in which we are trying to ape the west a lot. I like the concept of food cooked in a kadhai and the kadhai comes in front of us. Every main course as a rule is cooked in the same pot and served in the same pot. We don't even dish it out on anything, and that changes the entire taste of the dish."
Progressive cuisine isn't the benchmark of success
Today, where most chefs are doing progressive Indian cuisine, the duo, very consciously refrains from joining the bandwagon. They believe in showcasing what they have grown up with to not leave their childhood and identity behind. Mazumdar opines, "Somehow, a chef feels more validated if they learn the art of pasta 10x times over the art of dum cooking. I think that's where the problem lies, we are somewhere making ourselves smaller. The world is not suppressing us anymore. The British have left, and now it's us. But still, we are not letting our own light shine."
He continues, "Somehow progressive Indian cuisine has become the benchmark for success. If everyone only does progressive Indian cuisine, that has become the very definition of what success looks like. It's become a notion that if I need to be a successful Indian chef, I must cook progressive Indian dishes, or if my plate doesn't look a certain way, I am not a good chef. Somewhere in that whole effort, we are losing touch with where our roots actually are. Who we are and what our identity is. Deep down we are a little bit ashamed to put something that looks brown on a plate, because it doesn't look like the new American dish that has the vertically standing salmon on it. This is where we feel inferior." 
---
Photo: Unapologetic Foods