Hosting a Diwali party at home and fretting over the food menu? From insatiable Indian to killer Korean dishes, freshly baked pizzas, the creamiest of Mediterranean dips and spectacular Asian Chinese fare — we've rounded up some unbeatable cloud kitchens to order from right now. So, leave your culinary worries in the kitchen and enjoy your Diwali party!
Alas By The Ghost Chef 
There's so much to love about this cloud kitchen by chef Akhil Multani. Alas (which means salt in Greek) has some stellar Lebanese and Greek dishes. The variety of labneh includes a spicy variant, one with garlic and even a labneh with avocado. The green pea and truffle hummus is delicious with piles of pita on the side. The 'still warm' falafel is a must-order from the menu. Vegetarians will love the assorted platter of saffron-marinated cottage cheese, cardamom and tahini broccoli and harissa baby potatoes. Shawarmas and zaatar-spiked manakeesh (a Middle-eastern flatbread) too compete for your affection. The packaging is neat and spill-proof.
Delivery Radius: Across Mumbai
Available to order on: Swiggy, Zomato and Thrive
Call: 8799984030
Ammu
Looking for comfort food? Head to Ammu, award-winning chef Amninder Sandhu's delivery kitchen. The menu offers kebabs, tikkas, rolls, biryani and breads. If you order just one thing – let it be the chicken mince and cheese stuffed chicken legs. The perfectly marinated legs balance flavour and texture in intriguing ways. The smoked mutton chops are messy but so good you would be excused for ordering two. For the mains, choosing between Sandhu's Laxmi Chowk kadhai mutton and a coconut-based south Indian chicken curry will be tough. Whatever you do, don't skip the fragrant and subtly spiced Sandhu Saab's biryani. And, as ever, the vegetarian dishes are just as complex as their meaty counterparts. Try the melt-in-the-mouth dal makhani or paneer tikka. Whatever is on the menu, you can be sure it's made with the best ingredients, and from scratch.
Delivery Radius: Mumbai and Pune
Available to order on: Swiggy and Thrive
Call: 7977387107 (Mumbai); 8149472454 (Pune) 
Ginkgo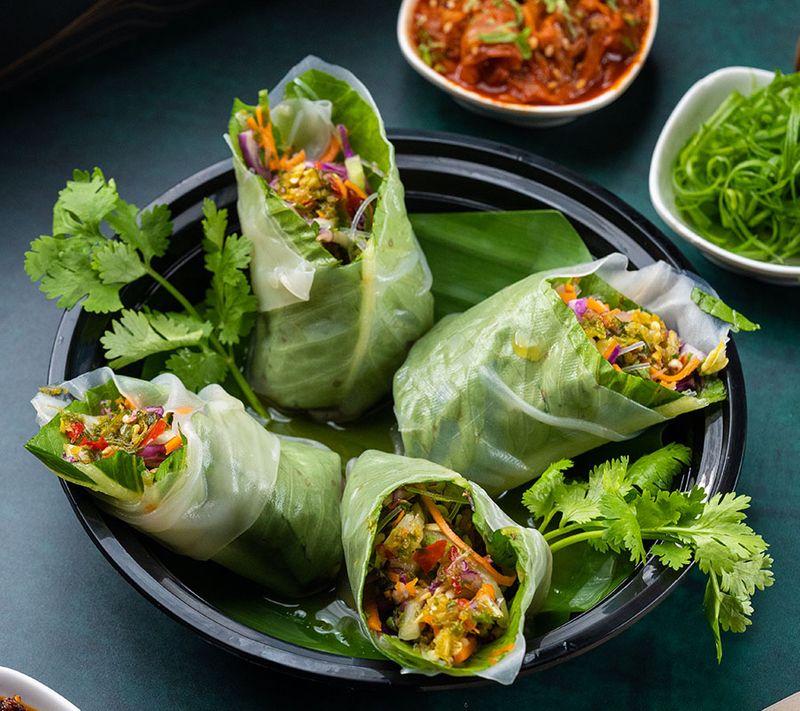 No party is complete without crowd-pleasing Asian fare. This cloud kitchen — by the owners of Grandmama's Café, Tori and Pritam Da Dhaba — offers a decidedly delicious and filling takeaway menu. Hotsellers include dan dan noodles, Vietnamese rice paper rolls and the ever-popular Korean kimchi fried rice. Some of the other popular dishes include the pad Thai and the Taiwanese fried chicken popcorn. The khow suey, neatly packed in separate containers, is a no-brainer. Add in their water chestnuts in coconut milk to finish your party menu on a sweet note.
Delivery radius: All across Mumbai
Available to order on: Swiggy and Zomato 
Slyce Pizza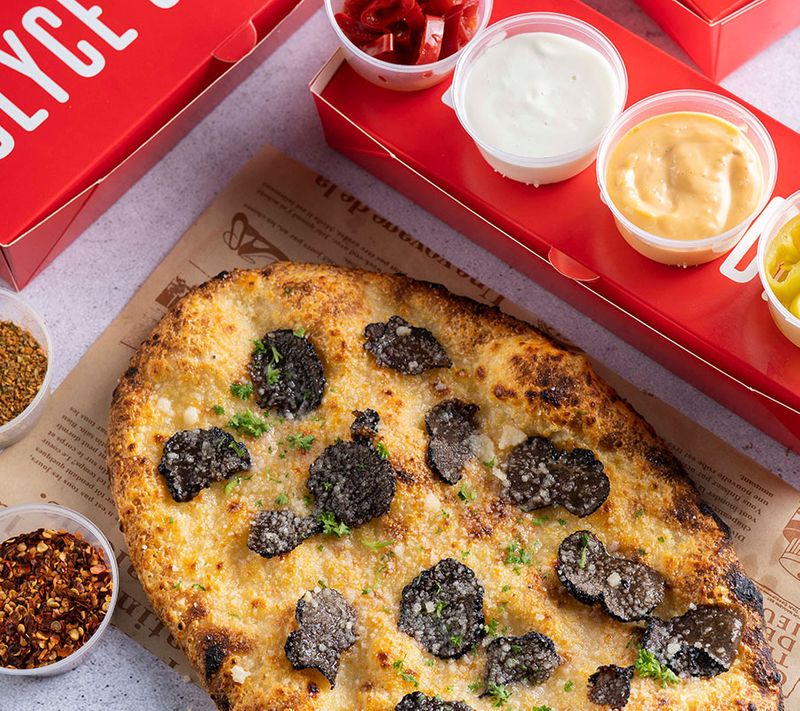 This newest virtual restaurant, from the house of Massive Restaurants, does some mean pizzas in ultra-thin and regular crusts. And because the dough's made in-house daily, there's not a dud on the menu. The pizzas come with six complimentary condiments — pepperoncini, paprika, toum sauce, jalapeno mayo, oregano and chilli flakes. The stalwarts on the menu include the truffle tart pizza that comes heaving with shaved truffles (not the synthetic truffle oil) and parmesan Reggiano — earthy and delicious. There is even a pizza with creamy mac &cheese topping and another one with Japanese fried chicken. Our favourite on the menu is the chorizo pizza with spicy tangy chorizo, balsamic onion, tomatoes and cheese. The only mistake you can make is not pairing your Slyce pizza with a beer!
Delivery Radius: Across Andheri, Bandra, BKC, Lower Parel and Powai
Available to order on: Zomato &Swiggy
Call: BKC – 8433942803; Andheri – 7777048292; Powai – 7710030386
Art of Dum 
The 'Dum Pukht' style of slow cooking is rare in the cloud kitchen format. But Art of Dum does a great job of it. This is no run-of-the-mill Indian fare. Packed in reusable glass jars and handis, the kebabs, galoutis, biryanis and curries come with steel cutlery. You'll struggle to order badly, but there are a few dishes that stand out. Like the yakhni dum gosht biryani. The butter chicken is not overtly sweet and has a smoky depth. Another ace curry that will flirt with your senses is the cashew and tomato-based kofta dilkhush. The breads are brilliant, as is the dal makhani which is slow-cooked for 24 hours and seasoned with white butter and cream. But please, pace yourself. Or you'll have to skip dessert. Which would be a shame, as the creamy phirni topped with pistachios is dazzling.
Delivery radius: All across Mumbai, Bengaluru, Hyderabad
Available to order on: Zomato 
Saffron by The Sassy Spoon 
Created by Rachel Goenka, Saffron is your one-stop shop for smoky tandoori dishes, flavourful curries and aromatic biryanis. The standout dishes include the subtly spiced saffron chicken tikka, a peppery rasam with roast chicken and the Lucknowi chicken biryani. The butter chicken, in an earthen handi sealed with dough, is an indulgent thing of beauty. While the mains are a specialty here, overlooking the desserts, especially the phirnee with pistachio crumb, is about as big a food regret as you could ever make, seconded only by the chocolate barfi cheesecake and kala jamun bread & butter pudding. The food won't leave you with that heavy bloatedness synonymous with Indian takeaways. You'll finish dinner feeling full but oh so content.
Delivery radius: All across Mumbai
Available to order on: Zomato
Boss Burger 
Life's too short to eat bad burgers. And if you live in Mumbai, there is absolutely no excuse for it. In the last few years, fantastic and affordable burger joints have been popping up with delicious regularity, of which Boss Burger is one of the best. The menu is a delight and offers gems such as the fried chicken burger as well as the wildly delicious guacamole burger and the decadent truffled three cheese tenderloin burger. In truth, the hard part is deciding what not to order. The fiery chicken wings and onion rings are dangerously addictive. Throw in a couple of beers and you are guaranteed a fabulous evening.
Delivery radius: All across Mumbai, Pune, Delhi NCR and Chandigarh
Available to order on: Swiggy and Zomato
HomeSlice 
If you are in the mood to get together with friends and make your own pizzas, then HomeSlice is a great idea. Their DIY pizza kit comes with a 12" thin crust pizza base, fresh pizza sauce, three types of cheeses, pizza toppings of choice and even olive oil for drizzling. All you have to do is assemble and bake in the oven. For the lazier lot, they also deliver ready-to-eat baked pizzas. Our vote is for the pesto pizza with balsamic tomatoes, toasted pine nuts, basil pesto, mozzarella and fresh rocket leaves. But the zen pizza with sun-dried tomatoes, jalapenos and fresh basil is equally compelling. Not a pizza fan? Try their delicious spaghetti or creamy burrata on a bed of fresh rocket leaves and cherry tomatoes.
Delivery radius: All across Mumbai
Available to order on: Swiggy and Zomato
Call: 9920089981 
K'z Mezze
If you are craving a Mediterranean meal, then this cloud kitchen by Kirti Jham and her daughters is the answer to your prayers. They serve up the richest hummus, yummiest salads, softest pita bread and the most sumptuous falafel bullets. The basil pesto hummus and the Beiruti hummus are thick, super creamy and the perfect complement to their freshly baked pita. All the dips come neatly packed in tubs and dressed with a drizzle of olive oil. Don't stop at the hummus though. The falafel salad lends to a party in the mouth. If you still have room, try the dark chocolate tahini tart — a deliciously decadent treat for your taste buds.
Delivery radius: All across Mumbai
Available to order on: Thrive
Call: 9930696602
Lucknowee 
Sometimes, only the comfort and familiarity of desi, Indian food will do. At such times, Lucknowee by Impresario Handmade Restaurants (the company with F&B brands like SOCIAL and Smoke House Deli) comes to the rescue. Carefully reimagined for at-home dining, their range of kebabs, curries and biryanis travel well and also offer a sense of indulgence. Skip the Lucknowee galouti and settle for the hara bhara kabab, nawabi chole, mutton seekh and rasedar bhuna gosht. Special without being pretentious, the bhuna gosht biryani and khichda don't disappoint. Scrap any diet in favour of the rich and delicious phirni and shahi tukda.
Delivery radius: All across Mumbai
Available to order on: Zomato 
---
Photo: Shutterstock; Featured brands