DIGITAL COVER
Richa Chadha And The Women Who Shook Hindi Cinema
On International Women's Day, our cover star Richa Chadha pays a special tribute to three iconic women from Hindi cinema—Meena Kumari, Zeenat Aman, and Smita Patil who have inspired her.
There is so much to be said about Richa Chadha. And yet, there exists a huge disparity between who we think she is and who she actually is. Perhaps best known for her role as Nagma Khatoon in Gangs of Wasseypur or as Bholi Punjaban in Fukrey—Richa has an eclectic body of work to show for her 12 years in the film industry. Then be it her stellar performance as the spirited Devi in Masaan or her most recent outing as DCP Sudha Bhardwaj, grappling with what's right and what's wrong, in The Great Indian Murder, Richa never fails to leave an impression. But there is more to this vociferous actress than just her films.
Over the past few years, Richa has also been doing her bit for social causes—from the rehabilitation of sex trafficking victims to the education of orphaned children—and urging people to do the same. In 2019, she featured in a Women's Day special video, alongside international celebrities Dua Lipa and Ed Sheeran, to raise awareness about the lack of equal rights for women across walks of life. 
When not taking on sassy, offbeat roles, she's devoted to expressing her opinion on topics that matter, taking a stand on social and political issues of the country, and being unabashedly fierce. This is a woman who doesn't just talk about causes on social media to gain followers—she is passionate about them and believes in truly digging in. Off the screen, as well as on it, she is empowered, motivated, persistent, and graceful at the same time. These qualities that make Richa Chadha the unique actress that she is come from experience and by observing inspiring women—inside and outside of Bollywood. 
For International Women's Day, we chose this powerwoman as our March Digital Cover Star, for a special shoot to bring alive some of her favourite icons from Hindi cinema. Icons who have inspired her and her work - Meena Kumari, Zeenat Aman and Smita Patil. What ensued was a special tribute to these powerhouses of talent from Hindi cinema, who are etched in our minds for the characters they brought alive on the screen albeit—the Richa Chadha way. 
The multi-talented Meena Kumari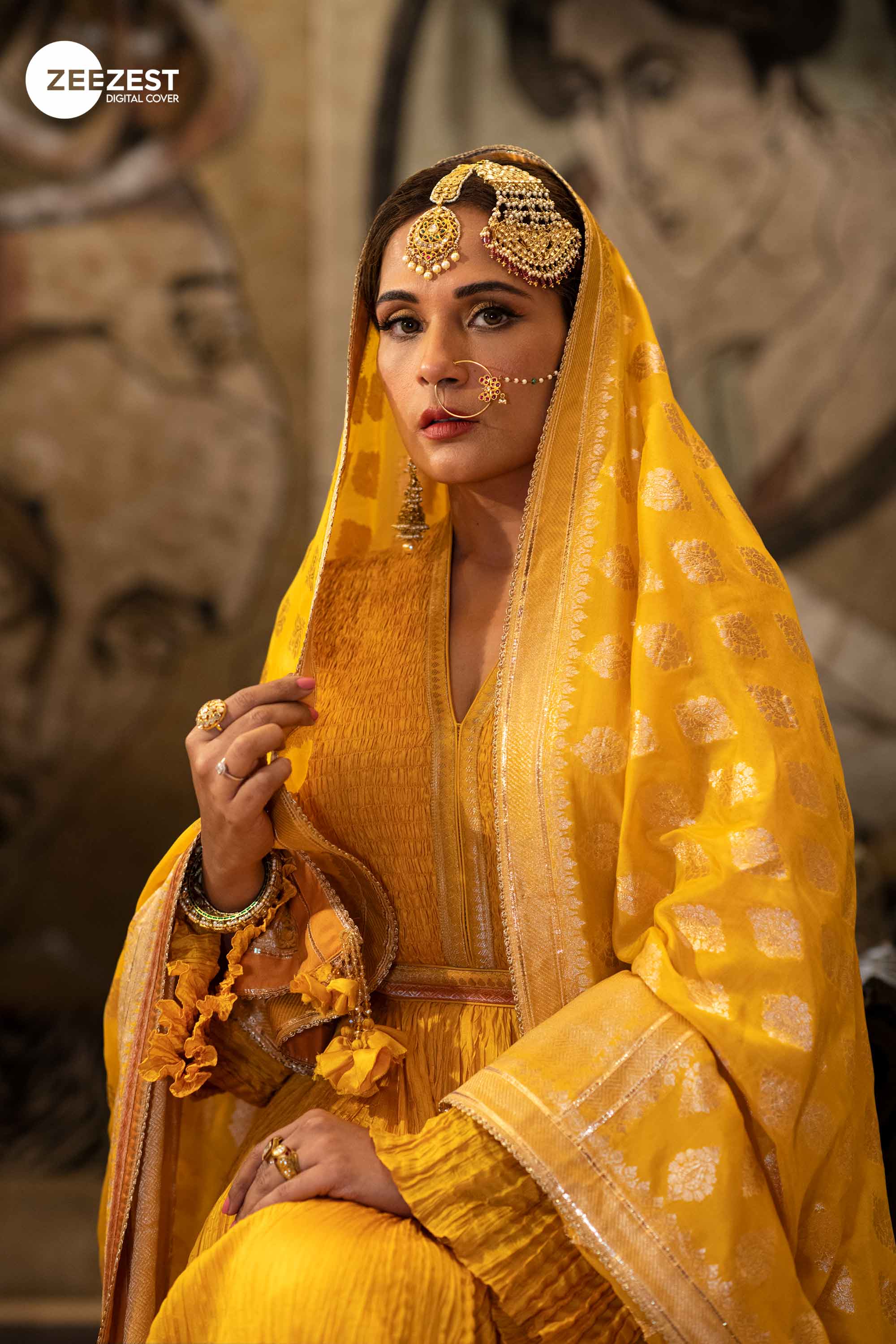 "I won't smile for this shot. The image should reflect the tragic and turbulent life that she led on-screen as well as off-screen," says Richa as she gears up for the first shot of Zee Zest's March 2022 digital cover shoot, channelling Meena Kumari's poignant look from the legendary film Pakeezah.
Behind Richa, who is gracefully seated on a chair, internalising the pathos for the shot at the Grand Hyatt Mumbai's lobby, is Kalyanasundaramurti, an art installation by Mumbai-based contemporary artist Anju Dodiya that depicts the divine marriage of Lord Shiva and Goddess Parvati. The dual composition and warm tones of the artefact transport us back in time. It's almost as if Meena Kumari is here with us, and not Richa Chadha. Dressed up as Meena Kumari, one could see a plethora of emotions and moods engulf Richa as she stared into the camera.
Quiz her on why she chose to recreate this particular look and she explains, "I think Meena Kumari was an exemplary artist who wasn't just an epitome of grace and beauty, but also someone who showed the world that you can't mould superwomen in a single cast. She was a brilliant actress and poet. She headlined so many films at a time when women-centric ones were not in vogue—whether it was Sahib Biwi Aur Ghulam, Pakeezah, or Mere Apne."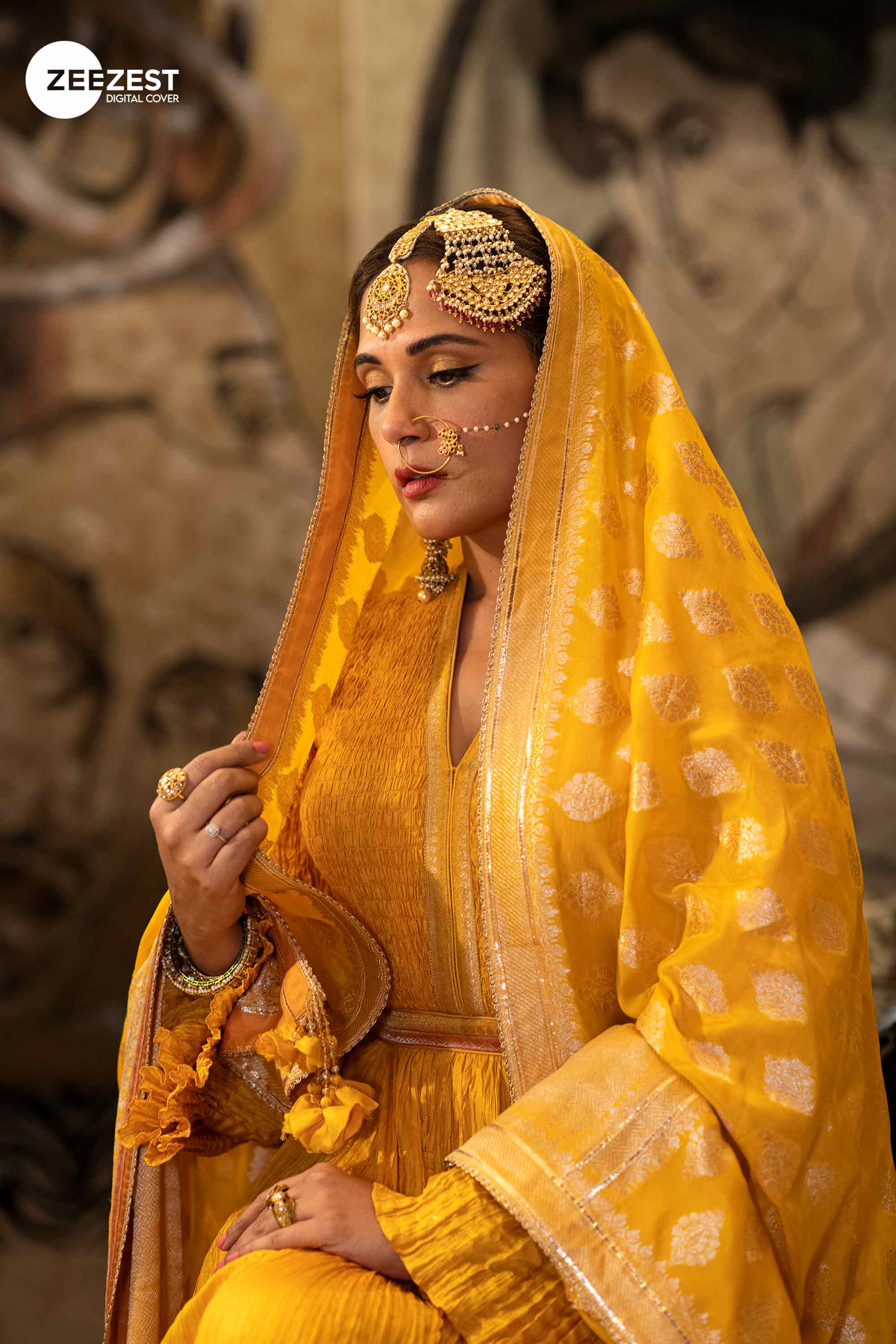 It's not just Meena Kumari's professional life that has had a profound influence on Richa but also her personal life. She continues: "I am also drawn towards the fact that as an individual she was so broken. She lived with her heart on her sleeve so much that she got burnt out before her time. Another reason I recreated her look is that I have a connection with her. In Mere Apne, she played the role of a much older woman even though she was in her 30s. When I was offered Gangs of Wasseypur, Anurag Kashyap asked me to watch this film and take inspiration from her." 
It is believed that the mastery with which Meena Kumari showcased loneliness, tragedy, and other intense emotions that gave her the title of "tragedy queen", she mined from her own life. Struck with several adversities from her childhood to her married life and later succumbing to drinking, Meena Kumari was laid to rest at the age of 38 and the entire country sobbed, such was her influence. 
The trailblazer Zeenat Aman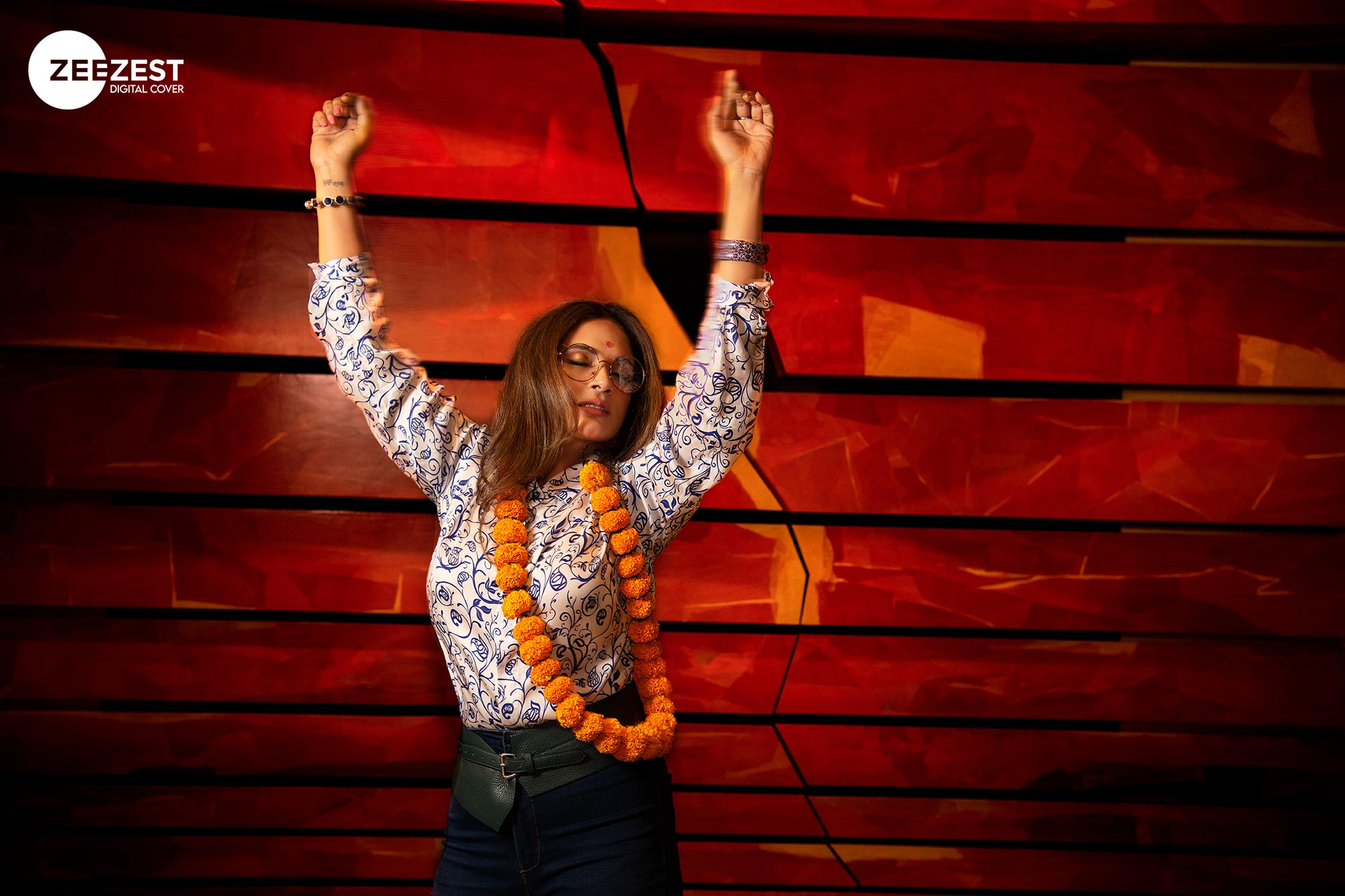 The OG "Dum Maaro Dum" picturised on Zeenat Aman for Hare Rama Hare Krishna played in the background as Richa faced the camera wearing a floral garland just like Zeenat did in the song. As we grooved to the energetic beats of this song, which was a part of the playlist Richa curated specially for this cover shoot, we are convinced that we're seeing a master at work. Soon, she swung her arms to give that perfect shot as she channelled her inner Zeenat Aman. Zoom into the photo below and you'll notice an uncanny resemblance to the veteran actor. 
"Before Zeenat Aman, there were heroines and there were sexy women. But it is she who combined the two figures for the first time in Hindi cinema with an unmistakable flair and polish. She was fashionable, soft-spoken, articulate, and self-aware all at once," shares Richa, calling her a trendsetter of the 70s and 80s, as we spoke about why she chose Zeenat's Dum Maaro Dum moment over many other iconic scenes that the veteran actress has delivered.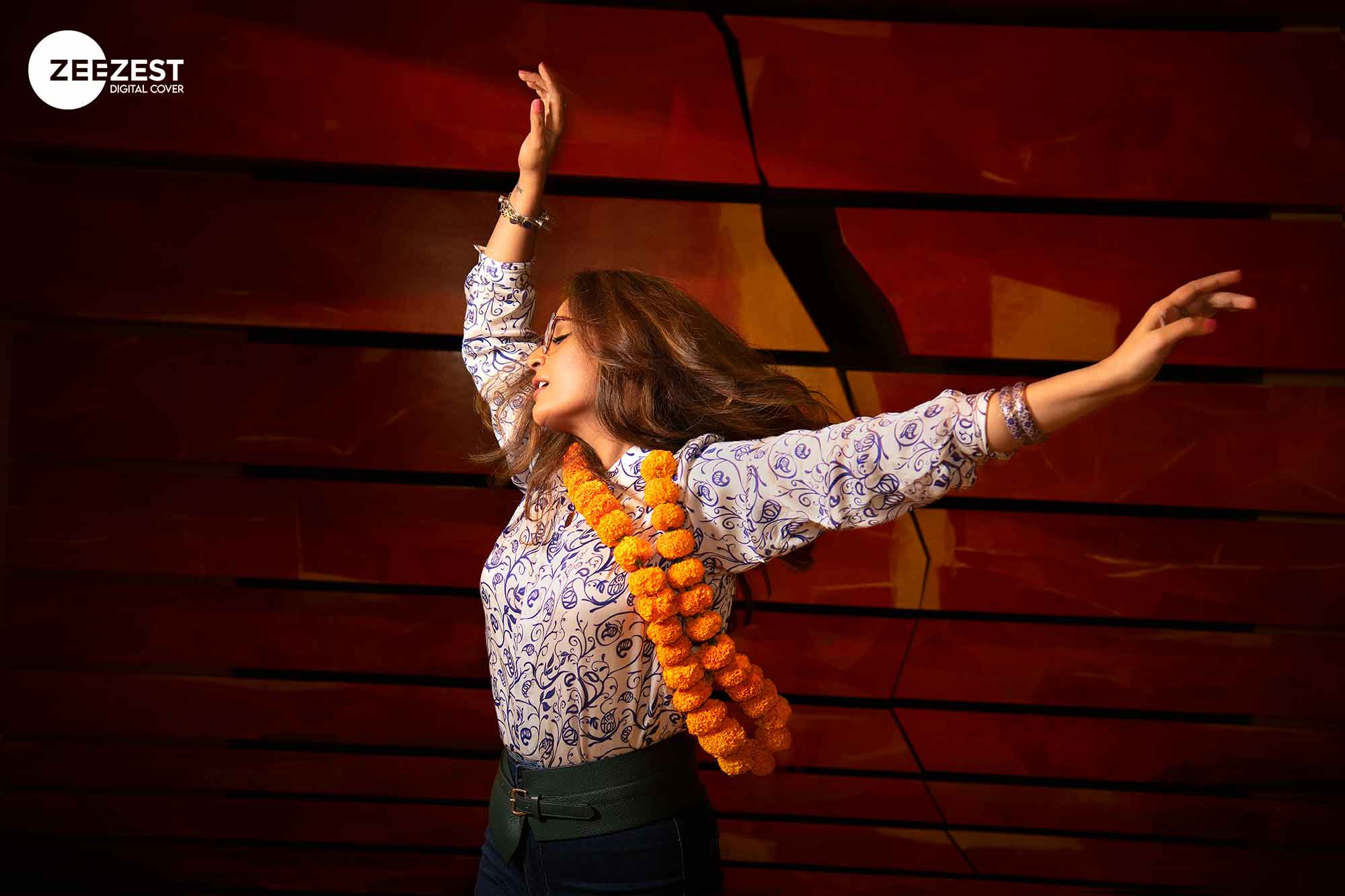 Admiring one of the photos from the shoot on her phone, Richa recalls watching an old interview of Zeenat from when she was shooting 'Laila Mein Laila', another evergreen song from the actor's body of work. "She told the interviewer, 'You know in Hindi films, actresses don't have much to do—they just have to sing, dance, and look pretty and glamorous.' I loved (and still do) how she knew exactly what was happening around and how unabashed she was about her sex appeal and enjoyed that freedom." This sense of freedom, Richa feels, has been passed on to the actors of today, and they're probably closer to a 'Zeenat Aman' prototype than a Rekha or Madhubala. 
We're looking at Richa's photo as Zeenat Aman, which features a vibrant and intense backdrop—an art installation by abstractionist Yogesh Rawal and sculptor Sharad Kumar. It's a paper collage on slats of wood that are layered with an intense red-pink hue, and have a deep crack running through it. For the artists, this installation is based on the scuffle between Lord Shiva and demon king Ravana and is reflective of when order is restored. But for us, it was indicative of the tragic life of Zeenat Aman, and how her life choices left her broken time and again. Despite her modern outlook, confident personality, and game-changing attitude, in her personal life, the disco diva of Bollywood suffered immensely at the hands of callous men—from her ill-fated marriage to actor Mazhar Khan that led to her prolonged illness and an abusive relationship with Sanjay Khan.  
The fierce Smita Patil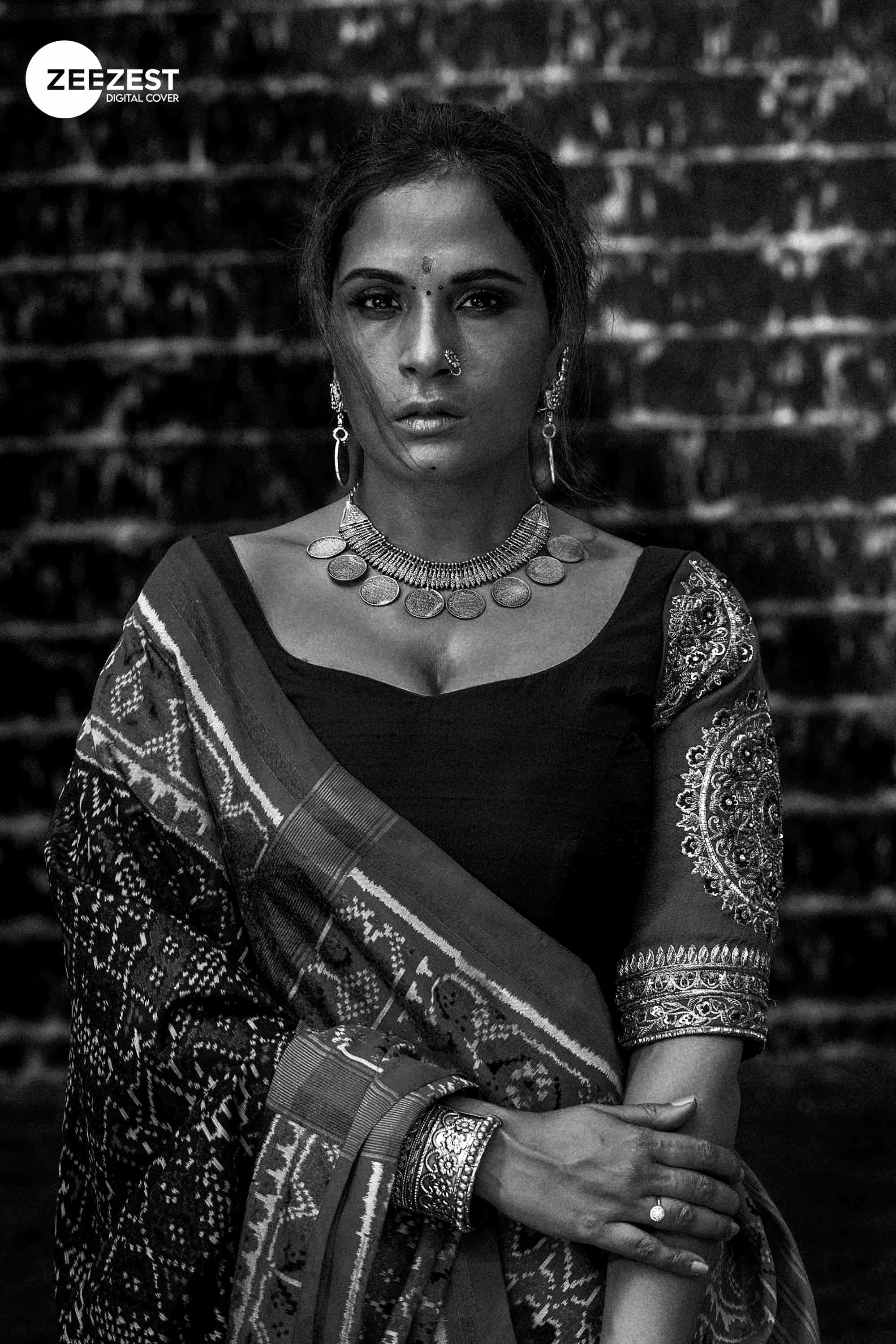 "Just look at that gaze," Richa says, showing us a black-and-white picture of Smita Patil from Mirch Masala. "Those are the eyes of a woman who boasts the potential to bring a change." Soon enough, the makeup artist adds more kohl around her eyes to try to match up to the late actor's iconic look.
One of her female idols, Richa considers Smita a legend—a trailblazer—and believes that if she had been around, Indian cinema would have looked different. Through her body of work in Hindi and Marathi films, including Bhumika, Arth, and Mirch Masala—all of which were heavy on socio-political symbolism—Smita became an arthouse star; but that didn't keep her away from commercial projects. It was she who made the Hindi film heroine relatable for the common women through her approach towards acting and style, and left a permanent impression—one that's reflected today in the words of strong personalities like Richa.  
Richa also mentions how in such a short career span – almost 10-12 years – Smita managed to create such a massive impact.  
"These three women—Meena Kumari, Zeenat Aman, and Smita Patil— have influenced my work and my life, and they still inspire me. They didn't have to try very hard and the confidence in their performances just blew people away. That's what makes them so iconic and superwomen in every right," she concludes.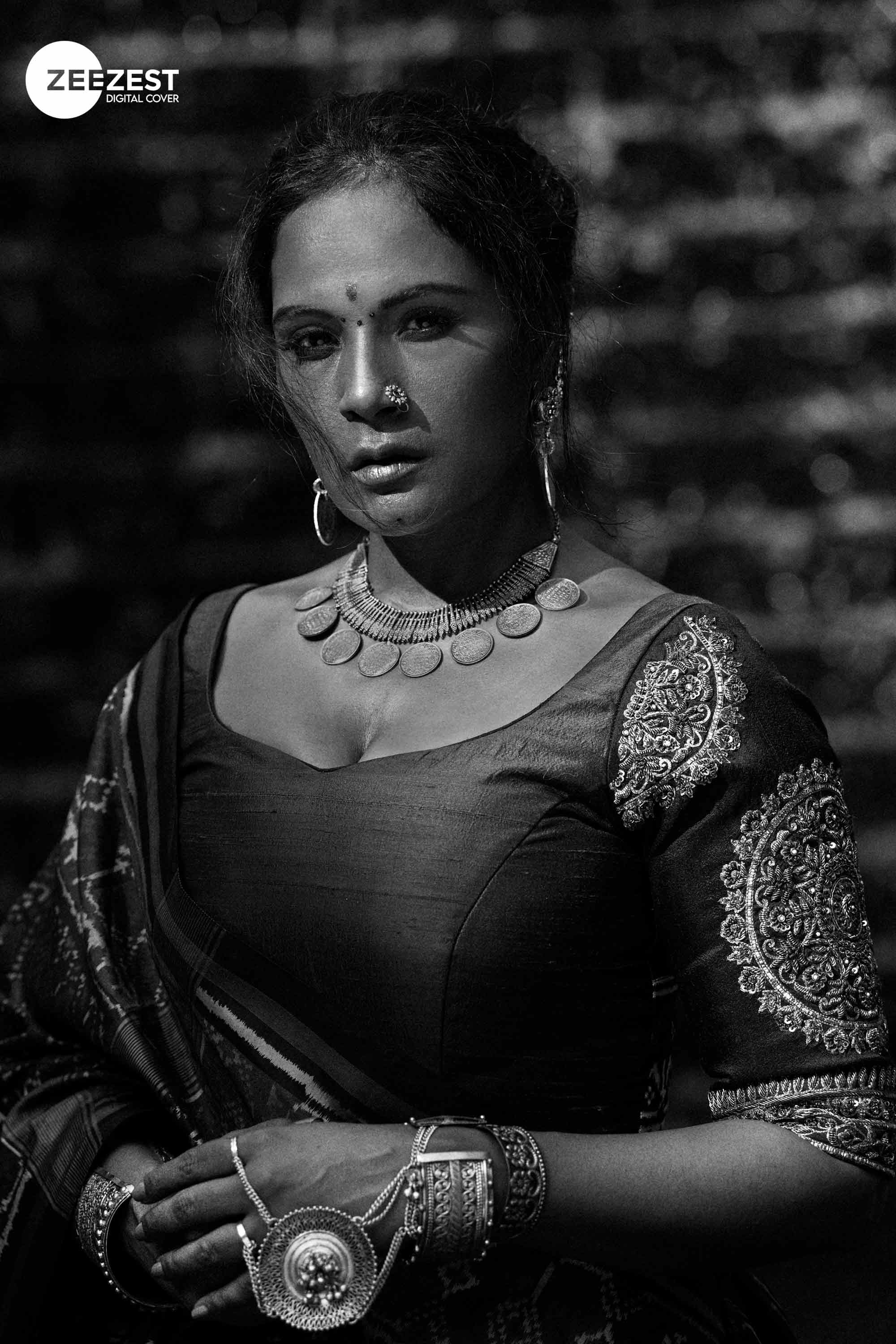 The Need For A Female Gaze
Throughout the years, movies, TV, books, and even music that we consume have been created by men. And even though women like Smita Patil and Meena Kumari took steps to tweak the narrative, the depiction of men is still strong, masculine, and ready-to-fight—while women have been objectified and looked at as a weaker sex at large. But, in the recent past, discussions on how it is not the best way to convey characters, their emotions, and their connections, and the need for a female gaze—to gain a fresher and more realistic perspective—has risen. 
We ask Richa if women in prominent roles in the entertainment industry can potentially affect our culture and youth in a positive light. She agrees almost instantly, and says: "I feel like when women write or direct characters for women and men, they have a different gaze and sensibility. They feel the characters from stereotypes, and you can see how the tone and development changes. A great example of this is, the scene Juhi Chaturvedi wrote in Piku. This is where Irrfan Khan and Deepika Padukone's characters get a chance to come close. She is fast asleep—and if a man had written this scene, he would have probably gone with Irrfan trying to kiss Deepika. But since Juhi was the writer here, she wrote in a sequence where Irrfan gave her his jacket."  
"My point is that women touch upon things and present a whole new perspective to it. We need female writers and directors so we can show both sexes in a much more diverse light," explains Richa, while stressing on the importance of the inclusion of women in various parts of the entertainment industry.   
As the interview neared its end, our conversation drifted back to superwomen and the topics that come to the fore on and around International Women's Day. We asked her if any good can come out of these annual discussions on women empowerment, gender bias, and so on. "As long as there's a discussion happening and people are aware of these issues, regardless of whether they agree or not, I'm okay with them, and I think they will do good in the long run." At the same time, she acknowledges the fact that there is a long way to go for that change to come.  
"There are so many incredible women out there, heading such massive projects, doing big things, and making big changes in the society. What's in our capacity is to celebrate these women. This International Women's Day, my only wish is that the women of today delve deeper, understand, and learn from the great women from our past and present; celebrate them so as to motivate the current generation to become great after," she signs off. 
---

Cover Details - 
Editorial Lead: Sumita Bagchi 
Photographer: Atul Kasbekar
Text: Shraddha Varma
Creative Consultant: Mitrajit Bhattacharya
Assistant Photographer & BTS video: Rahul Sawant 
BTS Video Edit: Media Edge
Postproduction: Vijay Phodkar
Stylists: Anisha Gandhi and Rochelle Dsa 
Hair and Makeup: Harry Rajput 
HMU Assistant: Gurmukh Singh 
Location: Grand Hyatt Mumbai
Media agency: Hardly Anonymous
OTHER DIGITAL COVERS
Check out food, Travel, health, fashion, beauty, home decor related mobile visual digital covers
View All