When Ustad (1999) was released in a small, single-screen theatre called EGA in Chennai, we were beyond ecstatic. My cousin brother back in Calicut had already watched the FDFS (first day, first show) and promptly loaded about it to me on a phone call. I, for one, could not wait to see Mohanlal on the big screen again. Fresh from back-to-back hits the previous year (Harikrishnans and Ayal Kadha Ezhuthukayanu), Mohanlal was on fire as a loving, family man on the outside but also a secret, underworld don! Oh! the thrill. 
Except the theatre was full, and we could not get respectable 'balcony' tickets! But nothing could stop us from watching a Mohanlal movie that day. Appa made a beeline to the Rs 4 ticket (wooden benches) and returned successfully. That evening, we watched Ustad with as much excitement and joy as we would have, on a cushioned seat. I still remember vividly, the bus ride home, grinning ear to ear, recounting scenes with my little brother, notwithstanding slightly painful rear sides. 
Malayali Aano?
As Tamilians who lived in Kerala for generations, but had to return to Tamil Nadu for jobs and whatnot, we were always asked the question – Malayali Aano? (Are you Malayali?) My childhood was filled with all the standard stereotypes – Onam celebrations, coconut oil in everything, being called 'chechi' and being made fun of the way I spoke Tamil with a heavy 'mallu' accent.
Our weekends were sacrosanct. With our 4 PM filter coffees, we would put the cable TV on and browse through the handful of Malayalam channels we had back then and watch the evening show. Sometimes, we would watch two movies at once, 10 minutes of one movie on Asianet till the ad break and then switch to Surya TV till the next ad break interrupted us. 
Playing the Malayali Aano card game brought back many of these memories. The good old days of cable television where watching movies as a family was the only source of entertainment. This card game is a lot of fun and is quite strictly for people steeped in Malayali pop culture. And the game is not just a bunch of movie references. There are current affairs in the form of Bobby Chemmanur's latest adventures and LDF's ad campaigns! Jewellery ad references from Kalyan to Malabar to Atlas. And the typical ones including Gafoor Ka Dost, Che Guevara, and lots and lots of Mohanlal! 
How to play?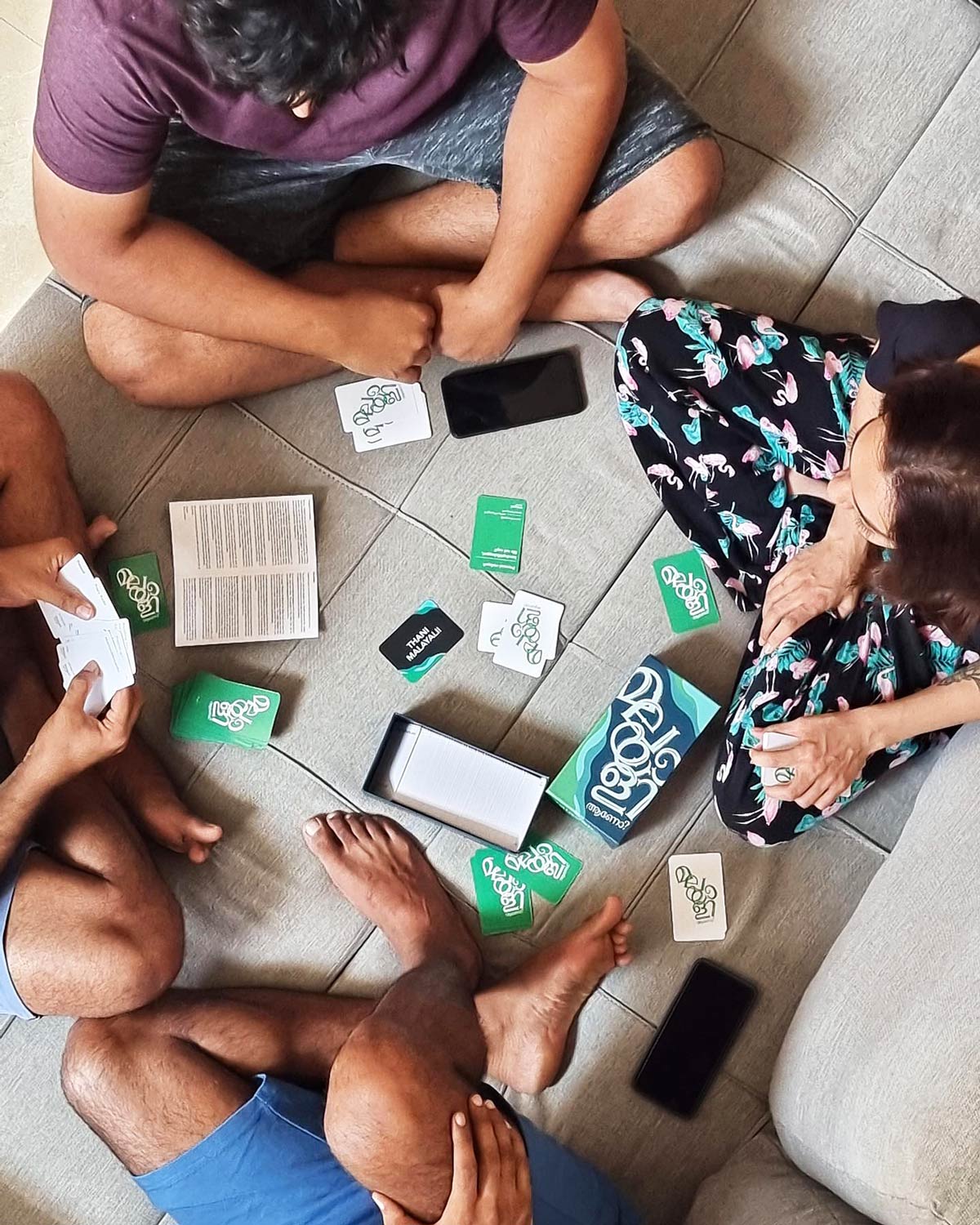 We did not really stick to the rules of the game because we were laughing too much to follow them strictly. But it is best if you have a minimum of four players. The green cards hold the questions and the white ones have the answers. There are about 100 green cards and 400 white ones – so this game could go on for quite some time. But the upside is that – the questions are so funny that you probably won't notice the time passing by. 
One person picks up a green card question and the rest of the party replies with their funniest white cards. And the answer that gets the maximum laughs wins the round.  
And this game is strictly for adults. There is profanity, dirty jokes and so it is best played with friends only.
My favourite cards
Idea Star Singer was a big reality show on Asianet when I was growing up. So, the mention of Ranjini Haridas instantly brought a smile to my face. A deviation from the typical coy anchors of that era, Ranjini Haridas was refreshingly bold with a flawless command over the language. Her card alone took me on a two-hour detour on YouTube, watching her various interviews and old Star Singer videos. 
Another card that instantly made me laugh was 'Welcome to Ooty, Nice to meet you'– the iconic dialogue from the film Kilukkam, with stellar performances from Mohanlal, Revathy and Jagathy. Once I drew the 'Lelu Allu' card also, the game had to be stopped for a few hours of 'funny Mohanlal scenes' on our phones, reminiscing about how much we missed the 90s Lal Ettan!   
The verdict
The game is definitely a lot of fun for a post-pandemic weekend. Because this is a game that becomes infinitely more fun where there are more people playing it. The game costs you about Rs 2,000 with shipping, so it might seem a bit steep. But for the memories, nostalgia and the roller coaster trip it takes you on, I would say you get full value for money. So go ahead Dinesha, buy and play the game, so you can also prove that you are a 'thani Malayali'  (pure Malayali).
Photo: Illustration: Vartika Pahuja