The Tokyo 2020 Paralympics is seeing India's largest-ever contingent participate and compete across nine sports including javelin throw, rifle shooting, para-table tennis, para-badminton, and high jump. So far, our para-athletes have won as many as 10 medals as of day 6 of this year's Paralympics and assured Indians our best-ever medal tally at the showpiece event.
The latest medal being, athlete Sharad Kumar's bronze, which he won after a double podium finish in the men's high jump T42 event. Not only did he win this accolade but also marked this season's best performance with a whopping 1.83 meters jump. And, defending champion Mariyappan Thangavelu's silver in the men's high jump T63 event.
Each of these monumental victories is contributing to the rich history of India and making us all beam with pride. These wins have also shattered our nation's best performance record, which was seven medals at the Stoke Mandeville/New York 1984 aka 1984 Summer Paralympics. In honour of this, we've compiled a list of all the medal winners from the Tokyo 2020 Paralympics and everything you must know about them. Plus, a chance to relive their glorious moments.
Bhavina Patel – Para-Table Tennis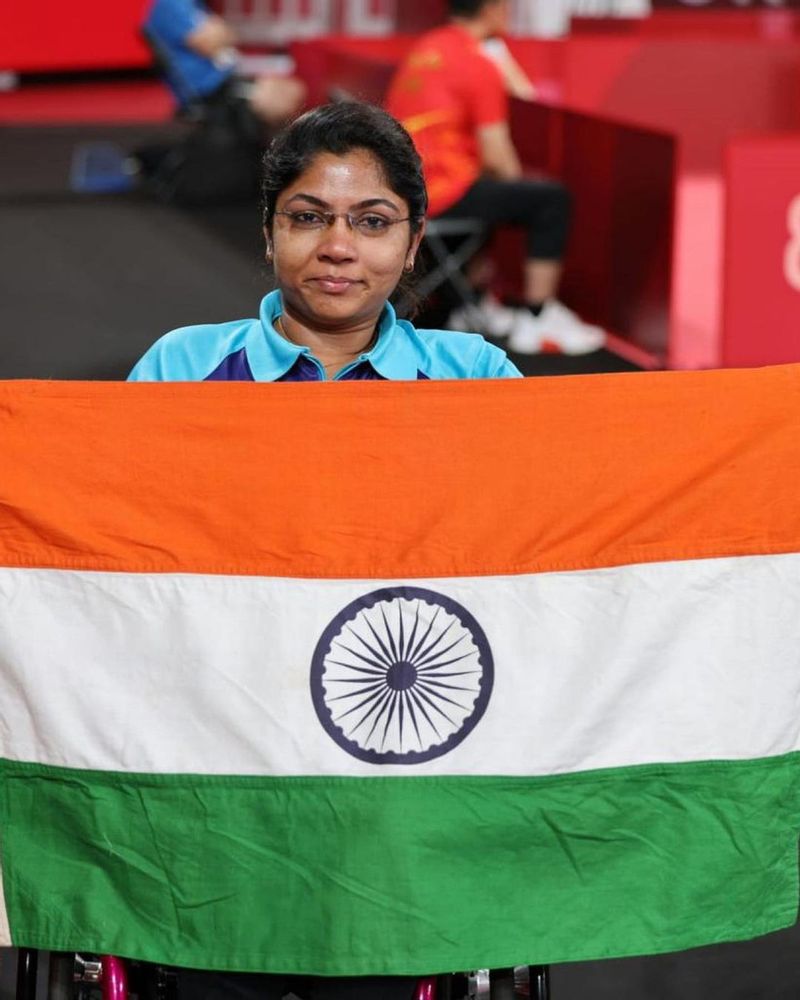 The 34-year-old table tennis player, Bhavina Patel, became the first Indian para-paddler to win a silver medal at the showpiece event. She lost to China's Ying Zhou, a two-time gold medallist, in the women's singles finals, and bagged a silver medal.
Coming from a middle-class family of five, from Sundhiya Village in the Mehsana district of Gujarat, Bhavina got infected by poliomyelitis when she was a year old. She has been confined to a wheelchair since a young age. But that hasn't stopped her from dreaming big. The turning point of her life was when her father enrolled her for a computer course in Ahmedabad at the Blind People's Association. She was introduced to coach Lalah Doshi, according to Zee News, who transformed her into an award-winning table tennis player. Initially, she took up table tennis to keep fit but her passion and her coach's dedication turned it into a profession.
Bhavina made her international debut in 2009 in Jordan, and won her first-ever medal in 2011. It was a silver at the Para Table Tennis at the Thailand Open. Since then, she has participated in and won several national and international tournaments in various countries like China, South Korea, Germany, Indonesia, Spain, Netherlands, and Egypt.
Nishad Kumar – High Jump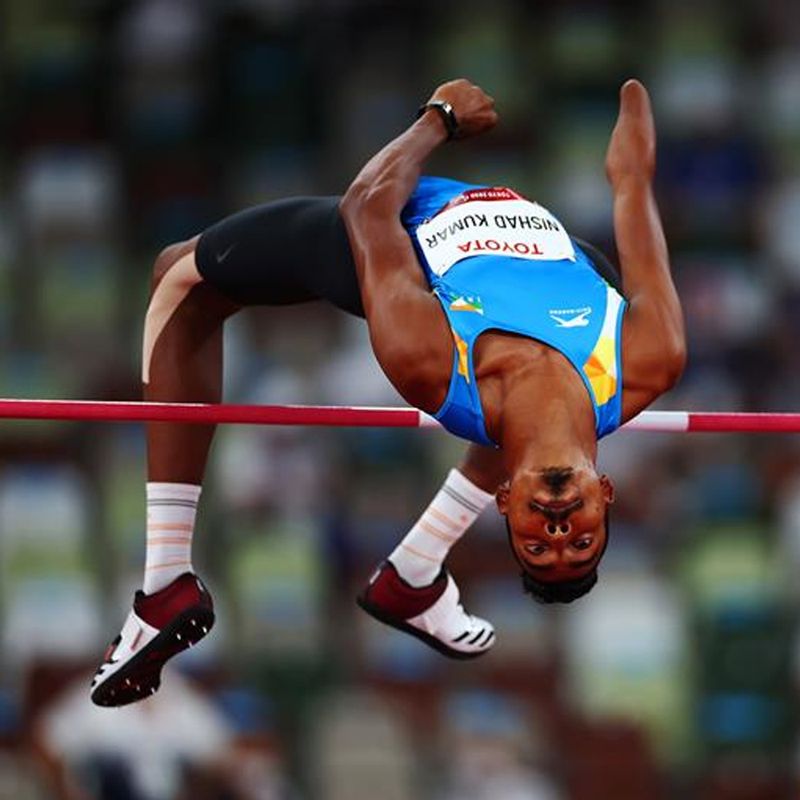 The son of a daily wage worker from Una, Himachal Pradesh, Nishad Kumar bagged a silver medal in the men's high jump t47 in his maiden Paralympic Games and set a new Asian record of 2.06 metres.
The young para-athlete lost his right hand during a tragic accident at the age of eight, and his journey hasn't been easy. But Nishad, with the help of his coach Satyanarayana and his parents, kept learning and practising with all his heart. This silver medal is not his prize alone but one that he shares with his parents and coach. During an interview with NDTV, post his victory, he said that it was his parents who motivated him to become a para-athlete. "I had lost my hand somewhere between 2007 and 2008. I started playing in 2009 but my parents never made me feel that I wouldn't be able to play because I had one hand, or that I shouldn't play and focus on studies instead. They always supported me, motivated me to play. That is why I have been able to reach here," he said.
The first-ever medal Nishad won was a bronze at the men's T47 category at the 2019 World Para Athletics Championship. His performance there helped him qualify to compete at the Tokyo 2020 Paralympics. 
Avani Lekhara - Shooting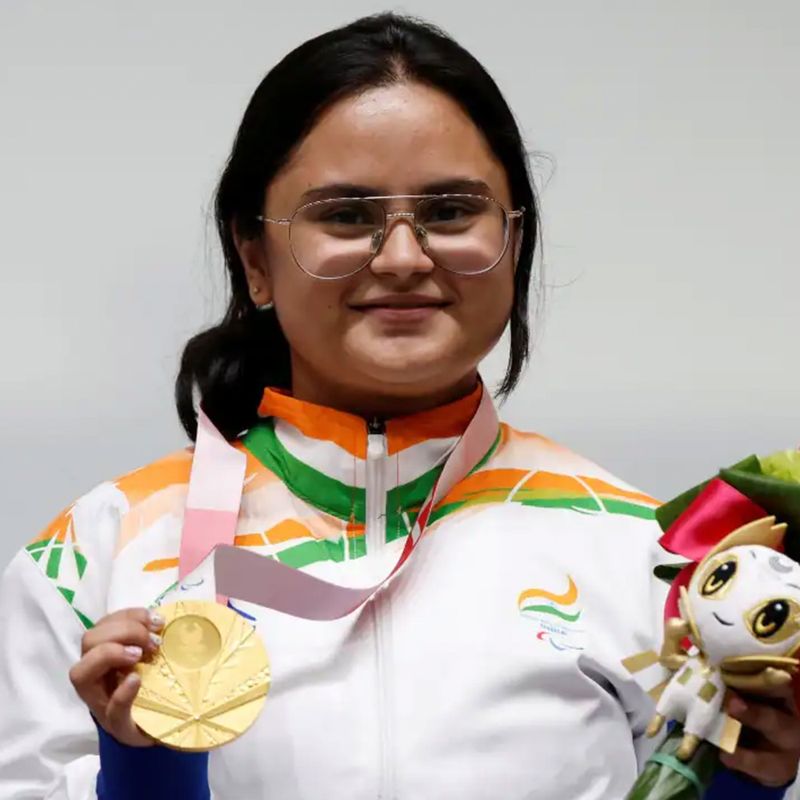 Adding the first gold to India's tally at the Tokyo 2020 Paralympics was teenage shooting sensation Avani Lekhara. She won in the women's 10-meter air rifle standing SH1 category final. The Jaipur-based shooter secured first place in the match and became the first Indian woman to win a Paralympic or an Olympic gold medal at the age of 19. Avani also set a new Paralympic record by finishing with a world record total of 249.6.
Back in 2012, Avani sustained spinal cord injuries in a car accident, paralysing her from the waist down. Post the accident, her father encouraged her to take up a sport, and after trying her hand at a variety of competitive games, including archery, she found herself inclining towards rifle shooting. According to First Post, what inspired Avani to take up shooting as a sport was Olympic gold medallist shooter Abhinav Bindra's autobiography, A Shot At History. She began learning to shoot at the Jagatpura Sports Complex in Jaipur in 2015. Her international debut was in 2017 at the Para Shooting World Cup in Al Ain in the United Arab Emirates, where she clinched a silver medal for our country. Ever since, she has won a silver at the 2019 Para Shooting World Cup and a gold at the National Para-shooting Championship, earlier this March.
Yogesh Kathuniya – Discus Throw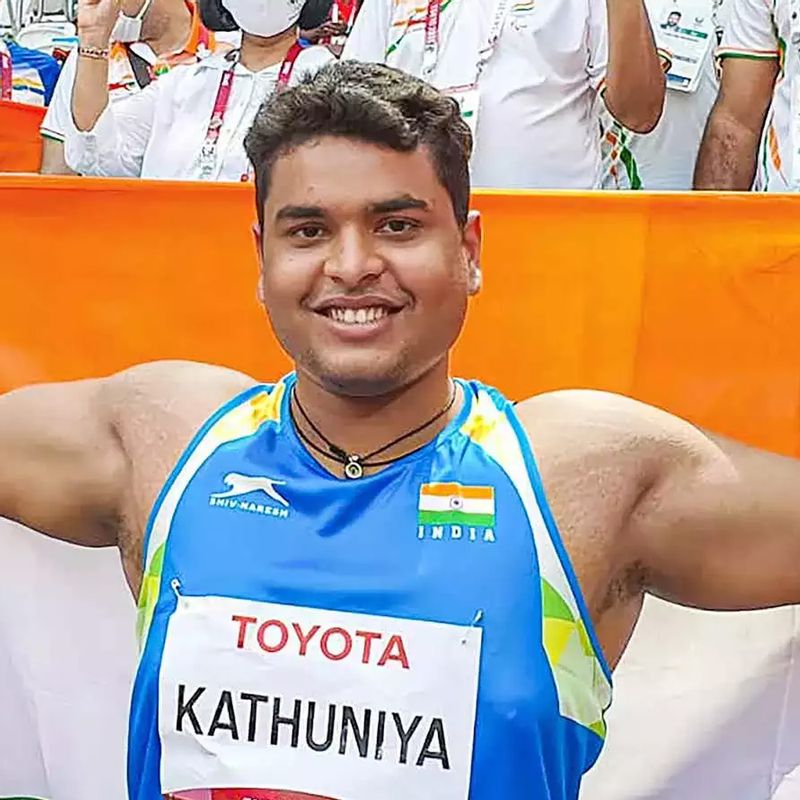 A discus thrower from Delhi, Yogesh Kathuniya bagged his first Paralympic medal, a silver, in the men's discus throw class F56 final. He was bested by Claudiney Batistia dos Santos of Brazil.
When he was merely eight years old, Yogesh suffered a major paralytic attack in 2006, which left him with coordination impairment or uncoordinated movement in his limbs. However, his fighting spirit and his mother's support helped him regain his muscle strength back to an extent, and this led to Yogesh walking without any help.
In 2018, he set a world record in the F36 category discus throwing by achieving a 45.18 throw at the World Para Athletics European Championships in Berlin.
Sundar Singh Gurjar – Javelin Throw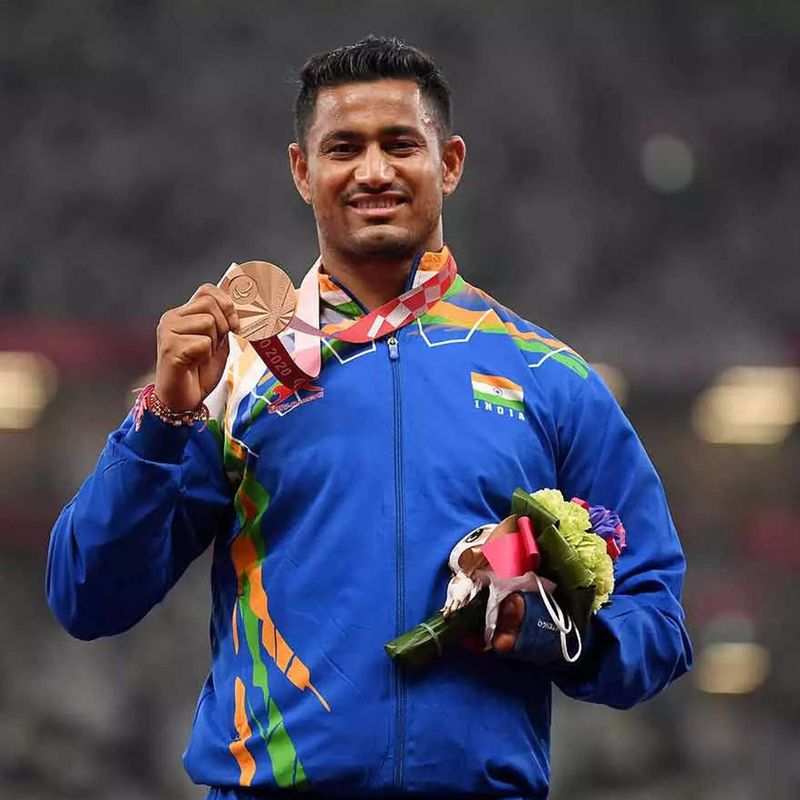 The 25-year-old javelin thrower from Karauli, Rajasthan, finally let go off the disconcerting weight he was carrying in his heart and mind after bagging a bronze medal at the Tokyo 2020 Paralympics. Sundar Singh Gurjar was part of the Indian contingent at the Rio 2016 Paralympics; however, he got disqualified at the last minute since he missed out on his roll call. He had to wait five long years to make a comeback at this showpiece event and recover that heartbreak, but his 64.01-metre throw made it all worth it.
Sundar used to compete in the general category of javelin throw until 2015. But after a tin shade accidentally fell on his hand, it led to the amputation of his left-hand wrist, and since then, he started competing in the F46 category javelin throw. The para-athlete battled depression after the accident, and the disqualification from Rio 2016 only made things worse. His coach Mahavir Saini's determination helped him train harder and gain his confidence back from 2009 to date. Today, Gurjar is the world no 3 men's javelin thrower in the F46 category. 
Devendra Jhajharia – Javelin Thrower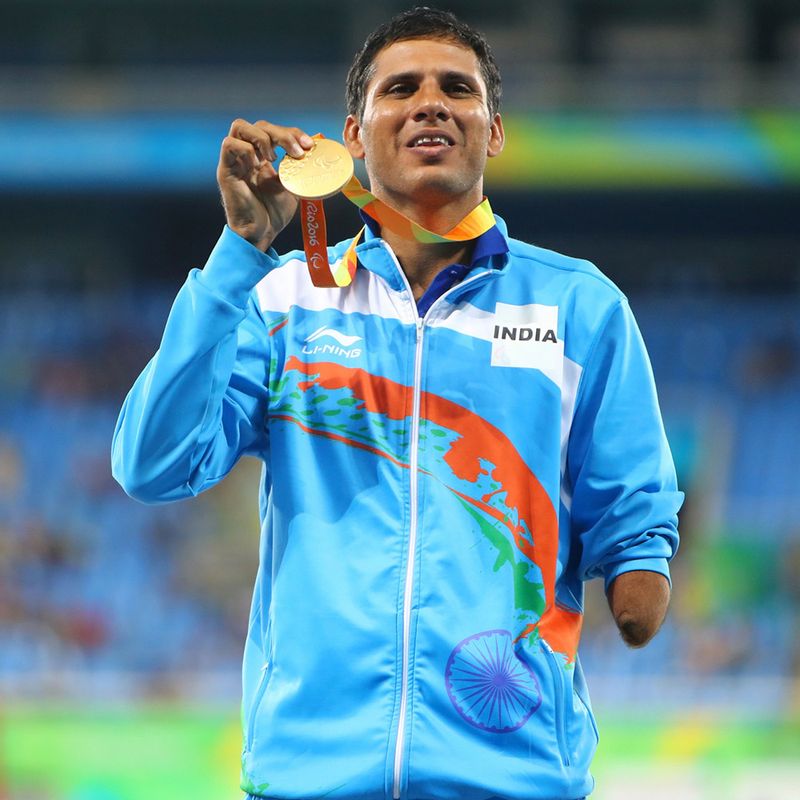 The 40-year-old javelin thrower, Devendra Jhajharia, was one of the top medal contenders in the Indian contingent at the Tokyo 2020 Paralympics, and we can happily say, he didn't let his nation down. Devendra, who won a gold medal at the ongoing Paralympics, was already a two-time gold medallist at the Paralympics in the F46 category. He had won his first gold at the 2004 Athens Paralympic Games, and his second was at the 2016 Rio Paralympic Games. He is the only para-athlete to win two gold medals (now, three) in athletics.
Born and brought up in the Churu district of Rajasthan, this para-athlete had to get his left arm amputated after he touched a live electric cable at the age of eight. Growing up, Devendra didn't let this faze him. Despite having only one arm, he took up javelin throw as a sport around the age of 15. His first javelin was bamboo, and his continuous practice and dedication soon made him a district champion in the open category. Post that, there was no looking back for him.  
Sumit Antil – Javelin Throw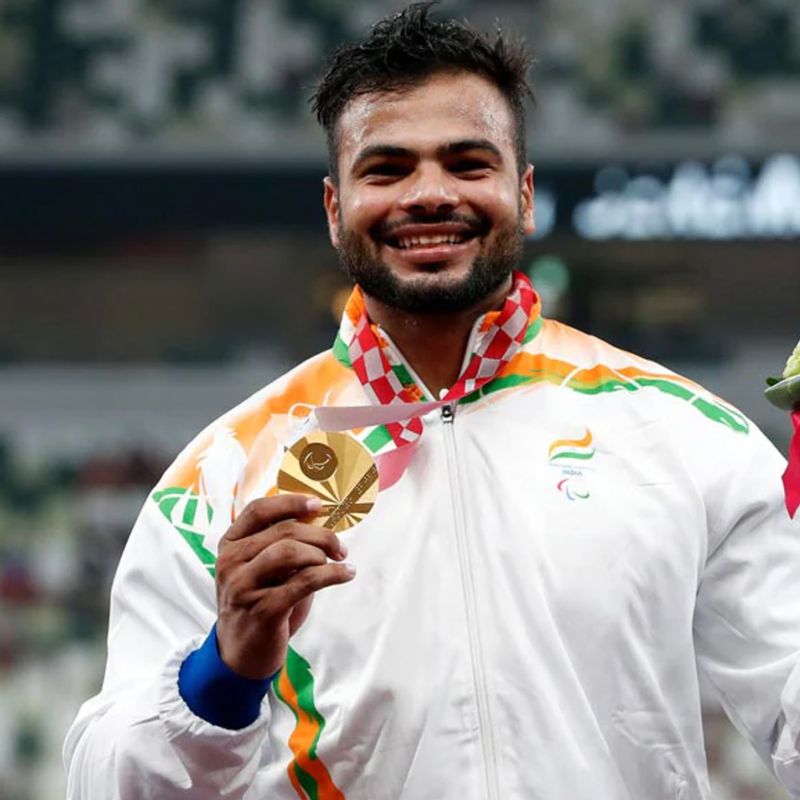 Sumit Antil, who holds the current world record, having thrown 68.55 metres in the Paralympics 2020 final, made India proud by winning gold. What many don't know is that although he has been an athlete for years now, javelin throw wasn't his first love. Sumit was training to be a wrestler. But after losing half of his leg to an unfortunate accident in 2015, at the age of 17, he took up para-sports and began training in Delhi.
His international sports career began in 2019 when he participated in the World Para Athletics Grand Prix in Italy. Sumit scripted history at the event when he broke the world record in the F64 category and won a silver medal there. His last win was at the 2019 World Para Athletics Championships in Dubai, where he clinched another silver.
Singhraj Adhana – Air Pistol Shooting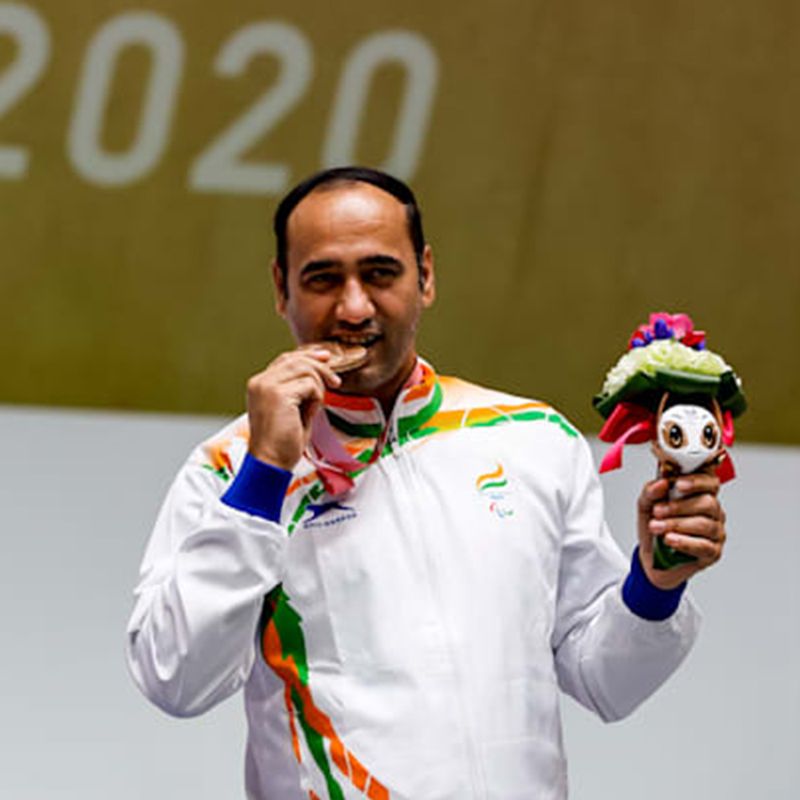 At the Tokyo 2020 Paralympics, Unchagon, Haryana's Singhraj Adhana won a bronze medal in the P1 men's 10m air pistol SH1 event. According to his interview with Scroll, he designed and built himself a shooting range at home during the pandemic to train for this international competition – such is the determination of this champion.
Singhraj was infected by polio at the age of one due to the unavailability of polio drops in his village. As a child, he would walk with a stick, but his mother had faith that things will change with age. The para-athlete left the stick and starting walking on his own when he was about 14-15 years old. 
Singhraj got into air pistol shooting at the age of 35, he is 39 now. He got inspired by his nephew who used to practice the sport at a training academy in their district. 
Mariyappan Thangavelu – High Jump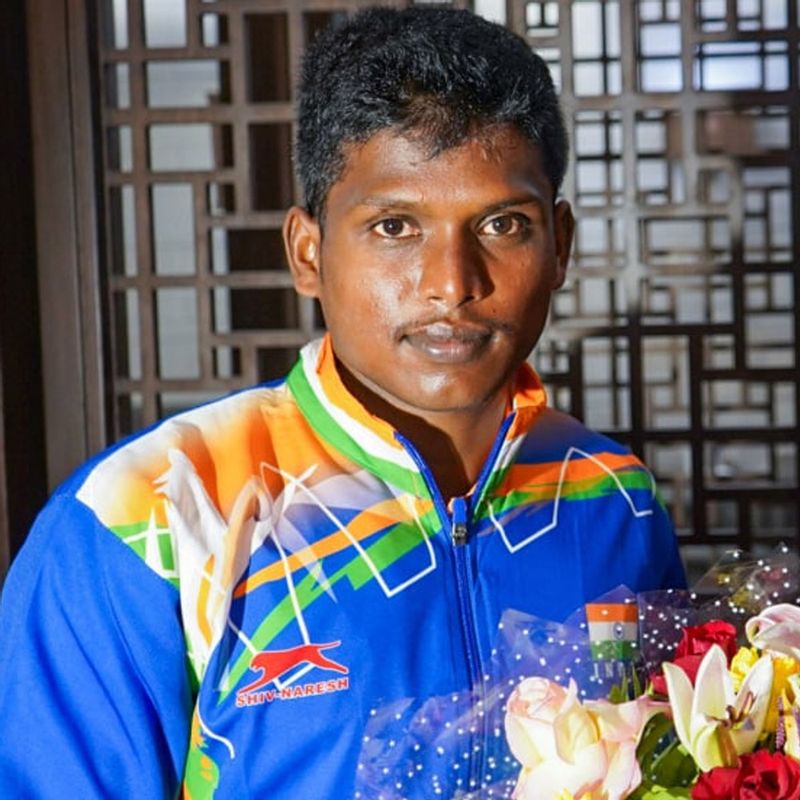 Taking India's medal tally at the Paralympics 2020 to nine, Mariyappan Thangavelu, our flagbearer at the event, won a silver medal in the men's high jump T42 category. This wasn't Mariyappan's first Paralympics though. He debuted at the event in 2016, where he had won his first gold medal in high jump. It was a historic win for the country since India won a gold in this sport after 14 years in 2016.
Mariyappan, who hails from Tamil Nadu, had a difficult childhood. Early in his childhood, a drunk bus driver ran him over and this left him with a stunted leg. Soon after, his father abandoned his mother and siblings. The son of a vegetable vendor, Mariyappan didn't let his shortcomings come in the way of his dreams. He pursued para-athletics in school and decided to take up high jump.
During an interview with a regional daily, Mariyappan had mentioned that he considers his stunted leg as his lucky charm and that's what helps him jump better.
Sharad Kumar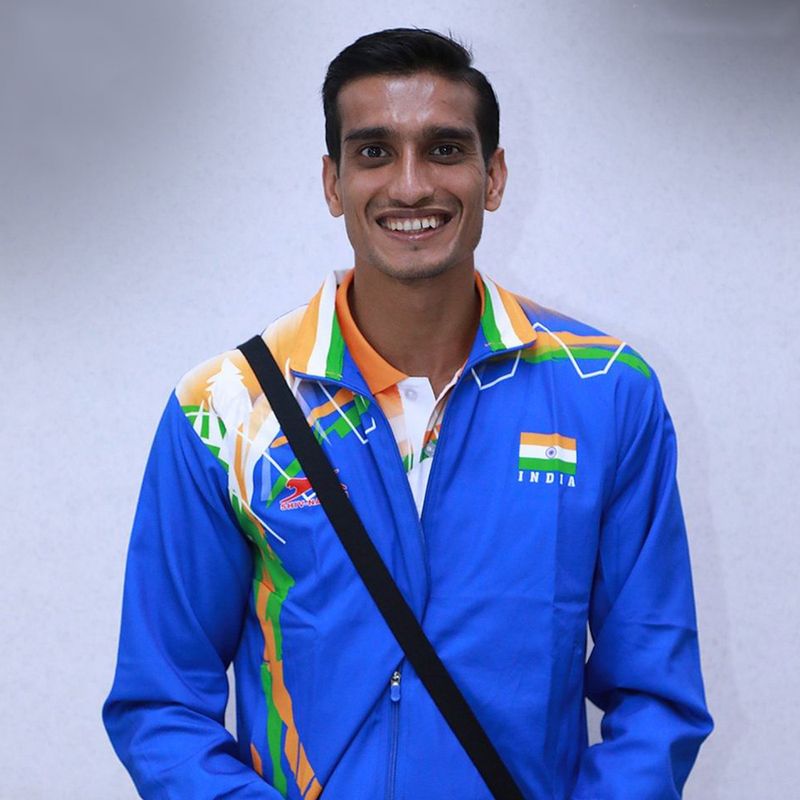 Motipur, Muzaffarpur's (Bihar) Sharad Kumar scripted history early this week after he won a bronze medal in the F42 category of men's high jump at the Tokyo 2020 Paralympics. With this win, he became Bihar's first-ever Paralympic medallist.
When he was just two years old, Sharad's left leg got paralysed after taking polio medicine at a local centre. He took up high jump as a sport when he was studying at St Paul's School in Darjeeling, West Bengal, in 2005. His quote on the Paralympic website says, "My brother motivated me to be a high jumper. I broke all his records at school, and it gave me the confidence to take the sport seriously. After St. Paul's [school] I started training myself to be part of the national Paralympic team in Delhi."
Sharad debuted on the international platform in 2010. He represented India at the 2010 Asian Para Games in Guangzhou. In 2012, following a jump of 1.75 at the Malaysia Open Para Athletics Championship, he became world no.1 at the age of 19. Before heading to Tokyo, he has been training since 2017 in Ukraine under the Target Olympic Podium Scheme by the Government of India. 
---
Photo: Creative by Jaydev Vaghela and inside images via Instagram of Para-athletes