If we do a popularity poll in India today, Sonu Sood's name will feature right on the top. A messiah of the poor, actor and philanthropist, Sood has become a household name and a support system for countless families during the pandemic. His NGO, Sood Charity Foundation, is passionately serving the masses across the country through various humanitarian endeavours. The foundation has a dedicated team and a strong vision to work in the areas of state-of-the-art healthcare, education, employment, and technology advancements. One day we will win the war against COVID, and the brightest chapter in this epic fightback against the deadly virus will be dedicated to Sonu Sood. 
Excerpts from the interview: 
How big is the scale of your operation and what keeps you going? 
I get around 40,000 messages and calls every single day. I feel charged because there are thousands of lives to be saved. So, it's like a responsibility on my shoulders; I try to stay alert, on my toes, always ready to help. 
I never thought that I would be able to fulfill this responsibility to such a level but I knew that if needed, I would not shy away from trying. I was encouraged by my co-actors who would always tell me that "what you can do, no one can do". But I never imagined the enormity or scale of the problem the whole country would face one day. What inspires me are the lines my mother used to say, "kabhi mutthi khol ke dekh, shayad tere haathon ki lakeeron mein kisi ki jaan bachana likha ho". (Open your fist and see, the lines of your palm may reveal that you can save someone's life someday). 
What keeps me going is the smile I bring on every single face, a life that I save and that's what is going to stay with me forever. I know that those families are together because I could reach out to them at the right time. 
For the next few years, I will be doing the same. I am satisfied with my role in helping people. Saving lives has been a rewarding experience. Every single family that I touched, is going to stay with me forever. I know their wishes and prayers are with me. But now the whole country is my family, whoever needs me whenever; whether the pandemic is there or not, I am a phone call away and will make sure that I reach out to every single person who needs my help.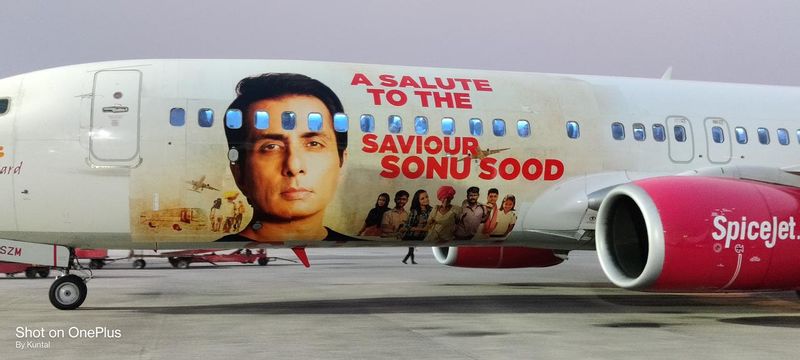 Is there something that makes you angry? 
Nothing makes me angry; you just feel helpless because lots of innocent people have lost their lives, just for the want of an oxygen cylinder, or an injection, or a hospital bed. That was the basic they deserved, I am never going to forget this phase because I have seen people die in front of me, people I tried to save, but I couldn't save. I will always miss them. And it happens every single day. People sometimes expect too much from me and I try to do my best. But there are times when I fail, sometimes it is not possible to reach out to so many people. For the cases I take up, I make things happen, no matter how long it takes. 
Tell us about the Sood Charity Foundation.
I have already formalised this mission. I have formed a team that is going to stay with me, I have trained how to to reach out and help people across the country. I trust them with what they are doing. They are learning every single day and so am I. We are in the process of creating an infrastructure, a system that will help save many more lives. Sood Charity Foundation is the most precious project I have done in my life and I will make sure that whether I am there or not, the foundation will continue to serve the coming generations. People will remember it having started during the pandemic in 2020, and passed on from one generation to the other. 
When I tested COVID positive, I started helping more people. It doesn't really matter what state I am in, but I am there for everyone who needs me 24X7. We have many more things planned; to open orphanages, schools, hospitals. Yes, dreams are big; the journey has begun but there are miles to go. 
What lessons has the pandemic taught us? 
There is nothing more precious than a relationship. We have to value our relationships; shopping, money, everything else is meaningless. What makes me the happiest is that I have a family called India. Today, I miss my parents even more, I know wherever they are, seeing me do this would have made them proud. When I left Punjab many years ago, I had told my parents that I was going to Mumbai and would make them proud. Finally, it has happened, not with the hundred films that I did in different languages, but by bringing a smile on a needy face. My mom and dad taught me to have empathy as a kid and I hope I pass the same values on to my children.  
Any message for the Punjabi community that's immersed in relief work? 
I want to say Punjabis hamesha bahut logon ki madad karte hain, please karte rahiye (Punjabis always help other people, I urge them to continue doing so). These are the times to come forward and help others and I am sure Punjabis and everyone else is just doing that.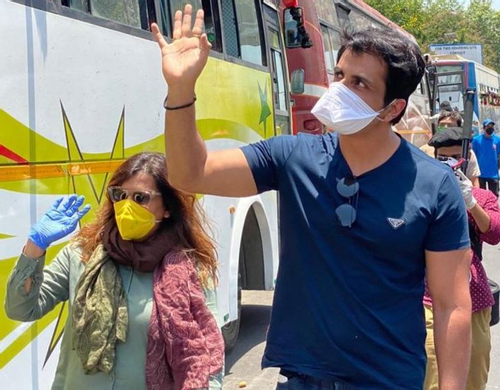 What are the key differences in relief efforts between the two waves? 
The first wave in 2020 posed a huge challenge for migrant workers. Sending them back to their homes, finding them jobs, education for children, were some of the key issues. Post the first wave, the problems that everyone faced were in starting their lives again; so, getting them employment was the biggest challenge.  
The second wave that we are witnessing now, had different needs, oxygen, oxygen beds, oxygen concentrators, medicines, and lifesaving injections. We try and help with everything.  We have started oxygen units in different states. We have organised hundreds of oxygen concentrators for the needy across India.  
You have just announced the setting up of two oxygen plants. Can you share your future plans? 
During the second wave of COVID, oxygen was a huge crisis that India faced. I feel that all the hospitals in the country should have their own oxygen plants so that you don't have to run around in case of emergencies. We are planning to look at multiple states, and will set up oxygen plants in many hospitals. The first two to come up are in Andhra Pradesh, in Kurnool and Nellore. We will follow it up with Karnataka, Uttarakhand, Punjab, Uttar Pradesh and Mumbai. We are identifying the places and the implementation will happen soon. 
Do you have political ambitions? 
As of now, I have no interest or inclination to do anything in politics. Because whatever I would have done staying in politics, I am still doing that despite staying away from it. The Sood Charity Foundation is my focus right now; the real joy is in touching more lives and bringing more smiles. 
---
Photo: Instagram/Sonu Sood