Did you know that all five species of turtles are legally protected under the Wildlife Protection Act of 1972 and trade in turtle products is prohibited? Also, turtles face many dangers—natural and manmade—that have made them vulnerable. However, there are some individuals like Arunima Singh who are making a big difference to turtles and other aquatic species.
Aquatic connection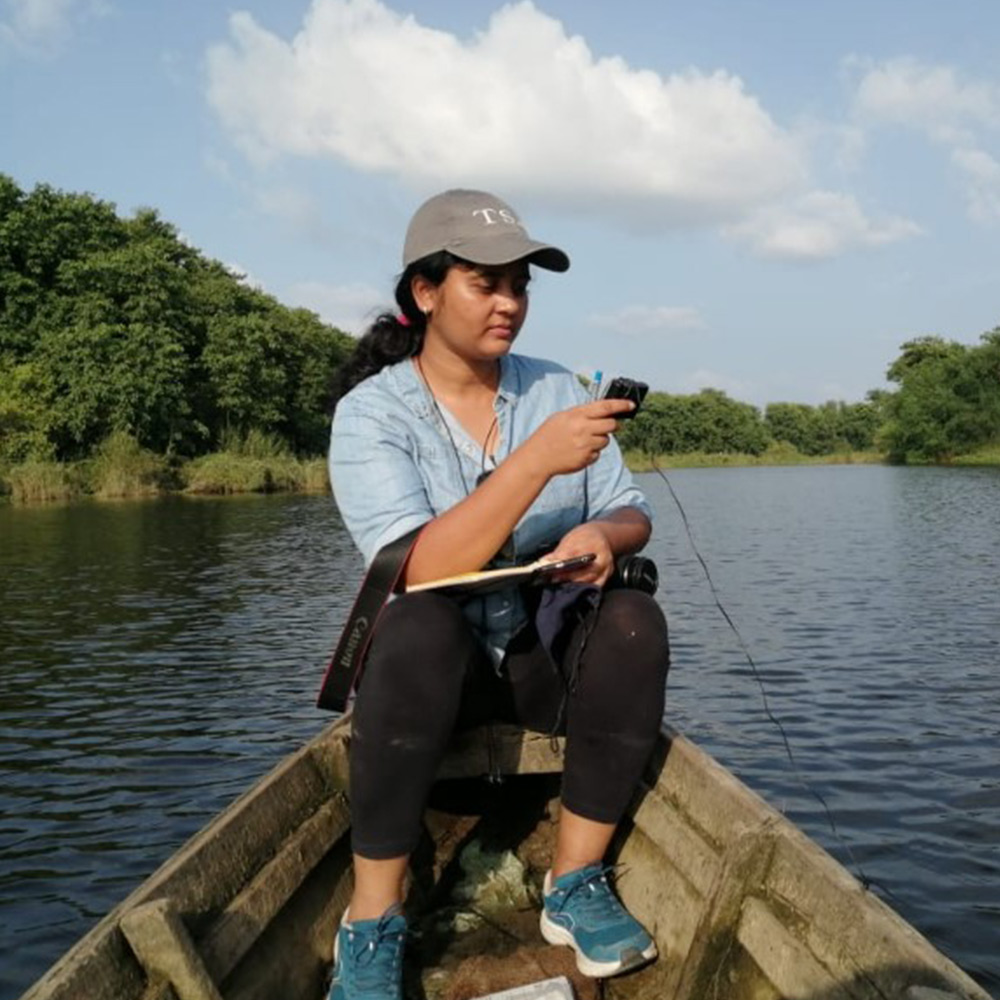 The gentle flow of the Gomti River making its way through her hometown, Lucknow, was the fulcrum of Arunima's childhood. Though visiting the riverside was at times forbidden owing to its unpredictable nature, its waves gave her a sense of gravity. "The flowing river gushing through my childhood sowed the seeds for a life dedicated towards its restoration and upkeep. During my MSc, I chose to work on a small project on aquatic wildlife. I knew there was something in it which resonated with my sense of history as well as was pushing me to become a part of its vastness," she says. Her formal journey in aquatic wildlife research and conservation began in 2010. While deciding on her university dissertation, a friend introduced her to Dr Shailendra Singh, the director of TSA India. "He encouraged me to work on turtles and suggested I visit the Kukrail Gharial and Turtle Rehabilitation Center for inspiration. After my first visit, I was hooked. I regularly visited the centre as a volunteer and was later hired full time as a research assistant in 2013. Eventually, working on a turtle conservation project gave me insights into the lives of these animals, the roles of such rehabilitation centres and the numerous and covert threats faced by Tortoises and Freshwater Turtles (TFTs). The general lack of awareness about comparatively less charismatic wildlife, like TFTs, drove me further to work for their conservation," she says. 
Conservation cues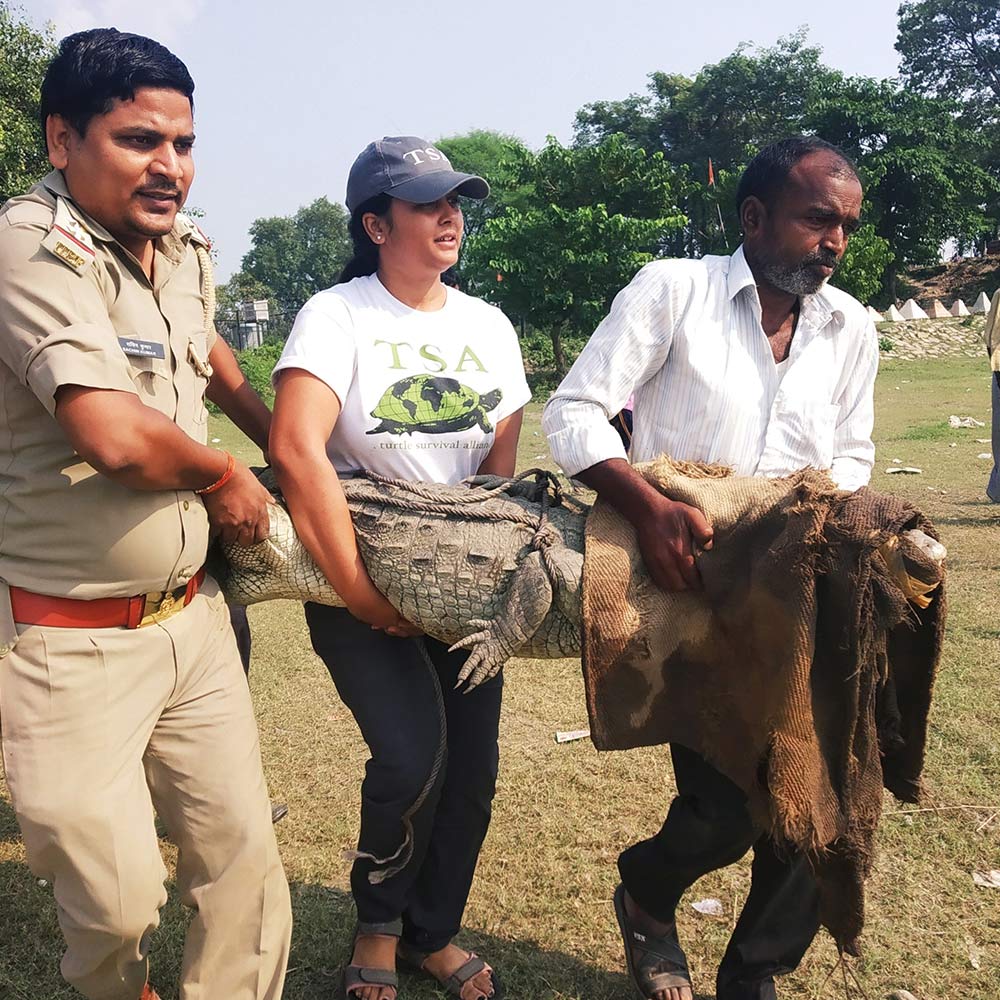 Arunima works as a program coordinator for the ex-situ conservation program of chelonian and crocodilians, which include starting programs and developing the assurance colony of the threatened North India species. She also co-manages rescue and rehabilitation programs for chelonians, crocodilians as well as assists with the rescue of stranded dolphins. "I am pursuing a PhD degree in turtle ecology. As part of my Ph.D I am working on population dynamics and reproductive aspects of the Crowned River Turtle (Hardella thurjii)." Advocating the urgent need for conservation-breeding programs for some of the most threatened TFTs, working towards rejuvenating turtle conservation breeding programs in Uttar Pradesh, contributing to the Uttar Pradesh Forest Department's efforts in the development of assurance colonies, and head-starting programs for 13 freshwater turtle and tortoise (FTT) species of North India are part of her current role.
Research and more
In her role, Singh has generated information on the hatching and rearing of Indian Narrow-headed Softshell Turtle (Chitra indica) for the first time ever. This is an endangered softshell species for which she has developed a novel protocol for successful artificial oviposition and hatching of H. thurjii eggs, one of the least studied turtle species in the world. The information generated is aiding in the development of population replenishment programs. She is also working on the country's first and the longest population monitoring program for the freshwater turtle community, to understand the population trend of FTTs and associated threats in the lower Sarju River. 
"I have worked with the fishing community along Ghaghra-Sarju landscape to avoid accidental drowning of turtles in their fishing gears and have also initiated a project on testing the efficacy of turtle excluder devices as a measure to reconcile community interest and long-term conservation goal," she explains. Little wonder then that she recently won the NatWest Group Earth Heroes Save the Species Award 2021 for her exemplary efforts towards saving turtles. "Arunima's work is at the grassroots level, building capabilities of local communities at vulnerable spots. The jury of the 11th edition of the NatWest Group Earth Heroes Awards was impressed by her dedication and science-based approach resulting in good outcomes on the ground," says N. Sunil Kumar, Head of Sustainable Banking India & Head of NatWest India Foundation.
Making a difference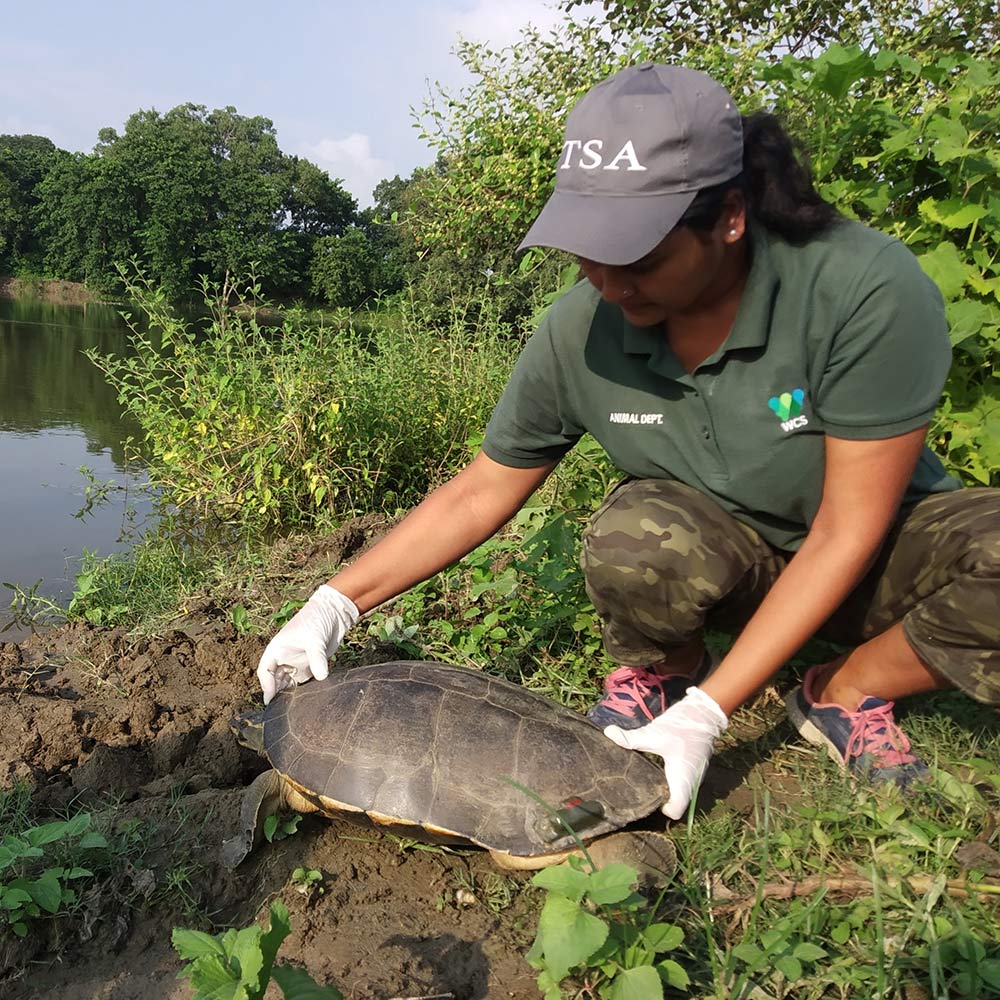 Singh has also worked on the concept of developing assurance colonies for all Indian turtle species under one roof. Assurance colonies, for the uninitiated, is a word that refers to a group of critically endangered or threatened animals in captivity. "Assurance colonies are developed alongside other conservation efforts for a particular species, to ensure that these animals do not go extinct while other conservation efforts show results. In the wild, these animals have very low chances of survival, and developing assurance colonies will help," she says. She is also doing research that is aimed at understanding the nesting ecology of the Crowned River Turtle (Hardella thurjii) in the Ghaghara-Sarju River system—a part of the Gangetic River Basin, located in the Terai Arc Landscape. The species is among the least studied and most interesting one as currently no one understands the intricacies of their nesting behaviour. 
Overcoming challenges
Gaining trust and drawing engagement of communities, both at rural and urban scales, has been the most challenging issue she has faced. "While it was difficult to draw the interest of urbanites who have severed their connection with nature to the real world, motivating rural and fishing communities to reduce their dependency on riverine resources was quite quailing. The relationship between reptiles and humans has never been very appealing and educating them about their coexistence and importance is difficult. Lack of charisma in reptilian research further adds challenges in terms of generating funding and convincing authorities for conservation actions, and getting required permissions has its own personal safety hazards. The recent exponential rise in illegal turtle trade is further posing challenges in the conservation efforts," she laments. If you see a turtle in distress or being smuggled, you can report it on TSA's recently launched mobile-based turtle application (Kurma) where anyone can report and get information regarding turtles. Looking ahead she says that she wants to continue working for turtles and management of associated habitats and develop species-specific conservation strategies at both the scientific and policy level. And that will certainly bring joy to the marine world.
Photo: Arunima Singh