In a case of never say never, Kubbra Sait has done it all—model, emcee, cameos in box-office hits, thought provoking roles on OTT series, voice artist for audio books and even a memoir. (Phew!) Sait spent second half of her 2020 in UK shooting for web series. During the lockdown, apart from penning down her memoirs and nursing her pet feline, Shifu Sait, back to health, she was on a path self-discovery, spending quality time with loved ones, heart-to-heart conversations about mental health and creating valuable content during isolation. 
Spotlight on Mental Health 
Sait started an Instagram live chat series called #WisdomWednesdays with her friend Ashdin Doctor, a habit coach. She says, "My friend [Doctor] and I usually call each other and have random conversations. One day, we thought why don't we do this on Instagram and that's how we started #WisdomWednesdays. We started welcoming questions from the audience and started discussing life like we would one-on-one over a cup of coffee." The duo in these sessions have covered a wide range of topics such as bullying, drama and the highs and lows of life, the aim of the chat is to =one another take care of their mental health in all times. 
Mental health is a subject she feels strongly about as she points out that it's high time we had a more open discussion about mental health. With people losing their livelihood and struggling to make ends meet, there is an enormous amount of anxiety and stress. "I consider myself lucky to be shooting a show from home. Imagine all those people who haven't had any work to do, whose entire life revolves around work and the money that comes with it," explains the actor. Sait reiterates, "I think the eventuality of this lockdown is going to be mental health and we need to talk about it more than ever. I really feel we need to normalise conversations about mental health." 
For her own mental sanity and peace Sait say she meditates regularly to be in tune with her emotions and not running away from them—"You'll never see me going 'hey, hi, I'm fine'. I'd rather not have that conversation with a person who won't understand what I am saying." On Twitter, she posted saying that it is high time people stopped saying : 'so, you're fine?' She elaborates, "If you've called me, genuinely ask me how I am and give the freedom to tell you how I am. Don't already load an answer in my mind. It's not necessary I feel the same as everybody else. I think that was an important conversation to have." 
Creating content in the pandemic 
The actor was most recently seen in Wakaalat from Home, a 10-episode lockdown comedy series that released on Amazon Prime in September, 2020. Sait plays the role of a divorce lawyer in the series directed by Rohan Sippy, was a one-of-a-kind experience and she feels they managed to deliver an earnest piece of work. "The premise of the series was divorce proceeding over video calls during the pandemic. [When the lockdown was implemented] family courts were shut, and people were clueless about how to get things done. That's when the concept took shape and we decided to seize the moment. What's interesting here was that the entire cast pitched in ideas and co-existed in the entire process – from conceptualisation to execution. We would discuss ideas on Zoom and Anuvab would turn them into dialogues."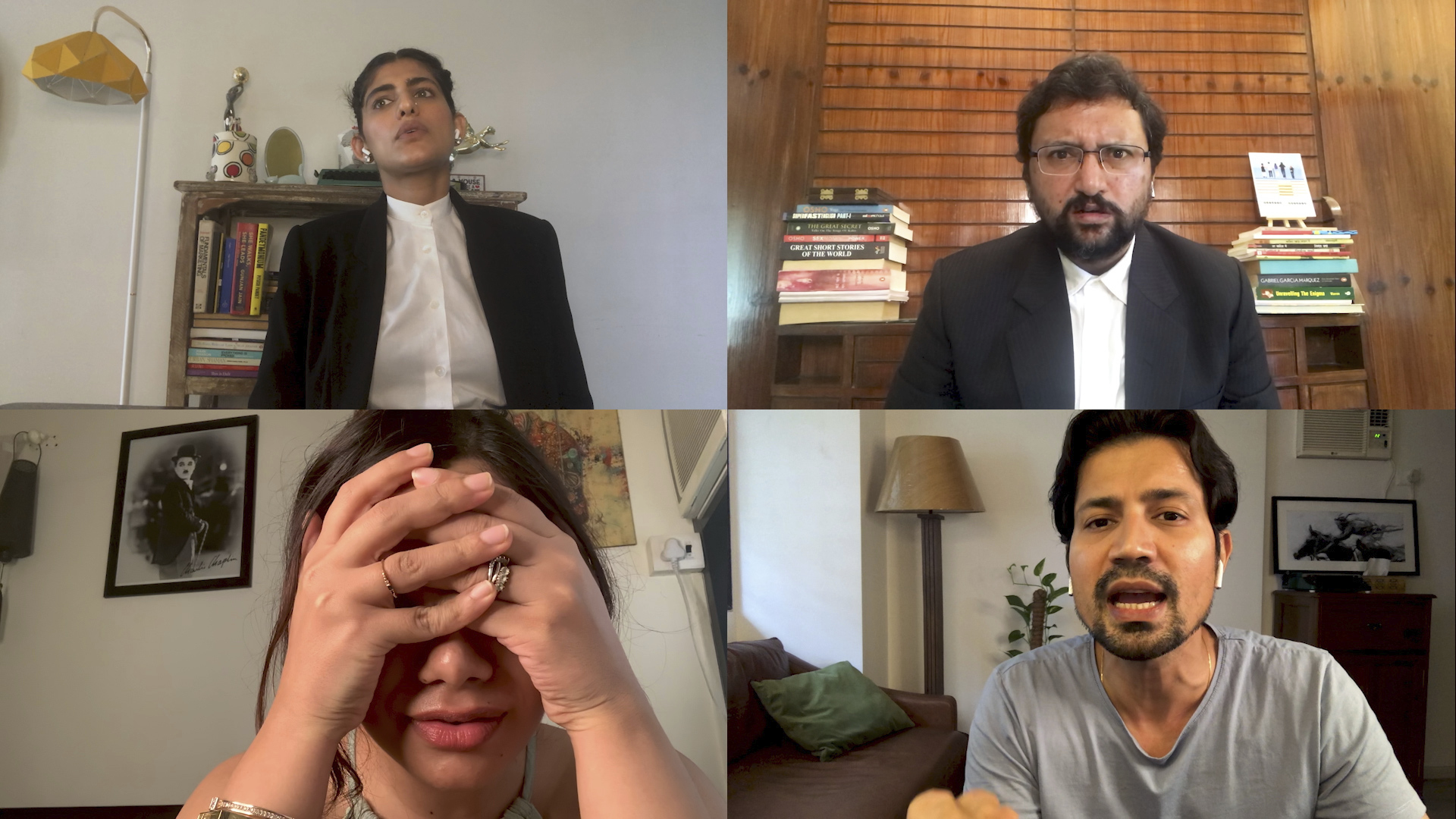 Now that was about creating the story, but shooting at home, without professional equipment and technical assistance can get tricky. Sait reveals how each of them had to don many hats during the shoot and it made her appreciate the smaller details as well as the role of every individual on a set. "I didn't know the importance and value of a tripod. *laughs* And here I was, not just responsible for acting but also managing costumes, light, sound and other technical aspects." 
OTT platforms FTW! 
OTT has become the buzzword with cinephiles and Sait feels it deserves every bit of the attention. According to her, it is a democratic platform that has given a new lease of life to artistes. "Here, people don't need to have a certain backing or brand/star value. If you're good at your craft, you will get selected and if you ado  then you will get more work. A classic example of this would be, Wakaalat from Home's casting director Abhishek Banerjee," she says, highlighting how Banerjee's talent has earned him several casting opportunities.  
On Bollywood movies getting OTT-first release, she says that it is the need of the hour. Sait, who rose to stardom thanks to her role as Kukoo in Netflix's Sacred Games, hopes people finally realise the importance of this source of entertainment. "Also, realise that what we do as creative people on sets is far more than just box office numbers. There are stories that are worth being told, there are stories that will be successful irrespective of numbers. This constant race and test mechanism which has 'woh chala toh ye hit hai and woh nahi chala toh hit nahi hai" has no place here. I had tears of joy when an Amitabh Bachchan film released on an OTT platform," gushes Sait. 
A journey of trial and errors 
A decade ago, when Sait quit her job as a corporate employee to pursue her dream to be an actor, she started out with modelling and emcee assignments upgrading to major TV commercials and well-known shows. This was followed by cameos in a few big budget Bollywood movies. But what helped her attain success in the acting industry was her decision to step out of her comfort zone and take up offbeat roles. For instance, her convincing portrayal of a transgender in Sacred Games. 
Despite her experience Sait still chooses to describe her journey as 'a journey of trial and errors'. "I am still a work-in-progress," she says, adding, "Yes, I have been in Mumbai for a decade but as an actor my journey only began in 2018. I'd say it's just the beginning for me because I found my soul only two years ago. I am just blessed to have met great mentors along the way." 
Sait's secret to success, according to her, is diversity. "Since the beginning of my career, I have excelled in diversification. I do OTT, films, advertisements and social engagements – everything! So basically, I haven't put all my eggs in one basket. Because if you do that, you set yourself up for failure." She's grateful for her diverse work profile because it has helped her meet such talented actors, writers and directors. "I think that's given me a way forward. And I am very happy and blessed about it." 
"During one of my chats with Nawazuddin Siddiqui about work, I remember asking him 'aap thak nahi jaate intezaar karke?' and he had said, 'Mohtarma, aap ise intezaar kehti hai, hum toh pachees saal se intezaar kar rahe the.' My reaction was: yours is a next level conversation, I am leaving. But, to be honest, what he said has stayed with me ever since. This is what's exciting. The kind of people who've got a headway before me into this business—this includes Sumeet [Vyas], Gopal [Datt] and Nidhi [Singh] (her co-stars in Wakaalat from Home) as well—they have worked tirelessly to be actors. When compared to their journeys, I haven't done anything yet! Things have just fallen into my lap. But again, as I mentioned earlier, I have a long way to go," Sait concludes. 
Rapid fire: 
1. Emcee or an actor
Actor
2. Dubai, Bombay or Bangalore 
Mumbai 
3. What's your guilty pleasure? 
Baklava 
4. The weirdest habit I have is... 
I bite my toenails. 
5. Top 3 self-care tips you swear by? 
Drink plenty water, sleep well and watch a lot of comedy. 
6. OTT or Movies 
Movies on OTT 
7. A skin care product I can't live without 
My lip balm 
8. Your biggest weakness? 
I love food – I'll eat six meals a day and have no regret about it. 
9. Your biggest strength? 
Tension leneka nahi, tension deneka
Photo: Facebook/Kubbra Sait