Maa Asche! With the arrival of the Goddess of strength, power and truth, Bengal cannot keep calm. Celebrations and festivity are at their peak in Kolkata during Durga Puja. Being added to UNESCO's representative list of the world's intangible cultural heritage, Durga Puja in Kolkata has made its presence felt worldwide. Be it pandal hopping, shopping, or food, Bengalis celebrate the festival with great passion. Pandals being the defining factor of the festival, here are 7 best-known pandals in Kolkata.
Seven Durga Puja pandals in Kolkata worth visiting for a memorable experience
1. Bagbazar Sarbojonin Durgostav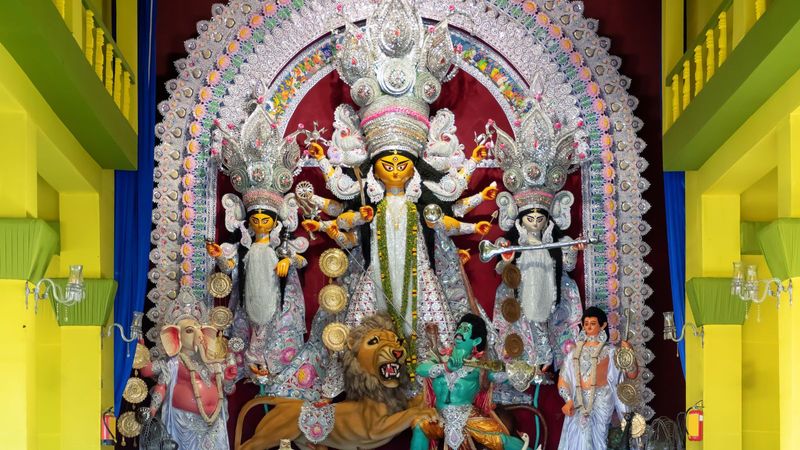 Baghbazar Sarbojonin Durgotsav is the oldest sarbojanin Durga puja in West Bengal. It was the first puja in Calcutta which was organised by the people collectively, and not pertaining to a particular household. It has a historical background that has lasted almost a century and has an inseparable presence within Bengali culture. A large number of people gather together to celebrate the occasion of Durga Puja in Kolkata's Bagbazar area.
Location: Sovabazar, Bagbazar, Kolkata
2. Chaltabagan Durga Puja Pandal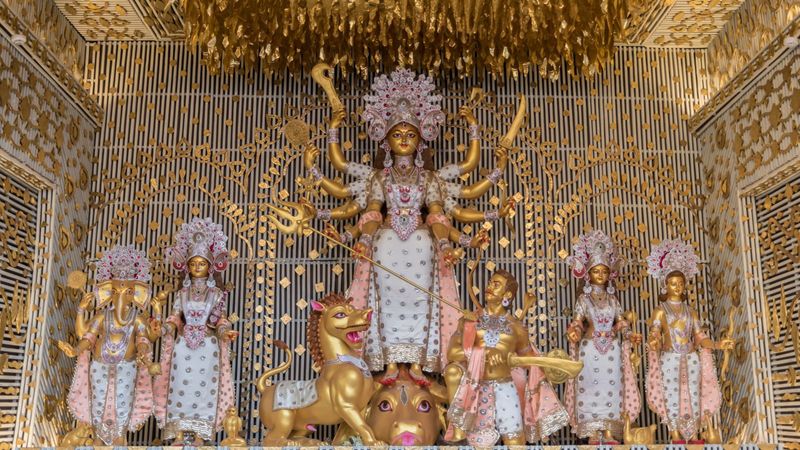 The Manicktala Chaltabagan Lohapatty Durga Puja which initially began as a small celebration in a shop has now grown to become one of Kolkata's most prominent Durga Puja pandals. Founded by Late Sri Lakhi Chand Jayaswal in 1943, who despite facing restrictions from the British authorities at the time dreamed of celebrating Durga Puja in the neighbourhood, with the people of North Kolkata. Environmentalism is a common theme of the Chaltabagan Durga Puja, through the usage of windmills and solar panels for lighting purposes.
Location: Raja Ram Mohan Sarani, Maniktala, Kolkata
3. Ekdalia Evergreen Club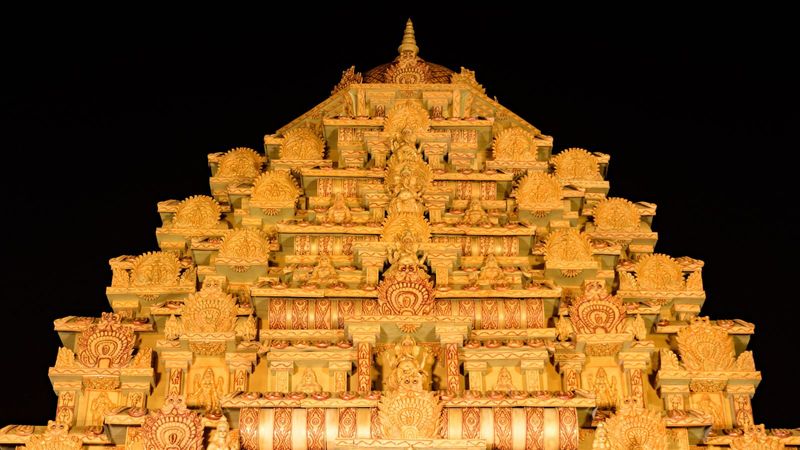 The Ekdalia Evergreen Durga Puja pandal is one of the most famous pandals in Kolkata. Every year they create large, artistic and vibrant pandals themed as the replicas of various temples across the nation. Within the elaborate pandal, the idol of the Goddess is a simple one. The lighting and music further enhance the festive mood among the people.
Location: Ekdalia Road, Ballygunge, Kolkata
4. Naktala Udayan Sangha Puja Parikrama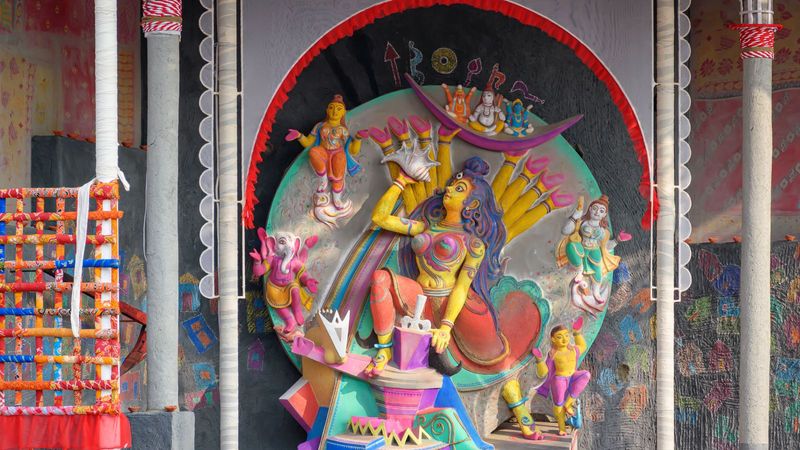 Among the highly awaited puja pandals in South Kolkata, the Naktala Udayan Sangha Durga Puja has won several awards and prizes for its themes and decorations. The puja is conducted traditionally here through rituals and mantra recitations. A large queue of visitors stretches over a kilometre to witness the innovative puja pandal at Naktala.
Location: Naktala, Garia, Kolkata
5. Sreebhumi Durga Puja Pandal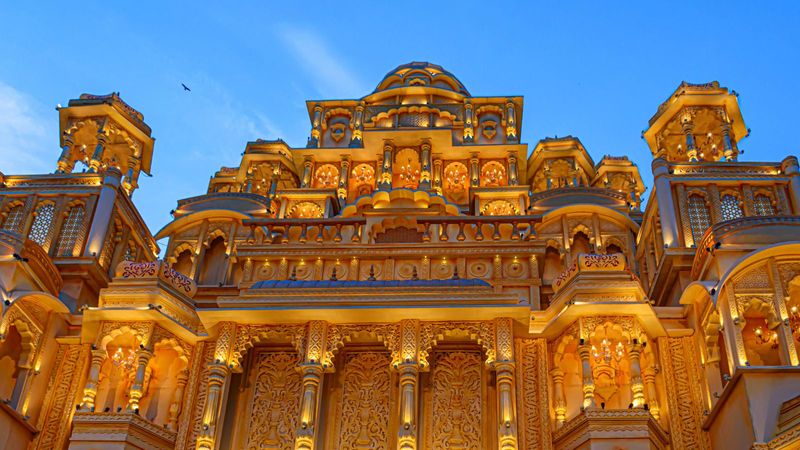 One of the most iconic Durga Puja pandals in Kolkata, Sreebhumi does not fail to amaze its visitors with its stunning themed pandals. With its unique and creative themes each year, Sreebhumi has created quite a frenzy among the people. This Durga Puja pandal is a must-visit while out for pandal hopping in Kolkata.
6. Bosepukur Sitala Mandir Durga Puja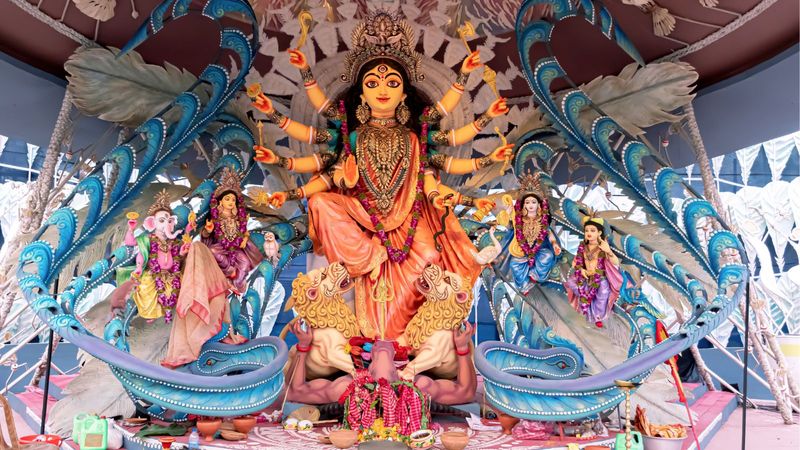 The Bosepukur Sitala Mandir Durga Puja is a community puja known for its unique decorations and themed pandals. The pandals are created by using traditional rural artisan techniques and eco-friendly materials. With 130 years of puja celebration, Bosepukur Durga Puja is of historical significance. Along with the puja proceedings, visitors can also experience the various cultural programs and events that are a part of the festivities here.
Location: Bosepukur Road, Tal Bagan, Kasba, Kolkata
7. Newtown Sarbojanin Durgotsav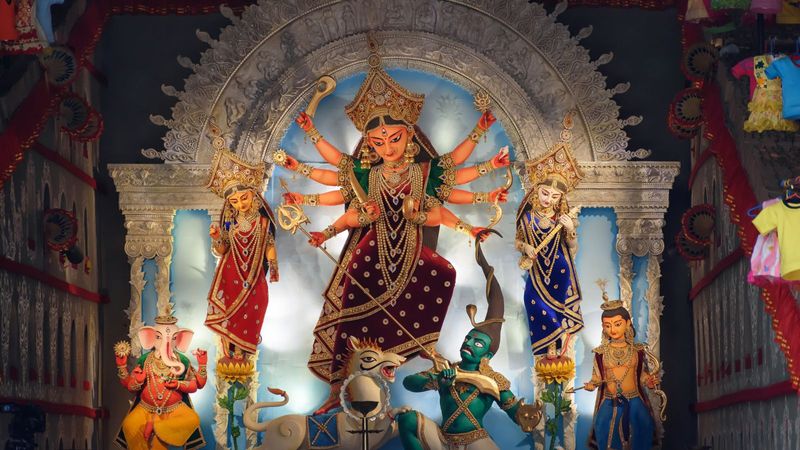 This is the first community puja of Newtown in Kolkata, outside gated complexes and housing blocks. It is also the first all-woman community Durga Puja in the township. Conducted by women priests and performances by women dhakis, the puja was first started in the year 2022 and has drawn huge crowds from all over the city.
Location: Green Varge, 7, Street Number 131, Action Area 1B, Newtown
---
Photo: Shutterstock