Scuba diving is an experience everyone should have at least once in their lifetime. Haven't you danced to Disney's Under the Sea from the film, The Little Mermaid when you were a kid? Haven't you often wondered what the world beneath the ocean's surface looked like? Scuba diving offers a lot of benefits, apart from being a paradise for like-minded travellers to come together. First and foremost, scuba diving is a great way to go out of your comfort zone and embrace a completely new environment. The best scuba diving spots will expose you to brilliant marine life and geological formations, colourful fishes, turtles and manta rays.
For peace lovers, scuba diving is a great option to unwind and embrace serenity. You find yourself leaving behind any tension in your life as you surrender to the waves. Scuba diving in India has particularly gathered popularity because more people look at it as not just a means to explore but also as a way to relax and escape the busy hustle culture. Lastly, the sport is a great way to connect with nature again and is rather simple. Scuba diving for beginners, as well as advanced swimmers, is available in many places, and there are even scuba diving resorts for those who are a fan of it.
 Seven places to explore scuba diving in India
1. Grand Island, Goa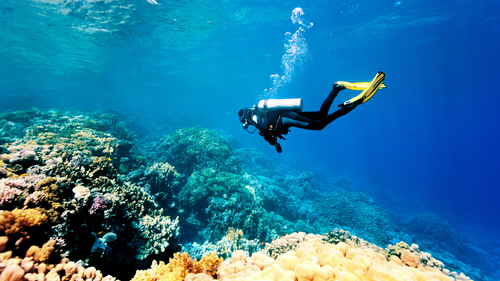 Goa's Grand Island is the haven for scuba diving in India. Anyone looking for a scuba diving adventure knows about this unmissable site for all the calm water lovers, lobsters and white-tip reef sharks. On rare lucky days, dolphins make a delightful appearance to make your day! For those looking to stay in any of the scuba diving resorts, W Goa truly offers the most immersive experience. Fiesta Resort in Baga is one of the most well-known scuba diving resorts and has glowing reviews.
Best time to go diving: Mid October to mid May, post the monsoon season 
2. Netrani, Karnataka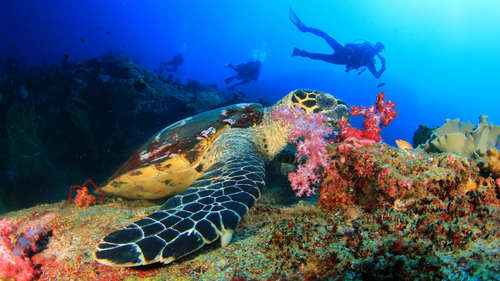 Netrani boasts one of the best scuba diving spots in the country. It is a small island called 'Pigeon Island' in Karnataka, and it is a hidden gem. The island is surrounded by beautiful coral reefs, making it a spot for various marine life. You will find everything here, right from colourful coral formations to special moments with majestic sea turtles and sharks. Netrani is also quite well appreciated for its clear waters, something that passionate scuba divers absolutely cannot miss.
Best time to go diving: February to June, and October to December
3. Tarkali, Maharashtra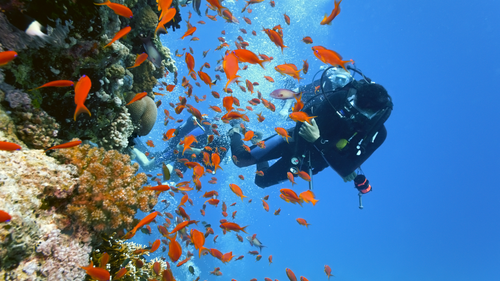 Among the best scuba diving spots, Tarkali has recently found a notable place and made a name for itself. Tarkali is located along the Konkan coast of Maharashtra and is known for its white sandy beaches and clear waters. Divers will again find some amazing coral reefs as well as marine life. Professional diving operators will help you spot some exotic fish, so get ready for a breathtaking adventure. 
Best time to go diving: October to February
4.  Kovalam, Kerala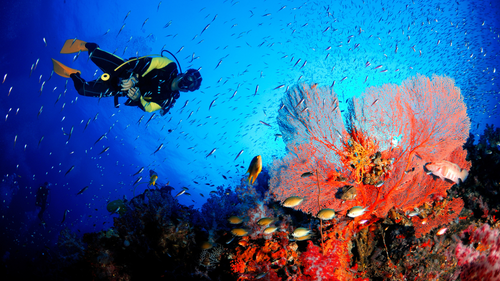 Kovalam is a great spot as far as surfing for beginners is concerned. Apart from surfing, the place also offers one of the best spots for scuba diving in India. It is known for its crystal-clear waters, diverse marine life, and lovely coral reefs. For any diver, this is a good place to explore because it is full of hospitality and professional dive operators who ensure a safe and pleasurable diving experience. Apart from getting to experience the underwater world, Kovalam also offers tranquillity and an overall fun trip for those looking to unwind and escape the busy life back in the big city.
Best time to go diving: September to February
5. Puducherry (Pondicherry)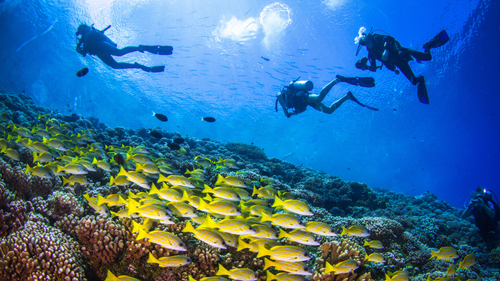 Puducherry is slowly becoming one of the best scuba diving spots in the country. It is certainly the coolest place for scuba diving for beginners. Pondicherry is slowly becoming famous for its marine biodiversity and rare underwater topography, something that had previously gone unnoticed. Divers can explore vibrant coral reefs, encounter exotic fish species, and if they are lucky, can also spot marine turtles and rays. Pondicherry also has many certified dive centres and professional instructors, and because of this, you can count on it to provide a safe yet fun adventure for those who are looking to discover the grand world beneath the waves.
Best time to go diving: February to April, and September to November
6. Kadmat Islands, Lakshadweep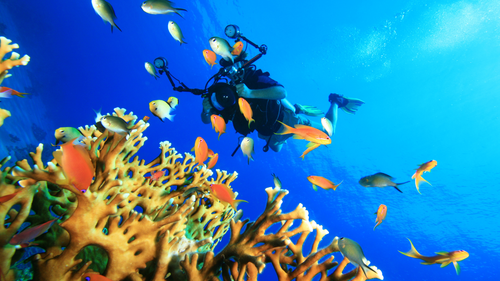 Kadmat Islands is particularly well-known as a hub for scuba diving in India. Kadmat Islands is located in the Lakshadweep archipelago of India. Here, divers can easily explore a mesmerising underwater world filled with colourful coral formations, and lots of local fish, and may even find turtles and rays. Because Kadmat is a tropical place, it has great weather and is good for a year-round diving experience. This is the speciality of Kadmat - you can visit whenever you feel like it!
Best time to go diving: October to May
7. Bangaram, Lakshadweep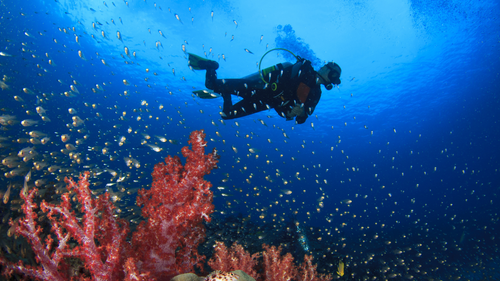 It is impossible to talk about scuba diving in India without mentioning Bangaram in Lakshadweep. Bangaram is a secluded island in the Lakshadweep archipelago, and it is often considered a hidden gem for scuba diving enthusiasts. With its untouched coral reefs, crystal-clear waters, and abundant marine life, Bangaram provides the diver with an incredible diving experience. Divers can find themselves in a world of vibrant corals, and tropical fish, and even come across larger marine species like turtles and rays. The pristine conditions and excellent visibility make it a really good place for underwater exploration. You will never feel unsafe in Bangaram's waters, because of how well-trained and careful the professional scuba diving teachers are. 
Best time to go diving: October to May
---
Photo: Shutterstock