Cannes in the French Riviera, annually, hosts some of the biggest names from the world of international cinema for the Cannes International Film Festival. But have you ever wondered where they stay in Cannes?
Cannes, apart from Festival de Cannes, is known for its curving coastline and white sand beaches. At the heart of all the hustle-bustle is La Croisette—in the mid-19th century it was nothing more than a pathway running parallel to the coastline. Today, this stretch has luxury showrooms and some of the most iconic hotels in the region. And this is where the stars live when they are in Cannes.
Here are the five hotels in Cannes that celebrities make a beeline for.
1. Hôtel Barriere Le Majestic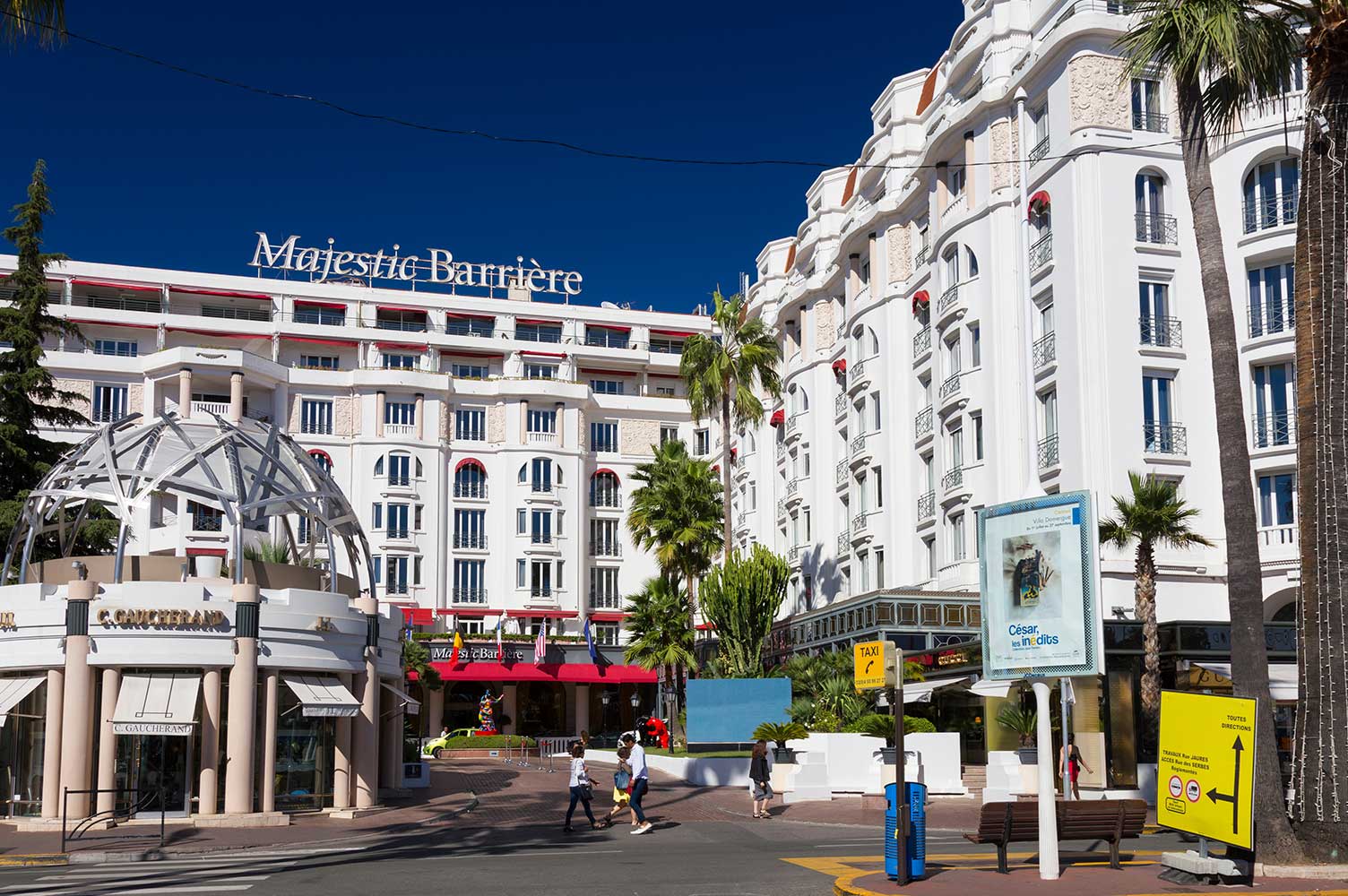 Built in the 1920s in classic Art Deco style, Hôtel Barriere Le Majestic today is one of the favoured hotels of international actors and dignitaries attending the Cannes International Film Festival. This is primarily because it is right next door to the Palais des Festivals et de Congrès, the official venue for the Cannes Festival. The hotel has also been the venue for the opening and closing ceremony of the film festival and hosted celebrities such as Robert De Niro, Matthew McConaughey and Jane Fonda.
Hôtel Barriere Le Majestic underwent extensive renovations recently and has 350 rooms and suites. Two of the five suites in the Cannes hotel pay homage to legendary French film personalities—Michele Morgan and Melodie (after the 1963 film Mélodie en sous-sol). The hotel also has a whopping 12 restaurants and bars that will leave you spoilt for choice.
2. Grand Hyatt Cannes Hotel Martinez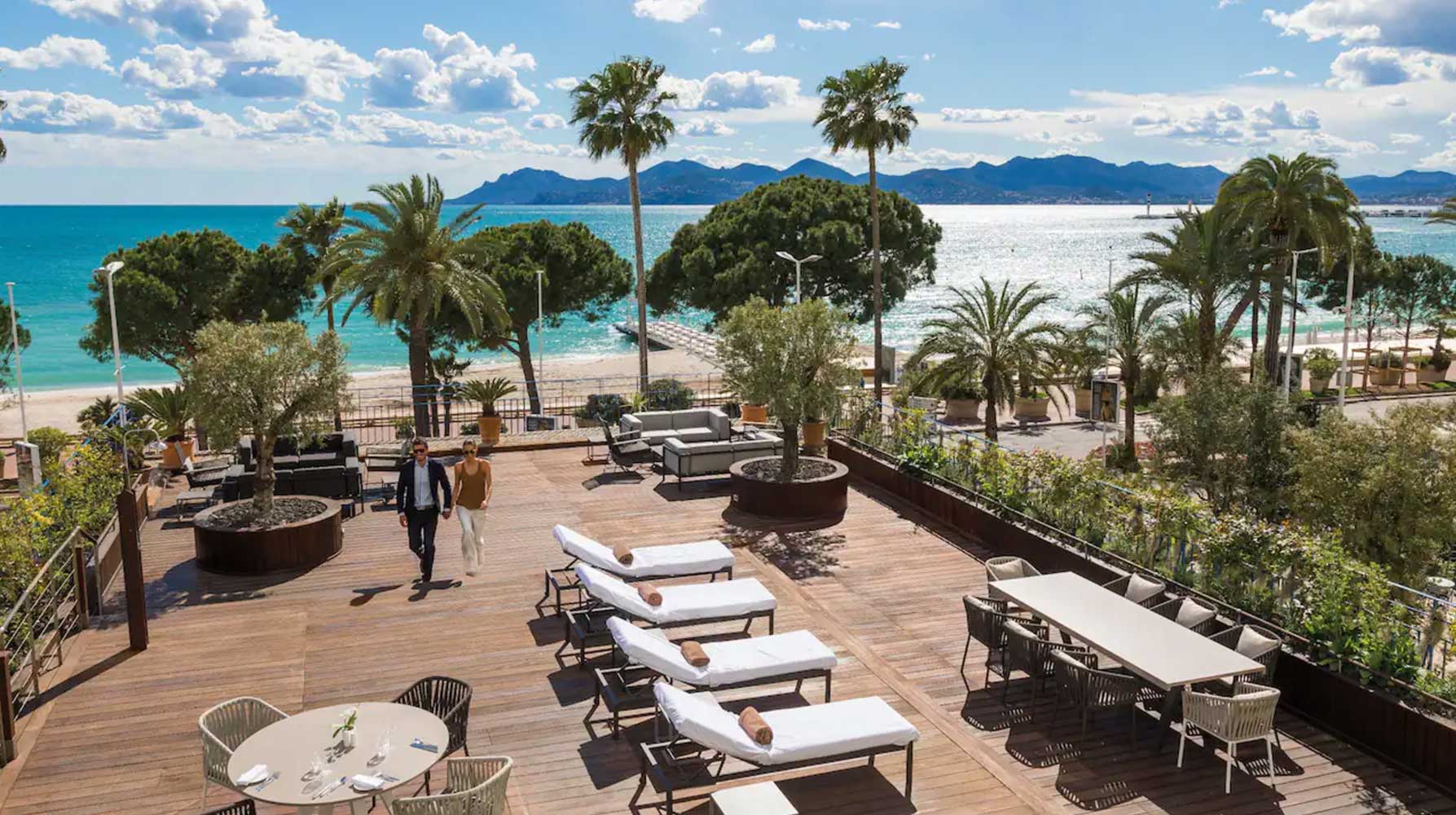 Another Art Deco hotel, built in 1929, Hotel Martinez, was owned by a blue-blooded Italian family. During the Cannes International Film Festival, celebrities such as Bruce Willis, Scarlett Johansson, Robert Pattinson, Eva Longoria and Diane Kruger have stayed at this historic hotel. There is also an Indian connection to this hotel, Karan Singh, the Indian politician and prince of Jammu and Kashmir was born here. Sonam Kapoor stayed in this hotel in 2019 for the film festival, as did Deepika Padukone the year before. Aishwarya Rai Bachchan has also been a resident of the Grand Hyatt Cannes Hotel Martinez.
The hotel is managed by the Hyatt International group. Apart from the plush accommodation, Grand Hyatt Cannes Hotel Martinez, had one of the longest private beaches on La Croisette and a pontoon to sunbathe. Don't miss the opportunity to dine at the two Michelin Star restaurant, La Palme d'Or, in the hotel.
3. InterContinental Carlton Cannes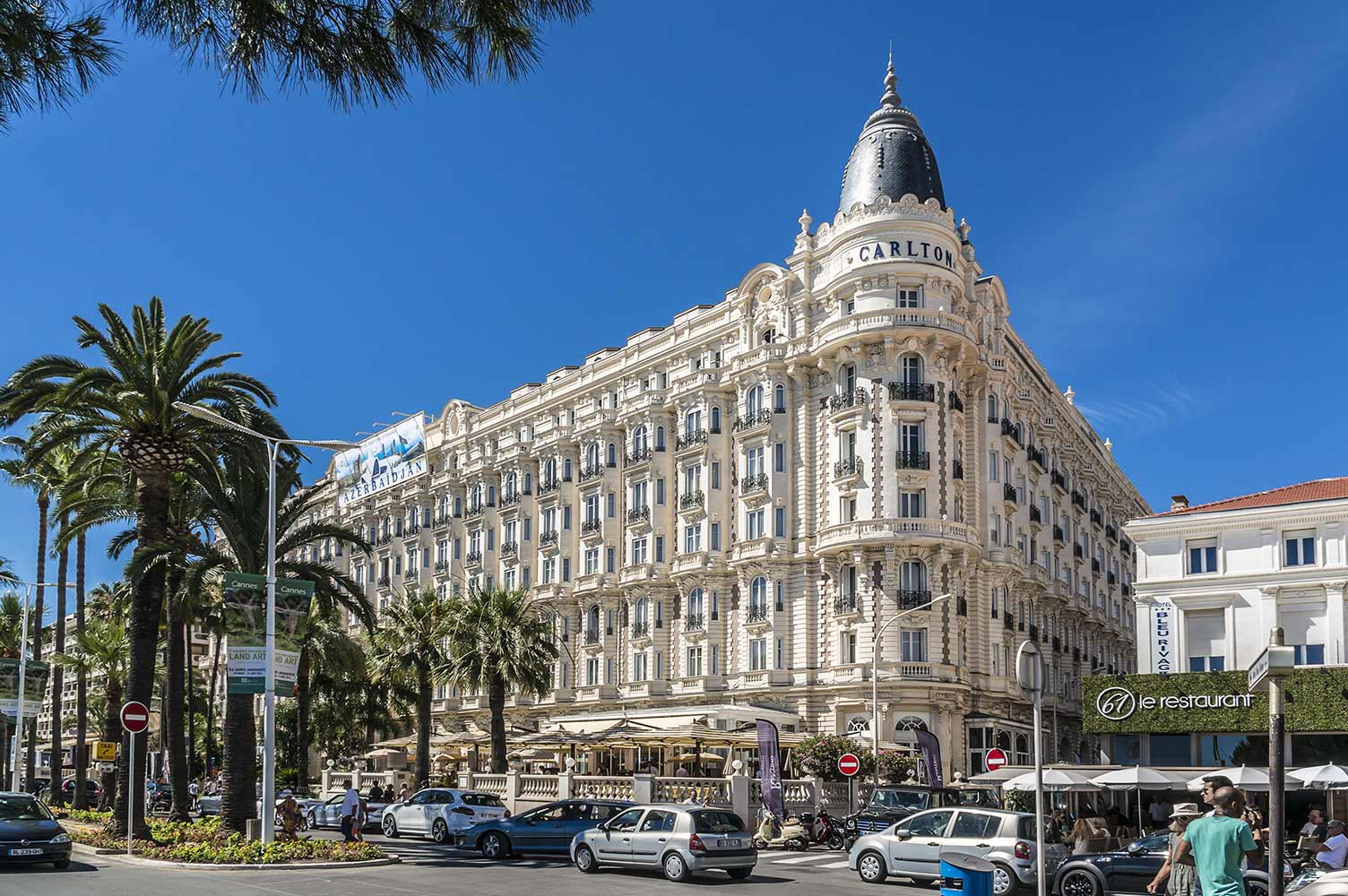 Nearly a decade before Hôtel Barriere Le Majestic and Hotel Martinez, Carlton Hotel was built by Henry Ruhl and first opened its doors in 1911. Among many of its historic moments, is actress Grace Kelly meeting her husband King Rainier III of Monaco during the Cannes International Film Festival in 1955. InterContinental Carlton still has a Grace Kelly suite named after the legendary actress. In the more recent past, the hotel has played host to celebrities such as Quentin Tarantino, Clint Eastwood and Antonio Banderas.
InterContinental Carlton is currently undergoing extensive renovations and is not open to guests. However, the Carlton Beach Club is operational, so you can enjoy the azure oceans and the glamour of the French Riviera at the beach, restaurant, pontoon or bar.
4. Five Seas Hotel Cannes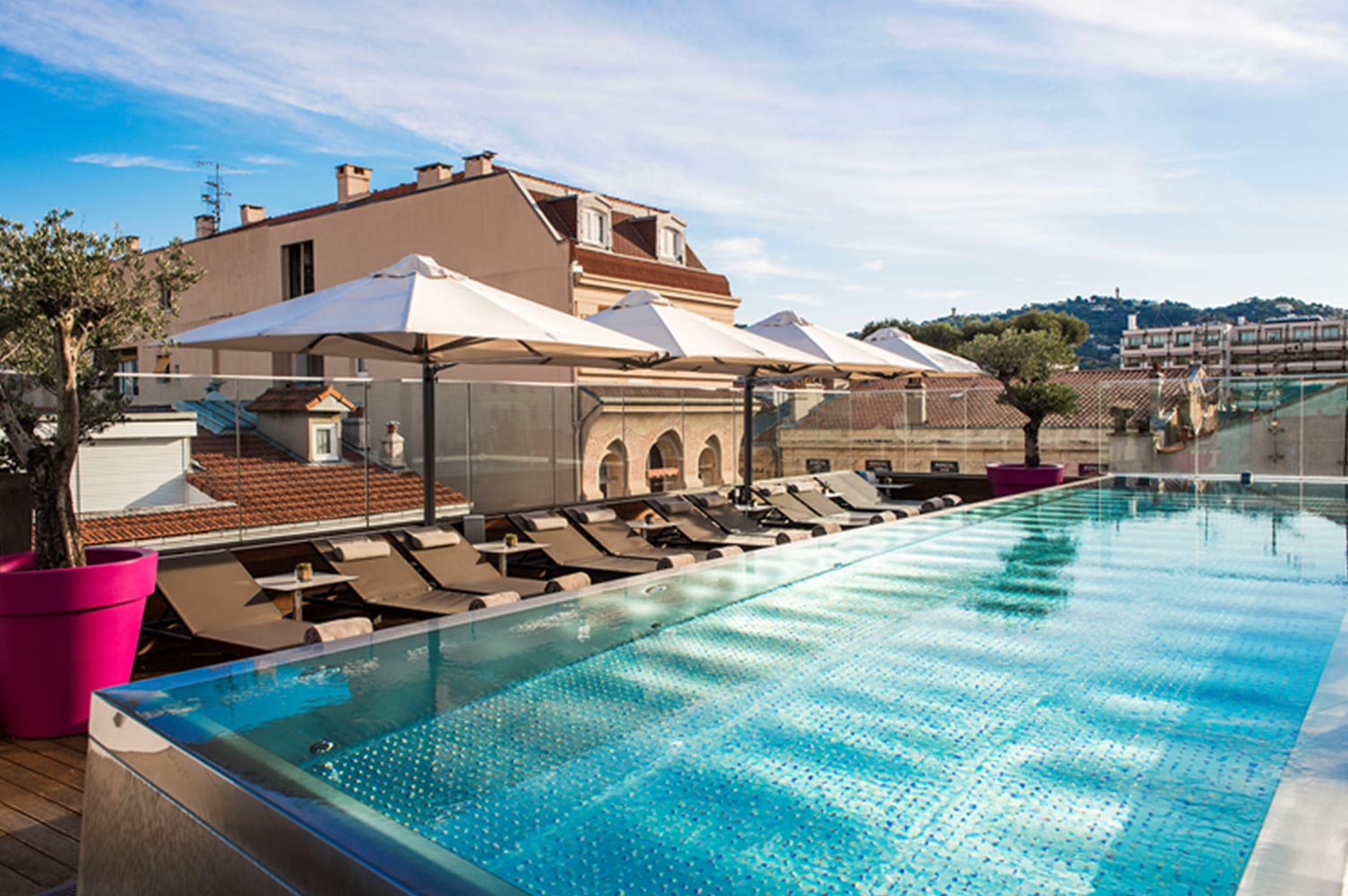 A smaller boutique hotel compared to the others on this list, Five Seas Hotel Cannes has only 45 rooms and suites. The list of international celebrities who have made this their haven include Naomi Campbell and Colin Firth.
Five Seas Hotel Cannes spa, created in partnership with Cinq Mondes and Carita, is where everyone wants a reservation, whether it is for a holistic treatment or for a more modern intervention. Five Seas' own rooftop has an infinity pool with white daybeds, live music, and pop-up brasseries.
5. Hotel du Cap-Eden-Roc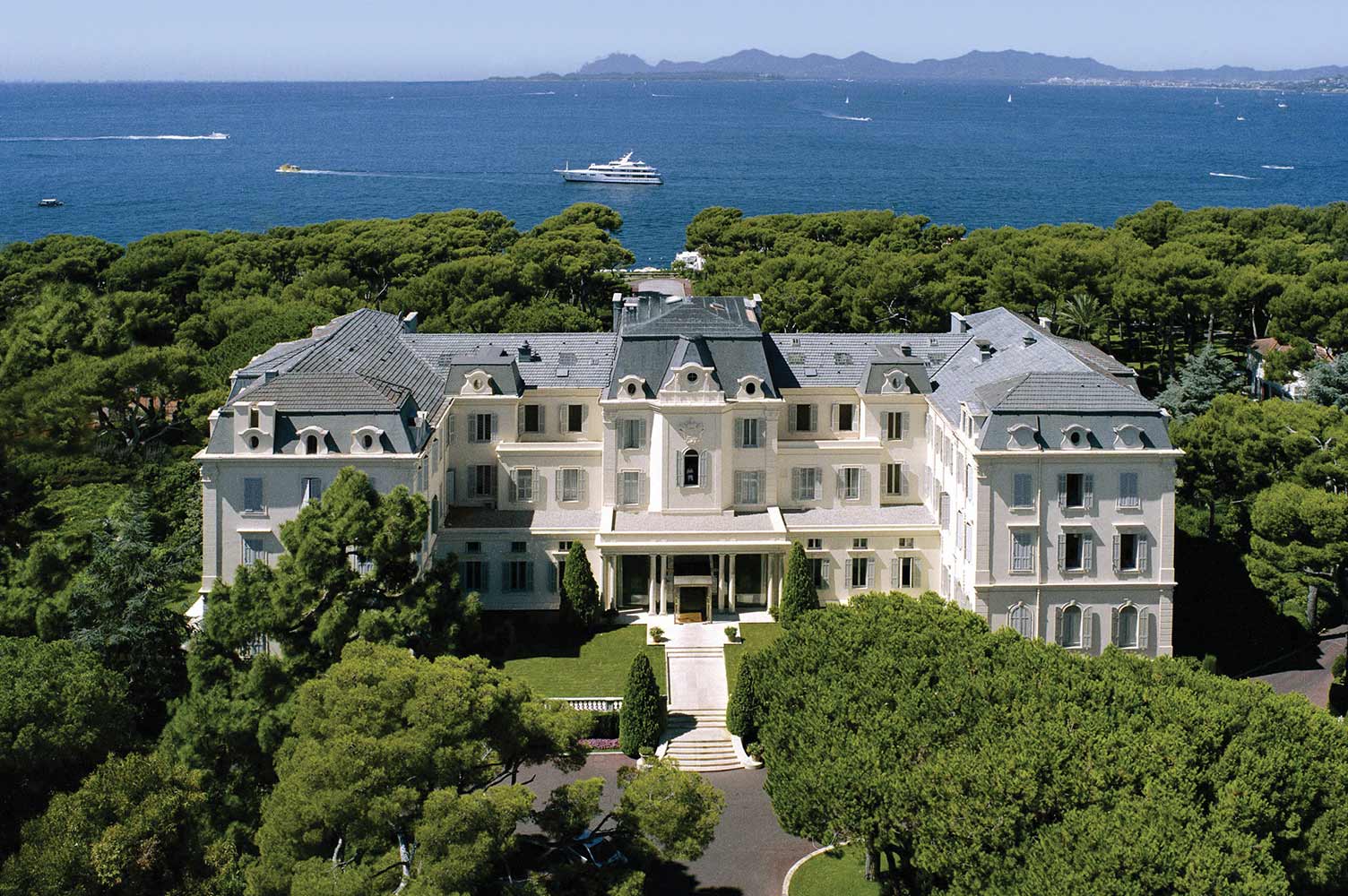 Not exactly in Cannes, Hotel du Cap-Eden-Roc situated in Antibes—half an hour from Cannes—has some of the most stunning views of the French Riviera. The hotel has hosted celebrities such as Madonna, Uma Thurman, Steven Spielberg and the entire cast of Ocean's Thirteen. Priyanka Chopra Jonas, who is now a global star, stayed at this hotel in 2019. The 118-room hotel is now 150 years old and one of its stand-out features is the heated seawater infinity pool carved out of the bedrock. The hotel has also recently tied up with Christian Dior to create a signature Eden-Roc fragrance.
Photo: Shutterstock