I seem to have a special relationship with Bir as every summer I feel drawn to this lovely hamlet at the foothills of the mighty Dhauladhar Himalayan range in Himachal Pradesh. Prayer flags flutter in the wind; quaint cafes, tea gardens and monasteries dot the hillsides; and the landing site at sunset is the most gorgeous spot with paragliders fluttering down every five minutes. It's very easy to fall in love with it when you visit the first time.
Paragliding in Bir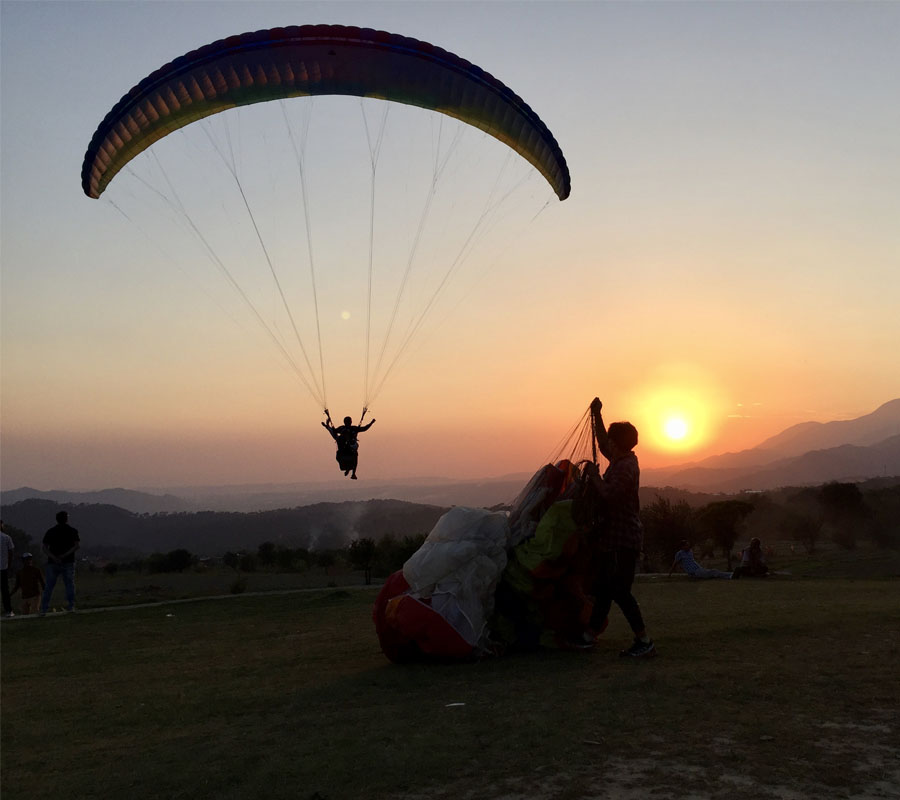 Bir made a name globally for this adventure sport when it hosted the Paragliding World Cup in 2015—after all, it is the second-highest place in the world for paragliding. Having already had a dose of this adrenaline-pumping experience in Switzerland, I couldn't wait to be in the air again.
While Billing, at the height of 2,400 meters above sea level is the launch site, Bir is the perfect landing site. I couldn't wait to head up, but unfortunately, bad weather played spoilsport and it was only after an excruciating wait of five long days that the skies cleared and finally allowed us to go paragliding. I remember waking up expectantly at 6 am every day rearing to go, but when dark clouds refused to budge from the mountains, I realised that I didn't stand a chance.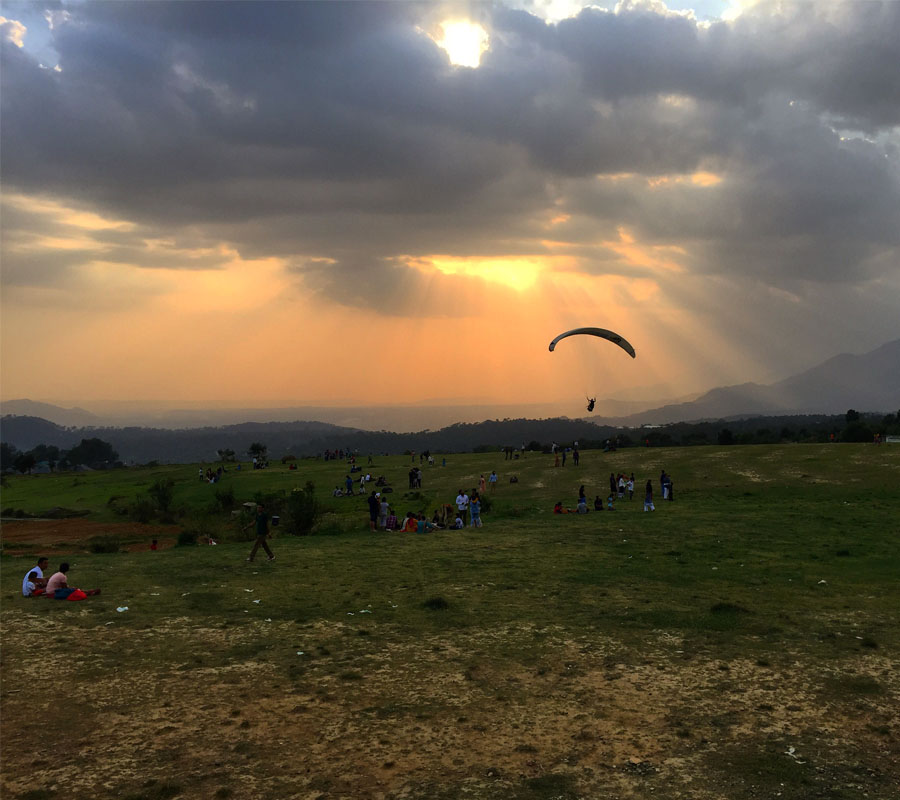 But it was so worth it. With a crystal-clear sky beckoning the paragliders, I headed to Billing, got strapped in, and before I knew it—I had taken the momentous leap. And then I spent 20 glorious minutes sailing in the sky feeling like a little bird for whom the world is but a tiny speck sprawled beneath. I loved every minute of it, especially the panoramic views of the mighty Dhauladhar range and the valley spread below. I would recommend this to anyone with an adventurous streak! Tandem flights— with a pilot and passenger—last for about 25 to 30 minutes.
Monasteries in and around Bir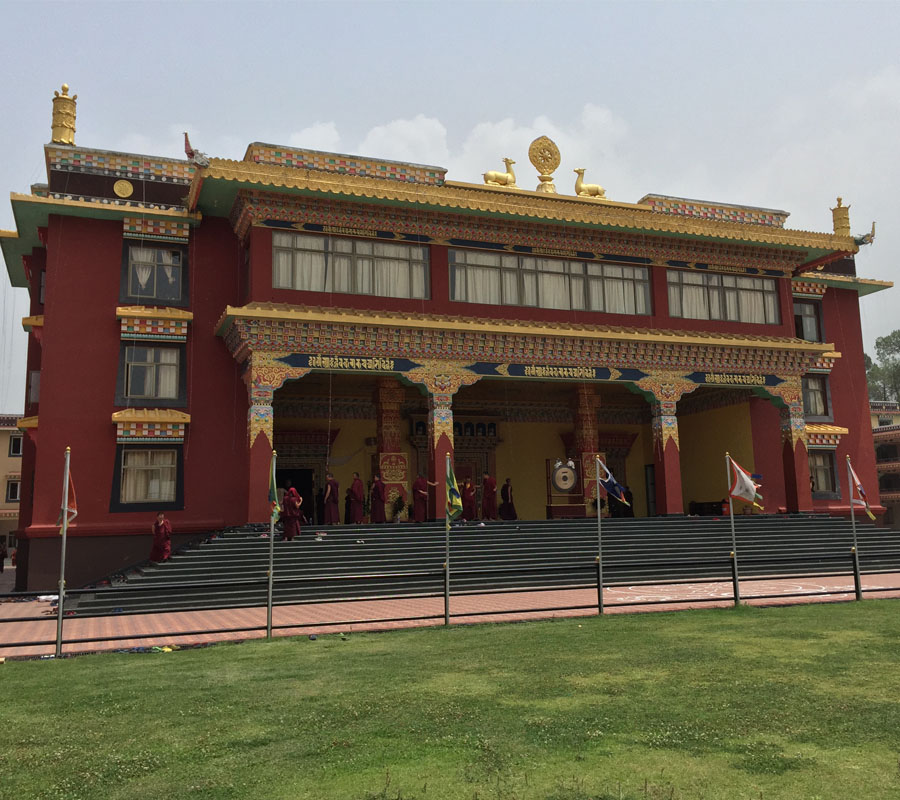 Those days of waiting were not wasted—they never can be when you have the towering mountains to keep you company. I walked, explored the cafes, the market, and spent some quiet time at the Chokling Monastery. Peaceful, calm and pretty, with an unobstructed view of the mountains, it makes your disappointment vanish. It has a lovely cafe as well where I would highly recommend you try the momos. Another one worth a visit is Bir Dirru Sakya Monastery near the Bir market—if you go in the evening, you may just chance upon Tibetan monks busy with a game of basketball. I just sat there and watched them, imbibing their sense of joy and serenity as they played their game in their maroon robes.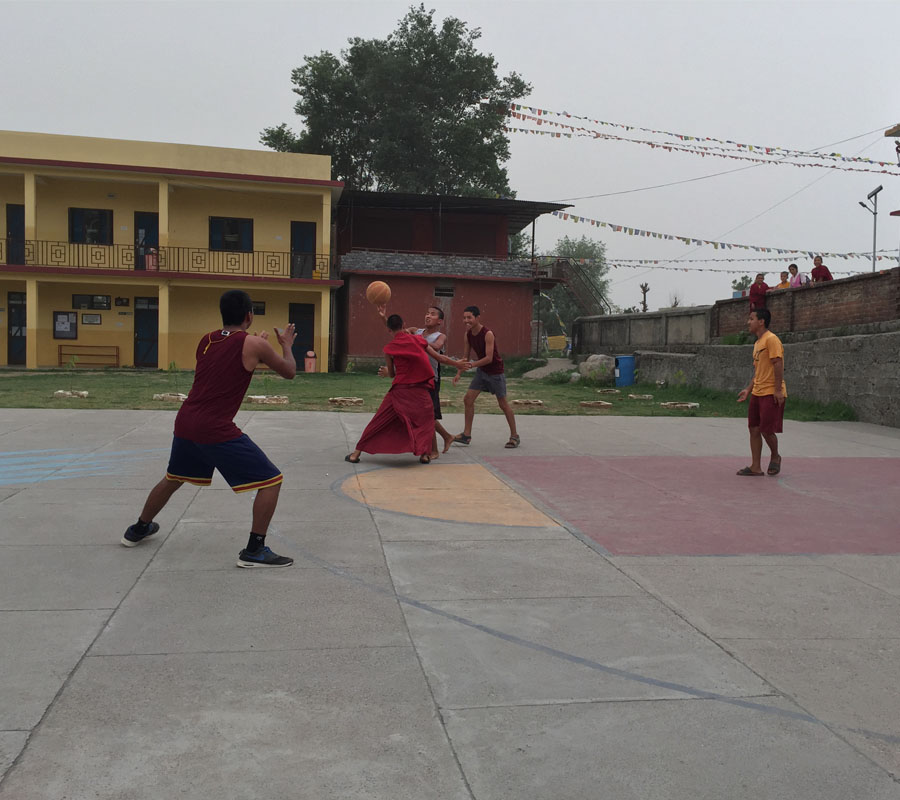 If you have a car, then take a scenic 15-minute drive down a road lined with lush pine trees and prayer flags to the massive Paplung Sherabling Monastery, one of the oldest monasteries in the country. It is home to hundreds of monks as it is a major centre for monastic studies. The view of the sunset from here is amazing. Even if you don't go for the view, just sitting there is very very peaceful. 
Cafe hopping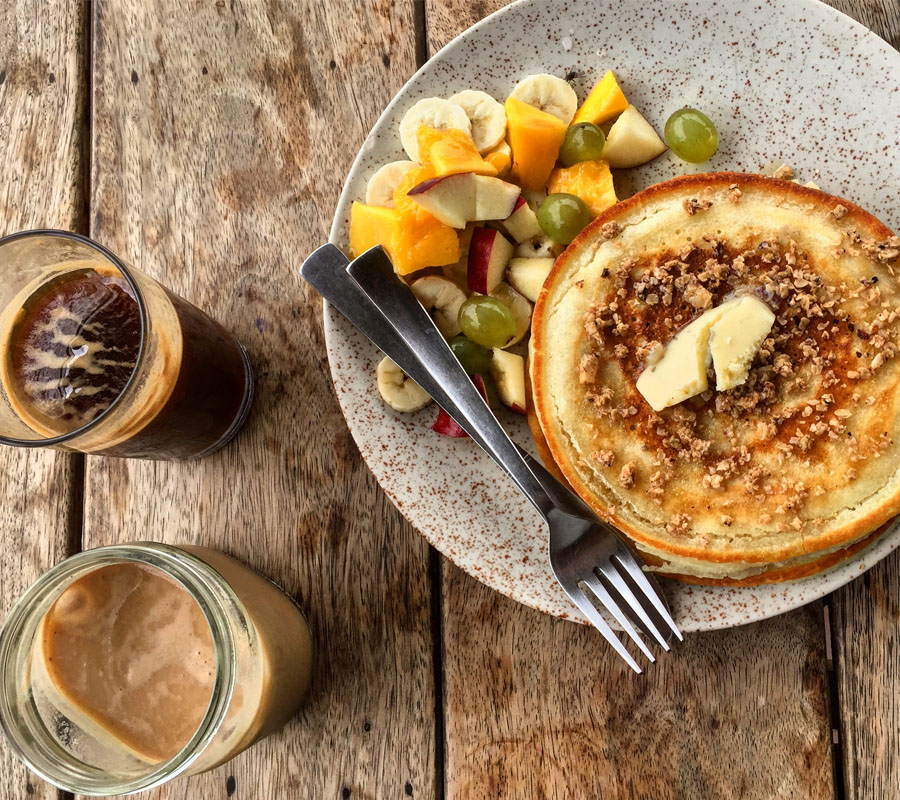 As visitors began flocking to the hamlet in the past three or four years, charming cafes have mushroomed all over Bir, dishing out everything from pizzas to cakes and even delicious South Indian food.
I simply loved Silver Linings, a quaint café in a hut with lovely outdoor seating and a perfect reading corner. Along with my friend, who also joined me, we tucked into a delicious breakfast of French toast, pancakes, and cold coffee. This would definitely be my suggestion for a perfect brunch or breakfast.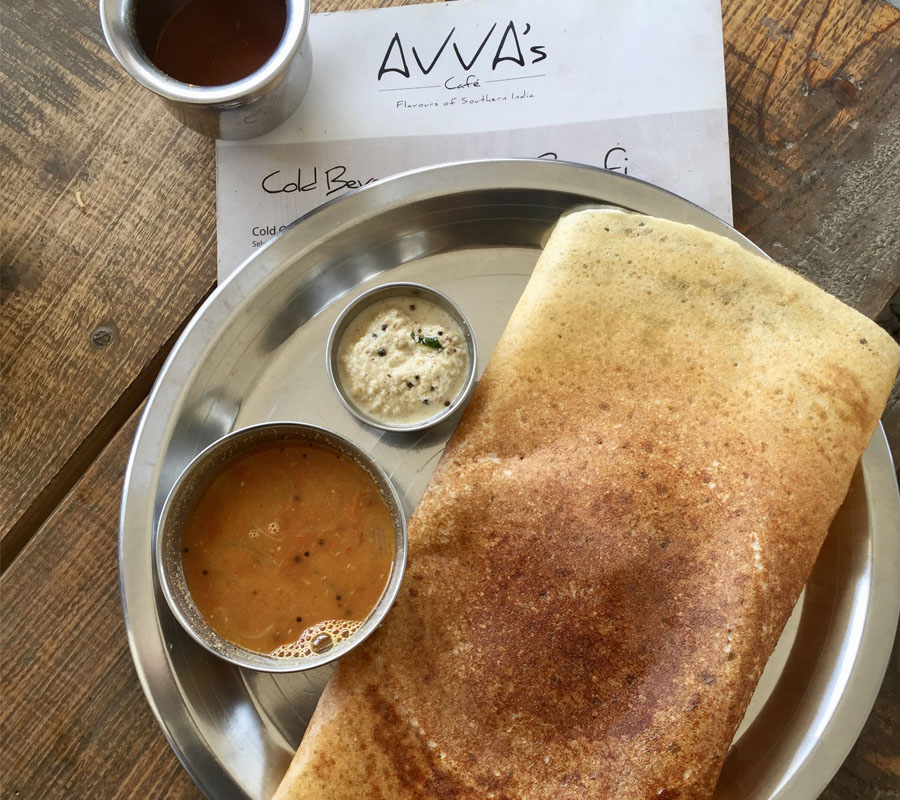 I never thought I would end up tucking into delicious South Indian food in Bir but I did just that at Avva's café, a hidden gem where I found myself going more than once. As the monsoons lashed Bir, we sat here admiring the lush view, smelling and hearing the rain, watching the clouds play hide and seek with the mountains and sipping piping hot rasam—which is their welcome drink along with channa. I have to admit that the dosa and vada here were the best I have eaten in a long time. Dog lovers note, another attraction is the two lovely dogs, Mira and Bira, with whom you can play. If you enjoy South Indian food then don't skip this. It's just opposite Silver Linings Cafe.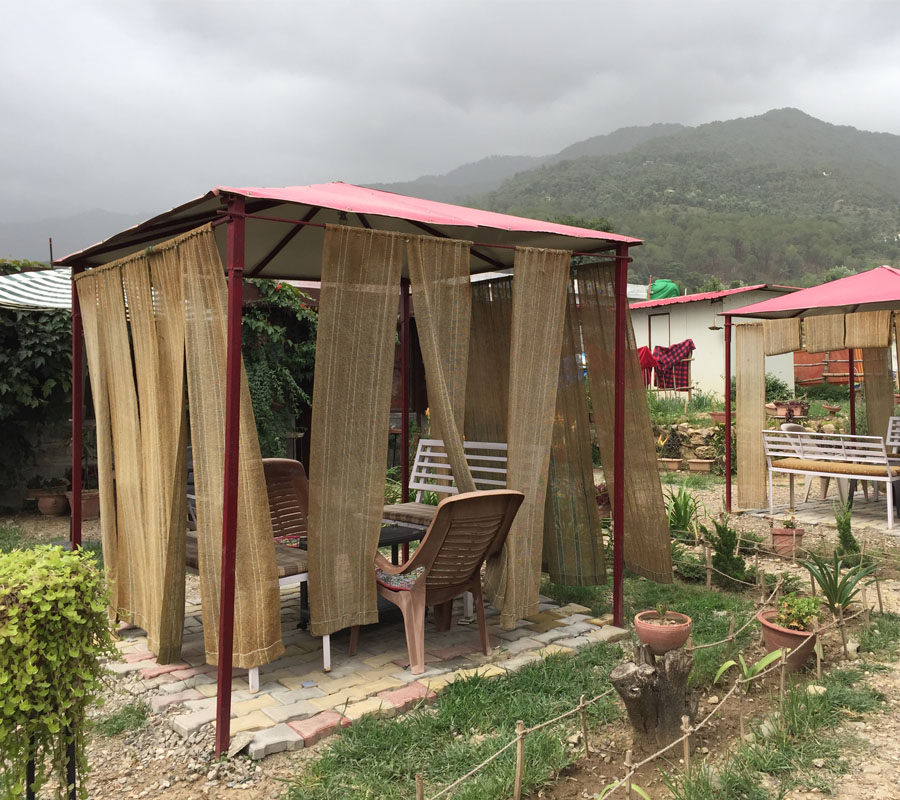 If pizza is on your mind, then head to Gliders Pizzeria near the landing site. Run by a charming lady, the menu is limited, but their wood-fired pizzas are really good. June 16 is yet another popular cafe where you get the best coffee, cakes, and bakes and also European, American, and Mediterranean food. A little further away, Ara Cafe is known for its Himachali food—especially their thali. Their rooftop seating is stunning.
Photo: Shutterstock